41 Fun Things To Do In NYC By Yourself
By Jessie Festa & Charlotte Dow. This solo trip to NYC guide contains affiliate links to trusted partners!
Looking for the best things to do in NYC by yourself?
Then you're in the right place!
With its energetic and hyper-social reputation, New York may not seem like the best place to be alone; however, this couldn't be further from the truth.
As a local New Yorker who is constantly roaming the city on my own, I can confidently say that New York City is a perfect place for solo adventures, perhaps thanks to the sheer abundance of things to do.
There are tons of museums to explore, shops to peruse, parks to wander, and shows to see throughout the city, and you totally don't need a big group to fully enjoy them. In some cases, they might be better enjoyed alone; no need to argue with others about what to do and when, just grab your bag and go!
You'll also never truly feel alone in New York City. At any of these spots, you'll find plenty of people on their own who just might be willing to strike up a conversation. Who knows? You might end up walking away with a new friend or two!
If you were looking for a sign to book a solo trip to NYC — or to just get out and do more things on your own — this is it! Read on to learn about some of our favorite things to do in NYC alone.
💡Quick tip: One of the best ways to explore NYC on your own and also meet other people is on a guided tour. Some top picks include:
🤫 Secrets of the High Line
🚕 Contrasts of New York – Bronx, Queens & Brooklyn
🥟 Chinatown & Little Italy Food Fest
🎨 Brooklyn Street Art Walking Tour
🌸 Secret Places of Central Park

📸 I also offer private NYC photo tours and professional photoshoots that are perfect for solo travelers in New York. Leave the selfie stick at home, as you'll end these experiences with gorgeous photos of your trip to keep!

➡️ Click here for a full list of top-rated tours, including classic exercursions and more quirky experiences!
Fun Things To Do In NYC By Yourself [Free Printable Guide]
But first, before we dive into our list of things to do in New York by yourself, we invite you to grab a copy of Jessie's NYC Top Picks From A Local Guide. The printable PDF guide takes you beyond the popular attractions to uncover a more local and lesser-known side of New York City — with loads of exciting recommendations for those traveling solo.
Just a few highlights from the guide include:
Where to get creative java drinks and delicious dishes from unique NYC restaurants
How to discover opportunities for exploring nature in New York City
Ways to get off-the-beaten-track to discover a side of the city many tourists miss
Note: If you're thinking that you'd like a local to plan your trip, Jessie also offers custom NYC travel planning services. Keep in mind, she is a New Yorker as well as a licensed sightseeing guide, so she can speak to both tourist attractions and lesser-known experiences.
On that note, keep reading to dive into everything you need to know when going to New York alone. One of the biggest perks fo traveling alone is having ultimate freedom over your itinerary, and this list shares some unforgettable experiences to schedule in.
After reading, it'll be clear why NYC is one of the best places to travel alone in the United States.
Best Things To Do Alone In NYC Citywide
1. Strike a pose on a Private NYC Photo Journey
One of the trickiest parts of traveling solo is getting nice photos of yourself enjoying the trip — which is where a private NYC Photo Journey comes in.
NYC Photo Journeys is a company that was actually founded by Jessie, who is a solo traveler herself.
The Private Photo Journey specifically is part tour and part photoshoot, meaning you'll explore the city with a licensed guide and will also leave the experience with professional photos of yourself to keep.
You can choose from one of 10 recommended itineraries, or choose to have something completely customized based on your interests. Some popular routes include:
Times Square / Central Park / Upper East Side / Brooklyn Bridge
SoHo / Brooklyn Bridge / DUMBO
Greenwich Village / SoHo / World Trade Center
Click here for full information and to book!
2. Get professional photos on an NYC Influencer Shoot or Custom Photoshoot
Also offered by NYC Photo Journeys, this experience is for solo travelers who don't necessarily care about having a tour and instead want to maximize how many photos they get.
Your NYC Influencer Shoot or Professional NYC Photoshoot is completely customized based on your desires for the shoot. In fact, your booking for either service comes with a pre-shoot call to discuss any must-have locations and looks. You'll also be able to send over a mood board and/or sample photos to give your photographer an idea of what you want to accomplish.
In terms of budget, you can choose between having your photos edited for you — or edit them yourself to save money.
Click here for full information and to book!
3. Find amazing style on a budget at NYC's thrift shops
Why is New York City so popular? The incredible fashion culture and shopping opportunities certainly help!
Shopping is on the top of most tourists' to-do lists when they come to New York City, but there's so much more to the city's fashion scene than just the designer shops and high-end department stores.
NYC has some of the best thrift and vintage shops in the world and you'll find them scattered throughout the five boroughs.
Beacon's Closet, Crossroads, L Train Vintage, and Housing Works each boast several locations throughout the city, and neighborhood favorites like Awoke Vintage in Brooklyn and Stray Vintage in Queens offer plenty of unique finds.
You can even find high-end and luxury items for way less at certain shops such as Central Park Resale.
4. Explore NYC by bike
Thanks to the Citi Bike program, it's easier than ever to take your own bike tour of New York City. You'll find these bikes at docking stations throughout Manhattan, Brooklyn, Queens, and The Bronx — and they're super easy to rent and use.
You can ride for up to 30 minutes for just $3.50 or get an unlimited day pass for $15; just pay at the kiosk (or through the Lyft app), unlock your bike, and return it to a docking station when you're done.
The city also has tons of great bike paths and routes that will help you have a smooth and safe ride, like the Central Park Southern Loop, the Hudson River Greenway, and the Brooklyn-Queens Greenway. You can also bike the George Washington Bridge, which is a very scenic experience that's also one of the top not touristy things to do in NYC!
5. Walk one of NYC's famous bridges
A bridge walk is a perfect way to take in the city sights from a unique perspective.
Several of NYC's most famous bridges — including the Williamsburg Bridge, Brooklyn Bridge, Manhattan Bridge, and Queensborough Bridge — have their own walking paths that allow you to safely cross the river while taking in amazing views of the Manhattan skyline, the East River, and the boroughs.
These walkways are often pretty narrow, so you're at an advantage if you choose to make the trek alone (smaller group = less foot traffic). Be sure to wear comfortable shoes!
By the way, if you love taking in the skyline, there are a number of unforgettable NYC skyline tours.
6. Have a meal in a local home
Love meeting locals while traveling? EatWith offers the chance to have a meal in a local home! Simply choose your date and party size, and it'll show you intimate culinary events that you can attend.
In New York City, these can range from savoring brunch tapas in a West New York home to enjoying a Mexican tasting menu in Harlem to having an authentic Thai lunch with a Manhattan view!
Bonus: You can also book a food or drink walk led by a local if you'd prefer to explore a New York neighborhood!
7. Choose a neigborhood and wander
Is traveling alone fun? It is in NYC, in large part thanks to its many interesting neighborhoods.
One of the best parts about going to New York alone is you really don't need a moment-by-moment plan. In fact, a worthwhile way to spend your time is choosing a neighborhood, wandering around, and seeing what you stumble upon.
Prefer a starting point? Here are a few travel guides for some fun New York City nabes:
Want beautiful photos taken of you in scenic New York spots? Book a Private Photo Journey, a walking tour that includes photos of your group to keep. Or get a styled, custom shoot that tells your unique story through an NYC Influencer Shoot or Professional New York City Shoot. Email [email protected] with inquiries.
8. Choose a solo travel-friendly restaurant
There are so many unique NYC restaurants offering all types of atmospheres and experiences.
First of all, there are loads of food halls where you can choose what you'd like from a variety of stalls and then sit at a communal table, like Time Out New York Market in DUMBO and Essex Market in the Lower East Side.
Prefer cafes when traveling alone? There are many Instagrammable cafes in NYC offering a beautiful setting alongside tasty food and drink, like Stella & Fly in the Upper East Side and Nickel & Diner in Little Italy. Or you can choose some of New York's most Instagrammable restaurants.
Do you like to eat at the bar when on your own? Valhalla NYC in Hell's Kitchen and Old Town Bar near Union Square are top picks.
Or you can choose an eatery that also offers entertainment to keep you occupied, like Fine & Rare, which pairs live jazz with craft food and rare spirits, or Ginny's Supper Club, where you can listen to renowned acts while enjoying delicious food from celebrity chef Marcus Samuelsson.
9. Peruse NYC park calendars
Did you know that there are over 1700 parks, playgrounds, and recreation facilities across NYC's five boroughs?
Not only that, but many New York City parks regularly host free and cheap outdoor events like movies, comedy shows, dance parties, concerts, yoga classes, group runs, history and nature tours, and more.
A few parks that regularly host events include:
Central Park (Manhattan)
Bryant Park (Manhattan)
Battery Park (Manhattan)
Hudson River Park (Manhattan)
Prospect Park (Brooklyn)
Astroria Park (Queens)
Note that the warmer months tend to have more park events going on than if you're visiting New York City in winter.
Also note Central Park is one of the most popular stops on an NYC Photo Journeys photo tour or influencer photoshoot!
10. Book a creative class
New York City is full of creative people who love sharing their talents with the world — which gives solo travelers the chance to polish their skills or try something completely new. A few of the endless ideas include:
Hip hop/women empowerment classes with SassClass
Pottery classes with EarthworksNYC
Aerial arts classes at Trapeze School New York
Crafting and DIY classes at the Brooklyn Craft Company
Standup comedy classes at Q.E.D.
Everything from food writing to experimental watercolor at the Brooklyn Brainery
Enjoy a libation while you work? There are loads of paint and sip classes, too, such as with Paint & Sip Studio New York and The Painting Lounge.
Keep in mind, if you're looking for the best New York souvenirs, taking a class where you physically make something allows you to preserve a fun trip memory in a personal way!
11. Go urban hiking
You may be surprised to learn that there are many great places to go hiking in Manhattan. For instance, along with hiking in the Ravine in Central Park and seeing waterfalls, you can trek through wild forest in Inwood Hill Park and take in beautiful water, woodland, and marsh views.
And Manhattan isn't the only borough with great trails. On Staten Island — which has a much less urban feel than the other boroughs — there are numerous options for hiking. Check out the Greenbelt Trail, a highly trafficked 3.3-mile loop that's perfect for solo travelers.
In The Bronx, you can hike around Van Cortlandt Park — New York City's largest park with 1,146 acres to explore.
Or you can head to Brooklyn, where the 800-acre Marine Park Salt Marsh Nature Center showcases a number of paved and unpaved trails.
And if you'd like to explore Queens hiking, the 655-acre Alley Pond Park is a good option, especially if you do the scenic White Trail, which offers a 2.3-mile loop showcasing a pond and pine trees.
The best part? You don't have to worry about going too far off the grid while hiking alone in New York City, though if you'd like to go a bit farther there are also great hiking trails on Long Island.
12. Do a themed crawl
When traveling solo, it can be fun to give your trip — or at least a few hours of your trip — a mission, such as discovering the best tacos, finding inspiring experimental art, or uncovering beautiful old world bookstores.
In New York, it can be easy to create a DIY themed crawl, as many neighborhoods are known for certain things. A few ideas:
Brewery crawl in Long Island City (details here)
Art gallery crawl in Chelsea (details here)
Budget food crawl on Bleeker Street in the West Village (details here)
Live music crawl on and around MacDougal Street in Greenwich Village
Dumpling food crawl in Chinatown (start at Tasty Dumpling)
The possibilities are truly endless!
13. Visit an outdoor street art gallery
One of the top things to do in NYC by yourself is simply wandering around one of the city's numerous outdoor street art galleries and allowing inspiration to wash over you.
For instance, in Manhattan you can explore the mural-adorned shipping container complex at the World Trade Center — which is a popular stop on an NYC Photo Journeys photo tour or influencer photoshoot. After 9/11, developers wanted to create spaces that attracted people and business back to Lower Manhattan, and this is one of them.
Manhattan is also home to the LISA Art Project in Little Italy, which showcases the talent of diverse artists and muralists from around the world.
Moreover the Bushwick Collective, one of the top Bushwick attractions, features inspiring murals across 10+ blocks. If possible, visit during the annual summer block party when you can meet the artists and watch them create while enjoying good food and music.
Bonus: In Bushwick, you can also take a Private Graffiti Workshop to learn this creative artform for yourself!
Want beautiful photos taken of you in scenic New York spots? Book a Private Photo Journey, a walking tour that includes photos of your group to keep. Or get a styled, custom shoot that tells your unique story through an NYC Influencer Shoot or Professional New York City Shoot. Email [email protected] with inquiries.
Best Things To Do Alone In Manhattan
14. Walk the Hine Line
The High Line, one of the top attractions in Manhattan, is a 1.45-mile elevated park built on a former raised railway. Today, it showcases rotating public art, gardens that play with the natural landscape, and some of the best free views in NYC.
But, where should you start?
Honestly, both ends offer fun attractions; while the southern end is near Chelsea Market and the Whitney Museum, the northern end brings you to Hudson Yards where you can shop, see the Vessel, enjoy a show at The Shed, or take in an aerial view from the Edge Observation Deck.
Another idea is to book a tour to really dive deep into the history and culture of the High Line and surronding areas. A few tours to choose from include:
15. Browse the shops at Chelsea Market
Located in Manhattan's Meatpacking District, Chelsea Market features tons of amazing shops, restaurants, and experiences that you'll definitely want to explore.
The market's narrow concourse can get crowded, particularly on weekends, and it's much easier to navigate on your own. Plus, you'll be able to browse the many shops and sample snacks from restaurants like Black Seed Bagels, Num Pang Kitchen, and Li-Lac Chocolates — Manhattan's oldest chocolate house — at your own pace.
To take your experience to the next level, stop into Artechouse, a next-generation art space bringing immersive, technologically-advanced exhibitions to the Meatpacking District. It's truly one of the most unique and fun things to do by yourself in New York!
16. Take in a Broadway show
Is there anything worse than trying to decide on a show to see with a large group of friends? Figuring out what to see and when among a group of people with different tastes, travel budgets, and schedules can be such a hassle.
That's why going to a Broadway show is one of the best things to do in NYC alone! You'll get to see exactly what you want to see, when you want to see it.
Plus, going solo makes it much easier to jump on last-minute deals like the rush tickets and ticket lotteries offered at many Broadway theatres.
Keep in mind, there are also loads of Off-Broadway and Off-Off-Broadway shows, as well as shows at indie theaters around New York. A few non-Broadway theaters to check out include the Lincoln Center Theater, Atlantic Theater Company, The Shed, The Flea Theater, and 59E59 Theaters.
Pro tip: Tours are a great way to meet other people when traveling solo in NYC. Consider booking a guided tour of the Broadway Theaters and Times Square with a theater professional. Details here!
17. Do some people-watching at Washington Square Park
If you're looking for cheap fun things to do in NYC, head to Washington Square Park.
Once the center of the Bohemian universe, Washington Square Park is a popular urban oasis full of character.
On any given day, you'll find tons of people gathered in the park — from college students to chess players to buskers of all sorts.
Grab a coffee or a slice of pizza at one of the nearby shops, have a seat on one of the park benches, and take in the sights. You never know what you'll see!
18. Get lost in the halls of the Metropolitan Museum of Art
The Met is a must for any trip to New York and it's also one of the best places to go by yourself in NYC.
With 2.2 million square feet of art and artifacts spanning 5,000 years of world culture, there's always something new and different to view at this legendary museum.
On a solo trip, you can really dive deep into the art, taking as much time as you want to read the little descriptions on the wall or peruse some of the less-trafficked exhibitions.
The Met's location along Museum Mile also makes it a great first stop on a tour of some of New York's top cultural institutions, including the Guggenheim Museum, the Cooper Hewitt National Design Museum, and the Museum of the City of New York.
Pro tip: the local museums are a top option when wondering what to do on a rainy day in NYC.
19. Enjoy the great outdoors on Governors Island
If you're looking for some fresh air, a trip to Governors Island is one of the best things to do solo in NYC.
Featuring 172 acres of open space accessible by ferry from Lower Manhattan or Brooklyn, Governors Island is the perfect place to get away from it all. It's one of my favorite New York islands you can visit.
In the warmer months, you can bike or walk one of the many paths or relax in a hammock, and in the winter you can ice skate in the open air.
The island also features tons of great art exhibits throughout the year that are absolutely worth checking out.
20. Visit the Old Masters at The Frick Collection
Located just a few blocks away from The Met is The Frick Collection, a museum dedicated to classic works of European art.
The Frick makes for a great addition to any NYC solo trip itinerary; it's much more intimate than some of its larger counterparts uptown but its collection of classic works is truly impressive.
And of course, you'll want to spend some time roaming the grounds of Henry Clay Frick's mansion where the collection is currently housed.
The Frick's main building will closed for renovation for the next few years, but for now you can visit the collection at the Frick Madison at the Marcel Breuer building.
21. Immerse yourself in the unforgettable world of Sleep No More
Looking for unusual things to do in NYC? You'll love this recommendation!
No two experiences at Sleep No More, the award-winning immersive theatrical production at The McKittrick Hotel, are alike.
Don one of the show's iconic masks, step off the elevator, and walk directly into a film noir take on Shakespeare's Macbeth.
Throughout the show, you'll explore the many floors of the hotel at your own pace, stumbling upon scenes and maybe even getting pulled into one yourself.
The truly personal aspect of each experience at Sleep No More makes it one of the best things to do in NYC alone at night. Plus, even if you go with a group you're highly likely to get separated during the event anyway!
Want beautiful photos taken of you in scenic New York spots? Book a Private Photo Journey, a walking tour that includes photos of your group to keep. Or get a styled, custom shoot that tells your unique story through an NYC Influencer Shoot or Professional New York City Shoot. Email [email protected] with inquiries.
22. See the view from the top at One World Trade Center
If you're looking for some of the best views of the Manhattan skyline, look no further than the One World Observatory at One World Trade Center.
Towering 102 stories above Lower Manhattan, One World Observatory offers panoramic vistas of the five boroughs and the surrounding region that will really make you feel like you can see forever.
As part of the visit, you can also enjoy unique audiovisual experiences highlighting the city's history and architecture.
Prefer a late evening view? The Empire State Building is open until 10pm and offers one of the best views in NYC at night!
23. Nerd out at the New York Public Library
Looking for things to do alone in NYC for free?
When it comes to things to do in the city by yourself, it doesn't get much better than the New York Public Library. The massive main branch in Bryant Park is a book lover's dream, housing roughly 2.5 million books.
The library offers free daily tours of the building highlighting its history and vast collection. Or if you just want to take some time to read and enjoy the scenery, grab a spot in the iconic Rose Main Reading Room.
24. Relax in the heart of Nolita at the Elizabeth Street Garden
Looking for fun things to do in SoHo alone? You'll love this!
Tucked away between Spring and Prince Streets you'll find the Elizabeth Street Garden, an idyllic patch of open space featuring unique sculptures, gorgeous blooms, and plenty of space to enjoy the fresh air.
The garden really does feel like an oasis among the buildings of Downtown Manhattan and makes for a great spot to rest while shopping in nearby SoHo.
Looking for cheap things to do in NYC? You'll be happy to know that the garden also regularly hosts concerts and arts events for the community — many of which are free to enjoy!
Best Things To Do Alone In Brooklyn
25. Stop and smell the roses at the Brooklyn Botanic Garden
Want to know how to find yourself in NYC? Go for a nice, contemplative stroll at one of the city's botanic gardens!
Located in Brooklyn's Prospect Park, the Brooklyn Botanic Garden features 52 acres of flowers, trees, and more that are sure to add some color to your life.
If you're visiting NYC in spring, this is when the garden really comes to life with rows of cherry trees in full bloom. Bring a camera and some comfy shoes to fully enjoy this incredible corner of Brooklyn.
26. Take in the unique art on display at the Brooklyn Museum
While it may not get as much attention as its Manhattan counterparts, the Brooklyn Museum is one of the top art institutions in the five boroughs.
The 560,000-square-foot museum is known for bringing in exciting exhibitions highlighting the intersection of fine art and pop culture.
Recent shows have featured the work of Nick Cave, KAWS, and works inspired by the iconic club Studio 54.
Just be aware that some popular exhibits require a separate ticket. Check the museum's website and snag yours before they sell out!
27. Visit some of the notable permanent residents of Green-Wood Cemetery
While it might be the final resting place for over 570,000 souls, Green-Wood Cemetery is anything but bleak. The gorgeous grounds feature incredible art and tons of gorgeous trees and plants to enjoy.
For history buffs, the cemetery is also the final resting place of such notable figures as artist Jean-Michel Basquiat, composer Leonard Bernstein, and newspaper editor Horace Greeley.
Hop on a trolley tour of the grounds to learn even more about the historic cemetery from expert tour guides.
28. Take yourself out for dinner and a movie at Nitehawk Cinema
Who says you have to go on a date to enjoy dinner and a movie? A screening at one of Nitehawk Cinema's two Brooklyn locations makes for the perfect solo night out.
These theatres, located in Prospect Park and Williamsburg, screen first-run blockbusters as well as classic favorites and indies you may have missed.
The best part?
You can order a full meal and cocktails directly to your seat! The theatres also often create special cocktails and menu items inspired by the film you're watching for the perfect pairing.
And if you're looking to enjoy local nightlife and explore some of the things to do in New York after midnight, check out their Midnight Movies series on weekends.
29. Load up on tailored book recommendations on a bookstore crawl
Brooklyn is home to tons of awesome independent bookstores, each carrying a unique assortment of books on every topic imaginable.
The next time you have a day to yourself, see how many shops you can check out in one afternoon.
Browse the pastel shelves of Books Are Magic in Cobble Hill, shop both new and used copies at Unnameable Books in Prospect Heights, marvel at the massive stacks at the Center for Fiction, or add some rare books to your collection at Spoonbill & Sugartown Books in Williamsburg.
30. Go rock climbing at Brooklyn Boulders
Looking to find some new hobbies in NYC? Reach new heights with rock climbing!
Located in Gowanus — with an additional location in Long Island City — Brooklyn Boulders features 10,000 square feet of space for bouldering, auto-belay, top rope, and lead climbing.
First time? Take a 60-minute introductory bouldering class or a 90-minute beginner top-roping and belaying class to get confident in your skills.
Want beautiful photos taken of you in scenic New York spots? Book a Private Photo Journey, a walking tour that includes photos of your group to keep. Or get a styled, custom shoot that tells your unique story through an NYC Influencer Shoot or Professional New York City Shoot. Email [email protected] with inquiries.
31. Treat yourself to a spa day at Bathhouse
NYC is home to tons of great day spas, but the truly luxe Bathhouse in Williamsburg really takes the cake.
The spa features hot and cold thermal pools, dry and tropical saunas, and a steam room that will make you feel like you're bathing in starlight.
Bathhouse also offers all the classic spa treatments such as massages, facials, and body scrubs.
Spending your birthday alone in NYC? Bathhouse is definitely the place to indulge in the luxury the city has to offer. And don't skip out on a meal at Bathhouse Kitchen, the spa's hyper-seasonal restaurant.
Best Things To Do Alone In Queens
32. Take a deep dive into film and TV history at the Museum of the Moving Image
Featuring a vast collection of artifacts from film and TV history, the Museum of the Moving Image in Astoria makes for a great day out alone.
From vintage cameras and projectors to classic props and movie posters, this museum is a must-see for any pop culture nerd.
MOMI is also home to The Jim Henson Exhibition, where you can see many of Henson's iconic puppets on display — yes, even Kermit The Frog!
Stick around for a screening of a top documentary or a classic film from the silent era in the museum's theater.
33. Immerse yourself in New York history at the Queens Museum
The Queens Museum, founded in 1972, houses a wide array of artwork — much of which celebrates the history of the borough and New York City as a whole.
This is particularly true of the museum's permanent collection, which includes over 10,000 items from the 1939 and 1964 World's Fairs, one of the largest collections of Tiffany glass, and Panorama of the City of New York — a 9,335-square-foot architectural model of the five boroughs featuring every building in the city constructed before 1992.
A trip to the Queens Museum is also a great way to get in touch with the local artistic community, as it regularly hosts exhibitions featuring the work of local New York artists.
34. Discover the next great art sensation at MoMA PS1
Located in Long Island City, this offshoot of the famous Museum of Modern Art houses some of the most experimental and thought-provoking works in the contemporary art scene.
Here you'll find every type of art on display, from abstract sculptures to raw photos to performance art experiences.
PS1 also hosts tons of eclectic events throughout the year ranging from film screenings to parties to workshops, so you'll always find something exciting going on.
35. Tour the home of one of the greatest jazz musicians of all time at the Louis Armstrong House
Though Louis Armstrong was born in New Orleans, the iconic jazz musician made his home in the Corona section of Queens.
Today, you can tour Satchmo's former home, peruse photos and artifacts from throughout his career, and learn more about the great musician's life.
Guided tours of the house are offered Thursday through Saturday and make for a great day out for any music lover.
Best Things To Do Alone In The Bronx
36. Tour the home of one of America's most famous poets at the Edgar Allan Poe Cottage
While Edgar Allan Poe is often tied to Baltimore, the famous poet also spent a great deal of his life in New York and in The Bronx in particular.
Today, you can tour his former cottage in the Fordham section of the borough and learn a bit more about his life in the city.
The cottage is open Thursday through Sunday, and an audio tour is available for those looking to explore the house at their own pace.
37. See what's blooming at the New York Botanical Garden
Though New York is well-known for its harsh winters and often volatile weather, you'll always find something in bloom at the New York Botanical Garden.
From the outdoor gardens showcasing native trees and plants to the iconic conservatory featuring blooms from around the world, you'll always find something beautiful here.
Stop by in the winter to catch the famous Holiday Train Show or take a stroll through the fragrant rose garden in the summer.
However you choose to enjoy the garden, be sure to bring your camera along to capture its beauty!
38. Eat your way through The Bronx's Little Italy on an Arthur Avenue Food Tour
Hungry? One of the best places to go in NYC by yourself is Arthur Avenue!
While Little Italy may be synonymous with New York's Italian-American community, Arthur Avenue in The Bronx offers a wide array of authentic Italian restaurants, markets, shops, and more for food lovers to enjoy.
One of the best ways to experience this historic neighborhood is through an Arthur Avenue Food Tour.
On this tour, a guide will take you to some of the top shops and restaurants in the neighborhood, where you'll get to meet the shopkeepers and enjoy samples of cookies, mozzarella, pizza, bread, and more.
Still hungry after your tour? Stop into one of the local restaurants for a glass of wine and some of the best sauce you'll ever try.
Want beautiful photos taken of you in scenic New York spots? Book a Private Photo Journey, a walking tour that includes photos of your group to keep. Or get a styled, custom shoot that tells your unique story through an NYC Influencer Shoot or Professional New York City Shoot. Email [email protected] with inquiries.
Best Things To Do Alone On Staten Island
39. Explore a Tibetan Monastary in the Heart of Staten Island at the Jacques Marchais Museum of Tibetan Art
Tucked away in the Richmond section of Staten Island, there is a Tibetan-style monastery that houses the Jacques Marchais Museum of Tibetan Art — a vast collection of Buddhist works dating from the 15th to the 20th century.
Throughout the museum, you'll see incredible sculptures, paintings, photos, and more that demonstrate the distinctive culture and history of Tibet.
Bonus:
The museum's hillside location also makes for a particularly peaceful day out among the trees! Make sure to spend some time here when you visit Staten Island.
40. Keep watch over Staten Island's North Shore at the National Lighthouse Museum
Located on the former site of the U.S. Light House Service General Depot on Staten Island's North Shore, the National Lighthouse Museum tells the story of the nation's lighthouses and the technology that keeps them running.
Browse artifacts from lighthouses around the world, learn more about the lighthouses of New York Harbor, and hear the stories of lighthouse keepers throughout history.
The museum also offers boat tours throughout the year, stopping by local lighthouses and famous sites around the five boroughs.
41. Feel the wind in your hair on the Staten Island Ferry
We've said it before and we'll say it again:
The Staten Island Ferry is one of the best ways to see some of New York's top sights on a budget.
This free ferry between Lower Manhattan and St. George on Staten Island offers incredible views of Manhattan, South Brooklyn, and the Statue of Liberty all in a 25-minute ride.
You can even buy snacks and beer on the ferry, if you're looking to dine al fresco. It's a great way to chill out and enjoy the sights the Hudson River has to offer.
Fun Solo Trips From NYC
From NYC, it's simple to travel around New York State. You can use the Metro-North to easily visit incredible cities and towns along the scenic Hudson River. Beacon, Cold Spring, and Peekskill are a few fun options with lots to do right off the train.
Another option is embarking on some of the best hikes in Upstate New York.
When traveling solo, you may want to opt for trails that are a bit more popular, like Anthony's Nose, Breakneck Ridge, and Perkins Memorial Tower at Bear Mountain. There is also the moderately-trafficked Bull Hill Full Loop, which offers a view of New York City from the top.
Love to bike? Don't miss the Old Croton Aqueduct Trail, which is scenic and features numerous attractions along the way — like Lyndhurst Mansion, which looks like a beautiful castle.
Top Tours To Add To An NYC Solo Travel Itinerary
One of the best ways to meet people when traveling solo is booking a group walking tour. A few top picks for those looking for fun things to do in New York City by yourself include:
➡️ Click here for a full list of NYC tours.
Best Hotels For A Solo Trip To NYC
Looking to book accommodation for one? Since you're not splitting costs with anyone, it's wise to check out budget-friendly hotels in New York, like:
➡️ Click here for a full list of New York City hotels.
New York City Travel Insurance
When visiting New York City — or anywhere else in the world — it's wise to get travel insurance. This is one of the most important solo travel tips to listen to.
One of the best travel medical insurance for travelers is SafetyWing as they've got a large network and offer both short-term and long-term coverage — including coverage if you're traveling for months as well as limited coverage in your home country.
Additionally, SafetyWing is budget-friendly and offers $250,000 worth of coverage with just one low overall deductible of $250.
Click here to price out travel insurance for your trip in just a few clicks.
What are your favorite things to do in NYC by yourself?
Enjoyed this guide to places to go in NYC by yourself? Pin it for later!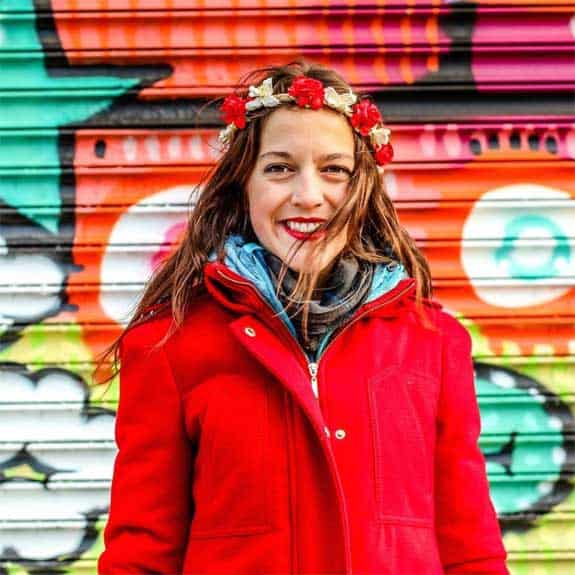 Hi, I'm Jessie on a journey!
I'm a conscious solo traveler on a mission to take you beyond the guidebook to inspire you to live your best life through travel. Come join me!
Want to live your best life through travel?
Subscribe for FREE access to my library of fun blogging worksheets and learn how to get paid to travel more!