How To Bike The George Washington Bridge (And Why You Should)
Traffic. Ridiculously expensive tolls. Honking. Exasperated drivers that want to cut you off.
These are the things that have always come to my mind when thinking of the George Washington Bridge.
That is, until recently when I discovered the George Washington Bridge Bike Path, and all of the beauty it awarded.
And I don't just mean the views from the bridge itself; but also the greenspace-lined waterfront offered on the New Jersey side of the bridge.
Seriously. *SWOON.*
Okay, enough talking. Let me show you exactly what made this easy — though active — day trip from NYC to New Jersey over the George Washington Bridge Bike Path so worthwhile (so you can do it, too!).
---
---
Psst, don't forget to pin this post for later!
---
---
Biking Or Walking?
If you're planning a trip to NYC, cycling the George Washington Bridge is a fun experience not typically listed in guidebooks.
Of course, locals can enjoy it, too! In fact, my husband Andy and I have dedicated our summer to really "traveling" as much as we can through New York.
On one summer Friday — a weekly holiday in which we close our laptops and leave our apartment to go exploring — we headed on this local adventure.
Now, the George Washington Bridge Bike Path also acts as a (very narrow) walkway, so you can choose whether you want to cross on foot or by bike.
Andy and I chose to cycle as we weren't sure how long it would take to walk, though honestly it only took us about 10-15 minutes to bike across.
Still, it was nice having a bike to also explore the New Jersey side in-depth. Right near the bridge is the 2,500-acre Palisades Interstate Park, running for 12 miles along the water.
"The Palisades" refer to 40 miles of cliffs formed over 200 million years ago that run along the western side of the Hudson River from Staten Island to Haverstraw (New York), with this park showcasing the New Jersey section.
Where'd the name come from? From a distance, their natural vertical column design looks like a palisade (aka a stockade or fence).
If you like heights, head to Point Lookout at State Line Lookout in Alpine (within the park), which reaches 520 feet and is the New Jersey section's highest point.
I would highly recommend bringing a bike lock so that you can also explore some of the hiking trails within. Typically one will come with your bike rental if you choose to rent from a shop.
Video: Cycling from Manhattan over the George Washington Bridge Bike Path into New Jersey
Bike Rentals
To access the George Washington Bridge Bike Path you'll need to get to Manhattan's Washington Heights neighborhood.
We took the 1-train (subway) to 168th and walked over to Victor's Bicycle Repair at 4125 Broadway.
Now I'll be honest.
The bikes were not in the best shape and were not super comfortable — not to mention both of our bike chains came loose.
Actually, mine wasn't even on to start with.
That being said, the rental shop is super close to the George Washington Bridge Bike Path entrance, the staff was super nice and the bikes were cheap.
We paid $23 each including tax for 3 hours. For a full day, it's $40.
So, either bring your own bike, or arm yourself with a little maintenance knowledge before setting off.
The staff also gave us their cell number to call if we had an issue.
George Washington Bridge Bike Path Map
Before I dive into the experience, let me share a quick map from the cycling trip:
If you're wondering if it's long or difficult, I'll tell you there are definitely some hilly sections, particularly on the New Jersey side.
That being said, if you're physically fit you shouldn't have any major issues.
Click here for a link to a map of the George Washington Bridge bike ride, as well.
Getting To The George Washington Bridge Bike Path Entrance
If you've never ridden a bike in NYC the very beginning of this trip may scare you; but it's honestly not as terrifying as it looks.
You'll get an idea of it in the GoPro video embedded at the top and bottom of this blog post.
Make a left on to Broadway out of Victor's and then turn left on to 177th (or 179th, depending which side of the bridge you want to enter on).
Once you get to 177th there will be a bike path and the route to the bridge entrance is less intense. From there you'll follow the signs to the bike path.
Note:
There are two entrances. The south entrance is at the corner of 177th and Cabrini Boulevard, and the north entrance is at the corner of 179th and Cabrini Boulevard.
Once on the bridge, the views over the Hudson River are incredible.
Wait to take photos until you're in the center of the bridge, letting the waterway lead the eyes of the viewer into your shot.
In the background, the NYC skyline adds a gorgeous contrast.
As stated above, the entire ride over the George Washington Bridge took about 10-15 minutes, not including stopping for photos.
There is just one downside to this ride:
Holy moly it's narrow!
If someone is passing you might get a bit of palm sweat, especially if you're afraid of heights.
There were also a few tight turns where I tiptoed the bike out of fear someone would be barreling around the corner.
Be safe, take your time, and enjoy the views and the chance to experience biking in New York.
Lunch Stop
Once on the New Jersey side, your main goal should be getting to the gorgeous Palisades Interstate Park.
If you're on a bike, though, I recommend grabbing some lunch at Mood 'Wiches and taking it for a picnic.
They "proudly do not serve Boar's Head," and instead focus on locally-sourced ingredients.
There are tons of healthy options like grain bowls and salads, though Andy and I opted for two hearty sandwiches.
Me: the "Turkey & Brie" ($10) featuring free-range turkey, brie, tomato, greens, avocado with honey mustard — and my own addition of jam. I LOVE the combination of cranberry and brie!
Andy: the "Big Bang Bang" ($12) with pasture-raised flank steak, swiss, grilled onions, peppers, mushroom, chipotle. So satisfying.
The ride to the sandwich shop was about 10 to 15-minutes from the bridge and took us through some quiet neighborhood streets lined with gorgeous suburban homes.
Heading To The Park
Sandwiches packed, we pedaled about 20 minutes north on Hudson Terrace and made a right on E Palisade Avenue.
This took us straight into the park, where we were immediately greeted with a view over the Hudson River — not to mention a prime view of the George Washington Bridge.
As hawks flew overhead, I knew we were no longer in bustling NYC.
Here you'll be entering at the Englewood Cliffs park entrance, which connects the .75-mile Dyckman Hill Road to Henry Hudson Drive.
Dyckman Hill Road is steep, winding and narrow, so the park asks you to dismount here and walk to the bottom.
Actually they require you to, though we saw a number of cyclists ignoring this despite there being a fine if you're caught.
On the way down, we encountered a scenic staircase that descended to a waterfall. So pretty!
The trail continued through a tunnel, though we headed back up to grab our bikes and continue our journey to the picnic areas and Henry Hudson Drive, offering seven miles of scenic beauty.
It's also historic, created between 1912 and 1940.
I guess loving nature and beautiful views is nothing new, even if the bridge ride and park experience were "new" to us.
We then cycled down a winding path toward the shoreline, with signs directing us to the various picnic areas. Not knowing the difference, we cycled away from the bridge toward the Alpine Picnic Area, pedaling under a canopy of lush green forest.
Suddenly, on our right a small beach came into view.
Screw the picnic area. A beach with a view sounds perfect!
Sandwiches in hand, we strolled over the soft sand, watching waves slowly lap up onto shore.
A man snorkeled with his dog on one end, and we walked over to some boulders to perch on and eat our lunch.
At one point, the pup — who we learned was named Sugar — bounded over to us and laid his head on our lap, no doubt wanting some turkey and steak.
Petting the pup and listening to the waves, my muscles relaxing after miles of biking, I felt at peace.
Fort Lee Historic Park
Something that can be confusing is that Palisades Interstate Park connects smaller parks, one of which is the 33-acre clifftop Fort Lee Historic Park.
If you have time — and enjoy American Revolution history — it's recommended to stop into the Fort Lee Historic Park Visitor Center. Located just south of the George Washington Bridge, here you'll find an interesting small museum.
Additionally, outside there are plenty of elevated views, plus a Revolutionary War encampment.
For hikers, Fort Lee Historic Park is home to worthwhile hiking trails.
Two recommendations:
Long Path and Shore Trail, the latter of which takes you along the coastline through grapevine and honeysuckle.
Click here for a detailed hiking map.
The 165-acre Greenbrook Sanctuary is also within the park, though you'll need to be a member of the Palisades Nature Association.
Again, I recommend locking up your bike to explore some of these beautiful Hudson River-side trails. The park is home to many birds, including bald eagles and four nesting pairs of Peregrine Falcons.
Additionally, there are squirrels, possums, fox, skunks, bats, and tons of adorable chipmunks. While biking back toward the bridge we saw chipmunks every five feet. And if you're lucky — or unlucky, depending on how you look at it — you might even see black bears!
I was thankful for the beautiful scenery and adorable fauna, as the ride back to the George Washington Bridge Bike Path was tough.
Uphill climbs left my legs feeling like they would explode, though also left me appreciating the flat and downhill sections much more.
Make sure you've got plenty of water for this section.
And make use of those gears, making them higher on easy sections and lower for hard climbs.
Luckily, the Englewood Picnic Area & Boat Basin offered a lovely opportunity to stop off one last time. They even have a snack shack serving iced coffee.
Much needed for the ride back!
They also serve meals like burgers, chicken and waffles, and grilled cheese.
On the way back, I recommend returning on the opposite side of the George Washington Bridge Bike Path for a new view.
I'll definitely be doing this bike ride again. Truly, I think it is one of the best bike rides around.
Next time, I'll be allotting more time to explore the 30 miles of park hiking paths in-depth!
By the way, if you enjoyed this NYC adventure, you may also like this guide to walking over the Manhattan Bridge or this guide to walking over the Williamsburg Bridge.
George Washington Bridge Bike Path Cycling Video
Just in case you missed my George Washington Bridge Bike Path video above, here it is again:
Best Hotels In NYC
Looking to stay overnight in NYC?
There are so many incredible hotels, like NoMo SoHo, the Williamsburg Hotel, and The Ludlow.
Click here for a full list of New York City hotels!
Prefer self-contained stays?
Click here to check out unique local rentals!
You can also use this map to search for local stays:
Have you ever biked over the George Washington Bridge Bike Path or explored the Palisades Interstate Park?
Logistics:

Fitness: Moderate. You'll need to have a relative level of confidence on a bike, especially when cycling through Manhattan and over the narrow George Washington Bridge Bike Path. Additionally, the park is home to some hills that can be tough, though if you allot enough time you can always walk the bike up these paths.

Maps: Click here for a Palisades Interstate Park map and click here for a hiking map.

Budget: I spent $36.61 for the day. Breakdown = $2.75 (subway to Washington Heights); $23 (3-hour bike rental); $10.86 (sandwich).

Time: We spent 3 hours exploring, though next time I'd allot more like 5-6 hours.

Packing: Make sure to bring:

Sunblock (I love Sun Bum)
Bug spray
Bike lock
Personal alarm (great for scaring off human and animal attackers)
Snacks
Hidden pocket scarf (easy access while riding; they even have summer scarves!)
GoPro
Enjoyed this post on cycling the George Washington Bridge? Pin it for later!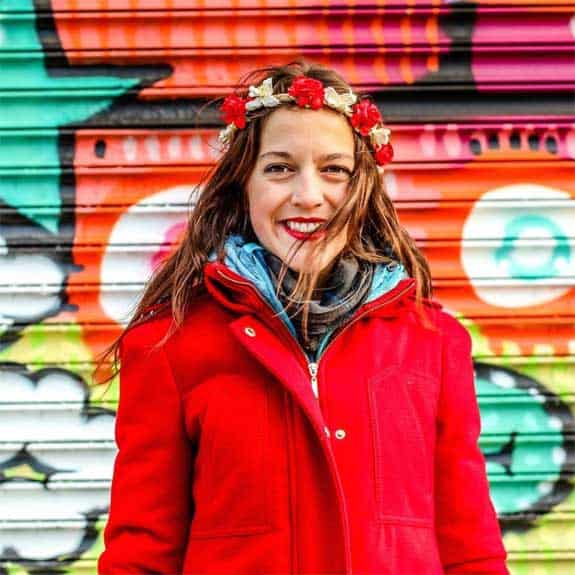 Hi, I'm Jessie on a journey!
I'm a conscious solo traveler on a mission to take you beyond the guidebook to inspire you to live your best life through travel. Come join me!
Want to live your best life through travel?
Subscribe for FREE access to my library of fun blogging worksheets and learn how to get paid to travel more!