41 Unique Ways To Enjoy Spring In NYC (Beyond Central Park)
By Jessie Festa. This guide to spring in New York City contains affiliate links to trusted partners!
Looking for a unique guide to spring in NYC?
You know, one that goes beyond recommending Central Park picnics and visiting the Top of the Rock?
While both are incredible experiences, my goal with the following recommendations for things to do in NYC in spring is to take you beyond your guidebook.
And hey, despite the fact that New York City is a concrete jungle, there are plenty of places to enjoy seasonal views, flowers, wildlife, nature and beautiful weather.
For a better spring getaway in NYC, don't miss the following 41 experiences. Most of these recommendations are fun whether you're traveling in a group or are on a solo trip to NYC.
1. Take a tour that's also a photoshoot. Shameless plug, but my tour company NYC Photo Journeys offers a Private Photo Journey that not only includes a locally-led tour — usually by me — but also professional photos for you to keep.
Which means no more carrying your awkward selfie stick around.
And no more having to ask strangers to take your photo and having your head cut out of the frame.
You're welcome 😉
In fact, in a two-hour tour you'll get at least 75 edited, print-ready photos. Whether you're looking to preserve fun trip memories, or need new shots for your Instagram feed, this tour is the perfect way to enjoy spring in NYC.
Here's a snapshot of some of my happy guests:
2. Explore Bushwick with your camera (and your palatte). I've got just one more tour plug for NYC Photo Journeys:
A Bushwick Beer, Bites & Street Art #InstaWalk, one of the best things to do in Bushwick.

A quick video looking at some of the Bushwick murals
This public tour combines exploring the creative Bushwick neighborhood in Brooklyn with learning how to take better photos.
Honestly, even if you're not an Instagrammer, it's a fun way to get some great shots, learn about your iPhone or camera, and support local businesses in a gentrifying neighborhood.
Your ticket includes photo instruction, as well as tastings like:
A Mexican pastry from a 20+ year-old bakery
A taco from a local tortilla factory
Raw chocolate samples
A beer in a historic 19th century brewery-turned-craft beer bar
It's one of the top things to do in NYC in spring, especially if you're curious about Brooklyn.
3. Take part in the Do Just 1 Thing Campaign. Created by Earth Day Initiative, this campaign will take place leading up to this year's annual Earth Day.
The goal of the campaign is to provide an answer to the question "What's one thing I can do to have a positive impact on the environment." Simply log on to their website to take part in some simple solutions.
Also, don't miss this year's Earth Day celebration on April 15th in Union Square. Festive highlights include booths showcasing green lifestyle products, local food and drinks, free recycling of used closed and electronics, a 5k "Green" tour and more.
4. Go foraging in local parks. If you're looking for unique things to do in New York, it's recommended to take a tour with the "Wildman" Steve Brill.
You'll learn how plants you pass by every day in Central Park, Prospect Park, and the Bronx River Pathway can actually be made into tasty snacks and meals.
Bonus: Steve brings his own homemade vegan creations so you can get inspired.
This tour is one of the most unique things to do in Manhattan!
5. Have a drink at Camp Arlo. Arlo SoHo offers a unique rooftop experience in spring and is one of the top New York Instagram spots!
Luxury tents, set amidst a gorgeous scene of Cyprus and greenery garlands, mason jar terrariums and walls outfitted with delicate macrame bunting
Now, these aren't for sleeping, but for chillin' with a cocktail or a bite from their springtime menu.
The entire NYC spring experience is sure to be a hit on your Instagram!
6. Visit the New York Botanical Garden. One of my absolute favorite Bronx attractions is the New York Botanical Garden, a National Historic Landmark introducing visitors to 250 acres of natural beauty.
Honestly, no NYC sightseeing guide would be complete without mentioning this attraction.
Don't miss the complimentary Garden Highlights Tour, offered at various dates and times during spring.
7. Go sight-running. For those who love staying active while traveling, there are a number of sight-running tours in NYC.
Some include:
These offer a great way to learn about your destination while staying fit and enjoying the spring weather.
8. Have an island getaway…in the Bronx. Is New York an island? No, but it is home to many of them. In fact, did you know there is a laid-back island accessible from Manhattan?
City Island, a fishing village that is one of the top places to visit in the Bronx, is where locals and visitors go to escape the hustle and chill out with fresh lobster, ice cream cones and, when it's warm enough, beach bumming and scuba diving.
Want to go even further? A 1000 Islands road trip takes only six hours, and is well worth it!
9. Skip the Brooklyn Bridge for the Williamsburg Bridge. Don't get me wrong; the Brooklyn Bridge is gorgeous. In fact, I frequently take my Private Photo Journey guests there!
The thing is, when the weather gets warmer, the super popular Brooklyn Bridge gets even more crowded than usual. Which is very, very, very crowded.
Not so on the Williamsburg Bridge. And to help, I've got a scenic and tasty NYC walk that goes from the Lower East Side to Williamsburg right over it.
You can stick with the DIY plan, or book a tasty Brooklyn food tour to dive deeper in Williamsburg's culinary culture.
10. Go on a gallery crawl of Chelsea and the Lower East Side. What is New York City famous for? Its incredible art and cultural offerings.
The two-hour Heart For Art Gallery tour is offered daily at noon, taking guests through two of NYC's most creative neighborhoods.
When exploring NYC in spring, you'll want to enjoy the weather. This experience mixes perusing the best art galleries in the city with breathing in the fresh air.
The tour is $60 per person.
11. Attend one of NYC's best beer festivals. Every spring, the Five Boro Craft Beer Fest showers locals and visitors with 100+ craft beers complemented by live music and delicious food.
The event takes place at The Well, one of New York City's best bars and event spaces.
Along with being huge, their back patio is always filled with street art, games, food trucks and other party pleasers.
12. Enjoy the flavors of the season. When looking for the best things to do in NYC in spring, you should add at least one farm-to-fork eatery to your itinerary.
One suggestion:
Dishes on the menu showcase the best of spring, and you can feel good knowing your beef is pasture-raised and your noodles and fries are hand-cut. You'll also be served some of the most Instagrammable food in NYC!
Pro tip: Visit on Wednesdays to take advantage of a $6 glass of wine offered with every entrée purchased.
13. Attend Plant Nite. When people think of spring, it's only natural that flowers come to mind.
And while you can certainly find many parks and gardens in NYC to stop and smell the roses, attending a Plant Nite allows for a more interactive experience.
In fact, you'll leave the event — all of which feature a bar to buy booze — with your very own hand-made terrarium!
Pro tip: If you're visiting NYC, doing a crafty class like this is a great way to leave with a fun New York souvenir that actually preserves a fun memory from your trip.
14. Shape Up (Outside). If you love fitness and free things to do in NYC, then you'll want to attend Shape Up NYC.
In the warmer months, parks across the five boroughs offer free fitness classes, from Zumba to Yoga to Pilates and beyond.
Plus, there is some incredible hiking in Manhattan!
15. Add some pineapple to your brunch menu. As NYC's spring weather brings warmer temperatures, your taste buds are likely moving towards more refreshing flavors.
Enter Cantina 1838 in Harlem, a hip Mexican spot with multiple locations serving up a delicious brunch menu and a flair for creative cocktails.
Don't miss the "Pineapple Punch Para Dos," made with spiced and coconut rums, Tres Agaves Strawberry Mix and Coco Lopez served in a hollowed-out pineapple. Talk about a unique boozy brunch in NYC!
16. Hit the cinema. But not just any cinema.
Robert De Niro's legendary Tribeca Film Festival.
There are a slew of film-centric events, talks, parties and screenings going on in April, and tickets range from $10-$1,250 depending on how active you want to be.
17. Go hiking in The Bronx. The Bronx has a number of parks and trails to enjoy, though a fan favorite is Pelham Bay Park and its two-mile Kazimiroff Nature Trail.
On this trek, you'll explore the Hunter Island section of the park. Make sure to have your camera, as the Long Island Sound views are stunning.
Fun fact: Pelham Bay Park is 2,772 acres — about three times larger than Central Park!
18. Go hiking on Staten Island. The Bronx isn't the only place with scenic spring hikes.
On Staten Island, one great option is heading to the Greenbelt Nature Center and its 2,800 acres of greenspace and woodland. No Staten Island travel guide would be complete without mentioning it.
Grab a trail map from the center, and set off on a scenic trek.
19. Find peace in the Chinese Scholars Garden. While you're on Staten Island, make sure to visit the Snug Harbor Cultural Center & Botanical Garden.
While there are many reasons to visit the center, from the art to the live music concerts to the Staten Island Museum, most agree the true highlight is the Chinese Scholars Garden.
Here, tranquility and enlightenment are easy to find among the koi pond, bamboo forest and inspiring waterfalls.
20. Ride the (free) Staten Island Ferry. Okay, now that we've talked about Staten Island, let's talk about how to get there.
Because it's awesome.
It takes about 30 minutes to ride the free Staten Island Ferry from Lower Manhattan's Whitehall Terminal to Staten Island's St. George Ferry Terminal.
You can grab a craft beer in Whitehall Terminal before you board. These suds pair perfectly with the front-row views of the Statue of Liberty you'll enjoy.
21. Pair rose beer with a view. As the weather warms in New York, take your dining and drinking outdoors.
At Le District, a yummy French marketplace in Brookfield Place, you can visit Beaubourg. Here, it's recommended to pair a refreshing rose beer — more specifically, a Five Borough Co.'s Rosé Saison — with a view overlooking the Hudson.
22. Take your boozy brunch on the water. No NYC experience would be complete without indulging in at least one boozy brunch.
And now that it's spring in New York, you can ditch the winter coat and hit the water for a Bottomless Mimosa Brunch Sail.
The ticket includes live entertainment, sightseeing, a three-course plated brunch, and bottomless mimosas, coffee, and tea
23. Get in the spring spirit with cherry blossoms. It's not just Japan and Washington DC that have cherry blossoms; NYC does too!
And the best way to enjoy these are at the annual Sakura Matsuri Cherry Blossom Festival in the Brooklyn Botanic Garden.
In late April, this event brings 60+ Japanese cultural events and performances amidst this colorful scene, only visible for a short spring period each year!
24. Eat plants (for dessert). When looking for things to do in NYC in spring, Spot Dessert Bar offers a truly quirky experience.
Hey, spring is associated with all things floral!
Now, this eatery offers a slew of creative seasonal treats; though one not to miss this season is The Harvest, a planter filled with cookie crumble "dirt" atop a hidden strawberry shortcake. There's also a mint twig sprouting out.
Watching your server "unplant" the dessert onto a plate of raspberry foam and raspberry sorbet for a deconstructed indulgence is a lot of fun, too!
25. Delight in the re-opening of Smorgasburg. From the end of March, hungry travelers and locals can visit Smorgasburg, touted as the country's largest open-air food market.
While the market has several locations, my favorite is their original on the East River in Williamsburg.
Here 75+ food vendors come together on Saturdays to sell uber creative fare, from pan-fried globally-inspired dumplings to mac-and-cheese with crazy toppings.
An outdoor beer garden helps wash things down!
26. Eat A Swingle On The Water.
A swi-what?!
In Red Hook, you'll find Steve's Authentic Key Lime Pies, where one of their delicious creations is a Swingle — a chocolate-coated Key Lime Pie on a stick!
Now, you can totally eat these on Steve's patio, where picnic tables showcase his homegrown limes.
Or, you can walk just a few minutes toward the water and eat it with a prime view of Lady Liberty right in front of you.
27. Get to know spring wildlife on a tour. The NYC Audubon Society offers nature tours and classes throughout all five boroughs.
Some spring offerings include birdwatching in Woodlawn Cemetery in the Bronx, outdoor nature sketching workshops, seeing the spring migration on Randall's Island and more.
Just make sure to register early, as spots fill quickly.
28. Take your art class outside. NYC is home to a number of fun art classes, whether you want to drink-and-draw at the Painting Lounge, paint ceramics at Baked in Brooklyn or learn the art of hand-blown glass at Brooklyn Glass.
As spring in NYC brings the warm weather, though, it's a fun idea to take your creativity outdoors.
One option:
A Spring Tulips In Watercolor Workshop hosted by the New York Botanical Garden in the Bronx.
This is just one of many classes they offer, so do check out their entire spring experience catalogue.
29. Find your zen…outdoors. There are a number of incredible meditation centers around NYC, some of which include MNDFL, Kadampa Meditation Center and Shambhala Meditation Center of New York.
And while these places offer inspiring spaces, during spring in NYC you'll likely want to spend time getting centered outdoors.
Enter:
They organize giant meditation events around the USA, including NYC.
Moreover, from May through September, you can enjoy meditation on The High Line every Tuesday.
30. Have an inspiring sip. Now that it's spring in NYC, you can officially head to the Brooklyn Navy Yard to enjoy a tasting at Rooptop Reds, the world's first commercially viable rooftop vineyard.
Pro tip:
Check their event calendar before deciding when to visit. They host everything from rooftop yoga to dinners to movie nights and more.
31. Gain clarity through forest bathing. Okay, so I'm sneaking in a Central Park experience, though I promise it's nothing you'll find in your guidebook.
Truth:
Your hotel room tub isn't the only place to take a bath.
Actually, you can do a forest bathing session with Forest Therapy-certified local named Brooke Mellen.
Practice mindfulness while wandering through Central Park, enjoying guided seasonal meditations and gaining clarity in the trees.
The session ends with a tea ceremony and snacks.
This is a great experience whether you're looking to explore Central Park for couples, traveling solo, or visiting with friends or family.
32. Kayak in Cold Spring Harbor. A quick train ride brings you to Cold Spring Harbor, a beautiful hamlet on Long Island.
Not only is it home to a number of hiking trails and museums, but also kayaking with a social good twist.
During the two-hour paddle adventure, you'll enjoy the weather while seeing swans, osprey, egrets and other birds. Moreover, a portion of proceeds from the tour goes to the Waterkeep Alliance to help keep waters safe, swimmable, drinkable and fishable.
As it's a two-hour train ride, it's also recommended to add in a few other spring activities. Some recommendations:
Hike in Cold Spring Harbor State Park or Trail View State Park
Visit the Cold Spring Harbor Whaling Museum or the Cold Spring Harbor Firehouse Museum
Go bird- and butterfly-watching in Uplands Farm Sanctuary
33. Dance through the 1920s. The annual Jazz Age Lawn Party takes place twice each year; once at the tail-end of spring and one toward the end of summer.
If you're in the city for it, it's certainly worth the ticket price.
Everyone gets decked out in Jazz Age attire, heading to Governors Island to learn the Charleston, see muscle cars and retro swimsuit parades, drink gin gimlets and dance to the 1920s sounds of David Arnella and his Dreamland Orchestra.
34. Get inspired with MoMA PS1's spring calendar. While summer at MoMA PS1 is all about the weekend Warmup parties, spring brings two special events:
The Spring Open House and the Spring Performance Festival.
At the open house, you'll be the first to see the space's new lineup of exhibits. At the festival, more than 35 artists showcase works combining music, art and nightlife.
35. Learn street dancing in the Bronx. If you're looking for a dose of culture while exploring NYC in spring, don't miss the chance to learn how to street dance in the Bronx — which also features a social impact twist.
It's Showtime NYC! is dedicated to advocating "for the value and importance of hip-hop." Along with learning some hip-hop moves outdoors from local dancers, you'll come to better understand the history of the dance form in the Bronx through a walking tour.
Bonus: 100% of your ticket price goes toward helping Dancing in the Streets Inc, an organization nurturing and creating opportunities for urban artists.
36. Learn the art of trapeze. You can take a class at Trapeze School New York's indoor location any time of the year; but come April, their outdoor location at Pier 40 opens; and wow, is it worth the wait.
Gorgeous views await as you learn how to fly through the air with grace.
That being said, if it's a rainy day in NYC, their indoor spot has you covered!
37. Take a walk with Satan. Well, kind of. As the weather warms up, the Museum of Sex offers a Satan's Circus Walk Tour.
The experience takes you through what was formerly known as The Tenderloin, or, as the tour name states, Satan's Circus. Here, in the vicinity around the museum known today as NoMad, you once found a globally notorious red-light district, where anything went.
On the tour, you'll trace this history, hearing stories and learning facts that even most locals are unaware of.
Note: Your museum admission is not included, so make sure to also purchase a ticket for that.
38. Get your chocolate on. If you're looking for things to do in NYC in spring, there are a few cacao-focused experiences you should get on your radar.
First off is a Hell's Kitchen Dessert Tour.
On this excursion, you'll trace the neighborhood's history through stories and sweets, with tasty highlights including decadent locally-made cookies, a buttercream cupcake, traditional Greek pastries, hand-made chocolates and more.
Sweet tooth still craving?
Then mark your calendar for the annual Chocolate Fest.
Hosted by the 92 Street Y in the Upper East Side, the event allows you to taste your way through New York's most delicious chocolate purveyors, like the Atlantic Confectionary Company, Dalloway Chocolate and Penny Lick Ice Cream. Make sure to add this happening to your Upper East Side itinerary!
39. Help combat food shortages. Despite the number of markets and restaurants in NYC, there are food deserts around the five boroughs.
One of these food deserts exists in Harlem, though with the help of Harlem Grown, a non-profit that's helped to bring nutritious food to thousands of youth, nutrition is improving.
During an Urban Grown experience, you'll learn more about the organization while also getting your hands dirty and doing some urban farming of your own.
It's a great way to give back while also enjoying NYC's spring weather.
40. Eat your way down Ninth Avenue. Spring in NYC also brings the annual Ninth Avenue International Food Festival, where 15+ blocks showcase flavors from around the globe.
Not only will you be filling your stomach, but a portion of proceeds get donated to local and intentional charities working to fight hunger.
41. Community garden-hop in the East Village. In the East Village and its surrounding neighborhoods, you'll find a number of small, tranquil gardens to sit (or swing!) and reflect while surrounded by flora, fountains and al fresco art.
A few to check out include the Secret Garden, 9th Street Community Garden Park and the Green Oasis Garden.
Looking for more amazing things to do in NYC? Check out these amazing road trip ideas from NYC.
Best Hotels In NYC
Looking to stay overnight in NYC?
There are so many incredible hotels, like NoMo SoHo, the Williamsburg Hotel, and The Ludlow.
Click here for a full list of New York City hotels!
Prefer self-contained stays?
Click here to check out unique local rentals!
You can also use this map to search for local stays:
And if you're interested in living in a hotel in New York City, there are numerous extended stay hotel options too!
What unique things to do in NYC in spring would you add to this list?
Enjoyed this NYC in spring guide? Pin it for later!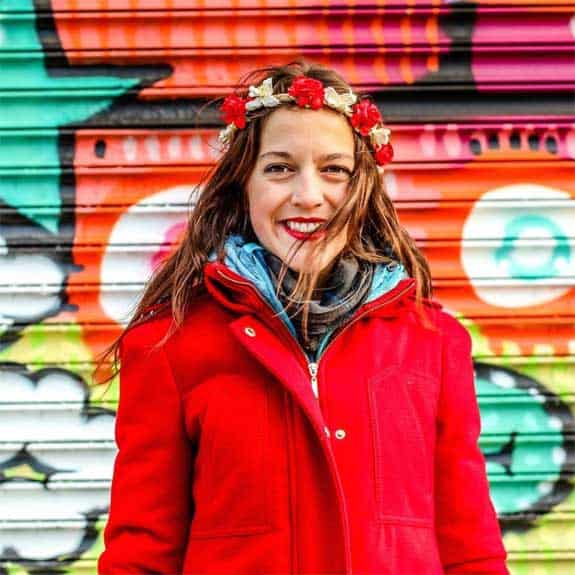 Hi, I'm Jessie on a journey!
I'm a conscious solo traveler on a mission to take you beyond the guidebook to inspire you to live your best life through travel. Come join me!
Want to live your best life through travel?
Subscribe for FREE access to my library of fun blogging worksheets and learn how to get paid to travel more!