41 Most Instagrammable Restaurants In NYC For Beautiful Photos
By Charlotte Dow & Jessie Festa. This post on Instagram-worthy restaurants in NYC contains affiliate links to trusted partners!
Looking for the most Instagrammable restaurants in NYC?
Then you're in the right place!
Foodies have always been a dominant force on Instagram. Scroll through your feed and you'll find at least a few photos of mouth-watering meals from friends, family members, and influencers alike.
Today, with businesses making their spaces as photo-friendly as possible, you'll also see selfies taken at trendy restaurants, bars, and cafes. And whether you're a local or a travel junkie, you'll find that some of the most Instagrammable restaurants around are in New York City.
Looking to share some photos that will make all your followers ravenously hungry? Or searching for the perfect backdrop to show off your hottest look? Whatever your 'gram goal is, this post can help.
From chic rooftop bars in Manhattan to German beer halls in Staten Island, we've put together a list of some of the most Instagrammable restaurants in NYC to cover all your digital photography needs.
Read on to learn more about some of our favorite spots!
Free Local NYC Guide
But first, before we dive into our list of aesthetic places in NYC to eat, I invite you to grab a copy of Jessie's NYC Top Picks From A Local Guide.
The printable PDF guide takes you beyond the popular attractions to discover a more local and lesser-known side of New York City.
Just a few highlights from the guide include:
Where to get creative java drinks — in beautiful Instagrammable cafes in NYC, too
How to discover unique opportunities for exploring nature in New York City
Ways to get off-the-beaten-track to explore a side of the city many tourists miss
Note: If you're thinking "I just want a local to plan my trip to New York" I also offer custom travel planning services. Keep in mind, I'm a New Yorker as well as a licensed sightseeing guide, so I can speak to both tourist attractions and lesser-known experiences.
On that note, keep reading to dive into ideas for planning an amazing meal at some of the cutest restaurants in NYC!
Explore NYC With A Professional Photographer
Want help capturing yourself in the beautiful restaurants listed below as well as other iconic NYC locations?
Shameless plug! I (Jessie) own a photo experience company called NYC Photo Journeys that offers private NYC influencer shoots.
Before the shoot, we'll go over exactly what you're looking for to come up with a concept and locations that bring your vision to life through gorgeous photography that tells a story.
Below is a shot from a recent Influencer Shoot. You can see more examples here on Instagram.
Most Instagrammable Restaurants In NYC: Manhattan
1. Cantina Rooftop
Whether you're visiting New York City or are a local looking for an ambient dining experience, Cantina Rooftop has a lot to offer, from the colorful decor to the delicious Mexican cuisine to the incredible views of the NYC skyline.
Located in Hell's Kitchen just steps away from the Intrepid Sea, Air, and Space Museum, this rooftop eatery and lounge is perfect for a celebration or even a fresh take on post-work drinks.
Cantina Rooftop also features a retractable glass roof so you can enjoy their spectacular vistas all year round. It's also a great spot to take in some of the best views in NYC at night!
2. Pietro Nolita
You've definitely seen this pink paradise on your Instagram feed at some point in the last few years, as this is one of the most Instagrammable cafes in NYC!
Social media darling Pietro Nolita offers a menu of healthy Italian favorites and delicious cocktails in a setting that can only be described as "Pink AF".
From the iconic street art-inspired entrance to the plush pink booths, the many photo-ready spots packed into this bite-sized restaurant will be sure to get your Instagram post shared like crazy!
And while Pietro Nolita may seem like one of the more girly restaurants in NYC, founder Pietro Quaglia believes that pink is for everyone — after all, the restaurant's aesthetic was inspired by the pastel colors of the Italian Riviera.
3. Black Tap Craft Burgers & Beer
Why is New York so popular? One reason is the unique restaurants!
Black Tap Craft Burgers & Beer probably wins the award for the most Instagrammable dessert in NYC.
The SoHo eatery's CrazyShakes, piled high with everything from ice cream to whole donuts to pretzels, have dominated Instagram feeds over the last few years
You won't be able to resist sharing these (literally) over-the-top concoctions. I mean, how often do you find a milkshake topped with an entire slice of chocolate cake?
If you're not a dessert person, no worries, as you can opt for one of Black Tap's equally delectable and photogenic burgers. The photos alone will leave your mouth watering.
Eating here is definitely one of the best things to do in SoHo!
4. Black Seed Bagels
You can't travel to NYC without indulging in some bagels, and Black Seed Bagels offers a fresh take on the classic breakfast staple.
With several locations across the five boroughs, you'll find an extensive menu of fresh bagels and unique sandwich options for any time of day here.
Indulge in a classic NYC breakfast option like the pastrami, egg, and cheese — or try Black Seed's creative take on a PB&J.
Bonus: This is a great eatery if you're looking for places to go by yourself in NYC!
5. NoMo Kitchen
Featuring a gorgeous greenhouse setting, intricate chandeliers, and colorful street art, NoMo Kitchen brings the outdoors inside to create one of the most beautiful restaurants in NYC.
Once you pass through the entrance of vines and fairy lights, you'll feel as if you've left the city behind and entered somewhere truly magnificent.
Even the food and drinks at NoMo are photo-ready and taste just as delicious as they look.
Whether you're staying at the adjacent NoMo Hotel or just passing through SoHo, you'll definitely want to check out this stylish spot — especially if you're looking for romantic things to do in NYC!
6. Grand Salon at Baccarat Hotel
If you're looking for a truly luxe afternoon or evening out in NYC, head to the Grand Salon at the Baccarat Hotel.
Decked out with silk-covered walls, chandeliers, and plush seats, you'll feel like a member of the city's elite as you enjoy afternoon tea or sip a signature Champagne cocktail in this lavish setting.
The menu items may be on the pricier side but it's definitely worth saving up for this one-of-a-kind New York experience.
7. 1803 NYC
Craving some Cajun flavor in the heart of Tribeca? Look no further than 1803 NYC, a vibrant eatery that pays homage to the culture and flavors of New Orleans.
Taking its name from the year of the Louisiana Purchase, 1803 NYC offers an extensive menu of New Orleans-inspired dishes and cocktails as well as live music and events.
You won't want to leave without snapping a pic with 1803's signature garden-inspired walls, an Instagram favorite!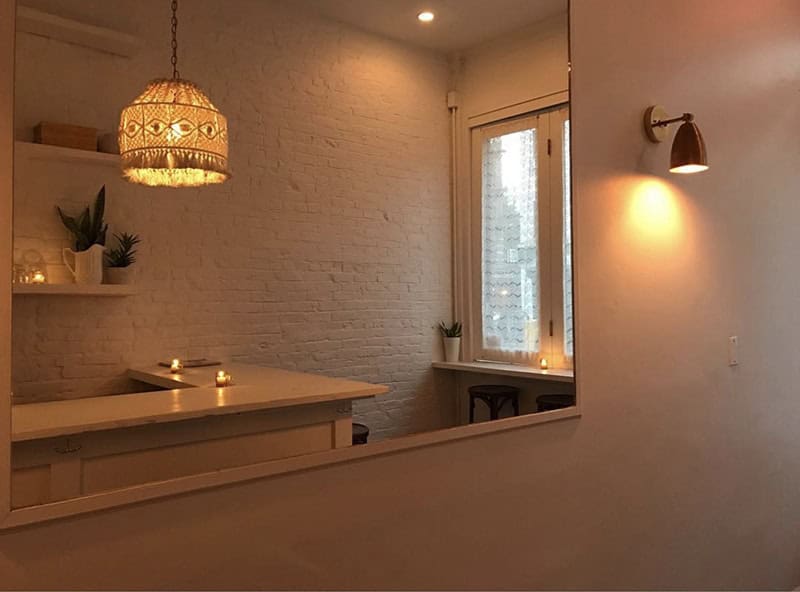 8. POST NYC
Southern cooking and minimalist design meet at POST, a social media favorite in the East Village. It's truly one of the best places to take pictures in NYC.
POST's clean white interiors set the stage for the real star of the show — the food!
You'll absolutely want to get a few shots of their humongous biscuit sandwiches and mouth-watering egg dishes that will make you the envy of all your IG followers.
As of this writing, POST is currently closed for renovations. Keep an eye on their website and social media pages for more information about re-opening!
9. Spyglass Rooftop Bar at the Archer
Searching for a stylish cocktail bar with a menu of delicious eats and impeccable views of the Empire State Building? Look no further than Spyglass Rooftop Bar, one of the most Instagrammable places in NYC.
Located atop the Archer Hotel in Midtown, Spyglass Rooftop Bar gives you the opportunity to dine and drink in the shadow of New York's most iconic skyscraper.
And with an extensive menu of colorful craft cocktails, you'll definitely want to get a few snaps of your drinks at Spyglass as well!
10. La Pizza & La Pasta A Colori
What happens when two of New York's hottest attractions join forces? They build a colorful, delicious, and truly Instagrammable eatery, of course!
La Pizza & La Pasta A Colori is a collaboration between the immersive geniuses behind Color Factory and Eataly, the iconic Italian market that has taken NYC by storm.
At this restaurant in Eataly's Downtown outpost, you'll dine under an immersive art installation showcasing spaghetti in every color of the rainbow!
The restaurant also features several other fun spots for photos as well as a delicious and colorful menu of Italian favorites and craft cocktails.
After dinner, browse the rest of the market for authentic Italian ingredients and fresh produce that will leave your Instagram followers dreaming about a trip to the Mediterranean!
11. While We Were Young
Looking for cute restaurants in NYC? Look no further than While We Were Young, a stylish new American restaurant in the West Village.
Once you enter While We Were Young's dining room, you'll immediately want to pull out your phone and capture the plush pink seats, gorgeous marble bar, and beautiful flower arrangements throughout the restaurant.
While We Were Young also features some of the most photo-ready cocktails in the city, served in glasses crafted to resemble birds, the globe, and even honeycombs!
Make sure to add this to your list of things to do in the West Village when visiting NYC!
12. Panna II Garden
Though it may not look like much from the street, Panna II Garden is considered an absolute icon in the East Village for its colorful ambiance and delicious Indian eats.
If you follow anyone in New York City, you've probably seen photos of Panna II's ceiling covered in layers of colorful fairy lights that give off a celebratory vibe regardless of the time of year.
As you dine "under the stars" you can feast on delicious — and moderately priced — Indian favorites like chicken tikka masala, saag paneer, and samosas.
The restaurant is also BYOB, making it perfect for birthdays and celebrations of all kinds and a budget-friendly NYC option.
13. The Ready at Moxy East Village
One of the East Village's newest residents is quickly becoming one of the most Instagram-worthy outdoor restaurants in NYC.
Located atop the Moxy East Village Hotel, The Ready is an all-season rooftop bar with great views, gorgeous decor, and plenty of spots to grab the perfect feed-worthy shot.
With a "collegial yet refined" feel (according to the restaurant's website), you'll feel like you're lounging in the backyard of your most stylish friend as you sip delicious cocktails and chow down on tacos at this rooftop spot.
The bar also features a retractable glass roof, ensuring that they're "ready" to keep the party going all year long. The Ready truly is one of the most Instagrammable bars in NYC!
14. Asiate at Mandarin Oriental
Add this one to your list if you're looking for beautiful restaurants in NYC with a view!
For a posh yet modern dining experience featuring incredible views of Central Park head to the Asiate, located at the Mandarin Oriental Hotel in Columbus Circle.
With gorgeous decor and stylish dishes that blend Asian and New American flavors, this eatery is one of the most unique restaurants in NYC that is worth the splurge.
And with floor-to-ceiling windows offering some of the best views of Central Park West, you'll definitely want to throw on your best dress and stop by Asiate for brunch on a sunny day.
15. Robert
Located inside the Museum of Art and Design, Robert blends exciting modern design, impeccable city views, and a menu of fresh flavors to bring you a unique dining experience.
Grab a table by the floor-to-ceiling windows to take in sprawling views of Central Park any time of year as you enjoy elegant dishes like Chilean Sea Bass and Spaguettini Squash plated in a picture-perfect manner.
Robert also offers a regular schedule of live music and events, proving that this restaurant has a little something for everyone.
16. Bar SixtyFive at the Rainbow Room
Can't cop an invite to one of those swanky events at the legendary Rainbow Room? Make a reservation at its sister restaurant, Bar SixtyFive, for the same incredible views in a relaxed but stylish environment.
With both indoor and outdoor dining spaces atop Rockefeller Center, Bar SixtyFive offers some of the best views of Midtown and the Manhattan skyline as well as a mouth-watering menu of craft cocktails and light bites.
If you're looking to capture the perfect shot of the Empire State Building, this is definitely the place to go!
17. Tavern on the Green
Looking for a beautiful restaurant that also offers one of the most uniquely New York experiences out there?
Few restaurants are quite as synonymous with New York City as Tavern on the Green, the iconic Central Park restaurant that has been entertaining New Yorkers and tourists alike since the 1880s.
Following a redesign in 2014, Tavern on the Green offers indoor and outdoor dining experiences that blend classic New York style with modern design to create a warm and inviting environment.
Tavern also hosts live shows on their terrace from some of New York's hottest theatre and cabaret stars, making it the perfect dinner spot for Broadway fans.
As you look out onto the adjacent Sheep Meadow with a craft cocktail in your hand, you'll feel like you're a world away from Manhattan.
18. La Mercerie Cafe at Roman and Williams Guild
Looking for a taste of Paris in the heart of SoHo? Head to La Mercerie Cafe at Roman and Williams Guild.
Featuring a full menu of French cuisine, this gorgeous cafe blends rustic style with the chic designs of Roman and Williams Guild, the upscale home decor showroom in which the restaurant is located.
You'll definitely pick up some design inspiration for your own home while dining at this truly gorgeous restaurant.
19. Shuka
A colorful and delicious addition to the SoHo restaurant scene, Shuka offers delicious Mediterranean eats that will make you want to break out your phone and snap a few photos.
From shakshuka to fried halloumi to full feasts of mezze and more, every dish at Shuka is just as photogenic as it is delicious.
Take a group photo in the garden-inspired dining room as you and your friends make your way through the menu of small plates and unique cocktails.
20. Le Coucou
Considered one of NYC's top restaurants, SoHo's Le Coucou brings a sense of style to everything they do, from elegant French dishes to a dining room that is the picture of modern elegance.
Gorgeous chandeliers, exposed brick, and vintage candles transport you away from the hustle of Downtown Manhattan into a truly unique dining experience.
The piece de resistance here is the antique bar at the front of the restaurant, where some of the city's best mixologists whip up craft cocktails — like the "437 Royal Street" made with bourbon, banane du brésil, bianco vermouth, and Peychaud's bitters.
If you're looking to dine in style there are few better options than Le Coucou!
21. PHD Terrace at Dream Hotel
Located at the Dream Hotel's Midtown outpost, PHD Terrace offers tons of great opportunities to snap the perfect grid-worthy photos while enjoying a delicious menu of unique food and drink.
What sets this place apart from other Midtown rooftop bars is that PHD Terrace celebrates each season with a new immersive experience, transforming the space and menu to reflect the colors, style, and flavors of the moment.
This summer, you can walk through a tunnel of sunflowers, sip cocktails at a flower-lined bar, and bask in the sun on PHD Terrace's outdoor seating area.
You'll have so much fun that you'll want to come back next season to see what the bar has in store.
Bonus: if you're looking to explore NYC after midnight, this bar is open late, especially on weekends!
22. Nom Wah Tea Parlor
Dim sum, the Cantonese brunch tradition of sharing small plates of dishes like dumplings and buns, is an NYC favorite and the art is truly perfected at Nom Wah Tea Parlor.
Located on Chinatown's photogenic Doyers Street, Nom Wah was NYC's first dim sum restaurant and has been a local favorite since 1920.
Both the interiors and exteriors of the restaurant harken back to Chinatown's beginnings and are worth more than a few snaps.
You'll also want to share some of the many dishes you and your friends order — from pan-fried pork dumplings to scallion pancakes to salt and pepper shrimp — with your followers.
Most Instagrammable Restaurants In NYC: Brooklyn
23. Fandi Mata
Fandi Mata, a vast Mediterranean eatery in Williamsburg, is all about bringing people together over a delicious meal and offers plenty of beautiful space to do exactly that.
Set in a large, open space featuring "Brooklyn industrial meets Mediterranean" decor, Fandi Mata is the perfect place for a gathering or dinner party among friends.
From the colorful tiles and lush plants that cover the space to the delicious menu of shareable plates, you'll feel like you've just stepped off a boat in the Greek Islands instead of the L Train in the middle of winter.
24. Sisters
Featuring airy, minimalist decor and a menu of farm-fresh local ingredients, Sisters is the epitome of Brooklyn Cool.
Stop by this Black-owned Clinton Hill eatery for brunch in their light-filled dining room and admire their signature rustic bar as you chow down on huevos rancheros and a michelada.
Sisters also hosts tons of fun events throughout the year, including their annual Prince Brunch every June, so check out their calendar to see what's on before you visit!
By the way, if you're interested in supporting Black-owned eateries in NYC, check out this list.
25. Rule of Thirds
Located in Greenpoint, Rule of Thirds serves up delicious Japanese comfort food in a chic, minimalist setting that makes it one of the most Instagram-worthy restaurants in Brooklyn.
The restaurant's stylishly designed cocktails and dishes, like drinks served in grapefruits and souffle pancakes, are just as gorgeous as they are tasty.
Dining with a small party? You can book one of Rule of Thirds' Summer Pavilions for a unique private dining experience.
Enjoy a Buddhist duck feast for up to 10 people in small outdoor bungalows inspired by classic Japanese design.
26. Le Crocodile
Another Williamsburg favorite, Le Crocodile serves up delicious French fare in a chic NYC setting.
Located in the Wythe Hotel, Le Crocodile's stylish, industrial-inspired dining room is almost as gorgeous as its menu of mouth-watering dishes like roast chicken with herbs jus and frites and the sticky banana date pudding.
The restaurant also has tons of gorgeous outdoor dining space perfect for summer brunches and early evening drinks.
If you're looking for unique things to do in Williamsburg or delicious boozy brunches in NYC, add dining here to your list!
27. Gertie
Gertie is one of those rare restaurants in NYC where you can stop in any time of day and find something truly delicious.
From Jewish deli favorites like bagels, bialys, and babka to a bar menu featuring natural wines, Gertie has something for everyone all day long.
The cafe's kitchy theme extends to its decor, where you'll find colorful murals and nostalgic coffee mugs that will definitely put smiles on your Insta followers' faces.
28. Sunday in Brooklyn
Don't let the name fool you — Sunday in Brooklyn is way more than weekend meals of eggs benedict and mimosas.
While brunch is a big part of Sunday in Brooklyn's appeal, the eatery also features an extensive menu of dinner options, cocktails, wine, spirits, and more.
And of course, every dish is served in a feed-worthy style that will get your mouth watering before you even take a bite, making it one of the most Instagram-worthy restaurants in Brooklyn!
29. Juliette
Looking for Instagram restaurants in NYC with an airy vibe?
Plant-lovers everywhere should check out Juliette, a Williamsburg eatery that will inspire you to up your gardening game.
With lush, green plants hanging from the ceiling of the dining room and a rooftop terrace to give you a taste of the outdoors, Juliette is a feast for the eyes as well as the stomach.
And with an extensive menu of French eats, you'll leave this spot feeling very satisfied.
30. Di An Di
Located in Greenpoint, Di An Di serves up delicious Vietnamese cuisine in a unique and stylish setting perfect for feed-worthy photos.
From big bowls of pho to a Vietnamese-Cajun crawfish bowl, you'll absolutely want to share your meal — at least visually — with your followers.
If you can't travel to Vietnam right now, this effortlessly cool eatery is the next best thing to booking a plane ticket!
31. Paulie Gee's
There's no shortage of pizzerias in NYC, but if you can only visit one, make it Paulie Gee's in Greenpoint.
The wood-fired pies available at this Italian eatery will surely earn a spot on your grid since they're just as aesthetically pleasing as they are tasty.
There's a reason Paulie Gee's is regularly voted one of the top pizza spots in the city. You just have to try it to see why!
Most Instagrammable Restaurants In NYC: Queens
32. Comfortland
Feeling down and need a little comfort food? Head to Comfortland, a Queens eatery that is bound to lift your spirits.
A spinoff of borough favorite Queens Comfort, Comfortland offers donuts, sandwiches, cakes, and more piled high with your favorite flavors.
Comfortland's menu features everything from homemade Choco Tacos to donut fried chicken sandwiches to Nashville hot chicken ramen, perfect for anyone who appreciates a little creativity in their culinary adventures.
While the food is the real star of the show here, don't forget to check out the candy-colored mural and designs inside the shop for an extra boost of serotonin.
33. Maiella
You'll find plenty of Italian restaurants in Queens, but few are as gorgeous as Maiella.
Located right by the water in Long Island City, Maiella really brings the outdoors in with gorgeous floral-inspired interiors. It also offers some of the best views of the Manhattan skyline from Queens.
Additionally, the menu items are a feast for the eyes, like homemade pasta, delicious seafood options, and delectable desserts.
34. Adda Indian Canteen
Small but mighty, Adda Indian Canteen has quickly become one of the top spots for Indian cuisine in all of New York City.
This Long Island City restaurant serves up highly Instagrammable dishes that blend authentic Indian flavors with modern culinary creativity.
You'll want to check out the restaurant's interiors as well, featuring a wall covered in newspaper headlines and advertisements from India.
35. Eddie's Sweet Shop
If you've got a sweet tooth and a taste for nostalgia, make a trip out to Forest Hills to check out Eddie's Sweet Shop, an ice cream parlor straight out of old New York.
From piled-high sundaes served in classic silver dishes to colorful homemade sodas, there's plenty for all your senses to enjoy at this 100-year-old dessert paradise.
The shop windows, soda fountain, and marquee will also make you feel like you've stepped back in time and definitely make Eddie's one of the most Instagrammable restaurants in Queens.
36. Tacoway Beach
If you went to the Rockaways and didn't stop at Tacoway Beach, did you really go?
This shoreside taco shop is the perfect addition to any NYC beach day, featuring delicious eats, creative cocktails, and a colorful outdoor space to gather with friends.
Just steps from the water, Tacoway Beach brings a bit of California surf culture to Queens. Who needs to fly across the country when Tacoway Beach is just off the A train?
Most Instagrammable Restaurants In NYC: Staten Island
37. Bin 5
Regularly voted one of the top restaurants on Staten Island, Bin 5 offers delicious Italian-inspired dishes, prime meats, and creative cocktails in a cozy yet elegant environment.
You'll feel right at home in Bin 5's dining room featuring exposed brick, comfortable seating, and funky decor.
You'll also want to snap a photo or two of Bin 5's colorful cocktails, like the Tony Soprano, a rum and blue curacao drink garnished with a tiny rubber duck.
38. Maizal
Featuring a cute outdoor dining area, delicious cocktails, and creative dishes, Maizal has quickly become a top spot for fans of Mexican cuisine on Staten Island.
Book a table in Maizal's backyard space to enjoy the colorful murals and greenery that line the restaurant's walls.
Split some guacamole and enjoy margaritas as you take in one of the best dining experiences in the borough.
39. Killmeyer's Old Bavaria Inn
Looking for a dining experience that's a little off the beaten path? Head to the historic Killmeyer's Old Bavaria Inn.
Entertaining Staten Islanders since the 1800s, Killmeyer's serves up authentic German dinners in a classic beer hall setting complete with beer steins, wooden statues, and all the trappings of a Bavarian pub.
Enjoy a brew and a pretzel in the outdoor biergarten to get your Oktoberfest on — no lederhosen required!
Most Instagrammable Restaurants In NYC: The Bronx
40. Mottley Kitchen
Located in the South Bronx, Mottley Kitchen has quickly become one of the borough's trendiest and most Instagrammable cafes.
Serving up a menu of delicious pastries, all-day breakfast, and healthy vegetarian options, Mottley Kitchen is the perfect spot to grab a coffee and catch up with an old friend.
You can even enjoy the cafe's delicious eats on their rooftop terrace, which regularly hosts events like movie nights, group yoga sessions, and live music.
41. Beatstro
Music-lovers should check out Beatstro, a Mott Haven restaurant and bar serving up soul food and tunes seven nights a week.
Dubbed "The Hip Hop Restaurant," Beatstro's decor features local street art, gold records, and a big wall of speakers for the DJ sets and live shows that take place almost every night.
And with hip hop legends like Doug E. Fresh and D-Nice making appearances at Beatstro, you never know who you'll run into!
Food Tours In New York City
If you're looking to immerse yourself further into NYC's culinary culture, consider booking one of the following local food tours:
Click here for a full list of NYC food and drink tours.
Hotels In New York City
Looking to stay overnight in NYC?
There are so many incredible hotels, like NoMo SoHo, the Williamsburg Hotel, and The Ludlow.
Click here for a full list of New York City hotels!
Prefer self-contained stays?
Click here to check out unique local rentals!
You can also use this map to search for unique local stays:
New York City Travel Insurance
When visiting New York City — or anywhere else in the world — it's wise to get travel insurance.
One of the best travel medical insurance for travelers is SafetyWing as they've got a large network and offer both short-term and long-term coverage — including coverage if you're traveling for months as well as limited coverage in your home country).
Additionally, SafetyWing is budget-friendly and offers $250,000 worth of coverage with just one low overall deductible of $250.
Click here to price out travel insurance for your trip in just a few clicks.
What Instagrammable restaurants in NYC would you add to this list?
Enjoyed this list of beautiful restaurants & Instagrammable bars in NYC? Pin it for later!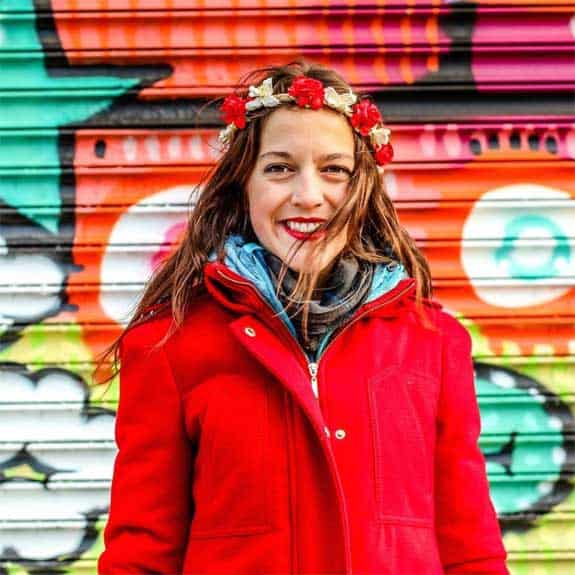 Hi, I'm Jessie on a journey!
I'm a conscious solo traveler on a mission to take you beyond the guidebook to inspire you to live your best life through travel. Come join me!
Want to live your best life through travel?
Subscribe for FREE access to my library of fun blogging worksheets and learn how to get paid to travel more!