29 Of The Most Instagrammable Cafes in NYC
By Jessie Festa. This guide to New York's most Instagrammable cafes includes affiliate links to trusted partners!
Instagrammable cafes in NYC abound, especially ones that serve a delicious cup of coffee, as well.
Because here's the thing:
While the show Friends may not have been the most accurate portrayal of life in New York City, they got one thing right: New Yorkers love a good cafe.
You'll find coffee shops, tea rooms, and general caffeination stations on almost every corner in the five boroughs.
Aside from serving great beverages and pastries, some of these cool cafes in NYC make great spots for Instagram grid-worthy photos that will make every major coffee chain devotee jealous.
To help you explore some of the most beautiful cafes in NYC, check out the following list — created by a local New York influencer and photographer.
You can also grab my free Ultimate Travel Planning Kit — which also includes a Google Map of this Instagrammable NYC cafes itinerary. Add the map to your phone to have it ready to go!
📸 Want to capture your time in New York through photography? I offer private New York City photo tours through my company, NYC Photo Journeys. These experiences are part-tour, part photoshoot and include photos to keep.

🤳Or, if you're a blogger or creator, you can book an NYC Influencer Shoot for a mix of exciting locations to uplevel your feed.

🎞️ Not an influencer but want a custom photoshoot? There are also Professional NYC Photoshoots for those wanting to work one-on-one with a photographer to bring their vision to life through stunning high-resolution images.

🥘 NYC Food Tours: One of the best ways to taste — and photograph — a bunch of great local NYC food spots is to book a tour, like a:
–Brooklyn Pizza Walk
–Chelsea Market & High Line Food Tour
–Chinatown & Little Italy Food Fest
➡️ Click here for a full list of food and drink tours in NYC!
Instagrammable Cafes In NYC: Manhattan
450 Park Avenue South / NoMad
No guide to New York would be complete without mentioning a few of the fun cafes in NYC.
This new addition to NoMad — designed by famed interior designer Ken Fulk — gives off a classic vibe while remaining a little quirky.
Distinct pink and blue walls blend with classic wooden bookcases and museum-worthy portraits to make you feel like you're in the library of a slightly eccentric millionaire, and not just one of the best cafes in Manhattan.
You also won't find any cumbersome milk carafes here; Felix keeps several milk selections — including almond milk — on tap for self-service.
Visiting NYC in winter or in search of rainy day activities?
You could easily spend a few hours warming up in this beautiful space with a hot beverage and a book (or your smartphone!).
164 Mott Street / Nolita
Looking for an Australian-inspired cafe in NYC?
Two Hands is a bright and airy cafe in Nolita with smoothies, coffee, and Instagrammable brunch fare.
Grab one of their breakfast dishes — served all day — or sandwiches to fuel up for your next round of adventures.
Although the Nolita location is the original, they have recently opened additional locations in Noho, Tribeca, and Williamsburg.
View this post on Instagram
113 Jane Street / West Village
Located in the notoriously fashionable Jane Hotel, the Old Rose is a West Village hotspot that's worth a visit on its own for its gorgeous checkered floor and unique artwork. It may be one of the most aesthetic cafes in NYC.
The cafe also offers a full menu with scrumptious weekend brunch options, cocktails, and more.
19 Kenmare Street / Nolita
Another Instagrammable Manhattan cafe is The Butcher's Daughter. This restaurant serves healthy and delicious vegan and vegetarian fare for breakfast, lunch, and dinner.
In addition to their mouth-watering menu, they have a wide selection of coffee, juices, and smoothies.
The Butcher's Daughter also has locations in the West Village and Williamsburg.
View this post on Instagram
149 Essex Street / Lower East Side
Pioneers in the self-care industry, Chillhouse is probably most well-known for their millennial-friendly massages and manicures.
The spa is also home to a very Instagramable cafe serving lattes with adaptogenic powders and healthy snacks for maximum chill. Between the spa and the menu, Chillhouse is one of the most unique cafes in NYC.
Get some photos with their signature neon signs and browse the shop for unique self-care products while you're there.
Want to explore the city while getting some gorgeous shots for your Instagram grid? Sign up for a private NYC Photo Journey, or take it to the next level with an NYC Influencer Shoot or Professional New York Photoshoot! Email [email protected] with inquiries.
226 Lafayette Street / SoHo
Jack's Wife Freda is a cute and colorful all-day cafe in SoHo, with additional locations that have opened in the West Village, Chelsea, and Williamsburg. It's one of the most popular cute coffee shops in NYC, though they serve up so much more than just coffee.
Their menu ranges from typical brunch classics to sandwiches to inventive Mediterranean-inspired fare. This is one of the best unique restaurants in New York that serves something for everyone.
It's a great place for brunch with friends, but an equally good spot for a cozy and intimate dinner.
View this post on Instagram
180 Mulberry Street / Lower East Side
Committed to environmental and social responsibility, Urban Backyard brings the outdoors inside for weary New Yorkers and tourists alike. In our opinion, it's one of the coolest cafes in NYC.
Sip on their sustainably-sourced coffee while snapping photos on their tiny front patio, complete with plants and vintage furnishings.
Bonus: This is a great spot if you're looking for places to go by yourself in NYC without feeling awkward.
261 Seventh Avenue / Chelsea
One of five locations throughout Manhattan and Brooklyn, this cafe feels like an updated version of a classic New York coffee shop, from its vintage neon sign out front to its minimalist interior design.
Grab some of their signature beans to keep your buzz going at home.
View this post on Instagram
359 Canal Street / SoHo
One cafe trend gaining steam (pun intended) in New York City is the rise of matcha, a finely ground powder of specially grown green tea leaves that contain tons of antioxidants.
One of the cutest places to get your matcha on in Manhattan is Matchaful, a new addition to SoHo NYC that features lush green interiors to match their signature drinks.
Sip your latte and snap some photos in their adorable corner lounge.
1158 Broadway / NoMad
Another major player on the New York matcha scene is Cha Cha Matcha, with three locations in Manhattan.
The NoMad location features their signature pink and green interiors with a good helping of neon and vintage travel posters. We think it's one of the best cute cafes in Manhattan!
Their matcha frozen yogurt doubles as a unique way to cool off in the warmer months and a cute Instagram prop.
121 Madison Avenue / NoMad
The sister shop to Blank Slate Coffee + Kitchen, this colorful cafe features a unique selection of teas, specialty drinks, and snacks as cute as they are delicious. It's truly one of the top NYC Instagram spots!
Looking to recreate your childhood princess tea parties as an adult?
Blank Slate's pink and floral interiors and tiered tea sandwich trays make it the perfect place to do exactly that.
Need help capturing amazing memories in NYC — with you in the photos? Book a private NYC Photo Journeys a walking tour that includes photos of your group to keep. Or upgrade your Instagram feed with an NYC Influencer Shoot or a Professional New York City Shoot. Email [email protected] with inquiries.
174 Elizabeth Street / Nolita
Stepping inside Pietro Nolita is a bit like walking into a Barbie Dreamhouse. It's no wonder it's one of the most loved cute coffee shops in Manhattan!
This all-pink-everything cafe features a menu of updated Italian classics, unique cocktails, and, of course, coffee.
The pink benches and graffitied door outside the cafe's entrance are particularly popular spots for Instagram photoshoots.
View this post on Instagram
888 Madison Avenue / Upper East Side
Conveniently attached to the Ralph Lauren Women's Store and across from their Men's Flagship Store, the brand's cafe is worth a visit on its own.
You'll feel as if you're sipping your coffee in the dining room of an Upper East Side penthouse inside this swanky cafe that mirrors the brand's preppy style.
The quality of the drinks and snacks available proves that this spot isn't just a gimmick, though.
52 Prince Street / SoHo
This expansive independent bookstore and hub for all things literary is already a must-visit for book lovers visiting New York City, but the shop's attached cafe is definitely worth a stop.
The cafe is a tribute to books, with pages lining the walls and novels hanging from the ceiling among the lights.
Fold down one of the little book-like tables for a photoshoot that will make all your fellow word nerds jealous.
401 W 25th Street / Chelsea
This Australian-owned coffee shop and cafe in Chelsea has a bright, light-filled interior with hanging plants, making it a very Instagrammable spot.
On the menu is all-day breakfast, sandwiches and bowls for lunch, and an extensive coffee menu.
This cute cafe in New York is the perfect place to fuel up before walking the Chelsea High Line or popping into the many art galleries throughout the neighborhood.
Beautiful Cafes In NYC: Brooklyn
357 Grand Street / Williamsburg
If you're looking for cute cafes in Brooklyn, make Gertie your first stop. This light and airy Williamsburg cafe offers a great selection of food served all day alongside colorful 50s and 60s-inspired art.
Feeling particularly retro? Grab a classic egg cream and pose for photos with the cafe's signature mural. Gertie is absolutely one of the most Instagram-worthy restaurants in NYC!
69 Grand Street / Williamsburg
On those dreary winter days when spring feels too far away and you're just dying to see something green, Devocion has got you covered, as one of the best cute coffee shops in New York City.
This light-filled shop specializing in Colombian coffee brings the garden inside with a huge green wall and plants sprinkled throughout the main floor.
Bonus: They offer a discount if you bring your own cup.
By the way, this neighborhood is a popular spot for Brooklyn food tours if you're also feeling hungry.
1110 Manhattan Avenue / Greenpoint
This cozy cafe offers a taste of romance in NYC.
It feels a bit like eating in an old library, without anyone there to shush you for chewing too loud.
The expansive outdoor garden is perfect for rustic shots and chill drinks during the warmer months. They also offer one of the best NYC bottomless brunch options at just $17 for an hour of unlimited mimosas.
Also, the bistro is a popular spot for Brooklyn weddings, so you know it's photo-ready. It may just be one of the prettiest cafes in NYC!
View this post on Instagram
40 Water Street / DUMBO
Tucked away in the shadow of the Brooklyn Bridge, this industrial-style cafe offers beautiful pastries and delicious coffees and teas.
The booths offer your best chance at a shot with the iconic New York landmark.
25 Jay Street / DUMBO
True coffee nerds will have a field day at Brooklyn Roasting Company's espresso lab and roasting headquarters, located just a few blocks from the Manhattan Bridge.
Get an inside look at the coffee production process and snap some shots of the spacious and beautiful warehouse this company calls home.
Want to explore the city while getting some gorgeous shots for your Instagram grid? Sign up for a private NYC Photo Journey, or take it to the next level with an NYC Influencer Shoot or Professional New York Photoshoot! Email [email protected] with inquiries.
View this post on Instagram
120 Norman Ave / Greenpoint
Just steps from the Nassau Avenue G Train stop, The Bakeshop by Woops! is a Greenpoint mainstay, tempting commuters with its light-filled interiors and delicious and colorful macaroons.
Stop in for a cookie and take some photos at their signature white-tiled tables before heading out to explore the rest of this trendy neighborhood.
2 Berry Street / Williamsburg
Spending a few hours at Upstate Stock is one of my favorite fun and quirky things to do in Williamsburg!
The space has an industrial vibe and showcases a cafe and a shop offering handmade local goods like candles, perfumes, soaps, jewelry, clothing, and even outdoorsy field guides.
Plus, they offer creative java drinks.
One fan favorite:
The "Campfire Latte" laced with smoked maple syrup.
Pair it with a locally-made maple donut for the ultimate foodie flatlay.
18 Bedford Avenue / Greenpoint
Five Leaves is a hip bistro and cafe in Brooklyn's Greenpoint neighborhood.
On the menu you'll find casual international-inspired brunch fare, while dinner is more on an upscale affair. This restaurant is great for any time of the day.
Instagrammable New York: Beautiful Cafes In Queens
View this post on Instagram
41-02 162nd Street / Flushing
Talk about unique NYC cafes!
White Noise has made its mark on Flushing with its neon artwork, minimalist interiors, and Instagram grid-worthy drinks and dishes.
Make sure to grab a photo of your latte art before you dig in!
10-93 Jackson Avenue / Long Island City
Featuring coffee locally roasted in Queens, Sweetleaf is a great place to stop in the up-and-coming Long Island City neighborhood.
Stop by for great drinks and pastries as well as a peek at their quirky antique-inspired decor.
22-04 33rd Street / Astoria
This cozy Astoria cafe is far from "just okay." It's at the top of our list of cute cafes in Queens!
Enjoy their selection of handcrafted beverages and snacks while you relax in their rustic, retro-inspired lounge.
More of a night owl?
Stop by the cafe in the evenings when it transforms into a candlelit wine bar.
View this post on Instagram
194-07 Northern Boulevard / Flushing
This whimsical cafe and creperie in Flushing dazzles with tiny gardens, fairy lights, and extremely grid-worthy crepes. It's definitely one of the cutest cafes in NYC!
Cafe Bench regularly updates their displays for each season, so it's definitely worth repeat visits to see what they have in store.
Cute Cafes In NYC: The Bronx
2306 Arthur Avenue / Arthur Avenue
Located in "The Little Italy of the Bronx," Prince Coffee House offers a quality java experience in a beautiful space, with floor-to-ceiling windows illuminating your java drinks and pastries in natural light.
Introduce your Instagram followers to classic New York through a "Bialy Egg Sandwich."
If you're unfamiliar with bialys, they're often described as a "bagel with no hole," though there are many other differences, such as that a bagel is boiled and a bialy is baked.
The cute cafe in NYC offers a delectable bread menu — semolina rosemary, anyone? — and a mix of serious and unique drinks.
Try a Thai Mocha or opt for the Turkish coffee served with on a gorgeous bronze tray with traditional long-handled pot (cezve).
Another visual highlight:
The hundreds of tin cups dangling over the bar. This is really one of the best places to visit in The Bronx!
View this post on Instagram
312 New Dorp Lane / New Dorp
SIPS + MAKER is a cross between being one of the cutest coffee shops in NYC and an artisan market showcasing local and global creators.
Peruse jewelry and accessories, wooden toys, inspiring stationery, organic aromatherapy, origami books and more while savoring conscious food and drinks.
A few notable items:
Local small-batch coconut yogurt
Vegan banana muffins
The art-adorned black sesame latte or matcha-lavender latte
Plus their seasonal pies are incredible and their pumpkin spiced latte is more delicious — and more photogenic — than Starbucks' by a longshot, especially as it contains real pumpkin.
Want to explore the city while getting some gorgeous shots for your Instagram grid? Sign up for a private NYC Photo Journey, or take it to the next level with an NYC Influencer Shoot or Professional New York Photoshoot! Email [email protected] with inquiries.
Most Instagrammable Hotels In NYC
Looking to stay overnight in NYC?
There are so many photo-worthy hotels, like NoMo SoHo, The Williamsburg Hotel, and The Ludlow.
Click here for a full list of New York City hotels!
Prefer self-contained stays?
Click here to check out unique local rentals!
You can also use this map to search for local stays:
Like the idea of hotel living? There are also many live in hotels in NYC that offer extended stays.
NYC Instagrammable Travel Video
Looking for a fun day in New York City full of Instagrammable opportunities?
Watch the video above!
You'll join me in exploring one of Brooklyn's most charming neighborhoods, Cobble Hill.
Along with ambient cafes, we'll explore artisan eateries, classic brownstone-lined streets, an old soda shop and more!
If you prefer a written itinerary, here is my Cobble Hill restaurant guide.
You definitely won't want to forget your camera for this day trip.
Instagrammable NYC Food Tours
If you're looking to immerse yourself further into NYC's culinary culture and get some fun shots for your Instagram feed in the process, consider booking one of the following local food tours:
Click here for a full list of NYC food and drink tours.
Travel Insurance
While you hope everything runs smoothly, sometimes travel just doesn't go according to plan.
This is why I recommend always purchasing travel insurance. The scary truth is it only takes one bad accident to lose everything — or be thankful you were covered.
Personally, I use SafetyWing, as they've got a large network, offer both short-term and long-term coverage (including limited coverage in your home country), are budget-friendly, and offer $250,000 worth of coverage with just one low overall deductible of $250.
Click here to price out travel insurance for your trip in just a few clicks.
Do you have Instagrammable cafes in NYC to add to the list?
Enjoyed this Instagrammable New York City post? Pin it for later!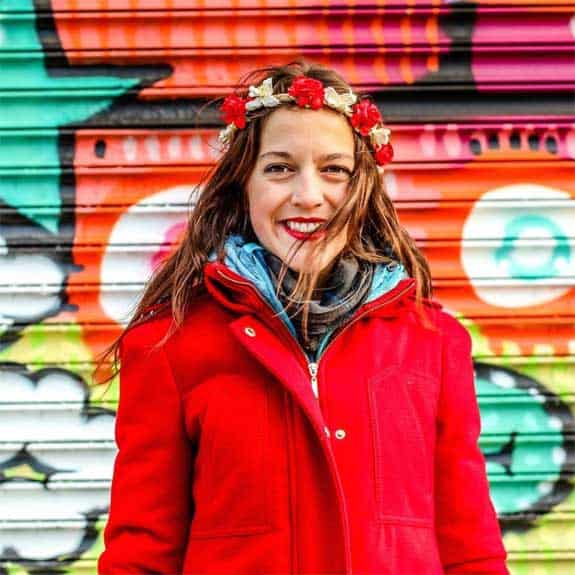 Hi, I'm Jessie on a journey!
I'm a conscious solo traveler on a mission to take you beyond the guidebook to inspire you to live your best life through travel. Come join me!
Want to live your best life through travel?
Subscribe for FREE access to my library of fun blogging worksheets and learn how to get paid to travel more!