Fun Things To Do In The West Village NYC (From A Local)
By Jessie Festa. This guide to the West Village was sponsored by the Washington Square Hotel and includes affiliate links to trusted partners.
Looking for fun things to do in the West Village NYC?
As a native New Yorker and a licensed NYC tour guide, I'm constantly asked my opinion on what the must-have experiences are in the city.
My response is always the same:
Choose a neighborhood, go there, and wander.
One of my favorite New York neighborhoods for this is the West Village, as well as the adjoining Greenwich Village.
There's just so much to do and see, and the ambiance created by the leafy parks, historic architecture, and, in certain areas, cobbled streets and sidewalks, make the local experiences even more enjoyable.
In this neighborhood guide, I'll tell you about some of my favorite things to do and see in the West Village, including where to stay.
And if you'd like some company while exploring, make sure to book a Private Photo Journey through my company, NYC Photo Journeys. A private tour that's also a photoshoot, you'll get new photos for your wall frames and your Instagram feed.
Additionally, we offer Professional NYC Photoshoots and NYC Influencer Shoots if you want to focus 100% on capturing amazing imagery.
On that note, let's dive into the NYC travel guide.
West Village Google Map
If you'd like to save the below itinerary as a Google Map, you're in luck! Click here for access to my Ultimate Travel Planning Kit.
The kit contains travel planning printables, quizzes, guides, resources, and Google Maps — including one for the West Village that you can download right to your phone. It'll make your NYC trip planning experience much easier.
The whole formation of this Greenwich Village guide came thanks to a sponsored stay invitation by this 152-room boutique property, which sits on a quaint cobbled street of NYC full of 18th-century architecture, right off Washington Square Park.
As soon as I walked through the hotel doors I felt as if I'd been transported to old-world Europe, with a grand marble staircase and check-in desk, oval-shaped portraits with black and white photos, lots of deep reds and gold, and a history dating back to 1902 when it was the 8-story residential Hotel Earle.
The most eye-catching items are the work of Rita Paul — former owner of the Washington Square Hotel.
Tiles hand-painted by her hang in the entrance hall, and some accent the floor of the North Square restaurant. More of her tile art brings life to the lobby walls, giving the hotel a bohemian feel.
Rita also worked with Christina Ziegler of CZ Design to bring art deco design to the Washington Square Hotel, thoughtfully redesigning rooms with inspiration from that period.
Click here to check nightly rates, which include a continental breakfast and free Wi-Fi.
Other West Village Stay Options
Looking for other West Village accommodation?
Click here for a list of West Village hotels!
Prefer self-contained stays?
Click here to check out unique local rentals!
You can also use this map to search for local stays:
And if you're interested in living in a hotel in NYC, there are numerous extended stay hotel options too!
Introduction To The West Village Neighborhood
What can be confusing to many visitors is how NYC neighborhoods quickly blend into one another.
One second you're in the Lower East, then suddenly you're in the East Village until you've stepped right into Alphabet City.
So, exactly where is the West Village?
You can find it just south of Chelsea and The High Line, and just north of SoHo and Lower Manhattan.
In terms of Greenwich Village vs West Village, they can sometimes be synonymous, as the West Village encompasses the western part of Greenwich Village (debatably west of 7th Avenue).
Greenwich Village — aka "The Village" — has always been synonymous with bohemian culture and the start of the LGBTQ+ movement.
In fact, it's here where you'll find the Stonewall Inn, a gay bar where the modern LGBTQ+ movement was born on June 28th, 1969 when patrons fought back against the sanctioned harassment by the police. This was during a time when it was illegal to serve the LGBTQ+ community alcohol or for them to dance together.
Today, the Stonewall Inn is a National Historic Landmark.
You can read the whole history here or watch this short documentary:
What's very cool about the neighborhood is it still has a very bohemian, independent feel.
Sure, you'll find some big brand stores like Burberry and L'Occitane en Provence, but even those look like local boutiques amidst the plethora of red brick buildings with sprawling ivy, Italian-style churches, storefronts with smiling shopkeepers offering samples, leafy streets (some with genuine cobbled streets and red brick sidewalks), and historic homes and eateries.
For visitors who have only explored Midtown Manhattan, you may think I'm bluffing; luckily, this West Village guide will prove I'm not.
Want beautiful photos taken of you in scenic New York spots? Book a Private Photo Journey, a walking tour that includes photos of your group to keep. Or get a styled, custom shoot that tells your unique story through an NYC Influencer Shoot or Professional New York City Shoot. Email [email protected] with inquiries.
Is The West Village Safe?
Okay, so you probably get by now that the neighborhood is hip…
But, is it safe?
As a local, I consider the West Village to be one of the safest neighborhoods in New York City.
And the data confirms this.
In fact, Property Club ranks it within the top 7 safest neighborhoods in NYC.
That being said, you of course always want to be cautious.
In terms of Manhattan travel tips for safety, I recommend downloading a few personal safety apps and investing in some travel safety gear — like hidden-pocket garments to prevent pickpocketing.
Moreover, avoid wearing headphones at night so that you can be fully aware of your surroundings.
Fun Things To Do In The West Village
Explore The West Village With A Local Photographer
Need help capturing the best West Village views and attractions — with you in the photos?
My company NYC Photo Journeys offers private New York City photo tours that include a tour with a licensed guide as well as high-quality photos of your group to keep. Talk about personalized NYC souvenirs!
Or, if you'd prefer to explore sans tour and maximize the amount of photos you get, an NYC Influencer Shoot or Professional Photoshoot in NYC are both excellent options.
Check out @NYCPhotoTour on Instagram for examples.
You can email me at [email protected] with inquiries.
Photograph The West Village Architecture
I'm far from an architecture buff, but step out of the hotel and you'll find yourself whispering, "This street is so cute!" every other minute.
One of my favorite things to do in Greenwich Village / West Village — and in NYC in general — is wandering with my camera and photographing the beautiful buildings in their various styles.
This neighborhood is one of the few to have a wooden home, dubbed Twin Peaks, as they're technically now illegal due to fire codes.
It was originally built in 1830 as a pitched-roof wooden cabin for artists. You'll also find Federal-style homes (the oldest house in Greenwich Village dates back to 1799 and is at 77 Bedford Street), Victorian Gothic structures, Gothic Revival, and more.
One of the most picturesque streets in the West Village is Grove Street. This short street only runs five blocks, and is known for its quaint, uniform Federal-style brick houses which beg to be photographed.
Additionally, Grove Street is home to a secret gem: Grove Court.
Located in an alley nestled between 10 and 12 Grove Street, this little cul-de-sac contains a manicured garden and six small row houses. It's an idyllic oasis hidden just steps away from the bustling streets of the West Village.
Want to explore the neighborhood on a New York City architectural tour? A Private Greenwich Village Tour allows you to see the best of the area with a knowledgeable guide.
See Famous NYC Houses
Getting back to architecture, the West Village is where you'll find New York City's narrowest house at 75-1/2 Bedford.
Despite its shockingly skinny shape, the latest owner reportedly paid $3.25 million for it.
Moreover, the property has been home to numerous celebrities and notable residents over the years, like Cary Grant and Edna St. Vincent Millay.
Nearby on Bedford and Grove, right above the Little Owl Restaurant, you'll also find the facade of Monica's apartment from Friends.
One of the creepier houses in the West Village is known as the House of Death. Over on West 10th Street, you'll find this famous New York City haunted house.
Originally built in 1856, this brownstone became known for the bad luck that befell many of its residents.
One of its most famous people who called the House of Death home was the writer Mark Twain, who lived there for a little over a year. Many later tenants and visitors have claimed to have spotted his ghost roaming the halls of the house.
I highly recommend adding these famous houses to your West Village bucket list!
Have A New York Moment On Avenue Of The Americas
The Washington Square Hotel is just off Avenue of the Americas (aka 6th Avenue), which I absolutely love walking.
Here's why:
Look north and you've got a prime view of the Empire State Building. Look south and right there is the One World Trade Center.
The avenue in this neighborhood is also filled with romantic brick eateries covered in sprawling ivy and dangling plants (like the yummy Olio e Piú) and shops and eateries adorned with retro signs (like the Waverly Restaurant and C.O. Bigelow Apothecaries, open since 1838).
Enjoy Art & Culture In The Park
One of the many reasons NYC is so famous is its focus on public art.
The parks in the West Village aren't just great for grabbing some peace in a green space; they're also good for exploring the arts — for free!
Start with the small and historic Christopher Park and check out the Gay Liberation sculpture by George Segal.
As I noted earlier, the Stonewall Inn was where the modern LGBTQ+ movement began, and this bar sits adjacent to the park.
Here you'll find four white sculpted figures — two standing males and two seated females — depicting the comfort of the individuals to be themselves in public.
There is also Washington Square Park, one of the top West Village attractions.
Here, you can walk down quiet green and bench-lined paths or through the 1892 grand marble triumphal arch into a giant square full of locals reading books, playing instruments (there's even midday piano accompaniment), juggling, ribbon dancing, creating bubble art, singing, and more.
Also, this is hands down one of the most Instagrammable places in New York City!
Bonus: exploring local parks is a great wait to enjoy some of the free things to do in the West Village.
Catch A Film At The IFC Center
The West Village is a neighborhood known for its arts and culture, which is on full display at the IFC Center. This is one of the best independent cinemas in New York City.
Perfect for a rainy day or date night activity, catching a movie at the IFC Center is one of the top activities in the West Village.
The cinema is housed in the historic Waverly Theater, and offers screenings of indie films, cult classic, foreign films, documentaries, and more.
By the way, this is a great option if you're looking for fun things to do in NYC on a rainy day!
Want beautiful photos taken of you in scenic New York spots? Book a Private Photo Journey, a walking tour that includes photos of your group to keep. Or get a styled, custom shoot that tells your unique story through an NYC Influencer Shoot or Professional New York City Shoot. Email [email protected] with inquiries.
Enjoy West Village Shopping
Discover Vintage & Specialty Goods In The West Village
No day trip to NYC's West Village would be complete without some shopping. Whether you're looking to treat yourself, purchase a gift, or find some great souvenirs from New York, you can do so here.
If you're looking for vintage finds, you'll have loads of options. Hamlet's Vintage, Vintage Thrift West, and Screaming Mimi's are three excellent stores to check out for unique old-school clothing, accessories, and more.
Additionally, you'll find loads of high-quality specialty shops in the neighborhood, like Goorin Bros for hats and Greenwich Stationery for stationery.
There is also Kikkerland for goods and gifts made by independent designers. They sell everything from clocks to stationary to spa products, and more.
In need of a new board game? The Uncommons is a board game shop where you can also have a coffee or a beer and play Cards Against Humanity, Settlers of Catan, or even a lesser-known option.
Get Lost In A West Village Bookstore
For such a small neighborhood, the West Village is full of great independent bookstores that you can get lost in for hours.
Three Lives & Company is a neighborhood institution that has been around since 1991.
Unoppressive Non-Imperialist Bargain Books is a quirky bookstore with new, discounted books on curated topics like art, philosophy, spirituality, fiction, and more.
And Left Bank Books is a petite store with a selection of new, vintage, and rare books.
If you're looking for a new book or a unique gift, these independent West Village bookstores are the perfect place to shop.
Where To Eat In The West Village
Visit Italy Without Leaving The West Village
Sadly, it would be hard to call Little Italy a hub for Italian culture today.
Instead, I recommend heading to the West Village (or Arthur Avenue in the Bronx) and having a seat outdoors at Numero 28 Pizzeria.
Their brick oven Neapolitan pizza has a delicious smokey flavor, and you'll have a beautiful view of the grand Italianate-style Our Lady of Pompeii Church, built to help the flood of Italian immigrants coming to the neighborhood. It's definitely one of the top things to see in the West Village.
Adjacent is the fountain-adorned Father Demo Square, named after Father Antonio Demo (1870-1936) who was the pastor of the church.
Also on the corner of Bleeker and Carmine Streets you'll find Venchi Chocolate, an Italian gourmet chocolate company originally founded in Turin (Italy) in 1878.
Stop in for their delicious gelato or some Nougatine — small candies crafted from hazelnuts that are crushed, caramelized, and then coated in dark chocolate.
Savor Budget Binges & Free Samples On Bleeker Street
If you're looking for non-touristy things to do in NYC that are also tasty and budget-friendly, this one is for you.
Continuing on with the Italian theme, you also need — yes, I said need — to try the arancini at Faicco's Italian Specialties on Bleeker Street.
These $1 rice balls are stuffed with risotto and fried, and the shop has been open since 1900, right after the original owner immigrated from Sorrento in 1896.
Bleeker Street is a hub of deliciousness, especially south of Christopher Street. Some experiences not to miss on this street, all of which are within steps of each other:
Pasticceria Rocco. Open since 1974, this is a sweet tooth's dream and is one of the most aesthetic places in NYC to eat. Its many tables and cozy corners also make enjoying a treat here one of the top things to do in NYC by yourself.
Along with pistachio-laced cannoli stuffed fresh, moist black-and-white cookies, the thickest chocolate chunk cookies you've ever seen, baked custard, and authentic Italian-style cheesecake, they have the craziest latte menu I've ever seen.
My pick: the sweet Vanilla Cupcake Latte made with real cupcake.
Other options include cheesecake, frosted shortbread, banana foster, creme brulee, strawberry banana, and caramel biscuit, to name a few. Plan for a sugar crash.
Murray's Cheese. No need to look up the address. Your nose will guide you to this delightfully stinky shop.
Along with free samples of cheese at the counter, you may just snag a bonus tasting. For instance, last time I visited I was greeted by the most knowledgeable Spanish woman offering samples of her acorn-fed Jamón ibérico and natural grain-fed Jamón ibérico chorizo.
She was very generous with the samples, and allowed me to taste different parts of the leg — which was $1,500 on its own — to better understand the meat.
This place is a must for high quality meat and cheese, or to grab a fresh salad or deli sandwich.
O&Co. Enjoy free samples galore of olive oils and balsamics in various flavors and ages.
Staff are more than happy to explain the different kinds of products and how they are made. They even have an interesting "educational" chandelier made of clear bottles full of oils.
While some of the bottles turned clear — meaning it's their real olive oil gone rancid (olive oil goes bad from sun damage in clear bottles) — others from the grocery store did not, showing many times you're really buying canola oil.
Royce Chocolate. Despite my Rocco's sugar coma, I was more than happy to savor the free samples of chocolate caramel-laced potato chips and Nama (cream) chocolates.
These chocolates are stored in refrigerators to keep them fresh and, if you purchase them, you're given an ice-filled bag. All the chocolates are dainty and beautiful — not surprising as the company is Japanese (and their matcha chocolates are amazing).
When the counter woman asked if I wanted a free sample, she first asked if I wanted milk chocolate or dark. Next came my favorite question: "Booze or no booze?"
Umm, duh.
The cognac-filled dark chocolate was dense, cold, and creamy and finished like a homemade chocolate pudding.
Bantam Bagels. New York City is known for its bagels, but many don't know about its mini stuffed bagel balls.
The Bantam Bagels founders actually won on Shark Tank, and one bite into their "Grandma JoJo" (Italian spiced bagel topped with marinated tomato and stuffed with fresh basil pesto cream cheese) or "French Toast" (cinnamon nutmeg egg bagel stuffed with a buttery, maple syrupy cream cheese) and you'll understand why.
Tip: get there early if you like butter, as their butter-filled balls tend to run out before noon.
Party During The Day At Boozy Brunch
If you're looking for the best bottomless brunch in NYC, the West Village has some great options.
One top pick is Pinto Garden, a Thai restaurant serving tasty dishes like basil chicken over rice with a sunny-side-up egg or chicken and lemongrass waffles — alongside unlimited lychee bellinis and mimosas.
They also have a heated backyard garden if you want to enjoy the boozy festivities outside.
Enjoy Quirky Desserts In The West Village
If you're looking to satisfy your sweet tooth, the West Village has plenty of top picks.
My personal favorite is Molly's Cupcakes, where you can have a make-your-own cupcake experience or choose from one of her homemade center-filled specialties — like the "Cookie Monster" made with vanilla chocolate chip cake and a raw cookie dough center, topped with buttercream and mini chocolate chip cookie.
Head over to the sprinkle station to dress up your treat, then park yourself on the counter-side swings while playing one of the board games lining the shop walls.
Craving ice cream? Van Leeuwen is my favorite ice cream shop in the entire city. They scoop both dairy and vegan ice cream, with all flavors crafted using natural, qualty ingredients.
Personally, I love their vegan Sicilian Pistachio — made with special pistachios only found on Mount Etna in Italy!
Want beautiful photos taken of you in scenic New York spots? Book a Private Photo Journey, a walking tour that includes photos of your group to keep. Or get a styled, custom shoot that tells your unique story through an NYC Influencer Shoot or Professional New York City Shoot. Email [email protected] with inquiries.
West Village Nightlife: Explore Jazz From Past To Present
Greenwich Village and West Village certainly aren't limited to just jazz nightlife; however, it's a hub for it in NYC (as is Harlem).
I'm a craft cocktail fanatic, an interest that was more-than-satisfied at Slowly Shirley.
Here I sipped artfully boozy craft cocktails in a subterranean speakeasy atmosphere that was enhanced by a lovely jazz soundtrack. It really felt like something out of the Great Gatsby.
My drink of choice: the "Monkey Man" made with Tennessee Whiskey, El Dorado 15 Year Rum, banana, cinnamon, vanilla, pineapple, and lime. It tasted slightly sweet with lots of baking spices!
Another spot I love is Cellar Dog (formerly the Fat Cat) — a laid-back bar that's uniquely New York with live jazz as well as tables with cards and board games, plus fun offerings like pool, ping pong, and shuffleboard.
It's a fun spot to pair cheap drinks with activities that go beyond just sitting there talking.
Now, Greenwich Village has a rich music history. To explore that side of the neighborhood I recommend the Village Vanguard.
The venue opened in 1935, showcasing folk music and beat poetry, and today you can hear live jazz from a stage once graced by Miles Davis, Thelonious Monk, Anita O'Day, Charlie Mingus, and Bill Evans, to name a few.
Have A Night Out On MacDougal Street
Looking for the best things to do in the West Village at night? Wanting to enjoy NYC after midnight to really experience The City That Never Sleeps?
MacDougal Street is one of the best nightlife areas in the West Village and Greenwich Village. It's home to cozy restaurants, beloved bars, and entertainment.
One of the best ways to spend a night out on MacDougal Street is to catch a show at the Comedy Cellar. This Village institution has been around since the 1980s, and is known for being one of the best comedy clubs in the country. They have shows every night, with top comedians in the line-up.
Another can't-miss spot on MacDougal Street is Cafe Wha?, a live music venue where the likes of Jimi Hendrix and Bob Dylan used to perform.
When it comes to eating and drinking, Mermaid Oyster Bar is popular for its $1 oysters, while La Lanterna di Vittorio is a cozy and intimate Italian restaurant. Dining at these tasty eateries should be at the top of your West Village things to do list!
Greenwich Village / West Village Walking Tours
One of the best ways to explore these neighborhoods is with a knowledgeable guide.
Along with the private photography experiences I offer through my company NYC Photo Journeys, some fun highly-rated public tours include:
Click here for a full list of West Village tours!
West Village Real Estate
If you fall in love with the West Village to the point where you're tempted to move there, just know real estate is not cheap.
The average rent is over $4,540, according to RentCafe.
That being said, you'll be in a truly beautiful neighborhood lively with culture.
If you do decide to check out some places to live in the West Village, a few noteworthy buildings include the Archive, the Printing House, and Candela Tower.
Moreover, you can check listing sites like Zillow and StreetEasy to find rental and purchase opportunities in the West Village.
NYC Travel Insurance
While you hope everything runs smoothly, sometimes travel just doesn't go according to plan.
This is why I recommend always purchasing travel insurance. The scary truth is it only takes one bad accident to lose everything — or be thankful you were covered.
Personally, I use SafetyWing, as they've got a large network, offer both short-term and long-term coverage (including limited coverage in your home country), are budget-friendly, and offer $250,000 worth of coverage with just one low overall deductible of $250.
Click here to price out travel insurance for your trip in just a few clicks.
What fun things to do in the West Village NYC would you add to this list?
---
Enjoyed this post on the best things to do in the West Village? Pin it for later!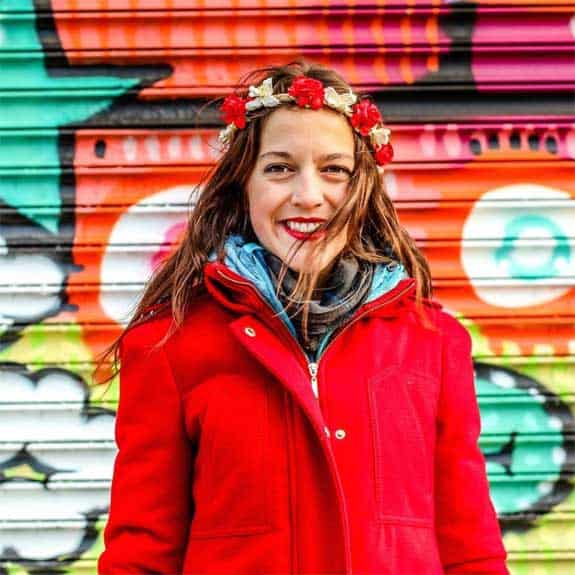 Hi, I'm Jessie on a journey!
I'm a conscious solo traveler on a mission to take you beyond the guidebook to inspire you to live your best life through travel. Come join me!
Want to live your best life through travel?
Subscribe for FREE access to my library of fun blogging worksheets and learn how to get paid to travel more!