18 Quirky & Fun Things To Do In Williamsburg, Brooklyn (From A Local)
By Jessie Festa. This guide to things to see in Williamsburg contains affiliate links to trusted partners!
Looking for the best things to do in Williamsburg, Brooklyn?
Then you're in the right place!
Willamsburg is a hip Brooklyn neighborhood known for its array of unique and top-notch offerings. From the restaurants to the shops and beyond, almost every business adds an innovative twist to their goods — while also delivering high quality.
In fact, when researching what to do in Williamsburg Brooklyn you'll find some of NYC's best rooftop bars, eateries, boutiques, and event spaces.
As a local New Yorker, it's one of my favorite neighborhoods and where I spend much of my time — not to mention where I often take my NYC photo tour and NYC photo shoot guests. On top of all the fun things to do in Williamsburg, you'll also find epic views that make for amazing pictures.
Now, with so many options, it can be difficult to know where to begin. To help, check out the below list sharing how to spend a day in Williamsburg — or longer, because you'll certainly never get bored here.
💡Short on time? Some of my top picks for exploring Williamsburg, Brooklyn include:

Hotels:
😎 The Arlo Williamsburg (hip & trendy)
😍 The William Vale Hotel (luxury property with amazing views)
🎨 Pod Hotel Brooklyn (funky & functional hotel on a budget)
➡️ Click here for a list of Williamsburg hotels!

Tours:
📸 NYC Photo Journeys Tours & Shoots (my company!)
🚴 A Day In Brooklyn Bike Tour
🥘 Williamsburg Brooklyn Food Tasting & Walking Tour
📍 Best of Brooklyn Walking Tour in Williamsburg
➡️ Click here for a full list of tours in Williamsburg, Brooklyn!
Psst, don't forget to pin this post for later!
Fun Things To Do In Williamsburg [Video]
Before we dive into this post sharing what to do in Williamsburg for a quirky day…
Check out my video above!
It features a walk over the Williamsburg Bridge from Manhattan followed by more cool things to do in Williamsburg, Brooklyn.
You'll discover some of my favorite spots along and around Bedford Avenue, Kent Avenue, and Driggs Avenue, from rooftop bars to thrift stores and beyond.
I made the video a few years after writing this post, so think of it as bonus suggestions to the guide below.
Best Things To Do In Williamsburg, Brooklyn
On that note, let's dive into our list of best places to visit in Williamsburg, Brooklyn.
I've also plotted many of these spots on a Google Map — which you can grab in my free Ultimate Travel Planning Kit.
Add the map to your phone to have it ready to go!
1. Take a photo tour of Williamsburg with NYC Photo Journeys
Want to have fun in Williamsburg and have photos taken of you exploring the neighborhood?
Shameless plug: I own a photo experience company called NYC Photo Journeys that offers private NYC photo tours, professional NYC photo shoots, and private NYC influencer shoots — with Williamsburg being one of the most popular locations visited!
For the tours, you pick a route and get a tour led by a certified guide and photographer, leaving with professional photos from the day to keep.
With the photo shoots, we'll go over exactly what you're looking for to come up with a concept and locations that bring your vision to life.
Above you can see a photo from a custom photoshoot that visited Williamsburg. You can also see more examples here on Instagram.
2. Eat quirky ice cream flavors at OddFellows
Address: 40 River Street + 855 Lorimer Street
When looking up New York tourist information, you'll likely read a lot about the local food — which shouldn't be missed!
Like many Williamsburg establishments, OddFellows Ice Cream is focused on artisanal eats. Their small-batch homemade ice cream is crafted with hormone-free New York ingredients.
What makes this a quirky stop isn't necessarily the sustainable process by which it's made, but the flavors. While they do rotate what is on the menu, you can expect options like:
Tobacco Leaf-Smoked Chili Huckleberry
Chorizo Caramel Swirl
Beet Pistachio Honey Goat Cheese, and Grapefruit Jalapeno Sorbet
Strawberry Tomato Sorbet
Manchego Pineapple with Thyme
Sesame Kumquat Pumpernickel
Miso Butterscotch Cherry
and more!
Those adventurous enough to try these unusual flavors are often pleasantly surprised by the tastiness of the innovative combinations.
This is a great spot if you want to cool down during a hot NYC summer. Additionally, it's very close to the waterfront, where you can head with your ice cream cone to take in incredible free views of NYC.
If you're looking for fun things to do in Williamsburg, Brooklyn today, you'll be happy to know they're open daily.
3. Explore quirky NYC history at the City Reliquary
Address: 370 Metropolitan Avenue
One of the many reasons NYC is so popular is its many cultural institutions. New York is full of prestigious museums housing important collections that showcase the city's history.
While the City Reliquary certainly features meaningful pieces of Big Apple heritage, it's not the types of things you'd find at the New York Historical Society or the Museum of the City of New York.
First, there are innovative rotating exhibits like "Keep Your Eye On The Donut" — which looks at highlights in NYC's donut history — and "Over Spilt Milk," a showcase of pivotal milk moments and artifacts and stories of farmer struggles.
In the permanent collection, view pieces like L-train paint fragments, a "very old shovel," horse bones, a decaying birthday cake, geological core samples, Statue of Liberty memorabilia, vintage signs, a burlesque booth, and other oddities and bits of "junk" that tell the story of New York City.
Make sure to check their event calendar as there's always something going on at this atypical establishment.
Their space is truly one of the best things to do in Brooklyn and one of the most unique things to do see in NYC! It's also a top attraction if you're going to New York alone and want to enjoy an interesting place on your own without feeling awkward, or if you're looking for non-touristy things to do in NYC.
4. See experimental theater at The Brick
Address: 579 Metropolitan Avenue
The Brick is not your usual theater. In fact, if you're looking for unique things to do in Williamsburg, Brooklyn this should definitely be on your list.
Featuring experimental shows, fringe-style performance, and nerd humor, it's home to the annual Clown Festival and Comic Book Theater Festival.
Check their schedule to see what quirky events are on the calendar for when you're looking fun unusual Williamsburg things to do, as there's sure to be something you've never experienced.
5. See the street art in Williamsburg
Williamsburg's funky streets are home to plenty of murals and street art.
Some of the most popular street art locations in the neighborhood include:
The enormous black and white photo mural on Broadway Avenue at the corner of Bedford Avenue
The vibrant love wall at 175 Marcy Avenue
The colorful, geometric mural of Andy Warhol and Jean-Michel Basquiat at Bedford Avenue and 9th Street
The donut and heart wall at 265-273 Bedford Avenue
Just one neighborhood over in artsy Bushwick, you can discover even more street art and graffiti as part of the local Bushwick Collective. It's one of the most Instagrammable places in New York City, and is also a top spot for street photographers.
6. Play, eat, dance & drink at Brooklyn Bowl
Address: 61 Wythe Avenue
The Brooklyn Bowl, one of the top Williamsburg attractions, is where locals head when they want to see live up-and-coming musical talent for cheap; however, one can also experience the joy that is buzzed bowling.
Drink Brooklyn-sourced beers and international wines and spirits while enjoying 16 lanes, concerts projected on big screens over the pins, a DJ on Saturday nights, and a social atmosphere.
Bonus: visiting Brooklyn Bowl is one of the best things to do in NYC after midnight!
7. Hone your butcher skills at The Meat Hook
Address: 100 Frost Street
At The Meat Hook they don't just sell sustainable farm-raised meats, they teach you how to cut them through a variety of butcher and cooking courses held in conjunction with the Brooklyn Kitchen.
Some butcher classes offered include Knife Skills, Whole Fish Butchering, Pig Butchering, and Knife Sharpening.
If you're more interested in the cooking side of things, some options include Thai Street Food, Advanced Cake Decorating, A Taste of Spain, Homemade Pizza with Roberta's, Empanada, and Handpie Making and the Art of Braising.
This experience is a must when looking for quirky things to do in Williamsburg!
8. Catch a movie at Nitehawk Cinema
Address: 136 Metropolitan Avenue
A fun winter date night in NYC or rainy day activity in Williamsburg is catching a movie at Nitehawk Cinema; however, this independent dine-in movie theater is not your average moviegoing experience.
With a tasty menu to choose from, you can order food and drinks directly to your reclining seat. Don't miss their delicious cocktails!
Being an independent movie theater, Nitehawk Cinema also has some more offbeat offerings in addition to showing the latest blockbuster movies. They also have regular screenings of classic, foreign, arthouse, and cult films.
9. Shop artisan wares at Artists & Fleas
Address: 70 N. 7th Street
This weekend artist, designer, and vintage market sells eclectic goods and period clothing, with an endless supply of one-of-a-kind pieces, gawk-worthy fashions, and unusual products.
At Artists & Fleas, you can purchase everything from whimsical women's clothing to gold-gilded leaf necklaces to posters printed on recycled NYC cycling maps and much, much more.
Even if you're not interested in shopping, it's worth stopping in for an atypical browse and to enjoy a coffee and the live DJ.
Pro tip: This market is a top pick if you're looking for a great New York City souvenir or gift that supports locals!
10. Bike the Brooklyn Waterfront Greenway
If you're looking for active outdoor activities in Williamsburg, Brooklyn, then spend the afternoon biking along the scenic Brooklyn Waterfront Greenway.
This designated bike lane runs for over 18 miles around Brooklyn, showcasing beautiful views of the waterfront. One of the prettiest stretches runs right through Williamsburg.
You can use CitiBike, an affordable bike rental service in New York, for your journey. Pick up a bike at the Kent Avenue and N. 7th Street bike station, and ride south along Kent Avenue, where you can take in some of the best views of the water and the Manhattan skyline to your right.
Continue riding until you reach the DUMBO neighborhood, where you can cross the Brooklyn Bridge (either on foot or by bike!)
The Brooklyn Waterfront Greenway is great for cyclists of all skill levels, even if you aren't comfortable with biking on city streets, because it's a protected bike lane.
11. Get crafty at The Painting Lounge
Address: 438 Union Avenue
The Painting Lounge is a BYOB paint spot where you can get tipsy while learning to paint a masterpiece.
You'll first trace a drawn-for-you outline of the picture through carbon paper, so it's pretty foolproof (and even if you've had too much merlot you'll still head home with something worthy of your living room wall).
Tip: Afterward, head next door to Barcade for craft beer and retro video games, one of the top nostalgic Williamsburg Brooklyn activities.
12. Enjoy a picnic with a view
Some of the best picnic spots in NYC can be found in Williamsburg. On a nice day, there's no better way to spend the afternoon than packing a picnic lunch and a blanket, and soaking up the sun in one of Williamsburg's green spaces.
Here are some of the top picnic spots in Williamsburg:
Domino Park on the Williamsburg waterfront offers great views of the Manhattan skyline and the Manhattan Bridge. However, it is on the small side.
McCarren Park is a larger green space in Williamsburg with picnic tables, barbecue grills, and plenty of grassy areas where you can spread out an enjoy a picnic.
Marsha P. Johnson State Park is a park in Williamsburg along the East River. It offers great waterfront views and views across to Manhattan.
13. Test your spice threshold at HEATONIST
Address: 121 Wythe Avenue
You may have heard of a wine sommelier, or even a beer sommelier (a cicerone), but did you know there is such a thing as a hot sauce sommelier?
At least there is at HEATONIST, where staff can help you choose the perfect hot sauce for your dish.
Inside the shop — which features 100+ varieties of small-batch hot sauces — you can also do a free guided tasting.
Just make sure to bring your own water, as they don't sell it and things can quickly get spicy!
14. Shop with purpose at Bulletin
Address: 145 Wythe Ave
Looking for a gift shop that holds nothing back and isn't afraid to shout their feminist beliefs from the mountain tops?
Enter Bulletin.
This store sells goods for women, by women.
Everything is unique, and if you're a woman you'll likely find more than a few items that speak to you, whether it's the "Equality" tees, the "Think Outside My Box" totes, the "Boss Babe" rings or something else.
Bonus: You've got to love those gorgeous all-pink walls.
15. Satisfy your sweet tooth at Martha's Country Bakery
Along with locally beloved homemade treats, like one of the best slices of cheesecake in New York, Martha's Country Bakery features an expansive beverage menu and is one of the most Instagrammable cafes in NYC.
Here you can order traditional lattes and teas, as well as more unusual drinks, such as Peanut Butter Hot Chocolate — served frozen or hot — and a Cappuccino Milkshake.
Want a cup of quirky coffee?
Upstate Stock features a number of innovative lattes, like a Campfire Latte laced with smoked maple syrup.
After sipping, peruse their adorable shop of New York-made goods.
16. Eat your way through Smorgasburg
Address: 90 Kent Avenue
Foodies will not want to miss Smorgasburg, an outdoor food market held every weekend from April through October in Williamsburg's Marsha P. Johnson State Park.
The food market features all NYC food vendors with unique and inventive global-inspired cuisine. Come hungry because there are dozens of delicious options to try!
There's plenty of seating in the park overlooking the river and the Manhattan skyline, or you can bring a picnic blanket and sit on the grass.
Speaking of food, Williamsburg has a number of food tours in Brooklyn that focus on this area if you're still hungry!
17. Let the good times roll at Freehold
Visiting Freehold is one of the more fun things to do in Williamsburg NY. Here you'll find a hotel without hotel rooms.
Say what?
You read that right. This enormous venue features numerous spaces, from beautiful daytime workspaces similar to what you'd find at a boutique hotel to a separate cafe room to back lawn.
Notice the travel-themed accents, like a front desk check-in area and humorous sign sharing the Lobby Rules, like "Ping Pong Olympians must play with off hand".
A few fun and quirky onsite experiences include:
Lobby comedy shows each month — one of my favorite free things to do in Williamsburg, Brooklyn
Sipping cocktails from their large eight-person punch bowls, like the "Waterbury Royale" made with vodka, fresh watermelon, lime, and sparkling wine
Playing backyard ping pong or searching the interiors for the hidden game room with skee-ball and Big Buck Hunter
Strike a pose in the photo booth
Move through the multiple spaces to feel like you're constantly switching venues
Freehold is also a top spot for boozy brunch in NYC and is one of the best Williamsburg Brooklyn bars!
18. Take in a 360-degree view at one of the best bars in Williamsburg, Brooklyn
Love rooftop bars? Westlight is a rooftop cocktail bar in Williamsburg on top of the luxe William Vale Hotel offering one of the best views of the Manhattan skyline you can find.
Whether you're visiting NYC in the winter or the warmer months, you can enjoy the rooftop as there is a large enclosed dining room with retractable, translucent walls.
Additionally, there is an outdoor terrace that wraps almost completely around the building for nearly 360-degree views!
Best Tours In Williamsburg, Brooklyn
While I lead private photo tours through my company, NYC Photo Journeys, there are also a number of fun public tours in Williamsburg offered by other companies. These include some of the best walking tours in Brooklyn, like:
➡️ Click here for a full list of tours in Williamsburg, Brooklyn.
Best Places To Stay In Williamsburg, Brooklyn
Looking for accommodation in Williamsburg, Brooklyn?
➡️ Click here for a list of Williamsburg hotels! Some of my personal favorite trendy Williamsburg hotels include The Arlo Williamsburg and The William Vale Hotel.
Prefer self-contained stays?
➡️ Click here to check out unique local rentals! You can also use this map to search for local stays:
And if you're interested in living in a hotel in NYC, there are numerous extended stay hotel options too!
Travel Insurance For New York City
While you hope everything runs smoothly, sometimes travel just doesn't go according to plan.
This is why I recommend always purchasing travel insurance. The scary truth is it only takes one bad accident to lose everything — or be thankful you were covered.
Personally, I use SafetyWing, as they've got a large network, offer both short-term and long-term coverage (including limited coverage in your home country), are budget-friendly, and offer $250,000 worth of coverage with just one low overall deductible of $250.
Click here to price out travel insurance for your trip in just a few clicks.
What are your favorite fun things to do in Williamsburg, Brooklyn?
If you'd love to spend your day exploring with a local while also leaving with professional photos to keep, check out my private NYC photo tours, influencer shoots, and custom photoshoots. For a quick snapshot of what to expect, you can also visit @nycphototour on Instagram. You can also email [email protected] with inquiries.
Enjoyed this post on things to do in Williamsburg? Pin it for later!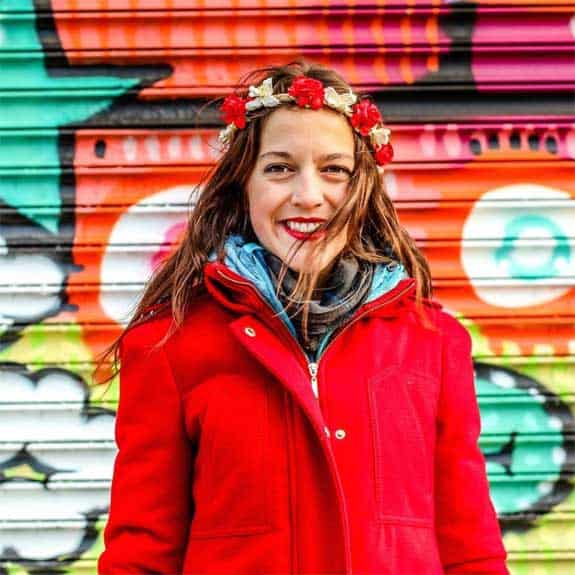 Hi, I'm Jessie on a journey!
I'm a conscious solo traveler on a mission to take you beyond the guidebook to inspire you to live your best life through travel. Come join me!
Want to live your best life through travel?
Subscribe for FREE access to my library of fun blogging worksheets and learn how to get paid to travel more!