25 Best Things To Do In Times Square NYC (From A Local)
By Jessie Festa. This post on fun things to do in Times Square is sponsored by Speedify. It also contains affiliate links to trusted partners!
"What are the best things to do in Times Square NYC as a local?"
It's a question I get asked a lot, especially from guests on my NYC photo tours. The truth: locals typically avoid Times Square like the plague, though, in my opinion, they shouldn't.
Thanks to my experience leading tourists around Times Square, I've come to realize that this neighborhood actually has a lot to offer. In fact, there are some unexpected experiences with a more local feel, especially if you get away from 7th Avenue and Broadway.
In all honesty, you shouldn't visit NYC without spending at least a few hours at the "Crossroads of the World" as it's truly a uniquely New York experience.
And in the following Times Square travel guide, I'll share my favorite places to eat, drink, shop, play, and stay in this Manhattan tourist hub — as a local!
Times Square Top Picks:
Short on time? Some of my top recommendations for Times Square NYC include:

Accommodation:
–Millennium Hotel Broadway Times Square
–Hotel Edison Times Square
–New York Marriott Marquis
Click here for a full list of Times Square hotels

Tours:
–Private NYC photo tour (including Times Square)
–Broadway Theaters and Times Square with a Theater Professional
–Small-Group Broadway Theater District and Times Square Walking Tour
Click here for a full list of Times Square activities & tours

Save Money: Save money while exploring top attractions in Times Square and the rest of NYC with a New York CityPASS or a New York Explorer Pass.
Staying Connected While Exploring Times Square
So you know when you're wandering around trying to connect to free public WiFi but the service is shoddy?
Or when your phone automatically connects you to weak public WiFi, making your connection super slow?
Enter the sponsor of this post, Speedify, a VPN service that solves these issues by binding all available connections for the fastest possible speeds. It makes the perfect companion for exploring the many fun things to do in Times Square NYC.
Here's a neat feature:
You can choose how much of your data you'd like Speedify to make use of:
And because it's a VPN, your data stays secure — even when using unsecured hot spots. Unlike other VPNs — where they vanish as soon as your WiFi signal does — Speedify bonds to your 3G network until it can automatically link to another WiFi source.
While you're out exploring the many fun things to do in New York's Times Square, you'll be able to connect Speedify with available LinkNYC hotspots, which are typically pretty wonky.
Getting set up with Speedify and LinkNYC is super easy: download the free app, set it up on your device, and choose a package.
You can try their limited free version or sign up for unlimited usage. Then, turn on Speedify with the touch of one button.
From there, you can connect a weak LinkNYC hotspot, which bonds with Speedify to become faster. Within the Speedify app, you'll actually be able to see it working. In fact, the app tells you how much of each connection it's using.
You'll also be able to choose a limit for your mobile carrier data so you never go over on your bill.
In short, it's a smart tool for staying connected on your trip. This way, you'll be able to look up what to do in Times Square whenever you need and can easily orient and navigate yourself, too.
Best Things To Do In Times Square NYC (From A Local)
On that note, let's dive into some of the top experiences and attractions in Times Square:
1. Book A Private NYC Photo Tour
Shameless plug: my company, NYC Photo Journeys, offers fun photo experiences that often visit Times Square!
On a private NYC Photo Journey, you'll explore NYC with a licensed guide who just also happens to be a skilled photographer — meaning you leave with beautiful photos of your group to keep!
One of the most popular itineraries is Times Square – Central Park – Upper East Side – Brooklyn Bridge, which offers a stunning mix of architecture, nature, and skyline views along with interesting commentary.
Want to maximize the amount of photos you get and don't necessarily care about getting a tour? You can also opt for a private NYC Influencer Shoot or a private Professional NYC Photoshoot — both of which also include a pre-shoot call to tailor the session to what you're looking for.
2. See A Broadway Show
Why is New York so popular? One reason is its access to incredible theater, especially on Broadway.
Broadway isn't just for tourists; locals love it too! In and around Times Square you'll find New York's Theater District, which is home to 41 Broadway theaters.
If you're looking to explore NYC on a budget, download the TodayTix app to find discount tickets on unsold seats.
You can also visit the red TKTS booth in Times Square to snag discount tickets, though you'll typically wait in a pretty long line. In fact, people start lining up about an hour before the booth opens each day.
Love tours? Check out this highly-rated excursion: Broadway Theaters and Times Square with a Theater Professional.
Oh and pro tip: make sure to save your Broadway playbill, which makes for a great NYC souvenir!
3. See An Off-Broadway Show
Of course, you can also opt for an Off-Broadway show, which simply means that the seating capacity is between 100 and 499 people.
There are a number of Off-Broadway theaters in Times Square, like the New Victory Theater, New 42nd St. Theater, and the Westside Theatre. If you're looking for things to do on 42nd Street in NYC, the first two theaters in that list fit the bill.
4. Eat Cookies Galore (Some For $1!)
No New York travel guide would be complete without discussing the local food.
Schmackary's is heaven for cookie lovers, going way beyond chocolate chip. Self-proclaimed "cookie monster" Zachary "Schmackary" Schmahl lets his imagination run completely wild when coming up with his cookie recipes.
Today, his shop sells flavors like candied yam, maple bacon, funfetti, and a pumpkin-laced "Pick of the Patch".
Additionally, there are "Schmackaroons," krispie treats, shakes, bars, and brownies — all made in innovative flavors using fresh Hudson Valley milk.
You can also snag a deal: just $1 for the still-delicious day-old cookies.
5. Sip On Craft Cocktails
There is no shortage of great cocktail bars in Times Square:
Tanner Smith's, Dutch Freds, Lantern's Keep, and, my personal favorite, The Rum House — a cozy rum bar offering a boozy retreat from bustling Times Square.
Tucked away inside the Hotel Edison, it's an intimate space accented by wood and copper that features an enticing menu.
While you can't go wrong with a "Moscow Mule" made with homemade ginger beer, my personal favorite is the "Tortuga" showcasing El Dorado 8-Year Rum, citrus, fresh ginger, and cinnamon for something bright yet warming (especially good if you're visiting New York in winter).
Another drink to try is the "Rum Old Fashioned" that swaps in Brugal Anejo Rum for the typical bourbon.
While their happy hour offers discounted drinks, if you come in the evening you'll enjoy live jazz and piano music, too. This helps to make visiting one of the most fun things to do in Times Square at night!
6. Enjoy Latte Art At Its Finest
Looking for the most Instagrammable places in New York City?
Frisson Espresso is a cozy coffee shop just outside the bustle of 7th and 8th avenues. Drinks feature gorgeous latte art, with a few paintings by Adrian Hashimi adding an artsy twist.
It's a great spot to curl up with some fun travel stories, too!
Tip: If you've never had a canele, make sure to try one here. It's a French custard pastry laced with rum and vanilla, almost like creme brulee with a flan texture.
Craving something healthy? Attached is Fresh From Hell, a smoothie and salad cafe with a name that plays on the Hell's Kitchen neighborhood (which Times Square connects with).
7. Take In The Views From A Times Square Rooftop
Looking for fun things to do in Times Square with kids? Beasts & Butterflies is a rooftop restaurant and bar offering beautiful views over Times Square. Best of all, it's open to patrons of all ages.
Another rooftop not to miss is St. Cloud Rooftop, a stylish rooftop atop the luxury Knickerbocker Hotel. This option is for adults only, and features a private cigar lounge, too.
Both of the above rooftop bars offer delicious food as well as indoor and outdoor seating for year-round fun!
8. A Cultural "Melting" Stove Pot
I had no idea Times Square had hip cafeterias featuring top local New York purveyors. At City Kitchen, aromatic steam wafts over counters serving Dough Doughnuts, Luke's Lobster, Azuki, Kuro Obi, and other New York favorites.
Sit under exposed bulbs while looking out over 8th Avenue, or head into the spacious attached seating room.
By the way, if you're on a solo trip to NYC, this is a great spot to eat on your own.
9. Eat Pizza In A Historic Church
One activity that is a must-do in Times Square is savoring some pizza at John's of Times Square, an eatery located in the former Gospel Tabernacle Church, which opened in 1881.
Today, you can still take in the stained glasses windows and ceiling as well as the church's balcony-level seating.
Just make sure to come hungry, as they only serve pizza by the pie (not the slice).
10. Eat NYC's Cutest Pastries
Seriously, do you see my strawberry shortcake? It was super tasty, too.
The alpaca-themed Bibble & Sip serves up quality coffees with creative pastries like matcha cream puffs, everything bagel croissants, and chocolate chip cookie brownies, all made fresh daily.
Why alpacas? Simply because the founder thinks they're awesome!
In my opinion, Bibble & Sip is one of the most Instagrammable cafes in NYC.
11. Enjoy Views & Free Events In Bryant Park
Known as Manhattan's Town Square, Bryant Park is a 9.6-acre park known for its relaxing atmosphere, free amenities like ping pong tables and reading rooms, and epic views of the Empire State Building.
Make sure to also check the park calendar, as you can frequently find free movies, yoga classes, juggling classes, chess matches, and more.
12. Shop For A Cause
Almost all of my clothing is bought from thrift stores, typically Vintage Monk and Buffalo Exchange in Williamsburg, Brooklyn.
Near Times Square, I absolutely love Housing Works Thrift.
Housing Works' mission is to "end the dual crises of homelessness and AIDS through relentless advocacy, the provision of lifesaving services, and entrepreneurial businesses that sustain [their] efforts." Profits from the thrift store help sustain their parent company nonprofit.
Bonus: they sell books and unique housewares, too! For any fellow-thrift shopper, this will quickly become one of your favorite things to do in Times Square New York.
13. Eat Your Way Around Hell's Kitchen
When my tour guests ask me about the best places in Times Square for food, I let them know that for local restaurants, bars, and cafes they should make the less-than-10-minute walk over to 9th Avenue to explore Hell's Kitchen.
This Manhattan neighborhood has long been known for its abundance of independent eateries. Just a few blocks away from the overpriced chain restaurants and tourist traps of Times Square, you will find plenty of choices for great local eats in Hell's Kitchen.
Empanada Mama serves flavorful, filling Colombian food at affordable prices if you're looking for a quick bite, while Totto Ramen is a counter-service restaurant where you can grab a bowl of ramen for lunch.
If you're looking for a nicer spot for dinner, Guantanamera is a buzzing Cuban restaurant with live music on the weekends, while Il Melograno is a neighborhood favorite serving home-cooked Sicilian fare.
14. Shop For Affordable Art
Sure, nearby Chelsea is home to over 300 — mainly high-end — galleries; though just one avenue from Times Square you'll find Fountain House Gallery.
Here, walls are covered in colorful modern works for less than $100 as part of their annual "Small Works: $100 & Under" program.
What's really awesome about this gallery is they're also a nonprofit dedicated to making mental health a priority. In fact, the art is created by artists living with mental illness, confronting stereotypes and stigma surrounding it.
Additionally, two blocks away sits Jadite Galleries, showcasing contemporary works since 1985.
15. Learn About Mental Health Through Street Art
Okay, so this was a bit further out as it's located on 34th and 9th, but it's only a 15-minute walk and is one of the more interesting things to do near Times Square NYC.
Part of the Mural Arts Project — an initiative of the New York City Health Department and the Fund for Public Health — the installation seeks to de-stigmatize mental health issues.
Interestingly, the above-mentioned Fountain House Gallery and artist Andrew Frank Baer are the ones who created these first Manhattan installations.
The message: "Some days I have to push myself to go outside and walk to the park. Say hello! We can embrace ourselves and open doors together."
According to Street Art NYC, the Fountain House Gallery hosted workshops where community members were able to sketch out the murals, allowing them to be a part of their neighborhood.
In my opinion, this one of the best free things to do in Times Square.
16. Get Inspired By Unique Gifts
Delphinium Home may be just a six-minute walk from the heart of Times Square, but it feels like a country cottage with a creative keeper.
When I visited last time, the window displayed pastel Post-It's showcasing Love Always Wins thoughts.
Inside, you'll find quirky presents like a cat-shaped omelet mold, journals with prompt pages, funny cards, and Golden Girls devotional candles.
17. Get Caffeinated On The Cheap
Looking for cheap things to do in Times Square? Here's one my fellow budget hunters will love: at Corvo Coffee, everything from the lattes to the muffins is $2.
I think the picture pretty much says it all.
18. Enjoy Boozy Brunch At Lilly's Craft and Kitchen
Looking to enjoy the best boozy brunch in NYC? One top spot is Lilly's Craft and Kitchen, where on Saturdays and Sundays you can add bottomless brunch for $26 and the purchase of one entree.
A few standout selections include the Breakfast Quesadilla with avocado, cheddar, pepper jack, tomatoes, scrambled eggs, chips, and salsa as well as the Salmon Benedict featuring Nova-Scotian smoked salmon.
More of a night owl? Those looking for things to do in NYC after midnight will love that Lilly's is open until 4am daily!
19. Pair Your Meal With A Song At Ellen's Stardust Diner
If you are looking for activities in Times Square for kids, don't miss Ellen's Stardust Diner. While it is admittedly touristy, and you may need to wait in line, it's a great place for families to have lunch or dinner near Times Square.
This 1950s-style diner is famous for its singing waitstaff. Most of the servers are professional performers who belt out classic Broadway tunes as they take your order and serve your food.
Kids and adults alike will get a kick out of the entertainment, especially when the waiters jump on top of the booths to continue their singing and dancing performance.
Not only is it a fun and lively atmosphere, the food at Ellen's Stardust Diner is also good and the menu contains plenty of kid-friendly options that will suit even the pickiest of eaters. Make sure to save room for dessert, too!
20. Have A Modern Diner Experience At Times Square Diner
Love diners but want to do without the lines and singing? Times Square Diner is a delicious pick! This unassuming but delicious eatery serves up giant stacks of pancakes, homemade burgers, decadent desserts, and other classic diner fare in a super clean and modern space (no 1950s theme here!).
If you feel like imbibing, you can also order alcohol — from beer to boozy milkshakes.
Bonus: The menu is reasonably priced, too!
21. Explore Times Square At Night Through Your Camera
Looking to visit New York City Times Square at night? On an NYC After Dark Photography Tour, you'll explore Times Square with a local photographer, who will teach you how to take stunning evening photos.
In fact, you'll learn both flash photography and long-exposure photography techniques for truly unique photos!
22. Catch A Drunk Shakespeare Performance
If you're looking for something quirky and fun to do in Times Square, attending a Drunk Shakespeare performance is guaranteed to be a good time.
As you might be able to infer by the name, this is a rowdy and highly entertaining show where one of the professional actors downs five shots of whiskey before attempting to perform Shakespeare.
You definitely have never seen Shakespeare done like this before!
23. Sit In On A Show Taping
Many popular daytime and nighttime television talk shows film in studios in and around Times Square. And the best part is, you can snag free tickets to sit in the audience for a taping!
The Late Show with Stephen Colbert, The Daily Show with Trevor Noah, and The Tonight Show Starring Jimmy Fallon are just a few examples of shows that you can attend.
Each show has an option to request free tickets to sit in the audience, usually through the television network's website.
For best chances, be flexible with your dates and request tickets as far in advance as possible.
24. Have A Midnight Moment
One of the coolest things to see in Times Square is the Midnight Moment, the world's largest and longest-running digital public art program.
Every night from 11:57pm to midnight, more than 92 electronic billboards showcase the work of contemporary artists. It's a truly unique experience!
25. Check Out The Best Bookstores Near Times Square NYC
If you love books, don't miss the best bookstores around Times Square.
The Strand, a New York City literary institution, has a small outpost in Times Square. You can't miss their bright red kiosk where you can stop and browse for books. (Their larger location further downtown is worth a visit too!)
Close to Bryant Park, you can find Kinokuniya, known for its expansive collection of Japanese books, manga, and other media.
Bookoff is another bookstore near Times Square, this one offering used books at great discounts.
By the way, if you're looking for things to do when it rains in NYC, getting cozy with a new novel at a local bookstore is a great option!
Best Tours In Times Square NYC
Looking to explore the many fun Times Square activities, check out the neighborhood on a local tour like:
Click here for a full list of Times Square activities & tours.
Hotels In Times Square NYC
After a day of exploring the many fun places to go in Times Square, rest your head at one of these top local hotels:
Click here for a full list of Times Square hotels.
And if you're interested in living in a hotel in NYC, there are numerous extended stay hotel options too!
Do you have other suggestions for unique and local things to do in Times Square?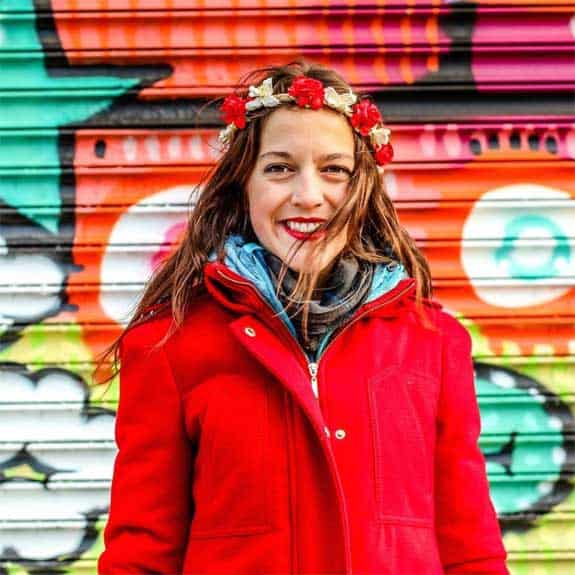 Hi, I'm Jessie on a journey!
I'm a conscious solo traveler on a mission to take you beyond the guidebook to inspire you to live your best life through travel. Come join me!
Want to live your best life through travel?
Subscribe for FREE access to my library of fun blogging worksheets and learn how to get paid to travel more!