How To Bike The Scenic Old Croton Aqueduct Trail Near NYC
Finally, sweltering days suffocating us in 99% humidity are dwindling away. In fact, there's a slight crispness to the air. I throw a long-sleeve shirt and some granola bars into my backpack as my boyfriend Andy and I sprint to catch the 30-minute train from Harlem-125th Station to Dobbs Ferry for a fun New York adventure: Cycling the Old Croton Aqueduct Trail, one of the most scenic bike rides near NYC. In typical "Jandy" fashion (
adorable, right?
), we leave with 
just 
enough time to make it if we each channel our inner Jesse Owens and nothing goes wrong.
It's rare to utter the phrases "NYC subway" and "nothing goes wrong"
in the same sentence; but somehow we find ourselves on Metro-North's 11:30am Dobbs Ferry-bound train, taking in lovely views of the Hudson River along the way.
Psst – Don't forget to pin this post for later! 
Old Croton Aqueduct Bike Rental
In almost no time we've arrived, walking less than five minutes to 
Endless Trail Bikeworx
 bike shop. While the plan was to opt for their all-day $35 rentals and cycle up the Hudson, the bike shop owner recommends we do some off-roading along the Old Croton Aqueduct Trail instead. And wow, am I glad he did!
The Old Croton Aqueduct Tail
There are some incredible opportunities for cycling in the USA — like biking
the Route of the Hiawatha trail
in Idaho — as well as some wonderful chances to explore
nature in NYC
. Though, to be honest, I love getting out of the city to really immerse myself in green. The Old Croton Aqueduct Trail runs parallel to the Hudson River through the Old Croton Aqueduct State Historic Park for 26.2 miles. It also runs atop the namesake Old Croton Aqueduct, allowing you to weave history with
biking in New York
. The trail is named after one of the county's first great Aqueduct systems; a massive water distribution system bringing drinking water from Westchester County's Croton River to NYC, where a rapidly growing post-Revolutionary War society desperately needed it. The aqueduct was operational from 1842 to 1955, though today is still used to provide water
to northern Ossining in times of drought
. It's crazy to think that the present-day New York Public Library and Central Park's Great Lawn — where I often take
my NYC photo tour guests
 — once held the city's reservoirs.
According to New York State's Parks, Recreation & Historic Preservation department
, in October of 1842 people celebrated the reservoirs with a celebration and sips of "Croton cocktails" blending Croton water and lemonade. Eventually, the Old Croton Aqueduct was replaced by the New Croton Aqueduct, which was larger and better able to handle New York City's massive population. Today, though, you can still see pieces of the structure as you bike along the namesake trail, over the underground masonry tunnel.
Old Croton Aqueduct Trail Map
The main trail is broken up into two sections, Yonkers to Irvington (
map here
) and Irvington to Croton Dam (
map here
). Dobbs Ferry is in the middle, with an easy-to-access entry point onto the trail. In fact, from the bike shop, it's less than 10 minutes north on Main Street, a charming thoroughfare showcasing art stores, homemade ice cream shops, and family-owned eateries. When the street ends, we have no choice but to turn or head straight down a ramp onto the Old Croton Aqueduct Trail. Straight we go. Suddenly, we're immersed in woodland, tall trees shading us as we cycle over hard dirt and thick roots. Leaves crunch under my pedals as I move the bike into a higher gear for the flat road. While the ground is somewhat uneven, it's relatively flat, allowing us to enjoy the scenery. Soon, we pass the
Keeper's House
. When the Old Croton Aqueduct was in operation, there were people whose jobs were to maintain a certain section of the structure. Thus, they were provided housing along it. Located at 15 Walnut Street, the brick Italianate building — which hasn't been inhabited since 1962 — is now a museum open to the public on weekends. This isn't the only house we see. Actually, one quirky thing about the trail is that for much of it we're literally cycling through people's backyards. After a lovely stretch of woodland, we find ourselves crossing over a main street and through a parking lot. Behind the lot, the trail continues, and we're peddaling behind wealthy local homes separated from us by fencing. While the sides of the trail showcase charming small-town suburban architecture, the center of the path has us maneuvering around stone ventilators and weirs (chambers used to empty the aqueduct during maintenance or overflowing). These serve as a mirror into a time when over 3,000 immigrants, mainly Irish, worked tirelessly for just
$1 per hour, some 75 cents
. The remnants serve as a reminder of our country's birth, and how hard our ancestors worked to get us to a point where we can enjoy the modern luxuries and natural playgrounds we have today.
Attractions Along This Scenic New York Bike Trail
Along with providing a scenic offroad adventure, the Old Croton Aqueduct Trail offers access to a number of New York attractions. Beautiful churches, quaint historic districts, gorgeous parks, and interesting museums abound, as well the folklore-filled experiences of Sleepy Hollow. Here you can even meet the famous Headless Horseman! 
And yes, I've totally done that on Halloween! 
Our favorite attraction that the trail runs right through is 
Lyndhurst Mansion
. Sitting on a 67-acre park, the Gothic Revival country house dates back to 1838. It looks like a castle; so unexpected in the small village of Tarrytown. Past residents have included NYC mayor William Paulding, Jr., merchant George Merritt, and railroad tycoon Jay Gould. Today, it belongs to the National Trust for Historic Preservation, which has opened its beauty for public consumption.
From Flowers To Highways
While the Old Croton Aqueduct Trail is marked — both by brown signs saying the full trail name and green polls reading "OCA" — the signs aren't everywhere. And sometimes they're somewhat hidden. When in doubt, go straight. Many times we find ourselves at what appears to be "the end" of the trail, though, in reality, we need to cross a street. Often the trail continuation is right in front of us, though there are also times we need to do a little searching. Remember: People's backyards are not off-limits. We're loving the flower fields — yellow and white petals as tall as our shoulders — when suddenly the trail just stops. Busy Route 9 sits in front of us, as we sit perplexed about what to do. Then we see it. Just across the highway is the continuation. This beautiful section greets us with a romantic pergola with well-manicured lawns and adorable fawns trying to camouflage into the scenery. We do eventually need to bike north on Route 9, though the highway is luckily lined with sidewalks. Tip: If you're low on water or food stop in one of the gas stations during this section. Unless you leave the trail there aren't many opportunities to replenish.
Back To Nature (And Local Backyards)
While Highway 9 isn't exactly scenic, we do enjoy the paved sidewalks, a break from maneuvering uneven ground. After about 10 minutes we come to a lovely yellow Victorian building with a sign touting "Goods. Gifts. Vintage." This is where the bike shop told us we needed to turn right, cycling through the parking lot of the shop and back into the woods. The path here isn't super apparent, and it takes Andy and me a moment to realize we need to cycle onto the small lawn lined with stones. While we'd thought cycling past gated homes was odd, things became even more intimate on this section. In fact, we're now biking through people's backyards to the point where if I fell I would have flown onto one of their lawn chairs (and hopefully been greeted by a burger cooked on one of their grills). "One day," Andy and I say aloud, picturing our small yardless, chairless NYC apartment.
Riding Through Sleepy Hollow
After passing a small pond and greenspace, we end up looping around Sleepy Hollow School. Cycling through the parking lot, we're once again not quite sure where to go. After some trial and error, we figure out we need to bike toward the main road and the Hudson River, but make a right to use the exit directly in front of the "Sleepy Hollow School" sign. We cycle through woodland, spilling out into a neighborhood. This also becomes slightly confusing, the brown trail signs blending in with the natural scenery. But as always on this trail we eventually do find it, whizzing off again into the tranquil forest. Chipmunks and squirrels scurry by as I pick up speed, enjoying the silence under the shady trees. My reverie is broken slightly as hills full of gravel and broken stone lead to slippery slopes. At first I'm timid, going slowly down and pumping my breaks, sweat dripping down my face as I fear flying over the handlebars. Soon, though, Andy and I are zooming down, realizing it's actually easier to bound down and keep the momentum to go up. Plus, it's fun! This leg also introduces us to some scenic bridges and wood fence-lined paths. Moreover, it's where we come across a few runners, as despite the gorgeous weather we haven't encountered very many people.
A Waterfront Ending
After passing a number of stone ventilators, we come to a road. We can't go straight, and heading right would take us on to Route 9. As the bike shop closes at 6pm and it's already 3:30pm, we decide instead to head left, toward the Hudson River. Despite the fact we'd been near to the river the entire ride, we hadn't seen it since we'd gotten off the train. We zoom toward the Hudson, downhills — which, by the way, become uphills on the way back — bringing us past gorgeous waterfront homes. Through the trees, we can see sections of the water. When we reach Scarborough Station and head over a ramp to the waterfront though, we enjoy the full view. Now it's official; this is one of the
best cycling routes
I've ever done! Here we take out the sandwiches we'd purchased from 
Scaperrotta's Deli
in Dobbs Ferry. Packed with meat and fresh veggies they're delicious, especially when paired with riverside vistas backed by the Tappan Zee Bridge and New Jersey parkland. We rest there for a while, appreciating our journey through history and present; thankful for the work of those before us and for all that we have right at our doorstep today. Cycling the Old Croton Aqueduct Trail is one of the best things to do in NYC in spring.
Here are 41 more
.
Any tips to add for cycling the Old Croton Aqueduct Trail?
Logistics:

Trail Length: From Dobbs Ferry to Scarborough is about 10 miles each way (~20 round trip). Price: Free. Bike rentals were $35 for the day, including helmets. Intensity: This would be an easy trail to hike. For bikers it's moderate due to the uneven terrain. You should have a mountain bike and be comfortable cycling over stones and roots. For the most part, it's relatively flat. Times: The trail is open year-round from sunrise to sunset Getting There: You can get to Dobbs Ferry from NYC by taking Metro-North's Hudson Line from Grand Central Terminal or Harlem-125th Street Station. The cost is $18 round-trip off-peak. Gear: Dress comfortably and bring lots of sunscreen, sunglasses water and snacks. The sunglasses were also handy for keeping tiny knats out of my eyes. I also recommnd bringing a hidden-pocket scarf of easy access to essentials as well as a personal alarm for safety (against humans and bears). Better safe than sorry! Visiting NYC? Check out my fun private photo tours. Part photoshoot, part tour, you'll explore with a local and leave with print-ready shots to keep! Use code "NYCSAFARIS16" for 10% off!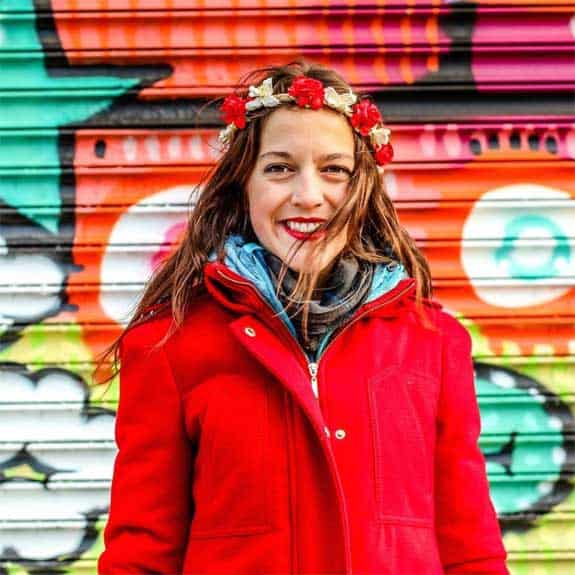 Hi, I'm Jessie on a journey!
I'm a conscious solo traveler on a mission to take you beyond the guidebook to inspire you to live your best life through travel. Come join me!
Want to live your best life through travel?
Subscribe for FREE access to my library of fun blogging worksheets and learn how to get paid to travel more!