10+ Fun Things To Do In SoHo NYC (From A Local)
By Jessie Festa. This post on SoHo NYC attractions and experiences contains affiliate links to trusted partners and is sponsored by Beside-U Handbags.
Looking for fun things to do in SoHo NYC?
Then you're in the right place!
One of my favorite ways to spend a day in New York is choosing a neighborhood and exploring it without a plan.
Which is why, on a brisk winter day with nothing on my calendar, I decided to spend a day wandering SoHo and making fun local discoveries.
Sure, I'd been to the trendy NYC neighorbohood before, but only to visit one or two SoHo attractions at a time. On this day, I wanted to wander the neighborhood fully with my curiosity leading the way.
On that note, if you're looking for best things to do in SoHo NYC on a day trip, here are some recommendations from a local.
😍 SoHo Top Picks:
Short on time? Some of my top recommendations for SoHo NYC include:

🏨 Accommodation:
–NoMo SoHo
–Crosby Street Hotel
–Arlo SoHo
➡️ Click here for a full list of SoHo NYC hotels.

📍Tours:
–Private NYC photo tour (including SoHo)
–SoHo, Little Italy & Chinatown Walking Tour in New York
–New York In One Day Guided Sightseeing Tour
➡️ Click here for a full list of tours in SoHo.

📸 SoHo Photoshoot: Want beautiful photos taken of you in scenic New York spots like SoHo? Book a styled, custom shoot that tells your unique story through an NYC Influencer Shoot or Professional New York City Shoot. Email [email protected] with inquiries.

💸 Save Money: Save money while exploring top attractions in SoHo and the rest of NYC with a New York CityPASS or a New York Explorer Pass.

☔ Safety: While SoHo is safe, it's still smart to pack travel safety essentials. One top pick is the She's Birdie Personal Safety Alarm, which is TSA-approved and can help scare away potential attackers. Other recommendations include Clever Travel Companion Pickpocket-Proof Garments and Speakeasy Travel Supply Hidden Pocket Scarves.
Exploring SoHo NYC In Style
Before we dive into this Manhattan travel guide, let's talk about the day's look.
Being that SoHo is a style and design hub for the city, this was also the perfect excursion for trying out my new backpack and crossbody bag from Beside-U Handbags.
Beside-U Handbags is a company I recently partnered with, as I'm in love with their concept. Many brands claim to mix style with functionality, but I've found most rarely live up to their promise. For the last two years I've been using an Osprey backpack, extremely comfortable and with decent space, but far from attractive.
After receiving their Arroyo Leather Trimmed City Backpack and the Hemet Leather Trimmed Travel Crossbody Bag I was pretty shocked to find that Beside-U actually had more room and more pockets than the dedicated Osprey travel brand, complete with bold and bright colors.
The bags also showcase features even the most rugged travelers can appreciate, like:
RFID-blocking pockets large enough to fit an entire wallet. These pockets keep thieves from using electronic card readers and capturing your credit card and identification information.
A lightweight, water resistant design (each bag is roughly 1 pound or less)
A 100% Ripstop Nylon fabric (select areas with leather trim) to keep the bags from tearing.
Custom hardware details like a clip-on whistle dangle with a pretty double layer Beside-U logo — perfect for my fellow solo female travelers wanting to stay safe.
Each Beside-U bag also comes with its own unique features. For instance, the Arroyo Backpack offered two extra large external pockets for my 24-ounce water bottle, as well as two interior water bottle pockets if needed, though you can use them for other gadgets, as well.
Inside I fit my DSLR, a huge stack of promotional postcards for my tour company, a deodorant stick, my MacBook Pro (there's a 13″ padded laptop pocket), an extra camera lens, an external camera flash, and my three lipsticks (hey, this was SoHo in style).
The smaller Hemet Crossbody Bag, which I stored inside the backpack, held my cash, coins, ID, credit cards, a wallet, keys, MetroCard, iPhone, pen, notepad, and full-sized paperback copy of Orange is the New Black.
And that was just on the inside!
There was also two large external pockets and one small external pocket I didn't even use.
Basically, these bags offered way more space than one would need for a day, or even a long weekend, with style and identity protection to boot. As a photographer, I loved the padded external pockets that made it easy to switch lenses.
What Is SoHo NYC?
SoHo is a trendy New York neighborhood that stands for "South of Houston Street."
While it was once known for its artistic vibe, today it has a more luxe feeling, with hip shops, eateries, and bars. You'll still find art galleries in SoHo, though they tend to be more on the upscale side.
SoHo is also known for its cast-iron architecture. In fact, the SoHo–Cast Iron Historic District — which is both on the National Register of Historic Places and a National Historic Landmark — features the world's largest collection of full and partial cast-iron buildings with about 250 examples!
For this reason, it's a smart idea to book a New York City architectural tour that explores the neighborhood if you have the time.
Where Is SoHo NYC?
SoHo is located below Midtown Manhattan. Its boundaries are roughly Houston Street to the north, Canal Street to the south, Crosby Street to the east, and Sixth Avenue to the west.
The Best Things To Do In SoHo NYC
On that note, let's dive into some of the most unforgettable things to do in SoHo NYC. There is so much to explore here, and you truly will never be bored!
1. Percolating At Maman
Weekends in SoHo NYC can be rough with the subway, especially coming from Brooklyn.
I ran into this country-inspired cafe clearly needing a coffee (or a whiskey), and the barista was extremely friendly consoling me with stories of his own sad subway tales.
This may not sound noteworthy, but friendly, un-rushed service in New York City is not always the easiest to find.
My Maman Americano was easily one of the best I've ever had, a slight thickness thanks to the added almond milk. They also serve a sweet yet floral Lavender Hot Chocolate.
If you're joining for brunch you can grab a seat in the back room; otherwise, post up at the window bar and people watch or sip under wall hanging baskets and dangling vines.
Bonus:
This is one of the most Instagrammable places in New York City!
2. Inspired By Street Art
Looking for unique places in NYC? Or things to do in SoHo right now, no matter what time it is?
While SoHo's cobblestoned streets and upscale shopping give off a quaint vibe, the neighborhood is actually quite eclectic, with modern galleries, funky design shops, and edgy street art.
If you're looking for free things to do in SoHo, simply wandering around will give you plenty of opportunities to stumble upon colorful works, although there are a few points of interest to add to an itinerary.
The Bowery Mural is a giant wall at Bowery and E. Houston Street that's featured rotating pieces since 2008.
In the adjacent Little Italy neighborhood is The Lisa Project, which adorns Mulberry Street with al fresco works.
It's one of the best things to do in SoHo!
3. Continue The Creativity In Local Galleries
One of the many reasons why New York is so popular is the culture, and along with Chelsea (Manhattan) and Bushwick (Brooklyn), SoHo is known for its plethora of art galleries. Exploring these is one of the top SoHo activities you can add to your itinerary.
Strolling streets like Greene, Wooster, West Broadway, and Spring is where you'll find most of them, and it's easy to simply wander around without a plan and stumble upon great finds.
One particularly quirky gallery is The New York Earth Room (141 Wooster Street), a giant plot of dirt on the second floor of a narrow stairway.
It may sound boring — or just plain weird — but it's surprising how moving the quiet space can be, not to mention you'll undoubtedly twist your brain in knots wondering how much someone is paying in rent just to store dirt in SoHo. Plus, it's one of the interesting non-touristy things to do in NYC.
Another notable gallery is Westwood Gallery NYC (568 Broadway), a large and inviting space with rotating contemporary works in a large array of mediums.
There is also Allouche Gallery (115 Spring Street), one of my personal favorites as it houses contemporary pieces by iconic artists like Keith Haring, thought-provoking works like the Rolling Stone's tongue logo made to look like a kneeling woman by Ron English, and atypical mediums like multi-layered glass sculptures by Brooklyn artist Dustin Yellin.
If you're ever in the area, make sure to add this to your list of things to see in SoHo. And if you're traveling solo, know that visiting the galleries is one of the top things to do in New York by yourself.
4. Refuel At Some Great Restaurants In SoHo
There are so many delicious options when it comes to places to eat in SoHo, like:
Nearby to the SoHo restaurants mentioned above is a bar called Tom & Jerry's that offers a cheap happy hour with $5 beers and well drinks if you're craving some booze.
5. Shop In SoHo For Fashion & More
No other neighborhood in NYC has a better reputation for shopping than SoHo.
You'll find luxury brands like Chanel, Louis Vuitton, Prada, Coach, and Marc Jacobs, as well as popular commercial retailers like H&M, Topshop, Bloomingdale's, and Uniqlo (amazing for budget-friendly adventure travel gear, by the way).
That being said, I recommend digging around for the independent shops for a more culturally immersive experience. A few recommendations for shopping in SoHo include Meg, Mystique Boutique NYC, and Lingo.
Also don't miss The Market, a flea market showcasing local designers and artists as well as vintage vendors.
6. Get Books On A Budget
I love to read books. Real, paper-made, binded, printed books. The problem is real books are often real expensive, especially compared to their Kindle counterparts.
Not at Housing Works Bookstore, where almost every title I picked up seemed to range between $5-$15.
I ended up with some cool photo-centric books, one on bicycles ($8.50), one on cats ($10), and a "blind date with a book" (books wrapped in paper so you can't see their titles, with literary clues written on the front).
I learned the reason the books are so budget-friendly is that Housing Works is a volunteer-run organization focused on ending AIDs and homelessness, so my purchase went to a good cause.
It's definitely one of the more inspiring SoHo attractions to make a stop at, and also a great spot if you're looking for the best New York souvenirs that also give back. And if it's a rainy day in NYC, it's a great place to spend some time perusing titles and relaxing with a novel.
Note I also love perusing the Housing Works Thrift Store when exploring Greenwich Village.
7. Savor Free Tea Samples In A Funky Space
While I like tea, I would never choose it over coffee. Until I discovered T2 Tea, a shop so bright and bubbly you'll be pulled in even if you don't mean to stop inside.
I was attracted to the bright pastel colors emitting from the shop like a moth to a flame, and even more enticed by a long table with aromatic complimentary samples like a budget backpacker to a free…well, anything.
The shop focuses on matcha, and the woman working the serving station was more than happy to explain what this meant. When making matcha, the tea stems are removed and the leaves ground into a fine green tea powder to maximize antioxidant benefits.
Also, fun fact:
Did you know Japanese Samurai drank matcha before going into battle due to the tea's energizing properties? Pretty neat.
The shop is a sensory kaleidoscope of colors, tastes, sounds, and scents — along with the samples they have beautiful tables showcasing open tea tins for you to smell — and I instantly felt uplifted just being in there.
8. Sip An Art-Inspired Pick-Me-Up At La Colombe Coffee
I've seen cafes do latte art before, though never have I been asked what design I would like on my coffee.
I told the java artist to surprise me, and was promptly given a creamy latte adorned with a floral and heart design.
La Colombe Coffee is also home to the "draft latte," a coffee and milk concoction that has a Guinness-like texture, as well as the coffee version of the "Black and Tan," 50% pure black cold brew coffee and 50% draft coffee.
9. Indulge Your Sweet Tooth Without Guilt At Chobani Cafe
One of my favorite places to eat in SoHo is Chobani Cafe (yes, Chobani as in the yogurt).
The brand's owner is Turkish, so the cafe — which has a decent amount of seating, by the way — features a Turkish menu of simit, Mediterranean dips, and sweet yogurt treats.
My go-to is the Spinach & Garlic Dip laced with Kalamata olives and sumac and served with simit chips, followed by the Fig & Walnut Yogurt drizzled with clover honey.
Bonus: 10% of the cafe's profits go to charities that help provide nourishing food to underserved communities.
10. Visit Bars In SoHo (Fun Things To Do At Night!)
Grabbing late night drinks is one of many fun things to do in SoHo at night.
For something historic, head to the Ear Inn, a dive bar that has been serving drinks since 1817. It's also open late for those looking to enjoy NYC after midnight.
Love wine? Visit La Compagnie des Vins Surnaturels for an impressive wine list and delicious small plates.
And if you're looking for a fun night out and love a good cocktail, try The Ship. Started by alums of Little Branch and Please Don't Tell, the drinks at this barge-themed watering hole are fantastic — like the "Marie Adrienne" made with silver tequila, mezcal, amargo de chile, lime, and fresh blood orange. Yum!
When it comes to what to do in SoHo, you can't go wrong with the recommendations above!
Tours In SoHo NYC
One of the best ways to explore the many things to do in SoHo is to book a tour with a local guide. Some top picks for this include:
➡️ Click here for a full list of tours in SoHo.
Hotels In SoHo NYC
Looking to stay overnight in SoHo? There are so many incredible local hotels, like NoMo SoHo, Arlo SoHo, and the Crosby Street Hotel.
➡️ Click here for a full list of SoHo NYC hotels!
Prefer self-contained stays?
➡️ Click here to check out unique local rentals!
You can also use this map to search for local SoHo stays and experiences:
And if you're interested in living in a hotel in NYC, there are numerous extended stay hotel options too!
New York City Travel Insurance
When visiting New York City — or anywhere else in the world — it's wise to get travel insurance.
One of the best travel medical insurance for travelers is SafetyWing as they've got a large network and offer both short-term and long-term coverage — including coverage if you're traveling for months as well as limited coverage in your home country.
Additionally, SafetyWing is budget-friendly and offers $250,000 worth of coverage with just one low overall deductible of $250.
Click here to price out travel insurance for your trip in just a few clicks.
What fun things to do in SoHo NYC would you add to this list?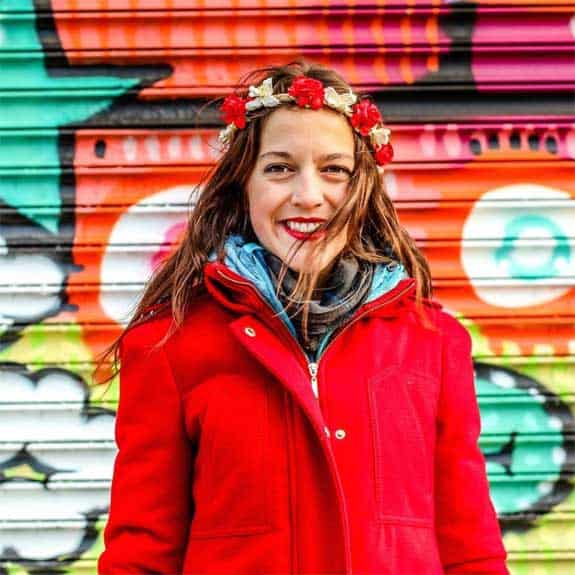 Hi, I'm Jessie on a journey!
I'm a conscious solo traveler on a mission to take you beyond the guidebook to inspire you to live your best life through travel. Come join me!
Want to live your best life through travel?
Subscribe for FREE access to my library of fun blogging worksheets and learn how to get paid to travel more!