Nature In NYC: 5 Places To Go Hiking In Manhattan [Video]
Looking to explore nature in NYC through hiking?
There are more opportunities than you think!
Actually, as an NYC local, I'm often asked questions like, "How do you remain connected to nature if you live in New York City?"
While I'll admit the city is mainly a concrete jungle, there are also many green space options.
In fact, here is a bit of trivia for you:
New York City has over 1,700 parks, many with woodland trails and scenic paths perfect for exploring.
To help you plan for a day exploring nature through hiking around NYC, I'm going to share some of my favorite trails as a local and a licensed tour guide.
Specifically, I'm going to detail five of the best places to go hiking in Manhattan. I bet there are at least a few trails you haven't heard of, too!
Note: This post sharing the best hikes in NYC contains affiliate links to trusted partners I think you'll love!
Local NYC Guide (Freebie!)
But before we dive into the Manhattan hiking trails, I want to invite you to grab my free NYC local guide sharing unique things to do in New York City.
This printable PDF will help you explore #BeyondTheGuidebook to experience the city beyond the typical tourist sites for a more memorable trip. Discover lesser-known eateries, quirky attractions, off-the-beaten-path experiences, and neighborhoods beyond Midtown.
Grab it here, then let's dive into the best hiking trails around NYC, specifically Manhattan.
Just remember that because it's Manhattan you won't be climbing up mountains. That being said, #3 will be the best option if you're looking for a more rugged NYC adventure.
Finally, all of these NYC hiking day trips are accessible by subway and are great whether you're hiking by yourself or in a group.
1) Central Park Hiking In The Ravine
Visiting Central Park, home to 843-acres of beauty, is a special and uniquely New York experience. This attraction is one of the many reasons why New York is so famous.
And while many visitors to NYC flock to the Great Lawn and Bethesda Fountain, what is also worth exploring is the 58 miles of hiking trails.
There are three main woodlands in Central Park:
The Ramble
The Hallett
The North Woods — the largest of the three woodlands at 40 acres as well as where the Ravine is located
These lush woodlands were inspired by rustic New York destinations, giving New Yorkers a taste of places like the Catskills and the Adirondacks without them needing to leave the city.
So what is so special about hiking in Central Park in the Ravine?
Well, for one, it's Central Park's only stream valley and is home to Manhattan waterfalls!
This is in addition to lovely attractions like arches, pools and streams, and quiet little paths that jut off the main one. You'll also find the Blockhouse, a fortification from the War of 1812 that is the oldest building in Central Park.
Map of the Ravine trailhead:
Trail map: Click here.
Hike style: The Ravine is an easy hike. You can do it in less than an hour, though I recommend taking your time to explore the larger North Woods and the rest of Central Park.
Getting there: You can enter at 103rd St. — it's a little closer to the east side of Central Park than the west side, though either is fine — and input "the Ravine" into Google Maps to find it.
Google Maps will take you almost directly to a lovely waterfall within the Ravine.
Pro tip: In recent years this area has become popular for professional photography sessions, so go early to beat the crowds.
Early in the morning, it'll be quiet and you can hear birds chirping and watch a few locals painting the beautiful scenes surrounding you. It's especially enjoyable if you're on a solo trip to NYC and can really meditate in the space.
2) Hiking In Manhattan On Randall's Island
Is NYC an island? No, but Randall's Island is, and it's easy to visit thanks to the pedestrian and car bridges that cross the East River.
Randall's Island is my absolute favorite place in Manhattan and, in my opinion, visiting is one of the best things to do on the Upper East Side NYC. It's also one of my favorite places to take in the New York skyline at night.
Plus, it's totally free to visit, making it a great attraction for those exploring NYC on a budget.
Home to 480 acres, the island features numerous scenic pathways — many of which offer educational gardens, which are great for families.
That being said, you'll also find more rugged pathways, as well.
If you want a longer outing, I recommend entering the island from the 103rd Street Footbridge and heading left to circle the whole island.
Don't miss the pretty woodland path on your right, which you'll come to after about 10-15 minutes of walking through gardens.
The prettiest spot on the entire island, at least in my opinion, is the Wards Meadow Loop.
While over there, keep your eyes toward the skyline, as you'll get views of the Chrysler Building and One World Trade.
Map of the Randall's Island trailhead:
Trail map: Click here.
Hike style: The trails here are flat and scenic.
Even when it's busy on the island, you can easily find spaces to have all to yourself.
I love going to Randall's Island early in the morning before anyone is there to really take in the peace and beauty.
It's also a great spot for an early morning yoga session while enjoying Manhattan skyline views.
Getting there: You can access Randall's Island via walking or biking from:
Manhattan (via the 103rd Street Footbridge from the Upper East Side)
The Bronx (via the Randall's Island-Bronx Connector)
Queens (via walkways along the RFK Triborough Bridge)
Pro tip: Bring picnic essentials and end at the East River Picnic Area.
Along with beautiful views and a peaceful setting you'll be close to the park bathrooms.
Also, if you happen to have a car, it's easy to drive from Randall's Island to explore some of the top hiking spots on Long Island.
3) NYC Adventures In Inwood Hill Park
Hiking in NYC parks doesn't need to mean strolling along paved trails. Those really seeking a more rugged experience will love the 196-acre Inwood Hill Park, one of the most non-touristy places to visit in NYC.
Here you'll find historic sites, scenic overlooks, and the last natural forest and salt marsh in Manhattan.
It's even home to three designated hiking trails:
the moderate-hard 1.3-mile Orange Trail
the moderate 1.7-mile Blue Trail
the 1.2-mile easy White Trail
For this post on hiking trails in New York City and in the video above, I'll focus on the Orange Trail, which gets you off the paved park path and into the park's Forever Wild Forest. Make sure you're wearing proper hiking clothes for this one!
This Manhattan hike truly gets you away from the bustle of the city into the woods, to the point where you'll even see glacial potholes as well as caves that are believed to have been a seasonal dwelling for the native Lenape people in the 17th century.
Also, as you'll see in the video above, I got lost, so it's at least a little bit off the beaten track (or maybe I'm just terrible with directions).
The highlight of the hike is Overlook Meadow, offering views of Spuyten Duyvil Creek and the Hudson River.
Map of the Inwood Hill Park trailhead:
Trail map: Click here.
Hike style: As stated above, the Orange Trail is moderate-hard, though I think seasoned hikers will find this more moderate.
It's definitely the most rugged of the hikes on this list.
Getting there: Take the subway to the Dyckman Street station (1 or A trains) and enter the park at Dyckman St and Staff St.
I recommend heading right at the fork when the trail begins to loop so that you do Overlook Meadow on the second half of the hike on the way back. Bonus if you can make your time there match up with sunset!
Pro tip: Make sure to bring plenty of water and snacks.
This is more of a typical non-urban hiking trail, so if you get hungry or thirsty you won't be close to a snack stand.
4) Hiking The Governors Island Loop
Looking for the best hikes around NYC that also include an educational component?
Historic Governors Island may technically reside in Manhattan, but it feels like an easily-accessible escape from the city, especially as it's uninhabited and car-free.
It once served as a military base, and you'll find numerous sites that bring this history to life.
In terms of hiking, the island features an extremely scenic and paved 2.2-mile loop that takes you around the perimeter of the island.
To add a rugged element to this hike, head over to The Hills, a 10-acre park on Governors Island featuring four hills, with the highest rising 70 feet above the sea level. Get in touch with your inner child at Slide Hill, which is appropriately home to numerous slides.
Also, spend some time taking in the view at Picnic Point, where you'll have an epic view of the Statue of Liberty and the New York Harbor.
Map of the Governors Island trailhead:
Trail map: Click here.
Hike style: Easy and scenic, particularly if you stay on the paved outer loop.
Keep in mind, though, to fully experience the island you should also get off this path to explore the local attractions.
Getting there: Note that Governors Island is seasonal and is only open from early May through October. You can take a less-than-10-minute ferry ride from the Battery Maritime Building (10 South St.) in Manhattan.
Additionally, on weekends you can catch the ferry from Pier 6 in Brooklyn Bridge Park. By the way, what is wild about Governors Island is that even though it's close to Manhattan Island many New Yorkers have never been!
Pro tip: End the day with a drink at Island Oyster while taking in incredible views of Lower Manhattan.
Moreover, if you enjoy more urban hiking trails like this, you might also enjoy walking across the Manhattan Bridge or walking across the Williamsburg Bridge.
5) Hiking In Manhattan's Fort Tryon Park
This Manhattan hike is actually adjacent to Inwood Hill Park, so if you head out early you can definitely explore both parks in one day — albeit a long one.
Now, most people visit this 66-acre park solely to visit the Met Cloisters and view its extensive collection of medieval art from Europe; however, the surrounding nature is also worth exploring.
Fun fact:
Fort Tryon Park actually has the same architect as Central Park, Frederick Law Olmsted.
Sitting 200 feet above sea level, it's also one of Manhattan's highest points, offering beautiful views of the George Washington Bridge and Hudson River.
While Fort Tryon Park has a number of hikes and trails of varying difficulties, in this post on hiking places in NYC as well as in the video above I'll focus on the 1.25-mile Giant Horseshoe Trail.
A few of the beautiful Manhattan attractions you'll come across on the trail include the:
Alpine Garden – An Earth scientist's dream with lots of rocks and rugged outcroppings
Heather Garden – A gorgeous three-acre garden
Cloisters Lawn – A lovely lawn where there are sometimes events hosted
Linden Terrace – This is the highest point in Fort Tryon Park as well as the highest landscaped point on Manhattan Island where you'll find historic architecture and a beautiful bluestone arch
Basically, if you're looking for the best places to hike in NYC that also include interesting attractions, this is a great trail for you. Plus, exploring Fort Tryon Park is truly one of the top things to do in Upper Manhattan!
Map of the Fort Tryon Park trailhead:
Trail map: Click here and scroll down to the last three pages.
Hike style: This is labeled as intense, but if you're a regular hiker you'll find it more moderate. At times you'll be in busier sections of the park, while at other times you'll be on natural paths and won't see anyone.
Getting there: Take the subway to the 190 Street Subway Station (A train). Enter near the Jacob Javits Playground at Margaret Corbin Plaza between Cabrini Boulevard and Fort Washington Avenue. This is where you can begin the loop trail.
Pro tip: You can't come to Fort Tryon Park without visiting the Met Cloisters. You can purchase your ticket here, which also includes access to the Metropolitan Museum of Art and the Met Breuer.
Where To See Nature In NYC (Additional Opportunities)
Along with the above-mentioned hiking trails, don't miss the following nature things to do in NYC:
Manhattan Nature Tours:
Other Ways To Explore Nature In Manhattan:
Hike through Central Park's Hallett Nature Sanctuary (shown above in the video)
Explore the many pocket parks of NYC; I love Greenacre Park, which offers a dose of urban nature and even a waterfall!
Community garden hop in the East Village, which is home to numerous tucked-away art-filled gardens
Stroll waterfront parks like Carl Schurz Park and Riverside Park
Enjoy free kayaking at the Downtown Boathouse
Go bird watching in Central Park, Inwood Hill Park, Bryant Park, and/or Riverside Park, all of which are covered on the New York City Audubon website; if you want to venture into Queens the Jamaica Bay Wildlife Refuge is also an excellent place for this
Stroll the garden-filled, art-adorned High Line, though note it does get quite crowded in the summer
Exploring Nature Beyond Manhattan
Go bird-watching at the Jamaica Bay Wildlife Refuge in Queens
Hike around the New York Botanical Garden in the Bronx, which has some lovely waterfalls among other natural highlights, and is about a 15-minute Uber ride from another incredible natural attraction, Wave Hill
Hike the Staten Island Greenbelt
Take a ropes course at the Alley Pond Park Adventure Course in Queens
Along with visiting Brooklyn Bridge Park and Prospect Park — which has its own Ravine — in Brooklyn, you can explore the 52-acre Brooklyn Botanic Garden, which hosts one of my favorite annual festivals, the Chile Pepper Festival
Take a New York road trip from NYC to explore outdoor destinations like the Catskills, the Hudson Valley (where you can hike Breakneck Ridge or the Bull Hill / Mt. Taurus hike), or the Adirondacks (to hike Mt Marcy)
Hotels In New York City
Looking to stay overnight in NYC?
There are so many incredible hotels, like NoMo SoHo, the Williamsburg Hotel, and The Ludlow.
Click here for a full list of New York City hotels!
Prefer self-contained stays?
Click here to check out unique local rentals!
You can also use this map to search for local stays:
What are your favorite ways to explore nature in NYC?
Any favorite places for hiking in Manhattan?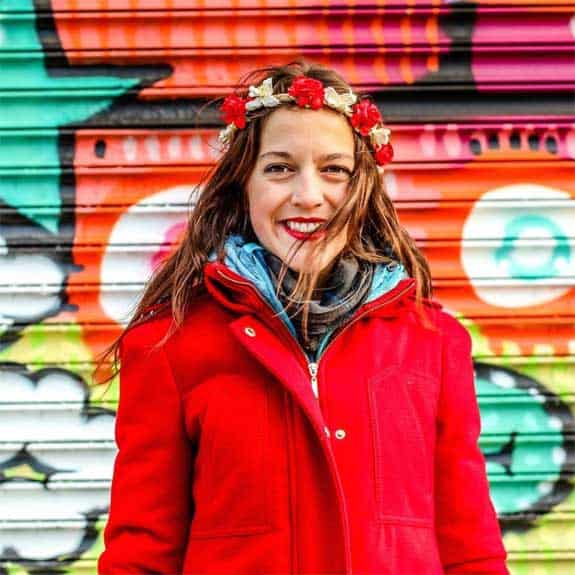 Hi, I'm Jessie on a journey!
I'm a conscious solo traveler on a mission to take you beyond the guidebook to inspire you to live your best life through travel. Come join me!
Want to live your best life through travel?
Subscribe for FREE access to my library of fun blogging worksheets and learn how to get paid to travel more!