Who Knew Downtown Brooklyn Was So Awesome?
*My staycation in Brooklyn was sponsored by the Holiday Inn brand. As always, all opinions are my own.
I've lived in Brooklyn for a while now, though like most New Yorkers I often stick to my own neighborhood.
So when the Holiday Inn brand offered to host me in their Holiday Inn Brooklyn Downtown property I was excited to have a staycation and explore a hood I didn't know while also creating a new Brooklyn travel guide.
It was my boyfriend Andy's birthday weekend, too, so the perfect time to wander, get lost and enjoy some romance.
Most of our finds were right along bustling Atlantic Avenue
Surprisingly Awesome?
Right off the bat I want to clarify why this staycation was so surprisingly awesome. I absolutely love Brooklyn; however, Downtown Brooklyn in particular has always been simply a business district in my mind.
To be fair, it's historically been a hub for commercial activity as Brooklyn's largest central business district (and the third-largest in NYC).
A re-zoning in 2004, though, has led to over $9 billion being invested into the neighborhood, including into more residential development.
Because of this Downtown Brooklyn is serving up a whole new scene. Hey, the more people you have living in a place the more restaurants, bars and attractions you'll need to appease them.
A Middle Eastern Enclave
Another awesome discovery:
Along with new venues, you'll find Middle Eastern eateries that have been here since the 1930s, like Sahadi's and Damascus Bakery.
Downtown Brooklyn and its bustling Atlantic Avenue have one of the country's oldest Arab communities. It dates back to the late 19th century when Lebanese immigrants settled there, followed by people from Palestine, Syria, Egypt and Yemen. With these people came delicious cuisine, which I'm lucky to savor during the staycation.
At many restaurants, both Middle Eastern and otherwise, the prices also seem to date back from before Brooklyn was "cool."
Andy and I were pleasantly surprised at how affordable it was to eat and drink really well on a budget. While chowing down on an amazingly delicious $20 steak at Bacchus Restaurant I quickly vowed I'd be returning to Downtown Brooklyn.
To help you have a memorable time in Downtown Brooklyn I suggest adding the following experiences to your NYC itinerary, all of which are walkable from the Holiday Inn Brooklyn Downtown.
Note that because NYC neighborhoods meld into one another some of the suggestions are also in the adjacent nabes of Boerum Hill, the Waterfront District, and Cobble Hill with its incredible restaurants.
Tip: Looking to experience NYC through a different lens? My local company, NYC Photo Journeys, offers private custom tours that also include high resolution images!
Stay: Holiday Inn Brooklyn Downtown
One big part of any trip to NYC is choosing your accommodation.
While the Holiday Inn brand's main demographic is families, the Holiday Inn Brooklyn Downtown has a modern feel.
Moreover, there are amenities to appeal to business travelers, Millennials, couples, and even health and wellness travelers with their complimentary sauna and steam room, pool, hot tub and fitness area.
I got a sneak preview of the pool before it opens and loved the waterfall backdrop that reflected on the ceiling (total relaxation on the road!).
We were stoked for the stay as soon as we saw the Brooklyn Bridge tile mural shimmering under a waterfall in the entrance. Beyond the check-in desk was a giant lounge and playroom with lots of natural lighting, book shelves with novels and stately artifacts, tables with chess sets, and even a photo-worthy waterfall wall.
Adjoining this was the restaurant, a unique Korean-French eatery called Brasserie Seoul. The chef here is Korean, and fuses Korean ingredients with French cooking techniques to craft dishes like seared salmon with a honey ginger glaze, soy marinated Wagyu short ribs with roasted shishito peppers, and a hearty Bibimbap made with either shredded duck or an an array of veggies.
Tip: ask for a room on one of the upper floors. From the 13th floor I could see the Statue of Liberty, Verazanno-Narrows Bridge, Jersey City and more. Such a great way to wake up!
Starting rates: $147 per night.
Things To Do in Brooklyn
Andy and I explored without a plan — my favorite way to travel — and made a slew of interesting discoveries. Our Downtown Brooklyn highlights included the following. Note that many of these suggestions are great whether you're traveling in a group or are looking for fun experiences for a solo trip to NYC.
1. Munch On Pita Pizzas At Bedouin Tent Restaurant
By the time we arrived to the hotel we were staring. Luckily, the Bedouin Tent Restaurant was less than a five-minute walk, serving up authentic Middle Eastern fare in an indoor/outdoor space.
We walked through the dining room and its walls dangling Middle Eastern carpets and sat in their laid-back garden.
First of all, it was cheap enough that the $30 I usually carry on me was more than enough to cover the cash-only bill.
The $10 mezze platter showcasing salads like baba ghanoush, hummus and labna brought me back to my time in Jordan, while a spice-laced "Lambajin Pitza" had a delicious lightly charred pita crust.
Try the "Loomi," a Middle Eastern citrus drink that tastes like a non-alcohol Old Fashioned.
2. Imbibe With A Free Wine Tasting At Free Range Wine & Spirits
How could we resist a butcher sign advertising free wine tastings while walking down Atlantic Avenue?
The answer: we couldn't.
Free Range Wine & Spirits in Boerum Hill is small but has a large selection, including many bottles from Brooklyn. Yay for local pride!
Also yay for liquor store owners who can actually talk about their products, which is somewhat of a rarity in New York.
Jack and Michael can answer all your booze-related questions, likely with a surprising answer (hint: wine is not the only answer to a romantic evening).
Free tastings typically take place on Saturdays from 4pm-7pm.
3. Get A Caffeine Fix At Absolute Coffee
Absolute Coffee is where I discovered the magic of the iced almond milk latte. I've had iced coffees and I've had lattes, but mixing the two together was like a drinkable dessert that also gave me a lovely caffeine jolt.
They do two shots of espresso in their lattes, too!
Pair with one of their bakery items like a dulce de leche donut, vegan gluten-free banana bread or brown butter salty cookies.
4. Eat In History At Damascus Bakery
Technically in Cobble Hill, Damascus Bakery is one of the Middle Eastern mainstays on Atlantic Avenue, opened in 1930.
They're known for their brick oven-baked pita, which originated as "Syrian bread" to appease the many Syrian and Lebanese immigrants settling in Brooklyn at the time.
While they still serve the original family recipe they offer a slew of other pita varieties, like garlic, onion, sesame, whole wheat, salt-free, and low carb.
I'm a big fan of their pillowy triangle pita, the falafel sandwiches, the homemade baklava, and the spinach pies which are softer and less greasy than I've typically had.
Tip: For a fun and tasty time opt for a Local Flavors Small Group Tour. It's one of the best walking tours in Brooklyn!
5. Learn The Art Of Appetizing (Yes, It's A Thing) At Shelsky's
While Shelsky's of Brooklyn is a Jewish deli, it's also an "appetizing store," meaning it sells foods that go on bagels.
It's the type of venue you'd expect to see on East Houston in the Lower East Side near Katz and Russ & Daughters but in Brooklyn's Cobble Hill. The main reason to go is the impressive array of smoked fish woven into creative sandwiches.
My favorite:
"Brooklyn Transplant," rye bread topped with fatty kippered salmon, apple horseradish, cream cheese and pickled herring salad. Order with a sweet potato knish on the side.
The owner also gave me a sample of some delicious wild salmon "bacon," a Kosher alternative to the pork alternative. Ask for some!
6. Savor The Art Of Made-From-Scratch Bread At Bien Cuit
You know when you walk into an eatery and the aromas grasp you in a delightful hold, making you never want to leave?
Bien Cuit is that place.
As I'm constantly watching my waistline I allow myself carb-heavy splurges when it's worth it, like here.
Their French breads are made from scratch daily in many varieties, from the "Miche," a blend of rye and wheat breads fermented for 68 hours, to the "Wild Nettle" bread fermented with goat's milk.
For the ultimate local foodie experience pair with some beer and cheese from the local STNKY Brooklyn. From STNKY, I highly recommend their legendary spicy pimento cheese dip.
7. Pose Under The Atlantic Avenue Underpass
There's a colorful mural with families holding hands, men riding bicycles, ladies shopping, and other nods to the awesomeness that is Atlantic Avenue and Brooklyn Bridge Park.
The mural was created thanks to a partnership between the NYC DOT and the Atlantic Avenue BID, which had Groundswell youth create the public piece.
Groundswell is a local nonprofit that uses art to transform communities and give at-risk youth a chance to express themselves.
The mural is right before you enter Brooklyn Bridge Park under the Atlantic Avenue Underpass, so stop a take some fun Instagram pictures before heading toward the water.
8. Spend An Entire Day Wandering Brooklyn Bridge Park
There's so much to do in this 85-acre park:
Enjoy cocktails in open-air gardens, photograph a waterfront view of the Manhattan skyline, barbecue on the water, go fishing, grab a cone from Ample Hills Creamery, embark on an urban hike, climb all over interactive sculptures and abandoned factory windows.
We really felt like kids again!
Thanks to the views, the park is also one of the best NYC Instagram spots!
Our favorite highlight was the Brooklyn Bridge Park Photography Wall, a long stretch showcasing numerous short but impactful photo series with captions. While some lightheartedly show floating houses or children playing, others delve into deep issues like Boko Haram and the refugee crisis.
Looking to continue your scenic stroll?
From here you can walk over the Manhattan Bridge into Chinatown or the Brooklyn Bridge into Lower Manhattan.
9. Find Cool Duds At Local Thrift Shops
Near to the Holiday Inn Downtown Brooklyn is Goodwill, my favorite store for inexpensive clothing and books — with the Salvation Army being just a few blocks further.
Other thrift stores to check out within walking distance include MyUnique (408 Fulton Street) and Out of the Closet (475 Atlantic Avenue). A bit farther of a walk is L Train Vintage (654 Sackett Street; my personal favorite!) and Underground Thrift Store (75 Hicks Street).
10. Peruse The Atlantic Avenue Boutiques
You definitely don't need a plan while wandering the boutiques Downtown Brooklyn's Atlantic Avenue.
You'll stumble upon them every few feet! My favorites included Collier West for unique design-centric housewares, Holler & Squall for antiques, and Atelier Cologne for intoxicating fragrances.
11. Have French Cuisine On A Budget At Bacchus
It's rare you'll find Andy and I at a loss for words; but when the food is as good as it is at Bacchus Bistro & Wine Bar we apparently go silent (aside for a few moans of culinary pleasure).
We sat in their back patio sipping $35 bubbly and digging into fresh salmon and the perfect cut of rare steak imaginable. Best of all most dishes under $25, meaning you get the deliciousness and hospitality of a 5-star restaurant on a budget.
Moreover, it's one of the most Instagrammable food places in NYC!
Tip: You can also imbibe on a fun-filled Brooklyn Craft Beer Crawl of Brooklyn!
12. Sip Bespoke Cocktails At Robert
A classic jukebox. Dart boards. DJ's spinning vinyl.
Andy and I planned on having an early night but ended staying out until 1:30am enjoying cocktails made based on our palates at Robert Bar.
I love spicy, so started with the "Another One Bites The Dust" featuring tequila, mezcal, Green Chartreuse, pineapple, jalapeño simple syrup, and a paprika rim.
Once the mixologist understood my love of heat he made me a bespoke concoction that we jokingly dubbed the "Flaming Orgasm." So good!
13. Sip & Savor The Nectar Of The Gods At The Chocolate Room
Immediately upon entering The Chocolate Room I could see women behind the counter whipping up fresh chocolates by hand under chalkboard signs reciting daily offerings.
We grabbed a seat in the back of the red brick art-adorned cafe and perused the chocolate menu, settling on my long-time favorite, the "Cafe´ Lou" (okay, so I'd been there before).
The drink features a half cup of Fair Trade coffee and a half cup of house-melted dark hot chocolate. If you really need to relax the cafe offers beer, wine, and dessert wines, too.
Pro tip: this spot is also a great option if you're wondering what to do in NYC on a rainy day.
14. Walk The Brooklyn Bridge To Lower Manhattan
The Brooklyn Bridge is one of NYC's most iconic landmarks, a 1.1-mile long stretch dating back to 1883. It was the project of German immigrant John Augustus Roebling, though he died during construction. This left his son and then ultimately his son's wife, Emily Warren Roebling, to finish the bridge. It's one of the true great girl power stories of all times.
Because I'm an NYC sightseeing guide I often find myself taking guests onto the bridge from the Lower Manhattan side. Rarely do I cross it all the way. To be honest I'd always assumed there wasn't much to see in Downtown Brooklyn. Now I know better.
Walking from Downtown Brooklyn over the Brooklyn Bridge puts you in Lower Manhattan, where you can visit important sites like the One World Trade Center, Trinity Church, St. Paul's Cathedral, and City Hall.
My advice: grab some takeout Cuban from Sophie's Cuban (don't forget the green sauce!) and picnic in The Battery, a park overlooking the New York Harbor and the Statue of Liberty.
Another option for getting from Downtown Brooklyn to Lower Manhattan is the East River Ferry. It costs $4 one-way (weekday) or $6 one-way (weekends) and can take you to other places, as well.
Tip: A Two Bridges Night Bike Tour is unique way to experience the Brooklyn and Williamsburg Bridges!
15. End With A Slice Of Cheesecake At Junior's
Why is New York so famous? One reason is the food, including the iconic local cheesecake.
Junior's Cheesecake is THE place for New York-style cheesecake in NYC. Despite my obsession with desserts, I'd never been until our Downtown Brooklyn staycation.
Open since 1950, the eatery has been in the same family since its beginnings.
They even still use the same recipe, though today you'll find some new toppings, too.
We went with the original cheesecake topped with strawberries, and despite my aversion to mixing cake with fruit, I was quickly transported to sugary heaven.
Due to popularity Junior's has expanded to other locations; however, Downtown Brooklyn is the original.
Essential Information:

When To Visit: NYC is truly a year-round destination. Tourism tends to slow in winter, meaning you can often find deals.

Tours:

Travel Safety: While I personally feel very safe in Brooklyn, including Downtown Brooklyn, there's no denying it's a densely populated destination and you need take steps to stay safe. My go-to travel safety essentials include Clever Travel Companion Pickpocket-Proof Garments (these have hidden interior pockets). Click here for other travel safety gear recommendations.

Packing Essentials: Check out my list of packing essentials, as well as my packing lists.

Recommended Reads: Brooklyn, A Novel and 22 Self-Guided Brooklyn Walking Tours from Brooklyn Heights to Coney Island.
Do you have any Downtown Brooklyn experiences to add to this list? Please share in the comments below!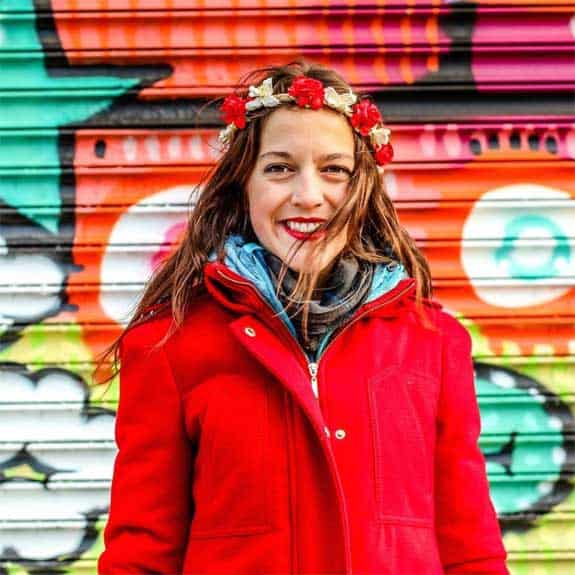 Hi, I'm Jessie on a journey!
I'm a conscious solo traveler on a mission to take you beyond the guidebook to inspire you to live your best life through travel. Come join me!
Want to live your best life through travel?
Subscribe for FREE access to my library of fun blogging worksheets and learn how to get paid to travel more!