36 Best Things To Do On The Upper East Side NYC (From A Local)
By Jessie Festa. This post on the best places on the Upper East Side contains affiliate links to trusted partners!
Looking for fun things to do on the Upper East Side NYC?
Then you're in the right place!
The Upper East Side — often known by locals as the UES — is a Manhattan neighborhood known for its plethora of parks, museums, and beautiful apartments.
You may have seen the UES featured prominently on shows like Gossip Girl, but I'm here to show you there is so much more to the neighborhood than what you've seen on TV. Because while the Upper East Side is an incredible place to live, it also shouldn't be missed by visitors to NYC.
You'll see why in this in-depth Upper East Side guide.
As a resident of the Upper East Side for over five years, I want to help you discover the best that the neighborhood has to offer.
So, along with sharing recommended experiences in this guide, you'll learn about the history of the neighborhood as well as logistical information that can help you plan the perfect Upper East Side itinerary!
Free NYC Travel Guide
But first, before I dive into our Upper East Side neighborhood guide, I invite you to grab a copy of my NYC Top Picks From A Local Guide. The printable PDF guide takes you beyond the popular attractions to uncover a more local and lesser-known side of New York City.
Just a few highlights from the guide include:
Where to get creative java drinks and delicious dishes from unique NYC restaurants
How to discover opportunities for exploring nature in New York City
Ways to get off-the-beaten-track to discover a side of the city many tourists miss
Note: If you're thinking "I just want a local to plan my trip to NYC" I also offer custom travel planning services. Keep in mind, I'm a New Yorker as well as a licensed sightseeing guide, so I can speak to both tourist attractions and lesser-known experiences.
On that note, keep reading to dive into everything you need to know to plan an amazing trip to New York's Upper East Side.
Upper East Side Neighborhoods
Let's kick this Manhattan travel guide off by going over the different Upper East Side neighborhoods.
Yes, you read that right. Manhattan's Upper East Side is actually a large neighborhood comprised of multiple sub-neighborhoods, including:
Lenox Hill
Yorkville
Carnegie Hill
That being said, many people simply refer to the large swathe of land extending from 5th Avenue to the East River and between 59th and 96th streets as the Upper East Side.
This map of the Upper East Side NYC can help give you a lay of the land:
The History Of NYC's Upper East Side
Looking at the extravagant apartments, cute cafes, and lively bars and restaurants that line 2nd Avenue, it can be hard to remember that before the Dutch came in the 1600s, it was the Lenape that fished and lived on this land.
Afterward, ownership of the land changed hands between the Dutch and British many times, though what was constant was that the current Upper East Side land was used for farming.
That is, until 1837, when a newly erected New York and Harlem Railroad station helped to encourage commercialization, as it became easier for people to travel.
Still a hub today, 86th Street became a main thoroughfare, and eventually became the main artery of Little Germany, or what we now know as Yorkville. We'll discuss the German heritage of the area as we go over some of the top things to do in the Upper East Side.
Germans weren't the only immigrants moving to New York City, and the flood of new residents pushed people to leave crowded downtown and built residences uptown.
It was in the early 1900's that the Upper East Side started to really be seen as an elite neighborhood — so much so that past residents have included the Astors, Rockefellers, Kennedys, Roosevelts, Carnegies, and more.
Today, this wealth can still be seen. Luckily, though, for the typical New Yorker or visitor just wanting to have a good time and relax, there are plenty of Upper East Side attractions to serve you, too.
Upper East Side Crime
According to Area Vibes, at the time of writing the Upper East Side:
Is safer than 77% of the cities in New York
Crime rates are 20% lower than the national average
Violent crimes are 34% lower than the national average
Beyond these stats, I can say that as a UES local for over four years, I feel extremely safe living here and walking around by myself, even at night.
That being said, still use common sense when exploring. Don't wear headphones after dark, avoid dark streets as much as possible, and consider investing in some travel safety gear like a personal alarm.
What Is Life On The Upper East Side Like?
I always tell my NYC photo tour guests that the Upper East Side has two personalities:
There are the opulent mansions and luxury townhouses along Central Park where the cost of living in NYC is at its highest and only the very wealthy can afford to buy homes.
But then, if you walk away from the park toward the East River, you can actually find affordable housing (for Manhattan) and a more laid back middle class atmosphere.
In fact, my friends and I are in our 30s, and most of us have either ended up in the Upper East Side or Astoria, Queens — which are both excellent neighborhoods to live where you can also find decent deals on housing.
In terms of pace, the Upper East Side is way slower and less frantic than Midtown. You'll likely feel your shoulders automatically relax as you step off the subway here.
There are loads of things to do in the UES, too, though a few highlights are the amount of greenspace and cultural institutions. Moreover, while you won't really find rooftop bars and nightclubs here, there are many delicious restaurants and fun happy hours to enjoy in a beautiful setting.
For these reasons and more, you'll definitely want to have this neighborhood on your radar when planning a trip to New York City.
Where To Stay On The Upper East Side
There are many great hotels in the Upper East Side, a few of which include The Lowell Hotel, The Carlyle, A Rosewood Hotel, and The Pierre, A Taj Hotel.
Click here for a full list of Upper East Side hotels!
Prefer self-contained stays?
Click here to check out unique local rentals!
You can also use this map to search for local stays:
And if you're interested in living in a hotel in NYC, there are numerous extended stay hotel options too!
Fun Things To Do On The Upper East Side NYC
Outdoor Activities On The Upper East Side
One of the things I love most about the Upper East Side is how many parks and waterfront activities there are. Some not-to-miss outdoor UES experiences include the following. Note that many of these experiences are great if you're traveling in a group as well as if you're looking for the best things to do in NYC by yourself.
1. Book a private NYC photo tour or influencer shoot
Shameless plug! I own a photo experience company called NYC Photo Journeys that offers private NYC photo tours, professional NYC photo shoots, and private NYC influencer shoots, with the Upper East Side being one of our most popular stops!
For the tours, you pick a route and get a tour led by a certified guide and photographer, leaving with professional photos from the day to keep.
With the photo shoots, we'll go over exactly what you're looking for to come up with a concept and locations that bring your vision to life.
Here is a shot from a recent Influencer Shoot:
If you're looking for Upper East Side things to do nearby, you're never too far from Central Park — which is full of outdoor experiences and attractions.
In fact, Central Park is home to three woodlands, including the Hallett Nature Sanctuary, the Ramble, and the North Woods. These woodlands offer a taste of the Adirondacks without needing to leave the city, and are safe enough for solo female hiking.
For a glimpse into what this is like, check out the below video where I take you on a hike in the North Woods through the Ravine, where you can even see a waterfall:
Of course, there are loads of other activities to enjoy in Central Park, too, like picnicking near Turtle Pond with a view of Belvedere Castle (this is one of the best views in NYC for free!), wandering the Shakespeare Garden to see plants and quotes from Shakespeare's texts, and enjoying the many free tours and events on the park's calendar, to name a few.
Bonus:
For a quirky and informative tour, book a foraging experience in Central Park!
3. Relax on the waterfront in Carl Schurz Park
This waterfront park has great picnicking opportunities with many lawns and gardens looking out toward Queens and Roosevelt Island. There is also a paved waterfront promenade where you can walk or relax on a bench with a book and a view across the East River to Rosevelt Island and Queens. This is one of my personal favorite non-tourist things to do in NYC.
Bonus: Carl Schurz Park is where the mayor lives in Gracie Mansion, which offers tours and exhibits — though simply admiring the stately home's lovely 18th-century architecture is nice, as well.
4. Ride the NYC ferry
If you're looking for cheap things to do in NYC that are also fun, consider riding the ferry!
It's only $2.75 per ride, making it like a budget-friendly cruise, especially as the top deck is open air and they sell snacks and drinks onboard — including alcohol.
Just note that according to ferry rules, you should be using the ride for transit only, so choose a destination and enjoy. You can find the East River Ferry Route that serves the Upper East Side here, though you can also connect to other routes for more destination options.
5. Walk the East River Greenway
If you're not in the mood to sit, the East River Greenway stretches 9.44 miles along the East River — including past Carl Schurz –and is a great place for a lovely walk, run, bike, or skate along the water. It's also a popular place for locals to fish and hangout with music.
The paved path runs from Lower Manhattan to Harlem, offering views of the East River, Queens, Brooklyn, and numerous iconic NYC bridges along the way. Taking in these vistas is one of the best free things to do on the Upper East Side.
By the way, the UES section of the walk is particularly lovely and connects you to one of my favorite Upper East Side attractions, Randall's Island. This is actually one of the NYC islands you can visit.
Speaking of which…
6. Picnic on the water on Randall's Island
This is one of my favorite Upper East Side hidden gems, as despite it being a huge island that's very visible from Manhattan, Queens, and The Bronx, many locals have never been and aren't even sure where it is.
From the UES, if you cross over the pedestrian bridge at 103rd Street and head right you'll walk for about 20 minutes until you come to a weeping willow tree. This is a great picnic spot with a small beach nearby and a view of Lower Manhattan!
Not only that, but it's also a great spot to go hiking in Manhattan if you want to hit the trails.
Fun fact: I actually got married under this weeping willow:
7. Enjoy the architecture on 62nd
Why is New York City so popular? One reason is the architecture!
One top location for my NYC photo shoots is the Upper East Side, and one of my favorite streets in this neighborhood is 62nd street, starting in Central Park and walking east.
As you stroll, admire the mansions, grand stoops, gorgeous brownstones, and ornate architecture — particularly on the block between Park and Lexington Avenues, where you'll find gates laced with ivy as well as pastel-colored brownstones.
It's truly one of the most Instagrammable places in NYC!
This being said, 62nd is hardly the only stunning Upper East Side street.
Higher up, 79th and 72nd are two standout streets. In fact, one of my favorite scenic walks to take my photoshoot guests on is:
Start at the Met steps
Walk down 5th Avenue to the Ukrainian Institute of America on 79th, a stunning Gilded-Age manion
Head east on 79th to admire other strikingly beautiful buildings before heading south on Madison Avenue
Stop at Madison and 77th to admire The Mark Hotel, whose elegant restaurant sidewalk setup is perfect for some shots
Walk down Madison to 72nd to grab a cappuccino at Ralph's Coffee (part of Ralph Lauren) and admire the gorgeous architecture along the street
Head into Central Park or continue wandering the Upper East Side for more beautiful buildings
Interested in New York City architectural tours that explore this neighborhood? Check out the Fifth Avenue Gilded Age Mansions Tour, which allows you to really see why Fifth Avenue is often called "Millionaire's Row."
You might also consider booking one of the many luxurious limousine tours in NYC to see the skyline and architecture.
Best Places On The Upper East Side For Culture & Entertainment
When it comes to Upper East Side things to do, you have to talk about culture and entertainment. Here are just a few of the many experiences to enjoy:
8. See a comedy show at Comic Strip Live
Comic Strip Live is actually where Jerry Seinfeld got his start and where many other famous comedians honed their acts. The venue often has Groupons and deals, and then there is a two-drink minimum. The shows are usually a lot of fun!
Afterward, head across the street to:
9. Pair beer with board games at Hex & Co
Hex & Co features over 1,000 board games, from popular options like Dungeons & Dragons and Settlers of Catan to games you've likely never heard of.
Additionally, they serve up craft beer, great cocktails, and tasty bar-style food in a communal setting. This makes it a great Upper East Side bar for those traveling solo, since this feature makes it easy to socialize and make new friends.
10. Explore the Museum Mile (Tours Included!)
Looking for the best things to do on the Upper East Side NYC that involve art, culture, and history? Then the Museum Mile is a must as it features numerous different institutions along Fifth Avenue, including the:
Museum for African Art,
El Museo del Barrio,
Cooper Hewitt Smithsonian Design Museum,
National Academy Museum and School,
Neue Galerie,
Goethe-Institut New York,
and the world-renowned Metropolitan Museum of Art, which features a permanent collection of over 2 million works dating back to pre-historic times.
Many of these institutions also offer tours, like:
Pro tip: If you're looking for the best New York souvenirs, museum gift shops tend to offer really unique buys.
Additionally, these institutions make for great rainy day NYC activities.
11. See live music at Ethyl's Food & Alcohol
This 1970s-themed bar and eatery is known for their $5 burgers, live music, and DJs. Ethyl's Food & Alcohol also has a recurring "Go-Go Get Down" event with music and go-go dancers!
12. Enjoy live music & trivia at Stella & Fly
Not only is Stella & Fly my favorite cafe in the Upper East Side, but at night the laptops go away and the coffee shop turns into a lively wine bar. Check their schedule as they often host events — like trivia, live music, and more.
Bonus: It's one of the most Instagrammable cafes in New York City!
13. Dance at Five Mile Stone
Along with a solid comfort food menu that you can enjoy during dining hours, as it gets later you can dance to DJs — like at a club, but in a laid-back restaurant.
Try Five Mile Stone's over 90 whiskeys, sample one of their 24 rotating tap beers, or join them for a weekday happy hour.
If you're wondering what to do in NYC after midnight, this UES spot is a great pick!
14. Visit Germany in Yorkville
Yorkville, one of the sub-neighborhoods of the Upper East Side running from E. 79th to E. 96th streets, used to be known as Kleindeutschland or Little Germany. In fact, E. 86th — the main thoroughfare of Yorkville — was often called Sauerkraut Boulevard.
While much of this past is no longer visible, there are still a few remnants worth exploring.
First of all, make sure to have a German meal at Heidelberg Restaurant, a family-run eatery dating back to around 1936.
Next door, shop for German delicacies at Schaller & Weber, an old-school German market and butcher shop. Or grab a sausage from their outdoor cart and enjoy it outside in one of the parks mentioned above.
If you like architecture, check out the Italian Renaissance Revival building on the corner of Third Avenue and East 85th street. This stunning landmarked structure was built by German-American architect Robert Maynicke and once housed the Yorkville Bank Building.
Today, it provides a beautiful reminder of the German-American community that was once prominent here.
15. Take a class or see a talk at the 92Y
The 92Y offers loads of interesting programming, from classes to talks to performances and more. Learn design fundamentals and watercolor, discuss the precarity of aging in Shakespeare's writings, or sweat it out during salsa, just to name a few of many options.
16. Learn pottery at EarthworksNYC
Earthworks NYC is an Upper East Side pottery studio offering classes as well as workshops on topics like glazing, raku, and altering shapes.
Even if you're not interested in taking classes, their shop sells beautiful pieces that make a way better travel souvenir than a cheesy t-shirt or keychain.
17. See an indie movie at Cinema 123 by Angelika
While Cinema 123 by Angelika shows some new releases, this Upper East Side theater is known for its indie flicks and foreign films not shown in mainstream movie houses.
There is also an onsite cafe serving snacks like popcorn and brownies as well as coffee and soft drinks.
Fun Upper East Side Restaurants
Of course, no Upper East Side blog would be complete without talking about the food! Some of my personal favorite restaurants in this Manhattan neighborhood include:
18. Enjoy a budget-friendly brunch at Siena
While I love Siena's dinner food, I have to shout out their brunch as it's the best I've found in the Upper East Side — especially for the price. At the time of writing, you can get a meal, a side, and unlimited brunch drinks for 90 minutes at $29 per person.
This is truly one of the best boozy brunches in NYC!
19. Pair ramen with cocktails at NR
Have you ever heard of a ramen speakeasy? Neither had I until I visited NR.
Not only is their food delicious, but their craft cocktail menu showcases classic recipes as well as creative concoctions — like the "Tomato" featuring Japanese barley vodka, red tomato, green tomato jam, umami salt, and lemon — all served in vintage glassware.
Eat and sip under chandeliers in a 1920s setting.
If you're wondering what to do in the Upper East Side and are craving good food, drink, and ambiance, make sure to stop at NR!
20. Savor South African fare at Kaia
Kaia is an ambient South African restaurant and my go-to for a special occasion. The prices are slightly higher than my usual dining spots — but worth it, as the food is delicious and the service is spectacular!
Get the bobotie, Cape Malay spiced beef served with egg custard on top and a side of yellow rice with raisins. Pair with a glass of South Africa's world famous wine, as the eatery has over 50 options!
21. Dine on rustic dishes at Uva
This rustic Italian eatery features thoughtfully-made meals served in a variety of spaces, like their main dining room, private wine cellar, the year-round backyard patio, and sidewalk seating area.
Uva has an extensive wine list featuring Italian and international favorites. My personal pick is a charcuterie board followed by a homemade pasta dish.
In my opinion, this is one of the best Upper East Side restaurants you can find!
22. Visit Argentina at Libertador
If you're craving a trip to South America through the palate, Libertador is an Argentinean steakhouse offering high-quality meats and amazing service. There is indoor and outdoor seating options, though if you sit inside you have the pleasure of watching the grillmaster at work.
Also don't miss their homemade empanadas in flavors like spinach and cheese, beef, and black bean and mozzarella.
Pro tip:
Before visiting Libertador, check out their weekly specials. Along with happy hour most days of the week, they currently offer half-off bottles of wine on Mondays and a discounted prix-fixe menu on Mondays and Tuesdays.
23. Go back in time at the Lexington Candy Shop
Despite the name, this tasty eatery is actually an old-school NYC luncheonette!
Dating back to 1925, you'll enjoy classic burgers, tuna melts, and malted shakes in a nostalgic setting — from the retro 1940 Hamilton Beach mixer used to make sweet treats to a menu that has remained largely unchanged over the years.
Make sure to order an egg cream from their soda fountain for the ultimate authentic New York experience.
Fun fact:
Lexington Candy Shop boasts being the oldest family-run luncheonette in New York! It's also one of the most Instagrammable restaurants in NYC!
24. The Penrose
The Penrose is a local favorite thanks to its thoughtful menu showcasing local ingredients and high-quality drinks.
Sit on their patio while sipping a draft Antigua Old Fashioned — made with El Dorado 12-year Rum, Maker's Mark Bourbon, housemade coffee bitters, and vanilla. If you're hungry, you won't regret the Artichoke & Kale Ricotta Dip or the Broccolini & Burrata Grain Bowl. Yum!
25. Savor all-you-can-eat sushi at Yuka
Yuka is one of the best places in the Upper East Side if you're craving a budget-friendly all-you-can-eat sushi meal.
For my posse, this is our top choice for a meal out, as for less than $30 you can enjoy heaping plates of classic and creative rolls, sashimi, gyoza, and more.
They do offer a BYOB option, though their drink menu is so cheap that unless there is a specific bottle of wine or beer you're craving it usually makes sense to go with their house libations.
26. Have a romantic farm-to-table meal at Sfoglia
My husband took me to this Italian eatery for my birthday this year and it was dripping with rustic romance.
At Sfoglia, expect seasonal and local ingredients in dishes like Chicken al Mattone and Pappardelle Bolognese — as well as in their craft cocktails. Moreover, the service is some of the best in the Upper East Side!
While a bit pricier than most of the other restaurants mentioned in this Upper East Side guide, it's absolutely worth it if you're looking for a special night out that isn't wildly expensive.
27. Dine Peruvian at Pio Pio
Hungry? You won't be for long if you go to Pio Pio, a Peruvian restaurant known for its epic rotisserie chicken. And yes, I said "epic", because Pio Pio is one of the very few restaurants where I not only order the chicken, but love it.
Recommendation:
If you're in a group of two or three, order the Matador Combo, which comes with a whole Mama Juanita's rotisserie chicken, yellow rice, red beans, tostones, salchipapa, and avocado salad for $42 total — plus Pio Pio's famous green sauce!
Fun Bars On The Upper East Side
While many of the above-mentioned restaurants in the Upper East Side are also excellent bars, here are a few places I recommend when you're looking for drinks and socializing and not necessarily a meal.
28. Get social at Ryan's Daughter
Ryan's Daughter first opened in 1979, and since then has become a true local favorite for a night out at the pub. They also host a number of events — from trivia to performances to tournaments — though there is always a pool table if you want to pair your beer with a game.
Also, as a wheat beer drinker, I appreciate that they serve Paulaner hefeweizen, as so few bars do and it's my favorite!
Fun fact:
This establishment has an interesting history, as the building operated as a local club during Prohibition. From there, it turned into a German-owned watering hole called the Old Stream serving the German residents of Yorkville until the area became largely Irish, which is when it turned into an Irish-owned establishment known as the Minstrel Boy.
29. Have a speakeasy experience at UES
One of the best things to do on the Upper East Side of New York City is have a craft cocktail experience — especially at UES.
For those who love hidden speakeasies, this unassuming ice cream shop is a front for a classy craft cocktail bar. To gain access, ask to see the "storage room".
Oh, and make sure to order the "Girls Gossip On The East" — a spicy tequila drink served on fire!
30. Tap into your inner beer nerd at City Swiggers
City Swiggers is a beer buff's heaven with over 8,000 beers in their inventory and hundreds to choose from at any time.
It's more of a shop with sidewalk seating during the day, but as the sun goes down beer-lovers come here for a brew and good conversation with their fellow beer nerds.
31. Get fancy at Bar Pleiades
Daniel Boulud is one of New York City's most famous chefs, so I couldn't create a guide to the Upper East Side without mentioning his chic Bar Pleiades.
Located within the Surrey Hotel, you'll munch on complimentary salted nuts and olives while sipping seasonal cocktails in an elegant art deco space.
32. Have the ultimate craft beer experience at Pony Bar
If you're a beer person, Pony Bar is a craft beer bar pouring exclusively American brewed beer — including many options from New York! It's a great Upper East Side bar for traveling New York State through the palate.
Pair your beer with their famous double-fried wings, loaded fries, nachos, or soft baked pretzels with mustard and pimento cheese.
33. Play and sip at Treadwell Park
If you're looking for a fun and social outing Treadwell Park is an energetic beer hall featuring 20 rotating craft draft beers and ciders — not to mention beer-laced cocktails and ice cream floats. This Upper East Side bar also features ping pong, pinball, and giant TVs for a fun day out.
34. Get drunk with at a locksmith at Keys & Heels
Funny story:
My husband took me to Keys & Heels for my birthday. I didn't know what it was, so when he stopped in front of it I truly thought we were making a pitstop at a locksmith, as the facade has signs like "we make keys" and "shoe repair".
Inside, though, it's another story, as the unassuming front door opens up into a beautiful dimly lit cocktail den serving up fantastic drinks in a space outfitted with disco balls, hanging plants, tiny table lamps, and fun chandeliers.
If you're like me and enjoy spicy drinks, opt for a "Pretty Little Psycho" — yum!
Best Desserts On The Upper East Side
One great thing about the Upper East Side is there are loads of places to satisfy your sweet tooth. A few dessert outing options include:
35. Get your cookie fix at Levain Bakery
You can spot a Levain Bakery cookie even without its packaging, as these big cookies have a distinct look and taste. They're crunchy, yet soft and gooey at the same time.
And no matter which flavor you choose — from the dark chocolate peanut butter chip to the super popular chocolate chip walnut — each one is out of this world (and totally deserving of that cliche!).
36. Cool down with some Van Leeuwen Ice Cream
Van Leeuwen actually has locations around NYC, but it's my absolute favorite ice cream shop so I had to mention it.
They serve both dairy and vegan ice cream. And while you can get classic flavors like chocolate and cookies & cream, you'll also find atypical options — like an ice cream collab with Kraft Macaroni & Cheese!
What makes their ice cream so good is their dedication to simple, high-quality ingredients. For instance, their Sicilian Pistachio doesn't feature artificial flavoring, but instead showcases pistachios sourced from Mount Etna in Italy.
New York City Travel Insurance
When visiting NYC — or anywhere else in the world — make sure to get travel insurance.
One of the best travel medical insurance for travelers is SafetyWing as they've got a large network and offer both short-term and long-term coverage — including coverage if you're traveling for months as well as limited coverage in your home country.
Additionally, SafetyWing is budget-friendly and offers $250,000 worth of coverage with just one low overall deductible of $250.
Click here to price out travel insurance for your trip in just a few clicks.
Upper East Side Of Manhattan FAQ
Now that we've gone over what to do on the Upper East Side as well as important tips, here are answers to some frequently asked questions:
Q) What is the Upper East Side?
The Upper East Side, or UES, is a neighborhood in upper Manhattan. It is expansive, stretching from East 59th Street north to East 96th Street, and east from 5th Avenue to the East River.
Q) What is considered the Upper East Side?
The Upper East Side begins at 59th Street and heads north to East 96th Street. Heading east, it stretches from 5th Avenue – where Central Park is – to the East River.
Q) What is the top Upper East Side must see attraction?
There are many things to see on the Upper East Side, though the top attraction would either be Central Park or The Metropolitan Museum of Art – both of which are well worth a visit!
Q) What is the Upper East Side known for?
The Upper East Side is known for many things, such as Gilded Age mansions along 5th Avenue, top attractions like Central Park and the Museum Mile, and for being one of NYC's greener neighborhoods with many parks to explore.
Q) What is the East Side of New York?
The East Side refers the side of Manhattan east of 5th Avenue.
Things To Do On The Upper East Side: Final Thoughts
As you can see, there are loads of Upper East Side activities and experiences that make this New York neighborhood a must-visit.
Whether you want to spend time in Central Park, peruse world-renowned museums, eat delicious food, play games over cocktails, see a comedy show, go shopping, or something else, you can find it in the UES of NYC.
What are your favorite things to do on the Upper East Side NYC?
Enjoyed this post on what to do in Upper East Side New York? Pin it for later!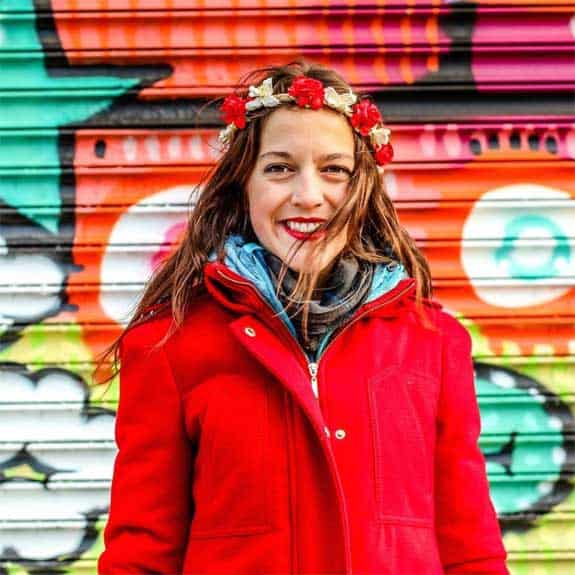 Hi, I'm Jessie on a journey!
I'm a conscious solo traveler on a mission to take you beyond the guidebook to inspire you to live your best life through travel. Come join me!
Want to live your best life through travel?
Subscribe for FREE access to my library of fun blogging worksheets and learn how to get paid to travel more!