Anthony's Nose Hike: Best Hudson Valley Hikes Near NYC
If you're looking for the best Hudson Valley hikes near NYC, Anthony's Nose Hike should certainly be on your list.
New York State is full of scenic hiking trails that offer opportunities to spot deer, bird-watch, and immerse yourself in woodland.
That being said, not all offer the spectacular views that Anthony's Nose Trail does from atop its main peak.
And while this Hudson Valley trail can get crowded on weekends, the truth is it's popular for a reason.
I'll dive into the full experience below — video included — so you know what to expect and can plan your Anthony's Nose hike accordingly.
Note: This guide to hiking Anthony's Nose in the Hudson Valley contains affiliate links to trusted partners I think you'll love!
Pro tip: Before going hiking, make sure to download the AllTrails app to have trail guides, maps, photos, and reviews right at your finger tips. You can also sign up for a free trial of AllTrails+ to download offline maps, get alerts for wrong turns, find trails by distance from you, and more!
What Type Of Hiker Are You? (Free Quiz!)
But first…
Before we dive into some of the best hiking near NYC by train, I want to share a free personality quiz I think you'll love:
Discover your hiking personality in this fun and short hiker personality quiz, which also shares trail suggestions based on your results.
Once you've grabbed the quiz, let's go hiking in New York and discuss one of my favorite Hudson Valley hikes near NYC, Anthony's Nose Trail.
After reading, it'll be clear why this is widely considered one of the best trails in Upstate NY!
Hiking Anthony's Nose Quick Tips:
Anthony's Nose Trailhead: There are three options that show up when you enter "Anthony's Nose Trailhead" into Google Maps. Personally, I started at 171-143 Bear Mountain-Beacon Highway in Garrison.
In terms of Anthony's Nose parking, there isn't a designated park area at this spot so we simply parked along the shoulder of the road.
While I haven't done it myself, I've also heard the "Anthony's Nose Trailhead II" GPS option offers a scenic hike with numerous views along the way.
Additionally, some people like to hike to Anthony's Nose from the Bear Mountain Toll House via the Camp Smith Trail (blue blazes), which appears to be more strenuous and a longer hike than what we did. I bet it's beautiful, though!
Here is an Anthony's Nose hiking map showing that option, or you can click here for an AllTrails hiking map.
When To Hike Anthony's Nose: If you're a solo traveler hiking on your own and want to ensure there are plenty of people around, a Saturday — particularly during spring, summer, and fall — will have crowds.
If you'd prefer solitude and to have the view to yourself, definitely opt for a weekday.
Anthony's Nose weather: Note that it can get chilly at the top, so bring a jacket.
Also, during the winter the trail can get icy and you may need crampons — or you may want to choose a flatter trail altogether.
Anthony's Nose Hiking Trail Length: 1.9 miles.
Elevation Gain: 675 feet.
Hike Time: It took us about an hour to get to the top, including time for photos. If you don't take 101 photos and also go on a weekday when there isn't a crowd you can do it faster.
Difficulty: Moderate. You'll go uphill for essentially the entire first half and there are sections with uneven terrain; however, at no point was I out of breath. Note though that I am a pretty avid hiker.
Good for solo travelers? As this trail is well-populated and relatively easy, I think it's a great option for those hiking solo.
Anthony's Nose Directions – Getting There
Taking The Train To Anthony's Nose From NYC
If you're looking for hiking near NYC without a car, Anthony's Nose fits the bill.
You can take the Metro-North train from Grand Central or 125th Street-Harlem Stations to Garrison via the Hudson Line. From there, you can take an eight-minute Uber or Lyft to reach the trailhead.
By the way, if you're new to Uber that referral link gets you your first ride free!
You can also click here to get a discount on your first Lyft ride!
Driving To The Anthony's Nose Trailhead
If you're driving to Anthony's Nose trailhead from NYC, it'll take about 60-90 minutes to arrive (depending on exactly where you're starting from) via the Palisades Interstate Pkwy N.
You don't need a specific Anthony's nose address to reach your destination, as your GPS can find the trailhead based on the name.
That being said, putting "Anthony's Nose trailhead" into your GPS will bring up three options. Personally, I started at the trailhead at 171-143 Bear Mountain-Beacon Highway in Garrison and parked along the shoulder of the road.
By the way, if you're renting a car I highly recommend using Discover Cars to quickly compare your car rental options.
Their comparison tool does the homework for you, so there's no need to have 10+ tabs up trying to figure out which company is the most affordable. Actually, you can save up to 70% using their tool!

Anthony's Nose Trail Map
Looking for an Anthony's Nose map?
Click here for a Google map version or click the embed below:
Anthony's Nose Trail Video
Before we dive into the written guide to hiking Anthony's Nose, check out my video to immerse yourself in the experience!
After watching, continue reading to learn more about what this Hudson Valley hike is truly like below.
The Anthony's Nose Hike Experience
"This must be it," I say to my husband, Andy, as we pull up to a section of road lined with cars, parking along the shoulder like everyone else.
Today we're hiking Anthony's Nose, one of the most popular hikes in the Hudson Valley thanks to the sweeping views of the region awarded at the top.
Because of the vista, it's a bit crowded, but that doesn't deter us from making the ascent.
The moderate hike takes you through part of the Hudson Highlands State Park Preserve, which showcases over 6,000 acres of natural beauty — and a large bird conservation area.
In fact, some common sightings include the prairie warbler, the least bittern, and the worm-eating warbler — one of 55 species of migratory songbirds that have been spotted in the park. You can even see bald eagles!
But, I digress.
We begin hiking Anthony's Nose Trail along the white blazes that designate the Appalachian Trail (AT).
Immediately, we're heading up, with the ascent taking us up semi-steep earthen steps that turn into stone stairs.
I try not to get too distracted by the challenge though, as eventually the Hudson River appears to our left, enhancing the woodland scene.
The one thing that isn't enhancing anything though?
The people.
Because it's a Saturday, at times there are so many people on the trail that Andy and I need to pause walking, though we use this time to rest and drink water.
To be fair, we had a long breakfast and didn't get started hiking until around 11am, which probably doesn't help with the crowds, especially as it's a weekend.
Still, I'm thankful to be immersed in nature — and excited for the view that I know awaits me at the top.
After climbing up a relatively steep incline for about 0.6 miles, we have the choice to continue on the Appalachian Trail or switch to the blue trail blazes along the Camp Smith Trail to reach Anthony's Nose peak.
We choose the latter, continuing on a flat trail.
Giant boulders emerge from both sides of the trail, providing evidence that glaciers once sat here.
There is also a small pond where we stop, hearing birds or possibly frogs and trying to spot them.
It isn't too much longer — about 0.75 miles — until we near the end of the hike.
For a moment, we see two peak options, though lucky there is a sign pointing us to our final destination:
Anthony's Nose Peak!
You'll know for sure you've reached it once you see the American Flag waving in the breeze — which reminds me, bring a light jacket as it's way chillier up here than at the trailhead.
It's at this point I recommend spending some time taking photos and relaxing with a packed lunch while you enjoy the view.
As we hiked on a Saturday, we were able to pick up caprese sandwiches from the Saturday farmer's market at the nearby Boscobel House and Gardens. Yum!
While enjoying our locally-made eats, we take in stunning unobstructed views of the Hudson River, Bear Mountain-Harriman State Park, Bear Mountain Bridge, and the beautiful Hudson Valley and Hudson Highlands.
Note that we hiked Anthony's Nose during the very early spring.
If you do the hike in the fall, you'll have the extra treat of seeing the region bright with foliage.
Also, just before you see the sign pointing you toward the Anthony's Nose Peak you'll see another peak option to your left.
The view here isn't as rewarding, though if you're looking to enjoy your lunch with less people around it could be a good option.
Anthony's Nose To Bear Mountain
Still up for more Hudson Valley hiking?
The Anthony's Nose Trail is only about a five-minute drive to Bear Mountain, where a variety of trails await.
For something easy, do the 1.4-mile Hessian Lake loop, a flat and scenic waterside path.
If you're looking for something more challenging, opt for the moderate Perkins Memorial Tower Trail, a 3.8-mile hike that takes you up to its namesake tower for incredible 360-degree views of Bear Mountain State Park, Anthony's Nose Mountain, Manitou Mountain, Annsville Creek, Breakneck Ridge, New York City, The US Military Academy, and more.
Note that the Bear Mountain Bridge toll cost is $1.75 if you pay cash or $1.35 with E-ZPass. You pay heading eastbound only.
Best Hudson Valley Hikes: Other Great Options
No Hudson Valley visitor's guide would be complete without discussing the amazing trails! And Hudson Valley hikers will be glad to know there are loads of great hikes near NYC in the region, like:
Hudson Valley Rail Trail
Fishkill Ridge
Storm King
Bear Mountain Hike (or hikes plural, as the park has numerous options!)
Minnewaska State Park, which is home to a number of Hudson Valley hikes with waterfalls
Best of all, along with offering incredible Hudson River valley hiking these trails and parks feature some of the best hiking trails near NYC, many right off the Metro-North.
If you don't mind heading up north a bit farther to the Adirondack Region of New York for a weekend trip, you can also do incredible trails like the Mount Marcy hike and the Mt Van Hoevenberg hike. These hikes are true highlights of any New York State travel guide!
Moreover, in New York's Catskills Region you can hike Giant Ledge as well as the Overlook Mountain trail for epic views!
Hike The Hudson Valley Map
Also make sure to grab a Google Map that will help you enjoy some of the best hikes in the Hudson Valley.
Hotels Near Anthony's Nose Hiking Trail
Looking for accommodation in the Hudson Valley near Anthony's Nose?
Click here for a full list of Hudson Valley hotels!
You can also check out these romantic getaways in Upstate New York.
Prefer self-contained stays?
Click here for a list of apartment and home rentals.
You can also search this map to find hotels and rentals. It's set to Cortlandt Manor, which is where Anthony's Nose is located:
Any tips you'd add to this Anthony's Nose hike guide?
Enjoyed this post on hiking Anthony's Nose? Pin it for later!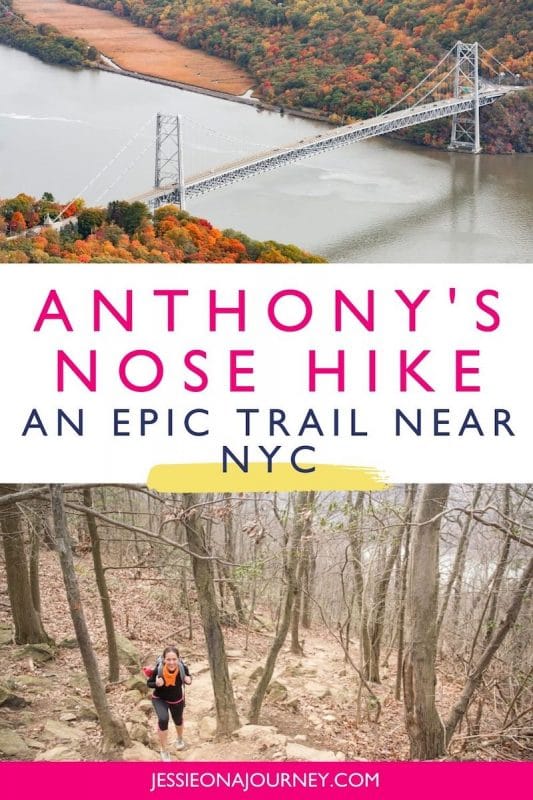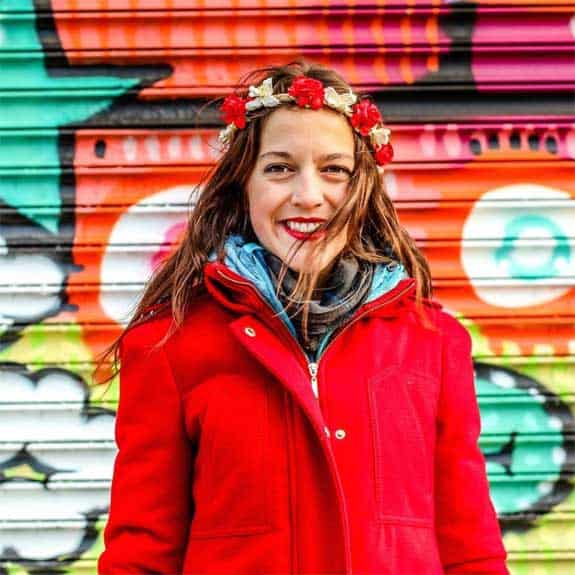 Hi, I'm Jessie on a journey!
I'm a conscious solo traveler on a mission to take you beyond the guidebook to inspire you to live your best life through travel. Come join me!
Want to live your best life through travel?
Subscribe for FREE access to my library of fun blogging worksheets and learn how to get paid to travel more!