Is NYC An Island? New York Geography + Island Hopping Guide
By Dale P & Jessie Festa. This guide to New York's islands contains affiliate links to trusted partners!
Is NYC an island? What New York islands can you actually visit? Are there any secret islands in New York City?
From its islands to its boroughs, New York's geography can be pretty confusing at times. Luckily, we've created an in-depth guide to give you full clarity.
We are both NYC locals who love to explore, so we've also included a list of 15 New York islands you can actually visit — with tips for things to do.
By the end, you'll have a full understanding of NYC's islands and geography.
💡Quick tip: One of the best ways to explore islands in New York City is through a boat tour — like a 🛥️ New York City Lights & Skyline Cruise on a Yacht or a🗽 Statue of Liberty & Ellis Island Tour.

➡️ Click here for a full list of NYC boat tours.
Is NYC An Island?
New York City is not an island, but some of its boroughs are. Manhattan is an island, and so is Staten Island (as the name suggests.)
Brooklyn and Queens are both located on the western end of Long Island, a large and densely populated island that was actually ruled a peninsula in a 1985 Supreme Court case.
The Bronx is the only borough of New York City that is located on the "main" part of New York State.
Understanding The Geography Of New York City
New York City is comprised of five boroughs: Manhattan, Brooklyn, Queens, the Bronx, and Staten Island. These boroughs are linked by a combination of bridges, tunnels, and roads.
Manhattan is the most densely populated borough and the heart of the city. North of Manhattan is The Bronx, and to the east, you can reach Brooklyn and Queens — the latter of which is NYC's largest borough.
Brooklyn and Queens are geographically located on Long Island, but they are still part of NYC. Various bridges and tunnels connect these two boroughs to Manhattan, with some of the most famous being the Brooklyn Bridge, the Manhattan Bridge, and the Queensboro Bridge.
Staten Island is located south of Manhattan, but it's only accessible by ferry from Manhattan. The Verrazzano-Narrows Bridge is the only bridge that connects Staten Island to the rest of NYC via Brooklyn.
15 New York Islands You Can Visit
Along with Manhattan, which is one of New York's most exciting islands, here are 15 islands in New York you can visit — including why you should!
1. Little Island
While Manhattan is an island itself, there are also several islands in Manhattan. One of those is the aptly named Little Island.
Little Island is a public park located at Pier 55 in Manhattan's Chelsea neighborhood. This floating park spans 2.4 acres and is located off Manhattan on the Hudson River.
This tiny tree-filled island is a great place to visit while sightseeing in Lower Manhattan if you want to experience a slice of nature combined with public art.
2. Governors Island
Governors Island is one of the islands around Manhattan that you can visit.
As one of the islands in NY Harbor, you can access Governors Island by ferry from Manhattan or Brooklyn. The Manhattan ferry at 10 South Street runs every day, while the Brooklyn ferries are only available on weekends. Tickets are $4 round-trip.
On Governors Island, you can enjoy the island's walking and biking paths and enjoy public art exhibits.
3. Liberty Island
One of the most iconic islands in NYC to visit is Liberty Island.
This small island in New York Harbor is home to the Statue of Liberty. The only way to visit Liberty Island is by ferry. Tickets include access to Liberty Island and nearby Ellis Island, as well as museums on both islands.
On Liberty Island, you can visit the Statue of Liberty Museum and Grounds, and for an extra fee, you can even visit the Statue of Liberty Pedestal and Crown.
Tickets start at $25 and you can board the ferry in Lower Manhattan or New Jersey.
🗽Click here for a full list of Statue of Liberty tours
4. Ellis Island
Another one of the New York Harbor islands, Ellis Island is historically significant because it was the first stop for millions of immigrants entering the United States.
As mentioned above, you can visit both Liberty Island and Ellis Island by ferry, and your ticket includes access to museums on both islands.
The Ellis Island National Museum of Immigration offers a glimpse at what the experience was like for many immigrants arriving in New York.
➡️ Click here for a full list of Ellis Island tours
5. Roosevelt Island
Roosevelt Island is one of the islands of Manhattan. Located in the East River between the Upper East Side of Manhattan and Queens, this small island is technically considered part of Manhattan.
The island is 1.5 miles long and 0.125 miles wide. Previously known as Blackwell Island, Roosevelt Island was home to several hospitals and a prison in the 19th century.
However, it is now a nice and quiet residential community that offers a respite from the hustle and bustle of the city.
You can get to Roosevelt Island on the subway by taking the F train, but the most scenic way to get to the island is to take the Roosevelt Island Tram. For the price of a MetroCard swipe, this aerial tram takes you over the Queensboro Bridge to Roosevelt Island from 59th Street in Manhattan.
If you happen to be visiting Long Island City in Queens, a fun activity is to walk over the Queensboro Bridge into Manhattan and then take the tram to Roosevelt Island. This awards so many great views, including seeing the Manhattan skyline from Queens.
6. Staten Island
One of the most underrated islands in New York City is Staten Island.
Staten Island is one of NYC's five boroughs, and yet very few tourists (or even New Yorkers) visit. However, this island is definitely worth checking out.
Those looking to explore NYC on a budget will love that you can get to Staten Island for free on the Staten Island Ferry, which departs from Lower Manhattan. This 25-minute ferry ride offers scenic views of the Statue of Liberty and the Downtown Manhattan skyline.
One of the top things to do in Staten Island is visit the Snug Harbor Cultural Center & Botanical Garden, a tranquil oasis with beautiful gardens.
Some popular tours that take you to Staten Island include:
🚗 Historic Tours of North Shore State Island
🔎 Staten Island Shuffle Scavenger Hunt
🍎 New York in One Day Guided Sightseeing Tour
7. City Island
Another one of the best NYC islands to visit is City Island. This is one of the lesser-known, secret islands of New York that many people don't know about.
City Island is part of The Bronx, and it is located in the Long Island Sound. The small island is 1.5 miles long and 0.5 miles wide.
To get to City Island, you can drive or take the Bx29 bus, the only public transportation serving the island.
City Island has a unique atmosphere, unlike any other place in NYC. You'll find lots of waterfront restaurants serving fresh seafood as well as nearby beaches that get crowded in the summer with locals soaking up the sun.
8. Randall's and Wards Islands
Some more islands around New York City are Randall's and Wards Islands. These conjoined islands are located in the East River between Manhattan Island, Queens, and The Bronx.
Historically, these islands were used to house asylums, hospitals, and cemeteries, but today large parts of the islands have been turned into parks and recreational areas. You'll also find some of Manhattan's best hiking trails.
There are a number of athletic fields on Randall's and Wards Island, a tennis center, gardens, an urban farm, and Icahn Stadium, which hosts track and field events.
There are multiple pedestrian access points to Randall's and Wards Islands from Manhattan, Queens, and the Bronx, or you can take the M35 bus.
9. Long Island
Long Island is a large island (which was technically ruled as a peninsula) that is home to a good chunk of the New York population.
More than 8 million people live on Long Island, including the boroughs of Brooklyn and Queens, which belong to New York City.
However, the majority of Long Island is not part of NYC. Long Island is composed of 13 towns and 97 villages.
One of the best areas to visit on Long Island is the Hamptons. This is a popular beach destination and Long Island hiking area located on the far eastern end of Long Island, about a 2.5 to 3-hour drive from New York City.
🍷 Click here for a full list of Long Island tours from NYC
10. Fire Island
One of the best islands of New York is Fire Island — a long, narrow Atlantic Ocean barrier island located off the southern side of Long Island.
Much of the island consists of protected beaches and small resort towns that swell in size during the summer as visitors flock to Fire Island for a beach getaway.
The island is known for its relaxed vibe during the day and party atmosphere at night. It's also known as one of the top LGBTQ-friendly vacation destinations.
The best way to get to Fire Island is by ferry since most of the island is car-free. Once on the island, you can get around on foot, by bicycle, or by golf cart.
11. Wellesley Island
Moving away from the New York City area, Wellesley Island is located in Upstate New York in the Thousand Islands region.
As the name implies, this region of New York close to the border with Canada is home to 1,864 islands in the St. Lawrence River and Lake Ontario.
One of the best islands of NY's Thousand Islands region is Wellesley Island. This is a larger island that is home to several scenic state parks, campgrounds, a golf course, and Upstate New York hiking trails.
12. Heart Island
Heart Island is another spot you can't miss in the Thousand Islands region. Heart Island is a scenic place with a bittersweet backstory.
This little island is particularly well-known for being the home of Boldt Castle. This picturesque castle was constructed by George C. Boldt, the wealthy proprietor of the Waldorf Astoria Hotel in New York City.
He built the castle for his wife Louise, but she tragically passed away in 1904 before construction could be completed. Over 70 years later, the island was purchased by the Thousand Islands Bridge Authority, who restored the castle, and it's now a popular tourist attraction.
The island is only accessible by boat, such as a tour boat.
🏰 Click here to view Boldt Castle tours
13. Rock Island
Rock Island is another one of the Thousand Islands in Upstate New York. Although it's very small, this island is incredibly picturesque.
It's home to the Rock Island Lighthouse, which dates back to 1848. Now, the island is owned by the New York State Office of Parks, Recreation and Historic Preservation and it's operated as a state park.
The lighthouse is open to visitors and houses a small museum. This island is another one that is only accessible via boat.
14. Dark Island
Dark Island is another small island located in the St. Lawrence River in New York's Thousand Islands region. Like Heart Island, the main focal point of Dark Island is a castle.
Singer Castle was constructed by Frederick Gilbert Bourne, a wealthy industrialist. The castle was completed in 1905 and remained in the family until the 1960s when it was sold to a religious organization that later sold it to a German businessman who began running tours of the castle and its grounds.
Today, you can visit Dark Island and tour Singer Castle, learning about the history of this intriguing 28-room Gothic mansion. Dark Island is only accessible via boat tour or private pleasure craft.
15. Goat Island
Another NY island to visit is Goat Island. This island is located in the middle of the Niagara River near the famous Niagara Falls.
Although the island was named by a farmer who kept his goats here in the 18th century, there are no more animal occupants on the island today. Instead, you can see a scenic view of Niagara Falls from the island.
When visiting Goat Island, there are actually several other smaller islands you can visit. The Three Sisters Islands are connected to Goat Island by pedestrian bridges, and these tiny islands offer more lookout points over Niagara Falls.
New York Islands Map
To help give you an idea of where the above-mentioned New York islands are located, here is a map:
You can also click here for the interactive version of the map.
Best NYC Island Tours
Now that we've answered the question "Is NYC an island?" let's go over some top-rated NYC island tours:
➡️ Click here for a full list of boat tours showcasing New York's islands.
Make sure to also check out these NYC architectural tours and these Manhattan skyline tours for more island tour recommendations.
NYC Travel Insurance
When visiting New York City — or anywhere else in the world — it's wise to get travel insurance.
One of the best travel medical insurance for travelers is SafetyWing as they've got a large network and offer both short-term and long-term coverage — including coverage if you're traveling for months as well as limited coverage in your home country.
Additionally, SafetyWing is budget-friendly and offers $250,000 worth of coverage with just one low overall deductible of $250.
Click here to price out travel insurance for your trip in just a few clicks.
Frequently Asked Questions About New York Islands
Q) Is Manhattan an island?
Yes, Manhattan is an island within New York City.
Q) How long is the island of Manhattan?
Manhattan is 13.4 miles long and 2.3 miles wide at its widest point.
Q) Is New York City on an island?
New York City is not on an island, but some of its five boroughs are. Manhattan is an island, and so is Staten Island. Brooklyn and Queens are located on the western end of Long Island. The Bronx is the only borough that is part of the main state of New York.
Q) Is New York City an island or a peninsula?
New York City is neither an island nor a peninsula.
Q) Is New York City part of Long Island?
Some of New York City is located geographically on Long Island. The boroughs of Brooklyn and Queens are both on the far western end of Long Island, but they aren't part of New York City.
Q) What are some islands near New York for vacation?
Some of the best New York islands near NYC for vacation are Long Island, especially the beaches of the Hamptons and Fire Island.
Free NYC Travel Guide
Visiting New York City? We have a free gift for you: a copy of Jessie's NYC Top Picks From A Local Guide.
The printable PDF guide takes you beyond the popular attractions to discover a more local and lesser-known side of New York City.
Just a few highlights from the guide include:
Where to get creative java drinks — in beautiful Instagrammable cafes in NYC, too!
How to discover unique opportunities for exploring nature in New York City!
Ways to get off-the-beaten-track to explore a side of the city many tourists miss!
And more!
If you're visiting NYC, you won't want to miss this free guide.
Final Thoughts On Island In New York
Is NYC an island? Hopefully, this article answered that question for you in full!
While New York City's geography can be confusing at times, realize that NYC is not one island, but a destination comprised of 5 different boroughs.
Some of these — like Staten Island and Manhattan — are islands, while The Bronx is on mainland New York State. Then there are Brooklyn and Queens, which are located on Long Island.
There are also loads of islands in New York City and elsewhere in the state that are worth visiting. From Governors Island to Roosevelt Island and beyond, we hope you enjoy your island hopping experience in New York!
What would you add to this guide on New York islands and geography?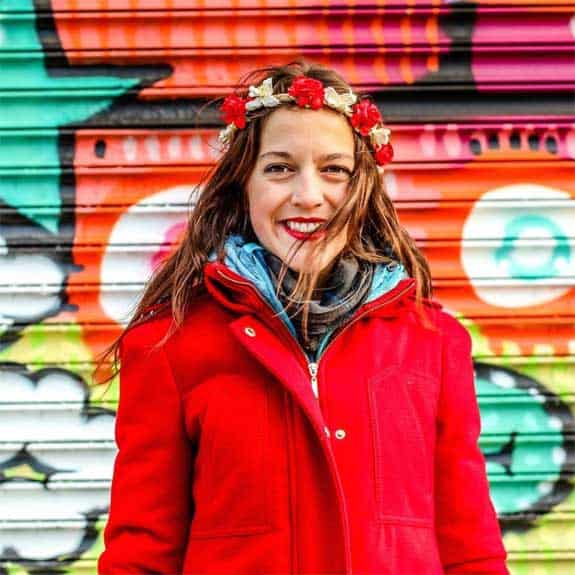 Hi, I'm Jessie on a journey!
I'm a conscious solo traveler on a mission to take you beyond the guidebook to inspire you to live your best life through travel. Come join me!
Want to live your best life through travel?
Subscribe for FREE access to my library of fun blogging worksheets and learn how to get paid to travel more!