How To Avoid Pickpockets: Hot Tips & Hidden Pocket Clothing
By Jessie Festa. This guide to avoiding pickpockets contains affiliate links to trusted partners!
Unfortunately, these days more and more travelers are asking how to avoid pickpockets.
Once upon a time, travelers only needed to beware of pickpockets when visiting European cities such as Rome and Madrid, however, the truth is you can be a victim of pickpockets anywhere.
Rather than lock the doors and never leave the house, following a few common sense rules is all it really takes to avoid pickpockets and protect your belongings while traveling.
And if you do fall victim to pickpockets, it doesn't hurt to put a few strategies in place for recovery.
Psst – Don't forget to pin this post for later!
The good news:
There are some fantastic pick pocket proof accessories and anti-pickpocket bags on the market to help keep your valuables safe; however, something you may not have considered is wearing anti-theft hidden pocket clothing.
Anti-theft clothing is basically every day looking clothes with hidden pockets designed to keep your valuables out of sight. This really can be the best way to avoid pickpockets because they won't even know you are carrying any valuables!
In this post, I am not only going to share with you some of my strategies for how to avoid pick pockets and keep your belongings safe, but I'm also going to take you through some items from my favorite designer of pickpocket proof clothing:
Don't think you need to protect yourself with travel clothing with hidden pockets?
Read some pickpocket stories from my fellow travelers that might get you thinking twice.
Pickpocketing Statistics
Sadly, in many travel destinations, pickpocketing is on the rise.
For instance, Downtown Austin has recently seen a 175% rise in this form of theft.
Then, at the Outside Lands music festival in San Francisco this past summer, a man was arrested for stealing 10 phones as well as a debit card and wallet.
And in NYC, personal theft on the subway has surged, particularly on overnight rides notes the New York Post.
Popular Cities For Pickpockets
One thing to note is that some cities are worse than others when it comes to pickpocketing.
Most travelers will be well aware of the reputation of Paris pickpockets, Rome pickpockets or Spain pickpockets, but actually, there is potential to find sneaky thieves everywhere.
However, there are some destinations that continually pop up on lists for the worst cities where you're more likely to notice your wallet's gone "mysteriously" missing than others.
Some of these top pickpocketing cities, in no particular order, include:
Barcelona, Spain
Madrid, Spain
Rome, Italy
Florence, Italy
Naples, Italy
Paris, France
Athens, Greece
Prague, Czech Republic
Buenos Aires, Argentina
Hanoi, Vietnam
Bogota, Colombia
San Jose, Costa Rica
Keep reading for my tips on how to avoid pickpockets in Europe and any other city.
How To Spot Pickpockets
The short answer?
You can't.
Pickpockets aren't always dodgy looking men.
In fact, more often than not pickpockets are sweet young boys and girls.
Other pickpocketers may be well-dressed men or women with babies.
Bottom line:
Anyone can be a pickpocket, so it's best to be aware of your surroundings and whereabouts of your valuables at all times.
Tips On How To Avoid Pickpockets
After years of travel, I have become pretty good at knowing how to prevent pickpocketing.
So far, I have never been a victim of pickpocketing, perhaps because at all times I follow a few simple rules:
1. Wear secret pocket clothing, which I discuss further below. Clever Travel Companion clothing comes in hidden pocket underwear, t shirts with hidden pockets, dresses with hidden pockets, pick pocket proof pants, pickpocket proof shorts, a hidden pocket scarf and a hoodie with hidden pockets.
This is definitely one of the clever ways to hide money in clothing while traveling.
2. Use pickpocket proof accessories for walking around, like an anti-theft day pack and / or travel hand bags. Personally, I love PacSafe brand products for this, as their entire mission is to help prevent theft.
Check out their crossbody bags here, as well as their day packs here.
3. Leave your valuables at home. My rule of thumb: If you'd be devastated you lost it, don't pack it.
4. Make sure any valuables you do pack are insured. For instance, if you travel with a DSLR camera or laptop, I highly recommend insuring it. Personally, I insure my gear through Inland Marine Insurance.
5. Take copies of important documents. I simply scan all of my documents once and keep them in a Google Drive folder.
6. Research the local customs. Trust me, I love wearing crop tops and showing skin when I'm having a night out in Brooklyn; however, I also realize that in many destinations an outfit like this isn't appropriate — and can make me a target.
7. Try to blend in like a local. Standing out as a tourist with your I Heart [Insert Destination Here] shirt or American flag fanny pack is also a quick way to stand out to pickpockets.
8. Pack extra credit cards. And don't carry them all at once. If your wallet is stolen, you'll still be able to eat dinner and enjoy your trip by using the card and cash that you left — in a safe — in your hotel room.
9. Get travel insurance. Specifically, I'm a fan of buying travel insurance through SafetyWing, as they've got a large network and offer both short-term and long-term coverage — including coverage if you're traveling for months as well as limited coverage in your home country.
Additionally, SafetyWing is budget-friendly and offers $250,000 worth of coverage with just one low overall deductible of $250.
Now, of course, anything can happen on the road.
While you'll want to outfit yourself with clothes with secret pockets and travel safety gadgets as well as a pickpocket proof bag — and of course educate yourself on local scams and always be aware of your surroundings — having travel insurance provides peace of mind.
Click here for tips on what to do if you get pickpocketed.
Pickpocketing Techniques: Common Scams
It's also helpful to know some common scams you might encounter on the road.
To better understand common pickpocket techniques:
1. Know that nothing is free. That person offering to give you a free CD or who really wants to help you take a great photo will very likely ask you for some kind of payment afterward.
And if you've given him a camera or phone to take a photo and don't give them the requested payment, they could very well run off with it.
I'm not saying don't trust anyone, but if you can avoid giving your valuables to a stranger — especially a pushy one — then try to.
2. Be aware of "random" distractions. It's not uncommon for pickpockets to cause a commotion on purpose — some even going so far as to throw you their baby to hold while they pick your pockets.
The best way to avoid becoming the victim of this is to utilize secret compartment clothing so your valuables are out of sight and zipped tight!
3. Those women are not really flirting with you. A few years back when I was in Barcelona a group of backpackers from my hostel were going out.
While walking along the busy Las Ramblas (street), a group of attractive local women began hardcore flirting with the guys — even touching them.
I can't say I was surprised when one of the guys noticed shortly after that his wallet was missing.
4. On that note, don't ever let anyone touch you. There are even scams where an unseen bystander will squirt ketchup on your shirt, and then run over, seemingly out of nowhere, to help you clean it off.
And, you know, grab your wallet in the process.
Anytime a stranger tries to get really close and touch you, back away.
5. Hang up on random "front desk" calls. At least the ones where they tell you they're having an issue with your credit card and ask you to repeat the information over the phone.
Instead, head down to the front desk to make sure the request is legitimate.
Like calls that require you to hand over personal information, it's best to hang up and call/ask directly to avoid being robbed.
What Is Pickpocket Proof Clothing?
Pick pocket proof clothing is simply everyday clothing with hidden compartments built in to help keep your valuables safe. Usually, the compartments are in the form of zippered pockets.
You might be thinking, "aren't those types of clothes ugly?" or, "but I want to look super cute and Instagramable when I travel!"
Good news:
The guys at Clever Travel Companion make super cute and stylish clothes, while still keeping your valuables safe.
Why Wear Travel Clothing With Hidden Pockets?
There is a stack of anti-theft gadgets on the market like under your clothes pouches, anti-pickpocket bags and hand bags, so why wear travel clothing with security pockets?
Well, because the chances of a pick pocket being able to remove your valuables from the safety of the hidden pockets built in your clothes are pretty much zero.
Pickpockets work on the premise that you're so distracted you don't even notice someone reaching into your bag and taking your purse, or zooming by on a motorbike and snatching your bag right off your shoulder. How are they going to do that with your money stashed in a zippered pocket under your armpit?
Bonus:
By having stored your most valuable items in clothes with stash pockets, likely thieves won't even know that you are carrying them, meaning you're less likely to be a target in the first place.
Hidden Pocket Clothing By The Clever Travel Companion
Below is a quick overview of the various Clever Travel Companion secure clothing available.
Keep reading below for the full Clever Travel Companion reviews or click the links to go directly to the Clever Travel Companion website.
| Item | Men / Women | # Of Pockets | Colors | Sizes | Buy Now |
| --- | --- | --- | --- | --- | --- |
| Tank Top | Unisex | 2 | Black, Gray & White | X small, small, medium, large, X large, XX large & XXX large | Click here |
| T Shirt | Men & Women styles available | 2 | Black, Gray, Pink (women style only) & White | X small, small, medium, large, X large, XX large & XXX large | Click here |
| Underwear | Men and Women styles available | 2 | Black, Gray, Pink (women style only) & White | X small (women style only), small, medium, large, X large, XX large & XXX large | Click here |
| Leggings | Women | 2 | Black | X small, small, medium, large, X large, XX large & XXX large | Click here |
| Scarf | Women | 2 | Black or white with dark blue stripes | 155 x 70 CM | Click here |
| Dress | Women | 2 | Black or white with dark blue stripes | X small, small, medium, large, X large, XX large & XXX large | Click here |
| Hoodie | Unisex | 4 | Navy or Gray | small, medium, large, X large, XX large & XX large | Click here |
| Long Johns | Unisex | 2 | Brown/White striped, Pink / White striped or Nav / White striped | X small, small, medium, large, X large, | Click here |
Things To Consider When Purchasing Clothes With Hidden Pockets
Clever Travel Companion isn't the only makers of hidden compartment clothing, but they are one of the best in my view.
That being said, if you are considering purchasing anti-theft travel clothing from somewhere else, let me share with you a few little tips to take into consideration.
1. What is it that you want to conceal?
What is that you physically want to hide?
Are you wondering how to conceal a passport when traveling?
Or perhaps you want a safe place to keep your cash.
Whatever it is you want to keep safe and secure you need to know what it is before you purchase your anti pickpocket clothing as you will need to ensure the size of the pockets on the clothing you purchase is big enough.
There's no point getting your pickpocket proof travel clothing only to realize it doesn't fit your passport, phone or whatever it is you want to secure.
2. Location Of Secret Pockets
Different secure travel clothing have pockets in different locations.
Actually, even Clever Travel Companion garments have t shirts with zippered pockets in different locations. While one t shirt has the pockets under the armpit, another has it on the front.
Do you want to be able to access your things really easily, or is a more secret location a priority?
You don't want to purchase concealed pocket clothing only to find that accessing your valuables is too difficult — and you don't end up using the pockets after all.
For the ultimate secret pocket get the Clever Travel Companion travel underwear with zipper pockets. Hey, if someone is willing to reach into your jeans to see if you have valuables in there they must have x-ray vision!
3. Style
What style do you want?
Lastly — and as I touched on before — just because they're theft proof clothing doesn't mean they have to be ugly.
There are plenty of brands that make stylish travel safe clothing, so no need to settle for something that doesn't suit your style or won't fit your Instagram gallery.
Pickpocket Proof Clothing: The Clever Travel Companion Reviews
The team at Clever Travel Companion know that even the most seasoned traveler can be a victim of pick pocketers, which is why they design secret pocket travel clothing designed to keep your items safe.
They make a range of pickpocket proof clothing with varying sized pockets designed to be able to fit your most valuable travel items. Think passport, phone, cash, credit cards, ID, phone and keys.
With Clever Travel Companion clothing, there is no need to take your purse and to continually look over your shoulder worried that someone is going to snatch it. With your items securely fastened within your clothes, there is no way they can be taken.
The added benefit of carrying your valuables around in your clothing is there is no chance that you yourself will lose your items as you don't need to fear to leave your daypack or handbag at a café.
And no matter where in the world you live, these guys will deliver to you!
What's even better is delivery is free for orders over $75 USD.
This tank top with hidden pockets is perfect for both men and women and comes in three different colors, including black, gray and white.
These tanks have two secret zippered pockets, one under each arm. Together these pockets are large enough to fit your passport, credit cards, cash, phone, and keys.
Clever Travel Companion also offers a one pocket tank top. These tanks are fairly similar to the two pocket tank tops; however, they have just the single zippered pocket.
This pocket is on the very front of the shirt and is big enough for all your valuables.
2. T Shirts With Hidden Pockets
Available in black, gray or white, these V-neck travel shirts with pockets come in both men and women — as well as unisex styles.
Like the tank tops with secret pockets, there is a zippered pocket under each arm of the pickpocket t shirt which combined can fit your passport, credit cards, cash, phone, and keys.
The men's travel shirts with hidden pockets are a traditional men's fit style t shirt, while the women's t shirt is a slightly more fitted tailored style.
These t shirts also come in a one front pocket style as well as a crew neck one or two pocket style.
3. Travel Underwear With Pockets
Surely the safest place for your valuables is stashed in your undies?
This travel underwear with pockets comes in both men's styles and women's styles in a range of colors and sizes, with the men's pickpocket proof underwear being a cotton boxer brief and the ladies pickpocket underwear being a boy leg style.
Both sets of Clever Travel Companion underwear come with two secret zippered pockets which combined you can fit your passport, credit cards, cash, phone, and keys.
Leggings are a staple in any female traveler's wardrobe — hello, comfortable plane ride! — so my ladies will love these hidden pocket leggings.
Available in black — but in a range of different sizes — these Clever Travel Companion leggings contain two zippered secret pockets.
One pocket sits on the hip and is large enough to store your passport, phone, and other large items, while the second pocket is smaller for storing your cards and cash and sits lower on the left front.
A scarf is a quick and easy way to dress up an outfit when you are traveling; but how about a scarf that can also keep your valuables safe?
This scarf with pockets is great when heading out for a night on the town because you won't even need to take a purse. Instead, you can easily fit your possessions in the built-in pocket in your scarf.
This travel scarf with pockets has two zippered pockets large enough to fit your passport, credit cards, cash, phone, and keys.
In my opinion, it's the best travel scarf for being stylish while avoiding pickpockets.
Yes, Clever Companion even makes stylish dresses with pockets.
This cute little travel dress with pockets comes in either black or white with dark blue stripes and a range of sizes.
Like most Clever Companion pickpocket proof women's clothing, this dress comes with two secret zippered pockets; one under each arm.
Together, these pockets will fit your passport, credit cards, cash, phone and keys comfortably.
This jacket with secret pockets is great for so many reasons!
It looks stylish, has hidden pockets to securely store your valuables and can help you get under the carry on luggage limit by having multiple places to store your items.
This hoodie has four secret zippered pockets, providing plenty of space your belongings.
There are two pockets on the inside of the chest area big enough for a large smartphone, passport, cash and cards and another two large pockets on the inside of the stomach area that are so big they can even store an iPad!
This is a men's and women's travel jacket with hidden pockets and comes in navy or gray.
For travelers going to cold climates such as Europe or Canada during winter, how about stashing your precious items in your long john underwear?
These pickpocket proof pants are unisex and come in three different colors.
Each pair has two secret zippered pockets which combined can fit your passport, credit cards, cash, phone, and keys.
Have any tips on how to avoid pickpockets to add? Do you also love hidden pocket clothing?
Enjoyed this post on avoiding pickpockets? Pin it for later!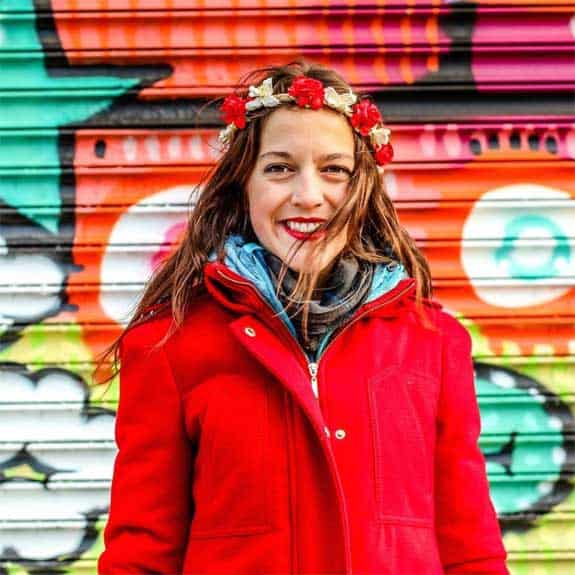 Hi, I'm Jessie on a journey!
I'm a conscious solo traveler on a mission to take you beyond the guidebook to inspire you to live your best life through travel. Come join me!
Want to live your best life through travel?
Subscribe for FREE access to my library of fun blogging worksheets and learn how to get paid to travel more!