The Best Things To Do On A Governors Island Day Trip From NYC
By Jessie Festa. This travel guide to Governors Island NYC contains affiliate links to trusted partners I truly think you'll love!
Looking for the best things to do on Governors Island? Craving a Governors Island day trip from NYC?
Then you're in the right place!
Let me paint a picture of Governors Island for you:
Imagine an uninhabited car-free island that once served as a military base, with a history that can still be touched through a 19th century castle, a whimsical English Gothic chapel, and a row of abandoned barracks now housing art shows and events.
The landscape is lush with green space, with visitors cycling and strolling, making stops to take in creative public art, swing in garden hammocks, or climb adult jungle gyms.
When sustenance is needed, some indulge in the various food trucks, while others take to the island oyster bar where rosé and cocktails are paired with waterfront views.
Now, would you believe me that such a place existed just eight minutes from Manhattan by ferry?
Welcome to Governors Island NYC.
Want beautiful photos taken of you in scenic New York spots? Book a Private Photo Journey, a walking tour that includes photos of your group to keep. Or get a styled, custom shoot that tells your unique story through an NYC Influencer Shoot or Professional New York City Shoot. Email [email protected] with inquiries.
For anyone thinking "oh, yea, duh, Governor's Island," maybe you've heard of it…but have you actually been to it?
I've lived in New York my whole life — Manhattan via Brooklyn via Long Island — and while I've been to Governors Island for summer festivals (Jazz Age Lawn Party, anyone?) I've never been without a plan.
So, as the CEO of my own life, I decided to play hookey and spend a Friday exploring. My husband Andy and I took the 4 Express Train down from the Upper East Side to the Bowling Green Station in Lower Manhattan, where we boarded the quick ferry to paradise.
Video: Exploring Governors Island In Less Than 1 Minute
Getting To Governors Island
Getting To Governors Island From Manhattan
The eight-minute ferry to Governors Island leaves from the Battery Maritime Building (10 South St.) in Manhattan and is $4 round trip — expensive compared to the free Staten Island ferry, but still super cheap as far as transport goes. Also note that the ferry is free on Saturdays and Sundays before 12pm.
Check the schedule before going, as it varies weekday vs weekend.
You also don't want to miss the last ferry back. On weekdays that's 10pm (or 11pm on Fridays) and on weekends that's 9pm (or 11pm on Saturdays).
Getting To Governors Island From Brooklyn
You can catch the ferry from Pier 6 in Brooklyn Bridge Park. This service runs on the weekends only.
NYC Ferry Service
You can also use the regular NYC Ferry to get to Governors Island. Use the NYC Ferry Service App to get directions and buy tickets.
History Of Governors Island NYC
No need to head upstate to the Hudson Valley for serenity — though that's awesome too — as the car-less Governors Island made my anxiety slip off like a pair of heels after a long night.
Before arriving, Andy and I knew nothing about Governors Island beyond that it existed; but as we wandered from the ferry, passing Castle Williams and the preserved buildings of the 1800s Colonels Row, we realized there was some important history to understand.
Governors Island was originally inhabited by the Native Americans who called it "Pagganck" meaning "Nut Island," named after the many chestnut, oak, and hickory trees that grew there.
It was purchased by the Dutch in 1637 for the price of two axe and some nails and beads, according to the Trust for Governors Island.
My first thought: this is insane considering I pay over $22,000 per year in rent to live in a shoebox — albeit with very cute brick walls — and I have a "cheap" place.
The truth, however, is that what we look at as trinkets were actually very necessary goods. If you're interested in learning more about how the Dutch acquired today's NYC from the Native Americans, check out this excellent in-depth article from Untapped Cities.
So how did it go from being called Nut Island to Governors Island?
The British took control in 1664.
It switched back and forth between Dutch and British rule a few times, though under the British it was renamed in 1699 when they began using it for the "benefit and accommodation of His Majesty's Governors."
For much of its history, Governors Island has also been a military outpost, thanks to its strategic position along the coast.
Governors Island played a role in the American Revolution, War of 1812, Civil War, WWI, and WWII. According to Time Out New York, it also functioned as the Army headquarters for the entire eastern USA.
Much of this history is still apparent today, though with an interactive twist.
Historic Governors Island Attractions
While I'm typically not a history buff, Governors Island and its 172 acres allow you to interact with almost everything — including the past.
Right in front of Castle William, Andy and I found a free viewfinder pointing toward Manhattan.
The attraction is meant to pay homage to the victims of 9/11, as it looks out toward One World Trade where the Twin Towers once stood.
Moreover, you can turn the viewfinder toward other attractions, with rotating signage underneath letting you know what you're looking at.
Another historic highlight is the star-shaped Fort Jay, especially beautiful when viewed from above.
It was constructed between 1794 and 1809, meant to help protect the city from impending threats of takeover by the British and French.
Today, like most of Governors Island's historic sites, it's used for art and performance events.
In fact, both the once-moat and former gunpowder and artillery storage rooms are performance spaces, while rocking chairs make the former military barracks a chill hangout spot.
There's also the beautiful St. Cornelius Chapel.
The original chapel dates back to 1846, built to keep prayer in the lives of the Army men and their families that inhabited the island.
The present English Gothic chapel — with its Indiana limestone and soaring tower — opened in 1906.
Interestingly, it's affiliated with Manhattan's famous Trinity Church, home to a historic cemetery where notable New Yorkers like Alexander Hamilton and Robert Fulton are buried.
We simply passed by the chapel to admire the design, so I can't remark on the interior. Judging by the exterior though I'd guess it's pretty darn gorgeous!
We also wandered Colonels Row, used as housing for Army generals in the 1870s.
You can actually go into the houses, and one even had a pay-what-you-wish production called Genesis 22 by The Woolgatherers.
Inside, the biblical story of Abraham and Isaac was retold from multiple points of view in the various rooms.
We wandered through the old house, with walls covered in mud and ribbons or cloth hanging from the ceiling.
It was an interesting scene for a historic site, but that's what is so awesome about Governors Island: it's very unexpected.
In fact, what's wild is just how much this super historic island — managed by the National Park Service and the Trust for Governors Island — dedicates itself to the arts, as you'll learn more about below.
Governors Island By Bike
Want to enjoy some cycling in New York?
Along with having two Citi Bike stations, there's also Blazing Saddles Bike Rentals & Tours, which offers bike rentals for $28 for the day if you book online (though you can also book in person on Governors Island).
Note: you can also rent these super awkward 4-to-6-person bike-slash-carts called "surreys" that people really seemed to be struggling with. They might be fun if you want a laugh and a challenge, though!
On our bikes, it took use about two hours to cycle the perimeter while enjoying views of the Brooklyn Navy Yard, Statue of Liberty, Brooklyn Bridge, and Lower Manhattan.
Want beautiful photos taken of you in scenic New York spots? Book a Private Photo Journey, a walking tour that includes photos of your group to keep. Or get a styled, custom shoot that tells your unique story through an NYC Influencer Shoot or Professional New York City Shoot. Email [email protected] with inquiries.
Best Things To Do On Governors Island NYC
Along the way we found a number of interesting Governors Island attractions, like:
Play Lawn
The playgrounds on Governors Island are nothing like I played on when I was a kid.
Not to mention you'll find many adults crawling the ropes courses and climbing the wooden planks.
There are also modern swings and jungle gyms that are both works of art and play spaces.
Rotating Governors Island Museums
There are a number of interesting-looking museums and exhibitions on the island, though note many are only open on weekends (you can check the calendar here).
A few of note are the:
LMCC Arts Center. A free art museum showcasing rotating art installations.
New York Vir­tu­al Vol­cano Obser­va­to­ry. Explore volcanic activity through virtual reality and video installations.
NADA House. A not-for-prof­it contemporary art col­lec­tive.
Keep in mind, many of these institutions change as Governors Island hosts a wide variety of rotating art residencies and seasonal pop ups.
Picnic Point
What a view! There are many creative seating options, as well.
Along with looking toward the Statue of Liberty, make sure to look backward. You'll have a beautiful view of Lower Manhattan (shown below).
Fun game: rent a bike and see if you can race the Staten Island Ferry to this beautiful spot.
By the way, if you're looking for fun things to do for a birthday in NYC, you can rent a grill at Picnic Point for $26 for the day. Bring a cooler of food and drinks and enjoy the beautiful vista.
While this Governors Island attraction is for kids it's also fun to photograph for adults.
It's a handicap-accessible junkyard that's a playground.
You'll see signs stating "Your kids are fine without advice & suggestions" alongside "junk" that entices you to climb in it and play.
Public Art
You'll find loads of public art installations around Governors Island, some permanent and some rotating.
You can use this guide to create a sort of Governors Island art scavenger hunt for yourself and try to find them all!
Picture sipping rose in an outdoor pool with stunning NYC views. That's what you'll enjoy at QC NY Spa.
You'll pay a set price for use of the outdoor pools, steam and sauna rooms, Vichy showers, foot baths, and relaxation rooms, or you can opt to add a massage.
Hammock Grove
Here you'll find 50 red hammocks for hanging out — literally — in nature.
Additionally, biking through the gardens that line the grove was a treat as the flowers grew higher than my body.
The Hills
As you're probably realizing by now, Governors Island is truly a nature- and art-filled playspace, and The Hills really bring this to life.
In short, there are four hills, each providing a unique perspective of NYC both literally and figuratively.
There's Grassy Hill, great for chillin' with a book; Slide Hill, featuring four slides built into the hillside, including NYC's longest slide at 57 feet; Outlook Hill, which has a scramble built with blocks of granite sourced from a historic army seawall and is great for those seeking Manhattan hiking experiences; and Discovery Hill, which pays homage to the island's rich artist culture.
Compost Learning Center
We didn't get to go as it's only open on weekends, but it looked really neat and would be a must for anyone looking to learn how to compost and try it for themselves.
Wright Brothers Propeller
(!!!!). So. Cool.
Right next to Blazing Saddles Bike Rentals there's a large stone that holds a bronze propeller cast directly from one of the two propellers outfitted on the first US military airplane, a 1909 Wright.
The monument is known as the Early Birds Monument and pays homage to Governors Island's aviation history.
Wilbur Wright was the first to fly over New York in 1909.
Restaurants On Governors Island
After returning our bikes and saying goodbye to one of the best bike routes we've ever explored, we strolled over to Island Oyster, an al fresco restaurant affiliated with Manhattan's popular Grand Banks, serving snacks and oysters with prime views of Lower Manhattan.
You'll find a colorful patio with funky seating and fairy lights as well as a line of small tables facing the water.
The sections are separated by a long white bar of busy bartenders doling out tap wine and cocktails.
Try the "Permanent Vacation" featuing "Gunpowder Proof" Jamaican rum, a blend of 3-year and 5-year aged Guyanese rums, blue Curaçao, coconut, pineapple, orange, and nutmeg. Yum!
Keep in mind, your options for Governors Island food don't stop there. A few other noteworthy spots:
Taco Vista. Enjoy delicious tacos and margaritas at picnic tables with a prime skyline view.
Gitano Island. This super trendy restaurant and beach club is meant to transport you to Tulum with delicious Mexican food, a mezcal bar, a DJ tent, and tropical vibes.
The Foodie Spot. Here you'll find rotating vendors serving up food on Governors Island — all of which are graduates of NYCHA's Food Business Pathways program.
Glamping On Governors Island
Want to stay overnight on Governors Island? You can!
Click here to check out their glamping village.
In my opinion, you won't find an NYC accommodation with better views. Additionally, your stay comes with complimentary in-tent breakfast.
A few other highlights of a stay include drinks on the sunset terrace with a view of the Statue of Liberty, exclusive luxury dining, a nightly s'mores bonfire, and more.
Weekdays vs Weekends On Governors Island
We went on a Friday, which meant a lot of the attractions were closed. On weekends, you'll find more to do and the ferry runs later.
That being said, we really enjoyed the feeling of so few people on the island.
And there are so many play, picnic, and viewpoint places you can 100% enjoy Governors Island even if you don't "do" anything aside from stroll or bike and end with a drink and a view.
Solo Travel On Governors Island
While Andy accompanied me to Governors Island, it's an ideal trip for solo travelers.
Simply rent a bike and explore. It's safe and impossible to get lost as the island is small.
You can also wander on foot, frolicking about the playgrounds and splash pads and checking out whatever event is going on that weekend. And definitely check, because Governors Island has many events.
For food and drink, bring a book and a picnic and head out to Picnic Point — where hammocks and a view of Lady Liberty await — or chill out at one of the many outdoor eateries.
Want beautiful photos taken of you in scenic New York spots? Book a Private Photo Journey, a walking tour that includes photos of your group to keep. Or get a styled, custom shoot that tells your unique story through an NYC Influencer Shoot or Professional New York City Shoot. Email [email protected] with inquiries.
Other Fun Facts About Governors Island
Q: Can you buy a house on Governors Island?
No, but you can stay overnight by booking a glamping experience.
Q: Are there guided tours on Governors Island?
Yes! Click here for information on how to book a free walking tour of Governors Island.
Want photos with your tour? Check out my company NYC Photo Journeys, which offers New York City photo tours and photoshoots.
Q: What is the circumference of Governors Island?
The entire island has a circumference of 2.5 miles — easily walkable and bikeable!
Q: How long does it take to walk around Governors Island?
If you walk around the outside path without heading into the center of the island it will typically take you an hour or less.
NYC Travel Insurance
When visiting New York City — or anywhere else in the world — make sure to get travel insurance.
In my opinion, the best travel medical insurance for travelers is SafetyWing as they've got a large network and offer both short-term and long-term coverage — including coverage if you're traveling for months as well as limited coverage in your home country).
Additionally, SafetyWing is budget-friendly and offers $250,000 worth of coverage with just one low overall deductible of $250.
Click my referral link here to price out travel insurance for your trip in just a few clicks.
What are your favorite things to do on Governors Island on a day trip from NYC?
Enjoyed this post on visiting Governors Island? Pin it for later!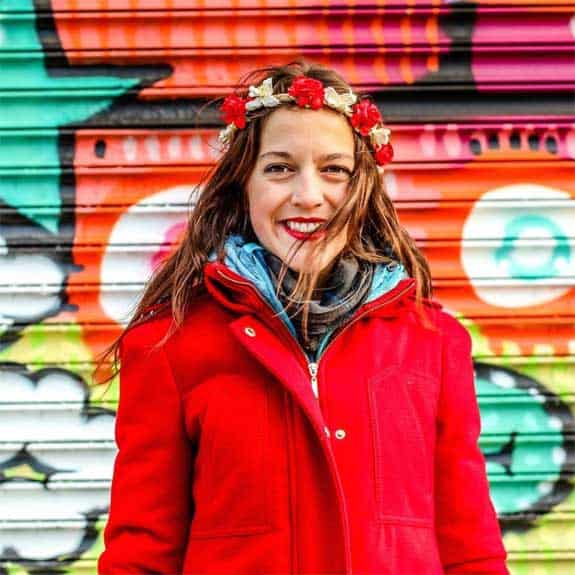 Hi, I'm Jessie on a journey!
I'm a conscious solo traveler on a mission to take you beyond the guidebook to inspire you to live your best life through travel. Come join me!
Want to live your best life through travel?
Subscribe for FREE access to my library of fun blogging worksheets and learn how to get paid to travel more!