Visiting New York In Winter: 71 Fun Things To Do December-March
By Jessie Festa & Michele Herrmann. This post contains affiliate links to some of our favorite products that we think you'll love!
Visiting New York in winter?
Despite the temperature drop from December through March, New York City during winter is full of fun things to do.
The season unofficially begins in November, as Thanksgiving ushers in the holidays, which peak in December as the city is transformed into a festive whirlwind of decorated displays, pageantry and communal gatherings.
January, February, and March move slower, though there are both indoor venues and outdoor sites — if you don't mind the chill — that make it worth venturing out of your hotel.
Plan a New York winter trip to explore the city's five boroughs, try a new dish, embrace a holiday tradition, get cultured or blow off some cabin fever while keeping your hat, coat, and gloves handy.
Without further adieu, let's dive into the New York trip guide! Here is your ultimate winter guide to NYC, written by a local.
Want beautiful photos taken of you in scenic New York winter spots? Book a Private Photo Journey, a walking tour that includes photos of your group to keep. Or get a styled, custom shoot that tells your unique story through an NYC Influencer Shoot or Professional New York City Shoot. Email [email protected] with inquiries.
Visiting NYC In Winter [FAQ]
Q: When does winter start in NYC?
Datewise, winter in NYC begins on December 21 or 22 — on the day of the year with the fewest hours of light.
In terms of weather and ambiance, though, it can start to feel like winter in mid-to-late November.
Once Thanksgiving takes place the city really "feels" like winter due to the holiday decorations in NYC.
Q: How long is winter in New York?
Officially, the winter season in New York lasts about three months — taking place between the winter solstice in December and the spring equinox in March.
That being said, the cold in New York can last before winter officially starts and after it officially ends, so pack a warm coat.
Q: How cold is New York in winter?
During the winter months in New York, you can expect to average high and low temperatures of 44° / 31° in December, 39° / 26° in January, 43° / 29° in February, and 52° / 36° in March.
According to the National Weather Service, the coldest day New York City ever recorded in history was on February 9, 1934 when it hit negative 15 degrees Fahrenheit.
Note that if you're thinking of taking an upstate road trip from NYC, you'll experience colder temperatures up north. For instance, in Buffalo in December the average high and low temperatures are 36° / 24°.
Q: When is the best time to visit New York in winter?
While December brings the holiday lights and festivities, visiting New York in January means a quiet and less-crowded experience.
During this time you'll find loads of deal events, too, like Restaurant Week, Broadway Week and Hotel Week — many of which spill into February, where you'll also see special Valentine's Day menus (awe, romance in NYC!), events surrounding Black History Month and the Chinese Lunar New Year, and more money-saving events like Off-Broadway Week.
Basically, you can't go wrong when choosing when to visit New York, as there always fun things to do.
By the way, NYC Photo Journeys operates year-round, so you can book your photo tour during any season.
Just note that if you're visiting New York City in the winter that December slots tend to fill up quickly with guests wanting to capture beautiful holiday memories, so make sure to book in advance.
What To Pack For New York In Winter
To help you figure out what to wear in New York in winter to stay warm and enjoy your trip, I've compiled a list of my personal essentials as a local who spends a lot of time walking around outdoors with tour guests.
The above New York packing list for winter can really help you stay warm and beat the chill.
Things To Do When Visiting NYC In Winter
1. Book a winter photo tour
Visiting New York in winter time doesn't need to mean hiding out in your hotel room. In fact, the city is beautiful in winter and, depending on when you visit, you might even enjoy holiday decorations, snow, and other seasonal sightings.
NYC Photo Journeys, a photo experience company owned by Jessie on a Journey, offers private New York photo tours that can help you make memories and capture them through gorgeous photography.
Part tour, part photoshoot, tours are led by licensed sightseeing guides who are also skilled photographers. This means that along with learning interesting facts and stories about New York, you'll also leave with professional photos of your group to keep!
During winter in New York, some of the most popular tour spots include Central Park, Rockefeller Center, and Bryant Park.
2. Book a winter photoshoot
Along with private photo tours, NYC Photo Journeys also offers professional photoshoots that can be customized to fit your goals.
These come with even more photos, looks, and poses than the tours!
Additionally, your booking includes a planning call to go over exactly what you hope to get out of the shoot. Whether you're wanting to capture some family photos in beautiful locations or you dream of doing a winter wonderland-themed shoot, it's all up to you.
There are two different packages to help fit different budgets, too!
3. Gaze upon the many holiday trees in NYC
The Rockefeller Center Christmas Tree is one of the top things to do in NYC in winter…
…which means it can get quite crowded.
Luckily, there are other trees worth seeing where you'll have more personal space while getting to explore non-touristy places in NYC.
For instance, the American Museum of Natural History's Origami Holiday Tree — decorated in partnership with OrigamiUSA —features more than 800 hand-folded paper models designed by local, national and international origami artists.
Madison Square Park is where NYC's first Christmas tree came in — sorry, Rockefeller Center — along with the first public holiday tree displayed in America.
On a private NYC Photo Journey, guests love visiting the Bryant Park Tree, which you can get up close to for fun holiday pictures.
And that's not all.
The Met Fifth Avenue's Christmas Tree and Neapolitan Baroque Crèche is a 20-foot blue spruce that's adorned with figures of angels and stands over an 18th-century Neapolitan Nativity scene in the museum's Medieval Sculpture Hall. Bonus: The Met is one of the top things to do in the Upper East Side, making the visit extra special.
On Broad Street in Lower Manhattan, between Wall Street and Exchange Place, the New York Stock Exchange's 60-foot tree gets stocked with 100 strands of multi-colored lights, 500 ornaments and a six-foot star on top.
The Peace Tree at St. John the Divine in Morningside Heights is adorned with 1,000 paper cranes and other peace symbols. It's quite a magical sight when visiting New York City in wintertime.
In search of fun things to see in New York in December?
Early in the month, Lincoln Square holds its holiday festival, Winter's Eve at Lincoln Square, with a tree-lighting ceremony and a lineup of accompanying musical acts.
Other holiday tree locations in Manhattan include:
South Street Seaport in Lower Manhattan
Washington Square Park in Greenwich Village
the Park Avenue trees along the Upper West Side
Carl Schultz Park in the Upper East Side
If you're wondering what to do in Brooklyn in the winter, there are beautiful holiday trees set up:
along Atlantic Avenue in Boerum Hill
at the Pearl Street Triangle in DUMBO
at Grand Army Plaza in Prospect Park
at the historic Lott House in Marine Park
in Carroll Park in Carroll Gardens
at Brooklyn Borough Hall in Brooklyn Heights
Queens has tree lightings in Astoria Park and at the Queens Botanical Garden, while Hawkins Park on City Island in the Bronx and Little Italy on Arthur Avenue, also in the Bronx, brings people out for festive fun.
4. Be amazed by a gigantic gingerbread village
Every year, the "Gingerbread Lane" at The New York Hall of Science in Corona, Queens is all about making and maintaining the Guinness World Record for the world's largest gingerbread villages.
For this event, Chef Jon Lovitch drafts, designs, bakes, and constructs these homemade houses, which are made of edible gingerbread, royal icing, and candy.
This is truly one of the best places to take pictures in NYC!
5. Stare at NYC's best holiday window displays
One of the main reasons why NYC is so famous is its holiday spirit, and nothing screams "uniquely New York" like the holiday window displays!
NYC winter tourist attractions abound, though one not-to-be-missed seasonal experience is exploring local department store windows.
In New York City it's a tradition for these windows to get dressed up for the holidays — in a stunning display that often takes each store 10 months to plan.
They're usually revealed around Black Friday, the major shopping holiday that falls on the day after Thanksgiving.
To see some of New York's best holiday windows, head to Bloomingdale's on the Upper East Side, Macy's in Herald Square, and Bergdorf Goodman, Saks Fifth Avenue (which also puts on a spectacular light show) and Tiffany & Co in Midtown East.
6. Shop for presents at New York holiday markets
Visiting New York during winter means you'll get to shop charming holiday markets that aren't open at other times of the year.
Whether you're buying presents for a loved one, gifts for the solo female traveler in your life or getting something nice for yourself, NYC's holiday shopping markets offer much to choose from.
These seasonal markets are located throughout the city, bringing local vendors and small businesses to booths within one setting.
In Manhattan, a few favorite holiday markets — that are also top places to find unique NYC souvenirs — include:
Union Square Holiday Market by Urbanspace
Columbus Circle Holiday Market by Urbanspace
Bank of America Winter Village at Bryant Park
Holiday Fair at Grand Central
In Brooklyn, ReFAD Market's Holiday Pop-up comes to the Brooklyn Cultural District, along with the annual Danish Seamen's Church Holiday Market.
Visiting Queens? The Astoria Market happens within the Bohemian Hall & Beer Garden.
Pro tip:
These beautifully-decorated markets are perfect for those interested in NYC winter photography!
7. Watch toy trains go by
At the New York Botanical Garden Train Show, one of the top NYC winter attractions, model trains chug along past beautifully-crafted miniatures depicting New York made entirely out of plant parts.
The Statue of Liberty, the Brooklyn Bridge and Yankee Stadium are among the more than 175 landmarks that form a rendered city landscape built from seeds, bark, leaves, and twigs, serviced by a robust half-mile of track within the Enid A. Haupt Conservatory.
8. See house decorations
During the holidays, there are a number of historic and modern homes around NYC known for their incredible decorations.
Richmond Town, a historic village in Staten Island, gets charmingly dressed up for Christmas (check their events here), while Vander Ende – Onderdonk House in the Ridgewood section of Queens showcases its Dutch history with a St. Nicholas Day celebration.
The over-the-top Garabedian Christmas House in Pelham Gardens in The Bronx blends red carpet flair, magical Disney and classic Christmas for a wild holiday mix you need to see to understand.
In the Charleston section of Staten Island, Lights for Life was started by a homeowner whose wife died on 9/11. He turned the house into a holiday attraction and fundraiser.
9. Gaze at the bright lights of Dyker Heights
Looking for classic winter activities in Brooklyn?
Each holiday season, Dyker Heights gets the nickname, "Dyker Lights," due to its residents going all out on decorating the homes' exteriors with enormous light shows and ornamental lawn displays.
Walk around and enjoy the Dyker Heights Christmas lights on your own with some spiked hot cocoa.
Or, to really immerse yourself in the holiday cheer, book a Dyker Heights Holiday Lights tour.
Want beautiful photos taken of you in scenic New York winter spots? Book a Private Photo Journey, a walking tour that includes photos of your group to keep. Or get a styled, custom shoot that tells your unique story through an NYC Influencer Shoot or Professional New York City Shoot. Email [email protected] with inquiries.
10. Watch "The Nutcracker" come to life
Since 1954, the New York City Ballet has been bringing choreographer George Balanchine's famous performance to the stage each holiday season. It's one of the most beloved places to go in NYC in winter.
Moreover, the Brooklyn Ballet puts a modern spin on this classic story with a one-day performance.
Seeing one of these performances is fun whether you're going to New York alone or in a group!
11. Catch Brooklyn's Largest Menorah
Happening at Grand Army Plaza in Brooklyn since 1985, an over-30-foot-tall menorah is placed here and lit for every night of Hanukkah.
A crane is used to hoist those individuals who set off the lighting, making it quite a sight.
12. Feast on latkes
At the Brooklyn Museum in Prospect Heights, the annual Latke Festival has chefs preparing creative versions on this potato pancake that's served during Hanukkah.
The event's proceeds get donated to The Sylvia Center, a nonprofit that teaches cooking skills to underserved communities.
13. Peek into The Plaza Hotel
As one of NYC's grandest hotels, New York's Plaza Hotel really outdoes itself during Christmas, when it gets a merry makeover with wreaths, garland, and ornaments being strung outside and on every window.
You'll find the centerpiece of the transformation — An 18-foot tree with 5,000 lights and 500 ornaments — when stepping through the property's Fifth Avenue entrance.
In 2017, the Plaza celebrated the 25th anniversary of the film, Home Alone 2: Lost in New York, with décor tied to its most noted hotel guest, Kevin McCallister (aka Macaulay Culkin).
Fun fact:
If you're thinking of living in a hotel in New York City, this opulent accommodation offers extended stays, too!
14. Watch Christmas movies on the big screen
There are plenty of fun things to do in Brooklyn in the winter, as unique indoor attractions and seasonal festivals abound.
And sometimes you can even combine the two.
Watching a holiday flick is a fun Christmas activity and Nitehawk Cinema in Williamsburg, Brooklyn puts on an annual holiday film series that shows the best of the best of these seasonal movies.
15. Light up over lanterns
Taking place from mid-November through January, the NYC Winter Lantern Festival on Staten Island brings forth a world of light and color.
This year's edition will have over 1,000 lanterns on display, sculpted into magnificent figures of luminescent art.
16. Fill up on gingerbread at NYC's best bakeries
Craving this seasonal treat?
Make your first stop Two Little Red Hens, one of the top Upper East Side attractions thanks to its delicious baked goods and gingerbread cookies.
Doughnut Plant puts out a gingerbread flavored donut, while Billy's Bakery, in Chelsea, Tribeca, and the Upper West Side, makes a sweet butterscotch gingerbread cookie.
Another seasonal favorite:
Krumville Bake Shop in Brooklyn's Bedford Stuyvesant neighborhood, which sells a knock-your-socks-off gluten-free gingerbread cake.
World-renowned Ladurée in Manhattan serves up a tasty gingerbread macaron, Schmackary's in Hell's Kitchen has a Ginger Rodgers cookie, and LadyBird Bakery in Park Slope bakes up a seasonal cake called Ginger Baby.
17. Spot Manhattan's Sixth Avenue Ornaments
One of the top places to visit in New York in winter is the Sixth Avenue ornament installation. This is one of the city's most famous — and photographed — holiday decorations.
Each year, these big red Christmas ornaments find their way outside of Rockefeller Center and other Midtown addresses.
18. Attend a Christmas pageant
Looking for unique things to do in NYC with kids in winter?
You'll love this one.
Get this fun fact:
"Twas The Night Before Christmas" is tied to NYC through its author, New Yorker and 19th-century author Clement Clarke Moore.
The Church of The Intercession in Washington Heights puts on a yearly Christmas pageant that ends with the reading of "'Twas the Night Before Christmas" and then a procession to the adjacent Trinity Church Cemetery where Moore is buried.
Each year, a major NYC public figure is chosen to read this Christmas story.
19. Listen to a Charles Dickens' reading
The British author who penned "A Christmas Carol" came to NYC in December 1867 for a month of sold-out performances of his beloved holiday classic.
At the Merchants House Museum, a 21st-century presentation of Dickens' visit is reenacted by an actor from late November through early January.
20. Gather in NYC bars with holiday decorations
Rolf's German Restaurant in Gramercy Park is one of the top places to visit in NY during winter as it gets decked out in elaborate decorations, while Miracle on 9th Street is a Christmas-themed, pop-up cocktail bar that returns to NYC annually (see its website for the exact locations).
Lillie's Victorian Establishment in both Union Square and Times Square also embraces some holiday decor, and The Late Late on the Lower East Side gets its "Tacky Christmas Takeover" with all the tchotchkes that can fit.
There there is Leyenda in Cobble Hill, Brooklyn, which celebrates by transforming the venue into Sleyenda.
21. Partake in a parranda
There are many reasons to visit New York in wintertime, one of which is parranda.
Parranda is a Puerto Rican musical tradition that's similar to caroling, with singers visiting cultural spaces.
In the Bronx, "Melrose Holiday Parranda" takes place in mid-December.
22. Add your wish for the new year
From December 1 through December 28, the "NYE Wishing Wall" in Times Square gives us a chance to start off the new year on a thoughtful note.
Placed at TSq Plaza 43-44 — at Broadway between 43rd-44th streets — visitors can write out their wishes on Post-its and attach them to the wall.
Wishes will be added to the confetti that flutters down in the heart of Times Square on New Year's Eve.
Can't make it in time?
You can also submit your wish digitally.
Want beautiful photos taken of you in scenic New York winter spots? Book a Private Photo Journey, a walking tour that includes photos of your group to keep. Or get a styled, custom shoot that tells your unique story through an NYC Influencer Shoot or Professional New York City Shoot. Email [email protected] with inquiries.
23. Celebrate Kwanzaa
Visiting New York with kids in winter?
In late December, the Brooklyn Children's Museum puts on its annual Kwanzaa celebration.
The fun takes place over the course of five days and teaches about this African-American holiday, exploring Kwanzaa's seven principles.
In Manhattan, the American Museum of Natural History on the Upper West Side hosts a similar program. Visiting this institution is one of the top things to do on the Upper West Side, too.
24. Be a concertgoer on New Year's Eve
The New York Philharmonic, one of the top New York winter attractions, welcomes in the New Year with its annual New Year's Eve concert at Lincoln Center with various themes and musical focuses.
This year is all about composer Stephen Sondheim.
Attending a show at Lincoln Center is one of the top things to do in Manhattan! It's also a great pick if you're looking for things to do in New York in winter at night.
25. Race into the next year
On New Year's Eve, the New York Road Runners (NYRR) puts on their four-mile Midnight Run which kicks off at 11:59 p.m. in Central Park and culminates in a fireworks display.
It's one of the top things to do in New York in winter, particularly if you want to support a good cause as your entry fee benefits NYRR's free youth and community programs.
26. Light up like a firework
Other New Year's Eve fireworks happenings are in Brooklyn's Prospect Park and Coney Island.
27. Go to a top New York City comedy club
Get a good laugh on December 31st, as the comedy club Caroline's puts on two New Year's Eve shows, and you can step out on Broadway in Times Square amidst all the after-ball drop activity — though if you're looking for things to do in Times Square in January and other months this venue is also a great option.
A few other great comedy theaters not-to-be-missed, particularly if you're looking for fun but cheap things to do in NYC, include:
28. Plunge into the new year
If you're visiting New York City in January, consider planning your trip around a fun albeit quirky tradition.
On New Year's Day, put on a bathing suit and join in the Coney Island Polar Bear Plunge.
Organized by the Coney Island Polar Bear Club, this annual tradition of swimming in the waters of this Brooklyn beach is open to the public — if they don't mind the temperatures.
29. Celebrate Three Kings Day
In East Harlem, you can attend El Museo del Barrio's Three Kings Day Parade.
The tradition dates back more than four decades, and marching begins at 106th Street and Lexington Avenue and travels to Third Avenue to end at 115th Street and Park Avenue.
30. Pick up a good read
Start off the new year with a new book by browsing and buying a title or two from NYC's best independent bookstores.
To start, The Strand in the East Village is stacked with countless hardcovers and paperbacks in all subjects and interests.
Proceeds from sales at Housing Works Bookstore Café & Bar in SoHo benefit the nonprofit's work in serving New Yorkers with HIV/AIDS.
Culinary types will stir up finds at Bonnie Slotnick Cookbooks in the Bowery, while Idlewild Books in the West Village and Brooklyn's Cobble Hill increases your wanderlust with their focus on world travel.
ALBERTINE is a reading room and French book store on the Upper East Side with a beautiful celestial ceiling.
Dashwood Books in NoHo centers on the subject of photography.
McNally Jackson Independent Booksellers & Cafe in Nolita and the Seaport District in Manhattan and in Williamsburg has their own book clubs and arts-related programming.
31. Grab that sled
Take advantage of a snowy New York day by going sledding in some of NYC's noted parks that have spots perfect for dashing through.
Some of the top places to visit in New York in winter for sledding include Pilgrim Hill in Central Park, Inwood Hill Park's trails on the Upper West Side, and Riverside Park alongside the Hudson River.
32. Skate on ice rinks
The Rink at Rockefeller Center gets a lot of attention, but there are many other places to skate in NYC during winter.
Pier 17 in NYC's Seaport District has the city's first rooftop ice-skating rink, with nice views of the Brooklyn Bridge and Lower Manhattan.
Bank of America Winter Village at Bryant Park offers only free admission for skating, but you do pay for ice skate rentals and lockers.
Looking to explore Central Park during a New York winter? Here you'll find the Lasker Rink and the Wollman Rink — not to mention great hiking in Manhattan — while Brooklyn's Prospect Park showcases LeFrak Center at Lakeside, with roof-covered and uncovered rinks on site.
33. Tune into jazz
Each January, Winter Jazzfest puts on this musical genre around NYC, sharing it in classic and contemporary ways.
The event features nine nights of veteran and up-and-coming performers at gigs around various downtown venues, culminating in a two-night jazz marathon in Greenwich Village.
34. Practice "Dry January"
There are many popular New York activities in January, such as "Dry January."
If the first month of the new year will involve more of a mocktail than a cocktail, head to these bars with non-alcoholic options.
Reception Bar on the Lower East Side has elixirs with ingredients based on Korean home remedies.
Additionally, Jean-Georges' abcV has reviving tonics, while Sunday in Brooklyn has a Zero Proof list showcasing creative alcohol-free cocktails. Bonus: Both of these restaurants are also considered to be some of the most Instagrammable restaurants in NYC!
Not practicing Dry January? Then check out some of the amazing brunch places in NYC with bottomless mimosas!
Want beautiful photos taken of you in scenic New York winter spots? Book a Private Photo Journey, a walking tour that includes photos of your group to keep. Or get a styled, custom shoot that tells your unique story through an NYC Influencer Shoot or Professional New York City Shoot. Email [email protected] with inquiries.
35. Dine out during NYC Restaurant Week
One of the best things to do in NYC in the winter?
Eat.
The winter version of NYC Restaurant Week returns for two weeks, with participating restaurants creating lunch and/or dinner pre-fixe menus.
The program often includes establishments within all five boroughs of NYC and a multitude of cuisines.
Pro tip:
Don't wait to make reservations through the program's website, as seats tend to book up quickly.
In between meals, explore the exhibits and events put on by the Museum of Food and Drink in various locations around the city to discover how food connects to us in so many ways.
36. Be theatrical over NYC Broadway Week
No visit to NYC is complete without experiencing Midtown Manhattan's Theatre District, where dozens of historic venues stage bold new musicals, long-running hits, and fascinating dramas every night of the week.
If you're on a budget, you'll especially want to visit this neighborhood during NYC Broadway Week to take advantage of two-for-one ticket deals.
37. Go pantless
Get ready to freeze your behind off during the No Pants Subway Ride, an annual Improv Everywhere event,
On the designated date and time, meet up with hundreds of sparsely clad others.
You'll receive instructions from an Improv Everywhere representative, which is basically to start riding the subways but leave your pants behind, acting like nothing is out of the ordinary.
38. Go under the radar
Held at The Public Theater in Astor Place, and partnering NYC venues each January, the Under The Radar Festival is described as a premier launching pad for new and cutting-edge performances from acts within the U.S. and abroad.
These artists provide a snapshot of contemporary theater and points to the future of the art form.
39. Watch the Super Bowl at a team fan loyalty bar
While New York has three NFL teams, fans all across the board can go watch the game at these respective football team bars.
Slattery's Midtown Pub is where Miami Dolphins fans meet, while Pittsburgh Steelers fans flock to Dylan Murphy's on the Upper West Side. Then there is The Joyce Public House, a gathering place for fans of the New England Patriots.
40. Observe Lunar New Year festivities
This major Asian holiday is celebrated throughout NYC with stunning performances and parades.
Chinatown is the location of an afternoon street party that welcomes in each Lunar New Year with floats and dancing dragon puppets that wind through its main streets and neighboring Little Italy.
On the first day of the Lunar New Year, there's a Firecracker Ceremony and Cultural Festival with fireworks.
While in the neighborhood visit the Museum of the Chinese in America, which hosts special programming tying into the Lunar New Year.
Similar Lunar New Year events happen within Sunset Park, Brooklyn and Flushing, Queens.
41. Watch Jewish films
New York Jewish Film Festival is a collaborative effort between the Jewish Museum and the Film Society of Lincoln Center with two weeks of cinematic offerings, including shorts, documentaries and feature-length narratives celebrating the Jewish experience.
42. Get cozy in a winter-inspired New York City bar
From December through March, The Arlo SoHo's "Après Arlo" stages a winter wonderland in the courtyard with heated cedar cabins, comfy furnishings, and a holiday cocktail bar menu.
At its heated igloo rooftop bar, 230 Fifth warms up guests with adult spins on hot chocolate, cider, and coffee. This is a great spot for those looking to explore NYC after midnight, too, as it's open late.
Eataly Flatiron decks out their rooftop space with winter furnishings and decorations, and The McKittrick Hotel's Gallow Green space becomes a winter lodge.
The Snow Globe in the Sky at Ophelia — the rooftop lounge on the 26th floor of the Beekman Tower in Midtown East — resembles a shimmering snow globe looking out over New York City.
Mr. Purple atop the Hotel Indigo Lower East Side becomes the scene for the Clicquot Chalet, a fun après ski-themed sky lounge with lots of bubbly and fondue to go around.
43. Warm-up at an NYC fireplace bar
Black Mountain Wine House in Carroll Gardens has a comfy fireplace in the back to warm you up while you sip unique wines and beers.
Moreover, the one at the beer hall Spritzenhaus33 in Greenpoint gives off a ski lodge vibe, while Art Bar — a hotspot in the West Village — has a working fireplace in its backroom and a big comfy couch to crash on.
If you're in Union Square, Cibar has multiple fireplaces within this after-work spot as well as an excellent happy hour featuring $11 craft cocktails plus budget-friendly beer ($6) and wine ($8).
Finally, The Campbell Bar has a grand stone fireplace, a nod to its past life as a private office of 1920s financier John W. Campbell. This bar is one of numerous excellent watering holes within Grand Central Terminal and is a great spot to cozy up on a chilly New York winter night.
44. Drink up on specialty hot chocolate
Skip the powdery packets and splurge on the city's finest of this warm beverage.
At Jacques Torres on the Upper West Side, sip on some hot chocolate while watching the chocolatier's staff at work on the factory floor.
There's also Blue Stripes in Union Square, which has a chocolate playground that takes partaking in this confection to a whole new level.
Dominique Ansel Bakery in SoHo puts a flowering marshmallow in its hot chocolate cups, while Snowdays in the East Village and Bay Ridge warms up with vegan, matcha or peanut butter hot chocolate.
Want beautiful photos taken of you in scenic New York winter spots? Book a Private Photo Journey, a walking tour that includes photos of your group to keep. Or get a styled, custom shoot that tells your unique story through an NYC Influencer Shoot or Professional New York City Shoot. Email [email protected] with inquiries.
45. Play indoors
Aside from some time at a gym, other venues have ways to both stay fit and have fun.
Royal Palms is a walk-in shuffleboard club in Gowanus, Brooklyn, with courts being rented on a first-come, first-served basis.
There is Full Circle Bar in Williamsburg, known for its bar constructed from old Skee-Ball machine parts.
Chinatown Fair Family Fun Center is an arcade with nostalgic games, while Kick Axe in Gowanus, Brooklyn is a bar that's all about axe throwing.
Along the Hudson River, Chelsea Piers has sports leagues, a bowling alley and a fieldhouse where you can participate in or practice just about any sport of your choosing.
46. Celebrate true love in Times Square
This popular Manhattan neighborhood isn't just a special place to be on New Year's Eve, but also Valentine's Day.
On this romantic holiday, the annual Love In Times Square event takes place. Couples can renew their vows, pop the question or get married in front of a Valentine Heart display.
Talk about romance in NYC! Couples should definitely add this to their NYC winter bucket list.
47. Pop the question at The Empire State Building
Here is another option for getting engaged in NYC — or even married.
While a City Hall Wedding is a great option, couples who would prefer to tie the knot at a famous New York City landmark can do so at the Empire State Building.
Here's how:
Every year, 14 couples get chosen as part of the annual Valentine's Day Wedding Contest. In order to win you will need to submit your love story via their official Facebook Page.
By the way, if you'd like to learn more about this iconic building, consider booking one of the many top NY architecture tours available in the city.
48. Splurge on a romantic dinner
If you're looking for fun date ideas during NYC winter, maybe even for Valentine's Day, know there is no shortage of ambient places to dine for two. The following spots also make for romantic anniversary ideas in New York City:
Buvette is an elegant French bistro in the West Village, while the chandelier-clad One If By Land, Two If By Sea is dripping with romance as well as a unique history of being a former carriage house of Aaron Burr.
Also, not-to-be missed:
The River Café, is known for offering some of the best views in NYC looking out at the skyline thanks to its location under the Brooklyn Bridge.
The dimly-lit Zenkichi, a Japanese restaurant in Williamsburg, serves Tokyo-inspired small plates or a tasting menu.
Il Buco in NoHo gives off an Old World Italian charm, while Saggio in Washington Heights produces modern Italian dishes lovingly by hand.
If you love cocktails, Macao Trading Company is a Tribeca venue inspired by the 1930s era of this Chinese-Dutch-influenced country. Recommendation: the "Instant Millionaire" featuring mezcal, pineapple, green curry, and coriander seeds.
The Loeb Boathouse in Central Park has an adjacent lake adorned with rowboats drifting along that can be rented out for use.
Exploring or traveling solo?
Go on a date with yourself at Cafe Lalo on the Upper West Side. You might recognize this dessert stop from the movie, You've Got Mail.
With two Brooklyn locations, The Chocolate Room is noted for their house-made cocoas, confectionaries and cakes.
49. Spice up your relationship
Here is one way to warm up on a cold winter day in NYC:
Explore the many sex shops throughout NYC offering special devices and toys.
Babeland has locations in Manhattan and Brooklyn with classes and customer service help. Their Upper East Side location also regularly hosts comedy shows featuring female comics and free drinks.
A few other locally-loved venues include Shag in Williamsburg and The Pleasure Chest on the Upper West Side and in the West Village.
50. Take an interesting walk
Don't let the cold stop you from exploring NYC's best strolls.
One favorite is the Williamsburg Bridge walk from Manhattan into Brooklyn, with much to explore in Williamsburg once you arrive.
Shop for unique goods at the Artists & Fleas weekend market, take in a stunning 360-degree view from the Westlight rooftop bar, and savor NYC's best chicken and waffles at Pies-n-Thighs, just to name a few of many things to do in Williamsburg.
Other walks featuring lovely outdoor setting include:
The Brooklyn Heights Promenade in Brooklyn Heights
The Brooklyn Bridge, a popular stop for an NYC Influencer Photo Shoot
The High Line along Chelsea and the Meatpacking District
Orchard Beach along The Bronx's Hunter Island
Long Island City Piers, offering some of the best views of the Manhattan skyline from Queens
and Heather Garden in Fort Tryon Park in Manhattan's Hudson Heights and Inwood neighborhoods.
51. Buy some artisan chocolate
Give yourself or your sweetie an indulgent gift of NYC's finest chocolate.
Royce' Chocolate is a Japanese brand with flavor combos including green tea and nama, while Li-Lac Chocolates — the oldest chocolate house in Manhattan — offers treats like gourmet truffles, caramel bars, salted caramels, glacé fruits, and creams.
If you're in need of gifts for the culture carnivore in your life, Kee's Chocolate is a globally-inspired candy store drawing upon ingredients such as Spanish saffron, French sea salt, and Japanese yuzu.
And if you're looking for Instagrammable cafes in NYC, MarieBelle makes artful chocolates that look as delectable as they taste. Head to their SoHo cacao bar to try them.
Want beautiful photos taken of you in scenic New York winter spots? Book a Private Photo Journey, a walking tour that includes photos of your group to keep. Or get a styled, custom shoot that tells your unique story through an NYC Influencer Shoot or Professional New York City Shoot. Email [email protected] with inquiries.
52. Get a peek at Fashion Week
During the winter portion of this bi-annual showcase many events are for industry members and A-listers only, but there are some happenings that are sometimes open to the general public.
If you can get a ticket it's quite the exclusive NYC experience.
53. Honor Black History Month
During February — as well as every month before and after — you can learn about Black culture and history at numerous locations in Harlem.
Part of the New York Public Library system, the Schomburg Center for Research in Black Culture is a trove of literature and memorabilia relating to Black culture and the African diaspora. The Center hosts jazz concerts, film, lectures and tours.
The Apollo Theater has had James Brown, Billie Holiday and countless other noteworthy performers grace its stage and still puts on its famous Amateur Night.
Also don't miss Studio Museum, the first Black fine arts museum in the world. This important NYC attraction features contemporary works by African American artists.
In Corona, Queens, the Louis Armstrong House was the residence of the famous jazz trumpeter. It's now a museum.
The Weeksville Heritage Center in Brooklyn's Crown Heights tells the story of one of America's first freed Black communities.
54. Pay your respects at an African burial ground
In Lower Manhattan, the African Burial Ground National Monument was a burial ground for free and enslaved African Americans from the mid-17th and 18th centuries.
It was rediscovered in October 1991 during an excavation for a planned new federal building.
The public outcry and response from community leaders resulted in this national landmark and the internment of the remains of those who were once laid to rest here.
55. See orchids in bloom
From February through April, the New York Botanical Garden in the Bronx provides color and warmth with its annual orchid show.
It's a showcase of blossoming orchids of all shapes, sizes, and species.
Click here to pre-purchase your ticket.
56. Learn more about Asian art
During Asia Week New York, galleries and cultural institutions like the Metropolitan Museum of Art, The Met Fifth Avenue and China Institute showcase works from the continent.
Additionally, the festival features a full schedule of films, lectures, symposia, curator talks, tours, and auctions.
57. See The Armory Show
Located on Piers 90 and 94, The Armory Show is a top international art fair that combines a selection of the world's leading galleries—more than 200 of them from 30 countries around the world—with a program of art events and exhibitions at the fair venue and throughout New York City.
58. Celebrate St Patrick's Day
As this holiday rolls around, parades abound in NYC.
The official NYC St. Patrick's Day Parade takes place in Manhattan and can be viewed along 5th Avenue between 44th and 79th streets.
Brooklyn has its own version on that same day, too, while Queens has its share of St. Patrick's Day Parades during March.
In The Bronx, their annual parade happens in Throggs Neck.
Also, visit the Irish Hunger Memorial, a gorgeous multi-level garden in Battery Park highlighting this difficult period that resulted in Irish immigration. You'll find 60+ types of Irish flora, geology representing every Irish county, recreations of 19th-century Irish cottages, and quotes and poems about famine.
59. Hang out in Irish pubs
NYC has lengthy ties to Irish American history and its bars reflect this heritage.
Enjoy a pint at Molly's Sheeben Pub in Gramercy Park, Swift Hibernian Lounge in NoHo, Peter McManus Cafe in Hell's Kitchen, The Shannon Pot in Queens, and McMahon's Public House in Brooklyn.
One Irish pub that also serves incredible craft cocktails is The Dead Rabbit in the Financial District. They're renowned for their Irish coffee and Guinness, too.
Of course, one can't miss a stop into McSorley's Old Ale House in the East Village.
60. Peek at the Macy's Flower Show
At this annual presentation at the store's Herald Square location, the Macy's Flower Show brings bursts of color on dreary days with its indoor floral displays based on a single theme.
61. Honor Women's History Month
One great way to spend a winter day in NYC:
Recognize and remember women's contributions to NYC throughout the years.
You can head to the New-York Historical Society's Our Center for Women's History, which looks at the lives of women who have shaped the American experience.
In Brooklyn, The Lesbian Herstory Archives holds the world's largest collection of materials by and about lesbians and their communities.
On Staten Island, the Alice Austen House Museum honors this trailblazing female photographer.
Grand Central Terminal in Manhattan credits Jacqueline Kennedy Onassis for saving the site from being torn down, with the terminal's main entrance being dedicated to her.
By the way, this fascinating Grand Central Terminal tour talks about Jackie O's contributions. It's a lot of fun to take on a chilly day. I've done it twice!
Arts patron Gertrude Vanderbilt Whitney founded an artists' studio that evolved into what's now the Whitney Museum of American Art.
62. Eat at women-owned & operated restaurants
Incredible NYC restaurants abound.
You can get your fill at these delicious eateries while also supporting gender equality by dining out at women-owned restaurants in New York City.
Some of our favorites include:
Lilia, an Italian spot bringing homemade pasta and cocktails to Williamsburg
Mimi Cheng's, known for their organic Taiwanese-Chinese dumplings in the East Village
Dimes, a tasty deli, market, and restaurant in the Lower East Side
Dirt Candy, a creative vegetarian enclave on the Lower East Side
Via Carota, an Italian trattoria in the West Village that transports you to 17th-century Tuscany
Cosme, a contemporary Mexican spot in the Flatiron District
Vinateria, a women-owned Harlem wine bar that also works to support other female producers
63. Peruse New York City libraries
Next to Bryant Park, the New York Public Library – Stephen A. Schwarzman Building is home to New York City's most famous lions — Patience and Fortitude — named in the 1930s by Mayor Fiorello LaGuardia. These were the two qualities he said New Yorkers would need to survive the Great Depression.
Inside, you'll find the Rose Main Reading Room, home to a stunning sky and cloud mural on the ceiling.
For outdoor beauty, the Jefferson Market Branch Library in Greenwich Village was once a Victorian-era courthouse and is now a National Historic Landmark — though you should also check out the Central Branch of the Brooklyn Public Library for its lovely 1941 Art Deco design.
And what does theater in NYC have in common with local libraries?
Actually, the New York Public Library for the Performing Arts is based within Lincoln Center and has the Billy Rose Theatre Collection — one of the world's largest collections of performing arts works.
In Battery Park City, Poets House is a national poetry library and literary center that keeps this literary art form thriving with public readings and thousands of stacked works.
Then there is The Morgan Library & Museum in Murray Hill. This is the private library of financier John Pierpont Morgan that puts on exhibits relating to authors and other literary and fine art subjects. Its collection showcases top pieces, ranging from the Gutenberg Bible to rare first editions by Charles Dickens and Mark Twain.
Want beautiful photos taken of you in scenic New York winter spots? Book a Private Photo Journey, a walking tour that includes photos of your group to keep. Or get a styled, custom shoot that tells your unique story through an NYC Influencer Shoot or Professional New York City Shoot. Email [email protected] with inquiries.
64. Slurp on soup dumplings
This Chinese delicacy — known as Xiao Long Bao — is warming, though biting into their hot liquid requires some carefulness (so maybe skip wearing that brand new shirt).
Joe's Shanghai in Chinatown is noted for its crab and pork meat versions while Shanghai Zhen Gong Fu in Flushing puts a yummy black truffle base in theirs.
Also in Flushing is the Michelin Guide-rated Nan Xiang Xiao.
In Astoria, don't miss Bund On Broadway's delicious pan-fried soup dumpling.
65. Sip a warm beverage at locally-owned coffee shops
Starbucks may have the most coffee shop locations, but there are plenty of independent spots — many of which are truly unique NYC cafes — worth spending time at.
Some recommendations for places to go in winter in New York to warm up with a cuppa include:
Stella & Fly in the Upper East Side blends coffee and wine with events like music and trivia
Coffee Project NY experiments with deconstructed lattes and nitro cold-brew coffee
Little Collins brings Melbourne's coffee scene to NYC with flat whites and pour-overs, not to mention a delicious avocado toast
Zibetto Espresso Bar is an Italian coffee bar with espresso directly imported from Italy
Third Rail Coffee attracts NYU students and makes a sweet iced mocha
and the Puerto Rican brand 787 Coffee Shop has a gratitude wall where customers write down what they're thankful for on cup sleeves.
66. Learn how to knit
Looking for the perfect winter sweater?
You can make your own!
Grab a pair of knitting needles and get educated on how to create hats, gloves and more with classes.
Brooklyn Craft Company in Greenpoint, Brooklyn General Store in Carroll Gardens, and School Products Yarn in Murray Hill hold regular courses.
67. Pour some tea
Wondering what to do in NYC on a cold day?
One warming option is to explore the destination's tea culture.
Tea & Sympathy serves British comfort foods alongside tea, while Té Company emphasizes Taiwanese oolong teas.
Then there is Floating Mountain, which specializes in Chinese teas and also offers courses on tea, meditation, and other self-care topics.
Love novels?
Alice's Tea Cup draws inspiration from Lewis Carroll's "Alice in Wonderland" books.
Other NYC tea houses include Lady Mendl's Tea Salon, Janam Tea, and Cha-An Teahouse.
68. Surround yourself with cats
NYC's cat cafe trend is still purring, with advance reservations for playtime required. Check out:
Brooklyn Cat Cafe, a cat adoption center and social space in Brooklyn Heights
Koneko, a Japanese-style cat cafe in the Lower East Side
and Meow Parlor, the city's first cat cafe, also on the Lower East Side, where older felines roam as they please.
Apparently, there's also a dog-friendly cafe in NYC. In the East Village, Boris & Horton invites owners to bring their pets, which hang out in a doggie den.
69. Dine inside a New York City food hall
More and more food halls are, thankfully, opening up in NYC.
In Sunset Park, Brooklyn, Industry City's main food hall is a global cornucopia of cuisines from different parts of NYC and the world — including Japan Village, a marketplace with establishments serving traditional Japanese food and drink.
A Lower East Side institution, the Essex Market has been around since 1888 and recently got a 21st century makeover, with new and returning eateries and a new location.
In Flushing, Queens, HK Food Court reflects this neighborhood's Asian population with Tibetan, Thai, Japanese, Vietnamese, Taiwanese, and regional Chinese cuisine.
Fun fact:
Did you know Chelsea Market was once the NABISCO factory, with its claim to fame being the birthplace of the Oreo cookie? Explore the attraction on a Chelsea Market & High Line Food Tour.
70. Explore stunning indoor gardens
Find flora and fauna in the colder months at beautiful places around New York City.
For instance, The Frick Collection on the Upper East Side has a Garden Court, while The Ford Foundation Building in Midtown has a light-filled atrium garden with 39 species of plants and a reflecting pool.
Both the Brooklyn Botanic Garden and the New York Botanical Garden have conservatories and ongoing programs, respectively; and Wave Hill in The Bronx has one as well.
Then there's the Astor Chinese Garden Court at the Metropolitan Museum of Art and the Butterfly Conservatory at the American Museum of Natural History.
For something quirky, view the New York Earth Room on Wooster Street — one of the most interesting things to do in SoHo.
There's also the Winter Garden Atrium at Brookfield Place in Battery Park City and the Urban Garden Room at One Bryant Park in Midtown West.
71. Warm up with ramen
This savory Japanese noodle broth dish is warming and can be ordered at various top spots.
One popular local favorite is Ivan Ramen on the Lower East Side. Personally, I love the "Tokyo Shoyu" with soy sauce, dashi and chicken broth, pork belly, soft egg, and toasted nori with rye-based noodles.
Another top pick is Ippudo in the East Village, which simmers their pork-bone tonkotsu broth for days.
Then there is Totto Ramen, whose delicious and simple yet dense soups have led to them opening up numerous locations — in Midtown, Hell's Kitchen and Flushing.
72. Celebrate Pi Day
Pi Day — an occasion when people celebrate the mathematical constant π — takes place on March 14 each year, since 3, 1, and 4 are the first three significant digits of π.
If this sounds a bit complicated, don't worry. You can head to the National Mathematics Museum near Madison Square Park to learn about the subject in a more approachable way — including interactive exhibits and fun events.
73. Head to distilleries
There are plenty of New York Places to visit in winter, particularly if you want to melt off the chill with a warming libation.
And while craft beer production is flowing throughout the city, distilleries are opening up throughout the boroughs and offer an especially nice experience on cold winter days in New York City.
One unique option:
In the Bronx, Port Morris Distillery produces pitorro, a Puerto Rican moonshine traditionally sipped on special occasions and holidays.
Kings County Distillery concocts handmade moonshine, bourbon, and other whiskeys out of the 119-year-old Paymaster Building in the Brooklyn Navy Yard.
Also in Brooklyn, Greenhook Ginsmiths holds public tours on Saturdays in Greenpoint, while Van Brunt Stillhouse makes whiskey and offers one of the best experiences in Red Hook.
Want beautiful photos taken of you in scenic New York winter spots? Book a Private Photo Journey, a walking tour that includes photos of your group to keep. Or get a styled, custom shoot that tells your unique story through an NYC Influencer Shoot or Professional New York City Shoot. Email [email protected] with inquiries.
Where To Stay In New York City In Winter
Looking to stay overnight in NYC?
There are so many incredible hotels, like NoMo SoHo, the Williamsburg Hotel, and The Ludlow.
Click here for a full list of New York City hotels!
Prefer self-contained stays?
Click here to check out unique local rentals!
You can also use this map to search for local stays:
Best Winter Tours In NYC
Make your New York winter vacation even more memorable by adding some of the following tours to your itinerary:
Private Professional New York Photoshoot
Dyker Heights Brooklyn Christmas Lights Tour
New York Christmas Holiday Small-Group Walking Tour
Rockefeller Center Architecture and Art Walking Tour
Radio City Music Hall Stage Door Tour
Radio City Christmas Spectacular Starring the Radio City Rockettes Ticket
Click here for a full list of unforgettable NYC tours.
Travel Insurance For Winter In New York
When visiting New York City — or anywhere else in the world — it's wise to get travel insurance.
One of the best travel medical insurance for travelers is SafetyWing as they've got a large network and offer both short-term and long-term coverage — including coverage if you're traveling for months as well as limited coverage in your home country).
Additionally, SafetyWing is budget-friendly and offers $250,000 worth of coverage with just one low overall deductible of $250.
Click here to price out travel insurance for your trip in just a few clicks.
Visiting New York in winter? Add your suggestions below!
Enjoyed this post? Pin it for later!
Pin me! 🙂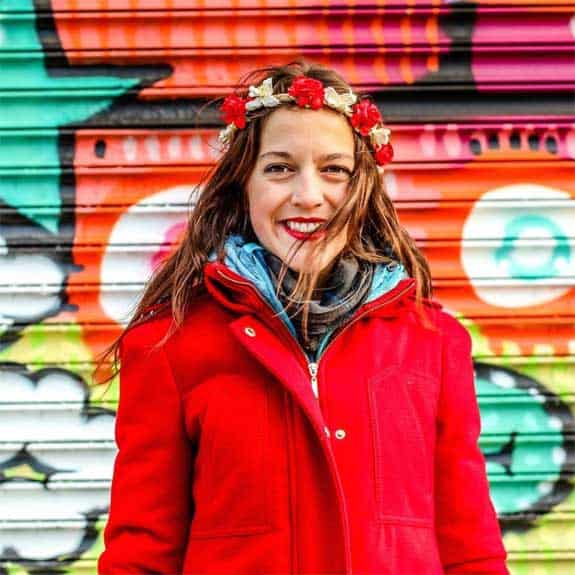 Hi, I'm Jessie on a journey!
I'm a conscious solo traveler on a mission to take you beyond the guidebook to inspire you to live your best life through travel. Come join me!
Want to live your best life through travel?
Subscribe for FREE access to my library of fun blogging worksheets and learn how to get paid to travel more!