13 Best Manhattan Skyline Tours For Amazing Views
By Dale P. This guide to skyline tours in Manhattan contains affiliate links to trusted partners!
Looking for the best Manhattan skyline tours?
Then you're in the right place!
The Manhattan skyline is one of the most iconic in the world.
There's nothing quite like the skyscrapers that make up the skyline of New York City, from timeless Art Deco marvels like the Empire State Building and the Chrysler Building to modern glass towers like One World Trade Center and One Vanderbilt.
And one of the best ways to experience the city is through a Manhattan skyline tour.
These tours capture the magnificence of the Manhattan skyline in NY and provide you with incredible photo opportunities and views that will take your breath away and make you fall even more in love with New York.
Keep reading to discover the best New York City skyline tours that allow you to admire the cityscape during the day, at sunset, or at night. You can also gain new perspectives of the skyline with tours on land, on water, and by air!
A Manhattan skyline tour is one of the most memorable things you can do in New York that is guaranteed to be a highlight of your trip and an unforgettable experience.
On that note, let's dive into our list of unforgettable NYC skyline tours and cruises. These experiences have been organized by tour type to help you choose the ones that make the most sense for you when visiting New York City.
Best Photography Tours That Capture The NYC Skyline
Looking to enjoy the skyline in New York City — with you in the photos? Then an NYC Photo Journey is for you!
Offered by NYC Photo Journeys, which is owned by Jessie of Jessie on a Journey, the experience is part tour, part photoshoot. Along with seeing New York with a licensed guide, you'll leave with professional photos of your group to keep.
You can see the full list of itineraries here, or opt for something custom.
For the best Manhattan skyline photos, it's recommended to opt for a tour that includes Central Park, the Brooklyn Bridge, and/or DUMBO.
For photography enthusiasts, this incredible tour allows you to discover one of New York City's most popular destinations after dark.
Accompanied by a professional photographer, this small-group night tour takes you through Central Park, where you'll receive expert guidance on how to take incredible evening shots.
You'll come away from this tour with your own unique photos of Central Park at night that capture the moodiness and ambiance of this iconic New York City destination.
This experience is truly one of the best ways to see — and capture — the skyline in Manhattan.
Pro tip: Come back during the day for an NYC picnic. For one of the best free views in New York City, head to Sheep's Meadow.
Another tour that allows photographers to hone their skills while capturing amazing photos of an icon in New York City's skyline is this Brooklyn Bridge photography tour.
The Brooklyn Bridge has been a fixture of the skyline since it opened in 1883, linking Brooklyn and Manhattan. It's actually one of the many reasons that NYC is so popular.
On this tour, you'll admire this architectural icon up close and personal while capturing great shots of the Manhattan skyline and of the Brooklyn Bridge itself.
Best Skyline Boat Tours In NYC
If you're looking for an unforgettable Manhattan skyline cruise, this luxurious boat tour fits the bill.
After departing from Chelsea Piers aboard a classic 1920s-inspired yacht, you'll sail down the Hudson River toward Lower Manhattan.
Over the course of 1.5 hours, you'll pass iconic sights like One World Trade Center and the Statue of Liberty, while enjoying sweeping views of the Manhattan skyline and savoring some Champagne and cheese.
Prefer beer to bubbly? Another unique NYC cruise tour is this sailboat jaunt that is perfect for beer lovers.
After boarding a 158-foot-long clipper sailboat in Battery Park, you'll sail around the New York Harbor admiring the sights.
You'll be able to take in the Manhattan skyline with Statue of Liberty views, as well as see Ellis Island and Governors Island, which are some of the NYC islands you can actually visit.
As you enjoy the scenic views, you'll savor six local craft beers paired with artisan cheeses, charcuterie, and nuts from a gourmet Brooklyn deli.
The skyline of NYC is always beautiful, but it's at its most stunning during sunset as day turns into dusk and the twinkling lights of the city's skyscrapers begin to illuminate.
Luckily, this skyline boat tour in NYC allows you to experience the magic of the city at sunset for yourself.
After departing from Chelsea Piers, you can enjoy an included drink onboard a 1920s-style yacht as you take a boat ride around the Statue of Liberty and Lower Manhattan.
If you're looking to see the New York City skyline with Statue of Liberty views in style, this tour is a top pick.
One of the best NYC skyline tours and cruises is this aquatic sightseeing excursion, which offers unrivaled views of the New York Harbor and the Lower Manhattan skyline from the boat's solarium or open-air deck.
While on this 1.5-hour cruise that departs from Chelsea Piers, sip on an included drink as you take in the marvels of New York City's architecture and skyline.
This is possibly the best Statue of Liberty boat tour for those wanting an unforgettable vista.
Manhattan Helicopter Tours With Skyline Views
For a truly unforgettable experience, opt for an NYC skyline helicopter tour.
After departing from a helipad in Lower Manhattan, you'll fly high above the city and get a bird's-eye view of New York and its many iconic landmarks.
Take in unique aerial vistas of famous sights such as the Statue of Liberty, the Empire State Building, and Central Park as you soar above the Big Apple.
This is a way to see the city that is truly like no other!
The Manhattan skyline at night will take your breath away. And what better way to see it then from the sky?
This nighttime helicopter tour offers unparalleled views of the glittering New York City skyline.
You'll take off and soar over Manhattan, discovering the city's electrifying nighttime skyline from high above.
As you glide over the city, you'll see iconic landmarks like the Empire State Building, Times Square, Rockefeller Center, and the Statue of Liberty illuminated at night.
Manhattan Skyline Tours On Land
This is the ultimate half-day foodie tour that allows you to take in iconic New York skyline views while eating your way around Brooklyn.
After meeting in Manhattan's West Village, you'll depart by bus to Brooklyn.
During the experience, you'll explore and eat your way through several Brooklyn neighborhoods, including Williamsburg, Greenpoint, Park Slope, Carroll Gardens, and DUMBO.
In your final stop, DUMBO, you'll be able to walk around Brooklyn Bridge Park and snap photos from one of the best viewpoints in the city.
If you still have energy after the tour, you can walk the Manhattan Bridge or Brooklyn Bridge back to Manhattan.
For adrenaline-seekers and adventure travelers, City Climb is a unique activity that lets you experience New York City's skyline in a totally new way.
Located at Edge, the highest outdoor observation deck in the Western Hemisphere, City Climb is an activity that allows you to scale to the skyscraper's highest peak and lean out over the, well, edge.
Although this activity isn't for the faint of heart, it's guaranteed to give you unparalleled views of New York City as you hang out 1,200 feet above the ground.
Looking to a book a New York City architectural tour? Then you'll love this one!
On this self-guided Manhattan skyline tour, you'll download an app to play an interactive game that leads you on an adventure past some of Manhattan's famous architectural wonders.
From the Flatiron Building to the Vessel, you'll work your way through Manhattan as you discover clues that will help you solve your in-game challenge.
This is a great way to see the city on your own while learning about the history of the architecture around you.
For the ultimate New York City skyline tour, make sure to visit SUMMIT One Vanderbilt — NYC's most exciting observation deck.
The attraction includes three floors of fun, from interactive art installations to a bar and cafe with a front-row view of the Empire State Building.
Moreover, on one floor the ground is mirrored, meaning you'll see a Manhattan skyline view through the floor-to-ceiling windows as well as on the floor in front of you. This makes for really trippy photos!
Considerations When Booking Manhattan Skyline Tours
Before you book a Manhattan skyline tour for yourself, there are a few things to consider:
Your budget. Manhattan skyline tours and cruises can be budget-friendly NYC experiences or they can be on the more luxurious side. Decide on whether you want to go for something on the cheaper side or if you want to splurge for this experience.
What type of skyline view you want. Do you want to take in the Manhattan skyline from above? Are there specific buildings you want a view of? Is it important to take in the whole skyline at once? Pinpoint what is most critical to you before booking.
Whether your want a full tour or an attraction experience. There are New York City skyline tours and cruises that last a few hours, and there are attractions, bars, and Instagrammable NYC restaurants that offer epic views in a shorter amount of time. Consider what appeals to you and what fits into the itinerary you've planned.
NYC Hotels With Skyline Views
Looking to book a hotel with a great skyline view? Check out the:
Click here for a full list of New York City hotels!
Prefer self-contained stays?
Click here to check out unique local rentals!
You can also use this map to search for unique local stays:
Like the idea of hotel living? There are also numerous properties that allow you to live in a hotel full time in NYC with extended stay offerings.
New York City Travel Insurance
When visiting New York City — or anywhere else in the world — it's wise to get travel insurance.
One of the best travel medical insurance for travelers is SafetyWing as they've got a large network and offer both short-term and long-term coverage — including coverage if you're traveling for months as well as limited coverage in your home country.
Additionally, SafetyWing is budget-friendly and offers $250,000 worth of coverage with just one low overall deductible of $250.
Click here to price out travel insurance for your trip in just a few clicks.
What are your favorite Manhattan skyline tours?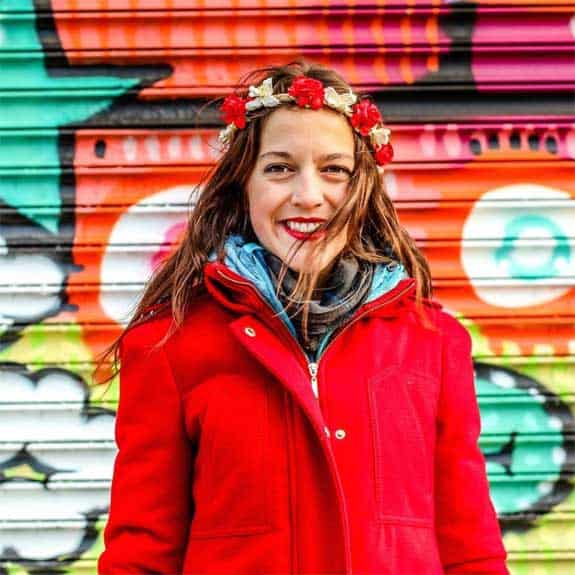 Hi, I'm Jessie on a journey!
I'm a conscious solo traveler on a mission to take you beyond the guidebook to inspire you to live your best life through travel. Come join me!
Want to live your best life through travel?
Subscribe for FREE access to my library of fun blogging worksheets and learn how to get paid to travel more!