Manhattan Skyline From Queens: 20 Best NYC Views [Recommendations]
By Charlotte Dow
Seeing the Manhattan skyline from Queens is an experience that shouldn't be missed. Its beauty is one of the main reasons why New York is so popular.
Actually, a common piece of advice New York visitors hear is that you have to leave Manhattan for the best NYC views.
Unlike some recommendations, this one absolutely holds up.
Surprisingly enough, some of the most stunning vistas can be found across the East River in Queens.
Depending on where you are within New York City's largest borough, you can take in wide-scale panoramas of the city set against the East River and NY's many impressive bridges.
Bonus:
There are many ways to see the sights! From free parks to swanky rooftop bars, you're bound to find a spot that fits your budget and style.
To help you plan an incredible trip to NYC, check out these incredible spots in Queens for New York City views.
See The Manhattan Skyline With A Professional Photographer
Shameless plug! I own a photo experience company called NYC Photo Journeys that offers private NYC photo tours, professional NYC photo shoots, and private NYC influencer shoots, with many of the locations offering skyline views.
For the tours, you pick a route and get a tour led by a certified guide and photographer, leaving with professional photos from the day to keep.
With the photo shoots, we'll go over exactly what you're looking for to come up with a concept and locations that bring your vision to life.
Above is a shot from a recent Influencer Shoot. You can see more examples on Instagram here.
This is one of the best New York City skyline tours for those who love having their photo taken, particularly if you choose a route that includes Central Park, the Brooklyn Bridge, and/or DUMBO.
See The Manhattan Skyline From Queens In Long Island City
1. See The Manhattan Skyline From Queens For Free
If you're looking for fun things to do in Long Island City, head to Gantry Plaza State Park, one of the top attractions in Queens.
From here, you'll take in some of the best views of Midtown Manhattan without spending a dime.
Bonus:
Check out some of the park's industrial monuments, like its namesake gantries and the iconic Pepsi-Cola sign.
2. Pair Exercise With NYC Skyline Views
Whether you're looking for beautiful New York views at night or during the day, Hunter's Point South Park should be on your radar.
This beautiful and brand new waterfront oasis features plenty of great paths for running and biking, fitness equipment, and basketball and volleyball courts.
Of course, the real attraction here is the view of Midtown Manhattan.
Visit during Manhattenhenge for a unique vantage point seeing the sunset through the city streets.
3. Spend Time At A Queens Coffee Shop With A View
Talk about Instagrammable cafes in NYC!
Located within Long Island City's Hunter's Point South Park is LIC Landing by COFFEED.
Set on the waterfront, it's the perfect place to relax and enjoy some locally-roasted beans, or even a beer or glass of wine.
Want to feel even better about your beverage?
The Queens cafe donates a portion of their profits to the Hunters Point Parks Conservancy, a community group dedicated to upkeeping the outdoor spaces in Hunters Point.
If you're hosting an event, the cafe also features a large event space that's perfect for weddings and parties.
4. Dine At A Waterfront Restaurant In NYC With A View
How about an evening of Latin Fusion cuisine, delicious cocktails, and spectacular views of Manhattan from Queens?
Blend on the Water — located just a few blocks from Gantry Plaza State Park — features 10-foot windows surrounding the dining space.
This makes for a great spot to check out the evening skyline (how gorgeous is the Chrysler Building?) while eating delicious paella paired with a glass of sangria.
Pro tip:
If you're looking for romance in NYC, Blend on the Water makes for a fantastic date spot in a fun-filled location. It's also a top spot for boozy brunch in NYC!
5. Sip A "Selfie Stick" While Gazing At The Manhattan Skyline
At The Penthouse, the rooftop restaurant inside the Ravel Hotel, you can order creative cocktails like the "Selfie Stick" and "Saketini" and even large smoking cocktails served in Tiki heads.
The restaurant's menu of Asian and South American-inspired dishes and unique drinks will impress almost as much as the breathtaking views of Manhattan and the Queensboro bridge — which feels close enough to touch!
Visiting in the winter?
The Penthouse is open year-round with both indoor and outdoor seating options.
6. Take In Aerial Views Of Manhattan From An NYC Rooftop Pool
Prefer to party while taking in the sights?
The Ravel has you covered with Profundo Day Club, featuring a rooftop pool, fantastic DJs, and the hotel's signature aerial views of Manhattan.
Open Thursdays through Mondays during the summer months, Profundo Day Club is a great place to cool off in style.
7. Relax While Taking In 360-degree Views Of The Manhattan & Queens Skylines
At Z Roof, the rooftop bar inside the Z NYC Hotel, relax on plush couches and just let the ambiance wash over you.
With over 5,000 square feet of space, you're sure to find a spot for a photo with a stunning New York backdrop.
Just note that if you're visiting New York in winter the rooftop is only open during the warmer months.
8. Tour A Rooftop Farm With An NYC View
Surprisingly located in Long Island City in Queens, Brooklyn Grange is a rooftop farm that grows 80,000 pounds of organic produce per year and promotes sustainability in the community.
Whether you're visiting New York City in fall, spring or summer, you can head to the farm to explore the beauty of the destination through your eyes and palate.
The farm is open for tours on Saturdays and hosts regular events like yoga classes and dinners throughout the year. Visiting is one of the best non-touristy things to do in NYC!
9. Pair Free-To-Enjoy Art With A New York City Backdrop
Socrates Sculpture Park, a public park in Queens, features work from top contemporary sculptors.
While the pieces themselves are inspiring, the greenspace's waterfront location gives the art a spectacular Manhattan skyline backdrop.
The park also hosts events like outdoor cinema, workshops, and performances year-round, though it's truly a top pick for summer date ideas in NYC. That being said, it's also a top spot if you're looking for things to do in NYC by yourself.
10. Escape The Crowds Under The Queensboro Bridge
Looking for the best views in NYC for free?
The lesser-known Queensbridge Park offers great views of the Queensboro Bridge (59th Street Bridge), Roosevelt Island, and of course, the Manhattan skyline.
Fun fact:
This bridge was made famous by Simon and Garfunkel with their song "Feelin' Groovy," also called "The 59th Street Bridge Song."
11. Watch The Boats Go By At A Scenic Queens Bar & Grill
When visiting Queens don't miss Anable Basin Sailing Bar & Grill, located just a few blocks from Gantry Plaza State Park.
This waterfront eatery features picnic favorites like hamburgers and hot dogs with a Balkan and Eastern European-inspired twist (kielbasa, anyone?).
The restaurant's large picnic tables and ample space make it perfect for groups wanting to eat with a beautiful vista.
12. Pair A Candlelit Dinner With A Cocktail — And A View!
Check out the fantastic view of Manhattan and Long Island City at Vista Sky Lounge.
Located atop the Vista LIC Hotel, BW Premier Collection, the spectacular views and romantic ambiance of this lounge make it a great spot for date night.
This is one of the most Instagrammable places in NYC!
View this post on Instagram
13. Travel NYC On A Budget Without Sacrificing Style
Looking for cheap things to do in NYC that are actually fun?
The Local Hostel, one of just a handful of hostels in New York City, has you covered.
This hostel features clean and sleek dorms and private rooms, a bar and cafe, and a rooftop with incredible views.
Need help capturing the best views in NYC — with you in the photos? Book a private NYC Photo Journey, a walking tour that includes photos of your group to keep. Or step your game up even further with an NYC Influencer Shoot. Email [email protected] with inquiries.
Beautiful NYC Views From Astoria & Ditmars
14. Take A Dip In New York City's Oldest & Largest Public Pool
This pool in Astoria Park also happens to be the one with the best view of Manhattan.
With great vistas of the skyline, the Triboro Bridge and the Hell Gate Bridge, this park is the perfect place to take in the city when you need a little break from the city.
View this post on Instagram
15. Savor The Flavors Of Japan Under The Stars
Stir-fried green tea soba, black pepper tuna salad, and fresh plates of sushi are just a few of the many delicious dishes served up at Luna Asian Bistro & Rooftop Lounge, which is also one of the most Instagram-worthy restaurants in NYC.
Located in the heart of Astoria, Luna's rooftop has some of the best views of the skyline from this Queens neighborhood.
16. Take In The Shoreline
Head further up the East River for stunning shoreline views at Ralph Demarco Park.
From here, take in the sights while strolling along the park's walking path or while lounging under a beautiful weeping willow.
Best Views Of NYC From Flushing
17. Give Yourself A Rooftop Tour Of Queens
You can do this right at A+ Roof Bar, located atop the Parc Hotel in Flushing.
Along with a menu of signature cocktails, A+ Roof Bar offers fantastic views of the Manhattan skyline as well as several Queens attractions like Citi Field.
Aviation nerds will also love watching the planes come and go from nearby LaGuardia Airport.
Stunning Views Of Manhattan From The Rockaways
18. Honor Victims Of September 11th In A Serene Space
Tribute Park is a serene spot in Rockaway Park with a more distant view of the Manhattan skyline.
The park features several monuments paying homage to the lives lost in the 9/11 attacks, including a beautiful mosaic centerpiece and cupola.
Take a moment of silence in remembrance in this calming outdoor space.
19. Bite In A Burger With A Cityscape
Enjoy a bayside burger and beer while watching the sunset over the skyline at The Wharf.
While you'll need a clear day to get a really good view of Manhattan, this spot will remind you that you don't have to go too far from the city to feel like you're a world away.
Take In Waterfront Views Of NYC
20. Hop On The NYC Ferry
The NYC Ferry offers one of the best waterfront views of NYC.
Plus, the ferry system has four stops that connect Queens to Manhattan and Brooklyn.
The fare is just $2.75 — the cost of a subway swipe — and refreshments are available onboard.
This includes alcohol, so it's almost like a budget-friendly New York cruise.
Need help capturing the best views in NYC — with you in the photos? Book a private NYC Photo Journey, a walking tour that includes photos of your group to keep. Or step your game up even further with an NYC Influencer Shoot. Email [email protected] with inquiries.
NYC Hotels With A View
Looking for a hotel in Queens with a view?
Here are some top picks, all featuring rooftop spaces worth the stay:
Also don't miss New York City's great self-contained stay options!
You can also view properties through this map:
NYC Tours With A View
If you want to book a tour that incorporates incredible NYC vistas, here are a few not-to-miss options:
In your opinion, what are the best views of NYC and the Manhattan skyline from Queens?
Enjoyed this post? Pin it for later! 🙂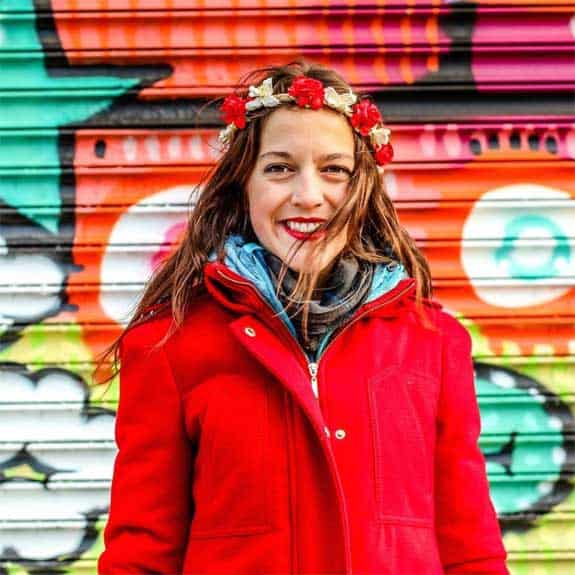 Hi, I'm Jessie on a journey!
I'm a conscious solo traveler on a mission to take you beyond the guidebook to inspire you to live your best life through travel. Come join me!
Want to live your best life through travel?
Subscribe for FREE access to my library of fun blogging worksheets and learn how to get paid to travel more!