32 Uniquely New York Experiences That Shouldn't Be Missed
By Charlotte Dow & Jessie Festa. This guide to unique places in NYC features affiliate links to trusted partners we think you'll love!
Uniquely New York isn't just a famous tongue twister. It's also the best way to describe the City That Never Sleeps.
From the skyscrapers of Manhattan to the shores of Queens, there are few places on earth quite like New York City.
The city's diversity makes it the perfect place to seek out new experiences of all kinds.
Moreover, the five boroughs are full of unique shops, parks, attractions, restaurants, and more that both visitors and locals will have to see to believe.
So, where do you start?
We've compiled a list of 32 uniquely New York experiences everyone should try, whether you're a first-time visitor or wondering what to do in NYC when you've done it all.
We're both local New Yorkers, and this list reflects some of the places we think make this city truly special.
The next time you think you've done everything there is to do in NYC, see if you've checked off some of the items on this list!
Short on time? Here is a snapshot of some of my favorite unique NYC experiences & tips:

🏨 Top-Rated New York Hotels:
–NoMo SoHo
–Arlo Williamsburg
–The Ludlow
➡️ Click here for a full list of NYC hotels!

🗺️ Unique New York Tours:
–New York Catacombs by Candlelight
–Brooklyn Graffiti Lesson
–Ghosts of Greenwich Village Private Walking Tour
➡️ Click here for a full list of NYC tours!

📸 Need help capturing your uniquely New York experiences — with you in the photos? Book one of our Private Photo Journeys, a walking tour that includes photos of your group to keep. Or step your game up even further with an NYC Influencer Shoot or Professional NYC Photoshoot. Email [email protected] with inquiries.

💸 Save Money:
–New York CityPASS
–New York Pass
–Go City: New York Explorer Pass

🥘 Cooking Classes: EatWith

🏥 Travel Insurance: SafetyWing

📞 Staying Connected:Airalo eSIM

❤️ Safety Essentials:
– She's Birdie Personal Safety Alarm
–Clever Travel Companion Pickpocket-Proof Garments 
–Speakeasy Travel Supply Hidden Pocket Scarves
Unique NYC Activities Guide
Looking for unique things to do in NYC?
Then you won't want to miss my printable local NYC guide!
Just a few highlights from the guide include:
Where to get creative java drinks — in beautiful Instagrammable cafes in NYC, too
How to discover unique opportunities for exploring nature in New York City
Cool NYC experiences and ways to get off-the-beaten-track to explore a side of the city many tourists miss
Once you've grabbed the guide, keep reading to discover truly fun experiences and unique places in NYC! Most of these recommendations are fun whether you're traveling in a group or are on a solo trip to NYC.
Unique New York Experiences Citywide
1. Book a private photo tour or custom shoot
Shameless plug! I (Jessie) own a photo experience company called NYC Photo Journeys that offers private NYC photo tours, professional NYC photo shoots, and private NYC influencer shoots — all of which include gorgeous photos of your group!
For the tours, you pick a route and get a tour led by a certified guide and photographer, leaving with professional photos from the day to keep.
With the photo shoots, we'll go over exactly what you're looking for to come up with a concept and locations that bring your vision to life. This is one of the best experiences in New York if you want to go home with epic photos of your memories while visiting fun spots in NYC.
Below is a shot from a recent Influencer Shoot. You can see more examples here on Instagram.
Uniquely New York Experiences In Manhattan
2. Relax at one of the oldest spas in the country, the Russian and Turkish Baths.
Looking for cool experiences in NYC? Well, this one can actually get pretty hot!
New Yorkers of all backgrounds have stopped by the Russian and Turkish Baths to sweat it out in the saunas, take a dip in the cold plunge pool, or indulge in a massage since the facility opened in 1892.
At this only in NYC attraction, you can experience the full Russian or Turkish bathing ritual or just catch some rays on the roof deck.
Don't forget to stop by the restaurant before you leave for some delicious authentic Russian dishes!
3. Go for a hike without ever leaving Manhattan in Fort Tryon Park.
Located in Upper Manhattan, Fort Tryon Park is full of great attractions — like The Met Cloisters, a reproduction of a medieval monastery that houses the Metropolitan Museum of Art's medieval art collection.
The park is also home to tons of hiking and walking trails that range in difficulty and tons feature trees and plants native to Manhattan. When it comes to NYC unique experiences in nature, this is one of the best options.
Additionally, the park's west side offers incredible views of the Hudson River, the George Washington Bridge, and the New Jersey Palisades across the water. It's truly one of the best views in NYC for free.
As you'll see in the video above, you'll also find plenty of cheeky signs from the Parks Department along the trail that will put a smile on your face!
Exploring Fort Tryon Park is truly one of the top things to do in Upper Manhattan!
4. Tour the site of New York's first subway ride at City Hall Station.
Though City Hall Station is no longer an official stop on the New York City Subway, it's still a popular destination for both tourists and locals.
Built in the early 1900s, the station is a well-preserved example of the subway system's early days, with vaulted ceilings, chandeliers, and other sights you won't usually see in today's stations.
The New York Transit Museum offers tours of the station throughout the year that delve into the architecture and history of the station. But act fast — once tickets go on sale, they always sell out quickly!
5. Explore one of the world's most famous collections of information at the New York Public Library.
Though the New York Public Library has tons of locations throughout the city, the Stephen A. Schwarzman Building on Fifth Avenue is the grandest of them all.
The building is one of the best-preserved examples of the Beaux-Arts style of design and features tons of gorgeous rooms to explore.
You can also peruse rotating exhibits featuring highlights from the library's vast collection; past exhibits have featured Broadway producer and director Harold Prince, the original Winnie the Pooh characters, and artifacts from the Stonewall Uprising.
By the way, if you want to continue exploring beautiful views and buildings, check out these top-rated NYC architectural tours and Manhattan skyline tours!
6. Explore the hidden treasures of Central Park.
One of the main reasons why NYC is so famous is it's home to the stunning Central Park, the most filmed location in the world. And whether you're planning an NYC itinerary for 4 days or just a day trip, visiting is an absolute must.
Manhattan's most iconic urban oasis is full of unique sights, like an ancient Egyptian obelisk (Cleopatra's Needle) and Belvedere Castle, a picturesque Gothic tower overlooking a pond.
The Northern half of Central Park also has some of the best hiking trails in Manhattan — including wooded areas designed to give visitors a taste of the outdoors without having to leave the city.
Check out the video above to see some of the waterfalls, trees, and ravines you'll find on a hike through the park. Visiting is truly one of the best things to do on the Upper East Side and Upper West Side!
It'll become clear why this is a top NYC Photo Journey location request!
7. Share some secrets at the Grand Central Terminal Whispering Gallery.
Located just off the Oyster Bar, this hall features acoustic arches that carry even the softest sounds over the hum of one of America's busiest train stations.
Here, you and a friend can stand on opposite sides of the arch and share stories at a whisper from several feet away.
This feature is just one of the many things that makes Grand Central one of the most unique places in New York.
Afterward, grab an Old Fashioned cocktail at The Campbell Apartment or learn about the secrets of Grand Central on a walking tour.
8. Stand at the crossroads of the world at Times Square.
Times Square is one of New York's most iconic sights and a top Manhattan travel highlight. There's truly nothing else like it on earth!
From billboards that span several stories to exciting street performances to novelty shops selling classic New York souvenirs, you can really feel the energy of this bustling city throughout this four block stretch.
There are even things to do in Times Square that locals would approve of, like having a craft cocktail at The Rum House or taking a tour of the Broadway Theaters and Times Square with a theater professional (details here).
It's also undoubtedly one of the best places in NYC to take pictures thanks to all of the colorful signs and lights.
9. Explore an often forgotten part of New York history at the Roosevelt Island Smallpox Hospital Ruins.
Before it was home to the iconic red tram and luxury high rises, Roosevelt Island helped protect New York from a major smallpox outbreak by providing a convenient space away from the general population for smallpox sufferers to get treatment.
The hospital, built in 1856, treated roughly 7,000 patients a year but eventually fell out of use in the 1950s once the virus became less common.
Today, you can explore the ruins of this Gothic-style building at Franklin D. Roosevelt Four Freedoms State Park, located on the island's southern tip.
10. Have a drink with the ghost of writer Dylan Thomas at the White Horse Tavern.
Talk about unconventional things to do in New York!
In the 1950s and 60s, the White Horse Tavern — which boasts being the second-oldest continuously run tavern in New York City — was one of the top hangouts for the artists, writers, musicians, and activists who became icons of the era.
Welsh poet Dylan Thomas was a White Horse regular, and the pub was the last place Thomas was seen before his untimely death.
It's rumored that his ghost still drops by the bar from time to time.
Haunted or not, the bar is one of the last relics of the Village's bohemian age and definitely worth a visit for literature buffs in the city. Visiting is truly one of the most interesting things to do in the West Village!
11. Enjoy the best blooms in Greenwich Village at the Jefferson Market Garden.
Located next to the historic Jefferson Market Library, this tiny oasis is home to tons of gorgeous blooms native to the New York area.
The garden really comes alive in spring, with colorful cherry blossoms, Japanese roses, and tulips on display.
This lesser-known garden is the perfect place to find some respite from the NYC hustle.
12. Drink like the Founding Fathers at Fraunces Tavern in the Financial District.
During the Revolutionary War, Lower Manhattan was the heart of the city, and Fraunces Tavern was the heart of the community.
It was here that George Washington celebrated the retreat of the British Army with his officers in 1783.
Today, the building houses a museum featuring Revolutionary War artifacts as well as a working tavern with an extensive beer list and menu.
Pro tip:
You can visit Fraunces Tavern on your own or on an Alexander Hamilton's Haunts and Hangouts Tour.
13. Discover a whole world under the city at the 14th Street/8th Avenue subway station.
As you walk around the 14th Street/8th Avenue subway station, you'll notice little statues portraying whimsical scenes of people and animals getting into various hijinks.
The Life Underground sculpture series by Tom Otterness is one of the most delightful sights on the subway and has been entertaining commuters since 2001.
See if you can spot all 130 statues hidden on staircases, benches, and other nooks and crannies throughout the station.
If you're looking for cheap things to do in NYC, this is certainly a quirky and fun way to spend some time!
14. Tour a classic 19th century New York home at the Merchant's House Museum.
Located just off Astor Place, the Merchant's House Museum is one of the city's few historic house museums and gives visitors a taste of upper-class life in the 19th century.
Here, you can tour the Tredwell family's lush bedrooms and parlors, explore the lives of the family's Irish servants, and learn a bit about the once elite Bond Street area.
It's very interesting, and also one of the top things to do in New York on rainy days.
15. Sing along to your favorite show tunes at Marie's Crisis.
There are few nightlife venues in the world like Marie's Crisis, a tiny piano bar tucked into a basement on a West Village side street.
Here, you can sing some of Broadway's most iconic tunes with a room full of fellow musical theatre nerds who (usually) won't judge you if you don't know all the words.
Want to hear a specific song?
Drop some cash in the tip jar!
16. Have a unique shopping experience in SoHo at the Evolution Store.
There are so many unique things to do in SoHo, one of which is shopping at the Evolution Store.
Among the neighborhood's trendy galleries and hip New York clothing stores is this establishment, which sells interesting natural collectibles like framed butterflies, animal skulls, and tribal art.
While visiting is one of the more odd things to do in NYC, the collections aren't just there to get a rise out of people.
In fact, staff at the Evolution Store are extremely knowledgeable about everything the sell, making the experience similar to visiting a museum.
Uniquely New York Experiences In Brooklyn
17. Have a truly unique beach day at Coney Island.
Coney Island is something every visitor to New York (and every New Yorker!) should experience at least once. No Brooklyn travel guide would be complete without mentioning it.
From the legendary Cyclone roller coaster to the out-of-this-world performances at the Circus Sideshow, this Brooklyn beach is home to plenty of unique fun things to do in NYC that you won't find elsewhere.
Coney Island is even home to its own brewery, aptly named Coney Island Brewery. Enjoy a pint in the sun at the brewery's beer garden, located right next to MCU Park.
Or track down a Mr. Softee truck for one of New York's most famous ice cream treats!
18. Explore quirky New York history at the City Reliquary.
There are many unique things to do in Williamsburg, Brooklyn — one of which is visiting the City Reliquary.
First of all, their permanent collection is intriguing, showcasing items like L-train paint fragments, a "very old shovel," horse bones, and a decaying birthday cake.
Moreover, they celebrate local culture through rotating exhibits on themes like milk history and farmer struggles, pizza and donut heritage, and candy manufactured in NYC.
This is definitely one of the more fun and unusual things to do in New York State.
19. Walk or bike over the East River via the Brooklyn Bridge.
Offering incredible views of Manhattan and Brooklyn, a journey across the Brooklyn Bridge is a quintessential New York experience.
How often can you say you've stood on one of the most famous bridges in the world?
Plus, the skyline views are incredible. Hey, there is a reason it's a top destination request on an NYC photo tour.
Pro tip: Walk from Lower Manhattan (Manhattan) to DUMBO (Brooklyn) over the Brooklyn Bridge, spend some time exploring this hip neighborhood, and then head from DUMBO to Chinatown by walking the Manhattan Bridge.
20. Dance the night away at House of Yes.
House of Yes, one of the top places to visit in Bushwick, is the jewel of the neighborhood's club scene, offering wild events and shows almost every night for every kind of party-goer.
From breathtaking acrobatic shows to late-night glitter-fueled dance parties, this eclectic venue has something for everyone.
Don't forget to get a selfie in the club's disco-ball inspired bathrooms!
Visiting House of Yes is certainly one of the most unusual and different things to do in NYC and an experience you'll likely never forget!
21. Stroll through the final resting places of some of New York's most famous residents at Green-Wood Cemetery.
Located just a few blocks from Prospect Park, Green-Wood Cemetery boasts iconic New Yorkers like Jean-Michel Basquiat, Leonard Bernstein, and Horace Greeley as permanent residents.
History nerds can enjoy a trolley tour through the grounds and learn about the cemetery's history and art from experts.
Green-Wood is also a great place to reconnect with nature.
In fact, the cemetery is also an arboretum featuring 690 unique species of trees!
22. Travel the world through food while supporting immigrants through League of Kitchens.
League of Kitchens actually has classes throughout the boroughs, though Jessie specifically took a cooking class in Brooklyn with a woman from Uzbekistan named Damira.
It's truly an immersive and delicious cultural experience, with hosts sharing cooking and culture from Afghanistan, Argentina, Bangladesh, India, Greece, Iran, and more. Definitely one of the coolest experiences in NYC if you love food and want to learn about another culture.
23. Attend a wine tasting at Rooftop Reds, a truly unique vineyard.
Where do you put a vineyard in an urban jungle like New York City? On a roof, of course!
Rooftop Reds is "the world's first commercially-viable urban rooftop vineyard" and grows several varieties of grapes right on a rooftop in the Brooklyn Navy Yard.
Sip some of their delicious wine among the vines in their tasting area, or attend a seasonal event like rooftop yoga or movie night!
Even if you're not a big wine connoisseur, you'll definitely want to stop by to check out the vineyard's incredible views of the city.
Uniquely New York Experiences In Queens
24. Savor the cultural diversity of NYC at the Ganesh Temple of Queens.
There are unique things to do in New York that are also spiritual — like visiting the Ganesh Temple, one of the most important places in Queens.
Located in Flushing, it's the first authentic Hindu temple built in North America and is seen as one of the most important temples in the West.
The temple acts as an important community center for New York's Hindu community and visitors are always welcome — though note that there is a dress code and photography of the temple's shrines is prohibited.
One of the temple's biggest draws is probably its canteen, which serves some of the best South Indian food in the city.
25. See all five boroughs in one room at the Panorama of the City of New York exhibit at the Queens Museum.
Recently featured in the Netflix series Pretend It's a City starring iconic New Yorker Fran Lebowitz, this miniature model of New York City at the Queens Museum was originally built for the 1964 World's Fair.
The sprawling model has been updated over the years to reflect changes to the cityscape but really gives you a sense of the sheer size of the five boroughs.
In a way, you'll feel like you're taking a helicopter ride over the city without ever leaving the ground.
26. Check out some of the most impressive street art in the city at the Welling Court Mural Project.
Talk about Instagrammable places in NYC!
This colorful stretch at the Welling Court Mural Project in Astoria features work from 150 mural artists from around the world and really shows off the creativity of the city.
The murals are also very popular backdrops for NYC photoshoots, so bring your camera or hire a pro and show off your #OOTD!
The best part?
It's totally free to explore!
27. Tour one of New York City's oldest working factories, the Steinway Piano Factory.
Located in Astoria, workers at this factory have been making some of the most sought-after pianos in the world by hand since the late 19th century.
Music lovers will thrill at seeing these gorgeous pianos come to life and marvel at the care and skill put into creating each product.
Uniquely New York Experiences In The Bronx
28. Sample authentic Italian food on Arthur Avenue.
The Bronx's Little Italy, located in the borough's Belmont section, is home to some of the city's best Italian cuisine and some of its most colorful markets.
Pop into the Arthur Avenue Retail Market to stock up on some homemade pastries, sausage, pasta, and more.
You'll definitely impress your guests at your next Italian-themed dinner party!
Pro tip:
A food tour of this neighborhood — like this one — is highly recommended when visiting The Bronx!
29. Take a trip back to the 19th century at the Bartow-Pell Mansion Museum.
Located in Pelham Bay Park, this Greek revival style mansion was once the home of the wealthy Pell and Bartow family for many years.
Today, the house features incredible art and well-preserved examples of interior design from the mansion's heyday.
Uniquely New York Experiences In Staten Island
30. Feast on some of grandma's cooking from around the world at Enoteca Maria.
Love unique and quirky NYC restaurants? This Staten Island Italian eatery hosts a regular series called "Nonnas of the World," where culinary-inclined grandmothers from different cultures share some of their top recipes with the restaurant's clientele.
Though the restaurant specializes in Italian fare, the nonnas have cooked up roti, seafood curries, and all kinds of dishes to the delight of patrons.
Can't enjoy the nonnas' cooking in person? Enoteca Maria now offers some of their most famous sauces to go!
31. Go seal-watching on Swinburne Island.
Did you know there are islands in New York City? Actually, NYC is home to tons of uninhabited or abandoned little islands that have become sanctuaries for local wildlife.
Swinburne Island, located off of Staten Island's eastern shore, has become a haven for seals, and while visitors are not allowed on the island, a seal-watching tour will take you close enough to get some great photos.
Check out American Princess Cruises to learn just how much marine wildlife you can see within city limits.
In our opinion, this is one of the most special and unique things to do in New York City that many people don't even know is possible!
32. Discover the work of a trailblazing early photographer at the Alice Austen House.
For many visitors, this is part of New York unseen culture.
A native of Staten Island, Alice Austen was one of the first to elevate photography to high art capturing everyday life through the eyes of a lesbian woman in the early 20th century.
Today her home is a museum dedicated to preserving her legacy and celebrating the work of photographers throughout the ages.
Need help capturing your uniquely New York experiences — with you in the photos? Book one of our Private Photo Journeys, a walking tour that includes photos of your group to keep. Or step your game up even further with an NYC Influencer Shoot or Professional NYC Photoshoot. Email [email protected] with inquiries.
NYC Travel Insurance
When visiting NYC — or anywhere else in the world — make sure to get travel insurance.
In my opinion, the best travel medical insurance for travelers is SafetyWing as they've got a large network and offer both short-term and long-term coverage — including coverage if you're traveling for months as well as limited coverage in your home country.
Additionally, SafetyWing is budget-friendly and offers $250,000 worth of coverage with just one low overall deductible of $250.
Click my referral link here to price out travel insurance for your trip in just a few clicks.
Best Hotels In NYC
Looking to stay overnight in NYC? There are so many incredible hotels, like NoMo SoHo, Arlo Williamsburg, and The Ludlow.
Click here for a full list of New York City hotels!
Prefer self-contained stays?
Click here to check out unique local rentals!
You can also use this map to search for local stays. It is set to SoHo, but you can easily change it to your specific NYC neighborhood.
Like the idea of hotel living? There are also numerous properties that allow you to live in a hotel full time in NYC with extended stay offerings.
Top NYC Tours
Check out these fun tours in New York City from my affiliate partner, Viator:
Click here for a full list of NYC tours.
You can also book a private NYC Photo Journey with Jessie.
The experience entails exploring New York with a licensed guide and leaving with professional photos of your group to keep!
Unique Experiences in NYC FAQs
Trying to decide on some special things to do in New York? These questions might give you some clarity!
Q) What are some fun experiences in NYC?
Some unique experiences in New York that are also fun include a beach day at Coney Island, walking over the East River via the Brooklyn Bridge, dancing at the House of Yes, and taking a local cooking class.
Q) What are the best experiences in NYC for a first-time visitor?
Some of the best NYC experiences include a visit the to New York Public Library, hiking in Central Park, standing at the crossroads of Times Square, and visiting the Whispering Gallery at Grand Central Station.
Q) What are some unique things to do in Manhattan?
Manhattan is home to many of the best New York experiences, including the Russian and Turkish baths, Fort Tryon Park, the first subway stop at City Hall Station, and the major NYC attractions of Grand Central Station, Central Park, and the New York Public Library.
What are some of your favorite uniquely New York experiences?
Enjoyed this post on unique NYC experiences? Pin it for later!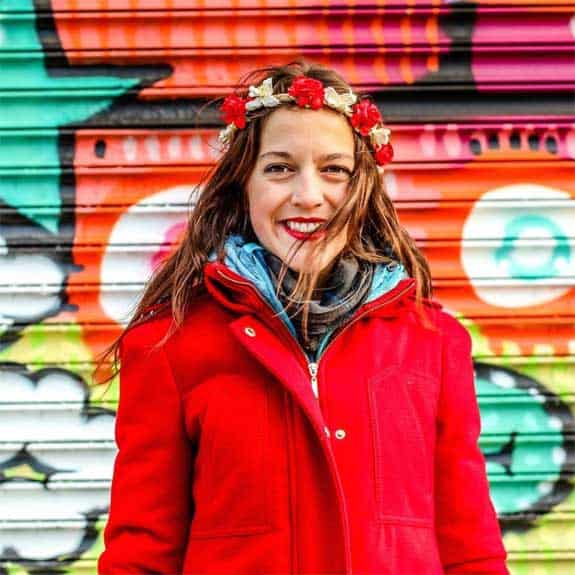 Hi, I'm Jessie on a journey!
I'm a conscious solo traveler on a mission to take you beyond the guidebook to inspire you to live your best life through travel. Come join me!
Want to live your best life through travel?
Subscribe for FREE access to my library of fun blogging worksheets and learn how to get paid to travel more!