31 Best Gifts For Solo Female Travelers
By Jessie Festa. This list of gifts for the traveling woman contains affiliate links to trusted partners. I only recommend products I truly think you'll love!
Looking for the best gifts for solo female travelers? Or maybe you're in need of inspiration for gifts for women who travel?
You've come to the right place!
As a solo traveler myself, I know exactly what ladies who travel alone need to make their journeys safe, fun, and memorable. I used this first-hand knowledge to create the below list of road test edproducts specifically curated with traveling women in mind.
From safety essentials to stylist travel garments to games that help you make friends on the road, here is a list of the best women's travel gifts.
Free Solo Female Travel E-Course
But first, before we dive into our list of best travel gifts for women, here is an invite to grab a seat in my free Savvy Solo Traveler E-Course.
The 6-day course is designed to help you feel confident about booking your first solo trip and exploring the world alone.
Lessons include:
Common solo travel fears and how to overcome them
How to choose your perfect solo trip
How to tell loved ones you're hitting the road solo
Mentally preparing for your solo journey without losing your mind
Essential steps for staying safe on a solo trip
How to take amazing solo selfies
Once you've grabbed your seat, read on to dive into our solo female travel guide sharing amazing gifts for the woman traveler.
Best Gifts For Solo Female Travelers & Women Who Travel
One item every solo traveler needs is luggage.
Luckily, Nomad Lane's Bento Bag is the perfect weekend companion; compact, but with all of the right compartments to help keep your favorite solo female traveler organized.
Those who fly carry-on only know that one of the smartest things you can do to maximize space is to swap a small purse for a larger personal item that still fits under the seat – which the Bento Bag does.
A few of the bag's many handy features include:
Padded laptop sleeve
24 liters of space to fit clothing, shoes, toiletries, tech gear, and more
Lightweight at less than 2.9 pounds
Vegan leather carrying straps that clasp together for easy carrying
Organizational features like numerous compartments as well as a key leash, water bottle loop, and two top pockets for easy access to your most used essentials (never scramble for your passport again!)
Something else neat: the bag looks somewhat like a briefcase but packs like a suitcase, allowing you to easily move from the boarding gate to the boardroom for those traveling for work.
➡️ Click here for full information and pricing.
When traveling, it's not easy to find jeans that blend style, comfort, and functionality. Luckily, Aviator does seamlessly.
First of all, these jeans are so comfortable you could easily wander the streets of a new city or sit on a plane for hours without needing to tug and pull.
You've also got a few styles to choose from, all of which come with free hemming:
Relaxed Boyfriend Style, which is slightly oversized to offer a little extra room in the waist and the legs. These come in your choice of Classic Indigo or Faded Indigo and have a stonewashed look.
Relaxed Straight Style, a high-waist jean in Midnight Indigo made from 100% cotton with a straighter leg and just a little bit of stretch.
They also have a Slim Straight Style coming soon.
This all being said, here is what truly makes Aviator jeans one of the best gifts for solo travelers:
All styles feature two deep front pockets as well as two back pockets that contain interior hidden zipper pockets. These are especially helpful for hiding valuables like cash and credit cards.
Bonus:
These jeans are made in the USA!
I personally own a few pairs of Aviator jeans, and can honestly say they are the most comfortable jeans I've ever owned. Unlike many other jeans, they actually stay in place, and there is a bit more room in the leg. They're also incredibly versatile, perfect for pairing with a chill t-shirt or a cute top for a night out.
➡️ Click here for full information & pricing.
Many newbie solo travelers wonder how to travel alone successfully. The number one priority for any solo female traveler should be safety.
One of the simplest yet most effective gifts you can give to someone is this pocket-sized alarm, made for women by women.
They offer two powerful keychain alarms for women who travel:
The Original Birdie, which features a 130db alarm and flashing strobe light designed to deter an attack, and the Birdie+, which also includes 24/7 live support.
These personal alarms are great for scaring off attackers — both humans and bears — and alerting people when you accidentally lock yourself in the bathroom (yep, been there).
Bonus: a percentage of your purchase gets donated to organizations supporting women's safety, shelter, and health.
If you're looking for safety gifts for women, this item is a to pick!
➡️ Click here for full information & pricing.
Often, the best gift for a traveling woman is one that will help to keep them safe on the road.
Carrying a purse can be risky for solo female travelers.
An easier solution is packing pickpocket-proof garments, which feature hidden pockets so thieves never even know they're carrying valuables.
They offer tank tops, undergarments, t-shirts, hoodies and more!
➡️ Click here for full information & pricing.
Keeping on the topic of solo travel safety, Speakeasy Travel Supply makes hidden-pocket scarves large enough to hide credit cards, passports and more.
The pockets zip shut, ensuring valuables don't fall out.
Not only are these handmade scarves fashionable, but they come in styles for all four seasons.
Whether you're going to sunny Thailand or chilly Alaska, there's a hidden pocket scarf for you.
If you're looking for the best gifts for someone traveling — especially a female exploring solo — this is it.
➡️ Click here for full information & pricing.
Every solo female traveler needs a good travel pillow, which is where Honeydew Sleep's Scrumptious Travel Pillow comes in.
Say goodbye to awkward neck rings, as this ergonomic pillow helps you comfortably get some shut eye on the road – silky pillowcase included!
In terms of size, it's 21" x 12" to give you more room to lay, though it also packs down into a carrying pouch to easily fit in your carry-on. A sleek strap on the pouch also attaches to the handle of your suitcase for hands-free travel through the airport.
Of course, women traveling solo have different preferences when it comes to their pillows. That is why the Scrumptious Travel Pillow features a hidden zipper so you can add and remove fill as needed. Actually Honeydew offers free fill for life in case you need more sent to you!
These pillows are made in the USA and also include fun packaging, with entertaining comics taking the place of plain text instructions.
➡️ Click here for full information & pricing.
If the past few years have taught us anything it's the importance of being prepared.
Which is where the Jase Case comes in. This case is one of my favorite travel safety essentials, as it's a travel pouch containing five life-saving medications that can help solo travelers be medically prepared in almost any situation.
The case also comes with a manual on how to use each medication to treat a wide variety of ailments, from pneumonia to animal bites to traveler's diarrhea and beyond.
This is the perfect practical gift for the traveler woman!
➡️ Click here for full information and pricing. Get $10 off with code JESSIEONAJOURNEY10.
Looking for practical yet stylish gifts for solo female travelers? The durable BURGA water bottle is a great option.
Not only do these reusable bottles help you curb plastic use — which can be a huge issue when traveling — but they can help you save money and time on the road as you're not constantly needing to find a shop to buy water.
Additionally, they work well whether you're carrying coffee, water, or cocktails, as these bottles keep your steamy beverages hot for up to 12 hours and your chilled drinks cold for 24 hours. This is thanks to their innovative double layer stainless steel design featuring a vacuum-sealed space.
Plus, the BURGA comes in a variety of cute patterns, like the Almond Latte print shown in the image above.
Another perk for solo travelers is that the bottle is slim and lightweight to easily fit in your bag — and it's leak-proof, so no spillage. It also comes with a silicon loop if you'd prefer to attach it to a bag.
➡️ Click here for full information and pricing.
Looking for budget-friendly gifts for women who travel? Rawlogy's Cork Massage Balls are the perfect pick!
Let's face it: while travel can be a lot of fun, heavy backpacks, uncomfortable bus seats, and long days of walking and sightseeing can lead to achy feet, back pain, and more.
Luckily, these portable massage balls relieve pain and tension — no batteries required.
The balls are made from 100% cork and come in a variety of sizes:
Micros (gumball sized)
Mini (golf ball sized)
Macro (lacrosse ball sized)
All easily fit into a purse and can provide relief on-the-go with a simple roll. Personally, I love rolling the macro balls on my shoulders and upper back and the micro cork balls on my arch. Both feel amazing after a day of exploring.
Not sure how to use a massage ball? Their recyclable packaging features a QR code that will take you to an easy-to-follow quick start guide with video instruction.
➡️ Click here for full information and pricing.
Instead of using cheap hotel shampoo, give your favorite solo traveler the gift of luxury haircare with a travel set from Strength x Beauty. It's perfect for anyone who goes on solo beach trips!
This conscious brand creates vegan hair and body products that are sulfate and paraben-free, with all products available in your choice of deluxe 3.4 oz. or TSA-friendly travel size.
And no matter what your hair type is — curly, silky, thin, thick, or something else — they've got a product for you.
Opt for their Beachy Kit if you're craving beach waves with some body, the Smoothing Kit if you've recently had a straightening treatment, or the Bodifying Smoothing Kit to prevent breakage and hold in shine. These are just a few of their many options.
Each kit comes in a waterproof, zippered pouch that makes for the perfect beauty bag.
➡️ Click here for full information and pricing.
The Kinflyte Freedom Posture Bra is hands down the most comfortable bra I've ever worn.
Honestly, as soon as I put it on I felt a change in my entire body.
Let's face it:
Most bras don't give women the support they need, sometimes being so uncomfortable that you can't concentrate on anything else aside for that cup wire poking you or that bra strap falling down.
Kinflyte's Freedom Posture Bra is meant for everyday wear as well as an active lifestyle.
In fact, my Kinflyte Bra has become my new favorite yoga top, especially as the fabric is moisture-wicking, anti-odor and antimicrobial. If you'll be outside, it even has UPF50 UV protection.
Additionally, the brand is passionate about inclusivity and offers sizes XXS-4XL. You can get supporting bra band sizes 28-52 and cup sizes A-G.
If you're looking for gifts for solo female travelers — or honestly anyone in your life who wears a bra — this is a must-purchase.
➡️ Click here for full pricing and information.
Kenny Flowers is a fashion brand that takes the "dad in the vintage Hawaiian shirt" idea and gives it a modern twist.
Whether your solo female traveler is trying to take their Instagram feed to the next level or they just love chic attire, these garments do the job.
Especially their 100% rayon kimonos, made in Bali.
Kenny Flowers was kind enough to send me their "Tahiti Teal" kimono to try, and I'm already planning my next beach vacation — just to be able to show it off.
While the kimonos are ideal for lounging in the hotel room, they also make for the perfect beach coverup or even a top with jeans.
➡️ Click here for full information & pricing.
Active female travelers, particularly those who ride bikes, will love the Title Nine Dream Dress for commuters — which goes from dress to romper in a snap, literally.
Along with being functional, it's also extremely comfortable, made with soft wrinkle-resistant Buttah™ fabric featuring 90% polyester and 10% spandex.
It's the type of dress you can wear for any occasion — whether you're heading out for date night, city sightseeing, cycling around the countryside or simply finding an Instagrammable cafe in NYC (the fun color will look gorgeous on your feed!).
➡️ Click here for full information & pricing.
Silk pillowcases, which are breathable and non-irritating, have been shown to be beneficial for skin and hair — even clearing up breakouts for many sleepers who make the switch.
But when we travel, we have little say over what we lay our heads on.
The solution:
Pack a Celestial Silk Pillowcase for your next trip.
The 100% pure Mulberry Silk pillowcase takes up almost no space in your bag and can help regulate your temperate when you sleep. Hello, cool side of the pillow.
Hey, humans spend about 1/3 of their lives sleeping, so you might as well invest in a product that can enhance the experience.
You can also feel good that Celestial Silk donates 10% of proceeds each month to charity – typically split between Earth Justice, KARM – specifically women's shelters — and the World Wildlife Fund.
Moreover, they give pillowcases to patients going through chemotherapy as part of the HairToStay program.
➡️ Click here for full information and pricing.
Talk about a heavenly experience! This is one of the best gifts for solo travelers who like pampering themselves.
Whether your giftee is a solo traveler who needs to practice self-care on the road or they need to freshen up after an overnight flight, these gold under-eye masks can help.
They contain gold, which helps to improve circulation for firmer skim, while anti-inflammatory plum seed extract offers an antioxidant boost. Other active ingredients include hyaluronic acid for hydration and plumping as well as retinol for smoothing fine lines.
The best part, though?
They stay on your under eyes so you can move around freely.
Pro tip:
Put them in the fridge first for a soothing mini spa experience — no tipping required!
➡️ Click here for full information and pricing.
Maybe you've heard before that different stones have different effects, and that goes for your skin, as well.
Rose quartz is known for its calming, heart-opening qualities, leading to inner-healing. Because the stone is associated with love, it also has the power to unclog the heart chakra and help you let go of stress and tension that can lead to fine lines and wrinkles.
Plus, as travelers who go from plane to bus to city to tour and beyond, our skin can pick up a lot of toxins, which the roller can help eliminate as it assists with lymph drainage.
I love the cooling effect of the roller, and how it helps deeper the effects of my night serum, providing an immediate glow as it circulates blood flow and stimulates muscles.
Note that the roller has a larger stone on one end as well as a more petite stone on the other — great for reducing puffiness on smaller areas like under the eyes (#BeatJetlag).
The set also comes with a Gua Sha, which you can use to gently scrape skin for improved blood circulation and reduced inflammation.
Basically, you'll have the necessary tools to give yourself a facial massage that will help you look and feel good on your trip.
➡️ Click here for full pricing and information.
Journaling is a ritual that is part of my daily mindful morning routine, both at home and on the road.
While in the past I've used blank notebooks to write down my thoughts, sometimes I would find myself staring at a blank page for 15 minutes before deciding what to write.
Not with Silk + Sonder monthly journals, though.
These beautiful journals mix productivity with mindfulness and self-care, allowing you to write out your monthly goals, track habits and moods, and even keep a daily "Surrender Log" — something I'd never heard of, but am now obsessed with. Actually, I've learned a lot of new journaling techniques from this fun subscription.
You can purchase a month-to-month subscription or an annual subscription to get a new journal with fresh prompts and designs every month!
➡️ Click here for full pricing and information.
For solo female travelers that like to pack light, reversible clothing can be an invaluable asset.
This is where Wolven's Reversible Collection comes in. Made with sustainability in mind and with bold and beautiful patterns, you'll certainly make a statement — and an impact.
Along with their products being climate neutral and made with recycled PET plastics, the company is a member of 1% For The Planet, meaning that they donate at least 1% of their annual sales to environmental causes.
Love a deal?
Get 20% off with code "EPICUREANDCULTURE" (cannot be combined with another sale or discount).
➡️ Click here for full information and pricing.
For the sustainably-minded solo traveler, consider gifting an item from Wowe Lifestyle, a shop selling environmentally-friendly products like bamboo toothbrushes, reusable straws, and eco-friendly razors — all of which make for great travel essentials that are also good for the planet.
Don't miss the chance to fill your giftee's toiletry bag with items they'll feel good about using.
➡️ Click here for full information and pricing. Use code JOURNEY5 for 10% off!
As global citizens exploring the world, it's important that we aim to leave a positive impact on the places we visit.
This includes working to travel plastic-free and reduce waste.
Luckily, Petit Vour makes this easy for solo female travelers with their zero-waste beauty collection, which showcases everything from probiotic face polish to brow balm to lipstick crayons and beyond!
Top pick:
The natural shampoo and conditioner bars, which are great for carry-on travel!
➡️ Click here for full information and pricing.
For those times when the solo female traveler in your life can't actually travel, you can bring the road to her — through food!
The Chef & The Dish offers virtual cooking classes led by chefs from around the world.
In fact, students can learn how to make Brazilian fish stew, Turkish baklava and böreks, Thai casheew chicken and tom yum soup, and more!
And as they offer gift cards, you don't need to guess what type of meal your giftee might want to make.
➡️ Click here for full information and pricing.
Stylish and functional = a solo female traveler's dream.
This has easily become my favorite of all the sweaters I own; a thick cozy pullover with a cute polka-dotted pattern.
But that's not all.
It's also technologically-advanced, using 100% ethically-sourced merino wool to help regulate body temperate and keep the garment odor-free.
Wear while exploring nature, city sightseeing or to your next holiday party.
➡️ Click here for full information and pricing.
Del Dia refers to Cotopaxi's collection of bags that come in fun colors and unique designs, sustainably crafted from repurposed fabric — specifically excess materials from other companies' productions.
This means that by purchasing a Del Dia bag you're also helping to keep waste out of landfills.
There are loads of sizes to choose from, whether you want smaller chalk bags and 3L fanny packs or larger backpacks, totes and duffle bags.
I personally have the Allpa 35L Backpack, a carry-on sized bag that opens like a suitcase and features smart theft-proof zippers, a rain cover, separate laptop and tablet sleeves, adjustable hip and chest straps, a ventilated back to help keep you cool, loads of storage compartments and pockets — the largest of which has cinch straps to help keep things in place — and more.
One really handy feature:
You can tuck away the straps to turn the backpack into a briefcase with a handle strap.
Choose your own colors or opt for Cotopaxi's "Surprise Me" option.
➡️ Click here for full information and pricing.
This release from the travel publishing company is a collection of tips and advice from their expert authors.
The paperback is packed with practical advice and real-life tales from the road by Lonely Planet writers.
Additionally, the book features "10 Best Places" lists relating to food, adventure, nightlife, culture and more.
➡️ Click here for full information & pricing.
Let's talk solo female travel gadgets!
It's no fun when the phone dies just as your giftee is about to take that Instagram photo. Or, even worse, when they're lost or their rental car breaks down.
Solo travelers especially need to take steps to stay safe, and the Boosa Macro M1 Power Bank can help.
How?
Well, first of all, it's a 10000 mAh power bank that can charge an iPhone 8 over 3.5 times — as in, 50+ hours of usage!
It's also slim and stylish, easily fitting into a pocket, purse or backpack.
Just imagine:
A world where phones never hit 1% again!
➡️ Click here for full information & pricing.
Don't let PMS cramp your travel plans.
This roll-on applicator is formulated with essential oils — jojoba, clary sage, peppermint, geranium, bergamot, and lemon — that are said to treat symptoms like bloating or cramping.
This vegan, cruelty-free aromatherapy roller helps travelers stay their fun and adventurous selves.
Apply to the abdomen, wrists or chest in a circular motion 5 to 10 times.
If you're looking for a practical stocking stuffer, this is one of the best gifts for female travelers.
➡️ Click here for full information & pricing.
Carry-on luggage is becoming more mainstream.
And Cambond is responding to demand with compression packing cubes designed to help travelers fit more in their suitcase —without needing to then check it.
This set comes with four expandable Nylon cubes in three different sizes, all with reinforced zippers.
Every time I use mine I'm blown away by how much I can fit inside one cube and how easily they compress down.
They've been a game-changer for my packing strategy, especially as I'm a photographer who also needs to consider camera gear.
➡️ Click here for full information & pricing.
It's a bummer losing things on the road — especially when there's nobody to help look for it.
#SoloTravelProblems
But there is a solution:
The Chipolo Card, a slender Bluetooth tracker, slips into a wallet or passport holder and pairs with a smartphone app to ring when called.
Chipolo can find anything within 200 feet.
Move out of range?
If other Chipolo users get close, the user receives a notification.
➡️ Click here for full information & pricing.
Solo travelers have enough stress on the road.
Help the nomad in your life decompress and stay fit with a budget-friendly YogaDownload subscription.
Once logged in, members have access to 1,500+ yoga classes of varying lengths, styles, and focuses — and with different teachers.
You can even save your favorite classes to a list for easy access later on, whether you're at home or in your hotel room.
➡️ Click here for full information & pricing.
Bonus:
Need a stocking stuffer to pair? Manduka sells a high-quality travel yoga mat.
One thing that is tricky for solo female travelers is actually getting great photos — while being in the picture. Luckily, Insta360 makes it easy with their 360-degree cameras and invisible selfie stick.
You can simply walk with the camera on interval mode to have it continuously take photos of you in different poses and locations.
Plus, it also takes incredible videos!
The free Insta360 app provides tons of inspiration and even templates on how to take epic shots, though you can also simply hold the invisible selfie stick in front of you or above you and walk while it records.
Because the camera is capturing every angle, it's easy to edit this simple footage into something magical later.
You can see examples of my personal 360 videos here and here on Instagram.
If you're looking for the perfect gift for a traveling woman who loves taking photos and videos, an Insta360 camera is a top option!
➡️ Click here for full information and pricing.
Often, the best gifts for the traveling woman revolve around luggage — particularly luggage that is both stylish and practical.
The Flex Vega Cabin Plus Collapsible Suitcase is not only durable and impact-resistant thanks to its polycarbonate hard shell, but it's one of the world's slimmest collapsible luggage options.
In fact, it collapses down to only 2 inches thick, making it easy to store in your closet when not in use.
Additionally, the suitcase is water-resistant, comes in a wide variety of colors, and includes a 3-year warranty.
➡️ Click here for full information and pricing.
What gifts for solo female travelers would add to this list?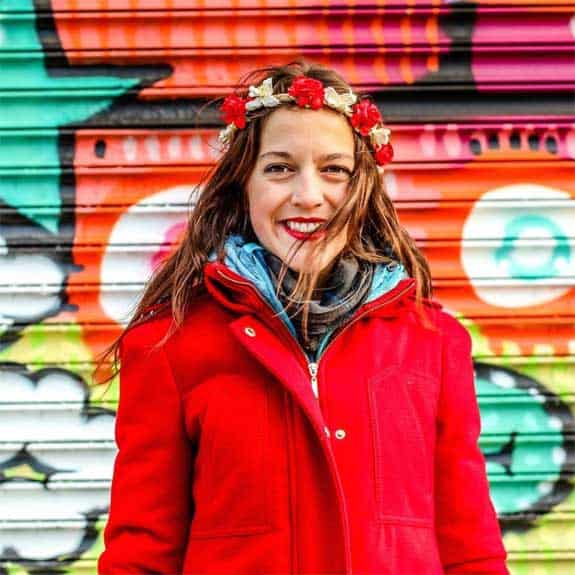 Hi, I'm Jessie on a journey!
I'm a conscious solo traveler on a mission to take you beyond the guidebook to inspire you to live your best life through travel. Come join me!
Want to live your best life through travel?
Subscribe for FREE access to my library of fun blogging worksheets and learn how to get paid to travel more!