53 Most Instagrammable Places in New York City
By Jessie Festa. This post on the best places to take pictures in NYC features affiliate links to trusted partners we think you'll love!
Looking for the most Instagrammable places in New York City?
Whether you're a first-time visitor to NYC or a proud lifelong resident, it's hard to resist sharing this incredible city with the 'Gram.
Among the five boroughs, there are so many incredible sights to capture on (digital) film and share with your friends and family or your legions of followers. In fact, there are so many Instagramable places in New York that you may not even know where to start!
Don't worry, though, as I've got you covered.
As a local New York influencer and photographer myself, I've searched the city and compiled a list of the best NYC Instagram spots and the most aesthetic places in NYC for that perfect photo, from Manhattan to Staten Island, to help you on your journey.
Whether you're looking for an urban oasis, superb skyline shots, or something you just don't see every day, there's something for you to capture and share in this incredible city.
Keep reading to learn more about my favorite NYC Instagram spots! 
😍 Short on time? Here are my top picks for exploring Instagrammable NYC:

📸 Book An NYC Instagram photographer: If you'd like to be photographed in the most aesthetic places in New York City, I offer custom, styled NYC Influencer Shoots through my company, NYC Photo Journeys. Alternatively, if you'd like a tour included, I also offer private New York City photo tours.

🤳Instagrammable Tours:
–Central Park Secrets & Highlights
–Circle Line: New York City Harbor Lights Cruise
–SoHo, Little Italy & Chinatown Walking Tour in New York
➡️ Click here for a full list of NYC tours!

🏨 Instagrammable Hotels:
–NoMo SoHo (SoHo)
–The Whitby (Midtown)
–The Ludlow (Lower East Side)
➡️ Click here for a full list of New York City hotels!
Explore The Most Instagrammable Places in New York City With A Photographer
Need help capturing the best views in NYC — with you in the photos?
I (Jessie) own a company called NYC Photo Journeys. You can book one of our Private Photo Journeys, a walking tour that includes photos of your group to keep.
You can also step up your Instagram game with an NYC Influencer Shoot or preserve cherished memories on a Professional NYC Photoshoot.
Email Jessie at [email protected] with inquiries.
Most Instagrammable Places In Manhattan
1. Washington Square Park
Seen as the central hub of Greenwich Village, the park has always been a gathering place for artists, performers, activists, students, and other members of this creative community.
The Washington Square Arch, built in 1889 to commemorate the centennial of George Washington's inauguration, is one of the most iconic sites in Manhattan and makes a great backdrop for photoshoots.
Stop by on a clear day to get a shot of the Empire State Building through the north side of the arch.
This is certainly one of the most Instagrammable places in the West Village / Greenwich Village and one of the best photo spots in NYC.
2. Pietro NoLita
Upon opening in 2016, this downtown Italian eatery quickly became one of the most Instagrammable cafes in NYC thanks to its bright pink design.
From the Pepto pink benches and planters outside the restaurant to the graffiti heart covered bathroom, this pink paradise has plenty of spots to stage the perfect shot. It's definitely one of the most trendy places in NYC to grab a photo (or two or ten).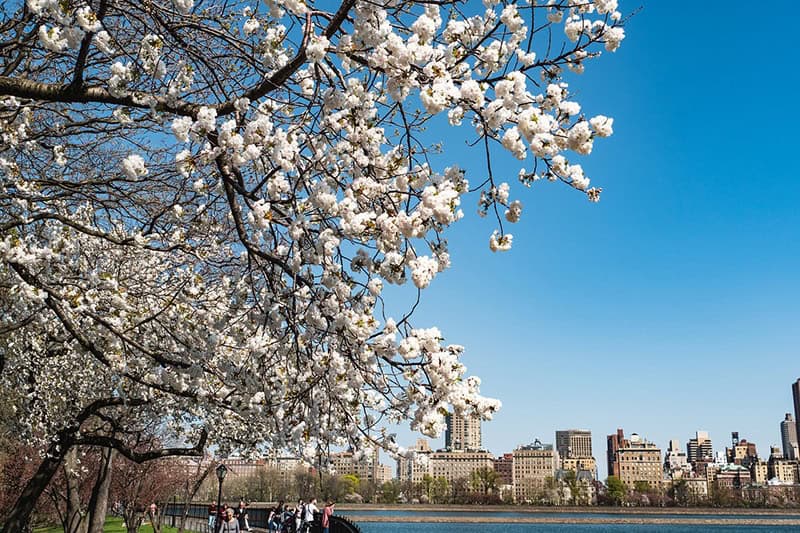 3. Central Park
One reason why New York is so famous is it's home to the beautiful Central Park, the most filmed location in the world! It's no surprise that it's one of the top Manhattan Instagram spots.
This 843-acre park in the heart of Manhattan is home to plenty of great locations for photoshoots throughout the year — but it's especially magical in the springtime when the park's flora starts to bloom.
Cherry Blossom Season, which usually lasts from April to early May, is the perfect time for a beautiful Central Park photoshoot.
You'll find some of the best blooms — and the best central park Instagram spots — between 72nd and 96th Streets, particularly in spots around the Reservoir, Cherry Hill, and the Great Lawn.
4. Times Square
No New York City travel guide would be complete without mentioning Times Square — aka the "Crossroads of the World."
Known for its bright neon lights and bustling crowds, Times Square is a favorite spot for Instagram photos, particularly among first-time visitors to New York City.
Want to avoid the crowds during your shoot? Head to the area late at night or early in the morning. The lights will still be on but you'll (sort of) have the place to yourself.
This is also a great spot to break out the wide-angle lens to capture the sheer size of the scene.
By the way, if you'd like to add a touch of luxury to your Instagram shoot, consider booking an NYC limo tour — many of which visit iconic New York locations like Times Square.
5. The Vessel At Hudson Yards
Hudson Yards is one of the newest additions to the Manhattan landscape, consisting of several modern office and residential buildings, a mall, an arts center, and a public plaza in the West 30s.
The neighborhood's signature structure, the Vessel, has quickly become one of the top NYC Instagram spots since opening in 2019.
While you can no longer climb the structure, the landmark is especially impressive from the ground, and the surrounding plaza offers plenty of space to get the perfect shot.
6. Staple Street Skybridge
Located above one of the tiniest streets in the city, this small pedestrian bridge connects two classic brick buildings in Tribeca and gives you a sense of what the city looked like in the late 1800s for a taste of old New York.
While the bridge itself is off-limits to visitors, the alley and cobblestone streets below make for incredible photos, particularly if you're looking to show off a chic, city-inspired outfit.
7. One World Trade Observatory
Love 360-degree views?
The observation deck atop one of the newest editions to the New York City skyline offers views of all five boroughs (and New Jersey!) from almost any angle.
Even through the floor-to-ceiling windows you can get some incredible shots, making it one of the best Instagram places in NYC.
And don't worry about visibility on the day of your visit; if you have a ticket for a day with zero visibility, One World Observatory will offer you an invitation to come back on a clearer day.
Bonus: This is a top attraction whether you're exploring in a group or are looking for things to do in NYC by yourself. It's also a popular sight when booking NYC skyline tours and cruises.
8. Radio City Music Hall
Known as the "Showplace of the Nation," the Radio City Music Hall marquee is synonymous with New York City and its live entertainment industry. No Manhattan travel guide would be complete without mentioning it and it's definitely one of the most popular Instagram spots in New York.
You'll get some of the best shots of the marquee at the public plaza directly across the street from the theatre, on the west side of 6th Avenue.
For an even more dynamic view, shoot from the southwest corner of 50th Street and 6th Avenue.
And don't forget to stop by during the holiday season; the tree atop the marquee is almost as iconic as the Rockettes themselves!
9. Grand Central Terminal
Considered one of the most famous train stations in the world, millions have passed through the halls of Grand Central since it opened in 1913.
The station's Main Concourse is a true sight to behold, with its bright blue ceiling full of stars and constellations and its Beaux-Arts style clocks and lighting fixtures.
Those looking to shoot portraits in the station may want to wait until late in the evening to stop by and beat the commuter crowds.
But if you're looking to capture the true essence of the terminal, set your camera up on one of the balconies midday and you'll soon see why this is one of our favorite Instagram places in New York.
Pro tip: as this attraction is indoors, it's a top spot to visit during rainy days in NYC!
10. Empire State Building
Whether you're photographing this iconic building from the ground or taking a ride up to the observation deck for impeccable skyline views, you really can't go wrong at the legendary Empire State Building.
Pro tip:
Book a ride up to the top of the building after dark for some of the best views of NYC at night!
11. The Manhattan Bridge
The Brooklyn Bridge may get all the hype, but its blue neighbor — the Manhattan Bridge — is an engineering marvel and is just as photogenic.
Plus, walking the Manhattan Bridge provides beautiful views of the Brooklyn Bridge from afar. If you're looking for great Brooklyn Bridge picture spots, the Manhattan Bridge fits the bill.
Additionally, Pier 35 on the Lower East Side offers great views of the Manhattan Bridge and the East River from the Manhattan side, as well as plenty of room to set up the perfect shot.
12. Rockefeller Center
You'll see this attraction in many NYC itineraries, and for good reason!
This famed complex in the heart of Midtown offers plenty of opportunities for grid-worthy photos between the famous Prometheus and Atlas statues, the skating rink, and 30 Rock itself.
At Rockefeller Center, you'll find some of the best views from the ground at Rockefeller Plaza and on Fifth Avenue between 49th and 50th Streets.
Visiting this attraction is a must whether you're enjoying a 4-day NYC itinerary or something shorter or longer.
13. Top Of The Rock
Top of the Rock, the observatory located on 30 Rock's 86th floor, gives visitors a panoramic view of Manhattan smack in the middle of Midtown.
From here, you can capture some of the most famous features of the Manhattan skyline — like the Empire State Building, the Chrysler Building, and Times Square.
Top of the Rock's location just steps from Central Park also gives it one of the best views of the urban oasis in the city.
And with both indoor and outdoor viewing options you'll get a great view regardless of the weather.
14. The High Line
This elevated linear park blends art, architecture, and nature.
Built on a former train line, the High Line runs from Hudson Yards to the Meatpacking District and features tons of Instagrammable greenery, flowers, art, and some of the best views in NYC for free along the way.
A few top photo spots include the view of the West 15th Street Skybridge near Chelsea Market, Sam Falls's Untitled (Four Arches) installation near 13th Street, and the 10th Avenue Square and Overlook.
With constantly updated art and nature features, the High Line is a spot worth returning to again and again.
15. The Flatiron Building
This building is so iconic that they named an entire neighborhood after it!
Seen as a "quintessential symbol of New York City," the Flatiron Building's unique design makes it a perfect spot for classic NYC photos.
The plaza directly across from the building on the north side of 23rd Street offers great views of the attraction any time of the year.
By the way, if you want to continue exploring beautiful views and buildings, check out these top-rated NY architectural tours and Manhattan skyline tours!
16. Madison Square Park
Located directly across from the Flatiron Building, Madison Square Park boasts several blocks worth of photo-ready greenery, wildlife, sculptures and art installations in the middle of one of Manhattan's busiest commercial districts.
The park is also home to the first Shake Shack, a favorite among burger and milkshake connoisseurs, and the stand's outdoor seating area makes a great spot for a foodie photoshoot.
It's the perfect place to get your #foodstagram on!
17. Stuyvesant Street
Love hidden gems?
Stuyvesant Street, one of the oldest streets in the city, is a charming little stretch of road that features ivy-covered brownstones, stone sidewalks, and classic street lights.
The Abe Lebewohl Triangle at the corner of 10th Street and Stuyvesant Street is a particularly photogenic spot and the perfect backdrop for photos any time of year.
18. The Outdoor Gallery At The Whitney Museum
The Whitney Museum of American Art's new location in the Meatpacking District features an outdoor gallery area with incredible views of Manhattan as well as a rotating collection of sculptures and other art pieces.
With a collection of over 6,000 works of photography from American artists you can definitely find some inspiration for your own work at the Whitney.
19. The Meatpacking District
Once a neighborhood full of industrial warehouses supplying the city's supermarkets, the Meatpacking District has gotten a significant makeover over the last 30 years and is now home to high-end fashion boutiques, restaurants, and nightclubs.
The district has preserved some of its industrial past, making it a great spot for dynamic city-inspired photos and fashion shoots. You'll definitely be in the right spot to show off your #OOTD!
Moreover, the area also has some of NYC's last remaining cobblestone streets which are always grid-worthy. Just watch out for traffic!
Want a little daytime party? This neighborhood is also home to some great brunches in NYC with unlimited drinks and gorgeous interiors.
20. The Metropolitan Museum Of Art Steps
Ready to channel your inner Blair Waldorf?
The Met Steps — made particularly famous on the TV show Gossip Girl — make a great backdrop for a photoshoot, particularly if you're looking to show off a CW drama-worthy outfit.
The entrance to the famed art museum is particularly majestic on its own if you just want to capture some of the city's best architecture.
21. The Met Roof Garden
Looking for NYC rooftop photography spots?
The Metropolitan Museum of Art's vast art collection extends onto the building's rooftop where you'll find the Iris and B. Gerald Cantor Roof Garden and the Met Rooftop Bar.
Aside from housing a new art commission every year, the roof offers great views of the city and Central Park as well as plenty of room to pose.
22. The Oculus
This glass and steel structure at the World Trade Center designed by Spanish architect Santiago Calatrava plays with light and space in a way that's truly breathtaking.
Aside from being a spectacular sight on its own, the structure is also a transportation hub for the subway and NJ Transit PATH trains — plus it's one of the city's biggest shopping malls.
Head to the platform at the Church Street entrance for the best views.
23. Blank Slate Tea
This NoMad cafe is one of the most beautiful aesthetic places in New York City, featuring soft floral wallpaper, pastel pink booths, and mouth-watering afternoon tea offerings. It's so aesthetically pleasing that it feels like it was basically built for Instagram.
Edible art lovers should try one of the shop's tea lattes, featuring rose and lavender toppings that are almost as beautiful as they are delicious.
24. The Edge
If you've ever wondered what it feels like to fly, The Edge comes pretty close to showing you.
Located in Hudson Yards, New York's newest observation deck allows you to shoot the city from a platform suspended in mid-air 100 stories above the ground, offering a truly unique view.
Photos from the deck's Eastern Point will give your followers a view of Manhattan they've likely never seen before.
25. Stone Street
This short stretch of cobblestone road between Wall Street and Broad Street in the Financial District was once a popular haunt of the city's colonial settlers; in fact, it was formerly home to the first brewery in North America.
Today, the pedestrian-only street is a great place to capture the charm of the city's historical side, as many of the buildings date back to the 1800s.
Love NYC winter photography?
The district's winter light display also makes it a great spot to shoot at night, particularly after a snowfall.
26. Lincoln Center
If you're wondering what to do in the Upper West Side, visiting Lincoln Center is a top recommendation!
Perhaps one of the city's most famous plazas, Lincoln Center's vast open space, impressive fountain, and iconic buildings make it the perfect place for photos that really capture the essence of Manhattan's performing arts scene.
Longer exposure times will help you capture the magic of the square at night as the buildings light up to host their next performances.
27. The Met Cloisters
Located in Upper Manhattan's Fort Tryon Park, this extension of the Metropolitan Museum of Art incorporates elements of old European churches and buildings to create a medieval monastery right in New York City.
The museum is the perfect spot for a fantasy-inspired photoshoot and the collection of medieval art is particularly impressive.
Head to The Met Cloisters in the springtime to capture the Cloisters' many gardens in full bloom.
Is NYC an island? No, but it's home to many — like the activity-filled Governors Island!
Open to the public from spring through fall, Governors Island features acres of fields, gardens, and man-made hills to explore.
The island's natural features are beautiful on their own but many locations — like Picnic Point, one of the top NYC picnic spots — offer great views of Manhattan and the Statue of Liberty as well, making the island one of the top Instagrammable spots in New York.
29. The Guggenheim Museum
The Guggenheim Museum houses a collection of modern art from everyone from Impressionists to contemporary artists working in new forms, but the building itself — designed by famed architect Frank Lloyd Wright — is the real draw.
The building's mesmerizing spiral lobby is a bucket list location for many photographers, so make sure it's on your list to visit as well!
30. L'Appartement Sézane
This SoHo shop has quickly become a favorite spot for Instagramers thanks to its seasonally-changing window displays featuring gorgeous floral designs, which put it at the top of the list of cute places in Manhattan.
Have a seat at one of the shop's sidewalk tables for the perfect Parisian-inspired shots.
31. The Museum of Ice Cream
Looking for quirky things to do in New York?
This interactive playground for ice cream lovers of all ages was basically built for Instagram.
In fact, each room features a different Instagramable installation that celebrates everyone's favorite frozen treat.
Take a ride on a bright pink subway car or pose with a scoop of vanilla that's bigger than your head! When it comes to fun or cute places in New York City to take photos, this is always one of my favorite spots.
32. Doyers Street
Looking for a taste — and a photo — of classic Chinatown?
One of the most unique blocks in Manhattan, this curved street between Pell Street and Bowery is lined with classic Chinese restaurants and businesses that cater to the neighborhood's Asian community.
The street also has pedestrian-only hours in the warmer months so you won't have to worry too much about traffic as you take pictures. It truly is one of the top Chinatown Instagram spots!
33. The NoMo SoHo Hotel
NoMo Soho's main restaurant, NOMO Kitchen, is an Instagrammer's heaven. If you're looking for cute places in NYC, it shouldn't be missed.
With both indoor and outdoor seating, this garden-inspired restaurant features lush greenery, colorful graffiti, and gorgeous lighting that will look amazing on your grid.
Talk about an urban jungle!
Foodies will also love this spot as the menu items are almost as photogenic as they are delicious, helping to make this one of the prettiest restaurants in NYC.
While SoHo as a whole is pretty Instagrammable — thanks to its trendy eateries, fashionable shops, and well-preserved architecture — there is one street that stands out:
34. Greene Street
Greene Street.
This is actually a highly-requested stop on an NYC Influencer Shoot (pictured above) thanks to the historic cast-iron buildings.
These buildings are part of the SoHo–Cast Iron Historic District, which is listed in the National Register of Historic Places and is an official National Historic Landmark.
35. Randall's Island
If you love getting off-the-beaten-path, Randall's Island is a gem in NYC that many locals have never even visited.
Which is a shame, because the gardens, small beaches, and skyline views are perfect for snapping captivating NYC pics.
In fact, this island is so beautiful that Jessie had her wedding there!
If walking over the pedestrian bridge from Manhattan's Upper East Side near 102nd St, it's recommended to stroll along the East River toward the giant weeping willow tree that is right before the Hell's Gate Bridge.
From the tree, gaze toward Lower Manhattan and you can even see One World Trade!
36. Chelsea Market
Originally the home of the National Biscuit Company and the place where the famous Oreo cookie was invented, today Chelsea Market features an upscale food hall, shops, and office spaces.
Along with finding plenty of good places to take pictures of New York food — like the Doughnuttery (colorful mini doughnuts), Ninth Street Espresso (coffee and murals), and The Tippler (craft cocktails), Chelsea Market also has some noteworthy Instagrammable spots.
For one, it's home to an indoor waterfall.
Additionally, near the waterfall, you'll find a small room full of colorful graffiti (pictured above).
Moreover, don't miss ARTECHOUSE, an immersive art experience.
37. SUMMIT One Vanderbilt
SUMMIT One Vanderbilt is unlike any other observation deck in NYC — and has the best views. Because of that, it's become one of the most Instagrammable things to do in NYC.
There are three floors of multi-sensory experiences, from a playful room filled with reflective balloons to sky boxes with translucent floors that allow you to "hang" over the building edge to a giant space with mirrored floors and epic skyline views for truly epic Instagram photos.
End your visit at the Après terrace with a cocktail and a front-row vista of the Empire State Building.
Pro tip:
Go at sunset for a truly amazing pictures. Just make sure to book early, as this is a coveted timeslot!
Most Instagrammable Places In Brooklyn
38. The Bushwick Collective
Located on Troutman Street between Irving Avenue and St. Nicholas Avenue is the Bushwick Collective, a creative stretch of buildings featuring colorful murals, graffiti, and street art.
The area adds some color to the industrial neighborhood and makes for truly awesome Instagram shots, whether you're using the art as a backdrop for self-portraits or just capturing it on its own. Visiting is truly one of the best things to do in Bushwick, Brooklyn.
By the way, Troutman Street is one of our absolute favorite streets of New York!
39. 1 Hotel Booklyn Bridge
One of NYC's latest and greatest luxury hotels, 1 Hotel Brooklyn Bridge's location at Brooklyn Bridge Park makes it the perfect place to capture the Lower Manhattan skyline in style.
Aside from luxurious rooms, eco-inspired interiors, and a truly breathtaking rooftop pool, the hotel is also home to Harriet's Rooftop and Lounge, a lush bar with indoor and outdoor seating that offers enviable views of the nearby Brooklyn Bridge, one of the top attractions in Brooklyn.
40. The Brooklyn Bridge
Whether you start your Brooklyn Bridge crossing on the Brooklyn side or the Manhattan side you can't go wrong by capturing this modern engineering marvel.
You'll probably get some of the best photos of the bridge and the Manhattan skyline around sunset — though you may find yourself fighting for space with other pedestrians and bikers.
If you can get up early, the crowds will be thinner but the light will be just as gorgeous.
41. Washington Street
This little block in Brooklyn's DUMBO neighborhood has everything:
A perfect shot of the Manhattan Bridge Overpass framed by red brick buildings, cobblestone streets, and some pretty solid light. It's no wonder it's become one of NYC's top photoshoot locations in recent years.
You'll probably run into at least a few other people trying to get the same shot for their grids if you wait to shoot until later in the day or on a weekend. Try an early morning or a weekday if you want the place to yourself.
42. Brooklyn Bridge Park
Want a shot of the Brooklyn Bridge but don't want to make the trek?
Then Brooklyn Bridge Park is for you!
This riverfront park stretches from Vinegar Hill to Brooklyn Heights and has tons of photo-ready spots that have surely shown up on your Instagram feed at some point in the last few years.
If you're looking for pictures of NYC with an urban beach look, head to Pier 4 Beach where you can walk along the golden sand and take in incredible views of the Brooklyn Bridge and Lower Manhattan skyline.
The Fulton Ferry Landing also has plenty of space to spread out and capture the majesty of one of New York City's top landmarks.
Most of the park is also open until 1am, making it a great spot to photograph the NYC skyline at night.
43. Coney Island
Coney Island's famed boardwalk offers plenty of great photo opportunities that capture the weird and wonderful parts of this beachfront community.
The Wonder Wheel, which celebrates its 100th anniversary in 2021, is a classic Coney Island landmark that looks incredible from any angle, making it one of the most picturesque places in NYC.
The Coney Art Walls, an outdoor museum of colorful murals and street art on Stillwell Avenue, are also a favorite among New York City Instagramers.
44. Domino Park
Williamsburg's newest waterfront park offers a mix of green space and reclaimed industrial structures for dynamic and colorful photos, regardless of the season.
The park's location just north of the Williamsburg Bridge also gives it great views of the East River and the Midtown Manhattan skyline, particularly at night.
45. The Brooklyn Botanic Garden
This 52-acre garden in Prospect Park is home to hundreds of plants from around the world as well as an entire garden dedicated to flora native to the New York metropolitan area. If you're looking for pretty places in NYC to take photos, this is it.
Spring is probably the most colorful time to visit the garden for a photoshoot — particularly during the cherry blossom season — though there's always something blooming here.
Whether or not you decide to bring your camera along, the Brooklyn Botanic Garden is the perfect place to get some fresh air and escape the city hustle for a bit.
46. The TWA Hotel
Built inside the former TWA Flight Center at JFK Airport, the TWA Hotel transports guests back to the 1960s with mid-century modern design, exhibits celebrating the history of American aviation, and even a restored TWA jet.
The hotel is full of Instagramable sights, like the rooftop pool that overlooks one of JFK's runways and the stylish sunken lounge.
Even if you're not planning to travel any time soon, a weekend stay at the TWA Hotel makes for the perfect staycation.
47. Industry City Brooklyn
This industrial complex-slash-creative playground features delicious restaurants, innovative bars, unique local shops, hip cafes, outdoor courtyards, mini golf, and art installations — all of which can help you capture the perfect Instagram shot.
For food and drink shots, authentic eats from the Japanese Village or a craft cocktail from Intense Ginger are great options.
If you'd like to add some color to your feed, you can click here to download Industry City's art tour map.
Plus, their live events and classes can add some creative energy to your Instagram Stories!
48. Westlight
For the ultimate rooftop experience, Westlight — located in the luxurious William Vale Hotel — pairs stunning Manhattan skyline views with delicious food and craft cocktails.
Their rooftop is open year-round as there is a large enclosed dining room, with the walls opening up in warmer months.
Additionally, there is an outdoor terrace that wraps almost completely around the building for nearly 360-degree views!
Most Instagrammable Places In Queens
49. Gantry Plaza State Park
This waterfront park in Long Island City is well-known for its impressive views of the Manhattan skyline from Queens as well as the historic neon Pepsi-Cola sign.
The park's restored gantries also make for incredible photos any time of day.
Visiting Gantry Plaza State Park is one of the top things to do in Queens NYC!
50. Flushing Meadows Corona Park
Located just off the 7 train, Flushing Meadows Corona Park was built in 1939 to host the New York World's Fair and many relics of the 1964 fair still stand in the park today.
One landmark from that time is the Unisphere, a 140-foot-high representation of the earth located near the center of the park.
The spacious plaza surrounding the structure offers plenty of space to set up the perfect shot.
Most Instagrammable Places In The Bronx
51. The New York Botanical Garden
This sprawling sanctuary in the Bronx is home to 30,000 trees and countless blooms as well as conservatories and buildings that date back to the 1890s.
Whether you're visiting The New York Botanical Garden for the train show during the holidays or checking out the many spring blooms, you'll definitely find something grid-worthy here.
Bonus:
There is a waterfall here, too!
52. Arthur Avenue
This is one of the best Instagram spots in NYC for foodies, and visiting is one of the top things to do in The Bronx!
Known as the center of Bronx's Little Italy, you'll find some of the best Italian restaurants, bakeries, markets, and shops on this street in the borough's Belmont section.
A walk through the Arthur Avenue Retail Market will transport you to Italy, with rows and rows of colorful fresh produce, meats, and prepared foods on display.
Your followers' mouths will definitely be watering once they see some of the food available in this hidden gem of a neighborhood.
Pro tip:
The "meat chandelier" at the Calabria Pork Store is one particularly noteworthy sight!
Most Instagrammable Places In Staten Island
53. Snug Harbor Cultural Center
Do you dream of traveling to China, but can't swing the plane ticket?
The Snug Harbor Cultural Center allows you to travel there without leaving New York!
This sprawling park in Staten Island's Randall Manor section has lots of great sights to offer, chief among them the New York Chinese Scholar's Garden.
This garden features buildings, sculptures and ponds inspired by the gardens of the Ming Dynasty that will fully transport you to another time and place.
It's the perfect spot for photos that feel miles away from the NYC grind.
Instagrammable NYC Tours Not To Miss
The following guided tours will take you to some of the most Instagrammable New York places:
➡️ Click here for a full list of NYC tours!
Most Instagrammable Hotels In NYC
Looking to stay overnight in NYC?
There are so many photo-worthy hotels, like NoMo SoHo (SoHo), The Whitby (Midtown), and The Ludlow (Lower East Side).
➡️ Click here for a full list of New York City hotels!
Prefer self-contained stays?
➡️ Click here to check out unique local rentals and accommodation! You can also use this map to search for local stays:
Like the idea of hotel living? There are also numerous properties that allow you to live in a hotel full time in NYC with extended stay offerings.
New York Instagram Spots FAQs
Here are answers to some frequently asked questions about Instagrammable places in New York City:
Q) What is the most Instagrammable building in NYC?
SUMMIT One Vanderbilt is one of the most Instagrammable spots in NYC, thanks to its mirrored floors reflecting epic skyline views as well as close up views of the Empire State Building and Chrysler Building.
Q) What is the most photographed street in NYC?
Washington Street in DUMBO, Brooklyn is one of the most Instagram worthy places in NYC. This brick-lined, cobblestone street is one of the most Instagrammable streets in NYC as it's where you can capture the arches of the Manhattan Bridge perfectly framing the Empire State Building.
Q) What is the most Instagrammed street in Brooklyn?
The most sought-after spot for Instagrammers in Brooklyn is Washington Street in DUMBO. This cobblestone street is lined with brick buildings and offers the perfect vantage point to capture the arches of the Manhattan Bridge in the background, perfectly framing the iconic Empire State Building. There's no wonder it's considered one of the most Instagramable places in NYC!
Q) Where can I take Instagram photos in New York?
There are so many New York Instagram spots to choose from! Washington Square Park, Grand Central Station, the Oculus, and Governor's Island are all popular places for a classic New York Instagrammable photoshoot.
Q) Where can I take professional photos in NYC?
The most photogenic places in NYC aren't just ideal for getting that perfect shot for the 'Gram – they're great places to take professional photos too. Some popular spots include Washington Square Park, Central Park, Grand Central Station, Washington Street, and Summit One. Don't discount the cute places in NYC for photos either, like Blank Slate Tea, and NoMo SoHo.
NYC Travel Insurance
When visiting New York City — or anywhere else in the world — it's wise to get travel insurance.
One of the best travel medical insurance for travelers is SafetyWing as they've got a large network and offer both short-term and long-term coverage — including coverage if you're traveling for months as well as limited coverage in your home country.
Additionally, SafetyWing is budget-friendly and offers $250,000 worth of coverage with just one low overall deductible of $250.
Click here to price out travel insurance for your trip in just a few clicks.
What would you add to this list of the most Instagrammable places in New York City?
Enjoyed this post on NYC Instagram spots? Pin it for later!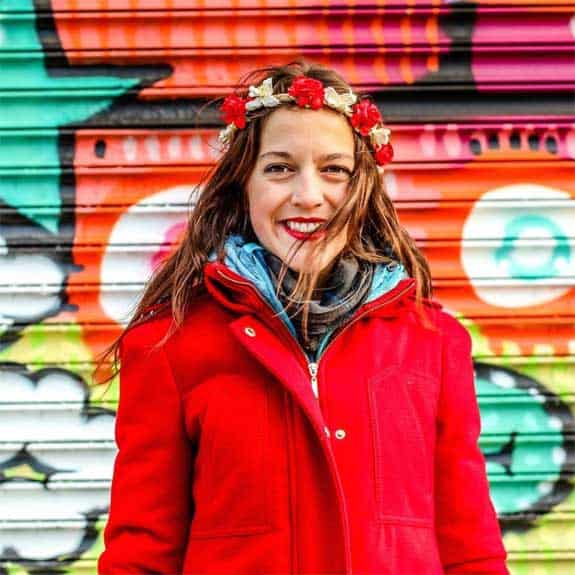 Hi, I'm Jessie on a journey!
I'm a conscious solo traveler on a mission to take you beyond the guidebook to inspire you to live your best life through travel. Come join me!
Want to live your best life through travel?
Subscribe for FREE access to my library of fun blogging worksheets and learn how to get paid to travel more!