8 Essential Tips For The First-Time Solo Traveler
Rough Guides
to put together my list of essential tips for the first-time solo traveler. Here, I'll share some advice learned after eight years of traveling solo myself.
Have any tips for traveling solo to add? Feel free to share in the comments below.
1. Believe In Yourself
One of the most crucial elements to any
solo travel journey
is believing in yourself and realizing you're capable of more than you think you are. When you're on your own it's up to you to solve the issues that come your way. And you will. It's amazing how sharp your problem solving skills become — and how strong they become — when you don't have others to rely on, and I mean this in a very good way.
2. Go With The Flow
I remember how nervous I was before taking my first solo trip. My mind was swirling with "what if" questions: What if I lose my passport? What if I miss a train? What if the hostel I book is uncomfortable? What if my money gets stolen? While all of these things, if they actually happened, would be somewhat frustrating, they wouldn't be the end of the world. You'd contact your embassy, book a new train ticket, switch hostels, and take a loss but realize you need to be more careful in the future. Keep a positive attitude, and remember that these types of instances often make for great travel stories, or at least life lessons.
3. Book Your First Few Nights Of Accommodation
While I'm a big fan of
traveling without making plans
, I still to this day like to book my first few nights of accommodation so I have one less thing to figure out as I get used to a new destination. You may even want to book your entire trip's accommodation depending on how long it is, though realize when you do this there's less room for spontaneous itinerary changes. I've been on plenty of solo trips where I've met other travelers whose plans sounded better than my original ones, making me want to change my route.
4. Invest In Some Safety Essentials
For a full safety guide, I recommend reading
17 Safety Tips For Traveling Solo
. Your safety should be of utmost importance, and if at any point your gut tells you something isn't right, it probably isn't (so don't worry about being polite — get out of the situation!). There are a few safety essentials I like to pack on every trip. These include
pickpocket-proof clothing
with hidden pockets so I don't have to carry a bag,
a safety whistle
to call attention to a situation when needed,
a doorstop
for hotel rooms with questionable locks, and
a combination lock
to fasten my backpack zippers together.
5. Use Handy Apps & Tools For Meeting Others
There are a ton of apps and resources out there for solo travelers wanting to meet others on the road. My go-to is
Couchsurfing
, as along with the chance to stay on local couches for free there are local forums where you can plan and attend meetups.
Meetup.com
is also good for this, as is
Tinder
, as long as you're willing to sift through a few romantic advances (I'm typically upfront that I'm just using it to go out with locals). Others to check out:
EatWith
and
BonAppetour
to dine in local homes with others, and
Wandermates
for meeting other solo travelers.
6. Explore An Expat Hub
A Rough Guides article titled "
10 Tips For Surviving Solo Travel
" gives the excellent advice of exploring an expat hub — which is a particularly great option when searching for
first time solo female travel destinations
. Says Neil McQuillian, "Pretty much every major (and sometimes not so major) town and city across the world has some sort of expat or gringo hub. Go there, sit at the bar, nurse a beer and you're likely to get chatting opportunities. That's assuming you want company. Or head to backpacker hostel restaurant/bar areas and repeat the same. Sometimes they're on the lookout for non-guests in the evening, but if you go in the afternoon you should be alright."
7. Take The Steps To Grow Your Relationship With Yourself
While you'll likely want to spend some time with others, make sure to also take the time to grow your relationship with yourself. Give yourself a mission like finding the best local tacos or discovering everything you can about a local artist, keep a journal, try something you've never done before, meditate in beautiful places, and just get lost in cities on your own and make new discoveries.
8. Sit At The Bar Alone
Sound daunting? Even at home, I love going to bars by myself as I always leave with new friends. Being on your own at a bar makes you approachable, and if worst comes to worst you can chat up the bartender. Just always make sure to watch your drinking and never leave your drink unattended. Other great places for meeting locals and other travelers include walking tours, money exchanges, hostels and homestays (or multi-room Airbnbs), and public transportation.
This post was sponsored by Rough Guides. Learn more about traveling solo by checking out their On a Budget guidebook series.
As most of you know I'm a big proponent of solo travel, as I think it provides a fresh perspective on travel and yourself while also allowing you ultimate freedom over your itinerary. I've recently partnered with the travel website and guidebook publisher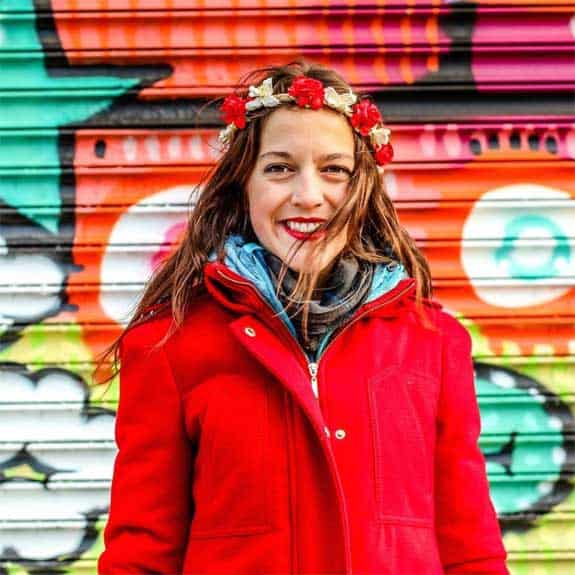 Hi, I'm Jessie on a journey!
I'm a conscious solo traveler on a mission to take you beyond the guidebook to inspire you to live your best life through travel. Come join me!
Want to live your best life through travel?
Subscribe for FREE access to my library of fun blogging worksheets and learn how to get paid to travel more!