71 Unique Restaurants In NYC You Absolutely Must Try In Your Lifetime
By Jessie Festa. This guide to unique dining experiences in NYC – written by a local – contains affiliate links to trusted partners!
Looking for unique restaurants in NYC?
It's not hard to find delicious food in New York; however, for those seeking to go beyond the guidebook and enjoy a truly atypical meal, you'll want a little guidance.
Which is where this list comes in.
Check out my top picks — I'm a local — for truly quirky and cool NYC restaurants, from unusual themed eateries to atypical multi-course menus to interactive dining concepts and beyond.
Note that this post on unique and fun places to eat in NYC contains affiliate links to trusted partners I think you'll love!
💡 Quick tip: One of the best ways to taste a bunch of great local NYC food spots is to book a tour. A few top-rated food tours include:

🍡 Greenwich Village Walking and Food Tasting Tour
🧁 Hell's Kitchen Food Tour
🥟 The Original Chinatown and Little Italy Food Fest (established 2009!)

➡️ Click here for a full list of food and drink tours in New York! Best of all, your guide will be able to recommend additional pretty places to eat in NYC.
Top Neighborhood For Unique Dining Experiences In NYC
Before you read this tasty guide to NYC, check out my video on must-try eateries in Cobble Hill, Brooklyn.
As a New York travel planner, I love recommending this neighborhood to clients, as it's one of my absolute favorite neighborhoods for a day of eating:
Watch it above to whet your palate. Then, continue on to the quirky New York food recommendations. These are truly some of the coolest restaurants in NYC.
Local Tours For Unique Food In NYC:
Click here for a full list of NYC food and drink tours.
Fun & Unique Restaurants In NYC
Why is New York so popular? One reason is the food! And if you're looking for a unique meal, the following eateries should be on your list.
Unique Restaurants In NYC With Multiple Locations
1. Think you can't find great, authentic barbecue in New York City?
You clearly haven't visited Dinosaur Bar-B-Que.
With locations in Brooklyn and Harlem, Dinosaur Bar-B-Que offers generous helpings of barbeque favorites like pulled pork, ribs, and wings alongside classic sides like mac & cheese and potato salad.
And with plenty of outdoor seating and complimentary water bowls, it's one of the best places for dog lovers to eat alongside their four-legged friends.
Dining with your boo?
This spot also makes for a fun summer date idea in NYC!
2. If you have a sweet tooth and are looking for fun NYC restaurants or kid-friendly restaurants, The Sugar Factory is a must. This eatery offers whimsical candy, decadent fondues, delicious diner food, and outrageous desserts imagined in your most sinful dreams (24-scoop sundae, anyone?).
The real reason to visit though is their crazy Goblet concoctions; monster-sized themed cocktails laced with candy that definitely help to make this one of the most Instagrammable restaurants in NYC!
I love the blue Hpnotiq-focused "Ocean Blue" with "swimming" gummy sharks!
They've got multiple locations, so it'll likely be near your hotel no matter where you stay in New York City.
3. Be a quirky kid again at Sticky's Finger Joint, with unusual chicken finger options.
Don't miss the Salted Carmel Pretzel chicken fingers, or the Thai Fiesta variety with Mac sauce, Thai sweet chili, taco seasoning, and sesame seeds.
4. Craving some alone time in such a bustling city? Ichiran feels you and has you covered.
Sit at one of Ichiran's "Ramen Focus Booths" and fill out an order form to enjoy their delicious ramen with minimal distractions from servers or your fellow diners.
While it may not be for everyone, this more mindful approach to eating makes Ichiran one of the most unique food places in NYC.
Unique Restaurants In Manhattan
5. Not only does Suprema Pizza serve some of the best pizza in NYC right near Penn Station, but you can have an "Upside Down" Sicilian slice with the sauce and cheese swapped. Talk about quirky things to do in New York!
6. For some hearty Georgian eats (as in the country Georgia, not the state), head to Chama Mama in Chelsea and the Upper West Side.
With an expansive menu featuring small plates of stuffed grape leaves, kebabs, and incredible wines from the region, you'll leave wondering why you never checked out this cuisine before. Oh, and a cheesebread for the table is an absolute must!
7. Fans of all things kitschy will love The Trailer Park Lounge & Grill, one of the most unusual restaurants in NYC.
With a menu full of backyard favorites like burgers and hot dogs and walls covered in every piece of quirky Americana you could imagine, Trailer Park has been a Manhattan favorite since 2000.
One too many "Jim Bob's I.Q." cocktails and you'll swear you're seeing two of those hula girls in the corner.
8. Within the Himalayan art-focused Rubin Museum visit Cafe Serai to try the momos, which put a New York twist — a la Reuben sandwich — on traditional Tibetan dumplings.
You get a choice of steamed or fried, with the dumplings filled with corned beef and sauerkraut and drizzled with Russian dressing.
9. Talk about interesting restaurants in NYC! In Manhattan's Upper East Side neighborhood, you'll find Keys & Heels, where an unassuming locksmith and shoe repair shop is actually just a facade covering up a gorgeous craft cocktail bar decked out in hanging plants, disco balls, and fun chandeliers.
Cocktails are the star of the show, and drinks are crafted with quality ingredients and served in gorgeous glassware.
If you like spicy drinks, try the "Pretty Little Psycho" made with Tanteo Habanero Infused Tequila, raspberry liqueur, fresh lime juice, and agave nectar — yum!
That being said, their nibbles are also tasty, from the homemade focaccia and ricotta to the caprese mini tacos.
By the way, if you're looking for fun ways to celebrate your birthday in NYC, Keys & Heels is a top pick!
10. Have you ever found yourself debating Shake Shack vs In-N-Out? The Happiest Hour in Manhattan's West Village has a burger called The Happiest Burger that blends the two's signature patties.
11. Abigail's Kitchen in Greenwich Village offers an interesting Dinners in the Dark series where you'll enjoy your meal blindfolded, heightening your other senses.
The $125 ticket for the event includes your food, wine, tax and tip. It's quite the novelty restaurant in NYC!
12. Molly's Cupcakes lets you be a kid again by eating homemade small-batch cupcakes that you can eat on swings while playing board games.
They're often stuffed with fillings like Nutella, butterscotch caramel pudding, and cheesecake.
Options change by season, so whether you're visiting NYC in fall, spring, winter or summer, you can find unique options.
13. How does Broadway performers singing to you while you dine sound? Ellen's Stardust Diner is one of the quirkiest restaurants in NYC — and maybe the country.
The 50's-themed eatery has classic diner fare, and as you eat surrounded by retro decor you'll be serenaded by singing waitstaff.
For unusual options, check out their dessert menu where you can get everything from bright rainbow-colored cake to a health-conscious "Jimmy Fallon Shake" to a salted caramel pretzel shake laced with rum.
14. Rolf's is one of the top theme restaurants in NYC thanks to its elaborate year-round Christmas decorations that will put you in the holiday spirit no matter the season.
The walls and ceilings of Rolf's are adorned with twinkling lights and sparkling red and gold ornaments.
On the menu, you'll find traditional German fare, while their extensive drink menu includes tasty concoctions like spiced German mulled wine and chocolate martinis.
15. Gotta love the creative and colorfully-named creations at Big Gay Ice Cream — like the "Salty Pimp," where vanilla soft serve is coated in a hard chocolate shell and bits of dulce de leche burst into your mouth.
They also feature atypical topping options like wasabi pea dust, cayenne pepper, ginger syrup, and key lime curd.
16. When it comes to unusual restaurants in NYC, this one fits the bill. If you're into Fear Factor-esque eats, Black Ant in the East Village infuses insects into their menu, whether it be guacamole laced with black ant salt or grasshopper corn-crusted shrimp.
17. Tiki Chick is one of the most fun restaurants in Manhattan. This brightly-colored tiki bar is decorated with tropical flowers and offers a slice of paradise in the midst of the busy city.
In addition to their extensive cocktail menu, Tiki Chick is also open for lunch and dinner and has a menu of unique options like spam sandwiches (a Hawaiian favorite), fried chicken sandwiches, and doughnut breakfast sandwiches.
With so many amazing Manhattan restaurants, stopping in for a unique bite and drink is one of the top things to do on the Upper West Side!
Want beautiful photos taken of you in iconic New York locations? Book a Private Photo Journey, a walking tour that includes photos of your group to keep. Or get a styled, custom shoot that tells your unique story through an NYC Influencer Shoot or Professional New York City Shoot. Email [email protected] with inquiries.
18. Within the Le Soleil Hotel in Herald Square, Trademark Taste & Grind offers offbeat bites in one of the best Instagram spots in NYC!
Think Burrata & Knots (an upscale play on garlic knots), vegetarian Roasted Cauliflower Steak and their own creation, the Doffle.
For the latter, think doughnut meets waffle, with new flavors — from Sweet Potato Pie to Pear Cardamom — offered each week.
19. For a wild array of empanadas, Empanada Mama in the Lower East Side and Hell's Kitchen showcases not-often-seen varieties like an "Americano" with hot dog bits and cheddar, and a "Viagra" stuffed with seafood stew.
20. If you're looking to have a fun dinner in NYC, head to 99 Favor Taste. Not only do the prices make dining at this all-you-can-eat hot pot and Korean BBQ spot one of the cheapest things to do in New York City, but the ingredient options range from your typical beef and tofu to the more unusual pig brain.
By the way, if you're looking for cool restaurants in NYC for a birthday, this is where my husband and I throw our parties every year!
21. S'MAC in the East Village is a restaurant devoted solely to macaroni and cheese, with unique flavors that go beyond four cheese. Masala, anyone?
22. Alice's Tea Cup is one of the most unique restaurants in New York City, with locations in both the Upper East Side and Upper West Side.
The eatery's concept is based around Alice in Wonderland, and is one of the best places in NYC for a themed brunch or afternoon tea. Their afternoon tea includes unlimited tea, finger sandwiches, scones, and cookies.
23. When it comes to cool restaurants in New York City, Fraunces Tavern is one with a very interesting history.
This historic tavern near Wall Street in Lower Manhattan was founded in 1762, and holds the record for the oldest continuously-operating restaurant in NYC. George Washington even dined here!
Today, Fraunces Tavern serves hearty pub food in a colonial-inspired interior and is a great place to stop for a meal or draft beer.
24. Vegetarians and vegans will act like kids in candy stores at Dirt Candy, one of the most unique food places in NYC.
This veggie-based eatery in the Lower East Side offers two tasting menus:
The Vegetable Patch, featuring five courses of the restaurant's greatest hits, and Vegetable Garden, a seasonal menu of ten courses.
And yes, even the deliciously sweet desserts are veggie-based, proving that truly anything is possible when it comes to food.
25. The VNYL showcases a retro 70s aesthetic and very Instagrammable menu, with dishes like Bangers & Mash Croquettes and Bacon Quinoa Sushi with avocado and sambal créme fraiche. Save room for a cookie dough spring roll!
26. Head to Cafeteria in Chelsea and order Mac & Cheese Spring Rolls — actual spring rolls made from fried mac and cheese!
27. While somewhat touristy, my parents used to take me to Jekyll and Hyde Club in Greenwich Village when I was younger.
We always had a blast being immersed in an atmosphere of bizarre live performances, movie-themed dishes, and monsters who would come to the table and talk to you. The decor is really out there, too!
28. For cool places to eat in NYC, you can't go wrong with La Caverna. This Mexican restaurant on the Lower East Side has a cave-like atmosphere — complete with stalactites hanging from the ceiling and glowing lights that add a unique ambiance to the space.
In addition to being a restaurant serving up tasty tacos and quesadillas, La Caverna is transformed into an after-hours dance club that stays open until late. It's perfect for those looking to explore NYC after midnight!
29. The Late Late is one of my favorite craft cocktail and music-focused bars (hey, their tunes are picked by Rob Ackroyd of Florence & the Machine).
The non-classic Irish bar also features atypical eats like Fish & Chip Tacos, Dublin Cheddar Sticks, and the Tayto Crisp Sambo.
The latter is a UK sandwich not really found in the USA featuring Irish potato chips, Ballymaloe Stout Relish (considered Ireland's ketchup), pickles, and cheese mayo served on a chive brioche bun.
Burn off your meal with a walk over the Williamsburg Bridge nearby!
30. Along with delicious bowls of soup, Kogane Ramen in Chelsea serves up tasty Ramen burgers: juicy patties sandwiched between buns made from the tasty fried noodles.
31. Ever dreamed of crashing a Bar Mitzvah? At Famous Sammy's Roumanian Steakhouse in the Lower East Side, you'll chow down on Romanian tenderloin and stuffed cabbage before dancing the hora with strangers to live DJ music.
Pretty nuts, especially if you love weird NYC restaurants!
32. At Beetle House, every day is Halloween! This creepy yet cool New York City restaurant celebrates horror through themed decor and fare.
Expect purple lighting, black-and-white-striped wall paper (a la Beetlejuice), walls lined with skulls and scary artwork, and even actors dressed as creepy characters — like Jack Skellington from Tim Burton's Nightmare Before Christmas.
In terms of interesting food and drink items, pair a gin-laced "Bio-Exorcism" or a "This Is Halloween" with Fireball, sour apple, pumpkin liqueur, and apple cider with the Sweeney Beef filet mignon or some creamy Cheshire Mac & Cheese.
33. In NYC's West Village, you can visit Pasticceria Rocco to savor cookies the size of your head as well as unusual latte flavors.
Some include cheesecake, frosted shortbread, banana foster, creme brulee, strawberry banana, caramel biscuit, and a sweet vanilla cupcake latte made with a real cupcake.
34. If you're in search of fun trendy restaurants in NYC that are also unusual, NR in the Upper East Side pairs cocktails with ramen.
Expect craft libations laced with ingredients like palo santo wood bitters, truffle honey, and cherry blossom alongside bowls of ramen and creative food fare.
For instance, for unique eats in NYC, try the beer-steamed mussels made with yuzu peel and cotton candy, or the Japanese fried chicken featuring matcha salt.
Visiting NR is one of the top things to do on the Upper East Side NYC!
Want beautiful photos taken of you in iconic New York locations? Book a Private Photo Journey, a walking tour that includes photos of your group to keep. Or get a styled, custom shoot that tells your unique story through an NYC Influencer Shoot or Professional New York City Shoot. Email [email protected] with inquiries.
35. The Ainsworth is an East Village restaurant featuring a great happy hour, boozy brunch, outdoor dining, and no shortage of unique menu items.
If you want something really unusual, or are on the hunt for Instagrammable places in NYC, one dish that meets both requirements is the Mac & Cheese Burger made with a panko-crusted mac and cheese patty, a beef patty, and more mac & cheese served on a sesame bun.
Or you can opt for the 24KGold Wings — as in, 24 karat gold dusted Thai chili wings!
36. Toloache NYC has an expansive menu that includes a very atypical taco, at least in New York:
The Chapulines, a spicy taco gowned in Oaxacan-style dried grasshoppers.
37. If you enjoy interactive dinners in NYC, Cacio e Pepe in the East Village serves up their signature Tonnarello Cacio e Pepe — in a giant Pecorino cheese wheel.
38. It's not so much the food at Lillie's Victorian Establishment that's odd, but the experience of dining while immersed in the Victorian Age.
One of the top themed restaurants in NYC, expect gilded mirrors, ornate antiques, Victorian paintings, and a marble mantlepiece and bar.
In fact, much of the decor was brought to New York from a Victorian mansion in Belfast, Ireland.
39. Dominique Ansel, the man famed for his Cronut, serves up an interesting burrata soft serve at Dominique Ansel Kitchen in Flatiron and SoHo.
Recommended:
A hazelnut chocolate swirl base topped with balsamic caramel and basil with strawberry confit at the bottom of the cone.
40. One of the coolest NYC restaurants is King's Carriage House on the Upper East Side of Manhattan, which will make you feel as if you've been transported to a quaint English country manor.
This cozy and intimate restaurant with old-world charm offers a delicious and hearty dinner menu. They're also known for serving one of the best afternoon teas in New York City.
41. Treat House in the Upper East Side offers wacky rice crispy treat squares and pops in flavors like birthday cake, M&M, and Cookies & Cream.
42. A favorite of mine for years, almost nothing on the Momofuku Milk Bar dessert menu is like anything you'd find elsewhere.
I love the soft serve in flavors like cereal milk, sweet potato, and pretzel, though the "Crack Pie" — which doesn't contain crack but is just as addictive — is amazing with its gooey butter filling.
43. Looking for a party atmosphere? Want to pair games with your food? Swingers Club has you covered! It's one of the cool places to eat in New York City.
Located in Manhattan's NoMad neighborhood, you'll savor gourmet street food and craft cocktails while playing mini golf.
After your game, travel the world through Mexican tacos, Italian charcuterie, Mediterranean pita pockets, and more.
44. If you have a sweet tooth, you won't want to miss Chikalicious in the East Village, where creative treats and multi-course dessert pairings are the focus.
Suggestion:
Don't miss their beautiful and delicious dessert bento box, which in itself makes this one of the most unique places to eat in NYC!
45. Drag fans will go gaga — in a good way — over a night at Lips, one of New York's oldest drag queen shows and dining experiences.
Enjoy a three-course menu featuring dishes named after famous drag queens as you watch performers lip sync for their lives on stage and throughout the dining room — so be sure to bring cash for tips!
Take your Sunday brunch to the next stage at their Broadway Brunch, where you can sip unlimited mimosas and Bloody Marys while you watch the queens belt out their favorite show tunes. It's truly one of the best bottomless brunches in NYC!
46. COSME in the Flatiron District is an interesting contemporary Mexican restaurant.
It features elements of Japanese and Italian cuisines woven into dishes like uni tostada served with avocado, bone marrow salsa and cucumber, or seared Brussels sprouts done in a mole verde with pine nuts and kale.
47. Music lovers and izakaya fans alike will love Tokyo Record Bar, an underground eatery in Greenwich Village that lets you play DJ for the night.
Modeled after the listening rooms of Japan, Tokyo Record Bar allows you to pick the evening's soundtrack by choosing from their library of vinyl records and pairs your meal with that night's playlist.
Book early, as seatings fill up fast, and you won't want to miss one of the most unique places to eat in New York.
48. Serendipity 3 is an eclectic eatery located just a few blocks from Central Park that's one of the most fun restaurants in New York City.
This popular spot was featured in the 2001 romantic comedy film Serendipity, and is best known for its quirky decor — including colorful stained-glass light fixtures and chandeliers as well as funky wall art.
It's also a fan favorite for its decadent desserts, like the frozen hot chocolate. The chilly treat comes in a massive glass that's easily big enough for two to share!
Want beautiful photos taken of you in iconic New York locations? Book a Private Photo Journey, a walking tour that includes photos of your group to keep. Or get a styled, custom shoot that tells your unique story through an NYC Influencer Shoot or Professional New York City Shoot. Email [email protected] with inquiries.
49. Looking for fun New York themed restaurants? The Cauldron, located in Manhattan's Financial District, brings magic to life with science, technology, and design.
You'll truly feel like you've been transported to a world of wizards, witches, and warlocks through imaginative decor, potion-making classes, and a fantastical menu.
A few items to try include the "Smokey Fish & Chips" served with dry ice that flows over the table and the "Flaming Cheesy Cauliflower" served with actual flames.
Pair your meal with "The Ode-to-Mullica," a drink featuring bourbon and maple served in a smoking bell jar.
Additionally, you can attend their LGBTQ-friendly events on Thursdays — like #FreeBritney themed drag bingo. Profits from these happenings are donated to the Translatinx Network.
It's definitely one of the fun places to eat in Manhattan!
Unique Restaurants In Brooklyn
50. For those craving a trip to the beach, Brooklyn Surf Bar in Williamsburg allows you to munch on surfside-inspired dishes and tiki drinks while literally digging your toes into the sand.
It's one of the most fun restaurants in NYC for adults, as along with having sand on the ground, this indoor-outdoor eatery features surf boards on the ceiling and walls showcasing buoys, lei necklaces, coconuts, and other colorful beach decor.
51. One of the best dining experiences in NYC is Dinner Party, a New American restaurant that is designed to feel like you're having a dinner party in someone's cozy home.
Located in the Fort Greene neighborhood of Brooklyn, this unpretentious eatery features a rotating menu of rustic flavors with French and Italian flair.
You'll be seated at communal tables inside this restaurant's eclectic interior, adding to the feeling that you're at a dinner party with friends.
52. Craving Caribbean cuisine with a flair for fun? Kokomo in Brooklyn offers a creative food and drink menu in a lively indoor/outdoor atmosphere.
If you're looking for a meat-free experience, start with the jerk cauliflower or smoked sweet plantains before moving on to some jackfruit tacos, lentil meatballs in coconut curry sauce, or, my personal pick, the Koko Vegan Pasta featuring pappardelle pasta in a spiced cashew raiso sauce topped with shiitake mushrooms and mixed vegetables.
The menu isn't all vegan, though. A few other standout dishes include the seafood cake appetizer, slow braised oxtail, and the Red Peppa Jerk Chicken made with free-range all-natural chicken.
Whatever you choose to eat, make sure to pair it with a cocktail! The libations are crazy creative — from the "Duckie Wine" featuring a mix of coconut, aged, and overproof rums, hibiscus cordial, cinnamon, lemon juice, and egg white served in a small bathtub with a rubber duck.
Another fun drink is the "Good Vibez", a tequila cocktail graced with the face of Bob Marley.
Eating here is one of the top things to do in Williamsburg, Brooklyn!
53. If you love ice cream you should also go to OddFellows Ice Cream, where the name says it all.
Small batch ice cream flavors change regularly, but you might find anything from Saffron Passionfruit to Manchego Pineapple to Thai Iced Tea and beyond.
This is a great option if you're looking for trendy restaurants in Midtown NYC that are also fun and laid-back.
54. At Roberta's Pizza in Bushwick get the "Bee Sting," a sweet, salty and spicy pizza featuring honey, chili oil and flakes, and soppressata.
55. For a countryside feel in the city, Brooklyn Grange hosts culinary, agricultural, and sustainable eats classes as well as delicious rooftop dinners.
56. Don't miss Shalom Japan's, a unique fusion restaurant blending Jewish and Japanese cultures.
Some recommended dishes include:
The Matzoh Ball Ramen with foie gras dumplings and the Okonomi-Latke, a cross between Japanese okonomiyaki pancake and the traditional Jewish latke.
57. If you're searching for fun places to eat in New York that also include an activity, look no further than Kickaxe in Brooklyn.
Here, you can pair a hearty "Lumberjack (Pizza) Pie" or some "Kick Axe Jerky" with a local craft beer and some hatchet throwing.
Honestly, there probably isn't a better place to let out some steam and destress after a crazy work week!
Want beautiful photos taken of you in iconic New York locations? Book a Private Photo Journey, a walking tour that includes photos of your group to keep. Or get a styled, custom shoot that tells your unique story through an NYC Influencer Shoot or Professional New York City Shoot. Email [email protected] with inquiries.
58. As far as unique restaurants in Brooklyn go, River Cafe tops the list because of its unique location: on a boat under the Brooklyn Bridge!
Nestled under one of the most iconic landmarks in NYC, you'll enjoy waterfront views of the bridge and the Lower Manhattan skyline as you dine. It's truly one of the best views in NYC!
This upscale restaurant, which has been in operation since 1977, boasts a Michelin star and is known for its inventive New American fare.
59. The Red Hook neighborhood of Brooklyn is known for its delicious and unique New York restaurants, especially Brooklyn Crab — the perfect spot to while away an afternoon while chowing down on unfussy seafood faves like peel n' eat shrimp.
With three floors of (mostly outdoor) seating space, cornhole equipment galore, and a backyard beer garden, this waterside spot has something for everyone.
As far as quirky restaurants in New York go, you can't beat a spot with its own mini-golf course.
60. While the Brooklyn Cat Cafe doesn't actually serve food, it is full of adorable kitties. This nonprofit cafe is actually a volunteer-run adoption center and community space, and is definitely worth a visit if you love fur babies.
61. Take a trip back to the 1920s at Brooklyn Farmacy and Soda Fountain in Cobble Hill, one of the most unique restaurants in NYC.
A former apothecary, this eatery now offers vintage-style milkshakes, classic New York egg creams, and sundaes galore to satisfy both your nostalgia and your sweet tooth.
Unique Restaurants In Queens
62. One of the most unique restaurants in Queens is Comfortland, a colorful cafe in Astoria serving up delicious comfort food classics with an inventive twist.
You'll find creative items like BBQ Chicken Mac and Cheese Empanadas and a Vegan Po' Boy sandwich on the menu.
Craving something sweet? Don't miss their Chocolate Bomb Donut filled with chocolate pudding and topped with chocolate glaze and Oreo crunch.
63. Head to the farm-to-fork focused Julia's Beer and Wine Bar in Ridgewood, Queens.
Suggestion:
Try their unusual roasted tri-color cauliflower and Brussel sprouts tossed in buffalo sauce and topped with sheep's milk blue cheese.
64. Also in Ridgewood is another farm to table eatery, Norma's Corner Shoppe, serving up really fun desserts.
Try the frankencrispies, a combination chocolate chip cookie, rice crispy treat, and raspberry brownie.
65. Looking for some of the best South Indian eats in NYC? You'll find it at the Ganesh Hindu Temple in Flushing, Queens.
Tucked inside the house of worship is the Temple Canteen, serving a wide array of vegetarian delicacies to all temple visitors, regardless of faith.
Missing the canteen's tasty snacks at home? Don't worry — they ship nationwide!
66. Go as DIY with your meal as the Board of Health will allow at Astoria Seafood.
This seafood market and Greek eatery allows you to choose your own fish from their super fresh selection before it's cooked up to your liking.
Going along with the DIY vibe, Astoria Seafood is BYOB. May we suggest a bottle of ouzo?
Unique Restaurants In The Bronx
67. For fresh fish with a nice helping of kitsch, head north to Sammy's Fish Box in City Island.
This quirky Bronx eatery boasts a huge menu of all your seafood favorites, including basically every combination of surf and turf you could imagine.
68. Chocobar Cortes is a "Caribbean Chocolate Everything Restaurant" in the South Bronx where you can get chocolate-laced cocktails, delicious hot chocolate and mocha drinks, chocolate desserts, and even savory eats featuring chocolate — like tacos showcasing a hot chocolate sauce and a fresh salad topped with a chocolate vinaigrette.
Want beautiful photos taken of you in iconic New York locations? Book a Private Photo Journey, a walking tour that includes photos of your group to keep. Or get a styled, custom shoot that tells your unique story through an NYC Influencer Shoot or Professional New York City Shoot. Email [email protected] with inquiries.
Unique Restaurants On Staten Island
69. Is there anything better than grandma's cooking? At Staten Island's Enoteca Maria, they don't think so.
At this unique New York City restaurant, nonnas from around the world cook you dishes from their homeland, allowing you to travel the globe through the palate.
70. Dinner and a show anyone? For some Rat Pack-style cabaret and delicious Italian eats, take the ferry over to Staten Island for a night at Lorenzo's Restaurant and Cabaret.
This lush dining room and show space regularly hosts acts such as Deana Martin and the Jersey Tenors, perfect for anyone looking for a great meal complimented by a night of entertainment.
It offers unique dining experiences in NYC.
71. Looking for some of the best Peruvian eats in the city? Inca's Grill Peruvian Cuisine on Staten Island has you covered.
From ceviche to yucca fries, Inca's will satisfy your cravings while introducing you to one of the many international cuisines represented in New York City.
Best NYC Hotels
After eating your way through the most unique restaurants in NYC, relax in some of the city's best hotels like NoMo SoHo, Arlo Williamsburg, and The Ludlow.
➡️ Click here for a full list of New York City hotels!
Prefer self-contained stays?
➡️ Click here to check out unique local rentals!
You can also use this map to search for local stays. It is set to SoHo, but you can easily change it to your specific NYC neighborhood.
Like the idea of hotel living? There are also many live in hotels in NYC that offer extended stays.
New York City Travel Insurance
While you hope everything runs smoothly, sometimes travel just doesn't go according to plan.
This is why I recommend always purchasing travel insurance. The scary truth is it only takes one bad accident to lose everything — or be thankful you were covered.
Personally, I use SafetyWing, as they've got a large network, offer both short-term and long-term coverage (including limited coverage in your home country), are budget-friendly, and offer $250,000 worth of coverage with just one low overall deductible of $250.
Click here to price out travel insurance for your trip in just a few clicks.
Frequently asked questions about cool places to eat NYC
Q) What is famous to eat in NYC?
Some of the most famous foods in NYC are bagels, the New York pizza slice, and the Pastrami sandwich.
Q) What is New York's most fancy restaurant?
Le Bernardin, Eleven Madison Park, and Per Se are among the fanciest restaurants in NYC.
What are your favorite unique restaurants in NYC? Any fun New York City restaurants you'd add to this list?
---
Enjoyed this post on unique NYC restaurants? Pin it for later!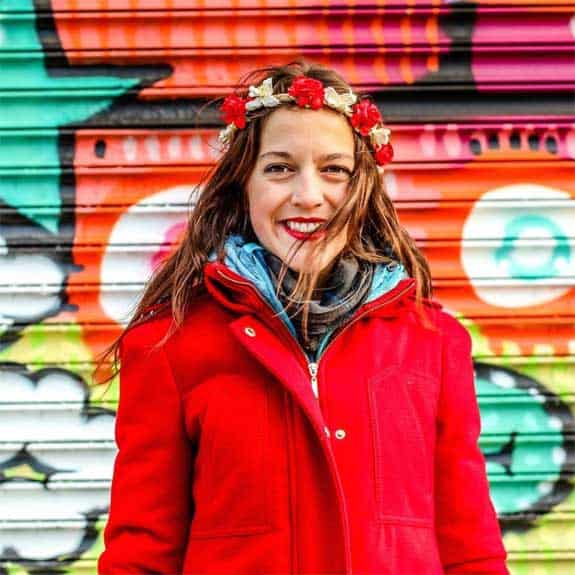 Hi, I'm Jessie on a journey!
I'm a conscious solo traveler on a mission to take you beyond the guidebook to inspire you to live your best life through travel. Come join me!
Want to live your best life through travel?
Subscribe for FREE access to my library of fun blogging worksheets and learn how to get paid to travel more!