73 Romantic Things To Do In NYC (Beyond The Empire State Building)
This post originally appeared on Jessie's NYC tour company site, NYC Photo Journeys; Featured+ Pinterest images taken on a Private Photo Journey
Opportunities for romance in NYC go beyond stealing a kiss atop the Empire State Building (though of course, this is whimsical experience, as well!).
Whether you're looking for an ambient meal, want to spend time outdoors or are eager to explore the city's most hidden places, we've got you covered with 73 experiences across all five boroughs — and even a bit of Long Island!
Read on to plan your perfect outing for you and your sweetheart.
No matter how you choose to explore romance in NYC, don't forget your photos! Along with offering photo tours, we photograph events and engagements, and even couple's outings exploring the city. Email [email protected] with inquiries.
Psst, don't forget to pin this post for later!
Multiple Boroughs
1. Have your photos taken around the city. You know when you ask a stranger to take a photo of you and your love, but your heads are chopped off, or everything is blurry? Say goodbye to bad photos on our Private NYC Photo Journey. Part tour, part photo shoot, the itinerary is based on your interests. Your licensed New York City sightseeing guide is also a photographer, and you'll leave with professional shots of you and your significant other to keep.
GUESTS STEALING A GAZE AT SUNSET IN FRONT OF THE WILLIAMSBURG BRIDGE ON A PRIVATE PHOTO JOURNEY.
2. Get tipsy while painting. The Painting Lounge offers BYOB paint classes in Manhattan, Brooklyn and Queens. Because it's a step-by-step course, you'll actually leave with something worth framing.
3. Learn the art of trapeze. At Trapeze School New York, you and your love can learn the art of this circus act, with classes focusing on everything from silks to static trapeze and beyond. Take a class at their year-round Brooklyn location or their outdoor warm-weather location in Manhattan. This is one of the best non-touristy things to do in New York!
4. Volunteer together. One way to get closer with your love is to give back. Volunteer opportunities abound in NYC, though the best way to find them is on the Deed app. You'll be given a list of opportunities with dates, times and available slots. With one click, you can sign up to help.
5. Attend a secret concert. Sofar Sounds puts on pop-up concerts in secret locations around NYC. While the concert address won't be given until you book, you'll be provided some information to get a sense of the scene, such as that it's a Bob Marley tribute concert in someone's East Village living room, or that it's an accessible-friendly public venue hidden from the main streets.
6. Battle each other on retro video games. Barcade has locations in Brooklyn and Manhattan. Offering a variety of craft beers as well as an impressive array of old school video games, it's the perfect place to go back in time while getting buzzed. Galaga, anyone?
7. Combine bridges and trams. Nothing says romance in NYC quite like a kiss in front of a movie-famous bridge or skyline. For an afternoon stroll full of views, walk over the Queensborough Bridge from Long Island City to the Upper East Side in Manhattan. From there, head to 59th Street and 2nd Avenue to swipe your Metrocard and gain access to the Roosevelt Island Tram. The short ride offers views of the East River, One World Trade Center, the Empire State Building and the Chrysler Building. Once on Roosevelt Island, wander around to take in vistas of the Queens and Manhattan skylines. This itinerary will allow you to enjoy some of the best views in NYC for free (aside for your Metrocard swipe).
8. Explore authentic cultures in local kitchens. League of Kitchens gives you access to local immigrant homes, where you support them by paying for a cooking class and cultural lesson. Bring containers, as you'll likely have leftovers from your enlightening feast.
Romance In Manhattan
9. Hit the rooftop at Pod 39. Sprawling vines up brick walls and terracotta columns give this rooftop a European feel, though the taco cart and margaritas will transport you to Mexico. Take in views of the Empire State Building, One World Trade Center, the Chrysler building, and the East River. This is one of the most Instagrammable places in New York City!
10. Take a free salsa class at Iguana. At 6pm on Wednesdays, you'll get complimentary salsa and bachata lessons. Bonus: there are happy hour drinks, too! Choose from one of their 28 flavors of margaritas or mojitos.
11. Pair dinner with free flamenco. Head to Socarrat Paella Bar in Nolita on a Tuesday night for a free flamenco show from 7pm-10pm. To up the romance, we suggest ordering a glass of their tasty sangria, too!
12. Savor a boozy cupcake pairing. At Sweet Revenge in the West Village, the menu pairs homemade cupcakes — as well as other eats and treats — with beer and wine in a cozy restaurant.
13. Chill out in a friendly wine bar. Lois in the Lower East Side is probably NYC's chillest wine bar. Along with having wine on tap, there's a no tipping policy!
14. See a burlesque show at The Slipper Room. Located in the Lower East Side, this intimate burlesque club has been putting on steamy variety shows since 1999.
15. Travel To Japan (Without Leaving NYC). Located within The Kitano Hotel New York is Hakubai, an authentic Kaiseki restaurant serving up dishes like Miyazaki A5-grade Wagyu beef, Komochi Kombu (herring roe with kelp) and Ika Ichiya Boshi (grilled lightly-dried squid), all served at carefully timed intervals on an exquisite array of porcelain, pottery and lacquer dishware. To up the romance factor, slip off your shoes and dine in a private Tatami room on rice straw mats.
16. Steal a kiss at the top of Belvedere Castle. Built in 1869, the Central Park attraction offers sweeping views over the Great Lawn and The Ramble. Visiting is truly a special and uniquely New York experience and one of the most fun things to do in the Upper West Side NYC or Upper East Side!
17. Sing your heart out over dueling pianos. Every Saturday night at 10pm, you and your sweetheart can attend NYC's biggest all-request, rock-and-roll party, Shake Rattle & Roll Dueling Pianos. It's a sing-along dance-along with talented musicians playing everything from Billy Joel to Bon Jovi to Britney Spears.
18. See the whole city from your seat. For the ultimate fine dining experience, The View in Midtown not only serves up gourmet steaks and seafood, but revolves a full 360-degrees every hour so you're never without, well, a view.
19. Take a chocolate-making class. At Tache Artisan Chocolate in the Lower East Side, you and your love will learn about cacao from cultivation through tasting, even making your own treats to savor. Think chocolate mustache lollipops, French chocolate clusters, bars, kisses and more. Bonus: the class includes gorgeous wrapping for your creations.
20. Take a helicopter tour over the city. On a Scenic Helicopter Tour, you'll snuggle up with your other half for 18-20 minutes to take in sweeping aerial views of Governor's Island, the Hudson River, the Empire State Building, the Chrysler Building and other NYC gems.
21. Chill out in a salt cave. Did you know there are salt caves in Manhattan? At Montauk Salt Cave in the East Village, you and your partner can chill out in a relaxing Himalayan pink salt-lined room. Not only is this a unique NYC experience, but it also has anti-inflammatory benefits and reduces stress. Bonus: they offer classes like Reiki and yoga in the salt cave!
22. Have an adventurous meal. You know what they say; the couple that eats ants together, stays together. And hey, even if nobody ever said that, you'll still find romance in NYC at Black Ant in the East Village. Here, beautifully plated food takes on a creative edge, with certain dishes — like the guacamole with black ant salt and the tacos with grasshopper-crusted shrimp — also featuring insects.
23. Explore the Met Museum, alone. On an EmptyMet Tour, you and your partner can visit the famed art museum before it opens to the public, taking in over 5,000 years of art without the crowds. Not morning people? Opt for the After-Hours Met Tour instead.
24. Learn the Lindy Hop. Harlem is the birthplace of the Lindy Hop, and on a Swing Dance Walking Tour of the neighborhood you'll not only see historic sites relating to the dance form, but will also end with a swing dance class.
25. Go back in time to the Harlem Renaissance. At Red Rooster Harlem, you can have an elevated soul food meal — don't miss the hot honey chili sauce-laced chicken and waffles — before heading downstairs to take in a show at Ginny's Supper Club (where the same menu is also served). It'll be one of the tastiest and liveliest date nights you've had in a while.
26. Have a meal at Max Brenner's. Also known as Chocolate by the Bald Man, this chocolate-centric and Instagrammable NYC restaurant in Union Square serves up hearty meals, though the real highlight is the extensive dessert menu. Order a salted caramel hot chocolate, then pair with an Oreo-laced milkshake, s'mores fondue or chocolate cheesecake crepe brulee. Two spoons, please!
27. Dine in the dark. At Camaje in Greenwich Village, you can attend one of their Dine in the Dark dinners, a delicious albeit completely unilluminated experience meant to heighten your senses of smell and taste.
28. Take in river views from Fort Tryon Park. Featuring 66 acres, this hilly park offers scenic paths leading to views of the Hudson River, Palisades and the George Washington Bridge. Tip: nearby you can visit the Met Cloisters, a scenic branch of the Met Museum focused on the art, architecture and gardens of medieval Europe.
29. Take a budget-friendly seafood cruise. During the warmer months, you'll pay just $10 to take a spin on the North River Lobster Co boat, which leaves from Pier 81. If you're hungry, lobster rolls, crab-topped salads and other seafood delights — along with booze — can be purchased on board.
30. Have an immersive rooftop experience. Forget dinner theater; at the Gallow Green rooftop cocktail bar you'll be served in a whimsical garden by cast members of Sleep No More, the immersive show where you follow characters through macabre scenes based on Shakespeare's MacBeth. Visiting in winter? The equally romantic Lodge — a rustic space with covering — serves hot boozy drinks.
31. See a Broadway show (on a budget). There's no denying there are some great shows to be seen on Broadway; though often the pricing can be out of your budget. Search the TodayTix app for discounts on unsold seats, and use the money you saved for a nice dinner nearby. We love the New American menu at BEA.
Pro tip: Save your Broadway playbill for an authentic (and free!) NYC souvenir.
32. Pair Master Sommelier-sourced wines with unique bites. At the chill yet classy Aldo Sohm Wine Bar in Midtown, the sommeliers really know their stuff. Wine is paired with one-of-a-kind plates like chicken salt-seasoned cauliflower, foie gras lollipops and a warm goat cheese potato parfait on arugula.
33. Splurge on a heavenly penthouse suite overlooking Hell's Kitchen. At Kimpton Ink 48 Hotel's two-storey Heaven over Hell Penthouse Suite, highlights include a king bed-equipped bedroom, an oversized bathroom with a double vanity, shower and soaking tub, a separate dining room and sitting area, a private rooftop terrace and, the main attraction, panoramic views of the city skyline and Hudson River through floor-to-ceiling windows. Note, though, that this is a true splurge at $3000 per night.
34. Learn how to give each other great massages. At the Love Institute in Midtown West, you can opt for a group massage or private massage class. By the end of the session, you'll forever have a way to make your partner feel special after a long day.
35. Go back in time with absinthe and hot dogs. At the William Barnacle Tavern in the East Village, you can sip absinthe prepared in the bohemian style — complete with a sugar cube set on fire and infused under an ice water drip into the drink. This space operated as a nightclub during Prohibition, and the original bar used to seat guests like Al Capone and Lucky Luciano. Attached to the bar is a small hot dog stand selling the same recipes used by Charles Feltman, the inventor of the hot dog in the 1860s.
36. Learn to cook with (and for) your love. At the Institute of Culinary Education they offer recreational classes that allow you and your sweetheart to gain a new skill you can also use to up the romance later. They even offer a Couples Cooking series, with focuses on Tuscan meals, Thai favorites, Sushi and Sake, and more.
37. Spark the magic. Tannen's Magic Store in Midtown West is not only NYC's oldest magic shop since 1925, but is staffed with magicians who will happily perform tricks to show off their cool products. Only a six-minute walk away you'll also find the Houdini Museum.
38. Check out a sensual exhibit. The Museum of Sex is an educational experience for couples and singles alike, and they always have interesting rotating exhibits like "Female Gaze" and "Universe Of Desire: Why We Like What We Like." Click here to grab your tickets.
Romance In Brooklyn
39. Savor the natural flavors of raw chocolate. Did you know that most mainstream chocolate is roasted at such high temperatures, they need to add loads of sugar and milk to add flavor back? Not at Fine & Raw Chocolate Factory in Bushwick, where quality cacao beans are roasted at under 140 degrees Fahrenheit to preserve their natural characteristics. Free samples are available (try the lucuma & vanilla!) and an open factory allows you to see exactly how it's made.
40. Stroll diverse and beautiful flora. If you're lucky enough to visit the Brooklyn Botanic Garden during winter, see if the spicy Chili Pepper Fiesta is going on, a wonderland of free samples of sauces, kimchees, chutneys and spicy chocolate. No matter what time of year you go, the Japanese Hill-and-Pond Garden is a highlight for romance in NYC. Grab your tickets here.
41. Have your photo taken with confetti. Jelena is the creator of The Confetti Project, where you can visit her Bushwick studio to play in confetti while taking photos that tell the story of your love. You'll even get a profile made on her website (if you'd like).
42. Learn the art of axe throwing. What's more romantic than trying something new? At Kick Axe in Gowanus, you and your special someone can grab a beer — and an axe — and try to hit the target in one of 10 throwing ranges.
43. Make your own momentos. At Brooklyn Glass, also in Gowanus, they offer day-long glassblowing workshops. You'll leave with your own one-of-a-kind piece, from swizzle sticks to glass flowers and beyond.
44. Have a craft cocktail at Westlight. On the 22nd floor of the William Vale hotel sits Westlight, a gorgeous cocktail bar and restaurant offering true 360-degree views from floor-to-ceiling glass windows, as well as from their outdoor terrace (open year-round). Because it's in Brooklyn across the East River, you also see the full Manhattan skyline.
45. Clink glasses at the world's first commercially viable rooftop winery. Rooftop Reds — located within the Brooklyn Navy Yard — holds this impressive title. During warmer months, you can visit their aerial spaces for wonderful views and equally wonderful glasses of Bordeaux.
46. Ride the carousel. NYC's most famous carousel — Jane's Carousel — resides in Brooklyn Bridge Park. You and your beau can hold hands and be kids again while riding a (carved wooden) horse-drawn carriage.
47. Go the indie route. At Nitehawk Cinema in Williamsburg, they play indie films paired with tasty dishes (hello truffle popcorn!) and craft cocktails so good you'll be shocked you're in a movie theater. Don't miss their themed series, like Film Feasts (movies paired with relevant bites); Spoons, Tunes & Booze (all-you-can-eat cereal, cartoons and drinks); and Love (romance films and kinky flicks shown at midnight on weekends).
48. Do an eight-course pasta tasting. At Faro, they pay homage to Italy's favorite carb. Making over 100 types of pasta using organic semolina wheat milled daily onsite, their Friday / Saturday Chef's Tasting allows you to try five of them (plus two starters and dessert). Fingers crossed that the delicious saffron-infused Corzetti — with scallops, pine nuts and pimentos — is on the menu.
49. Dress each other in body paint. At Den Art Body Painting Studio in Greenpoint, you and your honey can learn to paint each other with glow-in-the-dark UV paint. Both private and public classes offered. Bonus: they donate a portion of profits to International Justice Mission to fight against human trafficking.
50. Pair chocolate with booze (and boozy chocolate). At Nunu Chocolates' Boerum Hill and Park Slope locations, you can pair house-crafted chocolates with glasses of craft beer and wine. Or, you can go with their two-for-one option and order chocolates in flavors like mezcal chili, moonshine and amarula.
51. Have an artisan day. At Industry City in Sunset Park, you can see artisan vendors making everything from food to jewelry to pillows and beyond. Don't miss Li-Lac Chocolates — Manhattan's oldest chocolate company — decorating their treats by hand (a la Lucy-and-Ethel style). Even better, you can click here to grab tickets for an Industry City tour!
52. Ride the Ferris Wheel (and the Cyclone). During warmer months, visiting Coney Island is a must for couples. Hop around Luna Park for a thrill and to win a stuffed animal or two, then grab a hot dog (either from Nathan's Famous or Feltman's of Coney Island) before hitting the boardwalk and beach.
Romance In Queens
53. Mix comedy and cocktails. At The Standing Room, you'll pay just $10 to be entertained by local standup comedians. To sweeten (or liquor up) the date, bartenders craft inventive cocktails — some served in lightbulbs. A fan favorite is "The Smoke" featuring bourbon, ancho chile, cynar, house bitters, and, the best part, fire!
54. Pair wine with live music on the water. At the waterfront BLVD Wine Bar in Long Island City, you'll savor delicious dishes like lobster mac and cheese, squid ink risotto and mussels with drinkable broth paired with a budget-friendly bottle of wine. While dinner is exquisite, their weekend brunches add live music to the mix on Saturdays and Sundays from 12-3pm.
55. See a show at Forrest Hills Stadium. They've always got diverse musical acts, not to mention big names, at this al fresco stadium, which has a surprisingly intimate feel. A few acts that have graced the stage since its heyday in 60s and 70s include The Rolling Stones, Bob Dylan and Mumford & Sons.
56. Do a beer crawl of Long Island City. If brews are your thing, you and your partner will love the beer scene in Long Island City. Breweries abound, a few of which include LIC Beer Project, Fifth Hammer Brewing or, our favorite for their quirky options, Big aLICe. You can book a local brewery tour here.
57. Have a beach day. Queens is home to one of NYC's most popular swim spots: the Rockaway Beach and Boardwalk, with lots of sand, shops and parties during the warmer months. Sip a beer and listen to summer tunes on the Rockaway Beach Bus, which picks up from Manhattan and Brooklyn. Love adventure? Between 67-69 Street and 87-92 Street resides NYC's only legal surfing beach. There's also a fun floating water park, which you can buy tickets to here.
58. Get nostalgic at an old-fashioned soda shop. In Forest Hills, you'll find Eddie's Sweet Shop. Dedicated to old timey ice cream, the soda shop has been open since 1909. Expect a mix of classic and modern treats like rum raisin ice cream, banana splits, and cookies and cream pie in a retro space.
59. Have a retro Greek meal. Speaking of nostalgia, the 24-hour Bel Aire Diner in Astoria has been open since 1965, paying homage to the neighborhood's history and rich Greek culture (though you'll also find American, Italian and Mexican favorites, too).
60. Mix al fresco art with views. At Socrates Sculpture Park in Long Island City, you can stroll through multi-media installations while taking in East River views. There's also plenty of green space for a romantic picnic. If you'd rather have a knowledgeable local show you around, opt for an art tour of Queens.
Romance In The Bronx
61. Eat your way through the real Little Italy. While Manhattan's Little Italy is on the brink of extinction, Arthur Avenue in the Bronx is rich with Italian culture. On an Arthur Avenue Food Tour, you'll learn about the history of the thoroughfare while savoring locally-made pastries, cheese, bread and more.
62. Take in a waterfall. At Bronx Park — home to the famous Bronx Zoo and New York Botanical Garden — steal a kiss while walking along the well-forested Bronx River. The river runs through a deep gorge, and you'll even see the 13-foot-high Bronx River Waterfall near the Bronx Zoo entrance.
63. Savor a romantic meal. Whether you're sampling the fried chicken benny at brunch (with $18 free-flowing alcohol add-on, a top bottomless brunch in NYC option) or the pan-seared salmon at dinner, Charlie's Bar & Kitchen offers a delicious experience in an ambient space. While the yummy local beers and wine are worth a taste, the cocktails are the true star. Recommendation: the spicy "Manson" featuring tequila, lime juice, chili-laced agave and cucumber.
64. Get lost in an urban oasis. The 250-acre New York Botanical Garden in the Bronx is absolutely stunning, a National Historic Landmark founded in 1891 and featuring walking paths lined with dozens of plant collections, lakes, waterfalls, birdlife and more. This is also one of the best things to do in NYC in fall.
65. Have a zip-line adventure. Trying new things is a great way to grow your relationship. At Bronx Zoo Treetop Adventure, managed by the Wildlife Conservation Society, you can choose between riding dual zip lines through the trees and/or climbing obstacle courses.
Romance In Staten Island
66. Take the Staten Island Ferry. On a budget? The 30-minute ride on the Staten Island Ferry, a highlight of Staten Island travel and NYC in general, is completely free and includes gorgeous views of the Statue of Liberty. Bonus: You can purchase craft beers at a shop inside the terminal before boarding to enjoy on the boat.
67. Have a "nonna"-made meal. At Enoteca Maria, you and your date can savor meals cooked by grandmas from around the world. Menus rotate, and on any given night you may savor dishes from Peru, Italy, Ukraine, Sri Lanka, Turkey, Bulgaria, Siberia and beyond!
68. Traipse through tranquil Asian gardens. At the New York Chinese Scholar's Garden in Snug Harbor, you and your sweetheart can stroll hand-in-hand through a landscape based on the Ming Dynasty Gardens (1368-1644). Some features include koi ponds, lovely pavilions, moon gates, waterfalls and bamboo forests.
69. Hit the shore. At the 2.5-mile Franklin D. Roosevelt Boardwalk and Beach, you and your date can go for a dip in the Atlantic Ocean or just enjoy facilities like a kayak launch site, sports fields and barbecue areas.
70. Take a camping trip. You can take a $20 cab ride from the Staten Island ferry terminal to the 75-acre Henry Kaufmann Campgrounds for a fun weekend camping trip. From the grounds, you'll have access to numerous hiking trails in NYC, including the Staten Island Greenbelt.
Romance In Long Island
71. Take a tour of wine country. You can DIY this trip via public transportation or book a private limo (recommended). Long Island is home to over 50 wineries, not to mention whimsical farmstands, beaches, hiking trails, and more, so it's definitely worth at least a day trip, if not longer.
72. Take a scenic bike tour. For adventurous couples, a Montauk and Shelter Island Overnight Bike Tour offers the chance to see Long Island's most scenic spots — including a beach to swim. You'll end in the village of Greenport to explore the lively Main Street before boarding a train back to NYC.
73. Explore the Gold Coast. Along Long Island's famed Gold Coast, you'll find beautiful mansions and gardens to explore. Fun fact: The Gold Coast is what the Great Gatsby is based on!
Best Romantic Hotels in NYC
There are many great hotels for couples in NYC.
A few of our favorite romantic properties include:
The NoMad Hotel. This luxury hotel in midtown combines stylish design with a welcoming feeling; a sumptuous property with a boutique flair inside of a gorgeous Beaux-Arts building. Their dining and drinking spaces are particularly noteworthy, each with it's its own unique aesthetic, from the airy atrium to the peaceful library.
The High Line Hotel. This stylish landmark hotel resides on the very grounds where Clement Clark Moore wrote "Twas the Night Before Christmas." The vibe is 19th century with numerous original touches, including stunning stained-glass windows. Opt for in-room views of either the High Line or the hotel garden.
The William Vale. This hip Williamsburg property features onsite Italian eatery, stunning gym, and seasonal pool. It's also home to one of our favorite New York City rooftops, Westlight, which offers a true 360-degree view and delicious craft cocktails.
Click here for a full list of romantic NYC hotels.
What's your favorite way to celebrate romance in NYC? Please share in the comments below!
*Note: Some of the links contained in this blog post are affiliate links promoting our partners. We may earn a small commission if a booking is made — at no extra cost to you — which helps keep this website running.
Liked this post? Pin it for later!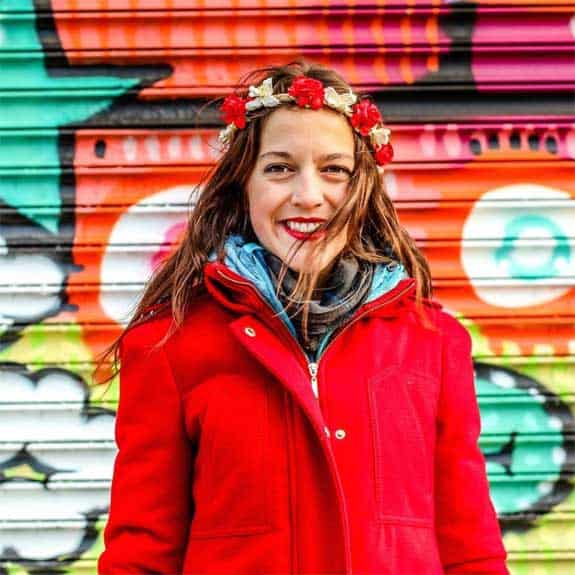 Hi, I'm Jessie on a journey!
I'm a conscious solo traveler on a mission to take you beyond the guidebook to inspire you to live your best life through travel. Come join me!
Want to live your best life through travel?
Subscribe for FREE access to my library of fun blogging worksheets and learn how to get paid to travel more!