How To Hike Breakneck Ridge To The Mount Beacon Fire Tower (Epic!)
By Jessie Festa. This Breakneck Ridge trail NY guide contains affiliate links to trusted partners!
Want to know how to hike Breakneck Ridge?
Then you're in the right place!
Located near Cold Spring, New York, the Breakneck Ridge Trail is one of the most popular hiking trails in New York State thanks to its stunning Hudson Valley views, the fact that it's very well marked, and its accessibility from NYC by train.
Keep in mind, there are a few different ways to do this trail, from short and long loops to hiking up South Beacon Mountain and beyond.
While each option offers a unique experience, they are all challenging, so just know that while hiking Breakneck Ridge awards gorgeous vistas you'll need to work for them.
Up for the challenge? Then let's dive into our guide to the Breakneck Ridge Trail in New York. It's truly one of the best options for hiking close to NYC.
Pro tip: Before going hiking, make sure to download the AllTrails app to have trail guides, maps, photos, and reviews right at your finger tips. You can also sign up for a free trial of AllTrails+ to download offline maps, get alerts for wrong turns, find trails by distance from you, and more!
What Type Of Hiker Are You? (Free Quiz!)
But first, before we dive into how to do the Breakneck Ridge hike in NY, I want to share a free personality quiz I think you'll love:
Discover your hiking personality in this fun and short hiker personality quiz, which also shares trail suggestions based on your results.
Once you've grabbed the quiz, let's go hiking in New York and discuss one of my favorite Hudson Valley hikes near NYC, the Breakneck Ridge Trail.
After reading, it'll be clear why this is widely considered one of the best hikes in Upstate New York!
Where Is Breakneck Ridge?
Breakneck Ridge is a trail that runs along the Hudson River between Cold Spring and Beacon.
According to The History of Putnam County, N.Y., which was published by William J. Blake in 1849, Breakneck Ridge got its name after a group farmers chased a bull off of a cliff, where the animal broke its neck.
I've also heard the bull was chased from nearby Bull Hill (aka Mount Taurus), which is where you can hike the Bull Hill Full Loop, so apparently this bull really made an impression.
The Breakneck Ridge hike is located about 90 minutes north of New York City within the enormous and scenic Hudson Highlands State Park. It's one of the many hikes near Cold Spring, New York.
Note that there is another place in New York State called Breakneck Mountain, though this is in the town of Haverstraw, about a 40-minute drive from the Breakneck Ridge Trailhead.
How To Get To Breakneck Ridge From NYC
While you can drive from NYC to Breakneck Ridge, there is limited Breakneck Ridge parking.
Really, the easiest way to get to the trailhead is by Metro-North train via the Hudson Line. The train stops right at the Wilkinson Memorial Trailhead, which is less than a five-minute walk to the Breakneck Ridge Trailhead.
Bonus: the train to Breakneck Ridge is extremely scenic, with gorgeous Hudson River views almost the entire way.
Just note that the station is only open on weekends and holidays, with six northbound trains stopping at the station in the morning and five southbound trains in the evening.
From NYC, you can opt to go from Grand Central to Breakneck Ridge (and vice versa) or Harlem-125th to Breakneck Ridge (and vice versa).
If you're doing the trail during the week, you can take the Metro-North to Cold Spring and take a quick Uber ride to the trailhead. Hiking to Breakneck Ridge from Cold Spring via the Cornish Trail is also an option.
If you decide to drive and need Breakneck Ridge directions, you can simply put the Breakneck Ridge Metro-North Train Station into Google Maps.
However you choose to arrive, know that Breakneck Ridge is one of the best day hikes near NYC by train!
Best Time To Hike Breakneck Ridge
Because of the rock scramble, Breakneck Ridge can get slippery during the winter or when it has rained.
Additionally, summer can be hot and somewhat buggy, though plenty of people hike Breakneck Ridge during this time.
The best times to hike Breakneck Ridge are really spring and fall, when temperatures are slightly cooler and the landscape is lush and beautiful. Fall in particular is beautiful with the changing leaves.
No matter when you go, make sure to check the Breakneck Ridge weather forecast to avoid rain and unfavorable trail conditions.
Breakneck Ridge Difficulty
Breakneck Ridge is a challenging hike. While you'll have options to make it shorter or longer (discussed below) all of the routes are difficult, so make sure you've got some good physical fitness before embarking on this trail.
The classic Breakneck Ridge Loop has an elevation gain of about 1,250 feet, while hiking Breakneck Ridge to the Mount Beacon Fire Tower has an elevation gain of approximately 2,345 feet.
How Long Is The Breakneck Ridge Hike?
One thing to realize is that when you hike Breakneck Ridge, you have many options. It's very much a choose your own adventure experience, as there are numerous connecting trails that branch off of it.
Here are some sample trail options and their approximate distances:
Breakneck Ridge Trail to Beacon: 7 miles, with a highlight being that you hike over South Beacon Mountain and can climb the Mount Beacon Fire Tower. Expect this hike to take about 5-6 hours.
Breakneck Ridge Trail Short Loop. 1 mile. This trail takes you up the Breakneck Ridge rock scramble and then down the stone steps of the Nimham Trail. Expect this hike to take about 90 minutes. Note that traditionally the short loop goes a bit longer and you get back down via the Undercliff Trail, but this trail was closed when I visited.
Nimham Trail. 0.7 miles one way. Skip the steep rock scramble altogether while still getting to the first Breakneck Ridge Trail lookout, awarding views over the Hudson River. Just note that this trail isn't easy, and you'll still need to climb 650 vertical feet; however, it'll be walking up stairs. Expect this hike to take about 90 minutes.
Breakneck Ridge Trail Long Loop. 3.7 miles. This loop follows the Breakneck Ridge Trail to the Breakneck Bypass Trail to the Wilkinson Memorial Trail, which gets you back to the trailhead and train station. Expect this hike to take about 3-4 hours.
Break Ridge to Cold Spring. I'm not totally sure on the mileage, but it's fairly long. You'll use the Breakneck Ridge Trail to connect with the Notch Trail – Brook Trail – Cornish Trail – and Washburn Trail — all of which lead you to the quaint village of Cold Spring. Expect this hike to take about 4 hours.
These are just a few of the many route options you have right from the Breakneck Ridge train station. Just note that when it comes to Breakneck Ridge hike difficulty, all of your options will be challenging.
Breakneck Ridge Hiking Map
To give you a lay of the land before you embark on your hike, here is a Breakneck Ridge map:
You can also get a free Breakneck Ridge trail map right at the trailhead. There is a metal box with a stack of them.
Additionally, during peak times, like summer weekends, there is a table where people sit with maps to help direct you and answer your questions.
Finally, you can also click here for the AllTrails version.
Important Tips For Hiking Breakneck Ridge
Before setting off to hike Breakneck Ridge, there are some important tips to keep in mind:
Pack light. During the rock scramble, you'll be using your full body to pull yourself up. Because of this, only bring what you need.
Bring plenty of water. While the general rule is one liter for every two hours of hiking, you might bring one liter for every hour since this hike is strenuous.
Bring lunch to eat with a view. When you hike Breakneck Ridge, there are plenty of beautiful viewpoints where you can enjoy a scenic trail picnic. Plus, you'll be burning a lot of calories and will need snacks and food to refuel.
Time your hike to avoid the crowds. This is a very popular hike, which can mean standing around waiting for your turn while doing the rock scramble. To avoid this, go during the week or get there early on the weekend.
Pack essentials. Along with water and food, you'll need sunscreen, sunglasses, and insect repellent — and should also pack a first aid kit for an added layer of travel safety.
Protect yourself from ticks. Along with insect repellent, stay in the center of the trail and check yourself for ticks during and after hiking.
What Hiking Breakneck Ridge Is Like [Full Description]
Breakneck Ridge Rock Scramble
Almost immediately, my calves are screaming. This trail is known for its famous Breakneck Ridge rock scramble, which leaves hikers no time to get acquainted with the terrain before they're put to work.
"I guess we're jumping right into this. Literally," I laugh to my husband Andy.
Within no time, I'm on all fours, pulling my short 5'2″ body over giant boulders and hoisting myself up to slither and roll over rock. At times, I'm using force to press myself between rocks that seem impossible get over, but somehow I do.
This rock scramble, which lasts for the entire first hour of the Breakneck Ridge hiking trail, is the main reason the trail is considered challenging. Luckily, you'll have frequent opportunities to take breaks and enjoy stunning Hudson Valley views, which can help you forget the sweat and pain.
In all honesty, this section is hard but also fun, and you'll likely realize you're stronger and more capable than you knew. I know I did, as there were plenty of sections where I thought it would be impossible to maneuver, but I somehow did it.
And you will, too.
A Popular Hudson Valley Hiking Trail
One thing about the Breakneck hike NY, which is both a blessing and a curse, is that it is popular. This means that it's great for those looking to do some solo hiking, and you'll have plenty of other hikers willing to help you when you struggle.
On the downside, it also means that there will likely be many times you'll be waiting for your turn to go up the rock scramble, particularly if you do the Breakneck mountain hike on a weekend.
Choose Your Own Breakneck Ridge Trail Adventure
Right after the first viewpoint, you'll have the option to get off the Breakneck Trail and return via the easier Nimham Trail, which gets you back down to the ground in 0.7 miles. This route offers beautiful views of Storm King Mountain, Pollepel Island (home to Bannerman Castle), and the Hudson River.
If you instead decide to keep hiking Breakneck Ridge, you'll also have a few options shortly up ahead:
Undercliff (a moderate loop, 0.4 miles ahead)
Breakneck Bypass (a long loop, 1.2 miles ahead)
Notch Trail (which takes you from Breakneck to Cold Spring, 1.4 miles ahead)
Mount Beacon Fire Tower (which takes you from Breakneck to Beacon, 3.8 miles ahead)
Breakneck Ridge To Mount Beacon Fire Tower
As you can probably tell from the title of this Breakneck Ridge hike guide, Andy and I opt for the Mount Beacon Fire Tower route.
We almost regret this decision when we see the next rocky outropping we're required to climb.
There's MORE?!
Sure, there is an "easier" path option, but in reality you still need to get to the top. Luckily, once there, the gorgeous Hudson River reminds me why I'm doing this.
An Up And Down Climb Along The Breakneck Ridge Trail
It takes a full hour of climbing from the Breakneck Ridge Trailhead for the ground to finally level out, at least for a bit.
The trail winds along a ridge overlooking the Hudson Valley and surrounding mountains into the forest, where we switch between shady flat paths and uphill climbs.
Up and down and up and down we go, beautiful vistas continuously popping up just when we need that reminder.
Finally, we come to a sign that tells us we can turn left onto the red Breakneck Bypass Trail to return to the trailhead and train station to complete the Breakneck Ridge Loop, or we can follow the Breakneck Ridge trail markers to continue on to Cold Spring or the Mount Beacon Fire Tower.
On we continue.
A Whimsical Walk Through The Forest
From here, the next hour or so is relaxing and scenic.
By now, most of the other hikers have headed back to the trailhead, and Andy and I have the woods all to ourselves. Human voices are replaced with birdsong, and the smell of sweat and sunscreen is now pine and oak.
But, one shouldn't get too relaxed on this trail, as we still need to get up (not down!) Mount Beacon to the fire tower.
Ascending South Mount Beacon
While the ascent up to the fire tower isn't quite as hard as the initial rock scramble, it's no joke. And after three hours of hiking my legs are not exactly excited for another climb.
But we've made it this far. And there is no way we're turning back now.
Being in the forest for so long, we'd almost forgotten how gorgeous the views are. And as we make our way higher above the tree line, we're blessed with stunning vista after stunning vista, each one better than the last.
Of course, the best view comes from the summit of South Beacon Mountain.
After kissing the ground, we take shade under the fire tower and pull out sandwiches and a beer — which is extra delicious after this challenging trail.
Amazing Views From The Mount Beacon Fire Tower
From our perch, we take in true 360-degree views of the Hudson River, Storm King Mountain, Bannerman Castle, the Hudson River, the Newburgh–Beacon Bridge, and the surrounding Hudson Valley peaks. We can even see the New York City skyline faint in the distance.
After eating, we climb up the 60-foot fire tower, which is slightly nerve-wracking if you're afraid of heights; however, if you can make it to the top without freaking out, you'll be enclosed and it's much less scary.
From 1,610 feet, the views are epic. It feels like we can see forever, a scene made even more magical by hawks gliding overhead, their wings casting shadows over the trees.
From Breakneck Ridge To Beacon
But, this Breakneck Ridge hike isn't over yet. We still need to get down to Beacon.
This leg adds 1.3 miles and is all downhill — easier cardio-wise, but you'll definitely need to stretch out those shaky calves afterward.
While steep in sections, the last bit is a manmade staircase hugged by lush greenery, and is really enjoyable to walk through.
On the ground, you'll be in the lovely Mount Beacon Park, which showcases remnants of the old Beacon Incline Railway, once the world's steepest funicular.
As you exit the park, you'll be hit with what might possibly be the most glorious sight of all: Bob's Mountain Grocery. Here you can grab sandwiches, snacks, water, beer, and anything else you may be craving after hiking seven miles.
If you're heading back to New York City, you can catch a Metro-North train from the Beacon Station, which is a 30-minute walk from Bob's or a five-minute Uber ride.
Should You Hike Breakneck Ridge Loop Or To Mount Beacon Fire Tower?
Many people debate whether they should stick with the shorter Breakneck Ridge Loop or continue on to the Mount Beacon Fire Tower.
Here are my thoughts:
If you're short on time, the Breakneck Ridge Loop is a fun option with loads of scenic views.
However, if you have the time to spare, it's absolutely worth it to continue on to the Mount Beacon Fire Tower.
Yes, heading all the way to Beacon is longer and more challenging, but the views from the fire tower are the best part. Plus, either way you'll need to do the difficult rock scramble in the beginning — unless you opt to get to the fire tower via the Wilkinson Memorial Trail, which is nice but less scenic than the Breakneck Ridge Trail.
Also, if you're going to Breakneck Ridge from New York City via train, the ticket is about $30 round-trip and an hour and 20 minutes of your time. I'd make the time and money worth it by really maximizing your experience with the views from the fire tower.
Just my two cents!
Where To Stay Near Breakneck Ridge NY
If you'll be staying overnight near the Breakneck hiking trail, it's recommended to book a hotel in Cold Spring, a charming and walkable village near the trailhead.
Click here to browse Cold Spring hotels.
You can also check out these romantic getaways in Upstate New York.
Prefer self-contained stays?
Check out this list of local rentals and apartments in Cold Spring or view the map:
Camping Near Breakneck Ridge New York
If you'd like to pair your Breakneck Ridge hike with some camping, your closest option is the Fahnestock State Park Campground. This scenic year-round campground is clean and well-maintained, and offers opportunities for boating, hunting, fishing, birding, skiing, sledding, and more.
While same-day walk-ins are allowed, it's strongly encouraged to make a reservation in advance.
Other Hudson Valley Hikes
No Hudson Valley visitor's guide would be complete without discussing the local trails, as there are many great ones like:
Hudson Valley Rail Trail
Fishkill Ridge
Storm King
Bear Mountain Hike (or hikes plural, as the park has numerous options!)
Minnewaska State Park, which is home to a number of Hudson Valley hikes with waterfalls
If you don't mind heading up north a bit farther to the Adirondack Region of New York, you can also do incredible trails like the Mount Marcy hike and the Mt Van Hoevenberg hike. These hikes are true highlights of any New York State travel guide!
Moreover, in New York's Catskills Region you can hike Giant Ledge as well as the Overlook Mountain trail for epic views!
When it comes to how to hike Breakneck Ridge, what tips would you add?
Enjoyed this guide to the Breakneck Ridge Trail in NY? Pin it for later!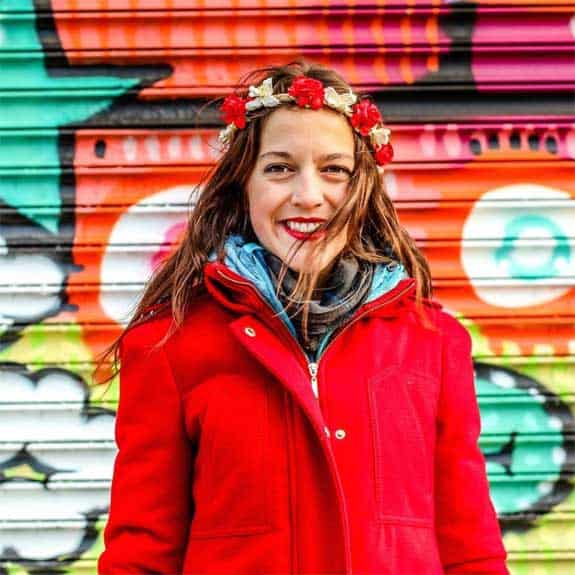 Hi, I'm Jessie on a journey!
I'm a conscious solo traveler on a mission to take you beyond the guidebook to inspire you to live your best life through travel. Come join me!
Want to live your best life through travel?
Subscribe for FREE access to my library of fun blogging worksheets and learn how to get paid to travel more!