What To Wear When You Go Hiking: 19 Must-Have Items + Essential Tips
By Jessie Festa. This post on what to wear to go hiking contains affiliate links to trusted partners and is sponsored by Title Nine, one of my favorite brands for women's athletic clothing. All opinions are my own.
Curious what to wear when you go hiking?
Then you're in the right place, as in this ultimate guide I'll be sharing my top 19 hiking essentials — plus tips for choosing your hiking clothing, deciding between fabrics, and dressing appropriately for each season on the trail.
I've been an avid hiker for over 12 years, and during this time I've learned what you truly need to bring with you and what will just waste valuable space in your pack.
Additionally, I've learned — sometimes the hard way — important tips that can help you avoid discomfort, injury, and illness, which I'll also be sharing.
My goal is to:
help you stay temperate by choosing cozy yet breathable clothing,
prepare for the elements and unexpected weather conditions,
stay safe and healthy,
and, of course, have fun and feel confident on the trail.
After reading, you'll never need to ask "What should I wear to go hiking?" again!
I'll also be sharing information and hiking outfit inspiration from one of my favorite outdoor brands and the sponsor of this post, Title Nine. If you like stylish yet functional hiking clothing that also empowers women then you'll love what they do.
Ready to jump in? Then lace up those hiking boots — or read on for help choosing a pair — and let's hit the trail!
Pro tip: Before going hiking, make sure to download the AllTrails app to have trail guides, maps, photos, and reviews right at your finger tips. You can also sign up for a free trial of AllTrails+ to download offline maps, get alerts for wrong turns, find trails by distance from you, and more!
Essential Tips For Choosing What To Wear When You Go Hiking
Let's kick off this guide to choosing the best hiking apparel with some important tips.
-Choose fabrics wisely. Not all fabrics are created equal when it comes to what to wear while hiking. Moisture wicking fabrics like merino wool, nylon, and polyester work great, especially for your base layers.
It's also for this reason that cotton is avoided by experienced hikers, as it absorbs sweat instead of repelling it.
Another common fabric is fleece — which is actually typically made from polyester and makes for a great mid layer.
-Put together a layered hiking outfit. The perfect hiking outfit is like an onion in that you can peel off layers as needed. The amount of layers mainly depends on the weather and climate of where you'll be hiking.
If it's very warm you may just have a base layer. If it's cool, you'll likely have a base layer and an outer layer. And if it's cold, you'll probably have at least one additional insulating mid layer, maybe more.
Pro tip: Don't forget that weather often becomes cooler at higher altitudes, so if you're summiting a mountain you may want to have an extra layer in your backpack — even if it's hot at the trailhead.
–Wear quick drying and moisture wicking hiking clothing where possible. When thinking about what clothes to wear hiking, look for pieces that keep you dry and temperate — which not only helps you stay comfortable but also helps ward off dangerous hypothermia.
Note that moisture wicking clothing is especially important for your base layer, which sits closest to your skin.
An added bonus is that moisture wicking clothing also helps to prevent odors so you can often get away with multiple wears if needed.
-Pants or shorts for hiking? Often, people wonder whether they should wear shorts or pants when hiking. Of course, weather and climate are factors — though also research if there are ticks, poison ivy, or other things that may warrant covering up your legs for.
Luckily, there are many lightweight hiking pants that can be worn in any season.
-Test out your gear and break in your shoes. You don't want to find out during your hike that something doesn't fit properly or that your shoes aren't comfortable when walking.
Shoes should be broken in before hiking to avoid blisters and hiking clothing should be tested before your trek. For instance, recently when I tried on a certain tank top with my hiking backpack, I realized that the pack scratched my shoulders in an uncomfortable place — which would have been annoying to endure for hours on a trail.
-Plan out how to organize yourself using your backpack and pockets — especially if you carry camera gear. To avoid having to stop and unload your gear every time you need a sip of water or you want to take a photo, organize your pack beforehand so that items you'll reach for often are in the most optimal spots.
Hint: This is also why I love backpacks with hip belt pockets, as I'm constantly putting on lip balm.
Title Nine – Functional & Fashionable Hiking Clothes
As noted above, one of my favorite brands for women's hiking gear and active apparel is Title Nine. I've got a closet full of their gear, from their hiking pants to their bicycle dresses that snap closed between the legs to become shorts.
This woman-owned and run company — which is named after the the 1972 act that made it illegal for any public institution to limit participation in sports based on a person's gender — is all about empowering women to become any type of athlete they desire.
You can learn more about their mission and work here.
Personally, what I love about Title Nine's apparel — particularly their hiking attire — is that it's stylish while also keeping performance and comfort in mind. I've worn many of my Title Nine clothing pieces hiking and camping as well as to happy hour.
You can check out their full inventory here to see what I mean.
And for those who love heart-centered companies, Title Nine also does a lot of social good work through initiatives like:
T9 Pitchfest, where they promote, mentor, and encourage female entrepreneurs and activists
Poster Girls, which helps get posters of real women athletes on the walls of schools, gyms, and other public spaces
Starting Block Grants, which assist grassroots organizations helping girls in underserved communities
Bra Brigade, which helps get quality sports bras into the hands of girls who don't have easy access to them
19 Must-Have Clothes To Wear Hiking
So, what do you wear to go hiking? I recommend having the following clothing pieces in your closet at all times so you're always ready to hit the trail!
1. Hiking Shorts
One item you'll definitely want to have in your hiking wardrobe, particularly when it comes to summer hiking clothes, is a solid pair of hiking shorts.
While a simple pair of cotton shorts is fine if you're sticking with trails that are short and flat, it's smart to have something more functional for longer hikes as well as more moderate and challenging hikes.
Personally, I look for shorts that are comfortable, durable, and quick-drying.
Title Nine's Big B Shorts from their new Brash Collection fit the bill for this, as they're made of a lightweight and reinforced ripstop material that's resistant to tearing and ripping.
Moreover, they feature four deep pockets — two in the front and two in the back — as well as a zipper pocket for valuables.
In terms of comfort, they're stretchy and include a drawstring so that your backpack doesn't push them down.
You can choose between a 4″ and 7″ seam as well as from a variety of colors.
I wore these in Joshua Tree when doing the Lost Horse Mine hike and they kept me comfortable and cool!
2. Hiking Pants/Capris
Of course, it's not always warm enough to wear shorts. When it comes to what to wear when hiking in cold weather or when you want to layer, having a solid pair of hiking pants is a must.
Now, I know some people like to hike in yoga pants and leggings. This is fine if the trail isn't too rugged — though note your favorite pair is susceptible to a lot more damage on the trail than the yoga mat.
That's why I like to go with pants and capris designed specifically for hiking, like the Trail Tamer Capris or, my latest favorite, Title Nine's Clamberista Pants.
These lightweight pants are made of abrasion-resistant ClambR™. Moreover, they've got two pockets in the front and back as well as a zippered side pocket for extra storage.
In terms of comfort and style, an elastic drawstring waist keeps pants in place while an adjustable ankle string allows you to cinch them at the bottom or leave them wide (as shown below).
If you're wondering what pants to wear hiking, I highly recommend giving these a try!
3. Moisture Wicking Tights
If it's extra chilly, you might want to put an additional layer under your hiking pants like a pair of tights or leggings. Choose a moisture wicking option to stay temperate.
4. Moisture Wicking Tanks/Tees
When it comes to buying hiking clothing, I always look for garments that are quick-drying and moisture-wicking.
Not only does this keep you comfortable, but it can also help you ward off hypothermia, which can occur in both hot and cold temperatures.
Personally, I love Title Nine's Daily Decathlon Tank Top, which is quick-drying, naturally anti-microbial, and odor resistant.
Beyond the trail, the racerback style and relaxed form-fitting shape make it cute enough to pair with jeans and wear out!
5. Long-Sleeve Sun-Protective Hiking Shirts
One of the biggest concerns for hikers is protecting skin from the sun, especially when embarking on trails with little to no overhead cover.
Luckily, many hiking clothing options today come with built-in sun protection. What is important to look for is something that is long sleeve that can also keep you cool when hiking in warmer temperatures.
For this, I love my Title Nine Sunbuster 2.0 Full Zip Hoodie Sun Shirt.
This lightweight and quick-drying hoodie features UPF 50 to protect you from the sun, a zipper pocket to protect valuables, and StinkStopper™ to help you avoid odors even after multiple wears. Not to be gross, but I actually wore this for an entire week of summer hiking and then on the plane ride home — no smell!
There are also thumb holes for when you want a little extra warmth for your hands or you want to keep the shirt arms from shifting.
Additionally, the hoodie showcases a flattering shape that skims but doesn't squeeze the body.
6. Hiking Shoes
No guide to proper attire for hiking would be complete without discussing footwear.
Keep in mind, hiking shoes are different from everyday shoes and running shoes. When it comes to hiking shoes, here are a few things to consider.
Are they comfortable and breathable yet sturdy?
Do they have treading on the bottom to keep you from slipping?
Do they fit? This is extremely important, as foot pain can absolutely ruin an otherwise incredible hike!
Now, whether you should opt for hiking sneakers or hiking boots depends on the trail terrain. Some trails require the extra ankle support that a mid- or high-cut boot delivers, while others aren't very technical and a sturdy hiking sneaker with solid treading will be more comfortable.
Moreover, more rugged terrains may require heavier shoes with stiffer outsoles and reinforcements like rubber toes.
Note that you can also opt for technical hiking salads, though I'd only use these on relatively flat trails. They're also great for water crossings.
7. Moisture Wicking Hiking Socks
Another part of foot comfort when hiking is choosing the right socks. Pick a pair that fits snuggly to avoid rubbing and blisters, and that protects skin from rubbing against your shoe.
Like with most hiking clothing, also look for a pair that wicks moisture to keep your feet dry and to avoid odors.
In terms of how thick your hiking socks should be, consider the weather — thicker socks tend to be warmer — and if the activity you're doing is high impact and thus requires more cushioning to protect your heels and the balls of your feet.
8. Moisture Wicking Long-Sleeve Shirts
When hiking in cooler temperatures and wearing layers, I love to use a long-sleeve moisture-wicking base to ensure I stay temperature and dry.
Again, this is vital for staying comfortable and safe as hypothermia is a concern year-round.
You can find some options for this here (just make sure to toggle "moisture wicking" on the left side).
9. Fleece Jacket
Building on your layers, a fleece jacket can make for a nice insulating mid-layer (if you'll also be wearing a coat) or exterior layer (if no coat is needed). Fleece is breathable and, to an extent, naturally resistant to wind and water.
One high-quality option is La Exploradora Fleece Jacket, which is moisture-wicking and is made from 100% repurposed Polartec poly fleece for a sustainable twist. It also has pockets to hold loose gear and keep you hands free when hiking.
10. Hiking Jacket/Coat
There are myriad jackets and coats to choose from when shopping online, and ultimately what you need will depend on the climate you're hiking in and what features matter most to you, such as it being warm, windproof, waterproof, and/or breathable.
My best tip would be to think about the types of hikes you do — or will do — and then make a list of what matters most.
For instance, when I went hiking in Bhutan in winter, I opted for an insulated windproof and waterproof coat that also featured negative-degree weather technology.
The downside? It was bulky and didn't fit in my day pack. Because of the extreme cold, though, it was worth it to me.
These are the types of considerations you'll want to make when choosing your outerwear — though it is worth noting you can find warm coats that aren't bulky, especially if they feature synthetic insulation.
Click here for search women's jackets and vests.
11. Seasonal Hats
Depending on if you're looking for the best clothes for hiking in summer or a cooler season will depend on what hat you wear, though generally, head protection is always a good idea.
If hiking in cold weather, a moisture-wicking wool hat to keep your head warm is important, while a lightweight hat that protects your face, head, and the back of your neck is most appropriate when hiking in the hot sun.
12. Neck Gaiter
I carry my neck gaiter everywhere with when me when it's cold, whether I'm hiking or just walking around NYC in winter.
In terms of why these make for great clothes to wear on a hike, they're lightweight, take up almost no space, and can be fashioned into a number of styles that can help keep you warm.
For instance, you can wear your neck gaiter as a scarf, seamless face covering, do rag, balaclava, and more.
When it's really cold, I'll actually wear mine as a sort of second skin underneath a bigger scarf.
Or, in warmer weather when I'm sweating and I want to keep my hair out of my face I roll it up into a headband.
13. Sunglasses
Whether you're doing a casual walk or a multi-day trek like Nepal's Mohare Danda, sunglasses are an important part of how to dress for hiking. This is because sunglasses protect you from harmful UV rays that can lead to eye ailments like photokeratitis and macular degeneration.
Now, as someone who tends to get headaches from certain sunglasses pushing on my head, I find it important that they be lightweight — as well as polarized with 100% UV protection — like the Sunski Alpha Omega Sunglasses.
14. Rain Jacket
Hiking in the rain can be an enjoyable experience, not to mention sometimes you have no choice, such as if you're on a multi-day trek or if it starts pouring unexpectedly while you're out on the trail.
For this reason, it's smart to add a lightweight yet durable rain jacket to your list of hiking apparel.
Personal tip:
Rain jackets get bonus points in my book if they feature cooling armpit zips, so look for one with that feature for added comfort.
15. Rain Pants
Of course, along with keeping your top half dry it's also important to shield your legs, particularly if it's heavy rain. I also love rain pants when it's cold out as they tend to trap in heat.
I am absolutely obsessed with my Legs Jacket pants from Vear, which are breathable, waterproof, and feature zippers all the way down the side of the legs to easily take them on and off. Plus, there are deep pockets!
16. Hiking Backpack
Of course, one of the most important items to think about when wondering what to wear going hiking is a hiking backpack.
The necessary features of a hiking backpack are different from a schoolbag or commuter backpack, mainly because you'll be wearing it for longer periods of time and potentially over rocky and uneven terrain.
Depending on how long you'll be hiking and what you'll be doing, your load may also be heavier — especially if you're like me and hike with your DSLR!
A few things to look for in a good hiking backpack include:
Back ventilation to help keep you cool
Adjustable, padded shoulder straps and a hip belt for comfort and support
Pockets
Additional features of interest like hydration packs/camel packs, a top-loading design, exterior water bottle pocket(s), and hipbelt pockets for storing small items like lip balm and hand sanitizer
Also consider the size of the backpack, which should be sized for your torso length and hip circumference.
Furthermore, the weight of the backpack will depend mainly on how long you're hiking. For instance, if you're doing a day hike, a backpack that's about 10-25 liters in size should be sufficient.
17. Gloves
If you're hiking in cold weather, pack a pair of gloves to protect your hands. The type of gloves you choose is up to you, though do consider where you'll be hiking and how you'll be using your hands.
For instance, if you'll need to scramble on the hike — or if you'll be taking photos and videos while hiking — you'll want gloves that fit close to the hand and allow for plenty of mobility; however, if you're hiking in the rain or snow a pair of waterproof gloves will make the most sense.
18. Scarf
A scarf is also a must, especially when hiking in cooler temperatures. Personally, I love bringing a scarf-shawl, which can also double as a picnic blanket along the way.
19. Moisture Wicking Underwear
When hiking, it's smart to be selective when it comes to your undergarments, as well.
Of course, the cut, style, and wiring of your underwear are a personal preference; however, as with almost all garments, moisture-wicking underwear and bras will help keep you temperate and dry.
Keep in mind, too, that when it comes to choosing the right sports bras for hiking you should look for ones that offer both compression, which presses your boobs against your body, and encapsulation, which supports you from underneath.
Here are some options for sports bras. You can toggle "wicking" on the left side to filter for moisture wicking.
Pictures Of Women's Hiking Outfits
Still need inspiration for what to wear to go hiking?
Here are a few photos showing how I put together some of the pieces mentioned above. There are some summer hiking outfits for ladies as well as ideas for what to wear on the trail when it's cooler out:
Seasonal Considerations When Choosing What To Wear For Hiking
What To Wear When Going Hiking In The Summer
In terms of what to wear when hiking in summer or what to wear hiking in hot weather specifically, focus on moisture-wicking clothing that keeps you dry and temperate.
In warmer weather, you may only need one base layer — though remember that if you're hiking to higher altitudes your end point may be cooler and might require another layer.
You'll also be looking for moisture-wicking hiking socks with less cushioning and hiking shoes with some nice ventilation to help keep you cool.
You may not think you need a neck gaiter, but keep in mind that this handy little piece of fabric can turn into a headband or headwrap to help keep hair off your face and the sun off your head.
While always important, sunglasses, sunscreen, and a hat to protect your face, head, and neck from the sun will be extra important.
What To Wear Hiking In Fall
Wondering what to wear for hiking in fall? Depending on the weather, you'll want to add another layer or two — like a long-sleeved shirt and/or fleece — to your summer outfit and potentially swap your shorts for hiking pants.
You may want to add a bit more cushioning to your hiking socks and a moisture-wicking wool hat for some additional warmth.
What To Wear When Hiking In Winter
When it comes to what to wear for winter hiking, layers are crucial. The amount of layers depends on just how cold it is, but at the very least you'll likely have a moisture-wicking base layer, a warm yet breathable mid layer like a fleece, and a coat or jacket as an outer layer.
Hiking pants, a warm hat, and gloves can help keep you warm, as can a thicker pair of moisture-wicking hiking socks. You might also consider a moisture-wicking pair of tights to wear under your pants for added warmth.
Pro tip: If it's extra cold, I love packing a few HotHands to put into my gloves and socks, too.
What To Wear When Hiking In The Spring
Now let's chat about what to wear hiking in spring. As with fall, you'll likely add a layer or two to your summer outfit and, depending on the temperatures may want to opt for hiking pants over shorts.
Remember, too, that spring tends to be the rainiest season of the year, at least in the Northern Hemisphere, so a rain jacket and rain pants will be extra important.
Bonus Hiking Guides
Now that we've answered the question "What do you wear when you go hiking?" here are guides to some of my favorite places to go hiking — with recommended trails included!
13 Powerful Solo Hiking Tips For Women
11 Best Affordable Hiking Backpacks Under $100
33 Best Hikes In Upstate New York (Epic!)
12 Best Hikes Near Toronto For Amazing Scenery
8 Best Hikes In Queensland Not To Be Missed
12 Best Hikes In New Zealand You Shouldn't Miss
13 Best Hiking Trails In Taiwan You Shouldn't Miss
What would you add to this guide on what to wear when you go hiking?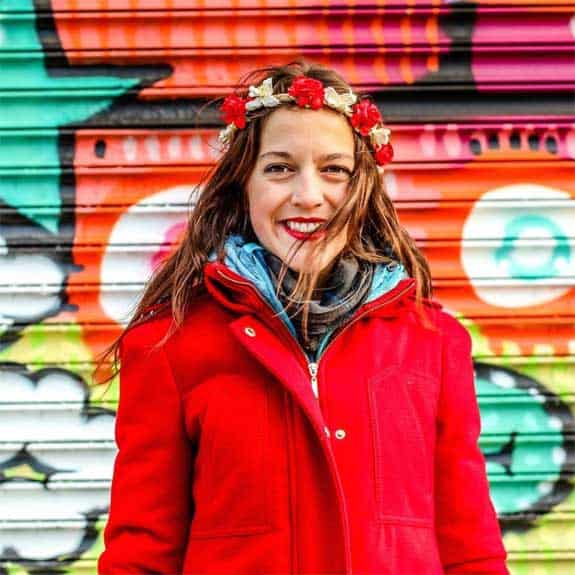 Hi, I'm Jessie on a journey!
I'm a conscious solo traveler on a mission to take you beyond the guidebook to inspire you to live your best life through travel. Come join me!
Want to live your best life through travel?
Subscribe for FREE access to my library of fun blogging worksheets and learn how to get paid to travel more!