How To Hike Calanques National Park In Marseille (And Have An Amazing Time!)
*After reading about how to hike Calanques National Park in Marseille, check out the trip video below!
"Do you want to go up? You're okay with going up? Are you sure?"
Our guide is staring up into the limestone cliffs. His English is good but not perfect, and I can't help but wonder if his questioning is a warning he can't quite convey.
Regardless I love a challenge, and I want to explore Marseille's Parc National des Calanques (Calanques National Park) to the fullest.
I love how a big city like Marseille, with all the best big city amenities like great restaurants, street art, entertainment and nightlife, can so seamlessly blend in nature.
How To Get To Parc National Des Calanques
From the Old Port, my boyfriend Andy and I easily took a 40-minute ferry (5 Euros each way) to Port de la Pointe Rouge.
Suddenly, urban landscape turned to beaches and national park accessibility.
Which is where we found ourselves now, about to traverse the 2.5-hour trail. After completing the 10-hour round-trip trek up Concepcion Volcano in Nicaragua last year, I feel up to the task.
Pro tip: You'll want a comfortable backpack for this experience! Here is a list featuring some of the best affordable hiking backpacks for under $100!
About Parc National des Calanques
The word "Calanques" (inlets) refers to the "emerald fingers between the rocks" (natural inlets, often compared with Norway's fjords).
With such a description it should be no surprise that along the 12-mile stretch of coastline and within the 120 acres of protected parkland you'll find secluded beaches — some of which you can only reach by kayak or canoe — rocky inlets, bright blue Mediterranean waters against jagged white promontories and an impressive array of flora and fauna.
Basically, you'll be privy to some of the most beautiful trails in the world. Honestly, if you're planning a trip to Europe you won't want to miss this place.
In fact, Parc National des Calanques is Europe's only to combine peri-urban, marine and continental landscapes.
Within this, you'll find 140 protected animal and plant species on land and 60 in the water.
Some of these include the rare Bonelli's eagle, the humungous European Free-tailed bat (one of 13 species within the park) and Europe's largest lizard at 80-centimeters, the European Leaf-toed Gecko.
Pretty crazy to think you're still technically within a city of almost 1 million people.
You'll also find a mix of leisurely and intense — though always scenic — hiking trails, which is the aspect of the park Andy and I were set to embark on.
Trail Challenges
Mainly "Le Col des Chèvres," which we arrive to in an hour by following Chemin Vert (Trail #1). The trail immediately ascends up, broken bits of limestone crunching under foot.
We're immediately immersed in lush pine, with openings letting us see the beaches, sparkling sea and city from above, a little higher each time.
It's around minute 30 when we get to Pas de la Cabre that I realize why our guide had questioned our willingness to complete the task.
Scrambling. For anyone who climbs it's not a big deal, but for me who is used to having a harness when climbing, being completely left to trust in my own hand-eye coordination is freaky.
One false move, incorrect hand placement or slip of the foot and I was going to be seriously injured — or worse.
I feel myself shaking. To me, adventure excursions like skydiving in New Zealand and paragliding in Colombia are cake; thrills with no thinking involved. It's when I'm actually being held accountable for my own life that I start to worry.
Luckily I have Andy to act as my second pair of eyes, guiding me slow and steady to the top. Once the ground is finally flat again I let out a sigh of relief that the hard part is over.
Or so I think.
Reaching The Top Of Marseilleveyre Peak
Actually, there are a few more sections of scrambling, each challenging in its own way. For the grand finale there's a rope attached to the rock, meant to assist hikers to the top of Marseilleveyre Peak at 1,421 feet.
At about 90 minutes in I'm growing comfortable with using my hands up the truly steep sections.
Plus, I know there's a panoramic view waiting for me at the top. For a photographer, this knowledge is akin to drinking a Red Bull and sprouting wings.
That first moment, looking out over 360-degrees of Provençal landscape, my jaw literally drops. I can't believe I'm in such a beautiful place — with my boyfriend no less.
The sparkling Mediterranean with a view of Bay of Marseilles and Riou Island are visible, and we all take a few minutes to just enjoy.
Aside for climbing off the peak, the hike down (via the #5 yellow trail) is void of technical sections. Instead, the challenge is somewhat steep-sloped descents covered in loose stone.
Every few steps one of us inevitably stumbles, though luckily we're able to catch our footing and make it out with our ankles in tact.
Port des Goudes
By "out" I mean Port des Goudes, a small port that we're told gets very crowded in summer. We find it tranquil and stunning.
Not the luxurious yacht-style kind of stunning you get in Monaco, but a simpler, less flashy type of gorgeous.
In the small village of Les Goudes everyone seems to know each other. In fact, our guide takes us to his friend's house for refreshments — two mugs of Provençal rose, of course.
During the 40 minutes we're there his friend runs outside to greet three different locals passing by.
It's a fun look into local life.
I could have hung out sipping wine all day, except for one delicious detail: we have lunch booked at L'Esplaϊ du Grand Bar des Goudes Restaurant.
Marseille's Freshest Seafood
Talk about a decadent lunch! We swap our mugs for crystal glasses and sip our wine while taking in gorgeous waterfront views, a sea breeze cooling us down.
Moreover, the seafood is so fresh our waiter actually introduces us to our fish before heading into the kitchen to hand it off to the chef. We also savor prawns, peppers with sardines, squid, mussels and crostini. Yum!
The meal ends with a beautifully plated assortment of desserts, the best of which we unanimously agree is a molten chocolate brownie. I finish every bite, despite wanting to save my figure for the beach.
Not only can you enjoy national parks in the big city of Marseille, but beaches, too. In fact, you can even find some fun French Riviera beach clubs here.
We take a bus back to Port de la Pointe Rouge (2.50 Euros), getting off at the central terminal and walking about 20 minutes, to coastline lined with adventures like kayaking, jet skiing, stand up paddleboarding and more.
Andy and I say farewell to our guide and nestle into our own little patch of sand.
The beach is crowded with families, but the adventure paired with the lavish lunch leads us both to dip into the cool water before promptly passing out.
It's not until sunset that we make our way back to the ferry, leaving behind natural Marseille for urban Marseille.
It's truly a diverse city offering not only a mix of experiences but also different settings in which to enjoy them. Hiking by day and bar-hopping by night is a completely feasible itinerary.
For a better idea of our hike in Marseille's Parc National des Calanques, check out the video below:
How To Plan An Epic South Of France Road Trip
How To Enjoy Wine, Hiking & Skinny Dipping Near Cannes, France
Is The Verdon Gorge France's Most Stunning Natural Attraction?
3 Epic Adventures You Didn't Know You Could Have In Provence
3 Stunning Day Trips From Nice, France
5 Unique Accommodations That Will Make You Crave A South Of France Getaway
Exploring Nice Beyond The Promenade
Solo Travel In France: The Ultimate Guide
Calanques National Park Logistics:

Park Closures: According to Lonely Planet the park is closed in July and August due to fire hazards; however, we hiked in August in the park just fine. That being said, I'm assuming the summer does have its fair share of closures so be aware of this. Click here for real time updates about Parc National des Calanques conditions.

Parc National des Calanques Map: Click here for a PDF map of Parc National des Calanques. Other helpful maps can be found here, and here, and here.

Trail Specifics: We had a guide so how we started was slightly different from what I'd recommend for someone without one (if you have a guide, you don't really need these directions). If you're without a guide or car:

Take the ferry over from Marseille's Old Port (Vieux Port) to Port de la Pointe Rouge.
From right behind the #19 bus station you can access the Green #1 Trail.
Take this until you can make a right onto Yellow Trail #5
Take this until you come to a fork and can veer left down the Red #1 Trail, which leads down into Les Goudes.

Taking The Bus: Take Bus 20 from Les Goudes across from the Port (click here for a map) to Madrague de Montredon. Here you can switch to Bus 19 and take it to Pointe Rouge Port (click here for a map) or walk ~20 minutes. Buses in France cost €1.50 if you buy in the city and€1.90 if you buy on board (validity of 60 minutes).

Marseille Transportation Resource: The RTM website is excellent for doing research on Marseille / Aix-en-Provence transportation research.

Hiking Essentials: Check out this list of proper attire for hiking to be prepared for this day trip.

Great Reads: Au Contraire: Figuring Out the French and How the French Think: An Affectionate Portrait of an Intellectual People.

Safety Essentials: While I found France to be relatively safe, I always travel with Clever Travel Companion Pickpocket-Proof Garments and a Vigilant Personal Alarm.

Language: French, though we found many people spoke some English. Just make sure to understand pleasantries when interacting with locals!

Currency: Euro. As of September 2016 the exchange rate was about 1 Euro = $1.13 USD.

France Road Trip Route:

Nice (with day trips to Eze for a medieval village, Monaco for a VIP afternoon and Saint-Jean-Cap-Ferrat for the Villa & Jardins Ephrussi de Rothschild)
Cannes (with day trips to St. Tropez/Ramatuelle for beaches, Gassin for wine tasting and La Croix Valmer for beaches and hiking)
Moissac Bellevue (we stayed at a woodland set horse farm then were about 20-minutes from Verdon Gorge)
Hyeres (the cobbled commune itself is fun to explore, and is near beautiful beaches and is accessible to the untouched Port Cros Island; worth the trip for this cool castle stay alone!)
Aix-en-Provence (my personal favorite spot of the trip due to the small quiet city full of amenities and accessibility to beautiful Provence farmland; a cheesey rooftop lunch at La Fromagerie Du Passage and a day trip cycling outside the city with Arthur of Secrets d'ici are musts!)
Marseille (don't miss hiking in the urban Calanques National Park, which doesn't feel urban at all and is accessible to beautiful port towns and beaches)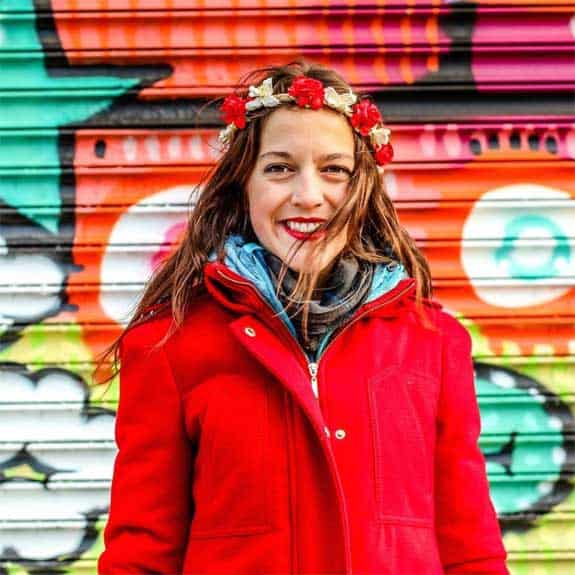 Hi, I'm Jessie on a journey!
I'm a conscious solo traveler on a mission to take you beyond the guidebook to inspire you to live your best life through travel. Come join me!
Want to live your best life through travel?
Subscribe for FREE access to my library of fun blogging worksheets and learn how to get paid to travel more!