11 Best Affordable Hiking Backpacks For Under $100 (+ Where To Trek!)
By Daniela Frendo & Jessie Festa.
Looking for the best affordable hiking backpacks for under $100 — that you'll actually love?
While sturdy and durable packs tend to be on the pricey side, you can still find a good and reasonably priced bag without compromising on quality.
In fact, we've rounded up a list of top-rated yet inexpensive backpacks for budget travelers in a variety of styles and sizes.
Keep reading to find the perfect one for your next adventure trip.
Note: This post contains affiliate links. My team and I only ever list products we truly think you'll love!
Before diving into the list, make sure to grab my free Trail Cleanup Game, which game-ifies your hike by awarding points for picking up trash. You'll find the game inside my free Ultimate Tavel Planning Kit.
Click here for instant access!
Best Affordable Hiking Backpacks For Under $100
It's important to understand what to wear on a hike to be prepared. This 40-liter backpack is perfect for adventure travelers who like to keep their stuff organized on the road.
It comes with several compartments, pockets, and sections, though is also super compact.
Moreover, it's comfortable to carry thanks to its full foam padding, which provides back and shoulder support for multi-day hikes. This backpack has a hydration sleeve, and the sternum strap comes with a rescue-whistle buckle — an important piece of gear that helps keep you safe while traveling. 
Prefer sling backpacks for travel? JanSport also has a number of budget-friendly options in this style, too!
This neat and sleek backpack is available in different colors, including a gorgeous bold orange.
It is perfect for day hikes, and its ventilated back panel means a less sweaty experience.
It also comes with other great features, including an integrated rain cover, a hydration sleeve, and a stretch-resistant pocket for your electronics.
Oh, and speaking on one-day treks, in case you're in need of some trail recommendations the hiking in Boquete, Panama is worth the trip, as is hiking the Lakes Trail in Sequoia National Park and climbing to the Mt Whitney summit, both in California.
Looking for a pretty and lightweight women's backpack?
The North Face Women's Borealis Backpack provides guaranteed comfort with an improved suspension system and comfortable padding.
This backpack is ideal for those who travel with a laptop or tablet as it comes with compartments and protective sleeves for electronics.
Frequent backpackers and campers should consider investing in a sturdy and durable bag, like the Unigear Tactical Backpack.
Besides having a strong and impact-resistant body, it also comes with several attachment points for hiking and camping gear, such as trekking poles.
Moreover, there is a padded laptop sleeve and a foam-cushion back panel designed to reduce back strain.
This is the perfect backpack if you're, say, hiking Mount Marcy, the highest mountain in NY, or exploring some of the best hikes near Boone NC!
If you like to travel in style, this affordable backpack is rugged enough for hiking yet chic enough for sightseeing.
First of all, the approximately 21-liter pack keeps gadgets secure with a drop-proof laptop pouch — made possible through a mesh bottom, which also ensures the bag always sits upright.
Within the adjustable shoulder straps and mesh cooling back you'll also find four secret compartments to help you avoid pickpockets and keep valuables safe.
Inside the bag are loads of pockets of all sizes for pens, glasses, charges, and all your other gear.
And the best part?
It's sustainable, made entirely from recycled ocean plastics.
Just make sure you choose a reusable bottle to put inside the two stretchy water bottle pockets to stay in line with the bag's eco-friendly nature.
Choose between a dark Baltic Black, a bright Maldivian Blue, or a deep Atlantic Blue.
Click here for full information & pricing!
If you're looking for an ethically-made bag, check out this fun and inexpensive backpack by Cotopaxi.
Cotopaxi's line of Del Dia Collection backpacks, duffle bags, and fanny packs are produced from recycled durable nylon fabric leftover by larger companies.
The bags come in a very wide variety of color combinations. Pick your own or have Cotopaxi surprise you!
While the Del Dia Collection has a plethora of bag options, we particularly love the Batac 16L for hiking.
Not only is it the perfect size for a day hike, but it offers essential features like breathable mesh shoulder straps, two mesh side pockets, and an adjustable chest strap on the outside.
Once you unzip the bag's large main compartment you'll reveal a smaller pocket inside as well as an internal sleeve divider and a hanging pocket for smaller items.
Pro tip:
The Batac 16L fits perfectly into the Del Dia Allpa 35L Travel Pack, an incredible piece of luggage for your next trip!
If you need a lightweight backpack, look no further.
This foldable rucksack by POKARLA is made from high-quality and wear-resistant material and can be folded and stored in a pocket.
Along with being inexpensive, it offers practical features like:
A waterproof design
Strong zippers and reinforcement in spots where backpacks typically get damaged
Breathable mesh shoulder straps that are also padded
Loads of pockets and compartments — including side water bottle pockets — to store gear while staying organized
Adjustable chest strap with an attached safety whistle
And more!
Plus, it's style:
You can choose from bold colors and pretty designs, as shown above.
This super budget-friendly backpack is simple, practical, and multi-functional.
In fact, you can use it for outdoor adventure experiences as well as your regular work and play.
It's made from durable material and has multiple sections and pockets to help keep your belongings safe and organized.
Moreover, with 30 liters of storage, you'll have plenty of space for your next hike.
Might I suggest Italy's Path of the Gods?
Another great rucksack for travel and everyday use, the Berghaus 15-liter bag is great for those who travel with a tablet and gadgets.
Why?
Because the bag comes with a tablet sleeve and internal zipped pockets that allow you to keep your electronics safe.
This backpack is perfect for the hiker who likes to travel light or even trail runners looking for something incredibly lightweight.
Along with back ventilation to keep you cool, there are adjustable chest and waist straps — with the latter also including pockets.
Speaking of pockets, this affordable backpack has loads of storage, from a front pocket to a large main compartment with adjacent mesh pocket and a sleeve for a water bladder (though note you can use it for other purposes, as well).
If you like a little more room in your daypack, Saloman also makes a 30L Trailblacker Backpack.
Also, their SALOMON Agile 6 Set Hydration Pack is another great option for affordable hiking backpacks — and it's waterproof!
Worried about luggage allowance?
This compact backpack is carry-on approved by most airlines.
Despite fitting perfectly into the overhead bin, it's roomy and well-organized, with compartments for different items and uses, including a laptop pocket and a deep zipped pocket for storing valuables.
Plus, it comes with its own rain cover — extremely handy, especially when the sky opens up unexpectedly.
As someone whose camera died during a rainstorm while hiking in Puerto Rico, I can say this is a valuable feature!
Where To Hike Next [Video Game]
Wondering where your next hike should be?
" volume="70″]
Play the video above (after a short 15-second ad) with your eyes closed and your finger hovering on the pause button. Then stop the video when you feel compelled to.
Open your eyes and get inspiration for your next trekking adventure.
What trail did you land on? Make sure to share in the comments below!
Note:
I've included a mix of short and long hikes of varying intensities from around the world, including some of the globe's most bucket-list-worthy trails. For each, I provided an approximate length of time, though you can alter this and also do smaller sections of longer trails.
Of course, this list is of course not exhaustive. You can click here for more hiking suggestions.
Recommendation:
Before embarking on a hike, make sure to do your research so you know of any safety concerns as well as how to properly prepare.
Recommended Hiking Adventure [Nepal Travel Video]
Craving an affordable trekking adventure to pair with your new affordable hiking backpack?
Check out my video from trekking Nepal's Mohare Danda in the Annapurna Himalayan Range:
Plus, this route is lesser-traversed and brings you through high-altitude villages and an array of landscapes.
Free Trail Cleanup Game
Finally, before you go, make sure to grab my free Trail Cleanup Game, which game-ifies your hike by awarding points for picking up trash. Loser buys a round!
You'll find the game inside my free Ultimate Tavel Planning Kit, a suite of resources to help you travel smarter and have truly memorable and meaningful trips.
Click here for instant access!
In your opinion, what are the best affordable hiking backpacks under $100?
Enjoyed this post? Pin it for later!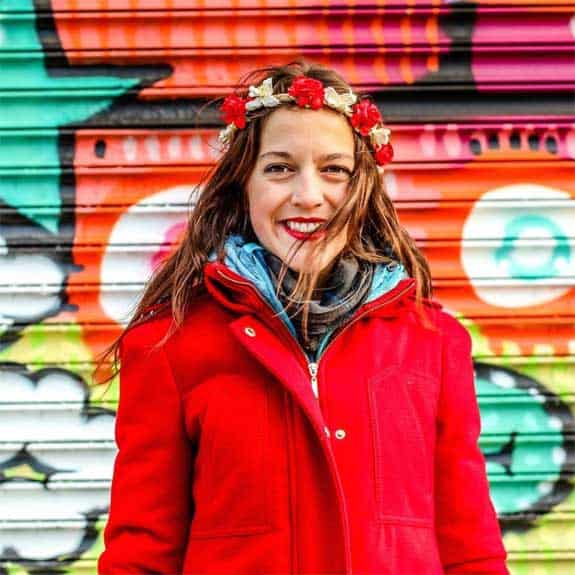 Hi, I'm Jessie on a journey!
I'm a conscious solo traveler on a mission to take you beyond the guidebook to inspire you to live your best life through travel. Come join me!
Want to live your best life through travel?
Subscribe for FREE access to my library of fun blogging worksheets and learn how to get paid to travel more!