These 5 Unique Accommodations Will Make You Crave A South Of France Getaway
Text by Andy Pilc; Photos by Jessie on a Journey
This post is part of a series based on our two-week road trip through the South of France. It contains affiliate links to trusted partners. Follow the journey here.
"Do you want to splurge and stay in a castle? It's $128 per night."
This is what I'd asked Jessie when researching AirBnBs for our two-week trip through the South of France. I was using the word "splurge" because there were plenty of options for France hotels and guesthouses for under $50; however, to stay the night in a gorgeous castle for what some hostel dorms cost in NYC seemed like an incredible deal.
And it was.
Travelers like us visit the South of France from around the globe to appreciate its beautiful beaches, adventure-filled national parks, endless fields of lavender and cabernet, and the unique personalities of the many towns, villages, communes and cities.
The best way to explore this part of the country is by car, as you can drive with a destination mind but make numerous discoveries worth exploring along the way.
The accommodation you choose can really enhance your experience. We found that among our France highlights — having dinner in a local home through BonAppetour, wandering small medieval villages like Eze and Moustiers Sainte-Marie, cycling through olive groves and lavender fields from Aix-en-Provence, kayaking the intensely green waters of the Verdon Gorge — the places we stayed really immersed us in our destination.
Many of these France hotels and homestays also provided a unique twist, whether it be a castle infused with offbeat art or a quiet horse farm where we stargazed and conversed with our host over homemade lemon wine.
To help you plan an epic South of France trip with equally epic accommodations, here is a France travel guide sharing our five favorite stays.
France Travel Video
Before we dive into our epic South of France accommodations, check out this trip video:
Watch it above!
You'll not only see where we stayed, but also the activities, tours, attractions and landscapes we enjoyed!
The highlight: Your very own field-sized terrace!
Nice is a coastal Mediterranean city offering everything from beautiful beaches to great restaurants (look for the "Cuisine Nissarde" labeled eateries for traditional Nice dishes) to neighborhoods perfect for wandering without a plan.
This was easy to do from Hotel Monsigny, which had the tramway right out front, though within 15 minutes on foot we could be sunning on the Promenade, exploring historic Old Town or partying on Rue Bonaparte in the Harbor Area.
We had a Superior Balcony room, and in addition to our king bed the room sported a front room with bunk beds (a great choice for families), a marble bathroom with open shower, and our own private terrace with a table for morning coffee and a faux-grass lawn for evening stargazing and wine sipping.
There's also a street-level restaurant with indoor/outdoor seating and 7th-floor rooftop lounge with craft cocktails and a Jacuzzi.
Rates for the lowest class room range from $65 to $201 USD per night. For the Superior Balcony room we had it's about $128 to $419 USD per night.
The Highlight: Premium stargazing in a remote woodland location!
You won't have to drive far from the coast to find yourself enveloped in France's mountain and forest landscapes.
At Verdon Gorge travelers can rent boats to explore the glassy blue-green river that carved the surrounding landscapes over millions of years.
For this adventure we based in Moissac-Bellevue, where nature-lover Laure rents out cabins and tepees that make up the quaint village setup on her house farm.
After her two dogs greeted us upon arrival, Laure invited us to sample her homemade lemon wine and Provencal "navette" biscuits before showing us to our cozy one-room cabin.
Jessie and I spent the evening watching countless stars come into view then slowly rotate overhead while sipping wine on our cabin's front porch.
In the morning Laure served hot coffee and 10+ varieties of homemade preserves, helping us fuel up for our upcoming kayaking adventure through Verdon (about 20 minutes away).
Booking a stay at the horse farm through AirBnB cost us $58 USD per night.
3. An Art Collector's Castle, Hyères
The Highlight: Luxury meets quirky in this gorgeous castle full of offbeat artwork!
If you're planning on visiting Port Crux or Porquerolles islands, this eight-room accommodation in historic Hyères is a must for lodging.
The mid-nineteenth century castle guesthouse fuses medieval elements of the surrounding city with funky modern art. Nicolas, the owner, greeted us enthusiastically from the terrace that overlooks Hyères all the way to the sea, shouting "Welcome New York!" before giving us the grand tour.
His art collection reflects his love of street art (he even has coffee table books on his favorite muralists), creative cultural nods (like colorful Day of the Dead busts on tables) and the beautifully eccentric (think feather boas, disco balls, LEGOs and mannequins).
Outside I pointed to one piece I recognized as belonging to street artist Invader. Nicolas smirked as he explained how he acquired the roughly 5′ by 7″ piece: "Invader made the piece in a local part of town, so I bought the building, took the wall down, and brought it here."
You won't walk two feet without finding art pieces, whether in the living room, near the outdoor pool or while taking in the view from the terrace. In the morning, refuel with fruit, bread, jam and fresh-squeeze juice.
Booking a stay at this artsy castle through AirBnB cost us $128 per night, though check out all Nicolas' listings as he has different rooms (though all around around the same price).
The Highlight: Enjoying true countryside living — complete with gorgeous terrace views — right outside a big city!
Just outside of Marseille, down a curvy and sometimes-mayyyyyyybe-12-feet-wide two-way road, is the picturesque Le Mas de Gorguetts.
After successfully making it down the aforementioned path we came to large iron gates, which opened up to reveal a sprawling property full of forest and hiking tails.
We drove done a symmetrical tree-lined path, eventually coming to the lovely nineteenth-century country farmhouse.
Pascaline and her family offer guests the better part of the large residence, which includes a fully stocked private kitchen, your own bathroom, and a large bedroom on the second floor, just up the grand marble staircase.
The property's location is perfect for a night in on vacation. Head to the local supermarket to pick up "France's holy trinity" (bread, cheese and wine) for an al fresco terrace picnic while watching the sunset over Marseille.
Booking this farmhouse on AirBnB cost us $139 per night.
5. The Family-Run L'epicerie B&B, Aix-en-Provence
The Highlight: The homemade breakfast eaten in the beautiful backyard and the giant Jacuzzi in our Cannelle Suite!
The classically Provençal city of Aix-en-Provence is a must when traveling the South of France, with our time there enhanced by a stay at L'epicerie B&B.
Located just steps away from the restaurant-packed Cardeurs Square (Place des Cardeurs), we were easily able to visit eateries (including Confiserie du Roy René where we learned to make calissons!), historic churches, the 100+ city fountains and mansions, and the famed Caumont Centre d'Art on foot.
The front door of the guesthouse is plain with just a small paper tacked on the front door identifying the establishment.
There are currently five rooms, but by the year's end the bed and breakfast will feature two second-floor suites to expand their restaurant operation.
Our room, the Cannelle Suite, had two rooms in addition to a large bathroom with a deep Jacuzzi tub.
The water jets and mood lighting make for a romantic evening after food, drinks and often live music in the nearby square. In the morning there's complimentary breakfast in the garden patio, with eats like vegetable quiche, sweet tapioca pudding and bread with spreads.
It was great dining local while chatting with the owners over morning coffee.
Rates for L'epicerie range from about $125 to $160 USD per night + local taxes for 1-2 people including breakfast. Additional guests in the suites cost about $34 USD.
Bonus South Of France Resources
How To Plan An Epic South Of France Road Trip
15 Best French Riviera Beach Clubs
How To Hike Calanques National Park In Marseille, France
How To Enjoy Wine, Hiking & Skinny Dipping Near Cannes, France
Is The Verdon Gorge France's Most Stunning Natural Attraction?
3 Epic Adventures You Didn't Know You Could Have In Provence
3 Stunning Day Trips From Nice, France
Exploring Nice Beyond The Promenade
Solo Travel In France: The Ultimate Guide
What are your favorite South of France hotels and guesthouses?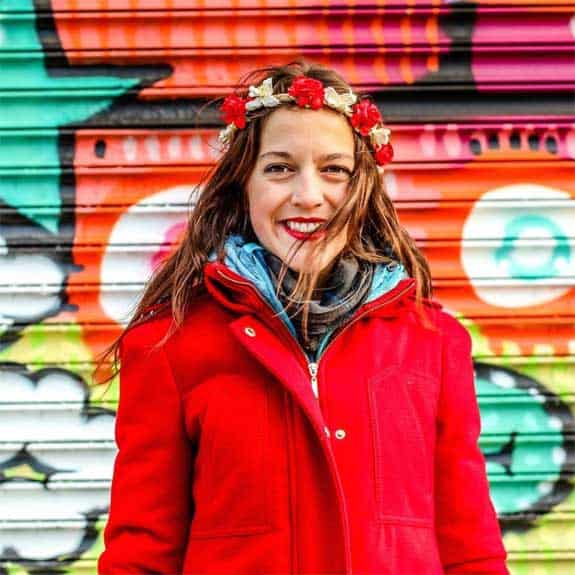 Hi, I'm Jessie on a journey!
I'm a conscious solo traveler on a mission to take you beyond the guidebook to inspire you to live your best life through travel. Come join me!
Want to live your best life through travel?
Subscribe for FREE access to my library of fun blogging worksheets and learn how to get paid to travel more!