Is The Verdon Gorge France's Most Beautiful Natural Attraction?
By Jessie Festa. This post contains affiliate links and is part of a series based on my boyfriend's and my two-week road trip through the South of France. Follow our journey here.
We awake early, the first day of the trip we get up before 10:30am.
Despite staying up the night before until midnight getting tipsy on Provençal wine and stargazing on our cabin porch, Andy and I feel refreshed.
Our AirBnB host Laure has prepared an al fresco breakfast of bread, toast and 10+ different homemade preserves.
Sipping coffee and munching on fig-coated baguette, nothing but horses and countryside in my vision, I feel excited to explore nature in Southern France.
France Travel Video
Before we dive into visiting France's Verdon Gorge, I've got a France travel video for you:
Watch it above!
The video showcases our trip road tripping from Nice to Marseille, with lots of fun in between! This itinerary is perfect for both those exploring in a group and those enjoying solo travel in France.
Verdon Gorge
The horse farm AirBnB is the perfect starting point, as today we're visiting Verdon Gorge, a 25-kilometer (16-mile) long river canyon known for being being one of Europe's most beautiful natural attractions.
It dates back to the Triassic Period (250-200 million years ago), and you'll see evidence from limestone and coral deposits as well as striated rock that this part of France used to be under water.
Later on, glaciers created an even more dramatic landscape by opening up deep gorges.
After reading up on Verdon Gorge we deem Moustiers-Sainte-Marie at the western end of the gorge to be the place to go.
Laure agrees, noting that the two sides of the gorge look completely different. We say "au revoir" and head off, taking Highway D952 — a scenic winding cliffside highway — toward our destination.
Suddenly a flash of bright almost neon green appears out of the corner of my eye:
The Verdon River.
It peeks through open patches of tree, until the road and my view are completely unobstructed. Wow!
By Land Or River?
Suddenly we come to a bridge stretching over the river and connecting two of the Provence-Alpes-Côte d'Azuz Region's (PACA) six departments, the Var and Alpes-de-Haute-Provence.
I can't help but feel like we've diversified our itinerary by walking over the bridge, adding multiple destinations to our trip in a matter of moments.
Moreover, peeking over the bridge's edge we're rewarded with the postcard-worthy views we'd seen online, noticing the plethora of visitors boating on the waters.
It's a serene scene that quickly changes our activity choice from hiking to kayaking.
From the bridge we easily drive down to a huge beach, tour operators renting a range of non-motorized sporting equipment (though we also see small motorized boats on the water).
Our kayak costs 26 Euros (~$29 USD) total to rent for two hours.
Being enveloped in the gorge, its verdant waters providing us both a transport medium and a place to cool off, is a unique experience.
We paddle under bridges, through caves, passed small areas for climbing and jumping, and alongside small beaches perfect for picnicking (so bring some bread, cheese, wine and maybe some Provençal nougat).
People are friendly and share their goodies, which we learn when we're offered shots of whiskey from a passing canoe of Swiss tourists.
The Verdict On Verdon
Verdon Gorge has such a great vibe.
Is it touristy?
Yes.
But while there are many people enjoying the river I also feel we have plenty of opportunities to steal some alone time.
Note:
The earlier you go the better chance you have at less crowds.
France's Most Beautiful Village
We return our kayak and walk to the beach's edge for a short swim — chilly! — before continuing on to Moustiers-Sainte-Marie.
While we don't see the numerous canyon activities or the bright green waters there, we're blown away by the beauty of the village and its outdoor eateries, Provençal speciality shops and narrow winding roads showcasing pastel buildings with tiled roofs.
This commune in the Alpes-de-Haute-Provence department dates back 30,000 years, though the village in its current state dates back to the 5th century when the Lérins abbey monks moved into the local caves and built a monastery.
Oh, and the views.
From our (free) parking spot we overlook a river and a waterfall.
The edge of town is lined with flower-adorned fences, while the backdrop is terraced olive trees and limestone cliffside with the Romanesque Notre Dame de Beauvoir — which you can hike up to in about 15 minutes from town via 262 stone steps — standing strikingly above the scenery.
We wander in and out of shops selling natural lavender soaps, rose perfumes, calisson sweets (an Aix-en-Provence delicacy) and local pottery — the specialty of the commune — until we find Atelier des Fontaines, where we stop for a budget-friendly lunch.
Two coffees, one La Chouffe beer, a giant savory crepe with fries and salad, a chop steak with fries and salad, and a three-scoop ice cream bowl come to 30 Euros total (~$34 USD). Yum!
A Buzz-Worthy Ending
We end the day as we do every day of our South of France road trip, with wine.
Specifically at Domaine Saint Jean de Villecroze in nearby Villecroze in the Var department.
The sampling is five luscious local reds, some single varietal cabernet sauvignons, and blends of cab, grenache and syrah for tastes of tobacco and blackberries. It's a deliciously dizzying experience.
This is the South of France; starting your day enjoying local flavors on a horse farm before driving to who-knows-where and making epic discoveries along the way.
When I woke up I simply knew I'd see a pretty river; but by the end of the day I'd experienced so much more.
Bonus South Of France Travel Resources
How To Plan An Epic South Of France Road Trip
15 Best Beach Clubs On The French Riviera
How To Hike Calanques National Park In Marseille, France
How To Enjoy Wine, Hiking & Skinny Dipping Near Cannes, France
3 Epic Adventures You Didn't Know You Could Have In Provence
3 Stunning Day Trips From Nice, France
5 Unique Accommodations That Will Make You Crave A South Of France Getaway
Exploring Nice Beyond The Promenade
Bonus: Check out these passionate adventure quotes to inspire thrill-seeking around the world!
Logistics:

Airbnb: We stayed on an adorable horse farm in nearby Moissac-Bellevue, a highly recommended AirBnB accommodation for a jumping off point to Verdon Gorge. Price: $58 USD per night.

Getting Around: Do yourself a favor and rent a car. Once you get used to France's crazy driving you'll be happy you were able to simply get in, drive, get lost and make discoveries.

Pack: For Verdon Gorge you'll definitely want to bring snacks and water (they don't sell it at the gorge where the activities are), a bathing suit, a towel, sunscreen, sunglasses and a GoPro for capturing epic adventure footage.

Kayaking Verdon Gorge: We paid 26 Euros (~$29 USD) total to rent for two hours. If I went again I would rent for three hours. The price includes a lifevest and bucket to keep valuables dry. Parking is free.

Great Reads: Au Contraire: Figuring Out the French and How the French Think: An Affectionate Portrait of an Intellectual People.

Safety Essentials: While I found the South of France to be relatively safe, I always travel with Clever Travel Companion Pickpocket-Proof Garments and a Vigilant Personal Alarm.

Language: French, though we found many people spoke some English. Just make sure to understand pleasantries when interacting with locals!

Currency: Euro. As of September 2016 the exchange rate was about 1 Euro = $1.13 USD.

France Road Trip Route:

Nice (with day trips to Eze for a medieval village, Monaco for a VIP afternoon and Saint-Jean-Cap-Ferrat for the Villa & Jardins Ephrussi de Rothschild – plus visits to some of the best South of France beach clubs)
Cannes (with day trips to St. Tropez/Ramatuelle for beaches, Gassin for wine tasting and La Croix Valmer for beaches and hiking)
Moissac Bellevue (we stayed at a woodland set horse farm then were about 20-minutes from Verdon Gorge)
Hyeres (the cobbled commune itself is fun to explore, and is near beautiful beaches and is accessible to the untouched Port Cros Island; worth the trip for this cool castle stay alone!)
Aix-en-Provence (my personal favorite spot of the trip due to the small quiet city full of amenities and accessibility to beautiful Provence farmland; a cheesey rooftop lunch at La Fromagerie Du Passage and a day trip cycling outside the city with Arthur of Secrets d'ici are musts!)
Marseille (don't miss hiking in the urban Calanques National Park, which doesn't feel urban at all and is accessible to beautiful port towns and beaches)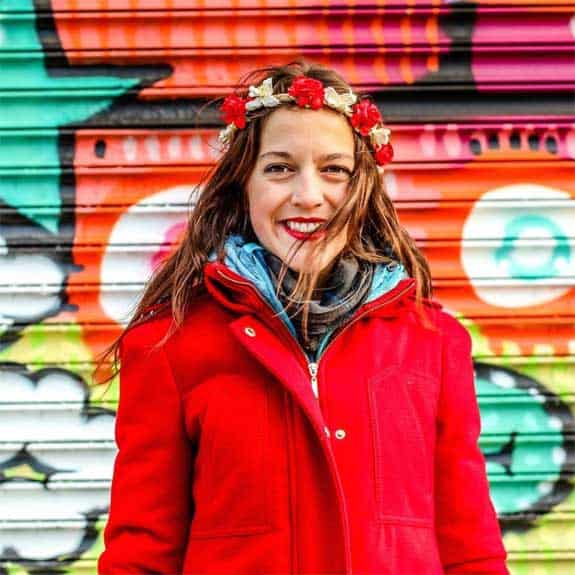 Hi, I'm Jessie on a journey!
I'm a conscious solo traveler on a mission to take you beyond the guidebook to inspire you to live your best life through travel. Come join me!
Want to live your best life through travel?
Subscribe for FREE access to my library of fun blogging worksheets and learn how to get paid to travel more!