3 Epic Adventures You Didn't Know You Could Have In Provence
By Jessie Festa. This post contains affiliate links and is part of a series based on my boyfriend's and my two-week road trip through the South of France. Follow our journey here.
When going to Provence you know you'll eat copious amounts of delicious bread, bouillabaisse, and cheese paired deliciously with local wine.
But did you also know scenic adventures were also possible?
Before going, Andy and I really weren't sure what to expect beyond lavender fields, olive groves, and vines beckoning us with cabernet saugvignon and mourvedre.
In our minds it seemed like a slow-paced place, possibly without much to do outdoors beyond picnicking and enjoying the scenery; however, the thrill-seekers in us were pleasantly surprised that visitors can enjoy the beautiful landscapes via active adventures.
Read on to discover our favorite things to do in Provence of the exciting sort. Whether you're in a group or are enjoying solo travel in France, these experiences will certainly be a highlight!
Tip: For all of the below make sure to pack at least 1 liter of water, sunscreen, sunglasses, face wipes, snacks and a GoPro.
1. Hike A Mountain In A Seaside National Park
Where: Marseille, France
The Experience: Looking for unique things to do as a tourist in France?
Something cool about the big city of Marseille is it's home to the enormous 520 square-kilometer (201 square mile) Calanques National Park, composed of both land and water.
Before going I expected something relatively flat full of leisurely trails; however, you can actually embark on some pretty tough treks.
Our guide took Andy and I up into the dolomite cliffs via "The Goat's Collar Trail" (Le Col des Chèvres), a path covered in shards of stone with some technical sections where you'll need two hands (and some bravery) to get you to the top.
Andy climbs at home, so he helped guide my feet and hands into the right places to steady myself — though I refused to look down until steadily planted on the ground!
While you'll work pretty hard, it'll be worth it for the 360-degree views from atop Marseilleveyre Peak at 433 meters (1,421 feet), showcasing the sparkling Mediterranean with a view of Bay of Marseilles.
Moreover, as you walk down into the tranquil Port des Goudes you'll have the sea in view at all times.
Apparently, you can scuba dive here too!
Price: You can book a guide through EVANA (ask for Stephane Couette!).
Rates are about 200€ (~$225 USD) for a private tour or 30€ and 45€ (~$34 to $51 USD) to join a half-day public tour.
Tip: Re-fuel after lunch at L'Esplaϊ du Grand Bar des Goudes, a waterfront seafood restaurant with uber fresh fish, crisp wines and decadent desserts (like a gooey lava cake-like brownie).
Don't Forget: Your bathing suit and a towel.
There are myriad beaches both big and small to visit along the shore.
Stay: New Hotel Vieux Port. Rates start at 140 Euros (~$156 USD) per night, with a great location adjacent to the Old Port (Vieux Port).
Our room had an aerial view of the Old Port, allowing us to take in boats, water views and entertaining buskers while sipping Provencal rosé from our balcony.
2. Kayak In The Verdon Gorge
Where: The most beautiful section is between Castellane and Moustiers-Sainte-Marie.
I suggest you follow what we did and stay in Moissac-Bellevue, then drive down D952 toward the gorge (you can input Moustiers-Sainte-Marie into the GPS).
Soon you'll arrive at a bridge with tourists taking photos of the gorge. Don't miss the photo opp!
Then, drive down under the bridge to where tour operators are selling kayaks, paddleboards, and peddle boats.
It will all be very clear once you're on that bridge.
The Experience: The bright green color of the waters is absolutely breathtaking, and it was no surprise to learn the gorge is regularly touted as one of Europe's most beautiful rivers. You truly won't want to miss visiting when traveling around Europe!
The waters are calm enough that you can easily paddle, jump out and swim, climb the surrounding cliffside for some low cliff jumping, and park at the many beaches.
When I go back to the South of France I'll definitely be visiting Verdon Gorge again, this time via paddleboard.
Price: We rented a kayak for 26 Euros (~$29 USD) for two hours.
Tip: Bring your GoPro as well as some wine and food to share. It's a social atmosphere, and we even had some Swiss tourists paddle over to us and offer up shots of whiskey.
Afterward, grab lunch and shop in the gorgeous Moustiers-Sainte-Marie, considered one of France's most beautiful villages.
It's possible to visit Verdon Gorge and Moustiers-Sainte-Marie via private tours from:
Just click the city links above for access to the tour information.
Don't Forget: Towels! The water is chilly and you'll want to wrap up after diving in.
Stay: A horse farm in Moissac-Bellevue ($58 per night). It's about 20 minutes away from the Verdon Gorge activities but offers a remote cabin experience where you can sip wine while stargazing in a rustic cabin.
The host, Laure, even offers her own lemon wine and Provencal cookies at check-in, as well as bread with a slew of homemade preserves at breakfast. Parking and breakfast are included in your stay.
3. E-Bike The Provence Countryside
Where: Aix-en-Provence
The Experience: In my opinion, this is one of the best bike rides in the world!
Andy and I did a private e-bike tour with Arthur of Secrets d'ici.
This is where we experienced the Provence we'd had in our heads: endless fields of lavender, herbs, olive groves and vineyards dotted with charmingly weathered farmhouses and little villages, the entire scene hugged by mountains.
As we road up and down scenic steep hills, the e-bike making this typically tough task much easier, I definitely had an omg-pinch-me smile on my sun-kissed face.
Bonus:
We did an organic rose tasting at Domaine de Saint Ser and had a typical Provencal lunch at Le Relais de Saint Ser Puyloubier in a beautiful courtyard lined with fountains and bundles of wine grapes.
I couldn't think of a better way to gain sustenance for the ride home than diving into beautifully plated roast chicken topped with mini crepes and prawn bisque as well as a decadent apricot tart smothered in wild fruit coulis and homemade whipped cream.
Price: The tour we did was a custom private tour put together by Bee's Cycloplanet and Secrets d'ici.
For two people our 5-hour tour cost 350 Euros (~$391 USD) total.
Tip: Don't wear short shorts on a bike tour.
Even when it's hot capris and board shorts are a better option as your inner thighs won't rub together or against the seat and create a rash. Unattractive but true!
Don't Forget: A backpack. The bikes have baskets but any valuables can bounce around.
I actually got locked out of my iPhone when a water bottle tried to log me in (aka bounced on my phone) too many times.
Stay: L'épicerie Bed & Breakfast (140 Euros/$156 USD per night for 1-2 people for the Cannelle Suite, which we stayed in).
This place is very unassuming.
Aix-en-Provence is a small, charming city with almost no cars in the city center as well as cobbled streets showcasing fountains and al fresco seating restaurants.
So, it made sense to stay at an equally charming b&b. When we arrived we came to a plain skinny door with just a postcard saying "L'épicerie" on it, so we weren't sure what to expect; but wow!
Our suite featured the most epic mood lighting-equipped Jacuzzi tub and adorable antique furniture-filled bedroom plus living room.
Another highlight:
Eating a homemade breakfast with dishes like Provencal quiche, tapioca pudding, and crusty bread topped with organic jams eaten in an outdoor garden (where we saw a turtle!).
Bonus South Of France Travel Resources
How To Plan An Epic South Of France Road Trip
15 Best Beach Clubs In The French Riviera
How To Hike Calanques National Park In Marseille, France
How To Enjoy Wine, Hiking & Skinny Dipping Near Cannes, France
Is The Verdon Gorge France's Most Stunning Natural Attraction?
3 Stunning Day Trips From Nice, France
5 Unique Accommodations That Will Make You Crave A South Of France Getaway
Exploring Nice Beyond The Promenade
What are your favorite adventure-focused things to do in Provence?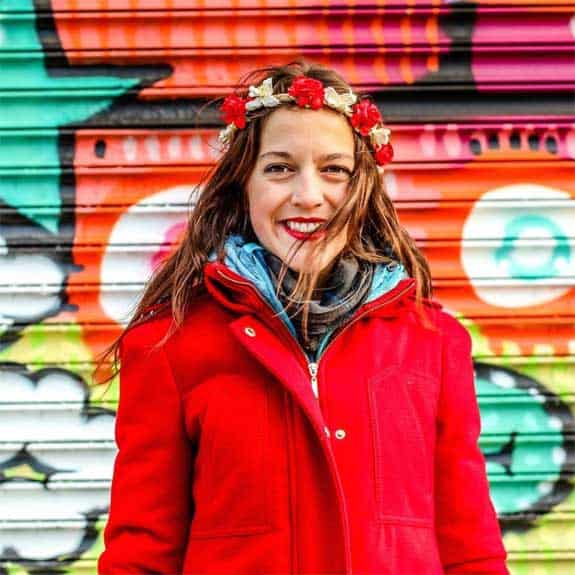 Hi, I'm Jessie on a journey!
I'm a conscious solo traveler on a mission to take you beyond the guidebook to inspire you to live your best life through travel. Come join me!
Want to live your best life through travel?
Subscribe for FREE access to my library of fun blogging worksheets and learn how to get paid to travel more!