How To Have An Epic South Of France Road Trip [Video]
By Jessie Festa. This post contains affiliate links and is part of a series based on my boyfriend's and my two-week road trip through the South of France. Follow our journey here.
"The purpose of life is to live it, to taste experience to the utmost, to reach out eagerly and without fear for a newer and richer experience." ― Eleanor Roosevelt
Our two-week road trip through the South of France — specifically from Nice to Marseille by car — certainly was rich.
And I don't just mean with fatty cheeses and generously poured glasses of red wine.
Typically when I travel I find myself holed up in my AirBnB typing away for work more often that I'd like to admit; however, this trip was different.
Even if I wanted to increase my screen time it would have been hard.
Hey, it's no easy feat prying your eyes away from Provence's endless rows of cabernet and olive trees or the beautiful beaches and beach clubs of the French Riviera.
There's no doubt we had an amazing time, though it wasn't until after I'd returned home that I really thought about what exactly made Provence a place I'd recommend.
Yes, there are certain challenges when it comes to driving (no offense, the French are crazy) and cultural differences; however, once you understand these you'll have a much easier time enjoying the plethora of things to do.
One quick tip before we dive into the experience:
Grab my free Ultimate Travel Planning Kit — which also includes a Google Map of this South of France itinerary.
Add the map to your phone to have it ready to go for your trip!
Road Trip South Of France [Video]
Psst – want to see this France trip come to life through video? Check out this short film we made of our journey!
This trip was just as fun as it looks, and is great for those traveling in a group or those doing some solo travel in France. Feel free to steal the itinerary for yourself when planning a road trip.
South Of France Road Trip Experiences
Sure, there are plenty of great destinations with diverse activities; however, the South of France takes it to another level.
We loved being able to hop in a car and within an hour be at a completely new place.
Along every winding coastal or mountainside drive there were numerous medieval villages, scenic adventures, beautiful beaches, buzzworthy wineries, delicious restaurants and more to discover.
Pro tip:
Use Discover Cars to quickly compare your car rental options.
Their comparison tool does the homework for you, so there's no need to have up 10+ tabs trying to figure out which company is the most affordable.
Actually, you can save up to 70% using their tool!

Check it out here:
Where To Eat In Nice
We had a bit of a rocky start in Nice, and I'm not referring to the beaches (which are gorgeous, but rocky).
It mainly had to do with the driving.
French drivers, especially in Nice, literally zoom around with no rules, driving into oncoming traffic, swerving onto sidewalks and cutting you off.
It's a lot to handle at first, though we were happy we had the car for the many day trips we did and for continuing our journey.
Things immediately took a turn for the better when we parked the car to explore on foot, especially in Old Town where we had our first local meal at A Buteghinna.
The restaurant holds a "Cuisine Nissarde" certification, meaning they uphold the traditions of Niçoise cuisine, regionally specific from "French cuisine."
From the panisse (chic pea fries) to the soupe au pistou (a basil soup) every dish took us on an educational culinary journey, telling the story of Nice's relationship with Italy and the city's Mediterranean location.
From a typical Nice dinner in a local home through BonAppetour to local street foods like socca (fried chic pea bread) and pan-bagnat (Nicoise salad on bread) we immersed ourselves in local Nice foods, though one of our favorite meals was at the globally-inspired Le Vingt4.
The venue sources the best regional ingredients in the world with wines from the same place to pair.
In classic Mediterranean fashion the chef let the flavors speak for themselves, keeping ingredients as raw as possible.
Simple yet decadent is the best description.
I mean Brie de Meaux laced with mascarpone and winter truffle paired with Herbelet Champagne Grand Cru?
The French really do pay attention to detail and make eating an experience whether it's local or global cuisine.
Day Trips From Cannes
And the wine is important, too.
Cannes is great, but we opted for constant day tripping over spending much time in the city.
This is when we were introduced to the wine and adventure of the Côte d'Azur.
The destination in mind for our Cannes day trip was La Croix Valmer to hike Les 3 Caps (the Three Capes) from the Plage de Gigaro (Gigaro Beach).
First of all, WOW.
Do this hike, even if just a section.
You'll walk along the coast, into pine woodland and on top of a hill for aerial Mediterranean vistas.
While I recommend lots of water and sunscreen, the bathing suit is optional when you make use of those beaches for a cool down.
No photos of our skinny dipping session (sorry!), but here are Andy and I having fun on the beach beforehand.
After the hike we had plans to visit St. Tropez, driving through the shopping area and then ending at the famous Pampelonne Beach, which is actually in nearby Ramatuelle.
We'd heard this beach was somewhat posh, but what we found was a super chill three-mile stretch of white sand.
Even better, we discovered Domaine Bertaud Belieu in nearby Gassin — next to St Tropez — along the way.
Located in the Var Department, we found ourselves immersed in vineyards from many wineries (domaines), though this one stuck out in terms of beauty.
The old world architecture gave it a whimsical feel, and when we were given a complimentary 10-tasting degustation we knew we'd made the right choice.
We bought two bottles (15 Euros / ~$17 USD total!) to show our appreciation and savor the local flavors.
What Is Considered Provence? PACA? The South Of France?
So before Andy and I booked our trip to France we wanted to go to "Provence"; however, we couldn't quite understand what Provence actually was.
We pictured a countryside full of fragrant lavender, mourvèdre grapes and cheese farms, but where was Provence?
We knew it was a region, but was there a specific place one stayed to experience "Provence?"
For a while we thought Aix-en-Provence was Provence, but in actuality, Aix is a small city within Provence.
We were also unclear if cities like Nice and Cannes were considered Provence. During our road trip from Nice to Marseille we realized the route actually fell into the Provence-Alpes-Côte d'Azur Region (PACA), with destinations like Nice, Cannes and St. Tropez being part of the Côte d'Azur and destinations like Verdon, Aix-en-Provence and Marseille being part of Provence.
They all fall into the larger PACA region, though, and there is some discrepancy.
For instance, when asking a group of locals in Aix-en-Provence whether St. Tropez was in Provence or not, they argued with each other about the answer.
There is clearly some overlap with the sub-regions within PACA.

PACA is one of France's 22 administrative regions, and encompasses six departments.
Stay in any of these places and simply get lost, discover and enjoy.
There are so many wonderful villages in Provence and beyond to explore and fall in love with.
A Moissac-Bellevue Hotel In The Countryside
Bustling hotspots like Nice, Cannes and St. Tropez were great; though in terms of satiating our craving for countryside a horse farm in Moissac-Bellevue — less than two hours from St. Tropez — did the trick.
The epic South of France stay allowed us a night of drinking our Bertaud Belieu wine (Laure, the woman owning the farm, also gave us homemade lemon wine) and stargazing from our cabin. There was no electricity, though Laure provided lanterns.
Andy and I sat for four hours photographing the night sky, telling ghost stories and getting tipsy before falling into a deep slumber, the sound of whinnying horses our night lullaby.
In the morning, we woke up early — the only night of the trip we got up before 10:30am — to an al fresco breakfast of homemade preserves to spread on toast.
Strawberry, fig, prune, mandarin, raspberry and apricot were just a few of the many impressive flavors giving us a sugar rush for the day ahead at nearby Gorges du Verdon (Verdon Gorge).
The geography here is interesting; not only is this place naturally beautiful with its bright green river and dramatic rock formations, but the River Verdon splits the departments of Var (as in the Mediterranean wine region mentioned above) and Alpes de Haute Provence (an Alpine ecosystem and also a wine region).
Verdon Gorge Kayaking
There are many places around Verdon Gorge you can choose to go.
Laure informed us the two sides of the Gorge are both breathtaking and very different.
We decided to make our way toward Moustiers Sainte Marie, which seemed to pop up quite a bit on the Internet; however, plans changed during the ride.
Are you seeing a pattern here? There's no need to plan in Provence. Adventures pop up at every turn.
Picture this: we're driving along the winding mountain route D952, switching back and forth between shady forest and open skies.
Suddenly, a flash of bright neon green-blue appears out of the corner of my eye. Lake Verdon.
It peeks through open patches of tree, until the road and my view are completely unobstructed. Wow.
We reach a bridge connecting the two departments that stretches over the river, and we get out to capture the iconic photos we'd seen online.
It's then we notice the plethora of visitors canoeing, kayaking and paddle boating on the waters; a serene scene that quickly changes our choice from hiking to kayaking.
From this bridge we see numerous rental centers from above, and drive down to rent a kayak for 26 Euros ($29 USD) for two hours.
The paddling trip is scenic, allowing us to take in the gorge from below as cliffside swallows us up, as well as friendly.
We get offered shots of whiskey by a passing boat of Swiss tourists, jump out to swim in the chilly waters and post up on the numerous beaches along the way.
Provence Travel Adventures
What was interesting to me was how many outdoor adventures and national parks there were along the journey, particularly in Provence.
I expected medieval towns, vineyards and lavender farms; I didn't expect to be kayaking deep gorges or hiking coastal capes.
It really allowed for an all-encompassing trip.
And these national parks aren't just in the countryside, but in the cities.
For instance, Marseille not only allowed us to stay in a homey family-run castle complete with a pool, onsite hiking trails, and expansive terrace views, but to visit an urban national park.
Calanques National Park encompasses 201 square miles, including the rugged terrain of the Massif des Calanques, which Andy and I hiked and scrambled.
Our guide took us along dolomite cliffside and up Marseilleveyre Peak for 360-degree views from 433 meters (1,421 feet).
The breathtaking view showcased the sparkling Mediterranean and Bay of Marseilles as well as the urban landscape.
Cycling In Aix-en-Provence
Possibly our favorite views, ones that truly showcased the beauty and natural prosperity of Provence, came during our time in Aix-en-Provence.
We met our guide Arthur of Secrets d'ici in front of Bee's Cycloplanet for a private electric bike tour.
While electric bikes aren't yet popular in the United States, in Europe you can rent them to make lovely hilly rides doable (I wouldn't have been able to complete this route without it!).
The ride took us outside of the city for vistas of mountains, lavender fields, olive groves, historic farm houses and endless rows of grenache and cabernet.
We even got two tastes of Provence; one at Domaine de Saint Ser where we savored a tasting of organic rosés, and one during lunch in the small village of Puyloubier.
We dined in a beautiful courtyard lined with fountains and bundles of wine grapes at the sumptuous Le Relais de Saint Ser Puyloubier.
Here local wine was paired with homemade dishes crafted from local Provençal ingredients. Imagine roast chicken done in a prawn bisque and topped with mini crepes and peas, followed by a decadent apricot tart smothered in wild fruit coulis and homemade whipped cream.
And I didn't even feel bad. By the end we'd biked 31 beautiful miles, enough to let me have my cake and eat it, too.
Back at our guesthouse, L'Epicerie, we cozied up in the in-room Jacuzzi and toasted with glasses of bubbly to an epic road trip.
Ending Tip: When planning a trip to the South of France the hardest thing will be deciding where to stop and where to skip, especially if you've never been and have no mental image of the land. Know this: anywhere you stay you'll be close to myriad different places.
For instance, Nice is only 20 minutes from Eze, 40 minutes from Monaco and 40 minutes from Cannes. Aix en Provence is 25 minutes from Marseille and an hour from Avignon.
My point:
Don't stress about where to go.
If you don't like where you booked use it as a base for incredible day trips or just drive around and see what you find.
You can also follow Andy and I's itinerary below, which we highly recommend!
Best Places To Stay In The South Of France
Looking for South of France accommodation?
Click here to peruse local hotels!
Prefer self-contained stays?
Click here to check out unique local rentals!
You can also use this map to search for local stays:
Road Trip Travel In Southern France: FAQ
1) Where should I vacation in the South of France?
For a mix of experiences and atmospheres, it's smart to spend some time on the French Riviera as well as some time in Provence. Begin in Nice and end in Marseille, making stops along the way in places like Cannes and the Verdon Gorge.
2) How many days do I need in Provence?
There is a lot to see and do in Provence, from wine tasting to beach hiking to scenic cycling trips and beyond. A minimum of five days is advised, though if you can do 10-14 days you'll get to experience a lot more.
3) Can you drive from Paris to Nice?
You can, though it would be a very long drive at about nine hours, or 579 miles. It is recommended to break up the drive with stops along the way, such as in Dijon and Lyon. You can also take a train, with the fastest train getting you to Nice in about five-and-a-half hours.
4) How far is Nice from Marseille by car?
It takes about two hours to drive from Nice to Marseille. The distance is 124 miles. While you can easily do the drive in one day, it is recommended to make stops along the way as there is a lot to do and see.
5) What is the best South of France road trip itinerary?
One great itinerary if you have 10-14 days is Nice, Cannes, Moissac-Bellevue, Hyeres, Aix-en-Provence, and Marseille. Nice and Marseille are about 124 miles apart.
Here is the route in detail:
Nice (with day trips to Eze for a medieval village, Monaco for a VIP afternoon and Saint-Jean-Cap-Ferrat for the Villa & Jardins Ephrussi de Rothschild)
Cannes (with day trips to St. Tropez/Ramatuelle for beaches, Gassin for wine tasting and La Croix Valmer for beaches and hiking)
Moissac Bellevue (we stayed at a woodland set horse farm then were about 20-minutes from Verdon Gorge)
Hyeres (the cobbled commune itself is fun to explore, and is near beautiful beaches and is accessible to the untouched Port Cros Island)
Aix-en-Provence (my personal favorite spot of the trip due to the small quiet city full of amenities and accessibility to beautiful Provence farmland; a cheesy rooftop lunch at La Fromagerie Du Passage and a day trip cycling outside the city with Arthur of Secrets d'ici are musts!)
Marseille (don't miss hiking in the urban Calanques National Park, which doesn't feel urban at all and is accessible to beautiful port towns and beaches)
Travel Insurance
While you hope everything runs smoothly, sometimes travel just doesn't go according to plan.
This is why I recommend always purchasing travel insurance. The scary truth is it only takes one bad accident to lose everything — or be thankful you were covered.
Personally, I use SafetyWing, as they've got a large network, offer both short-term and long-term coverage (including limited coverage in your home country), are budget-friendly, and offer $250,000 worth of coverage with just one low overall deductible of $250.
Click here to price out travel insurance for your trip in just a few clicks.
Bonus South Of France Travel Resources
How To Hike Calanques National Park In Marseille, France
How To Enjoy Wine, Hiking & Skinny Dipping Near Cannes, France
Is The Verdon Gorge France's Most Stunning Natural Attraction?
3 Epic Adventures You Didn't Know You Could Have In Provence
3 Stunning Day Trips From Nice, France
5 Unique Accommodations That Will Make You Crave A South Of France Getaway
Exploring Nice Beyond The Promenade
15 Best Beach Clubs On The French Riviera
Have you ever done a South of France road trip?
Enjoyed this post? Pin it for later!
Planning A Trip To South Of France Logistics:
What is the best way to get around the South of France? We rented a car from Europcar for a little less than $600 total for two weeks, including taxes and fees paid upon arrival and adding a second driver. My credit card, the Bank of America Travel Rewards Card, included car rental insurance. Check your credit card before buying the insurance offered by the rental company.
Additionally, I'd recommend using Discover Car Hire to compare your options.
Do you have any driving tips for the South of France? I recommend exploring the South of France via car as there are just so many little villages, wineries, beautiful parks, and beaches to stop off at along the way from Point A to Point B. The South of France is a land of discovery; you'll constantly be finding attractions you didn't know existed. Just drive with caution; the French drive without any care for rules. Don't be surprised if you see drivers going 80mph around hairpin mountain turns.
What are some great books on France? Au Contraire: Figuring Out the French and How the French Think: An Affectionate Portrait of an Intellectual People.
What should I eat in France? It's helpful to understand French dining etiquette before eating out.
How do I get a SIM card in France? One option is a KnowRoaming Global Sim Sticker, which works in 200+ countries to give you local rates and inexpensive data packages. Another option is buying local SIM cards in France. Andy and I paid about 20 Euros (~22 USD) each in Cannes for local SIM cards with 1 gigabyte of data (no calls). Especially if you're driving I think it's important to have data in case of an emergency. It was also helpful for communicating with locals (via Google translate), contacting our AirBnB hosts and finding our AirBnBs when we were lost.
What are some safety essentials I should pack for France? While I found France to be relatively safe, I always travel with Clever Travel Companion Pickpocket-Proof Garments and a Vigilant Personal Alarm.
What should I pack for my France trip? Start with this list. From there I would also recommend bringing an extra flashlight (for any countryside AirBNBs or camping), water shoes (for Verdon Gorge and rocky beaches) and travel towels (for the beach).

What language do they speak in France? French, though we found many people spoke some English. Just make sure to understand pleasantries when interacting with locals!
What currency do they use in France? Euro. As of December 2019, the exchange rate was about 1 Euro = $1.11 USD.
What tours should I book in the South of France?
Driving Holiday In France [Trip Video]
If you didn't watch it already, here is another chance to watch my South of France road trip video.
What would you add to this South of France road trip itinerary?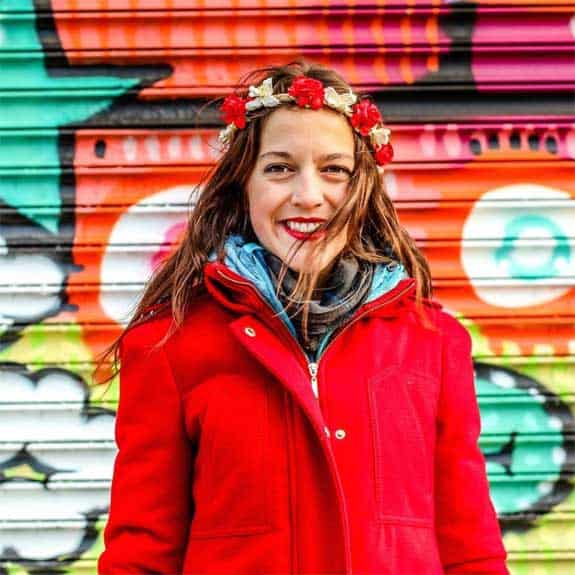 Hi, I'm Jessie on a journey!
I'm a conscious solo traveler on a mission to take you beyond the guidebook to inspire you to live your best life through travel. Come join me!
Want to live your best life through travel?
Subscribe for FREE access to my library of fun blogging worksheets and learn how to get paid to travel more!