Nicaragua Adventures: Summiting (And Sliding Down) The Active Concepcion Volcano On Ometepe Island
This post is part of a multi-story series based on my latest trip with Intrepid Travel. Here is the trip link. 
Have you ever taken on a challenge that you seriously thought you could easily dominate, only to be completely pushed beyond your limits? This is exactly what happened to me on Ometepe Island in Nicaragua when
hiking Concepcion Volcano
— one of the
best hiking trails in the world
— mainly because of the fact I typically sign up for things without actually looking into what they are.
Sure, I'll hike an active volcano. I have never heard of it but sounds simple enough. I walk around NYC all the time. It's just walking, right?
Wrong. Named after the Virgin Mary by the Spanish and reaching heights of 1,610 meters (5,282 feet), it's the highest point of the island. Even when Javier, Eric and Tim — the Intrepid Travel group members brave enough to take on the trek — questioned my sanity, I didn't think it would be that difficult. As the only female in the group signing up for the trek I also felt it was my duty to show these guys up. And, I did. Well, not really. But I did make it to the very tippy-top of the volcano even though I wanted to cry the entire time. Sure, I was covered in sweat, mud, cuts, bruises and bugs, but I did it — capturing the entire thing on my
GoPro Hero4
 action camera. But let's start this
Nicaragua travel guide
from the beginning, which was actually scenic and meditative, beginning with the fields of coffee and sorghum at our beachfront, hammock-ladden
Hotel Finca Valencia
accommodation (~$20 USD per night) and moving on to the trail with grazing cows and screeching howler monkeys. We walk through savannah, primary and secondary dry forest and pre-mountain forest, the landscape and flora constantly transforming. One really neat feature of the trip was passing an enormous ceiba tree, the national tree of Guatemala and iconic of
Central America
. It sits at the beginning of the trail and is one of the few big monster trees left — it stands about 60 meters (197 feet) tall — in the hike's primary forest.
Tough
The first 2 kilometers (1.2 miles) of the Concepcion Volcano hike are flat, while the rest of the 6.5-kilometer (4-mile) round-trip trek are uphill at a 25-35 degree angle. Combine that with altitude and loose rock face, and you've got one serious physical challenge. I'll admit there were times I really didn't think I would make it the entire way; for instance, halfway through after climbing a steep incline for two hours when I lay on a rock completely exhausted thinking we were done, but was then told by my guide we had another 610 meters (2,000 feet) — aka 2-3 hours — of straight uphill climbing to go. This included pushing through clouds and chemicals like sulfur, carbon monoxide and bleach, rocks tumbling down the volcano side as you grip, grasp, stumble and belly your way up (this was my technique, at least). Yes, the gases create a poisonous combination, which is why we had to wrap our sweat-soaked t-shirts around our mouths to filter them out.
…But Rewarding
Okay, enough of the complaining. The truth is, the Concepcion Volcano hike was the toughest I've ever done, but was so worth it for the views and to test my own strength. Traveling solo I'm not sure I would have been able to complete the trek on my own; however, I had an amazing guide, Willmore of Ometepe Wildlife Tours (
[email protected]
; 505-8601 -9191), my Intrepid Travel guide Javier, and my new buddies Eric and Tim from the Way to San Jose Tour. We bonded hard on the trek, so many jokes and good times, even when I thought I might tumble to my death off a volcano. Also, Tim is my new hero as he carried my backpack when I was collapsing, and Eric blasted Rihanna on his phone to keep me going. #TeamWork! On that note, I do not recommend doing this hike without a guide. According to Willmore many guides will only take you to the halfway point and tell you it's too dangerous to go further because the companies they work for can pay them less. Not our guide. He took us all the way to the tippy tippy top. Scary and difficult, but extremely awesome.
An Array Of Ecosystems
Concepcion Volcano actually passes through five distinct ecosystems, meaning the vegetation, landscape and insects are constantly changing. While the dry primary forest showed me howler white-throated capuchin monkeys and the standard spiders and beetles, the top Nebligases ecosystem showcased pioneer cloud gas vegetation bugs that literally looked like they were from Mars, ants with horns, flies with neon yellow zebra stripes and metallic green click beetles that reflected the surrounding steam. Talk about otherworldly. I brought 4.5 liters of water and wished I had a little more, though I get dehydrated easily. The guys each brought 3 liters and were fine. Snacks like peanut butter and jelly, trail mix, fruit and Snicker bars. Also, a plan for somewhere to drink some rum on a hammock afterward is great (like my Hotel Finca Valencia).
A Steep Descent
Be aware, the first rule of mountaineering is to remember there's also the way down, so don't get too comfortable at the top. The descent is equally as tough, although along with being physically challenging is also nerve-wracking. Especially when it starts to rain, and I slip and slide down the volcano. Let's just say I left with more than a few scratches and scrapes, though Willmore held my arm to make sure I didn't fall hard, and I left learning a few tips on how to navigate slippery rocks, especially staying away from street which crumbles out from under you, and digging with your heel in more dirt-like areas.
Notes On Responsible Tourism
Understand that Nicaragua — the poorest yet safest country in Central America and one of its top
adventure travel destinations
— has a lot of corruption in the guide industry and that you often get what you pay for. Don't trust guides that offer the 10-hour Concepcion Volcano hike for $5. Willmore charged our group of three (Javier was free as he was guiding for Intrepid) $30 USD per person. Please please please hire a guide — I recommend Willmore who is wilderness and first aid trained — and don't be cheap. Put money into the local economy and ensure your safety.
Concepcion Volcano Suggested Hiking Clothing/Gear (With Brand Recommendations):
Four liters of water 

Sandwiches/snacks

Face wipes or wash cloth (you'll sweat a lot)

Bandana or something similar to wrap around your mouth when you get near the poisonous gases at the top of the volcano

Dry clothes

Hiking sneakers

2 pairs of moisture-wicking socks
2-3 tanks or tees (again, I like moisture-wicking shirts) 

Sunscreen

Bug repellent

Toilet paper

Sunglasses

Small yet rugged music device like the rugged Divoom Voombox to distract you from the difficulties at the top
***I didn't bring first aid gear, as my guide had it; however, if you don't go with Willmore be sure to inquire about this.
For more posts from my Way to San Jose trip, click here. Bonus: Get 25% off last minute deals with Intrepid Travel by clicking here.
Essential Information:

Getting Around: Ometepe Island has a small town to explore, but for the most part it's fun to go with a group and stay at a hotel with beach access and bonfires, or to do a homestay for a cultural experience. The big experiences are hiking Maderas and Concepcion Volcanos, which you'll need a guided tour for, or relaxing at Laguna Charco Verde or Ojo de Agua, which you can grab a cheap cab to visit. Currency: Nicaraguan cordoba. Almost everywhere accepts US Dollars, too, though you might get ripped off in the conversion. The exchange as of October 1, 2015, is 1 USD=about 27.5 cordobas. Outlets: My USA plugs worked fine without an adapter, including my laptop. Language: Spanish, but some people also speak English. Knowing a few key phrases in Spanish will be helpful though. A small pocket dictionary can also be helpful. Safety: While I didn't feel particularly unsafe in Nicaragua it's still Central America and crime does exist. I'd recommend a lock for your day bag with your valuables inside (I lock the zippers together), a Vigilant Personal Alarm and Clever Travel Companion pickpocket-proof garments. Read: Lonely Planet Nicaragua (Travel Guide) by Lonely Planet; Nicaragua: Living in the Shadow of the Eagle by Thomas W. Walker; and The Jaguar Smile: A Nicaraguan Journey  by Salman Rushdie Border Crossing Notes: For the Americans, Europeans and Australians crossing the border from Honduras into Nicaragua was super easy, especially with our Intrepid Travel guide Javier organizing everything and telling us exactly what to do. That being said, we had one traveler with an Kenyan passport who had a really difficult time getting through, despite having the proper paperwork/visa. If you have an "uncommon" passport realize you may need to resort to a bit of bribery. You may also want to have your consulate's contact information handy in case needed.
*My trip to Central America was hosted by Intrepid Travel. I was not compensated nor required to write this post. As always, all opinions are 100% my own.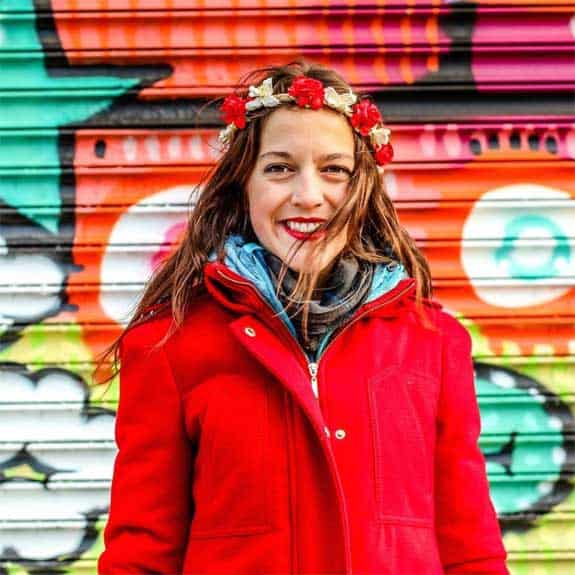 Hi, I'm Jessie on a journey!
I'm a conscious solo traveler on a mission to take you beyond the guidebook to inspire you to live your best life through travel. Come join me!
Want to live your best life through travel?
Subscribe for FREE access to my library of fun blogging worksheets and learn how to get paid to travel more!