How To Enjoy Wine, Epic Hiking & Skinny Dipping From Cannes, France
By Jessie Festa. This post contains affiliate links and is part of a series based on my boyfriend's and my two-week road trip through the South of France. Follow our journey here.
On Andy and I's South of France road trip we spent two nights in Cannes.
While we enjoyed what we saw of the city — mainly its waterfront and the restaurants along Rue Felix Faure near our cute studio apartment AirBnB — we really used Cannes as a jumping-off point for day trips.
One of these was a road trip wine tasting, hiking, and enjoying a sunset swim in the legendary St. Tropez.
This was one day where we seriously packed in the scenic experiences.
South Of France Travel Video
Before we dive into our Cannes day trip, I've got a France travel video for you:
Watch it above!
It shows our road trip from Nice to Marseille, including Cannes. This itinerary is great for those traveling in a group or visiting France alone.
Wine Tasting In The Var Department
Our first destination of the day: hiking "The Three Capes" (Les Trois Caps) of Cap Lardier, Cap Taillat and Cap Camarat.
We're nearly there, when suddenly the small shops and eateries we've been seeing turn into endless rows of wine grapes.
We pass a number of vineyards, deciding to stop into Domaine de la Croix for a glass.
This winery is superb, dating back to 1882 with a whimsical old farmhouse and underground wine caves.
A wine tasting crafted from the grapes of their 100 hectares (247 acres) of vineyard allows us to explore the Var Department — one of six departments of the Provence-Alpes-Côte d'Azur (PACA) Region — in the most delicious fashion.
And it doesn't hurt that the tasting is free.
We finish our glasses and say "au revoir," (by the way, don't ever leave a place in France without greeting with 'bonjour' and saying goodbye with 'au revoir').
We're now heading to our original hiking destination from before we got distracted which, by the way, happens constantly while driving the South of France as there's so much to stop off and explore.
Beach Hiking
Driving Directions
It takes about 30 minutes until we're parked near the trailhead at St Michel parking lot (1 Euro per hour).
Some directions for those wanting to also do this beach hike:
You'll be heading to the end of Plage de Gigaro in St Croix Valmer.
You can enter "Restaurant Le Refuge" into your GPS for specific instructions.
Next to the restaurant is the trailhead with a map directing you to the hiking trail, and a lovely beach for those not up to trekking.
Trail Directions
Now from this trailhead there are many options for end points depending how long you want to hike for.
Andy and I follow the signs for "Les Pins Blans," which takes us along the coast. We traverse up and down rocky stairways, through small bunches of shady trees, past small coves and beach pockets, and near rocky outcroppings where we stop to take in the view.
Oh, the view.
It never leaves us, whether we're drooling over Mediterranean waters dotted with sail boats and yachts, marching through pine-scented woodland lush with trees, or walking bush-lined paths with sparkling bays peeking above.
We get to know the Bay of Cavalaire, the Corniche des Maures and the Îles d'Hyères through vistas.
My favorite views are toward the beginning of the hike while taking in the water, clouds, beaches and skyline at once.
It really helps me gain a sense of where I am and the true beauty the South of France holds.
While the water to our right is captivating, the lush woodland to our left, which looks like it's full of odd-looking dragon blood trees, is also worth a gaze.
At one point the seaside trail ends and a wooden staircase leads us up a wooden staircase to ascend a big hill — which I believe is called Pin Blanc (white pine) — toward Cap Lardier.
Once at the top we take in yet another view, and are presented with the choice to continue to the caps via the Sentier du Littoral trail or turn left to head back to the beach.
We choose to continue to Cap Lardier, another gorgeous view.
Are we seeing a pattern here?
From the top of Pin Blanc it's a little less than a mile for us to reach the cap, a massive rocky outcropping jutting out from the mainland.
This is the spot selfies were made for.
Impromptu Skinny Dipping
From here continue on to the other caps, each with their own beauty to offer, especially Cap Talliat with its unique flora and fauna, including 80 bird species.
You can end (or start, doing the hike backwards from the above description) at Plage de l'Escalet.
We enjoy every moment of the journey, especially the ending: skinny dipping in the Mediterranean!
Sorry, no pictures to show of that, but here are our feet before we go in!
Anyway, bucket list item ticked off for this American girl, where walking nude along a beach would elicit stares and frankly perverts snapping photos for Instagram.
At many beaches in the South of France nobody gives a damn, which is refreshing in more ways than one (seriously, by this point we're sweating!).
Note:
If you plan on stopping to swim you don't need a bathing suit (for reasons mentioned above).
I would advise bringing sandals though.
On the way back once at the bottom of Pin Blanc you'll be able to make it back in sandals, and it'll be less annoying than putting socks on your wet sandy feet.
St. Tropez…Sort Of
We head back to the car and make our way to our final stop of the day, St Tropez.
It's a destination for the rich and famous — as well as the average traveler — put on the map by actress Brigitte Bardot in the film And God Created Woman.
Funny enough the most popular "St. Tropez beach," the 5-kilometer-long Pampelonne Beach, is in nearby Ramatuelle (about 15 minutes by car to the actual St Tropez shopping area).
As became the theme on the road trip, before we arrive at the beach we are distracted by an unexpected discovery, a beautiful winery we have to stop in.
More Wine
This discovery occurs along the lovely Boulevard du General Patch, which is full of wineries for those wanting more.
We stop at Bertaud Belieu in Gassin, also part of the local Var wine region.
What we're learning winery hopping around the South of France is that while in New York it's customary to pay a pretty penny to do a wine tasting, here it's completely free.
I mean, we sample 10 different wines for…$0, though we do buy two bottles for ~$18 total to show our appreciation.
The winery is seriously stunning with endless rows of rolle (the local white grape of note) and mouvedre (the local red grape of note), and an old world architectural feel.
They're independent, too, meaning you have to visit their winery to try their delicious buzz-inducing creations.
Old Village Vistas
It also helps that it's near to the actual village of Gassin, thought to be one of the oldest villages in the South of France, dating back to 1234.
It's enchanting with narrow cobbled streets, historic monuments, beautiful gardens, historic stone and brick buildings, and restaurants featuring beautiful views (and high prices).
The real reason to stop here, though, is the view from 200 meters (656 feet) overlooking the Var wine region.
You can see so much, including the Golfe de St. Tropez, the Iles d'Or, coastal towns like La Croix Valmer and St. Maxime, the Maures Mountains and the snow-capped Alps.
It's simply gorgeous, plus it's free to park so you really have nothing to lose.
A Sunset Swim
Finally, we make it to Pampelonne Beach.
We were told this is where the "beautiful people" go to work on their tans, so we expect a bit of pretension.
I'm not sure if it's because it's 6pm, but there is none. Just locals and visitors relaxing, swimming and enjoying the scenery.
While the water is a bit chilly, it's the first time we've felt real sand between our toes on the trip, as our previous destination of Nice had rocky beaches.
A guy nearby strums a guitar, the beachside bars are doing last call and the day's crowd is dissipating.
We admire a lighthouse and skyscraper-free rural background in the distance before building a sand moat, waves lapping up our creation.
Retiring to our towels we lay back and take in the clouds. I'm not sure I've ever seen clouds so shapely and white — so close I can almost touch them.
At this moment I can't imagine a more beautiful place to be having a romantic getaway, offering the perfect mix of views, booze, adventure and relaxation.
Bonus South Of France Resources
How To Plan An Epic South Of France Road Trip
How To Hike Calanques National Park In Marseille, France
Is The Verdon Gorge France's Most Stunning Natural Attraction?
3 Epic Adventures You Didn't Know You Could Have In Provence
3 Stunning Day Trips From Nice, France
5 Unique Accommodations That Will Make You Crave A South Of France Getaway
Exploring Nice Beyond The Promenade
Logistics:

When To Hike: While we hiked in summer it can be very hot and there are sometimes trail closures due to the possibility of forest fires. Hiking outside of this time is advised, though if you only have summer to do it then do it, even if you can only complete a section. We loved it, especially cooling off in the bay when we got hot.

Hiking Essentials: I said it above, but I'll say it again. While bathing suits are optional I would recommend having some sandals in your bag for the walk back if you plan to swim. Also bring buy spray as well as a quality yet affordable hiking backpack for under $100! Click here for a complete beach packing list.

Beach Parking: The cost is about $5 USD, but after 7pm it's free.

St. Tropez Village: Because of time Andy and I didn't get to walk through St. Tropez Village, though we did drive through and loved what we saw. Lots of whimsical shops, restaurants and cafes, perfect for getting lost and exploring. Note though we were warned to watch out for the steep prices of the waterfront, marked up for tourists and those who don't care about money.

St. Tropez Food: Make sure to try the Tarte Tropezienne, a typical local tart. It was invented by a local pastry chef from Poland, Alexandre Micka, in the 1950s. It was named by actress Brigitte Bardot, the actress mentioned above who put St. Tropez on the map as a destination.

Great Reads: Au Contraire: Figuring Out the French and How the French Think: An Affectionate Portrait of an Intellectual People.

Safety Essentials: While I found South of France to be safe, I always travel with Clever Travel Companion Pickpocket-Proof Garments and a Vigilant Personal Alarm. You'll also want some proper hiking clothes to make sure you're prepared for any trails.

Language: French, though we found many people spoke some English. Just make sure to understand pleasantries when interacting with locals!

Currency: Euro. As of September 2016 the exchange rate was about 1 Euro = $1 USD.

France Road Trip Route:

Nice (with day trips to Eze for a medieval village, Monaco for a VIP afternoon and Saint-Jean-Cap-Ferrat for the Villa & Jardins Ephrussi de Rothschild – plus local French Riviera beach clubs)
Cannes (with day trips to St. Tropez/Ramatuelle for beaches, Gassin for wine tasting and La Croix Valmer for beaches and hiking)
Moissac Bellevue (we stayed at a woodland set horse farm then were about 20-minutes from Verdon Gorge)
Hyeres (the cobbled commune itself is fun to explore, and is near beautiful beaches and is accessible to the untouched Port Cros Island; worth the trip for this cool castle stay alone!)
Aix-en-Provence (my personal favorite spot of the trip due to the small quiet city full of amenities and accessibility to beautiful Provence farmland; a cheesey rooftop lunch at La Fromagerie Du Passage and a day trip cycling outside the city with Arthur of Secrets d'ici are musts!)
Marseille (don't miss hiking in the urban Calanques National Park, which doesn't feel urban at all and is accessible to beautiful port towns and beaches)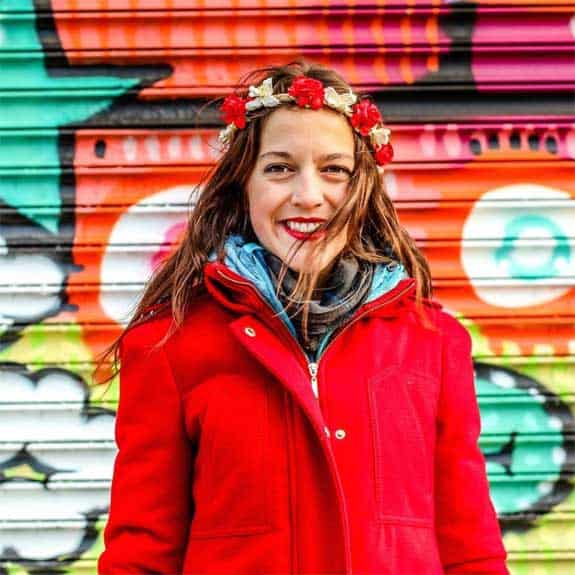 Hi, I'm Jessie on a journey!
I'm a conscious solo traveler on a mission to take you beyond the guidebook to inspire you to live your best life through travel. Come join me!
Want to live your best life through travel?
Subscribe for FREE access to my library of fun blogging worksheets and learn how to get paid to travel more!