Solo Travel In France: The Ultimate Guide (With Map!)
By Jenoa Matthes. This France solo travel guide contains affiliate links to trusted partners!
Are you wanting to solo travel in France, but need some help with the planning?
Then you're in the right place!
Traveling in France can be an unforgettable experience. With its stunning landscapes, rich culture, interesting history, delicious food, and vibrant cities there really is something for everyone.
Not only is it one of the most beautiful destinations in Europe, but it's also one of the safest countries for solo female travelers to visit.
Keep reading for everything you need to plan the perfect solo trip to France, including the top solo travel destinations, things to do, how to get around, expected costs, safety tips, and more!
Quick tip: While France is safe for solo travel, it's still smart to pack travel safety essentials. One top pick is the She's Birdie Personal Safety Alarm, which is TSA-approved and can help scare away potential attackers. Other recommendations include Clever Travel Companion Pickpocket-Proof Garments and Speakeasy Travel Supply Hidden Pocket Scarves.
Enjoy The Benefits Of Solo Travel [Free Course]
But first, before we get into our solo travel France guide, I invite you to grab a seat in Jessie's free Savvy Solo Traveler E-Course.
The 6-day course is designed to help you feel confident about booking your first solo trip and exploring the world alone.
Lessons include:
Common solo travel fears and how to overcome them
How to choose your perfect solo trip
How to tell loved ones you're hitting the road solo
Mentally preparing for your solo journey without losing your mind
Essential steps for staying safe on a solo trip
How to take amazing solo selfies
Once you've grabbed your seat, read on to learn essential tips for traveling to France alone.
Is France Safe For Solo Female Travelers?
Yes, France is very safe for solo female travelers. According to the Global Peace Index, France has a high state of peace and ranks #65 compared to the 163 countries on the list.
Personally, I've traveled alone to France many times and have never felt uncomfortable or unsafe anywhere I've been in the country.
One of the best perks about visiting France is that most people speak English in the larger cities. You shouldn't have a problem with the language barrier when traveling around.
Additionally, it is generally safe to walk around the cities in France alone at night, especially in a place like Paris. As long as you're in the city center where there are plenty of people walking around you shouldn't have any issues.
With that being said, as a solo female traveler, you should always take the necessary precautions to stay safe when traveling alone in France: avoid being on a quiet dark street alone at night, never accept drinks from strangers, and always trust your instincts.
Where Is France?
France is located in Western Europe and borders eight different European countries:
Spain
Belgium
Switzerland
Andorra
Luxembourg
Italy
Monaco
Germany
It's also surrounded by three different bodies of water, including the Mediterranean Sea to the south, the Atlantic Ocean to the north and west, and the English Channel in northern France.
Getting To France
France is a centrally located European country and is easily accessible from Europe and the rest of the world.
If you're already in Europe, then it might be easiest to get to France by train. Europe has one of the most extensive train systems in the world and its network connects all of the countries together.
Check out Eurail or Omio for train tickets from the rest of Europe to France.
If you're located outside of Europe, the best way to get to France is to fly into the country. Most travelers fly into the Charles-de-Gaulle Airport (CDG) in Northern France or the Paris-Orly Airport in Paris. For Southern France, I recommend flying into Nice Côte d'Azur Airport (NCE) in Nice or Marseille Provence Airport (MRS) in Marseille.
Getting Around France As A Solo Traveler
France is one of the easiest and most convenient countries to travel around as a solo traveler, especially as it has great public transportation. Here are the best ways to get around France:
France by car
If you enjoy road trips, consider renting a car for your solo trip through France.
You can check out Discover Cars to quickly compare your rental options. Their comparison tool does the homework for you, so there's no need to have up 10+ tabs trying to figure out which company is the most affordable. Actually, you can save up to 70% using their tool!

France by train
The rail network in France is extensive and easy to use. With a mix of high-speed and local trains, you'll be able to get almost anywhere in France.
The high-speed train from Paris to cities in Southern France, like Avignon or Bordeaux, takes only a couple of hours.
To book your train tickets, use the SNCF website — which is the official French train website. For quick access to your tickets and bookings, I recommend downloading their app.
Another great platform booking train travel in France and the rest of Europe is Omio. The site is straightforward and user-friendly – and you can pre-book your tickets in advance at a discount.
For the cheapest ticket prices, try to book at least three weeks in advance. Prices often go up the closer you get to the date, so this is important to keep in mind if you're trying to plan your travel budget.
France by plane
Flying in France can be quite reasonable if you book through one of the many budget airlines available in Europe. I've used EasyJet, RyanAir, and Vueling to get around France and to other European countries. All of these airlines are usually reliable, timely, and affordable.
Sometimes flying on these low-cost, budget airlines is even cheaper than taking the train. It's worth checking out the flight options to see what works best for your trip.
France by bus
Taking the bus is another fantastic option when traveling alone in France. It's also usually the cheapest option for getting around.
I've used Flixbus several times to get between cities in France, and while it may take longer than the train or flying, it is cheap and convenient.
France Solo Travel Map
To help give you a lay of the land, here is a map. It has most of the main points and solo activities mentioned in this guide to taking a France solo trip:
You can also click here for the interactive version.
Popular Solo Travel Destinations In France
You could spend a lifetime visiting France and still not have the time to experience everything it has to offer. With that being said, you have to start somewhere! Here are some of the best places in France for solo travel.
Paris
You can't go to France without visiting Paris, one of the most beautiful and inspiring cities in the world and a common bucket list entry. If this is your first time to France, this is the perfect place to start your trip!
Paris is the largest city in France and is a great place to get a taste of French culture. From world renowned museums and architecture to an incredible food scene, you will have endless things to do in this city.
Solo travelers should plan to spend a minimum of three days in Paris. You'll need it to check everything off your bucket list!
Wondering what to see on your solo trip to Paris? Here are a few places you must-see in the French capital:
You must visit the Eiffel Tower, whether you take the elevator to the top or have a picnic in the park below. This is the most iconic monument in France — if not the world!
The best time to visit the Eiffel Tower is at dusk or later in the evening when it lights up and sparkles for five minutes every hour.
If you're looking for the best view of the Eiffel Tower, then head to the Arc de Triomphe, another famous landmark in the city. You can pay a fee to climb to the top of the arch and enjoy panoramic views of Paris. From here, you can also see the Champs-Elysees, Sacre Coeur, La Defense, and Jardin des Tuileries.
One of the best things to do as a solo traveler in Paris is to go museum hopping. Paris is filled with incredible museums — from the world-famous Louvre Museum to the Musee d'Orsay, one of the most amazing impressionist art museums.
History buffs will also enjoy institutions like the Musée Jean Moulin to learn about World War II and the Nissim de Camondo Museum to better understand the classist divide that existed during the 18th and 19th centuries.
You might also consider booking one of the many walking tours in the city, which can also help you feel the beat of Paris!
For a more relaxed activity, grab a baguette sandwich, a croissant, or a crepe from a nearby bakery and head to one of the many parks in Paris. The Place des Vosges in the heart of the Marais and the Jardin de Luxembourg are two of my favorites.
Looking for a unique dining option? EatWith offers the chance to dine or cook in local homes as well as book food tours led by locals for a culturally immersive experience!
Paris Hotels: Click here for a full list of hotels in Paris.
Paris Tours: Click here for a full list of fun tours in Paris.
Nice
Looking to weave a Mediterranean escape into your France solo female travel itinerary? Then head down south to Nice in the heart of the French Riviera!
With its vibrant blue waters, rocky beaches, lush mountains, Cote d'Azur beach clubs, and colorful buildings, Nice is one of the best destinations for solo female travel in France. 
Plan on spending at least two days in Nice to make the most of your stay. A few of the top things to do in Nice include walking around the food and flower market (Marché Aux Fleurs Cours Saleya), strolling along the Promenade des Anglais by the beach, and going to the Chagall Museum and the Matisse Museum.
For the best views overlooking Nice, make your way up the stairs to Castle Hill, which is just a few minutes walk from the center of town.
After a day of exploring, enjoy one of the many fun day trips from Nice! You have a lot of options to choose from, but a few of my favorites are Èze, Monaco, Villefranche-sur-Mer (amazing beach!), and Menton.
All of these places can be accessed by either train or bus.
Nice Hotels: Click here for a full list of hotels in Nice.
Nice Tours: Click here for a full list of fun tours in Nice.
Bordeaux
Bordeaux is an up-and-coming solo travel destination in France. After spending two weeks there, I fell in love and can't wait to go back.
Many young professionals from Paris are moving to Bordeaux for its affordability and hip vibe.
The city itself is pretty small, but you'll find many cool restaurants, cafes, and shops here. It's very walkable and you can take it slow for a few days.
If you are a wine-lover, then Bordeaux is the perfect place for you to visit. It's located in the heart of one of the most famous wine regions in France.
For the best wine-tasting experiences, head to the town of Saint-Émilion — which can be accessed by train – and visit a few of the wineries in the area to taste some local Bordeaux wines.
Click here to view some top-rated Bordeaux wine tours.
Another popular day trip from Bordeaux is Arcachon, which is a city on the Atlantic coast.
From Arcachon, you have a few options. You can take a boat to the lovely beach destination of Cap Ferret and enjoy some freshly caught local oysters.
You can also head to the largest sand dune in France, the Dune du Pilat, and enjoy the panoramic views of the bay from the top. The sand dune can be reached by bus from Arcachon, which takes around 20-30 minutes each way.
Bordeaux Hotels: Click here for a full list of hotels in Bordeaux.
Bordeaux Tours: Click here for a full list of fun tours in Bordeaux.
Aix-en-Provence
Aix-en-Provence is one of the best cities for solo travel in the South of France. Whether you're traveling by train or taking a South of France road trip, definitely make sure to add this destination to your itinerary.
Located in the heart of Provence, this city boasts one of the best outdoor markets in France and is the perfect place to settle for a few days to explore the region.
While the city is quite small and can be seen in a day, there are few things worth doing. First, visit the home of famed artist Paul Cézanne to discover his atelier and learn more about his life.
Hotel de Caumont is also a great option if you're looking for an art museum in the center of the city.
Other than that, exploring the shops and visiting the food market are the best things to do in Aix-en-Provence. Make sure to try some of the must-have Provence dishes as well as calissons, a sweet treat made from almond paste and candied fruit that must be made in Aix to be authentic.
Being centrally located means there are many day trips you can do from here. If you can, make sure to spend a day visiting the Luberon villages. You'll need a car to do this, which you can rent for the day, or you can sign up for a day tour from Aix as well.
By train, one of my favorite day trips for solo travelers is to the town of Arles, where you can wander around ancient Roman ruins and walk in the steps of Vincent Van Gogh.
Avignon, Nice, and Nîmes are all other cities you can visit by train from Aix on a day trip.
Aix-en-Provence Hotels: Click here for a full list of hotels in Aix-en-Provence.
Aix-en-Provence Tours: Click here for a full list of fun tours in Aix-en-Provence.
Lyon
Lyon is one of the food capitals of France and is possibly the best place to go if you love French cuisine. There are over 10 Michelin star restaurants in the city serving classic French food!
If you prefer more casual fare, you can dine at one of the many bouchons in the city, which is a more affordable restaurant serving typical Lyonnaise food.
Other than the food scene, Lyon is a vibrant city filled with endless cafes and culture. You can stop by a bar along the Rhône River and enjoy the sunset with locals.
Or you can wander around the Vieux Lyon (Old Town) and explore its quaint streets.
According to the local tourism board, about 10% of Lyon is classified as a UNESCO World Heritage site — including areas like Vieux-Lyon and Fourvière Hill.
Whether you have time for 2 days in Lyon or a longer trip, make sure to visit this incredible city!
Lyon Hotels: Click here for a full list of hotels in Lyon.
Lyon Tours: Click here for a full list of fun tours in Lyon.
Best France Tours For Solo Travelers
Looking to have a guide show you around on your solo trip to France? A few top-rated options include:
Click here for a full list of tours in France.
Tips For Taking A Solo Trip To France
Now that we've gone over where to go when traveling solo in France, let's go over some vital tips to keep in mind:
Beware of pickpockets. Wear a crossbody bag, fanny pack, or pickpocket-proof garments with hidden pockets to keep all of your valuable items in front of you or out of sight at all times.
Unfortunately, I've had my phone stolen in Europe because I left it in my pocket instead of putting it back in my bag.
A friend also had their passport stolen while on the metro in the city. The last thing you want is to be stressed about having your wallet, phone, or passport stolen, so stay extra vigilant and keep your belongings close by.
Be aware when walking around at night. Overall, France is a safe place to walk around in the evening, especially if you are in a popular tourist destination.
If you ever feel uncomfortable or like you're in a strange situation, pop into the nearest hotel, restaurant, or shop and someone will be willing to help. Despite what most people may say, French people can be very kind and helpful.
That being said, it's always wise to avoid walking is desolate and secluded areas alone at night.
Don't fall for scams. There are quite a few different scams that happen on the streets of Paris, and you don't want to get caught in one.
The most popular scam happens near Sacré Coeur in Montmartre where men will try to tie a string around your wrist or your finger and then will ask you to pay for it. Just ignore them and walk away if they try to approach you.
You'll also see people carrying clipboards asking for you to "sign a petition," but they're actually trying to get you to give them money. Again, say no thank you and walk away.
Book everything in advance for your trip to France. If you're visiting some of the more touristy destinations listed in this France solo travel guide, you'll want to book your accommodations and transportation at least a month in advance. The sooner the better.
France is very popular and things book up quickly. If you want the cheapest prices, then it's best to book early.
What Does Solo Travel To France Cost?
Solo travel in France can cost as little or as much as you'd like. It really depends on how you like to travel.
A bit of a heads up, it's definitely not the cheapest destination to travel to, as Europe in general is a more expensive region to visit.
In general, the bigger cities like Paris and Nice are going to cost a bit more than a less-touristy city like Bordeaux.
Additionally, the time of year you visit will greatly affect the cost of your trip. For example, the summer months in France are the busiest, and everything during this time is expensive.
However, visiting during the off-season or shoulder season (October – March), you'll find that accommodation is much more affordable.
Here's an idea of how much it costs to visit France:
Accommodation
Hostels: Hostels in Paris cost around €50-€75 per night, whereas hostels in Bordeaux average around €30 per night.
Mid-range hotels: A mid-range hotel in Paris might cost you around €150-€250 per night. In Bordeaux, the same type of hotel hovers around €75-€150.
Food
Cafes/Bakeries: You can pick up a baguette sandwich or salad from a cafe for €6, or alternatively, get a delicious pastry for €1.50-€4.
Restaurants: Prices for restaurants in France vary a lot, but if you're looking for decent food, expect to pay around €15-€20 per plate.
Transportation
The Paris metro costs around €2.10 per ride. Alternatively, you can purchase a multi-day pass with unlimited rides for less.
Buses and local transportation in smaller cities will cost less than in Paris.
A train ride between Paris and Bordeaux costs €30-€50 each way if booked one month in advance, which is fairly reasonable for a 2-hour train ride.
Activities
Most museums and activities in France cost money to visit. They can cost anywhere between €8-€30 per person depending on the museum or activity.
For example, the tickets to Versailles cost up to €28.50 (depending on your ticket). Tickets to the Louvre cost €17.
The best free activity is to simply wander around the streets and enjoy the public parks.
Do You Need Travel Insurance For France?
When traveling solo to France — or anywhere else in the world — it's wise to get travel insurance.
One of the best travel medical insurance for travelers is SafetyWing as they've got a large network and offer both short-term and long-term coverage — including coverage if you're traveling for months as well as limited coverage in your home country.
Additionally, SafetyWing is budget-friendly and offers $250,000 worth of coverage with just one low overall deductible of $250.
Click here to price out travel insurance for your trip in just a few clicks.
Frequently Asked Questions About Solo Travel To France
Q) Is France good for solo travel?
Yes! France is one of the best places in Europe for solo travel. Not only for its safety, but also for its diversity in activities, landscapes, architecture, and cuisine.
Q) Is Paris worth visiting alone?
While you may be weary about visiting the "most romantic city in the world" alone, it's actually one of the best cities for a solo trip! There are so many incredible activities — like visiting all of the museums, taking a day trip to Versailles, and wandering the streets. You'll get to see what you want and visit the city at your own pace as a solo traveler.
Q) Is Paris safe for solo female travelers?
Overall, Paris is a safe destination for solo female travelers. As with any big city, be aware of your surroundings and make sure not to walk on any deserted or quiet streets alone at night. Also, be vigilant of your belongings to avoid any unfortunate pickpocket situations.
Q) Can you walk alone at night in Paris?
Yes, it's safe to walk around Paris at night, especially if you are staying in the center of the city with a lot of people walking around. Avoid staying in the outskirts of the city if you are visiting alone, or just plan on getting back to your accommodation before dusk.
Q) What is the best time to visit France?
The best time to visit France is between May and September. The weather is usually the nicest this time of year; however, there will be crowds. If you want to avoid the crowds and don't mind a little rain or cold weather, then April and October are also great times to visit.
Final Thoughts On Solo Travel In France
France is one of the best destinations for solo travelers! It truly is an amazing country.
Along with being a safe destination, it's also full of places to go and things to do. And no matter what your interests are or what your travel style is, you can find a France itinerary to suit you.
In short, if you're feeling pulled to take a solo trip to France, you won't regret it!
What tips would you add to this guide to solo travel in France?
Enjoyed this guide to traveling alone in France? Pin it for later!
About The Author
Jenoa is a travel writer based in the United States. She has traveled extensively throughout Europe and shares all of her insider tips on the best destinations, eats, and hotels in Europe on her blog, The Travel Folk. You can also follow along on Instagram and Pinterest.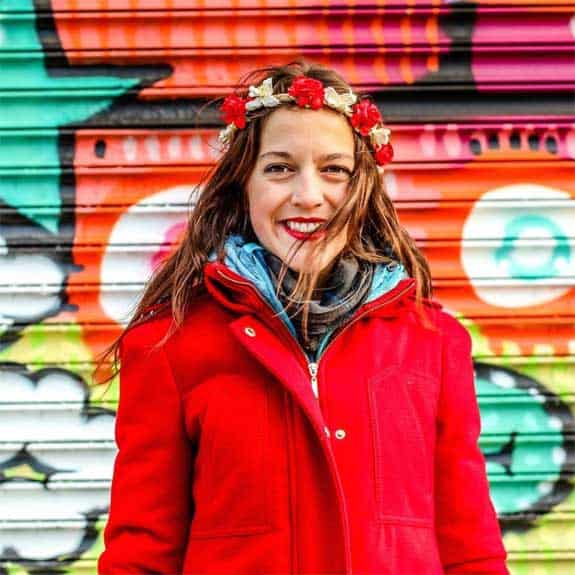 Hi, I'm Jessie on a journey!
I'm a conscious solo traveler on a mission to take you beyond the guidebook to inspire you to live your best life through travel. Come join me!
Want to live your best life through travel?
Subscribe for FREE access to my library of fun blogging worksheets and learn how to get paid to travel more!