8 Amazing Cobble Hill Restaurants That Will Make Your Mouth Water
Check out the delicious Cobble Hill restaurants featured in this video, then continue reading for even more suggestions!
Looking for delicious Cobble Hill restaurants? I recently spent an afternoon eating my way through this delicious Brooklyn neighborhood.
While the food alone is worth the trip, it's not the only reason to love the nabe.
Cobble Hill and its surrounds have a very different vibe than many other places in Brooklyn and Manhattan, with a slower pace, a predominance of independent local retails over big brand chains, and a beautiful brownstone-filled historic district (the locals are largely against having tall buildings here).
In the video above I highlight three noteworthy Cobble Hill restaurants, though this list is far from exhaustive.
Below find additional highlights for people with more than a few hours to fill their tummies.
Afterward, walk over the nearby Downtown Brooklyn to explore the many things to do.
Tip: For a fun and tasty time opt for a Local Flavors Small Group Tour. It's one of the best Brooklyn walking tours and a favorite for delicious food tours in Brooklyn!
1. STINKY BRKLYN
This delightful shop offers a slice of unique NYC as well as artisanal cheeses — you can ask for samples and they have many rarer varieties.
They've also got local beer, chocolate, coffee, tea, oils, vinegars, bread and other pleasures of life.
I recommend buying their absolutely amazing jalapeno-laced pimento cheese and some fresh-baked pretzel bread and having a little park picnic (Cobble Hill Park is nearby).
At home, I use their pimento to make epic grilled cheese sandwiches with some bite!
Pro tip: This shop is a top pick if you're looking for a great NYC souvenir or gift that supports locals!!
Shelsky's of Brooklyn is where I first learned the art of appetizing. One of the top Cobble Hill restaurants, this place touts themselves as an "appetizing store," aka a place selling foods you eat with bagels.
NYC is a melting pot of cultures due to the massive amount of immigrants that have been settling here since the 17th century.
When the Jews fled Europe for NYC in the early 1900s they brought with them their delicious deli culture, which sadly dwindled over the decades.
Not at Shelsky's. Not only can you get your typical smoked fish and schmears, but they sell an out-of-this-world wild salmon bacon.
Yes, you read that right. Picture cured, cold-smoked strips of wild salmon offering a fatty, smokey-sweet experience ; or better yet, go to Shelsky's and order it for yourself with cream cheese!
Housed in a 1920s apothecary store, Brooklyn Farmacy & Soda Fountain is where I go to step back in time and indulge with made-to-order sundaes, thick malts, homemade sodas and egg creams crafted by soda jerks donning white paper hats (they were named for the jerking motion of swinging the soda fountain handle back).
In the 1940s soda fountains typically operated in drugstores, allowing you to savor a refreshment while waiting for your prescription.
The popularity of fast food basically killed off these whimsical spots, though Brooklyn Farmacy is bringing it back.
While taking in the nostalgic decor make sure to order an egg cream, a classic New York treat void of egg and cream but instead combining milk, carbonated water and chocolate syrup.
This eatery's back story is also interesting. They almost went out of business due to the expensive costs of repairing the dilapidated space. Luckily they were discovered and saved by the Discovery Channel's reality TV show, Construction Intervention.
Bonus:
This is one of the best places to take pictures in NYC!
Immediately upon entering The Chocolate Room I see women behind the counter whipping up fresh chocolates by hand under chalk board signs reciting daily offerings.
My favorite spot is the back of the red brick art-adorned cafe where I can take in the scene while perusing the chocolate menu.
I typically go for the "Cafe' Lou," a hot drink featuring half cup of Fair Trade coffee and a half cup of house-melted dark hot chocolate. If you really need to relax the cafe offers beer, wine, and dessert wines, too.
As a woman I always feel a flash of pride when highlighting local female chefs. I first wrote about powerhouse Chef Alex Raij and her multiple NYC restaurants in a Latin Kitchen article about Latin female chefs in NYC.
Her hit La Vara — which earned Raij a Michelin Star through Spanish cuisine influenced by Jewish and Moorish dining — is also in Cobble Hill, though TEKOÁ NY is her latest venture.
Everything on the creative cafe's menu is under $12, from fresh baked sticky date and walnut honeybuns to savory items that take you around the world. Think homemade simit with oil and sumac-laced yogurt (Turkey), shrimp and grits with a poached egg (The South) and butternut squash soup with poblano crema (Mexico).
And guess what: they serve breakfast until 4:30pm! Plus for $2.50 you get a cup of Irving Farm Coffee Roasters coffee with unlimited refills.
One of the many reasons why New York is so popular is its historic eateries. Damascus Bakery is one of the Middle Eastern mainstays on Atlantic Avenue, opened in 1930.
They're known for their brick oven-baked pita, which originated as "Syrian bread" to appease the many Syrian and Lebanese immigrants settling in Brooklyn at the time.
While they still serve the original family recipe they offer a slew of other pita varieties, like garlic, onion, sesame, whole wheat, salt-free, and low carb. I'm a big fan of their pillowy triangle pita, the falafel sandwiches, the homemade baklava, and the spinach pies which are softer and less greasy than I've typically had.
You know when you walk into an eatery and the aromas grasp you in a delightful hold, making you never want to leave?
Bien Cuit is that place.
As I'm constantly watching my waistline I allow myself carb-heavy splurges when it's worth it, like here.
Their French breads are made from scratch daily in many varieties, from the "Miche," a blend of rye and wheat breads fermented for 68 hours, to the "Wild Nettle" bread fermented with goat's milk.
For the ultimate local foodie experience pair with some beer and cheese from the above-mentioned STNKY Brooklyn.
Despite being a certified sommelier, my actual libation of choice is a craft cocktail. When perusing Cobble Hill restaurants, this inevitably leads me to Henry Public. The space is reminiscent of "Walt Whitman's Brooklyn," with an atmosphere circa 1848 and riffs on classic recipes.
I love the "Kings County Sour," a local take on a Whiskey Sour and Pisco Sour with rye whiskey, lemon, sugar, egg white, and a port float.
What's really awesome is they have thoughtfully-prepared food to go with the drinks. Think grass-fed beef, turkey legs braised in organic milk, and a decadent grilled cheese made with artisanal cheddars and sweet Granny Smiths.
Bonus: This spot is one of the most Instagrammable restaurants in NYC!
Looking to enjoy bottomless brunch in NYC on a weekday? Verde on Smith has you covered!
Their brunch menu features tasty options like omelettes, avocado toast, and benedicts.
Not only that, but for $19.99 you can enjoy unlimited mimosas, bellinis, Bloody Marys, and screwdrivers with your meal for one hour — any day of the week!
What are some of your favorite Cobble Hill restaurants?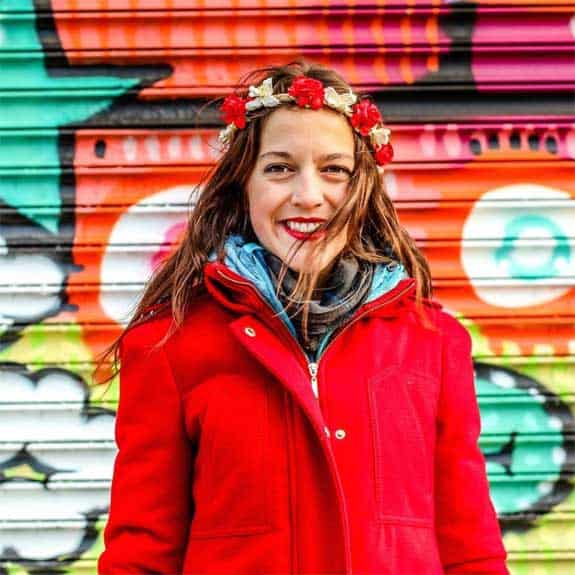 Hi, I'm Jessie on a journey!
I'm a conscious solo traveler on a mission to take you beyond the guidebook to inspire you to live your best life through travel. Come join me!
Want to live your best life through travel?
Subscribe for FREE access to my library of fun blogging worksheets and learn how to get paid to travel more!