13 Must-Download Personal Safety Apps For Travelers
By Jessie Festa. This travel safety post contains affiliate links to trusted partners I think you'll love!
Looking for the top travel safety apps?
Then you're in the right place!
It's common for travelers to face a sudden change in plans; however, sometimes they may face situations far beyond their control.
In these cases, a smartphone can be the best asset, as various travel safety apps have been designed to assist even the most experienced nomads in getting out of a jam. 
To help you protect yourself on the road, here are 13 personal safety apps that travelers shouldn't leave home without. As a frequent traveler myself, these are the apps that help me feel safer and more prepared on the road.
Quick tip: When traveling, it's still smart to pack travel safety essentials. One top pick is the She's Birdie Personal Safety Alarm, which is TSA-approved and can help scare away potential attackers. Other recommendations include Clever Travel Companion Pickpocket-Proof Garments and Speakeasy Travel Supply Hidden Pocket Scarves.
Free Resources For Safe & Fun Travel
But first, before we go over our list of safety apps for travelers, I invite you to grab my free Ultimate Travel Planning Kit — which includes 40+ travel resources — from printables to quizzes to itineraries — all meant to help you explore the world beyond the guidebook!
Some highlights of the kit include:
Free "Where Should You Travel Next?" personality quiz
Budget travel calculators for vacations, road trips, backpacking & more
Pre-plotted Google Maps for 45+ destinations
Printable travel journal with writing prompts
Packing lists for different types of trips
And more!
Once you've grabbed your copy, keep reading for my favorite personal safety apps.
Best Travel Safety Apps For iPhone & Android
Created by the U.S. Department of State, this app provides specific government information about a foreign destination such as current travel warnings and alerts.
It also gives contact information for U.S. embassies and consulates.
Travelers that have signed up with the State Department's Smart Traveler Enrollment Program (STEP) can also access their account through the app.
This app is a must-download for American citizens traveling abroad!
Looking for travel safety tips?
Don't leave home without installing this app!
Developed by the American Red Cross, this all-inclusive app serves as a "go-to" resource for what travelers can do in the case of 14 different types of emergencies and disasters within the U.S.
Users can customize more than 35 emergency alerts based on their location and where their contacts live.
The app also contains a kit of emergency first aid information advising on everything from heart attacks to heatstroke.
3. Sitata (iOS & Android)
Focused on health and safety, the company behind this app monitors media sites worldwide for news on real-time events happening around the globe that can disrupt travel.
Their alerts are displayed on a map alongside additional information and "what to do" advice currently in over 200 countries.
Neat feature alert:
Sitata has a community board where travelers are permitted to write — and read — posts about their experiences on anything from a transportation tip to warnings about pickpockets.
4. NordVPN (Windows, iOS & Android)
Accessible — even free — Wi-Fi is great, but an open network can put travelers at risk for online identity theft or even having information from their credit cards and other important documents stolen.
This app turns into a VPN (Virtual Private Network), enabling users to connect to a remote server and direct traffic through a secure network, surfing the web with a bank-level encrypted connection.
They also can change their IP address to match their preferred location.
A VPN is absolutely necessary for full-time travel bloggers, digital nomads, and those working abroad, and SaferVPN makes it easy to stay safe while you stay connected.
5. bSafe (iOS & Android)
Instead of sharing your location on social media in real-time, which isn't very safe, opt for this location-sharing app.
This version lets users set up a network of friends, family members, and coworkers to share your location, but takes their level of contact much further to really help people travel safely.
Its Follow Me feature operates by using the phone's GPS to trace the steps of a person walking home so that their contacts can "follow" them in real-time.
A Timer Mode can be set to trigger an alert if the user hasn't checked in, and a Guardian Alert button can be pressed to notify loved ones if you're in trouble.
And if you're home, the "I'm Here" option lets who you want to know where you are.
Featuring a whole host of tools to help people explore new countries, Trip Lingo is a must-download for any traveler.
Voice translation, phrasebooks, and culture notes help you communicate with locals while travel tools and a tip calculator keep you in the know wherever you go.
To keep you safe, Trip Lingo features tools like local emergency information and medical phrases in a host of different languages and a WiFi dialer that will keep you connected without racking up roaming fees.
Whether it is your first time traveling or your 100th, installing travel safety apps is smart, especially ones like Red Panic Button that are simple yet effective for keeping you safe on the go.
Set an emergency contact phone number or email in the app and as soon as you press the red button, the app will use your GPS location to send an alert to your contact with your exact location.
You can also send a voice recording to your contact list to share more details on your emergency.
8. GeoSure (iOS & Android)
Whether you're planning your itinerary weeks in advance or exploring a new city on a whim, be sure to check in with GeoSure before you go.
This app assesses cities and neighborhoods based on their safety conditions including violence, theft, human rights issues, and more.
GeoSure even factors in the safety of those in marginalized communities and scores areas based on LGBTQ+ and women's safety.
This one is definitely worth downloading when researching new travel destinations.
Three-digit emergency numbers vary around the world and few of us have time to memorize every single one.
That's where TripWhistle comes in.
This app lists emergency numbers for 196 different countries and allows you to call for help right in the app.
TripWhistle will also provide emergency services with your coordinates, making it an essential download for international travelers.
10. Haven (Android)
Looking for a way to travel safe without compromising your privacy?
Haven has you covered.
This Android app uses your device's sensors to detect motion, sound, vibration, and light and alert you to any disturbances or potentially dangerous situations in your surroundings.
Think of it as your own personal home security system on the go, as Haven will watch over you wherever you're traveling.
Staying safe on the road also means staying healthy and it's important to be aware of any potential health risks on your travels.
Download the free CDC TravWell app to get up-to-date health warnings for locations around the world.
The app lets you log your destinations ahead of time, get information on necessary vaccines and medications for different locations, and store your travel documents and medical records all in one place.
For the planners out there, the app's to-do list and packing list features are a major asset!
12. RunGo (iOS & Android)
RunGo is an essential app for the traveling runner.
This app features popular running trails in cities around the world, voice-guided tours and navigation, and tools to track your stats.
From a personal safety standpoint, the app features verified and vetted routes, helping you stay safe when running in an unfamiliar location.
13. Tourlina (iOS & Android)
Looking to meet up with your fellow solo travelers?
Download Tourlina, a women-only network of travelers from around the world.
While traveling solo can be life-changing, there are likely times where you'd rather be with someone else than alone.
With Tourlina, you can meet other women to buddy up within a safe and reliable online environment.
All users are verified by the Tourlina app so you can stay safe while making new friends.
Travel Safety Beyond Apps
For safety beyond apps, I recommend the following travel tips:
Wondering what things you really need to pack? While a money belt can be a smart option, for something more stylish and functional I suggest grabbing some Clever Travel Companion Pickpocket-Proof Garments, which feature hidden interior pockets for valuables. This means thieves never even know you're carrying valuables in the first place.
Opt for travel medical insurance. My go-to travel insurance carrier when traveling abroad or within the United States is SafetyWing, which has comprehensive straightforward plans at a budget-friendly price.
What are your favorite travel safety apps and gadgets?
Enjoyed this post on apps to keep you safe while traveling? Pin it for later!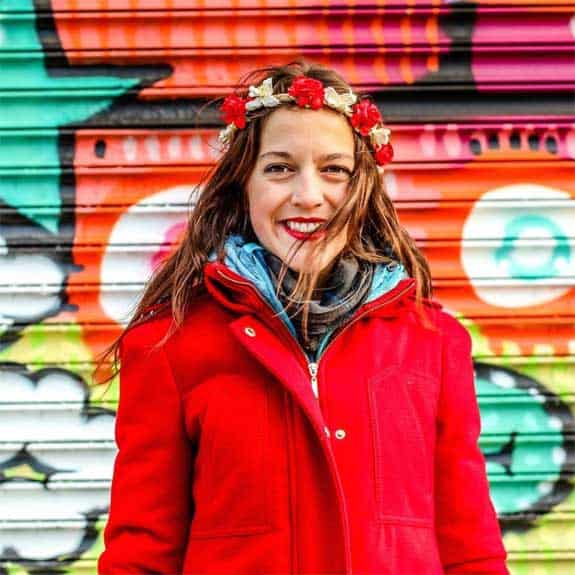 Hi, I'm Jessie on a journey!
I'm a conscious solo traveler on a mission to take you beyond the guidebook to inspire you to live your best life through travel. Come join me!
Want to live your best life through travel?
Subscribe for FREE access to my library of fun blogging worksheets and learn how to get paid to travel more!