Travel Perspective: 6 Highs (& 6 Lows) From A Trip To Bhutan
In January 2016, I took an unforgettable 10-day trip to Bhutan.
My guide Kinley from Bhutan Tourister set up a great itinerary that allowed me to see and experience a lot.
That being said, Bhutan differs from other destinations in many ways, from the booking process to the pricing structure to the experiences.
This leads to both travel joys and trip pains.
To help you adequately prepare for a trip to Bhutan, here are six highs — and six lows — from my trip to this remote Buddhist kingdom.
One quick tip before we dive into the post:
Grab my free Ultimate Travel Planning Kit — which also includes a downloadable Google Map of my full Bhutan itinerary.
Add the map to your phone to have it ready to go for your trip!
Bhutan Is Unique
Before we dive into the highs and lows of my Bhutan trip, I've got a video for you:
Watch it for an overview of what makes Bhutan unlike any other place in the world.
Plus, you'll see some of my favorite Bhutan trip photos.
If you'd like in-depth explanations of each point made in the video, click here for more information on the interesting facts about Bhutan.
Bhutan Travel Highs
1. Learning about Buddhism.
You can't talk about Bhutan travel information without discussing Buddhism.
I don't consider myself a Buddhist; however, visiting the local temples — which ranged from simple wooden structures built into rocky mountain cliffs to grand fortresses with highly detailed artwork — was inspiring to say the least.
I really enjoyed Kinley telling me the stories of the Buddhist masters slaying local demons and turning them into protective deities, and of Zhabdrung Ngawang Namgyal, a Tibetan Buddhist Lama who came to Bhutan in 1616 unified the country and is responsible for the country's cultural identity.
There were also a number of ideals that resonated with me, such as ridding yourself of the three poisons — ignorance, attachment and hatred — to reach enlightenment, how small beginnings can lead to success, and how holding on to anger essentially keeps you locked in your own prison, so it's important to let go of it.
2. The mountain/valley views
Instead of measuring the country's prosperity on wealth, Bhutan has a Gross National Happiness Index — a model Buddha himself would have been proud of — that looks at a government meeting the needs of the people, preservation of heritage and culture, sustainable development and nature conservation.
In fact, written in Bhutan's constitution is a mandate that the country have at least 60% forest (right now they have 72%, according to Kinley).
And it shows.
The skinny dirt and potholed roads that wrap around the mountains, acting as Bhutan's highway, may be bumpy and nerve-wracking at times (drive slow, as one false skid can lead to a very long and potentially fatal drop).
But the views are absolutely stunning.
White-capped peaks, high altitude forest, colorful prayer flags, Tibetan-style temples, crop-reliant villages, mud houses painted with Buddhist artwork and valleys filled with black-neck cranes dominate the landscape — sometimes above you, sometimes below you — and you'll many opportunities for a variety of viewpoints.
I kept my camera nearby at all times.
Moreover, chances to hike and bike through these landscapes abound, although for cycling let your guide know ahead of time so he can arrange the ride as bicycles are only available in Thimphu.
3. Spending time with a local
To visit Bhutan, by law, you must have a local guide.
This means you'll have a knowledgable local showing you around, and telling you personal stories about their families, upbringing and culture.
You'll observe their interactions, ask them questions and gain a better understanding of what life in Bhutan is genuinely like, and maybe make a new friend.
4. Hiking to the Tiger's Nest
This activity was 100% the highlight of my trip.
The Tiger's Nest was founded in the 8th century, though wasn't built until the late 17th century.
It was constructed right into the mountain rock, as this is where Padmasambhava (the Second Buddha) subdued a local demon.
What made it extra special was that we hiked two hours to get to it, which was not only scenic but truly made me feel like I deserved to be there (similar to my feelings about hiking the Inca Trail in Peru vs taking a bus there).
Pro tip:
If you enjoy hiking, also don't miss Jakar, the "Little Switzerland of Bhutan."
5. Experiencing something totally different
When booking your Bhutan trip the hardest thing to stomach will be the immense cost:
$200-$250 per person per night (depending on if you go in low season vs high season)
$30-$40 supplement per night for duo and solo travelers
$40 for a visa
$860 round trip flights to and from Bangkok (though there are a few other hubs)
Any international flights to get from your home to Bangkok (or another hub)
Know beforehand that you're not paying for the world's best food or hotels, but for a culturally immersive experience that you won't be able to have elsewhere.
Bhutan is a place where people still wear traditional clothing, where McDonald's and KFC are nowhere to be found.
Here most of the nation is Buddhist, so everything from the homes decked out with lotus flowers, superstitious phalluses and interior shrines to the daily rituals to the national policy keeps this in mind.
Moreover, there are many things that make Bhutan quirky, at least in my Western eyes.
For instance:
Most people have the same name
People don't know their birthdays
Bhutan only got TV and Internet in 1999
They used a bartering system over currency until 1974
Go with an open mind and the desire to immerse yourself in something completely new.
You won't be disappointed.
6. The lack of crime.
Bhutan experiences very little violent crime.
This means their jails are mainly filled with minor offenders — such as those caught smoking the marijuana that fills the country's landscapes.
Coming from a place where violent crime is a regular occurrence (Brooklyn), it was nice to feel safe.
That being said, I still never leave a hotel room without a personal alarm and a safety whistle.
In my opinion, nobody — especially solo travelers — should ever completely let their guard down.
A little off topic, but tobacco is also illegal to sell in Bhutan.
If you want to smoke cigarettes — and don't mind going through the trouble of finding a place you actually are allowed to smoke them — you'll need to pay a 200% tax.
This is frustrating for smokers, but as a non-smoker the fresh, clean air was very welcomed.
Here are more interesting facts about Bhutan.
Bhutan Travel Lows
While I thoroughly enjoyed my trip to Bhutan, there were a few lows.
These are not meant to make you not want to visit Bhutan, but are just a few honest disappointments to take into consideration.
1. The food
The food in Bhutan isn't bad; however, as someone who tries to eat relatively healthy and loves trying new things, I got sick of it pretty quickly.
As a tourist, my nightly fee included three meals per day.
Typically we would arrive at a restaurant or hotel and be promptly asked what beverages we'd like.
From there, 6-10 small dishes would accompany a heaping bowl of rice, like chilis covered in cheese, fried cauliflower covered in cheese, fried potatoes, pasta marinara, rice noodles with chilies, fried chicken and other, typically fried, starchy and cheese-covered offerings.
I'm not saying it tasted bad, though I wasn't a fan of most of the imported meat from India (tough and bony!).
Honestly, there just wasn't a lot of variety.
2. The "heat"
The local hotels all offered exceptional hospitality.
And while the rooms were enormous for 3-star hotels, many lacked good heat and consistent hot water.
Pack warm clothing like Smartwool socks, BUFF multi-purpose headwear and a moisture-wicking turtleneck for a base layer.
Also, learn the art of the three-minute shower.
3. The homestay
I love doing homestays, as long as they're immersive and I feel like I'm also getting something out of the interaction.
I was happy my money went toward supporting a local family; however, I had a hard time communicating with the family.
Because of this, I spent a lot of the time in my room or just watching them speak to each other.
The meals were lovely, the traditional hot stone bath was uber relaxing (~$10 extra) and it was interesting to see how the family interacted and lived.
But if I could re-do this I would have just done the hot stone bath and dinner, or had my guide setup an itinerary so I knew what was going on.
For instance, apparently at 9am I could have helped collect eggs, and at 10am I could have helped prepare some food.
Instead I spent a lot of the time not really knowing what was going on.
4. The amount of car time
This is inevitable if you want to cover a lot of ground, but of my 10-day trip about four of those days were 4-9 hour drives.
While extremely scenic, they were also draining.
Before booking, ask yourself if you'd rather see more places (and more time in the car) or spend more time in fewer places (and less time in the car).
5. The lack of immersive encounters
Because tourism is still relatively new in Bhutan — they only opened their borders to visitors in 1974 — you won't find a plethora of immersive excursions like cooking, dance/yoga and traditional art classes and as you would elsewhere.
For example, while I was able to visit the Gagyel Lhundrup Weaving Centre in Thimphu and see women weaving traditional garments using backstrap looms, there weren't any opportunities to try weaving for myself (something I did on Taketomi Island in Okinawa, Japan and loved).
Tai Chi in China, yoga in India and tango in Argentina were also trip highlights for me in the past; active ways to explore the place I was visiting.
Moreover, you'll only be able to rent bikes in Thimphu, and there are only one or two rafting companies (in Punakha only) that have the monopoly on this activity so the price is outrageous at $250 per person.
I paid $100 in Costa Rica for an amazing Class 4 rapids trip that also included an immersive afternoon touring, learning about and having lunch on the company owner's organic farm, and $189 to have an all-day Class 4 Rapids experience with a forest barbecue in Cairns, Australia.
Not that you should compare destinations, but just to give you an idea of where this frustration is coming from.
6. The price
Update: Since writing this Bhutan travel article, you no longer need to pay for your trip to Bhutan with a wire transfer. Yay to getting your miles and points!
See #5 of my Highs for the price breakdown, though keep in mind Bhutan is all-inclusive.
What also hurt me a lot as a points and miles collecting road warrior is that you pay via bank transfer to the tourism board.
They then give the money to the tour operator.
This meant that instead of earning 6,000 miles on my credit card I was charged a $45 transfer fee by my bank (though Bank of America waived it, thanks!) and $20 by Bhutan's bank.
I cried just a little at this.
Bonus Bhutan Travel Resources:
What Everyone Should Know About Planning A Trip To Bhutan
How To Hike To Bhutan's Breathtaking Tiger's Nest
13 Things That Make Bhutan Unlike Any Place In The World
Is Bhutan Worth The $250 Per Night Fee?
Exploring Bhutan's Phobjikha Valley, Land Of The Rare Black-Necked Crane
Exploring Jakar, The Switzerland Of Bhutan
There's A Place In Bhutan That Is Obsessed With Penises
10 Amazing & Immersive Experiences To Have In Thimphu, Bhutan
10 Reasons Why Bhutan Should Be Your Next Travel Destination

Did you experience any highs or lows while traveling Bhutan?
Essential Bhutan Travel Info:

Recommended Tour Operator: I went with Bhutan Tourister and had an unbelievable time. I highly recommend them. Please use this booking form for inquiries.

Booking Your Trip: By law, tourists visiting Bhutan must have a guide and must pay an all-inclusive rate of $200-$250 per night (low vs high season) + airfare + $40 Bhutan visa fee (unless you're an Indian, Bangladeshis or Maldivian national) + $30-$40 nightly tariff for duo and solo travelers. This includes your private guide, 3-star lodging, three (huge!) meals per day and ground transfers.

Responsible Tourism: Making it more difficult to visit Bhutan limits the amount of tourists entering the country, helping to preserve the landscape and traditional culture. Moreover, 35% of what you pay goes to the government to put toward free education and healthcare, infrastructure and conservation.

Health: Healthcare is free for locals and visitors in Bhutan. I didn't encounter any hotels with gyms, so if you're looking to stay in shape I recommend Yoga Download (900+ yoga classes right on your laptop or phone), TheraBands (inexpensive resistance bands that take up virtually no luggage space) and a FitBit wristband (encourages you to be healthy and is stylish).

Local Currency: Ngultrum (Nu). As of February 2016, 1 Nu= $0.01.

Tipping: I tipped my guide the equivalent of $10/day, as I read $8-$10/day was the norm on numerous forums and travel agency sites.

Internet: Most of the hotels I stayed at had pretty decent Wi-Fi, though there was one that said they had Wi-Fi and it didn't work. Homestays will likely not have Wi-Fi. If you want to stay connected I recommend getting a local SIM card from TashiCell, which cost about $10 for the SIM and 10 days of credit (depending how much you'll use it, I had lots of credit left over but I didn't use mine much), or a KnowRoaming Global SIM Sticker to affix to your regular SIM for local rates.

Food: If you like heat, you'll love the chili-laden Bhutanese food, though many hotels cater to tourists with more general meat and veggie dishes. I was never hungry, as portions are huge and heavy, typically featuring a heaping bowl of red rice with pasta, potatoes, fish, cheese-topped chilies, cheese-topped mushrooms, turnip flowers and other meats and veggies. That being said the food won't be what you write home about; it'll be the well-preserved culture and heritage as well as the beautiful mountainous, green landscapes, 72% of which are covered in forest, unlike anywhere else.

Booze/Tobacco/Weed: Bhutan is a booze-friendly country (the small capital of Thimphu has 700 bars alone), though note the country is dry on Tuesdays, which is also the day many sites and shops are closed. Despite growing plentifully weed is illegal, and tobacco is illegal to sell. You can bring your own cigarettes purchased from another country, but be prepared to pay a 200% tax on them at customs.

Plugs: The outlets varied at the hotels. In some I was able to plug a standard USA-style plug into the wall, while at others I needed the European two-prong kind. Click here for a visual. It's recommended to get a TravelMore International Travel Adapter with USB ports so you can charge multiple devices with one gadget.

Dress: While it won't cause an uproar if you wear a tank top and shorts, it's a respectful gesture to keep shoulders and knees covered when not in your hotel room. This is mandatory in the local temples (as well as no hats!) which you'll be visiting a lot of. One travel essential to carry that's great for this is a scarf shawl — which also works as an airplane blanket!

Essential Gear: Even if you visit in the warmer months it's essential to bring warm clothes, as the mountains can get chilly all year round. Some items I recommend:

SteriPEN (The tap water is NOT drinkable in Bhutan, though your guide and hotel should supply it. I drink a lot so I also used my SteriPEN)
XT driFILL Women's Goose Down Waterproof Hooded Jacket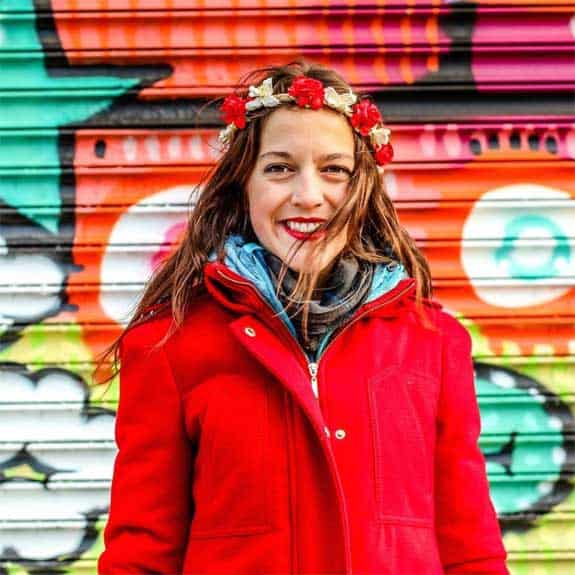 Hi, I'm Jessie on a journey!
I'm a conscious solo traveler on a mission to take you beyond the guidebook to inspire you to live your best life through travel. Come join me!
Want to live your best life through travel?
Subscribe for FREE access to my library of fun blogging worksheets and learn how to get paid to travel more!