Is Bhutan Worth The $250 Per Night Fee?
The first question you'll undoubtedly ask yourself before taking the plunge and booking your trip to Bhutan is:
"Will this trip really be worth the $250 per night?"
I asked myself this very question for months leading up to the moment I actually booked the trip.
Because I went during low season (December-February and June-August) I only had to pay $200 per night as opposed to $250.
However, because I was a solo traveler I also had to pay $40 extra per night (groups of two will have to pay an extra $30 per day) + $40 for my Bhutan visa.
Not only that, but my flights to and from Bhutan via Bangkok were $860 total.
And that doesn't include the $650 I paid for my round trip flights between NYC and Bangkok (a great deal I found on Air China, which is why I went during low season).
So in total, not including souvenirs, extra personal expenses and expenses in Thailand (where I spent a few days before heading to Bhutan to make my layover worthwhile), I paid:
$3,710 for a 9-night/10-day trip to Bhutan
… about the equivalent of what it would cost to backpack around Latin America for an entire summer.
One quick tip before we continue:
Grab my free Ultimate Travel Planning Kit — which also includes a downloadable Google Map of my full Bhutan itinerary.
Add the map to your phone to have it ready to go for your trip!
Yes, Bhutan can be expensive, but let's look at this more closely.
One misconception some travelers have, or at least I did, is what all this money goes toward.
Instead of thinking of the $250 as a "fee," think of it as all-inclusive admission.
This includes all your hotels, three enormous meals per day, a private guide, private transportation and attraction admissions.
Moreover, 35% of what you pay goes to the government to fund efforts like free education, free healthcare (visitors get free medical in Bhutan, too), conservation efforts and infrastructure.
So, not only are you paying for your inclusive Bhutan travel experience; you're supporting the local people and traveling responsibly.
But, that still doesn't answer the question whether or not Bhutan is worth the $250 per night.
I know you're going to hate me for saying this, but the answer is:
It depends.
Let me explain.
If you're the type of traveler who needs 5-star luxury and expects gourmet meals for that price, Bhutan isn't for you.
You can definitely get more luxurious accommodations, but you'll pay $1,400+ per night.
If you want polished cities and hipster hoods, or if driving for long hours around curving potholed mountain roads sounds painful, Bhutan isn't for you.
That being said, if you want to:
Experience authentic culture untouched by Western influence
Visit grand temples with golden Buddhas sitting taller than your house
Stay on a local farm and help milk cows
Take in panoramic views of the Himalayas
See women hand-weaving traditional garments and paper being made by hand using high altitude Daphne tree
Hear stories of Bhutanese masters slaying demons with their penises
Learn the importance of calming one's mind and ridding oneself of greed and hatred
Experience a government more focused on preserving tradition and nature than wealth
Munch on homemade rice puffs handed to you through a village window as a friendly gesture
Meet people who have no idea what their birthday is
and fill up on chili-laced buffets served by smiling locals offering Bhutanese hospitality…
then the price will be well worth it.
I'm sure you've read plenty of blog posts touting Destination X as being "unlike anywhere else," but seriously, Bhutan really fits the description.
Sure, the younger generations in the capital of Thimphu enjoy their smartphones.
But you'll still stroll through a charmingly weathered city with buildings made from local stone and clay, hand-painted with Buddhist images like dragons, lotus flowers and offering vessels, colorful prayer flags billowing mantras in the wind.
You'll head into smaller villages where people walk for days to get their groceries from high in the mountains.
You'll see houses adorned with wooden phalluses and animal skulls to ward off evil, where women carry bamboo baskets of grass to feed their cattle and men practice slash and burn farming in fields of rice, wheat and broccoli (and marijuana, which grows plentiful in Bhutan).
Bhutan: Unlike Anywhere Else
To prove just how unique Bhutan is, I've got a video:
Watch it for an overview of what makes Bhutan unlike any other place in the world.
You'll quickly understand why Bhutan is so pricey — and why it just may be worth the splurge for you.
Plus, you'll see some of my favorite Bhutan trip photos.
If you'd like in-depth explanations of each point made in the video, click here.
Bonus Bhutan Travel Resources:
What Everyone Should Know About Planning A Trip To Bhutan
How To Hike To Bhutan's Breathtaking Tiger's Nest
13 Things That Make Bhutan Unlike Any Place In The World
6 Highs & 6 Lows From A Trip To Bhutan
Exploring Bhutan's Phobjikha Valley, Land Of The Rare Black-Necked Crane
Exploring Jakar, The Switzerland Of Bhutan
There's A Place In Bhutan That Is Obsessed With Penises
10 Amazing & Immersive Experiences To Have In Thimphu, Bhutan
10 Reasons Why Bhutan Should Be Your Next Travel Destination
Have you visited Bhutan? What is your opinion on the prices of the Bhutan visa and travel packages?
Essential Bhutan Travel Info:

Recommended Tour Operator: I went with Bhutan Tourister and had an unbelievable time. I highly recommend them. Please use this booking form for inquiries.

Booking Your Trip: By law, tourists visiting Bhutan must have a guide and must pay an all-inclusive rate of $200-$250 per night (low vs high season) + airfare + $40 Bhutan visa fee (unless you're an Indian, Bangladeshis or Maldivian national) + $30-$40 nightly tariff for duo and solo travelers. This includes your private guide, 3-star lodging, three (huge!) meals per day and ground transfers.

Responsible Tourism: Making it more difficult to visit Bhutan limits the amount of tourists entering the country, helping to preserve the landscape and traditional culture. Moreover, 35% of what you pay goes to the government to put toward free education and healthcare, infrastructure and conservation.

Health: Healthcare is free for locals and visitors in Bhutan. I didn't encounter any hotels with gyms, so if you're looking to stay in shape I recommend Yoga Download (900+ yoga classes right on your laptop or phone), TheraBands (inexpensive resistance bands that take up virtually no luggage space) and a FitBit wristband (encourages you to be healthy and is stylish).

Paying For Your Trip: As a points-obsessed traveler, it stung not be able to pay for the trip with my credit card. To pay for your trip you'll need to transfer the funds in US dollars to the tourism board's bank account. The fee for me personally through Bank of America was $45 for the transfer, though they were kind enough to waive it for me as I'm a preferred client, so that was sweet. You can easily make the transfer online if you do online banking.

Language: Dzongkha & English

Local Currency: Ngultrum (Nu). As of February 2016, 1 Nu= $0.01.

Tipping: I tipped my guide the equivalent of $10/day, as I read $8-$10/day was the norm on numerous forums and travel agency sites.

Internet: Most of the hotels I stayed at had pretty decent Wi-Fi, though there was one that said they had Wi-Fi and it didn't work. Homestays will likely not have Wi-Fi. If you want to stay connected I recommend getting a local SIM card from TashiCell, which cost about $10 for the SIM and 10 days of credit (depending how much you'll use it, I had lots of credit left over but I didn't use mine much), or a KnowRoaming Global SIM Sticker to affix to your regular SIM for local rates.

Food: If you like heat, you'll love the chili-laden Bhutanese food, though many hotels cater to tourists with more general meat and veggie dishes. I was never hungry, as portions are huge and heavy, typically featuring a heaping bowl of red rice with pasta, potatoes, fish, cheese-topped chilies, cheese-topped mushrooms, turnip flowers and other meats and veggies. That being said the food won't be what you write home about; it'll be the well-preserved culture and heritage as well as the beautiful mountainous, green landscapes, 72% of which are covered in forest, unlike anywhere else.

Booze/Tobacco/Weed: Bhutan is a booze-friendly country (the small capital of Thimphu has 700 bars alone), though note the country is dry on Tuesdays, which is also the day many sites and shops are closed. Despite growing plentifully weed is illegal, and tobacco is illegal to sell. You can bring your own cigarettes purchased from another country, but be prepared to pay a 200% tax on them at customs.

Plugs: The outlets varied at the hotels. In some I was able to plug a standard USA-style plug into the wall, while at others I needed the European two-prong kind. Click here for a visual. It's recommended to get a TravelMore International Travel Adapter with USB ports so you can charge multiple devices with one gadget.

Dress: While it won't cause an uproar if you wear a tank top and shorts, it's a respectful gesture to keep shoulders and knees covered when not in your hotel room. This is mandatory in the local temples (as well as no hats!) which you'll be visiting a lot of. One travel essential to carry that's great for this is a scarf shawl — which also works as an airplane blanket!

Essential Gear: Even if you visit in the warmer months it's essential to bring warm clothes, as the mountains can get chilly all year round. Some items I recommend:

SteriPEN (The tap water is NOT drinkable in Bhutan, though your guide and hotel should supply it. I drink a lot so I also used my SteriPEN)
XT driFILL Women's Goose Down Waterproof Hooded Jacket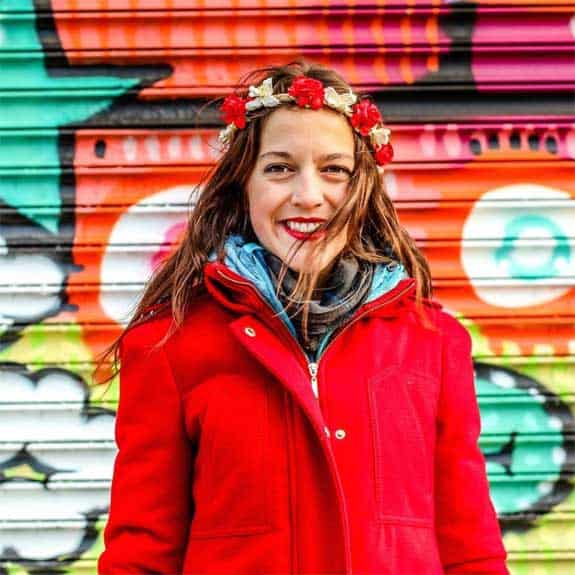 Hi, I'm Jessie on a journey!
I'm a conscious solo traveler on a mission to take you beyond the guidebook to inspire you to live your best life through travel. Come join me!
Want to live your best life through travel?
Subscribe for FREE access to my library of fun blogging worksheets and learn how to get paid to travel more!