There's A Place In Bhutan That's Obsessed With Penises
There's a place in Bhutan that's obsessed with penises.
I'm already dreading the spam I'll be getting from that title, but it's true.
In Lobesa, within the district of Punakha, you'll find Chimi Lhakhang (Temple).
This spiritual space was founded by Drukpa Kunley, also known as the Divine Madman, a Buddhist Master (lama).
When you hear the stories of the Divine Madman you're first thought will undoubtedly be:
"Wow! This guy was crazy! People followed his teachings?"
To this, you also have to remember that Buddhism is all about doing things from the heart.
And despite the fact the Divine Madman cursed in his preachings, had sex with and impregnated myriad women (including a nun), drank and ate copiously, danced jubilee through the hillsides and enlarged his penis to subdue evil demons, he did everything with his heart.
Always, his goal was to spread positive energy and liberate people from strict societal conventions and mundane religious cultures.
One quick tip before we continue:
Grab my free Ultimate Travel Planning Kit — which also includes a downloadable Google Map of my full Bhutan itinerary.
Add the map to your phone to have it ready to go for your trip!
Bhutan Is Unique
Before we dive further into this Asia travel guide focused on Punakha and the Divine Madman, I've got a video for you:
Watch it for an overview of what makes Bhutan unlike any other place in the world.
Hint:
The penis-adorned Lobesa is just one of the country's one-of-a-kind facets.
Plus, you'll see some of my favorite Bhutan travel photos.
If you'd like in-depth explanations of each point made in the video, click here for more information on the interesting facts about Bhutan.
A Madman-Inspired Lunch In Punakha
As soon as Kinley, my Bhutan Tourister guide, and I enter the village after a three-hour drive from Thimphu I notice the signs:
"Phallus Bar," near to "Phallus Handicrafts" — not to mention the endless depictions of penises of all shapes, sizes and colors (and grooming styles) painted right onto the local homes.
The idea behind this is if you look at a house you might think something negative about its appearance, projecting bad energy onto it; however, look at a penis and you'll be glowing with positive energy.
We eat lunch at a place called Divine Restaurant, named after the Divine Madman.
Inside, I'm greeted by a small shrine dedicated to the Lama, as well as an erect penis statue with wings and topped by a pine cone.
Phalluses aside, the lunch is delicious, and the views of the temple and village as we dine from the enclosed porch are idyllic.
The meal is also uber local, with lots of local vegetables from the surrounding fertile valley and Bhutan's signature chili obsession apparent on everything from the fish to the turnip flowers to the pork ribs.
A Scenic & Spiritual Lobesa Village Walk
After lunch, we take a scenic walk through fields of broccoli, wheat and red rice, streams meandering beside me and shrike birds overhead.
Women carry bamboo baskets on their back and two girls offer me some homemade puffed rice — fried rice flour made into a hollow ball — passing it to me through their home window.
The men in the fields practice slash and burn farming, and as ground sizzles and smoke rises I swear I might get high from the wild marijuana growing freely in the landscape.
We walk about 15 minutes before reaching the temple path, a dirt trail draped in colorful billowing prayer flags.
Children play with tiny toy trucks in the dirt, while a field to my left is filled with pilgrims who've journeyed from all over the world, many whom are there specifically for a fertility blessing, a ritual this temple, in particular, is famed for.
Kinley tells me one of his American clients came and, after receiving the blessing and attending a naked dance festival in central Bhutan, became pregnant after not being able to conceive for six years.
Reaching The Temple
At the top, we walk through an ornate gate topped with Buddha statues as well as one of the Unifier of Bhutan, named Zhabdrung Ngawang Namgyal, a Tibetan Buddhist lama responsible for turning Bhutan into a nation-state and creating its cultural identity.
A giant prayer wheel spins to my right, while a bit further up families sit under a giant bodhi tree strung with prayer flags holding Buddhist mantras.
Bodhi trees, the very tree Buddha sat under when reaching enlightenment, are surprisingly rare in spiritual Bhutan, and their grand yet relaxed presence offers a holistic vibe.
My guide, Kinley Wangchuk, was blessed at the temple, which is why his name is Kinley, one of the names associated with the particular temple and the Divine Madman, whose real name was Drukpa Kunley.
Explains Kinley:
"In Bhutan we have a tradition that every newborn child is taken to the temples to receive blessings for long life and well-being. My parents took me to the Divine Madman's temple for blessings, and there the lama, or religious head, gave the baby names. There are a bunch of names written on traditionally-made paper, and one can choose from there. This temple is mainly for couples having difficulty conceiving a child."
Inside The Beautiful Temple
Before entering the temple I remove my shoes and turn my camera off, as there are no photos allowed inside.
Kinley does his prostrations, asking forgiveness for his mental, verbal and physical wrongdoings by touching his head, mouth and heart with his hand before throwing his body to the ground, tapping his head to the floor and repeating the sequence three times.
Immediately, a young monk comes over with a vessel (called a bumpha) of Holy water, pouring the clear liquid into our palms to put over our heads and into our mouths to cleanse our sins.
"This also means you might have a baby now!" jokes Kinley.
My eyes get wide, and I say a little prayer of my own to the Divine Madman to please not work his phallus magic on me.
We move aside to let the locals do their prostrations and make their offerings of water, money, wine and candy at the shrine, which also holds larger-than-life statues of the Divine Madman, his older brother Ngawang Chogyal, and the deity of the valley, Chokimo.
The latter was once a demon, but was subdued and transformed into a Buddhist guardian by the Divine Madman himself.
There's also a large wooden phallus — which the Divine Madman is said to have brought with him from his home of Tibet — and some of the Divine Madman's belongings from the 15th century, including a bow and arrow, and a phallus made from an elephant tusk.
The young monk comes back over to me, grabs the objects and instructs me to bow my head.
Gently, he taps them to my head, which Kinley tells me is for good luck.
"Make a wish," Kinley instructs as the phallus tusk rests on my furrowed brow.
"I wish I'm not pregnant," I think to myself.
Stories Of The Divine Madman
What's really interesting is hearing the stories of the Divine Madman.
For example, it's said that when a local man asked him to bless his thangka (Buddhist wall hanging), he peed on if.
The young man was furious, until he realized the urine had turned to gold.
There's also the story of how the temple got its name.
When hunting a demoness, she turned herself into a dog to hide from the Divine Madman; however, he was too smart, and killed and buried her right under where you today see a black choeten at the temple.
That demoness is the local deity I mentioned before.
The Meaning Of The Phallus
As we meander the path back to the car, strolling past villagers and farmers, I can't help but notice once again the plethora of penis paintings on the house.
Now I also spy wooden penises at the four corners of the roof as well as over front doors, which I'm told is to ward off evil.
I also wander into a shop titled "Phallus Handicrafts."
I know what you're thinking: What is the address of this venue?! I must get a phallus for my coffee table!
Well, I did not write down the address, because there are a ton of shops with the same name selling the exact same thing — $6 wooden penises for your home or key chain.
So fear not, phallus-loving tourists. I buy a pink one for myself, a blue one for my boyfriend and a red one for parents (because it's my dad's favorite color, of course).
Oddly enough, Bhutan is actually quite shy about this part of their culture.
Kinley explains:
"Bhutan is very conservative country with a strong belief system, and locals get embarrassed by all phallus paintings and discussions. I think it's because people are not exposed to the other side of the world, though this shame is getting less due to the introduction of Internet and television in 1999."
In all seriousness, though, the Divine Madman is a very important lama to the Bhutanese, and it was an honor to be able to visit Chimi Lhakhang and learn the stories of the Divine Madman.
Hey, this is the same guy touted as actually creating Bhutan's national animal, the takin, by fusing together the skeletons of a goat and a cow.
Yes, he's a pretty big deal and an important part of Bhutan's national heritage.
Bonus Bhutan Travel Resources:
What Everyone Should Know About Planning A Trip To Bhutan
How To Hike To Bhutan's Breathtaking Tiger's Nest
13 Things That Make Bhutan Unlike Any Place In The World
Is Bhutan Worth The $250 Per Night Fee?
6 Highs & 6 Lows From A Trip To Bhutan
Exploring Bhutan's Phobjikha Valley, Land Of The Rare Black-Necked Crane
Exploring Jakar, The Switzerland Of Bhutan
10 Amazing & Immersive Experiences To Have In Thimphu, Bhutan
10 Reasons Why Bhutan Should Be Your Next Travel Destination
Have you visited Bhutan? What was the highlight of your trip?
Essential Bhutan Travel Info:

Stay: Pema Karpo Hotel in Bajothang. This place has an onsite spa and restaurant, as well as nearby walking trails and huge rooms that look like suites with flatscreen TVs, bathtubs, a bed and couches, and lots of windows for views and natural lighting. There's also free Wi-Fi, though the server was down when I was there.

Recommended Tour Operator: I went with Bhutan Tourister and had an unbelievable time. I highly recommend them. Please use this booking form for inquiries.

Booking Your Trip: By law, tourists visiting Bhutan must have a guide and must pay an all-inclusive rate of $200-$250 per night (low vs high season) + airfare + $40 Bhutan visa fee (unless you're an Indian, Bangladeshis or Maldivian national) + $30-$40 nightly tariff for duo and solo travelers. This includes your private guide, 3-star lodging, three (huge!) meals per day and ground transfers.

Responsible Tourism: Making it more difficult to visit Bhutan limits the amount of tourists entering the country, helping to preserve the landscape and traditional culture. Moreover, 35% of what you pay goes to the government to put toward free education and healthcare, infrastructure and conservation.

Health: Healthcare is free for locals and visitors in Bhutan. I didn't encounter any hotels with gyms, so if you're looking to stay in shape I recommend Yoga Download (900+ yoga classes right on your laptop or phone), TheraBands (inexpensive resistance bands that take up virtually no luggage space) and a FitBit wristband (encourages you to be healthy and is stylish).

Paying For Your Trip: As a points-obsessed traveler, it stung not be able to pay for the trip with my credit card. To pay for your trip you'll need to transfer the funds in US dollars to the tourism board's bank account. The fee for me personally through Bank of America was $45 for the transfer, though they were kind enough to waive it for me as I'm a preferred client, so that was sweet. You can easily make the transfer online if you do online banking.

Language: Dzongkha & English

Local Currency: Ngultrum (Nu). As of February 2016, 1 Nu= $0.01.

Tipping: I tipped my guide the equivalent of $10/day, as I read $8-$10/day was the norm on numerous forums and travel agency sites.

Internet: Most of the hotels I stayed at had pretty decent Wi-Fi, though there was one that said they had Wi-Fi and it didn't work. Homestays will likely not have Wi-Fi. If you want to stay connected I recommend getting a local SIM card from TashiCell, which cost about $10 for the SIM and 10 days of credit (depending how much you'll use it, I had lots of credit left over but I didn't use mine much), or a KnowRoaming Global SIM Sticker to affix to your regular SIM for local rates.

Food: If you like heat, you'll love the chili-laden Bhutanese food, though many hotels cater to tourists with more general meat and veggie dishes. I was never hungry, as portions are huge and heavy, typically featuring a heaping bowl of red rice with pasta, potatoes, fish, cheese-topped chilies, cheese-topped mushrooms, turnip flowers and other meats and veggies. That being said the food won't be what you write home about; it'll be the well-preserved culture and heritage as well as the beautiful mountainous, green landscapes, 72% of which are covered in forest, unlike anywhere else.

Booze/Tobacco/Weed: Bhutan is a booze-friendly country (the small capital of Thimphu has 700 bars alone), though note the country is dry on Tuesdays, which is also the day many sites and shops are closed. Despite growing plentifully weed is illegal, and tobacco is illegal to sell. You can bring your own cigarettes purchased from another country, but be prepared to pay a 200% tax on them at customs.

Plugs: The outlets varied at the hotels. In some I was able to plug a standard USA-style plug into the wall, while at others I needed the European two-prong kind. Click here for a visual. It's recommended to get a TravelMore International Travel Adapter with USB ports so you can charge multiple devices with one gadget.

Dress: While it won't cause an uproar if you wear a tank top and shorts, it's a respectful gesture to keep shoulders and knees covered when not in your hotel room. This is mandatory in the local temples (as well as no hats!) which you'll be visiting a lot of. One travel essential to carry that's great for this is a scarf shawl — which also works as an airplane blanket!

Essential Gear: Even if you visit in the warmer months it's essential to bring warm clothes, as the mountains can get chilly all year round. Some items I recommend:

SteriPEN (The tap water is NOT drinkable in Bhutan, though your guide and hotel should supply it. I drink a lot so I also used my SteriPEN)
XT driFILL Women's Goose Down Waterproof Hooded Jacket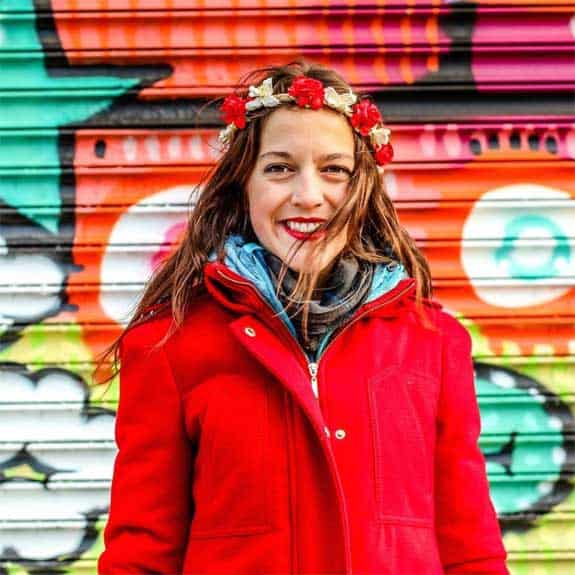 Hi, I'm Jessie on a journey!
I'm a conscious solo traveler on a mission to take you beyond the guidebook to inspire you to live your best life through travel. Come join me!
Want to live your best life through travel?
Subscribe for FREE access to my library of fun blogging worksheets and learn how to get paid to travel more!