10 Reasons Why Bhutan Should Be Your Next Travel Destination
In January, I got to check off one of my top bucket list items:
Visiting the remote Buddhist kingdom of Bhutan.
I'm typically attracted to a destination by three things:
The promise of delicious food
The knowledge I'll be able to stretch my dollar far
The possibility of adrenaline-pumping adventure
However, that wasn't why I wanted to go to Bhutan.
Instead, I longed to explore a less-considered destination that still retained much of its traditional heritage and natural landscapes that, by the way, are incredibly epic.
The destination did not disappoint.
For a better idea of why you, too, should consider Bhutan as your next travel destination, keep reading for my top highlights.
One quick tip before we dive into the experience:
Grab my free Ultimate Travel Planning Kit — which also includes a downloadable Google Map of my full Bhutan itinerary.
Add the map to your phone to have it ready to go for your trip!
Bhutan Travel Video
But wait!
Before we get into what made my Bhutan trip so memorable, I've got a video for you:
Watch it for an overview of what makes Bhutan unlike any other place in the world.
As in, 13 truly unique facets of the country.
Plus, you'll see some of my favorite Bhutan trip photos.
If you'd like in-depth explanations of each point made in the video, click here to learn more about the interesting facts about Bhutan.
And now, for the list of Bhutan travel highlights.
1. You'll Learn That Wealth Doesn't Measure The Strength Of A Culture
Instead of measuring Bhutan's economic prosperity on wealth, the government measures it on a Gross National Happiness Index focusing on good governance, sustainable socio-economic development, cultural preservation, and environmental conservation.
In fact, right in Bhutan's constitution, it mandates the country be at least 60% covered in forest.
Moreover, no matter where you go you'll be able to see traditional arts and crafts, like weaving at the Gagyel Lhundrup Weaving Centre and paper-making at the Jungshi Paper Factory, both in Thimphu.
To show you just what a visionary government Bhutan has, in 2003 King Jigme Singye Wangchuk actually led his troops into battle — as opposed to sitting by and watching the war from his throne — against rebels from the Indian state of Assam.
2. To Experience The Beauty Of Buddhism
No matter what religion or belief system you follow, it's hard not to appreciate the values of Buddhism.
During my 10-day trip, my Bhutan Tourister guide, Kinley, told me much about Buddhism that really rocked my world.
For one, the idea that we are all born with three poisons — hatred, greed and ignorance — and that we should work to rid ourselves of these to reach enlightenment and potentially reach Nirvana.
Or that instead of clinging to expectations and material things we should accept that disappointment and suffering are part of life, and try to practice non-attachment to those things.
Or that nothing is permanent, and thus we should enjoy our positive memories and know that our suffering shall pass. Or that our suffering and joy are all controlled by our minds — meaning we have control over these emotions.
To go along with this, the temples and spiritual centers are magnificent, typically featuring Dzong-style architecture with massive fortress-like designs, giant iron and wood entryways, flared roofs and interior courtyards with lots of intricate detailing.
3. For Amazing Wildlife
Phobjikha Valley or, as I like to call it, the Valley of the Black-necked Crane, is an amazing place to visit for those interested in bird-watching and nature.
Not only is this place unique for its endless flat fields of bamboo shrubs and inspiring mountains, but because it is home to the Black-necked Crane, one of the rarest species of crane in the world.
It's not hard to spot them, their bright white bodies contrasting with their black heads and tails, sticking out against the light green and yellow grasses.
The birds strut and glide gracefully, and are truly mesmerizing to watch. Interestingly they're known as "birds of heaven" and are said to be attracted to holy places.
In fact, at the local Black-necked Crane Visitor Center I learn the birds fly clockwise three times around the local Gangteng Monastery — a Buddhist practice that helps rid the body of negative energy — both when they arrive in the fall and before they migrate to Tibet in the early-to-late spring.
4. They Love Chilis
Every time I asked Kinley if a particular dish was local, he'd reply:
"Only if it has chilies in it."
Bhutanese like it hot, which in turn makes me love Bhutan.
Hey, you're talking to someone who is obsessed with New Mexico solely based on their green chile culture, and who once ate so much hot sauce at a restaurant in the Bahamas that they mailed me a free case!
5. You'll Be McDonald's-Free
Sticking with the food theme, I can honestly say I can't remember the last time I went somewhere, no matter how un-western, that didn't have a McDonald's or a Pizza Hut.
Until Bhutan.
While I did spy something called "Momo Bell" that featured something suspiciously similar to the Taco Bell logo in Thimphu, that was the closest I came to the big Western brand fast food culture in Bhutan.
6. To Slow Down
Driving down winding dirt roads that hug mountainsides, colorful prayer flags billowing in the wind, 73% lush forest and giant gilded gold Buddhas looking over the valleys, it's impossible not to feel at peace.
Even the traditional dress — handmade knee-length robes tied at the waist for men (a Gho) and the ankle-length dresses with light outer jackets (Kira and Tego), so beautiful yet so comfortable — make me feel relaxed (and wanting to get out of my tight-from-too-much-cheesey-chilis jeans and into one).
Bhutan only got TV and the internet in 1999, and only received their currency over bartering in 1974, so their addiction to being constantly connected and stressing over work emails and Tweets isn't as palpable as in other places of the world (ie my home of NYC).
In fact, in certain countryside stops I was completely without Wi-Fi, (happily) forcing me to grab my journal, a good book and some walking shoes and just enjoy the present.
By the way, to slow down while immersed in beautiful scenery you shouldn't miss visiting Jakar, Bhutan's "mini Switzerland".
7. To Travel Responsibly
While Bhutan's $200-$250/night all-inclusive tourist fee + $40 visa + $30/$40 tariff for duo and solo travelers + $860 round trip Druk Airlines flights via Bangkok + round-trip flights to-and-from Bangkok and your home may seem steep, you will be getting your money's worth in a number of ways, one of which is the chance to truly travel responsibly.
Because of the destination's remote location and the expenses to get there it hasn't been flooded with tourists, leading to a well-preserved culture and landscape.
And because you're mandated to have a guide it's ensured you won't take part in any irresponsible or illegal activities, like mountaineering and skiing, which are believed to disturb the spirits that reside on the hillsides.
It's also worth noting that 35% of what you pay goes toward governmental programs like free educational and healthcare, infrastructure and nature conservation, helping you give back to the community you're visiting.
8. To Experience The Preservation Of Cultural Heritage
As stated above, one of the four pillars of the Gross National Happiness Index is the preservation of heritage, which you'll experience over and over again on your trip.
Even in Thimphu, the capital and largest city in Bhutan, I visited places like:
9. To Get An Alternative Look At Religion
In Lobesa, a village in the District of Punakha, I visit a very spiritual albeit quirky place, at least to me as a westerner and non-Buddhist.
Here you'll find Chimi Lhakhang, also known as the Temple of the Divine Madman.
Despite the fact the Divine Madman, a Buddhist Master, cursed in his preachings, had sex with and impregnated myriad women (including a nun), drank and ate copiously, danced jubilee through the hillsides, he did everything with his heart, with a goal to spread positive energy and liberate people from strict societal conventions and mundane religious cultures.
He was especially known for his phallus, which had the ability to enlarge and fight demons.
In fact, you'll see homes all over the country with big cartoonish penises painted on the facades, as well as wooden phalluses on the roofs and above the doors to keep demons at bay.
Inside the temple itself, it's possible to be blessed with a phallus made from an elephant tusk that once belonged to the Divine Madman himself in the 15th century.
10. To Experience Something You Can't Anywhere Else
The reason you pay so much money to visit Bhutan isn't for the world's most delicious food or the best hotels of your life.
It's to explore a place unlike any other, from their visionary Gross National Happiness Index to the locals still sporting their traditional dress to the many things that make the destination quite quirky, at least in the eyes of westerners.
It's a place where people love their king, where leaders go into battle with their troops when necessary and where the traditions of the good old days are still present, from the capital of Thimphu to, even more so, the outer villages.
I've been to 40+ countries, and to me this was unlike any place I've been to before.
Bonus Bhutan Travel Resources:
What Everyone Should Know About Planning A Trip To Bhutan
How To Hike To Bhutan's Breathtaking Tiger's Nest
13 Things That Make Bhutan Unlike Any Place In The World
Is Bhutan Worth The $250 Per Night Fee?
6 Highs & 6 Lows From A Trip To Bhutan
Exploring Bhutan's Phobjikha Valley, Land Of The Rare Black-Necked Crane
Exploring Jakar, The Switzerland Of Bhutan
There's A Place In Bhutan That Is Obsessed With Penises
10 Amazing & Immersive Experiences To Have In Thimphu, Bhutan

Have you visited Bhutan? What did you love/not love about your trip?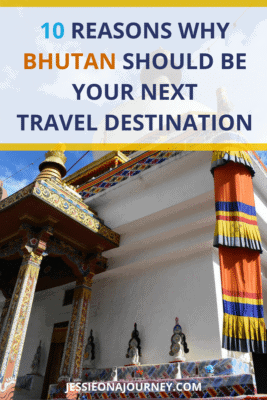 Essential Bhutan Travel Info:

Recommended Tour Operator: I went with Bhutan Tourister and had an unbelievable time. I highly recommend them. Please use this booking form for inquiries.

Booking Your Trip: By law, tourists visiting Bhutan must have a guide and must pay an all-inclusive rate of $200-$250 per night (low vs high season) + airfare + $40 Bhutan visa fee (unless you're an Indian, Bangladeshis or Maldivian national) + $30-$40 nightly tariff for duo and solo travelers. This includes your private guide, 3-star lodging, three (huge!) meals per day and ground transfers.

Responsible Tourism: Making it more difficult to visit Bhutan limits the amount of tourists entering the country, helping to preserve the landscape and traditional culture. Moreover, 35% of what you pay goes to the government to put toward free education and healthcare, infrastructure and conservation.

Health: Healthcare is free for locals and visitors in Bhutan. I didn't encounter any hotels with gyms, so if you're looking to stay in shape I recommend Yoga Download (900+ yoga classes right on your laptop or phone), TheraBands (inexpensive resistance bands that take up virtually no luggage space) and a FitBit wristband (encourages you to be healthy and is stylish).

Paying For Your Trip: As a points-obsessed traveler, it stung not be able to pay for the trip with my credit card. To pay for your trip you'll need to transfer the funds in US dollars to the tourism board's bank account. The fee for me personally through Bank of America was $45 for the transfer, though they were kind enough to waive it for me as I'm a preferred client, so that was sweet. You can easily make the transfer online if you do online banking.

Language: Dzongkha & English

Local Currency: Ngultrum (Nu). As of February 2016, 1 Nu= $0.01.

Tipping: I tipped my guide the equivalent of $10/day, as I read $8-$10/day was the norm on numerous forums and travel agency sites.

Internet: Most of the hotels I stayed at had pretty decent Wi-Fi, though there was one that said they had Wi-Fi and it didn't work. Homestays will likely not have Wi-Fi. If you want to stay connected I recommend getting a local SIM card from TashiCell, which cost about $10 for the SIM and 10 days of credit (depending how much you'll use it, I had lots of credit left over but I didn't use mine much), or a KnowRoaming Global SIM Sticker to affix to your regular SIM for local rates.

Food: If you like heat, you'll love the chili-laden Bhutanese food, though many hotels cater to tourists with more general meat and veggie dishes. I was never hungry, as portions are huge and heavy, typically featuring a heaping bowl of red rice with pasta, potatoes, fish, cheese-topped chilies, cheese-topped mushrooms, turnip flowers and other meats and veggies. That being said the food won't be what you write home about; it'll be the well-preserved culture and heritage as well as the beautiful mountainous, green landscapes, 72% of which are covered in forest, unlike anywhere else.

Booze/Tobacco/Weed: Bhutan is a booze-friendly country (the small capital of Thimphu has 700 bars alone), though note the country is dry on Tuesdays, which is also the day many sites and shops are closed. Despite growing plentifully weed is illegal, and tobacco is illegal to sell. You can bring your own cigarettes purchased from another country, but be prepared to pay a 200% tax on them at customs.

Plugs: The outlets varied at the hotels. In some I was able to plug a standard USA-style plug into the wall, while at others I needed the European two-prong kind. Click here for a visual. It's recommended to get a TravelMore International Travel Adapter with USB ports so you can charge multiple devices with one gadget.

Dress: While it won't cause an uproar if you wear a tank top and shorts, it's a respectful gesture to keep shoulders and knees covered when not in your hotel room. This is mandatory in the local temples (as well as no hats!) which you'll be visiting a lot of. One travel essential to carry that's great for this is a scarf shawl — which also works as an airplane blanket!

Essential Gear: Even if you visit in the warmer months it's essential to bring warm clothes, as the mountains can get chilly all year round. Some items I recommend:

SteriPEN (The tap water is NOT drinkable in Bhutan, though your guide and hotel should supply it. I drink a lot so I also used my SteriPEN)
XT driFILL Women's Goose Down Waterproof Hooded Jacket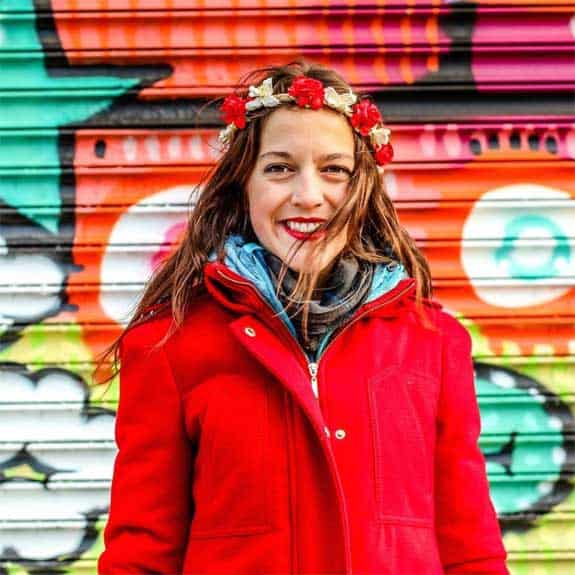 Hi, I'm Jessie on a journey!
I'm a conscious solo traveler on a mission to take you beyond the guidebook to inspire you to live your best life through travel. Come join me!
Want to live your best life through travel?
Subscribe for FREE access to my library of fun blogging worksheets and learn how to get paid to travel more!