How To Hike To Bhutan's Breathtaking Tiger's Nest
"Beep beep beep!" The alarm blares. 6:13 am it reads.
Where am I?
I assess my unfamiliar surroundings, and the barking of 101 stray dogs as well as the decorative wooden building that is my hotel reminds me that I am in Bhutan.
It all starts coming back. A generous mix of Jiva Coffee Cubes (my must-pack caffeine accessory) and Thai instant coffee (popular in Bhutan) led me to be wide awake up 2:03am.
I like even amounts of sleep, so allotted 10 extra minutes for the actual sleep process.
Apparently it wasn't enough, as I feel groggy; until I remember why I'm up so early: hiking to the Tiger's Nest.
An instant jolt of excitement rushes through my body.
I'd never heard of the Tiger's Nest before going to Bhutan.
However, as soon as my tour operator, Bhutan Tourister, sent me an itinerary with a photo of the beautiful temple woven into the mountainside, I knew it would be the highlight of my 10-day Bhutan trip.
In my opinion, no Bhutan travel guide would be complete without mentioning this beautiful and sacred place.
One quick tip before we dive into the experience:
Grab my free Ultimate Travel Planning Kit — which also includes a downloadable Google Map of my full Bhutan itinerary.
Add the map to your phone to have it ready to go for your trip!
Bhutan Is Like Nowhere Else
Before we dive into my Tiger's Nest experience, I've got a video for you:
Watch it first to learn exactly what makes Bhutan such a special place.
The country's world-famous Tiger's Nest is only one of its unique facets.
There truly is nowhere else like Bhutan on earth.
Then, when you're ready, continue reading.
The History Of The Tiger's Nest
The Tiger's Nest was founded in the 8th century, though it wasn't built until the late 17th century by the fourth ruler of Bhutan, Gyalse Tenzin Rabgye.
It was built into the rock because this is where Padmasambhava (the Second Buddha) subdued the demon named Belgye Singye.
Padmasambhava was on his was on his way toward India from Tibet, and after getting to the eastern part of Bhutan, he felt something was wrong here, in the west.
So he turned his consort into a flying tigress, and transformed himself into an angry-faced Dorje Drolo, one of the Eight Manifestations of Padmasambhava.
While the angry face was meant to scare the demon and hide Padmasambhava's identity, it also taught a lesson about one of the three poisons (the others are ignorance and greed) that is in all of us.
In Buddhism, it's believed we should work to rid ourselves of these to potentially reach Nirvana.
Padmasambhava was able to subdue the demon using a magic dagger, but instead of being killed the demon was transformed into what is now the protective deity of the temple.
This story is also how the Tiger's Nest, or Taktsang in the local language, got its name.
A Sign From The Universe
In April 1998 the entire Tiger's Nest complex was destroyed, except for one thing:
The giant bronze statue of Padmasambhava.
The idol is said to have been sparkling from the flames of the fire, a gleam of hope amidst tragedy.
Locals described what they had seen, and the Fourth King of Bhutan took this as a sign that the temple was an exceptionally special place to be rebuilt as it was, though it's now more decorative with detailed paintings telling the story of Padmasambhava and more elaborate woodworks and carvings in the architecture.
Hiking To The Tiger's Nest
It is indeed a special place to visit when traveling to Asia, specifically Bhutan, which is why I'm up at dawn to eat a quick breakfast (included in your nightly Bhutan tariff), put on my hiking clothes, and set off on the trail, widely considered one of the great hiking trails of the world, particularly for those interested in history and spirituality.
The surrounding countryside, with its perfectly plotted fields and mountain feet spilling into the valley, is shrouded in light blue, a chill permeating the air.
While many tourists start their hike around 9am, my guide and I decide on 7am to beat the afternoon heat and still have the afternoon to enjoy.
Sure, it's cold at that time of morning — Paro, where the hike starts, sits at an elevation of 2,220 meters (7,284 feet); however, if you dress appropriately you'll warm up quickly.
A few of my essentials:
Kathmandu XT driFILL Goose Down Jacket
Tights under my leggings
and waterproof, sturdy Timberland boots, which are great for the uneven terrain and rocky steps of the trek.
As soon as we get out of the car at the trailhead, six dogs begin following us, wagging their tails and begging with their adorable eyes for food.
Despite the fact we don't offer any treats, the pack stays loyal for almost the entire two-hour trek up.
Yes, you're essentially walking two hours uphill, so mentally prepare yourself and realize the journey is beautiful and the reward is even greater.
You may also take a horse about halfway there (they're not allowed to go any farther) for 700 nu (~$10.50).
Personally, I'm fearless when it comes to jumping out of planes or off bridges, but put me on an animal and I start getting anxious.
Does the horse feel those extra pancakes I had at breakfast?
Is he plotting away to buck my fat a** off the back?
Did he eat enough so as not to turn from a trot to a full on sprint to the nearest pile of grass while I hug his neck trying to not die?
I stick to the hike.
The uphill climb is immediate, trees enveloping us in a shady covering.
Despite the chill, I'm quickly pulling off layers, the exertion of climbing jagged stone steps and inclined dirt slopes making me sweat.
I'm glad I've brought 1 liter of water plus a 500 milliliter bottle, as I regularly sip to stay hydrated.
That being said, about halfway through the hike/one hour up we come to a beautiful lookout, giant prayer wheels and colorful payer flags cresting a frame around an opening of trees with the Tiger's Nest just above and beyond.
It's spectacular.
A one-minute walk down would take us to a tea house if we needed a rest, but we decide to continue on and stop on the way back to beat the afternoon heat.
Continuing up, I concentrate on steadying my breathing.
In and out, in and out.
I picture my breath massaging my muscles and organs as I work them to get me to the top, the surrounding pine and oak trees creating a pleasant aroma to inhale.
At times they part, and I can see us getting closer to the Tiger's Nest.
Finally, we reach the main lookout, at least the main one where photos are allowed.
It's at the top of 600 descending steps, followed by 200 ascending steps.
And remember:
This is reversed on the way back!
From here, I see local villages hugged by mountain slopes, prayer flags billowing in the breeze.
This is also your best view for a photo, especially as you're level with the temple as opposed to being below it like the other viewpoints.
As we get closer to the temple we walk over a wooden bridge beside an icy waterfall.
Rushing water provides the soundtrack for the latter section of the hike.
We also see myriad tsatsas hidden in the rocks.
These small stupa-shaped clay statues sometimes have the ashes of loved ones embedded in them, meant to liberate their souls.
Entering The Monastery
At the entrance a security guard takes our cameras, phones and backpacks.
Snapping photos inside of temples is not allowed due to a fear it might make the site too commercial; which is fine, as the beauty of the place will be imprinted in my mind forever.
We curve through the multiple spaces of the spiritual complex, full of the elaborate paintings and details mentioned before.
There's also a giant boulder with an indent and a wooden pole about six feet away from it.
"If you can close your eyes, walk to the boulder and press your thumb directly into the indent you will be blessed with good luck," explains Kinley. "You get three tries."
We both get a hat trick.
Of fails.
It's not as easy as it looks.
The Altar
Removing our shoes, we step inside of the altar room.
Here is where the famed bronze Padmasambhava sits unscathed in plain site, surrounded by smaller statues of his Eight Manifestations.
A local woman does her prostrations and rubs her prayer beads clockwise — a sign of respect and a way to move good energy in and bad energy out — with Kinley following suit.
My gaze drifts to the altar.
It's topped with offerings of water, money and snacks, colorful ritual cakes (the tallest I've seen yet), golden stupa-shaped vessels and burning incense.
The caretaker comes over to me with a vessel full of saffron-infused holy water, the herbal liquid meant to wash away my sins as I drink it and wipe some in my hair.
The Butter Lamp Room
Another room that's intensely moving for me is the Butter Lamp Room.
Here there are endless rows of bowl-sized butter lamps glowing to honor lost loved ones.
I tear up as I'm handed the burning incense, lighting lamps for lost relatives and one of my best friends, Jess, who passed away a few years back.
Amazing Views
From the Tiger's Nest it's also possible to take in the best view of the hike, though again, no photos allowed.
From my high perch of 3,100 meters (10,171 feet) the houses and trees below look like Monopoly pieces.
That is, if the Monopoly board featured a Buddhist kingdom hugged by mountains, more of those beautiful prayer flags billowing their mantras over the landscape.
While I don't consider myself a Buddhist, it's here where I reflect on how many beliefs within the philosophy resonate with me.
For one, working to rid ourselves of anger, greed and ignorance to reach Nirvana.
Whether you believe this place exists or not, it would be hard to argue that your life wouldn't be more like Nirvana on Earth if you could rid yourself of these.
Another lesson that's stuck with me, especially as someone who went against societal norms to follow my dreams of travel, is that to be healthy individuals we should learn to live in the now.
In fact, Buddha himself has been quoted as saying:
"The secret of health for both mind and body is not to mourn for the past, nor to worry about the future, but to live the present moment wisely and earnestly."
Not a bad motto to live by, no matter what religion or philosophy you live by.
Tranquility At A Trail Cafe
Heading back down the trail is, not surprisingly, much easier.
Notice the word "down" in that sentence, vs "up"?
Local men dressed in the traditional gho, a knee-length robe with a kera belt cinched at the waist, serve tea, coffee, crackers and juice.
As I'm someone that tends to be sensitive to sugar spikes and plummets, I order a sugary apple juice to get my energy levels back up and some traditional milk tea, which is, like it sounds, tea with milk.
It's very popular in Bhutan.
The cafe awards unobstructed views of the Tiger's Nest, and I find a sunny roost on a wooden bench.
Stretching out, I take out my journal, smiling at long-tailed magpies coming to say hello — or, more likely, to steal my crackers.
I could seriously sit here all day, the warm rays baking my skin and boosting those serotonin levels.
It's peaceful and quiet, yet incredibly epic at the same time, just like the hike itself, and just like my trip to Bhutan has been all along.
Bonus Bhutan Travel Resources:
What Everyone Should Know About Planning A Trip To Bhutan
13 Things That Make Bhutan Unlike Any Place In The World
Is Bhutan Worth The $250 Per Night Fee?
6 Highs & 6 Lows From A Trip To Bhutan
Exploring Bhutan's Phobjikha Valley, Land Of The Rare Black-Necked Crane
Exploring Jakar, The Switzerland Of Bhutan
There's A Place In Bhutan That Is Obsessed With Penises
10 Amazing & Immersive Experiences To Have In Thimphu, Bhutan
10 Reasons Why Bhutan Should Be Your Next Travel Destination
Have you visited Bhutan? What was your most memorable experience?
Essential Bhutan Travel Info:

Stay: Janka Resort. You'll stay in what is set up like a small house with traditional architecture in a village complex (as seen in the first photo of this article). Wi-Fi is strong, meals are large and tasty (albeit carb-heavy, though that seemed to be the trend in Bhutan), and the shower water was (and stayed) hot. The staff here were very eager to go out of their way to make sure I was comfortable, bringing me endless coffee packets to help me feed my coffee addiction.

Hike Preparation: While not an easy hike, anyone in decent physical condition can complete it. Just bring plenty of water — I brought 1 liter up then bought another liter at the cafe for the way down — and take your time. Bring a GoPro Action Camera, which takes great photos and will take up almost no room in your day pack, and enjoy the scenery. A filling breakfast is also recommended, as is bringing a few snacks. I was starving by the time we got back down to the bottom. Lastly, dress in layers. You'll be freezing when you start and sweating on the way back.

Recommended Tour Operator: I went with Bhutan Tourister and had an unbelievable time. I highly recommend them. Please use this booking form for inquiries.

Booking Your Trip: By law, tourists visiting Bhutan must have a guide and must pay an all-inclusive rate of $200-$250 per night (low vs high season) + airfare + $40 Bhutan visa fee (unless you're an Indian, Bangladeshis or Maldivian national) + $30-$40 nightly tariff for duo and solo travelers. This includes your private guide, 3-star lodging, three (huge!) meals per day and ground transfers.

Responsible Tourism: Making it more difficult to visit Bhutan limits the amount of tourists entering the country, helping to preserve the landscape and traditional culture. Moreover, 35% of what you pay goes to the government to put toward free education and healthcare, infrastructure and conservation.

Health: Healthcare is free for locals and visitors in Bhutan. I didn't encounter any hotels with gyms, so if you're looking to stay in shape I recommend Yoga Download (900+ yoga classes right on your laptop or phone), TheraBands (inexpensive resistance bands that take up virtually no luggage space) and a FitBit wristband (encourages you to be healthy and is stylish).

Paying For Your Trip: As a points-obsessed traveler, it stung not be able to pay for the trip with my credit card. To pay for your trip you'll need to transfer the funds in US dollars to the tourism board's bank account. The fee for me personally through Bank of America was $45 for the transfer, though they were kind enough to waive it for me as I'm a preferred client, so that was sweet. You can easily make the transfer online if you do online banking.

Language: Dzongkha & English

Local Currency: Ngultrum (Nu). As of February 2016, 1 Nu= $0.01.

Tipping: I tipped my guide the equivalent of $10/day, as I read $8-$10/day was the norm on numerous forums and travel agency sites.

Internet: Most of the hotels I stayed at had pretty decent Wi-Fi, though there was one that said they had Wi-Fi and it didn't work. Homestays will likely not have Wi-Fi. If you want to stay connected I recommend getting a local SIM card from TashiCell, which cost about $10 for the SIM and 10 days of credit (depending how much you'll use it, I had lots of credit left over but I didn't use mine much), or a KnowRoaming Global SIM Sticker to affix to your regular SIM for local rates.

Food: If you like heat, you'll love the chili-laden Bhutanese food, though many hotels cater to tourists with more general meat and veggie dishes. I was never hungry, as portions are huge and heavy, typically featuring a heaping bowl of red rice with pasta, potatoes, fish, cheese-topped chilies, cheese-topped mushrooms, turnip flowers and other meats and veggies. That being said the food won't be what you write home about; it'll be the well-preserved culture and heritage as well as the beautiful mountainous, green landscapes, 72% of which are covered in forest, unlike anywhere else.

Booze/Tobacco/Weed: Bhutan is a booze-friendly country (the small capital of Thimphu has 700 bars alone), though note the country is dry on Tuesdays, which is also the day many sites and shops are closed. Despite growing plentifully weed is illegal, and tobacco is illegal to sell. You can bring your own cigarettes purchased from another country, but be prepared to pay a 200% tax on them at customs.

Plugs: The outlets varied at the hotels. In some I was able to plug a standard USA-style plug into the wall, while at others I needed the European two-prong kind. Click here for a visual. It's recommended to get a global travel adapter with USB ports so you can charge multiple devices with one gadget.

Dress: While it won't cause an uproar if you wear a tank top and shorts, it's a respectful gesture to keep shoulders and knees covered when not in your hotel room. This is mandatory in the local temples (as well as no hats!) which you'll be visiting a lot of. One travel essential to carry that's great for this is a scarf shawl — which also works as an airplane blanket!

Essential Gear: Even if you visit in the warmer months it's essential to bring warm clothes, as the mountains can get chilly all year round. Some items I recommend:

SteriPEN (The tap water is NOT drinkable in Bhutan, though your guide and hotel should supply it. I drink a lot so I also used my SteriPEN)
XT driFILL Women's Goose Down Waterproof Hooded Jacket
ENJOYED THIS POST? PIN IT FOR LATER!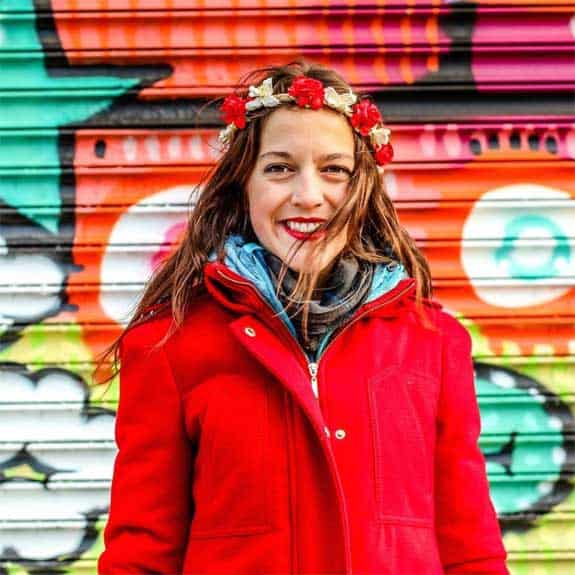 Hi, I'm Jessie on a journey!
I'm a conscious solo traveler on a mission to take you beyond the guidebook to inspire you to live your best life through travel. Come join me!
Want to live your best life through travel?
Subscribe for FREE access to my library of fun blogging worksheets and learn how to get paid to travel more!