Perfect 3 Day Ubud Itinerary (With Map!)
By Jessie Festa. This guide to spending 3 days in Ubud contains affiliate links to trusted partners!
Looking for the perfect 3 day Ubud itinerary?
Then you're in the right place!
Located in central Bali, you can't visit this island paradise without spending a few days in Ubud.
Often referred to as the cultural heart of the island, you'll find temples, markets, museums, wildlife, spas, restaurants, and more.
Because it's centrally located, it's also a great base for easy day trips to waterfalls, rice terraces, volcanoes, hiking trails, and other Bali attractions.
The problem? With so much to do and see, it can be tricky to narrow down your options into one incredible Ubud 3 day itinerary.
Luckily, I've done the hard work for you! Keep reading to learn everything you need to know to have an amazing 3 days in Ubud – downloadable map included.
This itinerary is based on my own experience traveling around Bali and the many fun things I did in and around Ubud.
⏳ Short on time? My top recommendations for your 3 day Ubud itinerary include:

🏨 Hotel: Adiwana Unagi Suites

💸 Save Money: Klook Pass, which helps you save up to 45% while getting access to up to 40 activities with this one pass

🗺️ Tours: Klook (very popular in Asia), GetYourGuide, and Viator

📍Recommended Excursions:
–Design Your Own Private Tour of Bali
–Monkey Forest, Temple, Waterfall, Rice Terrace & Art Villages
–Mount Batur Volcano Sunrise Trekking Tour with Breakfast
–Bali ATV Quad Bike Through Tunnel, Waterfall & White Water Rafting

🥘 Cooking Class: EatWith or this Traditional Balinese Cooking Class

🚗 Getting Around: You can book rides on Booking.com or email my favorite driver Dewa at dgrock1140 (at) yahoo (dot) com

🏥 Travel Insurance: SafetyWing

📞 Staying Connected: Airalo eSIM
Free Resources For Your Ubud Itinerary
But first, before we go over how to spend 3 days in Ubud, I invite you to grab access to my free Ultimate Travel Planning Kit — which includes 40+ travel resources — from printables to quizzes to itineraries — all meant to help you explore the world beyond the guidebook!
Some highlights of the kit include:
Free "Where Should You Travel Next?" personality quiz
Pre-plotted Google Maps for 45+ destinations
Travel budget calculators to help you save money
Printable travel journal with writing prompts
Packing lists for different types of trips
And more!
Once you've grabbed your copy, keep reading for tips on planning the best Ubud itinerary for 3 days.
Where Is Ubud?
Located in the Gianyar Regency of central Bali on the Indonesian archipelago, the town of Ubud is surrounded by lush rice paddies, tropical forests, rushing waterfalls, and stunning landscapes hugged by volcanos and tall peaks.
While it is situated inland and isn't directly on the coastline, it is still easily accessible from other parts of Bali and has become a popular destination for tourists seeking cultural, artistic, and natural experiences.
How Many Days In Ubud Is Enough?
Ultimately, the amount of time you spend in Ubud depends on what you want to experience while traveling Bali.
That being said, there is a lot to see and do in and around the town, so a minimum of 3 days in Ubud is recommended.
For instance, if you have one week in Bali, you might spend 3 days in Ubud, 2-3 days in a more remote and less-touristy area of Bali (like Amed, Bangli, or Munduk), and then a few days on the beach in Sanur. If you're in Bali for 2 weeks, you might extend that to more like 5 days in Ubud.
Alternatively, you could spend a week in Ubud and not get bored, so it really depends on what you want to get out of your itinerary.
When To Visit Ubud
Bali is a year-round destination, though not all seasons are created equal. When thinking about the best and worst time to visit Bali, people often consider the weather. The island has a dry season (April to October) and a wet season (November to March).
A few things to keep in mind when deciding when to visit Ubud:
Shoulder season is a great time to visit. If you'd like to take advantage of the great weather while escaping the crowds and finding travel deals, consider visiting during May and June, Bali's shoulder season.
July, August, and December are peak months. Coinciding with school holidays, Ubud can be quite crowded during these months, and prices for accommodations can be higher.
Avoid visiting on Nyepi – the Balinese "Day of Silence". While the exact day this takes place changes annually as it's based on the Balinese lunar calendar, it's typically in March. On Nyepi, the entire island of Bali shuts down – no one is allowed outside, and even the airport closes.
Consider visiting during fun Ubud festivals. For instance, the Bali Arts Festival usually takes place in June and July and showcases Balinese traditional arts and culture.
Getting To Ubud
If visiting Bali from abroad, you'll typically fly into Bali Ngurah Rai International Airport — also known as Denpasar International Airport (DPS) — in southern Bali.
From there, it's about an hour drive to Ubud, depending on traffic. You can book an airport taxi on Booking.com here. I actually used Booking.com for all of my transfers between places, even if they weren't to or from an airport.
Getting Around Ubud
You have a number of options for getting around during your 3 day itinerary for Ubud:
On foot. Ubud Center is very walkable, and once you're there it's very easy to explore on foot.
Hotel shuttle. Many hotels offer shuttle service to and from Ubud's town center. For instance, my hotel, Adiwana Unagi Suites, offered this and had a schedule of set drop-off and pick-up times. You could also organize a ride outside of this schedule for a fee.
Ride-hailing apps. Apps like Grab and Go-Jek operate in Ubud and offer both car and motorbike rides, though their presence can sometimes be contentious with local transport providers. I personally saw many signs around Ubud protesting these apps.
Taxis. While there aren't metered taxis in Ubud, you'll find many taxi drivers offering rides in Ubud Center. You'll constantly pass them on the street as they say "Taxi? Taxi?". Just make sure to negotiate the fare before getting into the car.
Private driver. If you plan to get out of Ubud Center, I recommend hiring a private driver – which tends to be surprisingly affordable. If you're simply going to one place and back, you can organize private rides on Booking.com.
Alternatively, if you want to plan a day trip from Ubud with multiple stops, you can hire a local driver. Your hotel can likely organize this – though I highly recommend also contacting Dewa, an English-speaking driver who is also an incredible local guide. His email is dgrock1140 (at) yahoo (dot) com and his WhatsApp is +62 8523 8493 089.
Scooter/Motorbike. Renting a scooter can be a good option if you want to explore beyond Ubud Center – though I'd only recommend this if you have experience driving this type of vehicle. Please:
Wear a helmet
Make sure you're comfortable driving in sometimes chaotic traffic
Check if your travel insurance covers scooter accidents
Ensure you have a valid international driving permit with a motorcycle endorsement
Where To Stay In Ubud For 3 Days
There are many options for places to stay during your 3 days Ubud itinerary, like:
If you want to be pampered like royalty in an eco-luxe setting, Adiwana Unagi Suites is for you. I experienced some of the best hospitality in the world at this hotel — which is also extremely budget-friendly for the value you get.
Despite being just a 5-minute drive from the town center, it feels like a serene natural escape with lush gardens, koi ponds, forest view infinity pool, and sumptuous suites.
Their onsite restaurant, Ely's Kitchen, serves made-from-scratch dishes showcasing local ingredients. Additionally, their onsite spa is the perfect place to get a Balinese massage.
While there, you can take advantage of their free shuttle service to Ubud Center. Additionally, they offer activities like a floating breakfast, yoga, trekking tours, Balinese cooking and dance classes, and more.
Located in the heart of Ubud, Komaneka at Monkey Forest Ubud is within walking distance of the town's many restaurants, cafes, and attractions.
Along with staying in Balinese-style rooms with private terraces overlooking the rice fields or gardens, you'll have access to an outdoor pool, a spa, a library, and an outdoor restaurant serving local dishes.
This 5-star luxury resort is heaven on earth, though note it's about an hour away from Ubud Center. If you have a few extra days, I recommend booking yourself a few nights at Padma Resort Ubud and not leaving the property – which offers epic views (especially from their onsite Puhu Restaurant), daily activities, delicious food, and unparalleled hospitality.
Every inch of the resort is gorgeous, and you'll feel constantly taken care of. Spend a day relaxing in the lagoon-style pool built into the hillside — complete with a swim bar. Around the pool is also a hot tub, a restaurant, and lounge chairs with waiter service.
There are also loads of free onsite activities — like morning yoga in their Bamboo Nest, biking through the local village and lush rice terraces, cultural workshops like creating a Balinese Offering, and more.
Pro tip: Splurge for a club room. You get a ton of perks — from dining and spa discounts to free laundry and beyond, though my favorite is access to their rooftop lounge. It offers sweeping views over the property and the lush hillside, and they do a daily complimentary happy hour from 4:30-6:30pm with free drinks and appetizers.
Ubud Hotels & Vacations Rentals
If you want to research local Ubud hotels as well as self-contained stays, this map can help you compare your options. It's set to show hotels and rentals in Ubud Center, but you can easily change this based on where you're staying:
3 Days In Ubud Itinerary Map
To help give you a lay of the land, here is a map for visiting Ubud, Bali. It includes most of the main points and activities mentioned in this 3 day Ubud itinerary:
Click here for the interactive version of the Ubud travel map.
3 Day Ubud Itinerary
Wondering what to do in Ubud, Bali for 3 days? In this section, we'll go over a 3 day Ubud itinerary in depth. Feel free to adjust it based on your stamina levels, and make sure to also allot some time to just relax by the hotel pool or get a Balinese massage.
Additionally, if you'd prefer a slower pace or would like to extend this into a 4 day Ubud itinerary, you can spend an extra day in Ubud Center so that your first day isn't so jam-packed. There is a lot to do and see here.
Ubud Itinerary Day #1) Exploring Ubud Center
As it's your first day in Ubud, start by exploring the main part of town – which is also home to some of Bali's top attractions.
Start your day with a scenic walk along a 2-kilometer (1.2-mile) trail offering panoramic views of lush green hills and the Campuhan River Valley. Just note there is very little cover, so it's best to do this walk early in the morning to avoid the heat. Additionally, you'll find cafes and shops at the start and end of the trail.
Visit the Sacred Monkey Forest Sanctuary
Not far from the Campuhan Ridge Walk is my personal favorite Ubud attraction, the Sacred Monkey Forest Sanctuary. No Ubud travel itinerary would be complete without it.
Sometimes called the Ubud Monkey Forest, it was established to conserve long-tailed macaque monkeys, whose natural habitats are threatened due to urbanization and deforestation.
Additionally, it's home to numerous ancient temples dating back to the 14th century and is considered sacred.⁠
I saw monkeys at every turn. Not only were they adorable and fun to photograph, but it was interesting to see how they interacted — from grooming one another to eating together to taking care of the babies.
Keep in mind, there are some important rules when visiting the monkey forest, like:
Do not bring food, as the cheeky monkeys will try to steal it. Building on that, don't feed the monkeys.
Guard your belongings, as the monkeys are known to snatch items like sunglasses, hats, phones, and even jewelry.
Stay on the designated paths
Do not touch or tease the monkeys, and avoid direct eye contact, as they may feel threatened
🐒 A number of tours include the Sacred Monkey Forest Sanctuary as part of a combo itinerary! A few of these include:

🌾 Ubud Monkey Forest, Jungle Swing, Rice Terrace, Water Temple & Waterfall
😍 Best of Ubud: All-Inclusive Tour
🛕 Bali Monkey Forest, Mengwi Temple & Tanah Lot Afternoon Tour
Explore Ubud Center attractions
There is a lot to do and see right in Ubud, like:
Ubud Palace. Also known as Puri Saren Agung, this is the historic residence of Ubud's royal family. It showcases intricate Balinese architecture and ornate carvings throughout, with some highlights being the main courtyard, the gardens, and the royal temple.
The best part? You can wander the complex for free! In the evenings the palace hosts Balinese dance performances for a fee.
Saraswati Temple. This temple honors the Hindu goddess Saraswati, the deity of knowledge, music, art, wisdom, and learning. The temple is renowned for its beautiful architecture — featuring classical Balinese ornamentation and beautiful lotus ponds that lead to the main temple area, symbolizing purity and enlightenment.
Pro tip: If you're curious to simply see the temple and don't want to pay admission, you can get a great view of the temple complex from the local Starbucks. Simply head out the back door of the coffee shop, which opens up onto the front of the temple.
Ubud Art Market. If you enjoy shopping, you'll love Ubud — which is home to numerous boutiques and markets. One of the most popular places to shop is the Ubud Art Market (Pasar Seni Ubud), where you can buy handmade crafts, artworks, textiles, and souvenirs crafted by local artisans from the neighboring villages.
Fun fact: If the market looks familiar, it's because it was featured prominently in the movie Eat, Pray, Love. You'll also see this stop in just about every Ubud Bali travel guide.
Ubud cafes & restaurants. Take a break from exploring to have a coffee, a cocktail, a Bintang beer, or some traditional Balinese food at one of the many lovely little sidewalk restaurants. Many have outdoor seating or are open-air.
Ubud museums. There are also a few museums you can walk to from Ubud Center, like:
Agung Rai Museum of Art. Here you can explore traditional and contemporary Balinese artworks set within beautifully landscaped gardens and historic structures. Make sure to check their calendar for cultural performances, workshops, and lectures.
Neka Art Museum. Set amidst lush gardens, this cultural institution allows you to trace the evolution of Balinese art — from traditional works to more contemporary pieces.
Take a Balinese cooking class
Taking a Balinese cooking class is a fun way to immerse yourself in local Balinese culture through the palate. There are many culinary classes and cooking schools to choose from, each offering its own menu as well as start time. A few top-rated options include:
👉 Click here for a full list of cooking classes in Ubud.
Get a Balinese spa treatment
There are many spas in Ubud where you can get a massage, body treatment, foot rub, or even a Balinese flower bath like:
Adiwana Unagi Suites has an excellent spa that would also be very convenient if you're staying at their beautiful property.
Additionally, Karsa Spa is one of the more popular spa options. They offer a very wide range of treatment and package options too.
If you're interested in a foot massage, there are many reflexology spa options in Ubud – and plenty that are open late, some even until 11pm!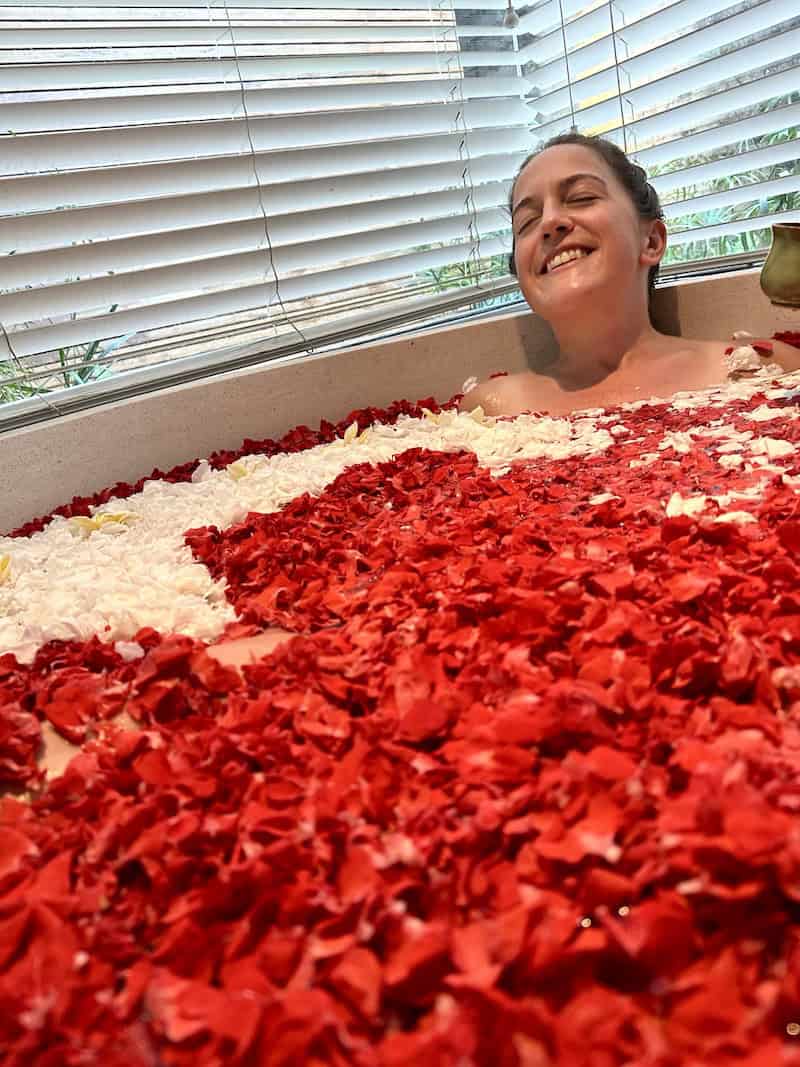 Ubud Itinerary Day #2) Exploring Nature Near Ubud
During my 3 day trip to Ubud, this was the day where I booked Dewa (mentioned above) for a private day tour. He is an amazing private driver in Bali, and you can contact him at dgrock1140 (at) yahoo (dot) com (email) or +62 8523 8493 089 (WhatsApp). This day's itinerary is based on his suggestions as a local:
Hike to Manuaba Waterfall
My original plan was to visit the popular Kanto Lampo Waterfall; however, Dewa mentioned a way for us to explore beautiful Bali waterfalls while escaping the crowds: Manuaba Waterfall.
Now, this waterfall near Ubud does involve a bit of a jungle trek and water crossings — so make sure you're wearing water shoes or hiking sandals. You'll weave through lush jungle, going up and down some natural staircases until you come to the first smaller waterfall.
Continuing on a bit, you'll come to a gushing waterfall with a natural pool for swimming that is absolutely gorgeous. It's quite the hidden gem!
After taking a much-needed dip, we hiked out through a ravine canyon, wading through the water until we reached another natural staircase. There is another small waterfall — and a great photo opportunity — before we emerge into the breathtaking Manuaba Rice Terrace. If you're tired at this point, there is a cafe with cold drinks and views of the rice terraces.
Wander the Mupu Rice Terrace
While the Tegalalang Rice Terraces is the most popular and the one you'll see in just about every Ubud travel guide, Dewa let me in on a little hack: You can eat at the locally-owned Carik Terrace Warung, which offers an epic view of Tegalalang.
Additionally, it offers free access to the Mupu Rice Terrace — which is also gorgeous and allows you to meet the local farmers. There are also hammocks and different seating areas to rest while taking in the view.
If you're just looking to walk through the rice terraces and take lovely photos, and don't necessarily care about Tegalalang activities like the famous Bali swing or zipline, this is highly recommended.⁠
Quick note: While it's free to visit, there are donation boxes around Mupu to help the family running it. Please consider donating!
Have an adventure at Tegalalang Rice Terrace
Now, I did end up visiting Tegalalang Rice Terrace too. Why? Because I wanted to do the Sky Bike — a thrilling ride that allows you to literally bike on a cable over the rice fields. Here is a video showing this crazy activity near Ubud:
It's a fun way to get your heart pounding while taking in some beautiful views, as are the other Tegalalang activities like the zipline and giant swing.
If you'd prefer to stay on the ground, there are plenty of Instagrammable spots and decorations for taking photos too.
🌾 A number of tours include the Tegalalang Rice Terrace as part of a combo itinerary! A few of these include:

🐒 Ubud Monkey Forest, Jungle Swing, Rice Terrace, Water Temple & Waterfall
📸 Bali Instagram Tour: The Most Famous Spots (Private & All-Inclusive)
🌊 Tanah Lot Tour with Ubud Monkey Forest, Rice Terraces & Waterfalls
Explore spirituality at the Tirta Empul Water Temple
People come to this Balinese temple complex for its holy spring water, which Balinese Hindus use in purification rituals. Believed to be created by the god Indra, the springs are said to possess curative properties, making the temple a significant place of healing and spiritual cleansing.
According to Dewa, what is unique about this temple — at least in terms of tourism — is that it is one of the few in Bali where tourists can take part in the purification ritual (for an extra fee).
Even if you just wander around though, it's an interesting place to gain an understanding of Balinese spirituality.
Get caffeinated at a coffee plantation
Toward the end of our day trip from Ubud, Dewa offered to take us to a coffee plantation, since Bali is known to have some of the best coffee in the world.
We ended up at Satria Agrotourism, a free-to-enjoy attraction where you can wander the grounds to learn about local Bali crops — including one of the most important, coffee.
Dewa told us that Satria was set up as a project to promote farming in Bali, which, as with many destinations around the world, is dying out.
Along with wandering the gardens, you can see a demonstration of how they make their coffee, and you can get a totally free tasting of 13 coffees and teas — including a very tasty avocado coffee.
You can also learn about how they make Bali's famous kopi luwak, also known as civet coffee, and try some for yourself. The coffee is made using beans that have been eaten and subsequently excreted by a civet, a small mammal found in parts of Asia and Africa.
This is where my caveat for this stop comes in. There are ethical considerations when it comes to kopi luwak that I recommend looking into. I did see a few civets in cages, with signs that said they were for display only and were released each week, which seems very unnecessary to me. They also claim to treat the civets in their care well, but who really knows.
You might consider not purchasing the kopi luwak, or opting for another coffee plantation or experience near Ubud that doesn't keep caged civets.
Ubud Itinerary Day #3) UNESCO World Heritage Near Ubud
On the third day of your 3 day Ubud itinerary, opt for another day trip — this one focused on exploring UNESCO World Heritage Sites:
Visit Taman Ayun Temple
Meaning "Garden Temple in the Water," Taman Ayun Temple was built in the 17th century and served as the main temple for the Mengwi Kingdom — making it a central place of worship and ceremony for the royal family.
It's one of the sites of the UNESCO-recognized subak system — a traditional Balinese cooperative water management system for irrigating rice paddies, which signifies the island's ancient and communal water temple system linked with its traditional rice terraces.
While visiting during your Ubud trip, you can take in the traditional Balinese temple design, expansive gardens, beautiful lotus-filled ponds, and multi-tiered meru (pagodas) that represent the sacred mountains.
Explore the Jatiluwih Rice Terraces
Another UNESCO World Heritage Site thanks to its ancient and intricate subak system, the Jatiluwih Rice Terraces showcase the breathtaking landscapes of Jatiluwih and is a must on any Bali Ubud itinerary.
You can hike through the rice terraces, take in the stunning views, and experience a more rural side of Bali — especially as these are way less crowded than Tegalalang.
Spend time at Ulun Danu Temple
Also known as Pura Ulun Danu Beratan, this iconic Bali landmark and UNESCO World Heritage Site sits on the shores of Lake Beratan in the central highlands. Dedicated to Dewi Danu — the goddess of lakes and rivers — the temple highlights the Balinese reverence for water as a vital life-sustaining force.
The setting of the temple is absolutely stunning, with the temple's tiered shrines reflecting on the lake against a backdrop of mountains.
See the Twin Lake View
This vista refers to the lookout points from which visitors can take in the scenic beauty of Bali's two famous adjacent lakes: Lake Buyan and Lake Tamblingan. Surrounded by lush rainforests and mist-covered mountains, you'll definitely want your camera for this one. This is also a great place to take in the sunset and cap off your perfect Ubud itinerary.
Ubud Itinerary Day #3 Alternative) Sunrise Volcano Hike
If you're someone who loves active travel adventures, then you may want to swap the previously-mentioned day trip and instead weave a volcano hiking experience into your 3 day Ubud itinerary.
You've got a few options for this. Just note that both of these require very early wake-up times, so make sure to take this into account when deciding if either of these experiences fits into your Ubud 3 day itinerary.
Mount Batur is a lot easier and shorter and will take a lot less out of you than Mount Agung. Realistically, with just 3 days in Ubud, Mount Batur may make more sense as you'll also need a lot less recovery time.
Mount Batur Sunrise Trek
Difficulty: Moderate
Start time: 2am
Summit height: 1,717 meters (5,633 feet)
Elevation gain: About 500 meters (1,650 feet)
This is the shorter and more popular option on this list, as it takes just 2-3 hours to reach the summit. From the top of Mount Batur, you'll take in a stunning sunrise view over lakes, valleys, and farmland — not to mention looking into the Mount Batur crater is quite a sight. To the east, you'll also see Mount Agung, another active volcano.
Difficulty: Very Hard
Start time: 11:30am (if starting at the Besakih Temple)
Summit height: 3,142 meters (10,308 feet)
Elevation gain: 2,150 meters (7,000 feet)
Hiking Mount Agung is the hardest thing I've ever done, but wow is it rewarding. You'll take in the sunrise from the highest point on Bali. From above the clouds, enjoy panoramic views of the entire island — from the Indian Ocean to neighboring volcanic peaks like Mount Batur, and on exceptionally clear days, the distant outline of Mount Rinjani on Lombok Island.
You can read my full Mount Agung trekking guide here. Note that you will be absolutely wrecked after this hike and will desperately need a Balinese massage. Personally, I booked one for the day I finished the hike as well as the day after.
Other Things To Do In Ubud
Want to adjust the 3 day Ubud itinerary suggested above? Here are some other Ubud attractions you might consider swapping in:
Goa Gajah (Elephant Cave). This archaeological site features intricate stone carvings and served as a sanctuary for meditation in the past.
Ayung River. Here you can go whitewater rafting while enjoying Bali's stunning landscapes.
Gunung Kawi. Visit this ancient temple and funerary complex, known for its large shrines carved into the cliff face.
Lempuyang Temple. Known as the "Gateway to Heaven," it's one of Bali's oldest temples. You've likely seen it on Instagram, as it's known for its breathtaking panoramic views of Mount Agung framed by its iconic split-gateway.
Tirta Gangga. This former royal palace turned scenic water garden is known for its maze of pools adorned with ornate statues and stepping stones. This stop can easily be combined with a day trip to Lempuyang Temple.
Royal Palace of Peliatan. Showcasing traditional Balinese architecture and ornate detailing, this palace offers a glimpse into the regal lifestyles of bygone eras — and it also hosts traditional dance performances in its courtyards.
Numerous waterfalls. A few of the many beautiful waterfalls that can be visited on a day trip from Ubud include Layana Waterfall, Tibumana Waterfall, Suwat Waterfall, and Kanto Lampo Waterfall.
Best Tours To Add To An Ubud Itinerary
One great way to see a lot in a short amount of time is to book a guided tour. To help you choose, here are some of the top-rated tours that start in Ubud:
👉 Click here for a full list of Ubud tours.
Where To Eat In Ubud
Ubud is home to so many amazing restaurants. A few to add to your 3 days in Ubud itinerary include the following. Reservations are recommended — especially when going out to dinner.
Milk & Madu. This is where all of your hipster brunch dreams come true! Picture high ceilings, plant walls, boozy brunch drinks, and coffee creations enhanced with nut milks and latte art. The açaí bowls are equally delicious and gorgeous, and their avocado toast is loaded with avocado, perfectly poached egg, and thick sourdough bread. Yum!
Locavore. If you love farm-to-fork dining, this restaurant serves creative dishes using local Indonesian ingredients.
Hujan Locale. Showcasing provincial Indonesian cuisine, this casual yet stylish restaurant emphasizes sustainably sourced ingredients.
Mozaic. This upscale restaurant blends French cooking techniques with Indonesian flavors. They have a few different tasting menus featuring very creative dishes and a fine dining experience.
The Sayan House. Along with delicious dishes blending Japanese and Latin American flavors, you can also take in beautiful views of the Sayan Ridge.
Three Monkeys. This Ubud restaurant is less trendy than the others on this list, but I really enjoyed my dinner here. They have a great daily happy hour, indoor-outdoor seating, excellent service, and tasty Indonesian dishes.
Ely's Kitchen Ubud. Adjacent to Adiwana Unagi Suites, this tasty restaurant serves three meals per day and focuses on made-to-order meals and a mix of Indonesian classics and Western comforts. You can order everything from nasi goreng to spaghetti carbonara to pho and beyond.
Ubud Nightlife
Along with having drinks at the many local restaurants, some evening activities to add to your 3 day Ubud itinerary include:
See a traditional Balinese dance performance. For nightlife in Ubud with a cultural twist, consider seeing a Balinese dance performance at places like Ubud Palace and Saraswati Temple.
Get a foot massage. Reflexology places in Ubud tend to stay open until 9pm, 10pm, or even sometimes 11pm, so consider ending your day with a relaxing foot massage. A few top-rated spots for this include Jaens Spa Center Ubud, Shambala Spa, and Starchild Ubud Spa.
Listen to live music. There are loads of restaurants offering live music in the evening, like Ely's, Laughing Buddha Bar, and No Más Bar. Honestly, you can also just walk around Ubud Town Center and let the song notes be your guide, as many places have this.
Tips For 3 Days In Ubud
Coordinate day trips with drivers beforehand if possible. This is especially true if you're visiting in peak season. Luckily, you'll be able to communicate with drivers — like Dewa — via WhatsApp from your home country.
Realize the sun sets daily around 6pm. This is important to know both for planning your itinerary as well as if you'd like to do any sunset photoshoots.
Know how to stay connected. If you have a newer phone, you'll be able to use a budget-friendly eSim like Airalo — which you can install right before you embark on your trip. If you have an older phone, you can purchase a prepaid SIM card on arrival in Bali at Denpasar International Airport.
Additionally, you can use the WhatsApp app to stay connected both with loved ones back home and with tour operators, hotels, and sometimes even restaurants in Bali.
Don't drink the tap water. Instead, bring a refillable bottle and ask your hotel to replenish it with filtered water — which many hotels in Bali are happy to do. You can also bring a water filter or filtering bottle, like LifeStraw, which is what I use.
Dress in layers. Even in August, it can get chilly at night. It's smart to pack a light jacket or sweater just in case.
Spend time at the spa. One of my favorite things about Ubud is its budget-friendly yet high-quality spa culture. I got multiple Balinese massages during my trip, and wish I would have gotten even more — especially when looking at how much the same thing would cost me back home in NYC!
Ubud Travel Insurance
When visiting Ubud — or anywhere else in the world — it's wise to get travel insurance.
One of the best travel medical insurance for travelers is SafetyWing as they've got a large network and offer both short-term and long-term coverage — including coverage if you're traveling for months as well as limited coverage in your home country.
Additionally, SafetyWing is budget-friendly and offers $250,000 worth of coverage with just one low overall deductible of $250.
Click here to price out travel insurance for your trip in just a few clicks.
3 Day Ubud Itinerary FAQ
Here are some answers to frequently asked questions about planning an Ubud itinerary for 3 days:
Q) Is Ubud worth visiting?
Yes! For many tourists, Ubud is the main highlight of a trip to Bali as there is so much to do and see there.
Q) Why is Ubud so special?
Regarded as the cultural heart of Bali, Ubud is known for its abundance of temples, terraced rice paddies, and beautiful waterfalls as well as its bustling and walkable center filled with restaurants, cafes, shops, art markets, and more.
Q) Is Ubud safe for solo travel?
Ubud has a low crime rate and is a safe and fun place to visit when traveling solo in Bali. Of course, you still want to keep the normal travel safety precautions in mind, such as not walking alone at night or flashing valuables around.
Q) Is it safe to walk around in Ubud?
Yes, Ubud has a low crime rate and is safe to walk — even at night, as the center is lit up with restaurants and bars that stay open late and the police are quite active. Of course, always stay aware of your surroundings, be careful when crossing busy streets, and keep normal safety precautions in mind.
Q) Is it safe to go out at night in Ubud?
Yes, Ubud is safe at night, particularly the bustling Ubud Center which is full of restaurants, bars, and people. When going out in Ubud, it's wise to keep normal safety precautions in mind — such as not flashing valuables and not leaving your drink unattended.
Q) Is 3 days in Ubud enough?
Three days in Ubud can give you a taste of its major attractions, including exploring rice terraces, visiting temples, and enjoying its art and craft markets; however, to fully immerse oneself in its cultural, spiritual, and natural beauty, a longer stay might be preferable.
Q) What is the best month to visit Ubud?
The best months to visit Ubud are between June and September, during Bali's dry season. During this time, the weather is relatively cooler and less humid, making it ideal for outdoor activities like rice terrace visits and waterfall hikes.
Q) Is there a lot to do in Ubud?
Yes, there is a lot to do in Ubud. Additionally, Ubud's central location makes it a great base for easy day trips to explore other parts of Bali.
3 Days In Ubud: Final Thoughts
Ubud, the cultural heart of Bali, is known for its rice terraces, temples, museums, waterfalls, hiking trails, wildlife attractions, and walkable town center.
With careful planning, you can fit in most, if not all, of the main tourist attractions of Ubud in 3 days.
Don't be afraid to customize the above itinerary to your personal liking and needs. Do as much or as little as possible, even if it means spending a few hours wandering without a plan, relaxing by your hotel swimming pool, or indulging in a Balinese spa treatment. Just enjoy this incredible destination in Bali!
What would you add to this 3 day Ubud itinerary?
Enjoyed this sample itinerary for Ubud, Bali? Pin it for later!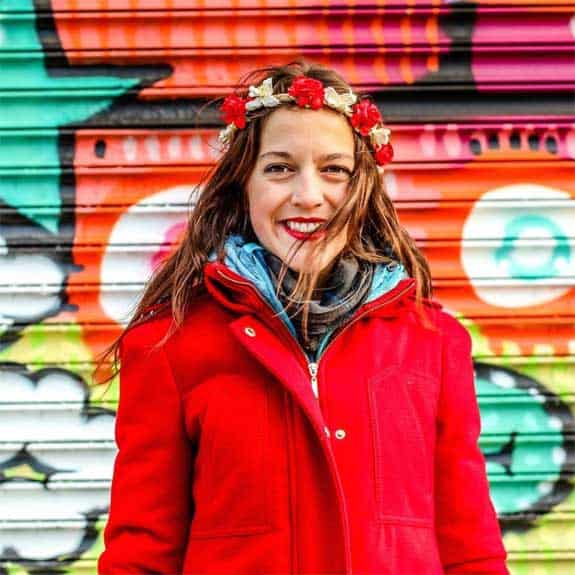 Hi, I'm Jessie on a journey!
I'm a conscious solo traveler on a mission to take you beyond the guidebook to inspire you to live your best life through travel. Come join me!
Want to live your best life through travel?
Subscribe for FREE access to my library of fun blogging worksheets and learn how to get paid to travel more!