13 Things That Make Bhutan Unlike Any Other Place In The World
Bhutan, a land of Himalayan backdrops, beautiful Buddhist temples, endless fields of grain, colorful billowing prayer flags and…a slew of really quirky characteristics.
While saying a place is "unlike anywhere else in the world" is cliche, the statement actually rings true for this particular example.
Don't believe me?
Here are 13 quirky Bhutan facts proving it truly is one of the globe's most unique places.
One quick tip before we dive into the experience:
Grab my free Ultimate Travel Planning Kit — which also includes a downloadable Google Map of my full Bhutan itinerary.
Add the map to your phone to have it ready to go for your trip!
Bhutan Travel Video
Before we get into the list, I've got a video for you:
Watch it for an overview of what makes Bhutan so unique.
Plus, you'll see some of my favorite Bhutan trip photos.
Then, when you're ready, continue reading for some in-depth answers into what makes Bhutan unlike anywhere else in the world.
Unique Bhutan List
1. They go to great lengths to ensure tourists act responsibly.
When it comes to travel tips for Bhutan, it's important to understand that the Buddhist kingdom has an interesting model for responsible tourism.
It's one of the world's most expensive destinations.
And because the $200-$250/night minimum fee is set in stone there's no way to opt for the cheaper or hotel or restaurant.
While this may be frustrating for budget travelers, it does limit the amount of tourists who enter and make an impact, whether that be positive or negative.
Moreover, by law you have to have a guide during your stay — who will also ensure you act responsibly and partake in only ethical activities.
Because the guide is the one who will get you your mandatory visa there's really no way around this.
Personally I loved having a local guide to give me the inside scoop on what I was seeing.
Taking a photo of a pretty temple is nice; taking a photo of a pretty temple and learning it was built in the 8th century as a meditation cave is even cooler.
2. They're not corrupted by Western food chains.
It seems that no matter how far you've traveled or how exotic your destination is, you'll always find a McDonald's, a Starbucks and/or a KFC.
Not in Bhutan.
My guide, Kinley, told me he believed Bhutan didn't have these big Western chains because their population is so small — a little less than 700,000 people in the entire country.
I also believe the fact they only opened their borders to tourists in 1974 combined with the high tariffs making it difficult for just anyone to travel there means they're able to keep their outside influence to a minimum.
3. They don't have family names.
I noticed Wangchuk — the last name of my guide and of the royal family (spelled Wangchuck) in Bhutan — seemed to be the surname of many people.
It's not that everyone is related, but that babies are named by the head Buddhist priest of the local temple and after the deity from whom the mother and baby receive blessings from (although sometimes children are also named after the day they were born).
This means you have quite a number of people with the same or similar names in Bhutan.
4. Bhutan is home to the world's tallest unclimbed mountain.
Located near the border of China, Gangkhar Puensum sits at 7,570 meters (24,836 feet), beautiful to look at but don't you dare touch.
Why?
Because the locals believe the peaks are home to protective spirits that may be disturbed by these kinds of adventurous activities.
Today, mountaineering is banned in Bhutan, as is skiing.
5. Their rice is red.
As my guide and I drove from Paro to Thimphu I noticed myriad crop fields, many of which, I was told, grew rice.
Not the white rice I had been gorging myself on the week before in Thailand, but high-altitude red rice grown at 8,000 feet (2,438 meters).
If you're keen to try pink rice, just boil it and the color fades a bit.
According to Fooducate, "From a nutrition perspective, red rice has 3 grams of fiber per serving (brown rice has 2 grams).
But it has 10 times the antioxidants of brown rice!
Red rice is also very rich in essential nutrients manganese (80% of your daily value) and molybdenum (35%)."
6. Bhutan is obsessed with penises.
Seriously.
In Bhutan you can visit Lobesa, a village in the District of Punakha that's home to Chimi Lhakhang, also known as the Temple of the Divine Madman.
The Divine Madman was known for his unconventional ways of teaching the Buddhist lessons, one of which was having copious amounts of sex (including with nuns!) to spread positive energy.
He also had the ability to enlarge his phallus to fight and defeat demons.
This is why you'll see homes all over the country with big cartoonish penises painted on the facades, as well as wooden phalluses on the roofs and above the doors to keep demons at bay.
Inside the temple itself, it's possible to be blessed with a phallus made from an elephant tusk, an object that once belonged to the Divine Madman himself in the late 15th/early 16th centuries.
7. All their buildings are adorned with paintings.
From the villages to the capital of Thimphu you'll find traditional mud homes with pitched roofs and floral shaped windows painted with depictions from Buddhist texts, like lotus flowers, dragons and offering vessels.
When a house is built, the locals are supposed to ask for permission to build from the nagas -- serpent deities believed to once own the earth -- through a special ceremony.
Once it's erected, it's traditional to hire specially-trained painters to decorate the facade of the building with these pictures.
Photo: jennicatpink/flickr
8. Their pigs get high.
Marijuana grows plentiful in Bhutan, and while it's illegal for the locals to smoke it, that doesn't stop farmers from feeding it to their pigs.
After they chow down on some Mary Jane they become high and happy — and hungry, making it easy to fatten them up.
As my guide stated:
"Happy pigs mean happy pork!"
Bhutan is a largely Buddhist country and they historically were against killing their own meat.
Instead they'd important it from India.
In some ways this is apparently starting to change.
9. They measure their economic success on happiness.
Everywhere you go in Bhutan, you'll see slogans and signs proclaiming happiness, peace and love.
For example, my first day in Thimphu I stayed at the Peaceful Resort and watched a public bus drive by me with a sign that read "Take a ride. Be happy."
In 1972, King Jigme Singye Wangchuck introduced the Gross National Happiness Index.
This measures the country's success not on wealth or GDP, but on:
Good governance
Sustainable socio-economic development
Cultural preservation
Environmental conservation
By doing this, Bhutan offers a more holistic approach to continuous growth.
10. Their capital is one of the world's very few that don't have traffic lights.
Instead, you'll find one or two men wearing navy outfits and white gloves directing traffic by hand.
I'm told Thimphu once attempted to install a traffic light; however, public outcry led to its quick demise.
11. They've only had television since 1999.
And while they have it today, it is still developing.
For travelers used to high-speed internet in the hotel, don't be surprised if the "free Wi-Fi" at your Bhutan accommodation doesn't work because the server is down or the manager forgot to top up the property's account.
Instead of being angry about it, I suggest you do as the local's do:
Meditate.
Or enjoy the beautiful scenery, as 72% of the country is covered in forest.
12. Selling tobacco is illegal.
Marijuana isn't the only smoke that's illegal in Bhutan; tobacco is, too, at least to sell.
You can technically smoke it if you purchase it in another country and pay a 200% tax at customs.
That being said, most public spaces and hotels ban smoking, so good luck finding somewhere to light up.
13. The locals don't know their birth dates.
I asked my guide why everyone in Bhutan says their birthday is January 1.
His reply:
"Because it's easier for census forms."
Okay then.
They do know their birth years, due to each having a designated animal, which all locals know.
Moreover, some locals -- like Kinley -- trace their birthday using the Chinese calendar.
Bonus Bhutan Travel Resources:
What Everyone Should Know About Planning A Trip To Bhutan
How To Hike To Bhutan's Breathtaking Tiger's Nest
Is Bhutan Worth The $250 Per Night Fee?
6 Highs & 6 Lows From A Trip To Bhutan
Exploring Bhutan's Phobjikha Valley, Land Of The Rare Black-Necked Crane
Exploring Jakar, The Switzerland Of Bhutan
There's A Place In Bhutan That Is Obsessed With Penises
10 Amazing & Immersive Experiences To Have In Thimphu, Bhutan
10 Reasons Why Bhutan Should Be Your Next Travel Destination

Do you have any quirky Bhutan facts to add to this list?
Essential Bhutan Travel Info:

Recommended Tour Operator: I went with Bhutan Tourister and had an unbelievable time. I highly recommend them. Please use this booking form for inquiries.

Booking Your Trip: By law, tourists visiting Bhutan must have a guide and must pay an all-inclusive rate of $200-$250 per night (low vs high season) + airfare + $40 Bhutan visa fee (unless you're an Indian, Bangladeshis or Maldivian national) + $30-$40 nightly tariff for duo and solo travelers. This includes your private guide, 3-star lodging, three (huge!) meals per day and ground transfers.

Responsible Tourism: Making it more difficult to visit Bhutan limits the amount of tourists entering the country, helping to preserve the landscape and traditional culture. Moreover, 35% of what you pay goes to the government to put toward free education and healthcare, infrastructure and conservation.

Health: Healthcare is free for locals and visitors in Bhutan. I didn't encounter any hotels with gyms, so if you're looking to stay in shape I recommend Yoga Download (900+ yoga classes right on your laptop or phone), TheraBands (inexpensive resistance bands that take up virtually no luggage space) and a FitBit wristband (encourages you to be healthy and is stylish).

Paying For Your Trip: As a points-obsessed traveler, it stung not be able to pay for the trip with my credit card. To pay for your trip you'll need to transfer the funds in US dollars to the tourism board's bank account. The fee for me personally through Bank of America was $45 for the transfer, though they were kind enough to waive it for me as I'm a preferred client, so that was sweet. You can easily make the transfer online if you do online banking.

Language: Dzongkha & English

Local Currency: Ngultrum (Nu). As of February 2016, 1 Nu= $0.01.

Tipping: I tipped my guide the equivalent of $10/day, as I read $8-$10/day was the norm on numerous forums and travel agency sites.

Internet: Most of the hotels I stayed at had pretty decent Wi-Fi, though there was one that said they had Wi-Fi and it didn't work. Homestays will likely not have Wi-Fi. If you want to stay connected I recommend getting a local SIM card from TashiCell, which cost about $10 for the SIM and 10 days of credit (depending how much you'll use it, I had lots of credit left over but I didn't use mine much), or a KnowRoaming Global SIM Sticker to affix to your regular SIM for local rates.

Food: If you like heat, you'll love the chili-laden Bhutanese food, though many hotels cater to tourists with more general meat and veggie dishes. I was never hungry, as portions are huge and heavy, typically featuring a heaping bowl of red rice with pasta, potatoes, fish, cheese-topped chilies, cheese-topped mushrooms, turnip flowers and other meats and veggies. That being said the food won't be what you write home about; it'll be the well-preserved culture and heritage as well as the beautiful mountainous, green landscapes, 72% of which are covered in forest, unlike anywhere else.

Booze/Tobacco/Weed: Bhutan is a booze-friendly country (the small capital of Thimphu has 700 bars alone), though note the country is dry on Tuesdays, which is also the day many sites and shops are closed. Despite growing plentifully weed is illegal, and tobacco is illegal to sell. You can bring your own cigarettes purchased from another country, but be prepared to pay a 200% tax on them at customs.

Plugs: The outlets varied at the hotels. In some I was able to plug a standard USA-style plug into the wall, while at others I needed the European two-prong kind. Click here for a visual. It's recommended to get a TravelMore International Travel Adapter with USB ports so you can charge multiple devices with one gadget.

Dress: While it won't cause an uproar if you wear a tank top and shorts, it's a respectful gesture to keep shoulders and knees covered when not in your hotel room. This is mandatory in the local temples (as well as no hats!) which you'll be visiting a lot of. One travel essential to carry that's great for this is a scarf shawl -- which also works as an airplane blanket!

Essential Gear: Even if you visit in the warmer months it's essential to bring warm clothes, as the mountains can get chilly all year round. Some items I recommend:

SteriPEN (The tap water is NOT drinkable in Bhutan, though your guide and hotel should supply it. I drink a lot so I also used my SteriPEN)
XT driFILL Women's Goose Down Waterproof Hooded Jacket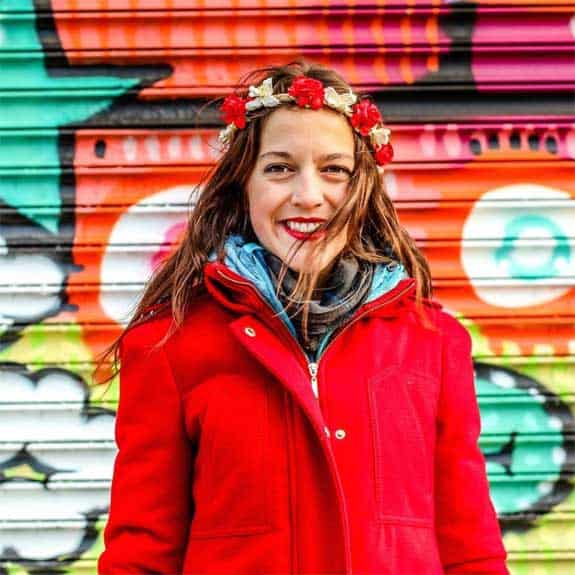 Hi, I'm Jessie on a journey!
I'm a conscious solo traveler on a mission to take you beyond the guidebook to inspire you to live your best life through travel. Come join me!
Want to live your best life through travel?
Subscribe for FREE access to my library of fun blogging worksheets and learn how to get paid to travel more!