10 Amazing & Immersive Experiences To Have In Thimphu, Bhutan
If you're like most travelers, your trip to Bhutan will include time in Thimphu, the country's capital.
And hopefully you are like most travelers, as there are a slew of awesome culturally immersive experiences to be had in this city.
Often, these incorporate beautiful views and natural twists — which makes sense, as Bhutan is 72% forest covered.
I personally loved the vibe of the city, traditional mud and stone architecture with ornate Tibetan details, Buddhist paintings on the facade and floral-shaped windows appearing to grow out of the earth like man-made trees hugged by monumental peaks.
There's that city vibe with restaurants, shops, amenities and Wi-Fi connection, but the mix of nature and tradition are alive and well.
To help you plan your trip to Bhutan, here are 10 highly recommended Thimphu experiences for culture carnivores and curious tourists.
One quick tip before we dive into the experience:
Grab my free Ultimate Travel Planning Kit — which also includes a downloadable Google Map of my full Bhutan itinerary.
Add the map to your phone to have it ready to go for your trip!
Bhutan Travel Video
But first, I've got a video for you:
Watch it for an overview of what makes Bhutan unlike any other place in the world.
Hint:
Thimphu is quite a unique capital itself!
Plus, you'll see some of my favorite Bhutan travel photos.
If you'd like in-depth explanations of each point made in the video, click here.
One of the world's highest Buddhas at Buddha Point, Thimphu
1. See One Of The World's Largest Buddhas
From the city center, Kinley and I enjoy a winding drive up Buddha Point Road, slowing making our way away from the valley floor toward the surrounding peaks.
The destination:
Here I come face-to-face — or face-to-pedestal — with one of the world's largest Buddha statues, sitting grand in bronze and gilded gold at 169 feet tall.
Actually, if you count the gold throne pedestal the structure is over 200 feet, making it a really special site to visit when traveling Asia.
The placement of the seated Buddha's fingers pointing down represents Buddha's posture when he vowed to the earth and the nagas (serpent deities who are thought to have once owned the land) to not get up from his meditation in India until he'd found enlightenment.
The shining Buddha is surrounded by smaller statues of celestial beings making offerings, and inside the pedestal is a temple that, upon completion, will house over 100 Buddha statues.
Tip:
This is also a great spot to get aerial views of the city, as well as to cycle paths in the adjoining Kuensel Phodrang Nature Park.
2. Glimpse The National Animal At The Motithang Takin Preserve
At the Motithang Takin Preserve, where they house about 20 takin, the national animal of Bhutan, which appear like adorable cow-goat crossbreeds.
The government tried to close the zoo in the 1980s to let the enclosed animals free.
However, the now-domesticated takin ended up wandering the city streets confused, and the preserve was re-opened.
Interestingly, there's a legend behind the takin.
It's believed that Lama Drukpa Kunley — aka the Divine Madman, known for his unusual way of teaching Buddhist lessons, as well as his demon-fighting phallus — actually created the takin when asked by local villagers to perform a miracle.
He is said to have joined together the bones of a goat's head and bones of the cow's body and, ta da, here we are.
3. Have A Spiritual Stroll Around The National Memorial Chorten
The National Memorial Chorten was one of my favorite spots in Thimphu.
As soon as you walk in you'll see myriad pigeons flying in unison; a sight that would normally made me vomit in my mouth in NYC but seemed otherworldly as this spiritual spot.
Around the ornate Tibetan-style stupa with its giant gold spire top, locals walk clockwise to mimic the course of the sun and stir out their negative energies.
Hint:
This is why you'll also see people rubbing prayer beads with their left hands and chanting mantras.
According to Kinley, Buddhists believe that if you divide the body in half your left side has the positive energy, which gets pulled through the heart, while the negative energies get pushed out through your right, and these rituals help with this.
Something unusual about this stupa is there's a temple inside.
Here you can make offerings to the deities while learning about the three poisons we are all born with — ignorance, greed and hatred.
Buddhism teaches that we should attempt to rid ourselves of these to reach enlightenment and possibly reach Nirvana, a place void of suffering.
Whether you're Buddhist or not, it's not a bad life goal.
4. Learn The Art Of Traditional Crafts At The Gagyel Lhundrup Weaving Centre
Bhutan places a high importance on preserving the country's traditions.
In fact, it's one of the four pillars of the country's Gross National Happiness Index.
With this index, the country's economic success is not based on wealth, but on preservation of the environment (their constitution mandates Bhutan be at least 60% forest), good governance, sustainable socio-economic development and cultural preservation.
At the Gagyel Lhundrup Weaving Centre we enter a small room with a low ceiling full of local women working with backstrap looms to weave colorful handmade garments.
Kinley explains that most weavers come from the eastern part of Bhutan where weaving is a strong tradition, and that some garments, especially those of pure silk, can take up to six-to-seven months to create.
After we peruse the upstairs showroom — you can also learn more about local garments in the Bhutan Textile Museum in Thimphu — we head into the art gallery next door, where 15-20 local artists showcase paintings mainly depicting culture and Buddhist scenes.
5. Purchase Traditionally-Made Paper Products At The Jungshi Paper Factory
Handmade paper is an important tradition in Bhutan, originally crafted for the writing of mantras and prayers at temples.
At the Jungshi Paper Factory, traditional techniques have been employed to turn high altitude Daphne and Dhekap trees into high-quality paper products since 1990.
A short walk through the small but able factory takes me on the tree bark's journey, beginning with it being soaked for 24 hours, boiled and washed, spun and mashed into a pulp, mixed with starch and molded using a bamboo net.
The wet sheets of fresh paper are pressed to remove excess liquid, and dried either by steam or laid out in the sun.
Onsite, a small gallery sells handmade cards, wall hangings, notebooks and other paper goods for about $2.25+.
I leave with a thick paper envelope full of dragon prints — so much better than a Made In China keychain, by the way.
6. Savor A Satiating Lunch While Staring Out Over The City At Yang Restaurant
Located in the Ricb Colony in Thimphu, Yang Restaurant was not only delicious, but ambient.
Kinley and I gorged ourselves on rice as well as a plethora of dishes like chilis in cheese, cheesy mushrooms, butter-fried veggies and fish, and thick slabs of beef while perched in cushioned seats overlooking the city.
I'd highly recommend a long lunch here just enjoying the views and serenity of the space.
7. Immerse Yourself In "The Good Ole' Days" Of Bhutan
While as a Westerner it definitely seemed like Bhutan was still enjoying the good ole' days — they only got their own currency in 1974 and TV/internet in 1999 — the truth is outside of the smaller villages the younger generations are starting to become addicted to their Apple gadgets like the rest of us.
In order to preserve Bhutanese traditions for the country's youth as well as visitors to see, the Folk Heritage Museum was established.
Now, I'm not typically a museum person, but this educational venue was of the immersive variety.
You'll walk through a three-story 19th-century house set up in the traditional manner.
Picture authentic artifacts like a 150+ year-old water mill, bamboo mats for drying grains, a stone grinder for turning beans into flour and an incense-burning hearth bringing it all to life.
8. Pair Views With Tradition At Changangkha Lhakhang
This beautiful 12th-century temple and monastery — which many claim is the oldest in Thimphu — is perched in a cliff overlooking the Thimphu Valley.
Hint:
It's a great photo-taking spot.
Spin the giant prayer wheels before heading inside the temple to say a prayer, admire the detailed artwork and make an offering to the deities.
This temple is a popular place for local families to bring their children for special blessings and to get named.
Interestingly, in Bhutan there is no family name.
Instead, children are named by the head Buddhist priest of the local temple, after the deity from whom the mother and baby receive blessings from sometimes and their dates of birth.
9. See A Live Painting At Pema Tshering
Something memorable I did in Thimphu was see a live painting at Pema Tshering, located walking distance from the Jungshi Paper Factory.
The gallery focuses on Bhutanese Thangka painting, which, according to the shop, "does not talk about the abstract ideas of beauty [like in Western painting]; instead it interprets the values and beliefs that are held by the vast majority and embodies the eternal stream of life or consciousness."
All works are related to Buddhism in some way, and follow the strict rules of symmetry and guidelines from Buddhist sutras (texts) like small horizontal strokes for skies and hills and perfect circle halos above the deities.
Moreover, they use raw, natural materials for their paintings, like vegetable dyes, rock-ground powders and cotton canvas.
10. Experience Bhutanese Hospitality At The Peaceful Resort
This simple but comfortable hotel was located in Thimphu but outside of the city center, in one of the quieter, wealthier neighborhoods — meaning less nights listening to barking stray dogs.
The rooms and bathrooms are huge, albeit slightly chilly in the winter months, though you can ask for extra blankets and there are hot running water and bathtubs, mountain views from the rooms, strong Wi-Fi, and huge, tasty meals.
What I loved was the helpful staff, who seemed genuinely eager to make my stay comfortable and were constantly offering me more tea.
Bonus Bhutan Travel Resources:
What Everyone Should Know About Planning A Trip To Bhutan
How To Hike To Bhutan's Breathtaking Tiger's Nest
13 Things That Make Bhutan Unlike Any Place In The World
Is Bhutan Worth The $250 Per Night Fee?
6 Highs & 6 Lows From A Trip To Bhutan
Exploring Bhutan's Phobjikha Valley, Land Of The Rare Black-Necked Crane
Exploring Jakar, The Switzerland Of Bhutan
There's A Place In Bhutan That Is Obsessed With Penises
10 Reasons Why Bhutan Should Be Your Next Travel Destination
What are your favorite things to do in Thimphu?
Essential Bhutan Travel Info:

Recommended Tour Operator: I went with Bhutan Tourister and had an unbelievable time. I highly recommend them. Please use this booking form for inquiries.

Booking Your Trip: By law, tourists visiting Bhutan must have a guide and must pay an all-inclusive rate of $200-$250 per night (low vs high season) + airfare + $40 Bhutan visa fee (unless you're an Indian, Bangladeshis or Maldivian national) + $30-$40 nightly tariff for duo and solo travelers. This includes your private guide, 3-star lodging, three (huge!) meals per day and ground transfers.

Responsible Tourism: Making it more difficult to visit Bhutan limits the amount of tourists entering the country, helping to preserve the landscape and traditional culture. Moreover, 35% of what you pay goes to the government to put toward free education and healthcare, infrastructure and conservation.

Health: Healthcare is free for locals and visitors in Bhutan. I didn't encounter any hotels with gyms, so if you're looking to stay in shape I recommend Yoga Download (900+ yoga classes right on your laptop or phone), TheraBands (inexpensive resistance bands that take up virtually no luggage space) and a FitBit wristband (encourages you to be healthy and is stylish).

Paying For Your Trip: As a points-obsessed traveler, it stung not be able to pay for the trip with my credit card. To pay for your trip you'll need to transfer the funds in US dollars to the tourism board's bank account. The fee for me personally through Bank of America was $45 for the transfer, though they were kind enough to waive it for me as I'm a preferred client, so that was sweet. You can easily make the transfer online if you do online banking.

Language: Dzongkha & English

Local Currency: Ngultrum (Nu). As of February 2016, 1 Nu= $0.01.

Tipping: I tipped my guide the equivalent of $10/day, as I read $8-$10/day was the norm on numerous forums and travel agency sites.

Internet: Most of the hotels I stayed at had pretty decent Wi-Fi, though there was one that said they had Wi-Fi and it didn't work. Homestays will likely not have Wi-Fi. If you want to stay connected I recommend getting a local SIM card from TashiCell, which cost about $10 for the SIM and 10 days of credit (depending how much you'll use it, I had lots of credit left over but I didn't use mine much), or a KnowRoaming Global SIM Sticker to affix to your regular SIM for local rates.

Food: If you like heat, you'll love the chili-laden Bhutanese food, though many hotels cater to tourists with more general meat and veggie dishes. I was never hungry, as portions are huge and heavy, typically featuring a heaping bowl of red rice with pasta, potatoes, fish, cheese-topped chilies, cheese-topped mushrooms, turnip flowers and other meats and veggies. That being said the food won't be what you write home about; it'll be the well-preserved culture and heritage as well as the beautiful mountainous, green landscapes, 72% of which are covered in forest, unlike anywhere else.

Booze/Tobacco/Weed: Bhutan is a booze-friendly country (the small capital of Thimphu has 700 bars alone), though note the country is dry on Tuesdays, which is also the day many sites and shops are closed. Despite growing plentifully weed is illegal, and tobacco is illegal to sell. You can bring your own cigarettes purchased from another country, but be prepared to pay a 200% tax on them at customs.

Plugs: The outlets varied at the hotels. In some I was able to plug a standard USA-style plug into the wall, while at others I needed the European two-prong kind. Click here for a visual. It's recommended to get a TravelMore International Travel Adapter with USB ports so you can charge multiple devices with one gadget.

Dress: While it won't cause an uproar if you wear a tank top and shorts, it's a respectful gesture to keep shoulders and knees covered when not in your hotel room. This is mandatory in the local temples (as well as no hats!) which you'll be visiting a lot of. One travel essential to carry that's great for this is a scarf shawl — which also works as an airplane blanket!

Essential Gear: Even if you visit in the warmer months it's essential to bring warm clothes, as the mountains can get chilly all year round. Some items I recommend:

SteriPEN (The tap water is NOT drinkable in Bhutan, though your guide and hotel should supply it. I drink a lot so I also used my SteriPEN)
XT driFILL Women's Goose Down Waterproof Hooded Jacket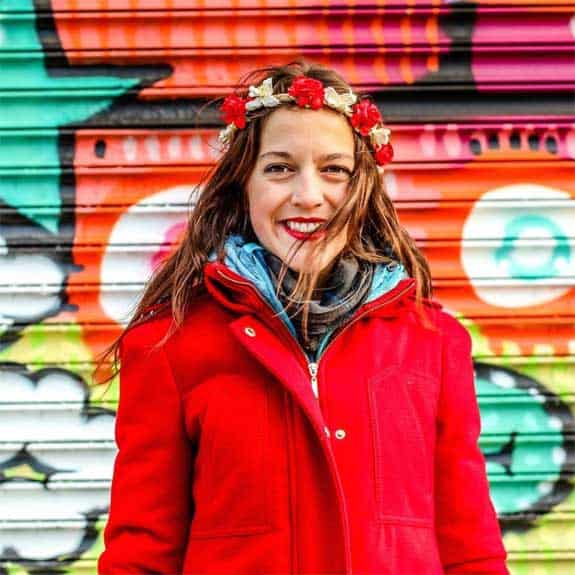 Hi, I'm Jessie on a journey!
I'm a conscious solo traveler on a mission to take you beyond the guidebook to inspire you to live your best life through travel. Come join me!
Want to live your best life through travel?
Subscribe for FREE access to my library of fun blogging worksheets and learn how to get paid to travel more!