Sierra Nevada Hiking: Climbing Mount Whitney In One Day
By Daria Bachmann. This post on climbing Mt Whitney in a day contains affiliate links to trusted partners!
If you dream of Sierra Nevada hiking, particularly climbing Mount Whitney in one day, then you're in the right place.
Conquering the highest peak in the lower 48 is totally possible, as long as you have the right amount of preparation and knowledge.
And the best part:
You can do it in just a day!
High in the Eastern Sierras sits the snow-capped Mount Whitney that towers at 14,505 feet above sea level.
In recent years, Mount Whitney has become incredibly popular among hikers who want to earn the bragging right of summiting the highest mountain in the continental USA.
And although it's a challenging hike, you don't need any mountaineering skills.
Pro tip: Before going hiking, make sure to download the AllTrails app to have trail guides, maps, photos, and reviews right at your finger tips. You can also sign up for a free trial of AllTrails+ to download offline maps, get alerts for wrong turns, find trails by distance from you, and more!
Climbing Mount Whitney In One Day: What You Need To Know
Taking on the famous hike to Mount Whitney — one of the best hikes in the Sierra Nevada mountain range and one of the best treks in the world —requires a permit.
Permits are awarded on a random basis through a special lottery that takes place every year and costs $15 per person to apply.
Thousands of people apply for a permit, however, only a small number of hikers are allowed to be on the Mount Whitney trail per day, as officials try to spare it from overcrowding.
You can apply for a permit online during a specific time frame. It opens early February and closes late March.
Want to try your luck and get on a trail without a permit?
I don't recommend it. If you get stopped by a ranger, you will be fined and asked to turn around.
Rangers patrol the trail regularly, so make sure to display your permit at all times by affixing it to your clothing.
You can find out more about Mount Whitney permits here.
You can pick up your permit a day or two before your Mount Whitney hike.
Important note:
You can do it only at Eastern Sierra InterAgency Visitor Center located at the intersection of Highway 395 and State Route 136 just south of Lone Pine, the gateway to Mount Whitney.
The center is open from 8am to 5pm daily; however, if you are running late, you can call ahead of your visit and ask them to leave your permit in the night box near the office.
After you get your Mount Whitney permit, it's time to start planning your adventure.
Where is Mount Whitney?
Mount Whitney is located in the Eastern Sierra Nevada Mountains along Highway 395 in the middle of the arid Owens Valley. It's actually a popular stop on many road trips in the USA and is a fun addition to a California road trip.
The closest town to Mount Whitney is Lone Pine, California. Here you'll be reminded more of the rugged American West than of the Pacific Coast that makes California so famous.
Lone Pine is a gateway to Mount Whitney and attracts a lot of hikers and mountaineers because the entire area is an outdoor adventure paradise.
For this reason, hotels in Lone Pine are often booked up for months, so make your reservation early if you plan on climbing Mount Whitney in one day.
Click here to search for available hotels in Lone Pine.
Or use this widget:
Besides summiting Mount Whitney, popular things to do in Lone Pine include rock climbing in the iconic Alabama Hills, taking photos of the gorgeous alpine lakes throughout Owens Valley, and enjoying some of the best Sierra Nevada hiking.
As you can see, this is a hotspot for active adventures.
But, here's the shocker:
Although Mount Whitney sits along a popular travel route, many who visit California are unaware of this gem.
Just to give you an idea, the popular Death Valley National Park is located just over 100 miles from Lone Pine.
While many travelers make their way from Las Vegas to Death Valley and further for a trip to Yosemite National Park (home to the stunning Sentinel Dome to Glacier Point trail, Mist Trail hike, and the Columbia Rock Trail), Sequoia National Park (where you'll find the stunning Lakes Trail), and San Francisco, few of them know that you can hike a portion of the Whitney Portal National Recreation Trail that does not require a permit.
This 5.6-mile roundtrip hike culminates at the stunning Lone Pine Lake that sits among the granite peaks of the Sierra Nevada.
The trail begins at the Whitney Portal parking lot and climbs over 1,000 feet in a short 1.5 miles. It's a good way to get a taste of the Mount Whitney adventure if you weren't lucky enough to get a permit.
Just remember:
Going past Lone Pine Lake does require a permit, which is important to keep in mind if you plan a shorter hike to Lone Pine Lake via the Whitney Portal National Recreation Trail.
The Best Time To Climb Mount Whitney
Because of its location high in the mountains, there are only a certain number of months when you can hike Mount Whitney.
In terms of the best time to hike Mt Whitney, consider this:
Even early in the summer season, the trail might have snow and ice on it, so it's better to plan your trip for August or even early September.
That's when you have the best chance to avoid dealing with snow and ice on a trail.
Mount Whitney Hike Preparation
Now let's get to some serious stuff:
Hiking Mount Whitney in a day is not the same as walking in your local park, so there are a few things that you need to know before you embark on your adventure.
As the trail has become very popular in recent years, it has been attracting hikers of all levels, not all of whom are well prepared or equipped for this challenge.
Unfortunately, there have also been a few fatalities on Mount Whitney, as ill-equipped hikers try to make their way to the top through the ice and snow or keep going up despite exhibiting symptoms of altitude sickness.
With that in mind, here is what you need to do if you plan on hiking Mt Whitney in one day:
1. Get training at a high elevation
If you have never hiked at a high altitude, you must get your bearings on it before you attempt hiking Mount Whitney in one day.
Your level of preparation can make the difference between getting to the top of Mount Whitney and having to turn around, so you need to take it seriously.
For starters, try to do some cardio. Use a treadmill or a StairMaster to train your body for this strenuous hike. Exercise regularly ahead of your hike, and you will have a better chance of getting to the summit.
If you want to get a bit more serious with your training, try to summit a couple of high altitude peaks.
Or, if you live in a place that doesn't have any mountains, you can take a trip to a place like Colorado — home to the highest number of 14ers, or mountains with an elevation higher than 14,000 mountains — and attempt some of the hikes there to see how your body adapts to it.
For instance, if you're looking for things to do in Vail there are a number of 14ers within driving distance, as well as near to Aspen, Colorado. Moreover, a good option when you're visiting Denver is Grays Peak, located about two hours from the capital city.
If you need some advice on what places to visit in Colorado for your training, check out this local bucket list guide.
2. Bring plenty of water and food on your hike
I cannot emphasize enough how important it is to hydrate during this strenuous hike.
The Mount Whitney day hike is challenging not only physically but also emotionally, as you will have to conquer your fears and your doubts.
This Sierra Nevada trail will be a real test for your physical fitness, as you may want to turn around after your legs start to feel like they are about to give in and your head gets dizzy from the heights below you.
As you keep going up, your body will lose a lot of water, so you should have more than enough water in your backpack.
Pro tip:
It's important to make frequent stops along your way to hydrate and eat snacks. If you need information on how much water you should consume while hiking, you might want to read this article.
If you don't want to lug all the water to the top, there are plenty of spots to refill it along the way. You can use a refill bladder — like this one or like this one — to make it easier to carry.
3. Listen to your body
Sometimes, you have to turn around. Yes, it's disappointing, but it can save your life.
Above I mentioned that there have been some deaths on the trail up Mount Whitney. This typically happens when hikers overestimate their abilities and keep pushing themselves to the top, even when they have all signs of altitude sickness.
There have also been instances of hikers needing to be flown out by medical helicopters. This is not cheap and you don't want to become part of that statistic.
That's why it's important to listen to your body.
Don't try to run fast ahead of everybody, only to be completely beat by the time you get to the middle of the hike.
Instead, take it easy. Altitude sickness is a serious thing and it can happen at an elevation as low as 8,000 feet. Whether you prep or not, altitude sickness can affect you, and unfortunately, it can also be lethal.
Some of the common signs of altitude include:
swelling,
headache,
diarrhea,
and lightheadedness.
You don't want to keep pushing forward, as these symptoms can get significantly worse with the higher altitude.
4. Get proper Mountain Whitney hiking gear
If climbing Mt Whitney in one day is your goal, proper gear — whether you decide to purchase or rent travel gear — is a must!
Start by putting enough sunscreen on your face. The sun is no joke at high altitudes.
Next, get comfortable hiking clothing and put on some layers. While it may be chilly early in the morning when you begin your hike, you will likely want to take off your jacket later in the day as you keep going up and get hot.
But at the summit, the weather is often cold and windy. Hats, gloves, sunglasses, and hoodies will come in very handy!
Good hiking boots with a nice grip is ultimately the part of your outfit that can make the biggest difference.
You want to wear comfortable shoes that fit you well and prevent you from slipping. Some hikers also bring poles and ice axes if they hike during months when the ice and snow still cover the trail.
One major essential for this hike:
A headlamp.
When set on the trail early in the morning, you'll be hiking in complete darkness, making it tough to stay on the trail without any light. Make sure to do some test hiking with your headlamp before attempting it.
So to re-cap some Mountain Whitney hiking essentials, with links to quickly grab the necessary gear from Eastern Mountain Sports, a top adventure retailer:
5. Get a bag for your waste
You need to pack your waste — as in, your poop — in a bag.
Yes, I'm serious. There are no bathrooms or port-a-potties on this trail and to keep it clean for everybody, you have to clean up after yourself, plain and simple.
When you pick up your permit, a special bag that's intended exactly for this will be attached to your permit. Or you can buy one in a store ahead of your visit.
6. Check the weather
As I said above, snow is not uncommon on this trail even in the summer season.
And when it happens, you have to wear spikes or crampons and have the proper gear. That's why it's important to check weather conditions and ask a ranger before the hike.
What To Expect Hiking Mount Whitney In One Day
Most hikers try to do the 22-mile round-trip hike to Mount Whitney in one day. With the right amount of resources and preparation, the round-trip hike will take you between 13-16 hours.
During the hike, you'll likely be exhausted and your legs will feel like they are about to give out, but you will have an incredible sense of accomplishment that will greatly boost your morals and help you keep going.
So let me give you a couple of details on where the trail starts and what to expect.
Because the hike takes a long time to complete, most people start it around 1am or 2am. This gives you plenty of time to get to the top, enjoy sweeping views of the Sierra Nevadas, and make your way back by 6pm or 7pm.
However, if it's too early for you, you can also start your hike around 3pm or 4pm.
The biggest advantage of starting early is the opportunity to watch an incredible pink sunrise over the Sierras. It's a truly majestic sight!
Some hikers camp at the Whitney Portal campground before their hike, while others stay at hotels in Lone Pine. Again you can click here to search available hotels in Lone Pine.
From where the trail begins at the parking lot of the Whitney Portal, the Mount Whitney elevation gain is over 6,100 feet throughout the entire hike. It's a pretty significant altitude gain, so invest some time into building up some stamina before hiking Mount Whitney in a day.
After passing the gorgeous Lone Pine Lake about 2.8 miles into the hike, you will traverse through lush forest before arriving at the spot where many travelers camp overnight.
The hardest part of the hike is the grueling 97 switchbacks that can seriously drain your energy.
During this part, you may want to quit many times, because although switchbacks span only 2.2 miles, they climb the astounding 1,600 feet. That's where many hikers start feeling really severe altitude sickness.
That being said, the hike to the top is worth the effort. When you get to the summit, you'll be able to enjoy the unparalleled views of the High Sierra and finally scratch climbing Mount Whitney off your bucket list!
Reaching the Mt Whitney summit is the ultimate challenge! I know I certainly felt proud to tell others about my adventure, and I trust you will, too.
Bonus Sierra Nevada Trekking Suggestion
Mount Whitney day hike is an adventure in itself, however, if you are looking for the ultimate multi-day challenge, consider hiking the famous John Muir Trail.
This long-distance trail begins at Yosemite National Park, traverses through the Sierra Nevada in Kings Canyon and Sequoia National Parks before ending at Mount Whitney.
Making your way to Northern California? Another recommendation is to hike the James Irvine Trail to Fern Canyon for truly spectacular scenery!
And if you're heading south, it's recommended to spend some time in Joshua Tree National Park to do hikes like the Lost Horse Mine Trail and Hidden Valley Nature Trail!
Renting A Car In California
The best way to explore all that California and the Sierra Nevadas have to offer is by car.
My recommendation:
Use Discover Cars to quickly compare your car rental options.
Their comparison tool does the homework for you, so there's no need to have up 10+ tabs trying to figure out which company is the most affordable. Actually, you can save up to 70% using their tool!

California Travel Insurance
When visiting California — or anywhere else in the world — make sure to get travel insurance.
In my opinion, the best travel medical insurance for travelers is SafetyWing as they've got a large network and offer both short-term and long-term coverage — including coverage if you're traveling for months as well as limited coverage in your home country).
Additionally, SafetyWing is budget-friendly and offers $250,000 worth of coverage with just one low overall deductible of $250.
Click my referral link here to price out travel insurance for your trip in just a few clicks.
Top California Hikes
Looking to explore other California hiking trails? A few not-to-miss trails include:
Lost Horse Mine in Joshua Tree National Park
Hidden Valley Trail in Joshua Tree National Park
Ryan Mountain in Joshua Tree National Park
Mount Whitney in the Sierra Nevadas
The Lakes Trail in Sequoia National Park
One Day In Sequoia National Park: The Perfect Itinerary
James Irvine Trail to Fern Canyon in Prairie Creek Redwoods State Park
Sentinel Dome to Glacier Point in Yosemite National Park
Columbia Rock Trail in Yosemite National Park
Frequently asked questions about the Mt Whitney hike
Q) Can I hike Mt Whitney in a day?
Yes, it is possible to hike Mt Whitney in a day.
Q) What is the elevation of Mount Whitney?
The elevation of Mount Whitney is 14,505 feet (4,421 m).
Q) When is the best time to hike Mount Whitney?
The best times to hike Mount Whitney are from late July to early September.
Do you have any advice on completing the Mt Whitney hike in one day?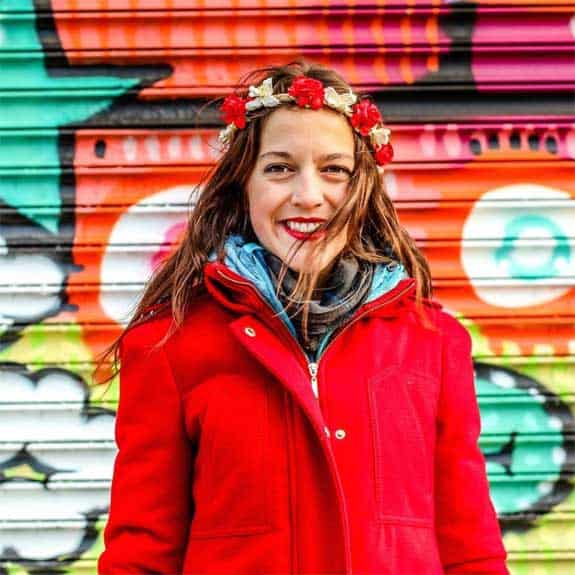 Hi, I'm Jessie on a journey!
I'm a conscious solo traveler on a mission to take you beyond the guidebook to inspire you to live your best life through travel. Come join me!
Want to live your best life through travel?
Subscribe for FREE access to my library of fun blogging worksheets and learn how to get paid to travel more!