Colorado Summer: 16 Things To Do In Vail Beyond Skiing
By Jessie Festa. This post on things to do in Vail beyond skiing contains affiliate links to trusted partners!
You'd think a purpose-built destination like Vail, dreamed up and constructed to appease ski enthusiasts, wouldn't have much else to do other than hit the slopes during the ski season.
Founded by Pete Seibert and Earl Eaton in 1962, Vail was modeled after the fairytale ski resorts they saw in Europe during their time in the U.S. Army's 10th Mountain Division during World War II.
While wandering Vail Village and Lionshead — the two main hubs of Vail — I truly thought I'd been transported to Austria with a giant clocktower surrounded by whimsical wooden local shops showcasing pitched roofs, flower planter windows and painted shutters, all surrounded by alpine wilderness.
Before visiting for myself this summer, I also wasn't sure you even could do anything else there besides ski; but, you can.
And very easily so.
Psst, don't forget to pin this post for later!
Along with over 250 shops and more than 100 restaurants and bars, you'll find a slew of activities outside of ski season — and without the crowds, to boot!
Budget Tip:
Visiting Vail in summer saves you 43-53% on lodging vs winter.
Getting To Vail
The local airport, Eagle County Regional Airport, has limited direct service (especially in summer), so I flew into Denver International Airport.
Click here to find cheapest flight tickets to Eagle County Regional Airport or Denver International Airport.
From there, I took a Colorado Mountain Express shared-ride shuttle directly to my hotel.
The price is about $64 per person, though groups of 3 or more get a 20% discount.
For something private, check out these transportation options.
How far is Vail from Denver, Colorado?
Vail and Denver are about 100 miles apart. It takes about an hour-and-a-half to drive to Vail from Denver. You can also take a shuttle with Colorado Mountain Express from Denver International Airport, which takes about three hours to three-and-a-half hours.
Want to pass the time with something fun?
Listen to a tour guide during the drive!
How far is Vail from Aspen, Colorado?
Vail and Aspen are about 100 miles apart. It takes about two hours to drive from Aspen to Vail. Another option is to take the Colorado Mountain Express shuttle, with prices starting at $399 for up to five people.
Getting Around Vail
When visiting Vail, you don't need a car.
It's an extremely walkable destination, and signs are every few feet pointing you toward the local attractions.
Vail is also home to the USA's largest free transportation system which links the east and west sides of Vail, and operates 365 days per year.
This being said, it's not a bad idea to rent a car to see some of the spectacular scenery and cities nearby. Personally, I love Discover Cars, as you can easily compare different rental companies to get the best price.
You can actually save up to 70% using their tool! Check it out here.
Recommendations for scenic drives include Leadville, the highest incorporated city in the United States at 10,152 feet, and the Top of the Rockies National Scenic Byway.
If you're staying at the Sonnenalp Hotel — which I highly recommend you do — you can also make use of their complimentary daily Volvo rentals. You don't even need to fill it up with gas when you're done!
I love a hotel with a good backstory, and the Sonnenalp Hotel certainly has one.
The original Sonnenalp Hotel was opened in 1919 in the Bavarian Alps by Gretl and Karlheinz Fäßler.
When it became clear their sons also wanted in on the hotel business, the couple began looking for a second location, finally settling on the picturesque Rocky Mountain-hugged Vail.
Today, the Sonnenalp Hotel is still operated by the same family, though it's hard to imagine it started as a small motel in 1979, as today it's a gorgeous 5-star hotel well worth the trip on its own.
As soon as I walked into the Sonnenalp Hotel, located in the center of Vail Village and within walking distance to Vail Mountain, I felt awash with rustic luxury.
There was a strikingly European feel — not surprising once I found out their family-run sister hotel is in Bavaria.
The accommodation features 112 suites and 15 rooms, a European spa, five restaurants, a golf course, and a tennis club.
The hotel also has a delicious Swiss Chalet Restaurant that serves Alpine cuisine (get the fondue!).
There's also Ludwig's Restaurant, which serves breakfast and has a waitstaff donning dirndls, and giant rooms full of Bavarian furniture.
Oh, and to give you an idea of my room, the bathroom was larger than my Brooklyn apartment, and the uber deep tub was where I ended most of my days with a glass of wine.
I also loved the fact I could wake up each morning with a cup of in-room coffee and head onto my balcony to enjoy views of the alpine scenery.
Or I would fuel up for a hike or zipline adventure with their buffet breakfast at Ludwig's.
The property features a slew of organized excursions, some of which are exclusive to them, like a guided hike that included a landscape painting session that I tried (and loved!).
Click here to see current rates and availability.
Love to soak after a day of exploring?
You may also want to check out these incredible Colorado hotels with hot tubs — including in and around Vail!
Where To Stay In Vail In Summer (Other Options)
Looking for the best places to stay in Vail?
Click here for a list of local hotels!
Prefer self-contained stays?
Click here to check out unique local rentals!
You can also use this map to search for local stays:
Free Things To Do In Vail In The Summer (Beyond Skiing)
Vail is often touted as one of the country's most expensive destinations. While I certainly felt sticker shock more than once, I was also impressed with the number of free activities available that offered a great way to explore Colorado tourism, like:
1. Wander & Meditate In The Betty Ford Alpine Gardens
Sitting at 8,200 feet in the Rocky Mountains, the Betty Ford Alpine Gardens boasts being the world's highest botanical gardens.
The natural attraction sits along the main walkways of Vail Valley Drive and South Frontage Road in Vail Village, meaning you can easily incorporate it into a stroll or your regular getting around.
I'd recommend leaving some time for photographing the many different gardens.
Some of these include a Himalayan Garden, Peony Collection, a Rocky Mountain Alpine Garden and an Alps of Western Europe Garden, many of which are enhanced with waterfalls, ponds and birdlife.
I even saw hummingbirds — my favorite!
You can also find relaxation on the road in the Mountain Meditation Garden.
Here you'll find mountain meadow plants paired with alpine waterfalls and pools meant to resemble the nature of the local Rocky Mountains.
There are also three bench areas for meditation, including a spot where you can be enveloped in evergreens for some privacy.
The gardens are open year-round from dusk until dawn, though peak flower season is June through August.
2. See A Show At The Gerald R. Ford Amphitheater
On Tuesday nights from mid-June to mid-August, a number of free concerts take place at the beautiful Gerald R. Ford Amphitheater through the local Hot Summer Nights series.
You'll pair tunes with tastings from Crazy Mountain Brewery and fun yard games, while chillin in one of the coolest amphitheaters I've ever seen.
I was able to experience the venue during the summer Bravo! Vail series, not free, but also not crazy at $5-$28 for lawn seats.
My group made the best of our lawn seats, savoring a gourmet cheese and meat-filled picnic basket from a local deli.
We paired this with a bottle of sauvignon blanc while admiring views of the Rocky Mountains in the backdrop.
For the Hot Summer Nights series doors open at 5:30pm and concerts start at 6:30pm.
3. Go On A Scavenger Hunt In Vail's Children's Garden
The complimentary activity is designed for children ages 5-12, with six education-filled boxes hidden throughout the garden.
While I didn't do the scavenger hunt as I'm not a kid and don't have kids, I saw the boxes and thought this was a great idea for families. You can get your first clue in the Gardens' Schoolhouse Gift Shop.
The Children's Garden also has a budget-friendly $10 Chef In Garden series where youth head into the garden with a chef to learn to pick and cook natural ingredients.
Pro tip:
Speaking of scavenger hunts, the Vail Scavenger Hunt: At The Height Of Colorado is a fun way to explore the town!
4. Admire Public Art In Vail (And Try To Find It All)
One program going on throughout Vail is Art in Public Places, which makes al fresco art accessible to all.
I loved the playgrounds designed by artists and the many sculptures, like the giant works depicting four elements of nature in the Solaris complex of Vail Village.
There's also a cool "riddle lane" on Wall Street in Vail Village, with pictogram puzzles embedded into the brick pathway.
Try to solve the many rhebus' and then head into the adjacent Root and Flower Wine Bar, serving over 40 wines.
Contact them to also learn about their culinary class schedule at 970-763-5101 or [email protected].
To help you locate all the local outdoor art pieces, here is a map.
5. Peruse The Vail Farmers' Market
Taking place on Sundays on Meadow Drive in Vail Village, the Vail Farmers' Market & Art Show features over 40 vendors.
The market runs from mid-June to early October, and features local food showcases, live jazz music, artisan wares, and farm-to-market dinners (on select evenings; $90 per person).
6. Visit The Colorado Ski & Snowboard Museum
The Colorado Snowsports Museum & Hall Of Fame is a complimentary experience where you can peruse six galleries full of artifacts, documentaries and footage focused on topics like the beginnings of Vail, the Winter Olympics, Ski Patrol, notable athletes and more.
Tours of the museum are available Fridays, as well.
7. Photograph Vail's Architecture
Wandering Vail Village and Lionshead is like wandering Tyrol, Austria.
This makes sense, as the resort town was modeled after the ski villages the founders saw while serving in the U.S. Army's 10th Mountain Division during World War II.
I've never felt so much like I was in Europe than wandering the brick streets of Vail, and the architecture has a way of plastering a smile of your face with its storybook beauty.
8. Hike Vail Mountain
Colorado is known for its great hiking, and Vail is no different.
I was fortunate enough to attend the grand opening of Epic Discovery at the top of Vail Mountain, which I'll get more into when talking about ziplining.
While that attraction isn't free, hiking up or down Vail Mountain is.
The trail I chose to do was the Berry Picker Trail.
This is a 3.2-mile (each way) scenic trail extending from Lionshead to the top of Vail Mountain.
It offers stunning views of the Gore Range and its snow-capped peaks and gorgeous wildflowers — including Columbines, Colorado's state flower — along the way.
You can also choose to ride the gondola either up or down the mountain to get a different perspective.
Paid-But-Worth-It Off-Season Adventures
9. Hike & Paint at Piney Lake
Piney Lake is one of the most beautiful bodies of water I have ever seen, bright blue and hugged by the gorgeous Gore Range.
Floating on the water or hiking in the valley meadow along the lake, you feel like Vail is swallowing you up, with its lodge pole pines shooting high into the sky attempting to meet snow capped peaks.
The Hike & Paint at Piney Lake excursion, offered exclusively through the Sonnenalp Hotel, took me along the Upper Piney Lake Trail, which is about six miles round-trip to Upper Piney Falls.
While it's not overly challenging, you'll definitely want to wear the best clothes for hiking to be prepared for this unforgettable trek.
The breathtaking scenery is never-ending as you make your way through fragrant pines 10,000 feet up for epic views of the surroundings.
What's really awesome is that after re-fueling with sandwiches, pasta salads and snacks you'll work with Lauren Merrill.
She's the owner and director of the local Alpine Arts Center, to put Piney Lake and the surrounding woodland and peaks on canvas.
She shows you step by step, so even if you're naturally un-artistic like me you'll leave with a pretty sweet souvenir from the day.
The excursion is $80 for guests/$100 for non-guests.
This includes transportation, the guided hike, lunch, a step-by-step painting instruction by a local artist and all necessary art materials.
10. Zipline, Tube, Coaster + More At Epic Discovery
While I do enjoy skiing I wouldn't say I'm an avid skier.
This is why I was so excited to attend the grand opening of Epic Discovery at the top of Vail Mountain on June 28.
The sustainable attraction is appealing to those wanting to connect with the Rocky Mountains who don't necessarily love the snow.
Crazy enough, I was the first person to strap up and ride the Game Creek Aerial Adventure ($189) and its roughly two miles of zipline and ropes challenge course.
The highest zipline was 300 feet high and can reach speeds of 60 miles per hour, and the longest zip extends for 2,700 feet!
The brand new Forest Flyer alpine coaster was another adventure I absolutely loved.
Each one-person coaster has its own accelerator and brake.
When I asked the attendant how she recommended I ride, she told me to push the gas as hard as I could the entire time to go as fast as possible.
I liked her style!
Tubing, climbing, bike clinics, bungee trampolines and adventure courses are also part of the fun at Epic Discovery, as are educational components like free guided hikes, observatories with viewfinders providing closeups of the peaks.
Story poles teach readers about the flora and fauna of the White River National Forest.
11. Relax At The Sonnenalp Spa
After your adventures are over, soothe those active muscles in the Sonnenalp Spa.
Now I don't splurge a ton, but spas are one of my favorite ways to spend a little extra cash when I have it.
As soon as I walked into the bright and cheerful Sonnenalp Spa, which had a fire pit in the center surrounded by spa-goers lounging on couches with magazines, I knew I was in for a treat.
I enjoyed an 80-minute poultice massage ($230) where I was massaged with a bag of hot healing herbs before heading into a steam and sauna room.
The showers were the most decadent I'd ever encountered — water literally shot out at my body from five different places!
There's also a beautiful garden lined outdoor pool, an indoor pool and hot tubs for aquatic repose.
12. Cycle The Gore Range Trail
I wasn't skiing, but I did want my itinerary to have a balance of both adventure and relaxation. With hiking and zip-lining checked off the list it was time for some biking.
I asked numerous locals what their favorite trail was for something moderate and scenic, it was unanimous: the Gore Range Trail. Even the owner of Vail Bike Hub where I rented my bike from agreed.
The Gore Range Trail runs for 45 miles through the White River National Forest, well-marked with other trails that intersect it. If you do the entire thing you'll gain an elevation of 2,027 feet — no small feat!
While I didn't do the entire 45 miles I did cycle for about an hour on it.
The scenery was stunning to say the least, as I cycled along a golf course, through a lovely residential neighborhood and into a shady grove of trees that would be my entry point into pure nature.
Lakes, waterfalls, woodland, bridges and small homes blended into the landscape and became my reality as I pedaled toward white-capped peaks.
The sounds of running water and birdlife offered a beautiful soundtrack, meaning I didn't need to pull out my iPod once!
While exploring the trail is free, renting the bike from Vail Bike Hub starts at $10 per hour, though you can get a half-day for $17 and full day for $25. Inquire for multi-day rates.
Food & Drink
13. Sip Beers At Vail Brewing Co
In the Solaris Complex you'll find Vail Brewing Co's new outpost.
It's hipster-esque with lots of wood and bare pendant bulbs, as well as a wall mural artfully depicting how beer is made.
Their beers are made with mountain-fed water and mainly locally-sourced hops and malts, as well.
When visiting I savored the "AWOL Belgian Red IPA" on their patio overlooking Vail Village. Yum!
14. Indulge With Traditional Swiss Fondue At Swiss Chalet
The aptly named Swiss Chalet is part of the Sonnenalp Hotel, a fun alpine eatery with servers dressed in dirndls and lederhosen.
Yes, the homemade spätzle and German sausages are delicious, but the main reason to come is the fondue.
Bubbling pots blending Swiss Cheese's are laced with white wine, herbs, garlic, and Kirsswasser (a German cherry brandy), and are served alongside veggies and bread for dipping.
For dessert, gooey melted hazelnut milk chocolate and dark chocolate taste heavenly on fresh fruit, brownie bites and sponge cake squares.
15. Cook Your Own Wagyu Beef At Matsuhisa
There are many reasons to dine at the Nobu-affiliated Matsuhisa, from sushi laced with truffle oil to sake served in a frozen bamboo shoot.
Side note: it's good luck to spill sake, as it means you have abundance to spill!
I drooled over their 72-hour marinated miso cod and its caramelized crunch, the house sushi roll stuffed with salmon and guacamole, and the shishito peppers rolled in thick sea salt.
For dessert?
Green tea ice cream-laced lava cake!
This all being said, the hands down tastiest dish was the a DIY raw Wagyu beef dish you cook yourself atop a solid block of Himalayan sea salt.
Not only was it fun, but the meat is so tasty no dipping sauce was needed.
The meal paired perfectly with the mountain views through floor-to-ceiling windows.
16. Go culinary creative at Mountain Standard
You know those restaurants where you're not sure what most of the ingredients on the menu are, but you don't care because everything that's put in front of you is just so damn delicious?
That's Mountain Standard.
The kitchen is open, there's a patio and the plates look like works of art, whether it's the pimento cheese dip served in a crystal jelly jar with crusty bread or a wood-fired salmon with various greens that look like a mini garden.
Some of the more interesting dishes include:
An Ahi Tuna Crudo served in a pineapple vinegar with ginger, avocado coconut puree and a spicy house sambal
Rotisserie Chicken with a unique mixed rice as well as miso peanut sauce
A Grilled Hangar Steak with new potatoes, olives and a housemade "cheese whiz" that tasted more like a cheesy butter
Best Tours In Vail
Click here for a full list of Vail tours.
Things To Do In Vail (FAQ)
1) What is there to do in Vail besides skiing?
There are many things to do in Vail besides skiing. A few experiences include perusing the Vail Farmers' Market, meditating in the Betty Ford Alpine Gardens, having a beer at Vail Brewing Co. and hiking Vail Mountain.
There are also a number of fun tours, which are listed above.
2) Can you ski in Vail in July?
No. Vail's ski season goes from around mid-November through mid-April. That being said, visiting Vail in summer means you can enjoy other activities like hiking, biking, fishing and more.
3) Can you ski in Vail in August?
Mid-November through mid-April is the typical Vail ski season, so no; however, summer in Vail offers loads to do, like trekking, cycling, rafting and more.
4) What are some free things to do in Vail, Colorado?
Free things to do in Vail abound. A few complimentary experiences include seeing a show at the Gerald R. Ford Amphitheater, strolling the Betty Ford Alpine Gardens, and visiting the Colorado Ski & Snowboard Museum.
5) Is Vail in the Rocky Mountains?
Yes, Vail is located in the Rocky Mountains. More specifically, it resides in the Gore Mountains, a range within the Rocky Mountains.
6) What are things to do near Vail, Colorado?
There are many things to do around Vail, Colorado, not far from Vail Village. A few options include driving to Aspen via the scenic Top of the Rockies Scenic Byway, cycling the Gore Range Trail, and taking a day trip to Leadville to summit Colorado's highest peak, Mt. Elbert (14,443 feet).
Vail Travel Insurance
While you hope everything runs smoothly, sometimes travel just doesn't go according to plan.
This is why I recommend always purchasing travel insurance. The scary truth is it only takes one bad accident to lose everything — or be thankful you were covered.
Personally, I use SafetyWing, as they've got a large network, offer both short-term and long-term coverage (including limited coverage in your home country), are budget-friendly, and offer $250,000 worth of coverage with just one low overall deductible of $250.
Click here to price out travel insurance for your trip in just a few clicks.
Bonus Vail Travel Resources:
These Photos Will Make You Want To Hike Vail Mountain Right Now
This Is What Happens When You Take A Paintbrush Hiking In Vail, Colorado
11 Amazing Hotels In Colorado With Private Hot Tubs
What are your favorite things to do in Vail beyond skiing?
Essential Information:

Vail Accommodation: I loved my stay at the Sonnenalp, and highly recommend it for a relaxed yet luxurious trip.

Getting To Vail: The easiest way to get to Vail is typically to fly into Denver and take the Colorado Mountain Express Shuttle to Vail. Door-to-door service is about $84, though you can save a bit by getting dropped off at the Vail Transportation Center for about $65. You can also book private transportation here or book a rental car here.

Getting Around Vail: Vail is extremely walkable and bikeable. They also have a free bus service, and the Sonnenalp Hotel provides free Volvo day rentals to guests. If you'd prefer to have a car to go beyond the village, Discover Cars can help you compare and save up to 70% on your rental.

Vail Tours: Along with the above-mentioned experiences, don't miss these fun, highly-rated tours to enhance your trip:

Vail Summer Packing: The weather can be hot during the day and at the base of the mountain and chilly at night and on the mountain. Layers will be key. Some essentials I recommend packing for this hike and other Vail summer activities include:

Further Reading: I recommend reading Best Easy Day Hikes Vail by Falcon Guides and Vail: The First 50 Years (Images of America) by Arcadia Publishing
---
Need help planning your next trip?
---
Enjoyed this post? Pin it for later!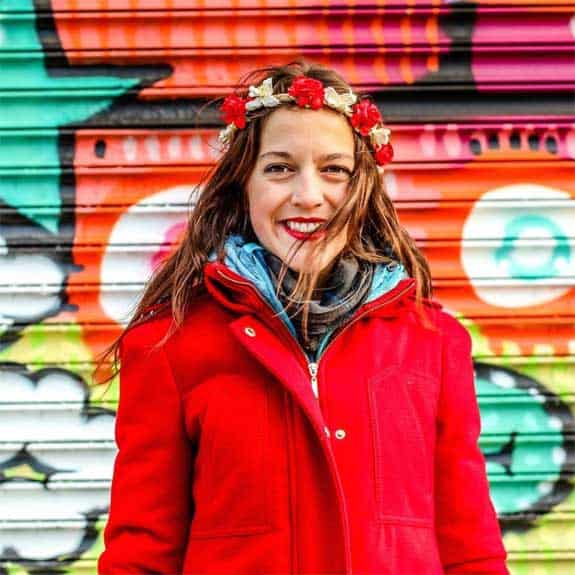 Hi, I'm Jessie on a journey!
I'm a conscious solo traveler on a mission to take you beyond the guidebook to inspire you to live your best life through travel. Come join me!
Want to live your best life through travel?
Subscribe for FREE access to my library of fun blogging worksheets and learn how to get paid to travel more!