How To Hike The Columbia Rock Trail In Yosemite National Park (Epic!)
By Jessie Festa. This guide to hiking Columbia Rock Yosemite contains affiliate links to trusted partners!
Looking to hike the Columbia Rock Trail in Yosemite National Park?
Then you're in the right place!
The Columbia Rock Hike is a gorgeous albeit strenuous trail that rewards you after a straight vertical ascent with stunning views out over the Yosemite Valley and of its surrounding mountains.
Interestingly, it actually follows the Upper Yosemite Falls Trail, though it's a great option for those who may not want to do the extremely strenuous 7.2-mile round-trip trek to the top of the waterfall.
This hike is an especially great option if you've only got a few hours to fill or if you've done the other scenic hikes in the Yosemite Valley and don't want to drive all the way to Tuolumne Meadows or Tioga Road.
We'll go over more reasons to add this trail to your Yosemite itinerary below — with photos!
Quick tip: Need help planning your national park trip? Fellow blogger and outdoor adventure expert Alex on the Map offers custom national park trip itinerary planning. Click here to learn more about her services!
What Type Of Hiker Are You? [Free Quiz]
But first, before we dive into how to do one of the best Yosemite hiking trails, I want to share a free personality quiz I think you'll love:
Discover your hiking persona in this fun and short hiker personality quiz, which also shares trail suggestions based on your results.
Once you've grabbed the quiz, let's discuss how to do the Columbia Rock Trail Yosemite, one of my favorite California travel experiences! By the end, it'll be clear why you should add this hike to your itinerary for Yosemite National Park and for your larger Southern California road trip itinerary.
Yosemite National Park Map
Before hiking the Upper Yosemite Falls Trail to the Columbia Rock view point, it's recommended to print out a map of Yosemite National Park. You can click here to do that.
You can also get a map for the Columbia Rock Trail specifically here (Google Map version).
Note: You'll get a paper Yosemite Trail Map when entering the park (shown below) and there are maps posted everywhere for you to easily take a photo of with your phone.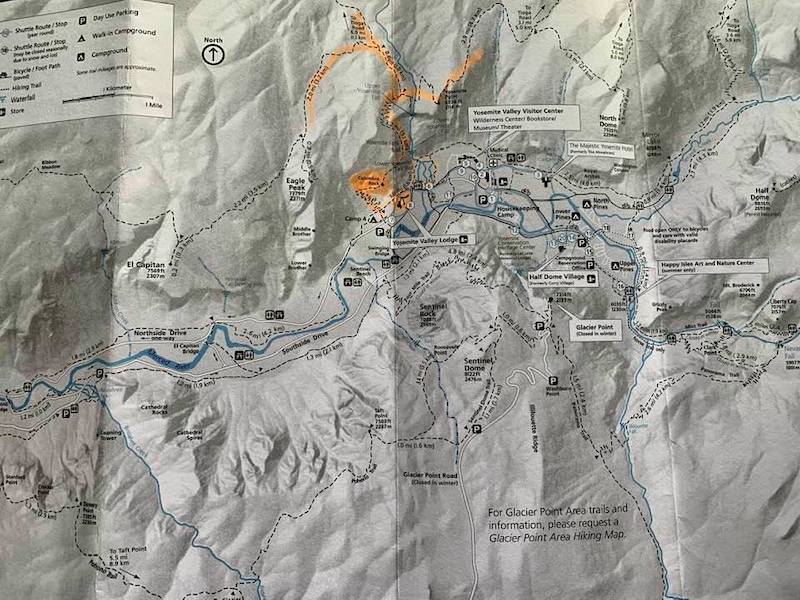 Columbia Rock Hike Yosemite: Quick Facts
Difficulty Level: Strenuous
Trailhead: Camp 4 (the Sunnyside Campground). The address is Yosemite Falls Trail, Yosemite Valley, CA 95389. This is also the Yosemite Falls Trailhead and also where you can start the Lower Yosemite Falls Trail.
*Note that unless you're camping at Camp 4 you can't park there, but you can park right across the street in the Yosemite Valley Lodge parking lot or you can take the free green shuttle bus to stop #7.
Trail Length: 2 miles round-trip; about 2-3 hours.
Elevation Gain: A steep uphill 1,000-foot elevation gain.
Trail Type: Out and back.
Nearest Park Entrance: South Entrance/Mariposa Grove.
Restrooms: There are restrooms at the trailhead.
Trail Highlights: The main highlight of this trail is the stunning panoramic view from Columbia Rock, which is perched up high at 5,031 feet (1533 meters). As you make the ascent, there are also numerous vistas along the way.
How To Hike The Columbia Rock Trail In Yosemite National Park
The original plan was to do the 7.2-mile trail to the Upper Yosemite Falls.
While considered "very strenuous" the hike is supposed to award beautiful views from the top of America's tallest waterfall at 2,425 feet.
The problem?
The falls dry up in late summer, which is when my husband Andy and I are visiting!
Luckily, there is still a way to take in gorgeous views from the Upper Yosemite Falls Trail by hiking it to Columbia Rock.
The two-mile hike is still strenuous with a 1,000-mile elevation gain, though is much shorter and totally worth the challenge for the views.
The hike begins from the Camp 4 parking lot, across from the Yosemite Valley Lodge.
Almost immediately we're heading uphill, uneven stone steps covered in sand creating a slippery and challenging ascent.
Giant rock formations and stone walls surround us, and I feel like I'm in medieval times.
Up, up — and up and up — we go over dozens of steep switchbacks, my calves wincing with each lift of my leg.
Fortunately, there are a number of viewpoints along the way for resting with a view, like these:
Finally, after what feels like forever, we emerge from the trees into the sun, taking in unobstructed valley and mountain views.
They get better and better the higher we go, and I almost don't notice how out of breath I am.
Eventually, the iconic Half Dome — a rock formation named for its unique shape — comes into view. It's one of the most iconic visuals of the park, and one you'll see on many postcards.
But, as I like to say, landmarks and natural sites are always better in person, and the scene before me proves this.
After about an hour and 20 minutes of uphill hiking, including time for photos, we arrive to Columbia Rock.
There is no sign, but we figure it out when we see a giant rock with a viewing platform and a number of people stopped for lunch who confirm that we're in the right place.
For a visual, it looks like this: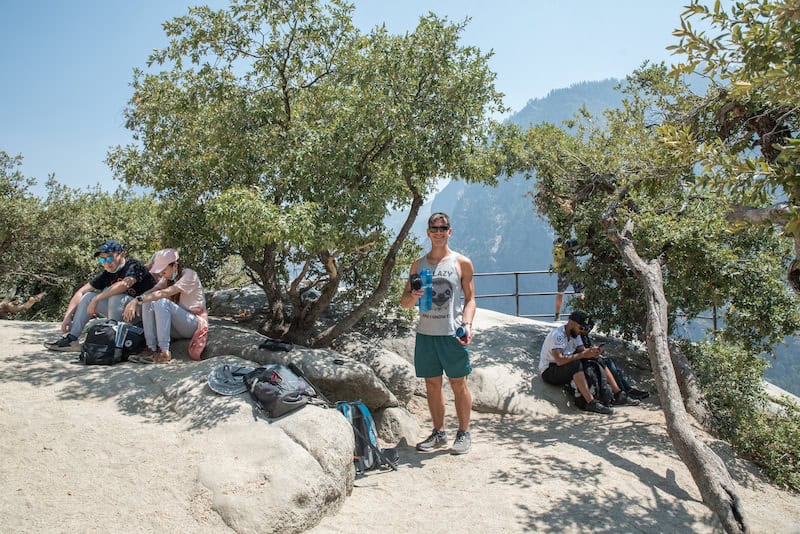 Oh, and the spectacular views also clue us in.
From Columbia Rock, there is an expansive vista showcasing the Yosemite Valley, Half Dome, Upper Yosemite Falls, Sentinel Rock, and Eagle Peak (which looks a bit similar to El Capitan) from 5,031 feet.
You can also look down to see Yosemite Village apparing like tiny LEGO pieces.
It's the perfect spot to take photos and enjoy lunch with a beautiful Yosemite National Park view.
After eating, we make our way back down — which is almost harder than going up as it's very steep and slippery from the sandy rocks (so wear proper hiking clothing and shoes and consider hiking poles!).
And while the trek may not be as exciting as other Yosemite Valley hikes like Sentinel Dome to Glacier Point and the Mist Trail, the challenge is completely worth the effort for those vistas.
Pro tip:
Want to extend your hike but don't want to do anything else strenuous? You'll find the trailhead for the Valley Floor Loop at the trailhead.
The Valley Loop trail can be done as a half loop (6.5 miles) or a full loop (13 miles) and offers views looking up toward many of Yosemite National Park's most iconic sites like Sentinel Rock, Cathedral Rocks, Bridalveil Fall, El Capitan, Three Brothers, and Yosemite Falls.
Yosemite National Park Hiking Tips
Hiking in Yosemite National Park? Here are a few important pieces of advice, whether you hike Columbia Rock or somewhere else.
-Know that you're on Indigenous land. The Southern Sierra Miwuk Nation were the original inhabitants of the land that Yosemite National Park resides on, but were displaced and/or forced to relocate.
Along with educating yourself on the history and culture of this Indigenous tribe, consider making a donation to causes and charities that directly support them. Moreover, where possible hire Indigenous guides and purchase from Indigenous-owned businesses.
-Know which Yosemite National Park entrance is best. When booking your Yosemite National Park accommodation, do your research to make sure you're staying near your desired entrance gate. The park is massive and it can take you hours to drive to a particular trailhead if you're not staying in the right location.
-Keep wildlife wild. Do not feed, pet, or get too close to wildlife. If they become too used to humans they may become aggressive, and sadly may eventually need to be put down.
-Drive slowly. Make sure you're going at or below the speed limit to avoid hitting animals. According to Yosemite National Park's website, over 400 bears have been hit by cars since 1995. Don't become a part of that statistic.
–Know the best time to visit Yosemite National Park. If possible, visit between May and September — though note that in summer the waterfalls may be dried up, so you might want to avoid July and August.
–Understand what to wear when you go hiking. Items like moisture-wicking clothing, sunglasses, and a hat can help keep you safe and comfortable.
-Stay on marked hiking trails. Going off-trail can cause trail erosion.
Other Not-To-Miss Yosemite National Park Hikes
If you're looking to explore some of the other incredible hikes beyond Columbia Rock, don't miss:
Easy Yosemite Hikes
Lower Yosemite Fall
Mirror Lake
Wawona Meadow Loop
Soda Springs/Parsons Lodge
John Muir Trail through Lyell Canyon
Moderate Yosemite Hikes
Sentinel Dome Trail to Glacier Point
Vernal Fall Footbridge
Valley Floor Loop
Swining Bridge Loop
Taft Point
Elizabeth Lake
Lukens Lake
Difficult Yosemite Hikes
Top of Upper Yosemite Fall
Top of Vernal Fall via the Mist Trail
Top of Nevada Fall via the Mist Trail
Four Mile Trail To Glacier Point
Lembert Dome
North Dome
Yosemite Point
Hotels Near Yosemite National Park
Click here for a full list of hotels near Yosemite!
Prefer self-contained stays?
Click here to view unique local rentals!
You can also peruse the map below. It's set to El Portal, one of the closest towns to Yosemite National Park, but you can easily change the destination based on where you'd like to stay.
Yosemite Park Tours
Looking to explore Yosemite and its surroundings with a guide? Here are a few highly-rated experiences:
Click here for a full list of Yosemite National Park tours.
Renting A Car For Yosemite National Park
Yosemite National Park is huge, and you'll definitely want a car to explore the many trails and sites.
If you need to rent a car, I highly recommend using Discover Cars to quickly compare your rental options.
Their comparison tool does the homework for you, so there's no need to have up 10+ tabs trying to figure out which company is the most affordable. Actually, you can save up to 70% using their tool!
Yosemite National Park Travel Insurance
When visiting Yosemite — or anywhere else in the world — it's wise to get travel insurance.
One of the best travel medical insurance for travelers is SafetyWing as they've got a large network and offer both short-term and long-term coverage — including coverage if you're traveling for months as well as limited coverage in your home country).
Additionally, SafetyWing is budget-friendly and offers $250,000 worth of coverage with just one low overall deductible of $250.
Click here to price out travel insurance for your trip in just a few clicks.
Other Top California Hikes
Looking to explore other California hiking trails? A few not-to-miss trails include:
1, 2, & 3 Day Itinerary For Yosemite National Park
Lost Horse Mine in Joshua Tree National Park
Hidden Valley Trail in Joshua Tree National Park
Ryan Mountain in Joshua Tree National Park
Mount Whitney in the Sierra Nevadas
The Lakes Trail in Sequoia National Park
James Irvine Trail to Fern Canyon in Prairie Creek Redwoods State Park
Sentinel Dome to Glacier Point in Yosemite National Park
How To Hike Vernal And Nevada Falls In Yosemite National Park (Mist Trail)
Have you ever hiked the Columbia Rock Trail in Yosemite National Park?
Enjoyed this guide to hiking Columbia Rock Yosemite? Pin it for later!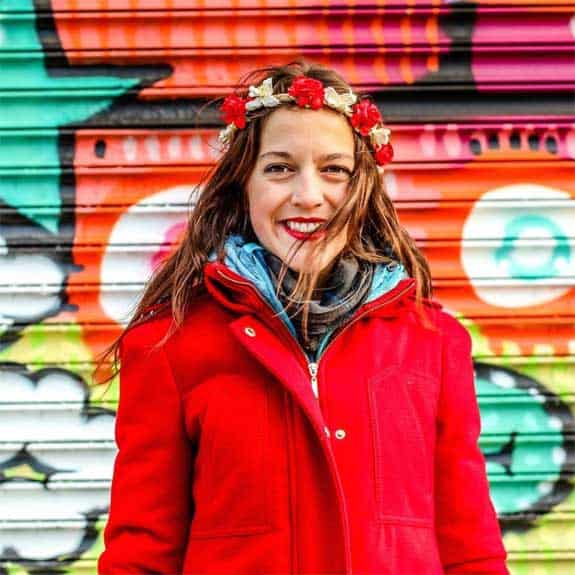 Hi, I'm Jessie on a journey!
I'm a conscious solo traveler on a mission to take you beyond the guidebook to inspire you to live your best life through travel. Come join me!
Want to live your best life through travel?
Subscribe for FREE access to my library of fun blogging worksheets and learn how to get paid to travel more!